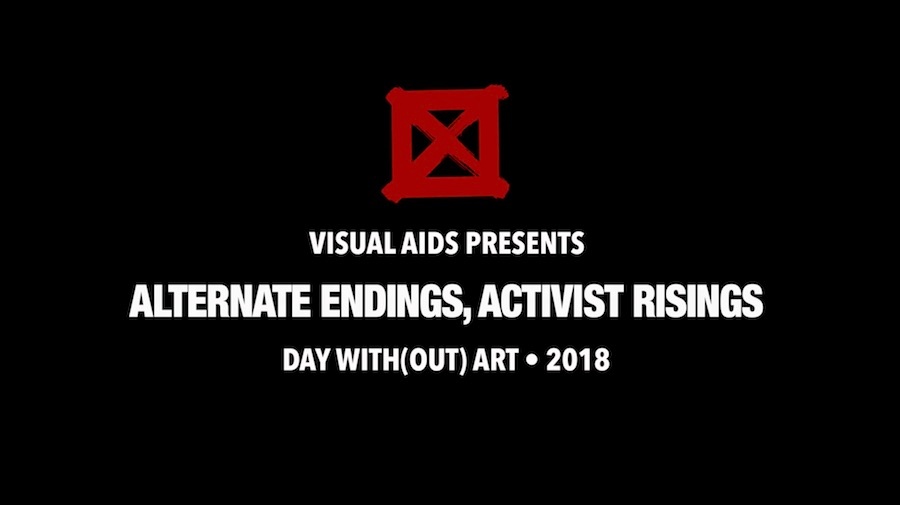 HIV/AIDS Awareness | Politics | Arts, Culture & Community | Film & Video | Hartford Arts Paper | Real Art Ways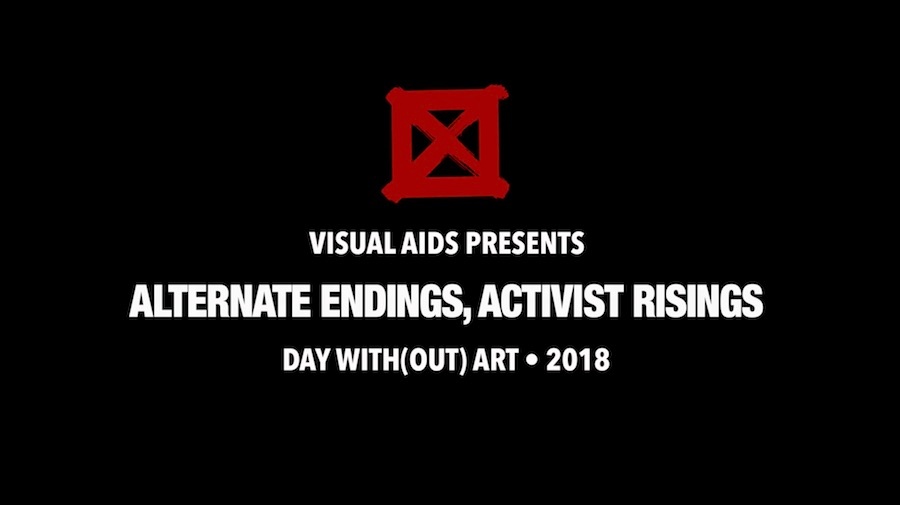 Screenshot from Alternate Endings, Activist Risings.
More gay bars in the Hartford area. Support groups where people can speak about their HIV diagnoses face-to-face, instead of on their phones or in a chatroom. A happy hour at an artist's studio dedicated entirely to making queer art. And long, in-person conversations about HIV education—like the kind that existed before Grindr and Her.
These suggestions of how to foster community—and spread awareness on HIV and AIDS—arose Friday night at Real Art Ways, as the organization screened Alternate Endings, Activist Risings for the 29th annual Day With(Out) Art, an "international day of mourning and action in response to the AIDS crisis" from New York-based Visual AIDS. While Day With(Out) Art is technically held on World AIDS Day (Dec. 1) each year, this took place an evening early.
The screening was followed by a roundtable discussion with Neil Daigle Orians, visual arts coordinator at Real Art Ways, and AIDS Connecticut (ACT) Deputy Director Shawn M. Lang. About 12 people attended.
Alternate Endings, Activist Risings follows six community organizations—ACT UP NY, Positive Women's Network-USA, Sero Project, The SPOT (Safe Place Over Time), Tacoma Action Collective (TAC) and VOCAL-NY—as they discuss their approaches to both HIV awareness and creating community change. Located in around the country, each organization takes a different path to community advocacy and engagement, from direct action in public spaces to art making as a form of personal healing.
As attendees watched, six different templates for community activism emerged. There was a model for political theater from ACT UP, which has been staging public actions and performances since its founding in 1987 (it is perhaps best known for its Target Bush campaign, in which activists hurled the ashes of loved ones who had died of AIDS onto the White House lawn).
There was a model for community artmaking in Sero Project and Women's Network, where individuals living with HIV make art that blasts a still-pervasive stigma. Or one for physical intervention, as TAC entered the Tacoma Art Museum, and took it to task for whitewashing the history of AIDS with a die-in in the exhibition.
At the end of the film, Orians said that he hoped the roundtable would be an opportunity to discuss what Connecticut's own activist landscape looks like today, almost three decades after World AIDS Day was established. And to ask: "What should inclusive advocacy and activism look like?"
But before many in the room could answer that question, they took a harrowing trip down memory lane. Speaking first, Lang recalled first reading about the crisis in the Gay Community News, a weekly that ran out of Boston, Mass. until 1992. In the 1980s, the newspaper was the first to bring reports of hundreds, then thousands, of young gay men dying in New York and San Francisco to readers in Connecticut, where news of the epidemic had not yet spread.
Lang called Connecticut a "second-tier state" in the epidemic—New Haven later became a ground zero for HIV in the late 1980s and into the 1990s—meaning that the state started reporting cases of HIV and AIDS after other large metropolitan areas.
Shawn Lang, executive director of AIDS Connecticut (ACT): Nobody knew what it was.
"Nobody knew what it was, and there was sort of this visceral ripple of fear that went through our community," she recalled, noting that it was still known as a uniquely gay disease in those first years. "At the time, we did't know anybody who was infected … it was before medication, before tests, the stigma was in a very different place back then."
By the late 1980s, there was a chapter of ACT UP in New Haven, as well as a chapter of ACT OUT in Hartford. In Middletown, Lang worked on something called the Middlesex AIDS Buddy Network, a collaboration among the Middletown Community Health Center, Middlesex chapter of the Lesbian Gay Civil Rights Coalition, and Middletown's First Congregational Church that paired volunteer "buddies" from the community with people living with HIV and AIDS.
Without social media, the network unfolded entirely at the grassroots, volunteers going grocery shopping, hitting the movies, and dining out with buddies who were HIV positive, and often living in social isolation. From there sprang support groups and initiatives to educate young gay men about prevention.
"That's how all these organizations happen," she said. "They happen in people's living rooms, out of community centers, and really out of necessity."
Nancy Correa, a Hartford-based poet and animal rights activist, recalled living in New York City in the early 1980s, surrounded by a friend group that was mostly gay men. There was a year, she remembered, that they started dying at a shocking rate, with no solution to the mystery disease that was taking their lives.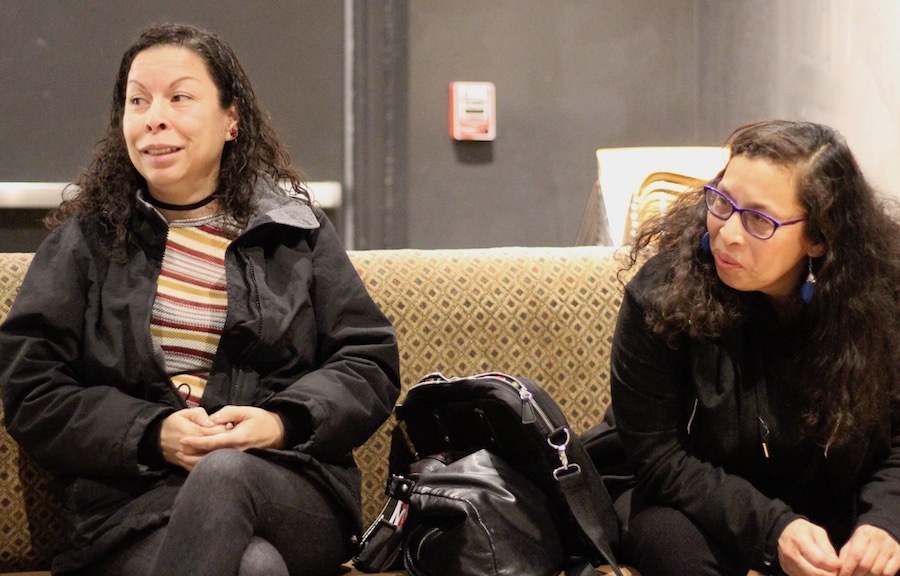 Sisters Betsy Luz and Nancy Correa.
Within months, she sometimes found herself attending as many as eight funerals a week. She recalled fearing that she was going to become infected, because "we didn't know" how it was transmitted. It pushed her to do the kind of direct political action ACT UP became known for, and still practices today.
"Everybody was rip-roaring and angry and we had to go out of our comfort zone, to the Upper West Side and the Upper East Side, and putting up these posters that we'd made up," she said. "You actually had to do something physical. It's so different now."
Correa moved back to Connecticut in the late 1980s, and quickly realized that people weren't yet talking about AIDS—or about prevention. She recalled going out to gay bars with friends, and asking: "Is anybody getting sick?"
"Either it wasn't happening or nobody was talking about it," she said. "There wasn't that community base, like on the Lower East Side. It just took that community base a very long time to catch up in terms of activism."
Circling back to the present, the group mourned the loss of Hartford's gay bars—Chez Est is the only one left standing— remembering the Warehouse, Sea Street East and the city's beloved Polo Club, which closed in 2014. For community health care professionals, Lang said, those spots offered a captive audience, where health professionals and outreach workers could talk about HIV prevention and distribute materials. For years, she and colleagues would go to gay bars, cruising spots, and even public high schools and hand out condoms and literature with information.
In an age of dating and hookup apps, that's no longer the case. While Lang has watched HIV decline in intravenous drug users, women, and white men who have sex with men, she's also seen HIV diagnoses climb among Black and Latinx men who are having sex with other men.
"One of the biggest challenges around prevention is there used to be gay bars and gay hubs, and we don't have those any more," she said. "It's all on social media. Everybody's on the apps. And we have staff that are on social media, doing prevention work, talking about PrEP and HIV … but I think it's much, much more challenging than in the early days."
But, she added, there have also been positive changes: HIV prevention is much more in the mainstream than it was in the 1980s. She praised Gov. Dannel Malloy for his legislative and financial support, noting that he too was affected by the disease when he lost a cousin to AIDS several years ago. She said that in the past 12 years, she's seen "a complete" reversal in infections for people who inject drugs—down to around 20 percent from 50—crediting syringe exchange programs in Stamford, New London, Willimantic, Middletown and New Haven with part of that change.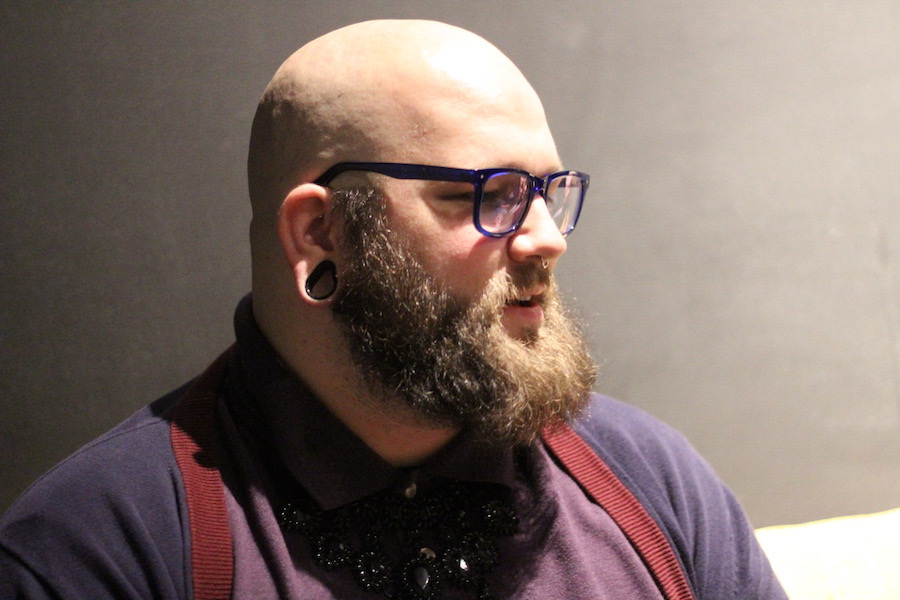 Now, she'd like to see more groups focused on building actual, in-person community. The youngest in the room at 28, Orians brought the conversation back to the film's six groups, wondering aloud if Connecticut might take a page from any of them.
"I like that they look at humanizing not only the issues but also the people," he said. "It's not just about how many people died. It's also about the people who currently are living with HIV and AIDS, and what we're doing support them. Not only through direct action, medication, access to resources, but also just like feelings and expressions. And they are so vital to us as a species."
Suggestions multiplied in the room. Meetup and support groups, and maybe even a new gay bar for Hartford, suggested sisters Betsy Luz and Nancy Correa, nearly finishing each other's sentences. An arts night dedicated to queer community members, said Orians. More spaces for people of color, including Native and Latinx community members, added Betsy Luz Correa. Danielle Zora suggested that activists could start small, with anything to foster community.
"No matter where you turn, there's gonna be somebody who understands, that's not gonna stigmatize you," she said.
Orians recalled a three-workshop program he did through the Nebraska AIDS Project, in which the organization got funding to teach "the ins and outs off all things HIV and AIDS" specifically to men who were having sex with men. The program's idea was to have a ripple effect, and equip people from the program to educate more men around them when they had finished it. He said that maybe the same model could work in Connecticut.
"It's like thinking about what Shawn was saying," he said. "These things didn't exist, so we created them. That's what we do. These things don't exist, so we create them."