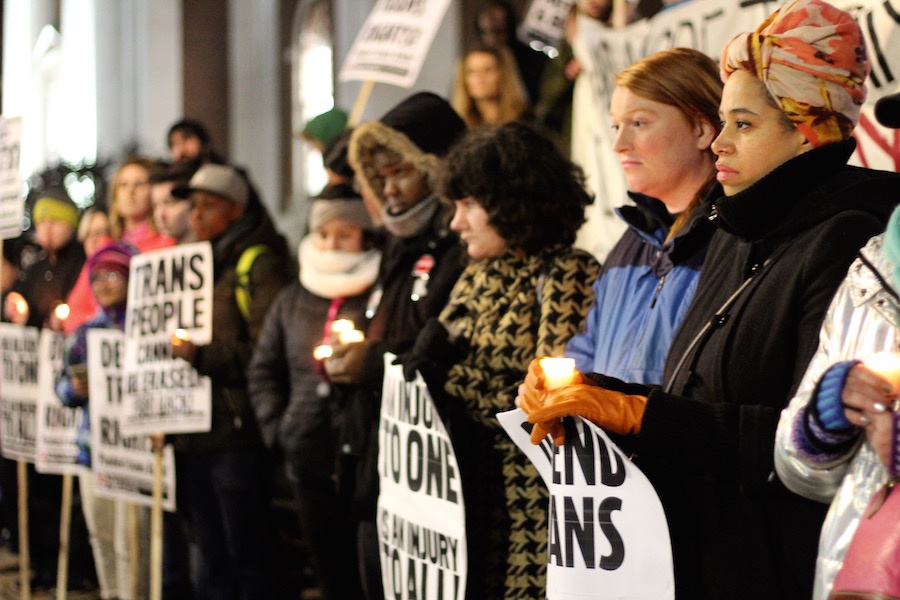 Culture & Community | Downtown | LGBTQ | New Haven Pride Center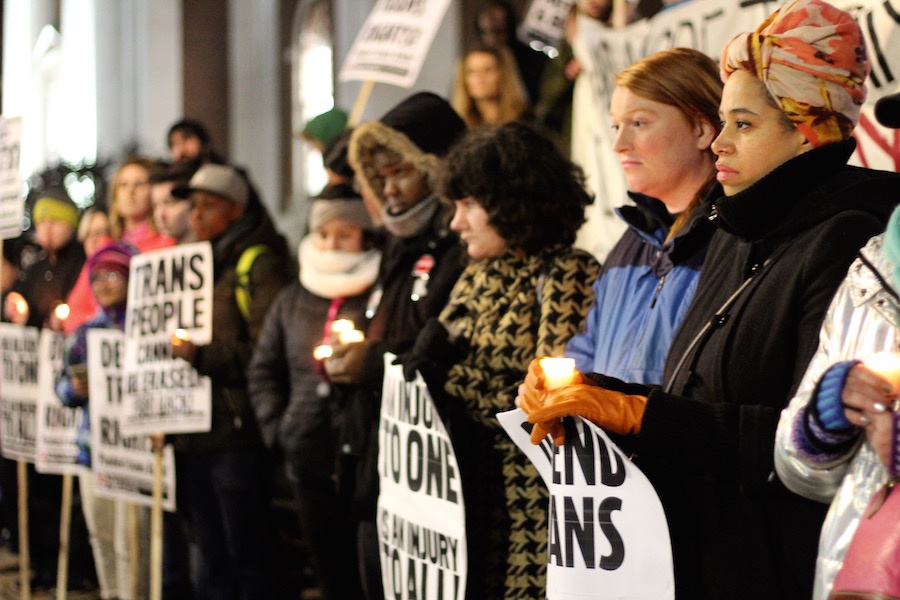 Ciara Minaj Carter. Nikki Janelle Enriquez. Shantee Tucker. Dejanay Stanton. Vontashia Bell. Sasha Garden. Keisha Wells. Cathalina Christina James.
Those were just eight of the 22 names that rang out over the corner of Elm and Church Streets Tuesday night, as over 100 gathered for a Transgender Day of Remembrance rally, vigil, and march at New Haven's Superior Courthouse. The event was organized by both national and state chapters of the Party for Socialism and Liberation (PSL) and the New Haven Pride Center, marking the end of Trans Awareness Week. A pizza reception and clothing swap followed at the Pride Center.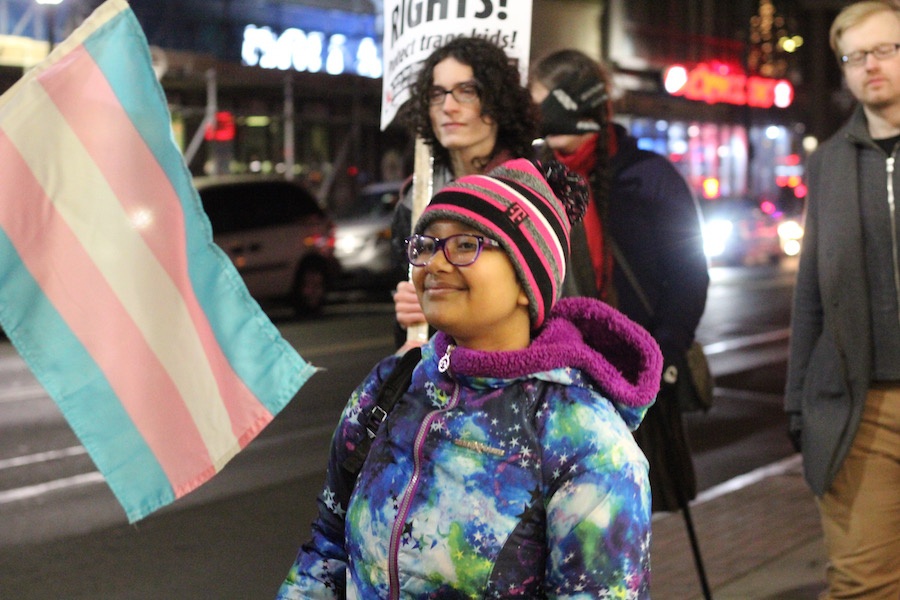 Metropolitan Business Academy student Adara Huq, who thanked the crowd for its support of trans youth.
Transgender Day of Remembrance began in 1999 to honor Rita Hester, a Black trans woman who was stabbed to death in her apartment in November 1998. Almost exactly two decades later to the date—and as the case remains open—the Transgender Law Center has reported that 23 trans people have been killed in the United States this year, with more that may have gone unreported.
Of that overall number, 22 were transgender women, several were Latinx women, 16 were Black trans women, and one—33-year-old Honduran migrant Roxana Hernández—died in Immigrations and Customs Enforcement (ICE) custody when she was denied the medical care she requested.
At the rally and vigil, facilitators IV Staklo and Chardonnay Merlot revved up the crowd, urging attendees not just to remember those who have been lost, but to stand up to bigotry and stop it in its tracks, as a way to protect the living.
Staklo: "Maybe, with all of our united efforts, we're gonna have fewer and fewer named on that list every single year."
Leading the crowd in chants of "When trans rights are under attack, what do we do?/Stand up fight back!" Staklo kept attendees warm despite plummeting temperatures. Then Merlot took the megaphone.
"It's not just about remembrance. It's about resistance and it's about rededication," she said. "And that's something we need to do not just now, but every day."
She called out the Trump administration for threatening trans rights "every time this regime finds its butt in a crack," recalling Trump's October memo to radically narrow the definition of gender, effectively erasing trans, intersex and non-binary people from the historical record.
She spoke about a resolution from the Canada's Progressive Conservative Party to remove references to gender identity from Ontario's public schools, decried by many Canadians as a direct attack on trans rights until it was shut down on Monday.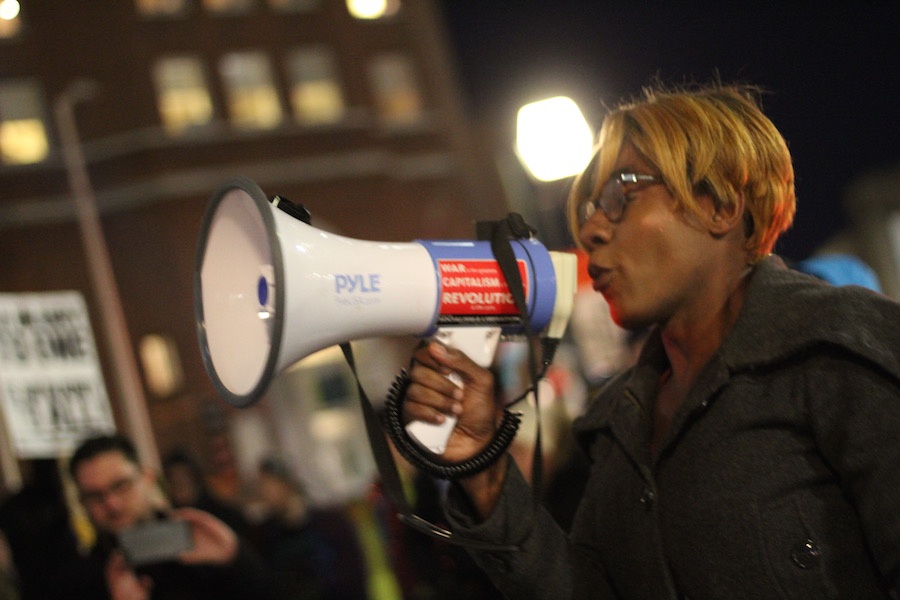 Chardonnay Merlot: "We will remember. And we will fight for you."
She denounced the election of "abject transphobe" Jair Bolsonaro in Brazil, a move that women, LGBTQ+ community members and advocates, and environmentalists have all condemned as dangerous for the country and for human rights worldwide. She appealed to cisgender allies to stand up for trans rights.
And just as she had at a rally last month, she urged attendees to "squad up" and support each other in times of emotional need. Whatever form that may take—a phone call, coffee date, shift on the phones at Trans Lifeline, or much-needed hug—she suggested that folks find it, and stick to it.
"We look at those names … my god, when you read the names," she said. "And you see so many names. And so many people without names. And then you go on your Facebook, and you read about how one of ours died, and they weren't allowed to be buried, and to be named in death as who they are. Yes, we see all that. That's all the more reason why we need to squad up right now. All the more reason we need to hug each other."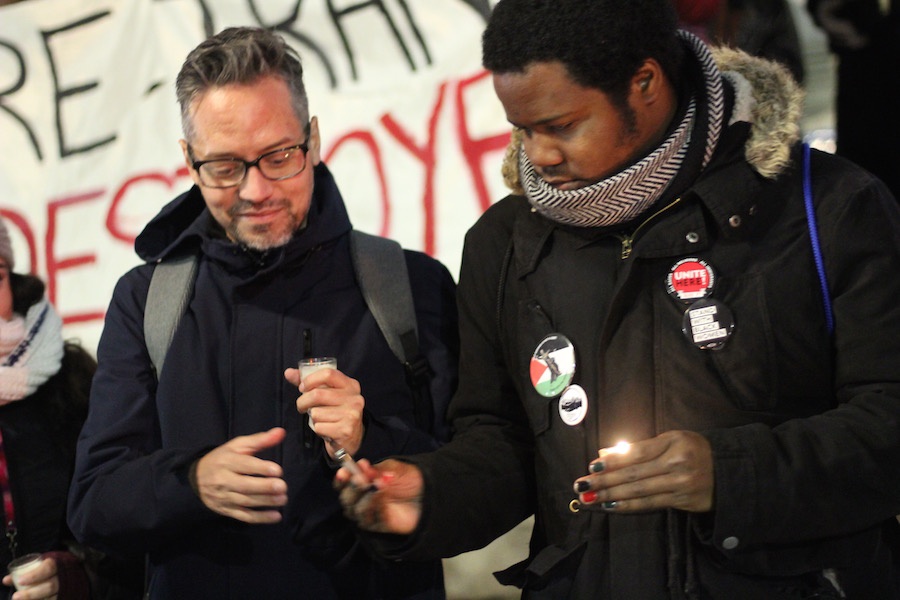 A few attendees emerged from the crowd to tell their own trans stories. West Havener Alex Flynn recalled being outed as trans six years ago, at just 15 years old. Six years later, Flynn is happily on hormones (an admission that drew a huge cheer from the crowd). But that wasn't always the case.
"Within that first year, I was suicidal," Flynn recalled of coming out. "I didn't know how to deal with what was going on in my life … what I want to say is that it may sound cliché, but things do get better, and we still have a long way to go."
Slowly, 22 people slowly descended the steps and assembled in a line, small white candles in their palms. Staklo watched as a lighter made its way from hand to hand, the act of its passage doubling as a moment of silence.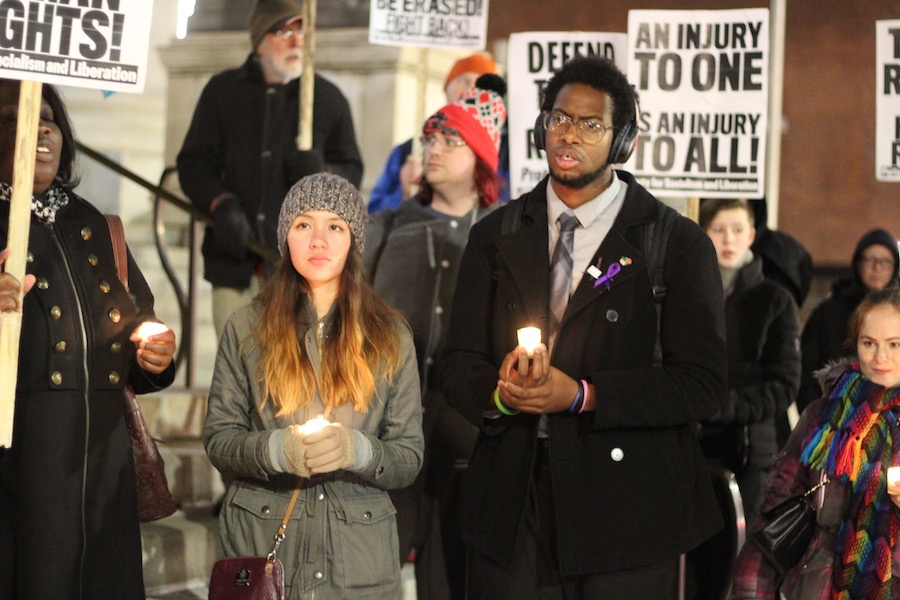 "I want everyone who took a candle and everyone who is standing here to commit, in some way, to fighting for trans lives all year round, up until next trans day of remembrance," said Staklo. "And maybe, with all of our united efforts, we're gonna have fewer and fewer named on that list every single year."
One by one, the candles flickered to life. When all of them had been lit, Merlot prepared to read. On a screen in front of her laid 22 lives snuffed out too soon, families and faces heaving behind each letter.
Ciara Minaj Carter, a Black trans woman stabbed to death in Chicago last month. Latinx Texas resident Nikki Janelle Enriquez, fatally shot by US Border Agent Juan David Ortiz. London Moore, shot in a town outside Jacksonville in September, and the fifth trans woman of color to be murdered in Florida this year. The list went on.
"Each of the names I read represents someone's child," she said. "Represents someone's kin. Represents someone's friend." Her voice caught in her throat.
"We will remember. And we will fight for you."
To watch more video from the event, click on the Arts Council's Facebook Live above. To see more photos from the event, check out a partner post on I Love New Haven.
If you or someone you know is looking for trans support and community, Trans Lifeline is accessible 24/7. The Trevor Project offers 24/7 confidential support for LGBTQ+ youth in crisis. Other resources include The Trans Women of Color Collective, The Sylvia Rivera Law Project (SRLP), and The National Center for Transgender Equality.