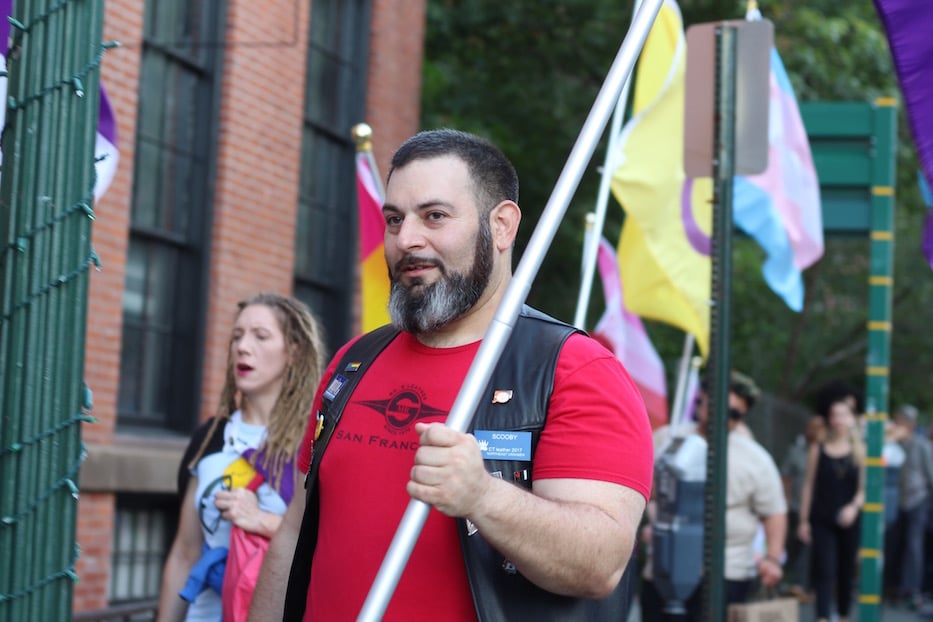 LGBTQ | Pride Month | New Haven Pride Center | Arts, Culture & Community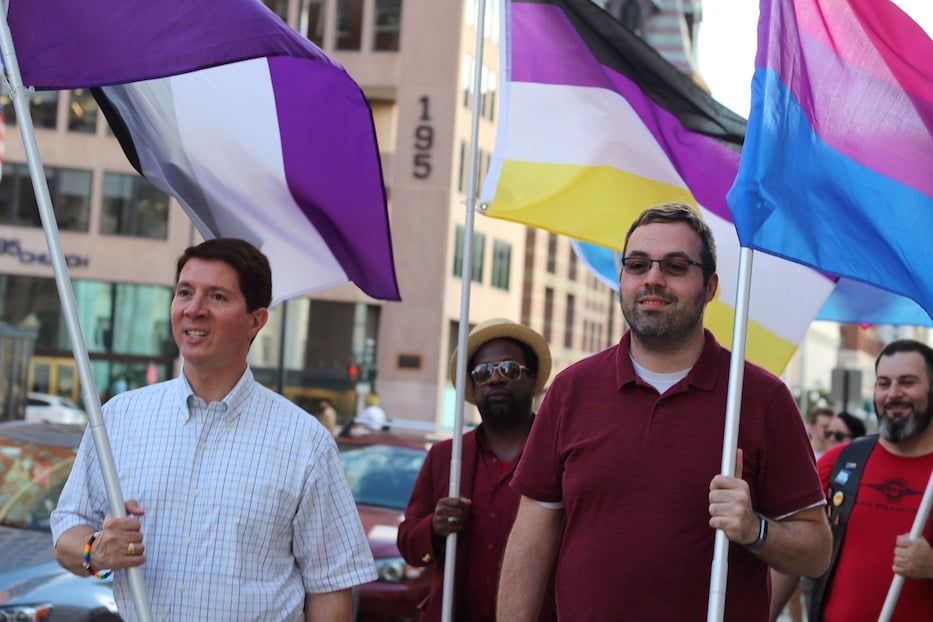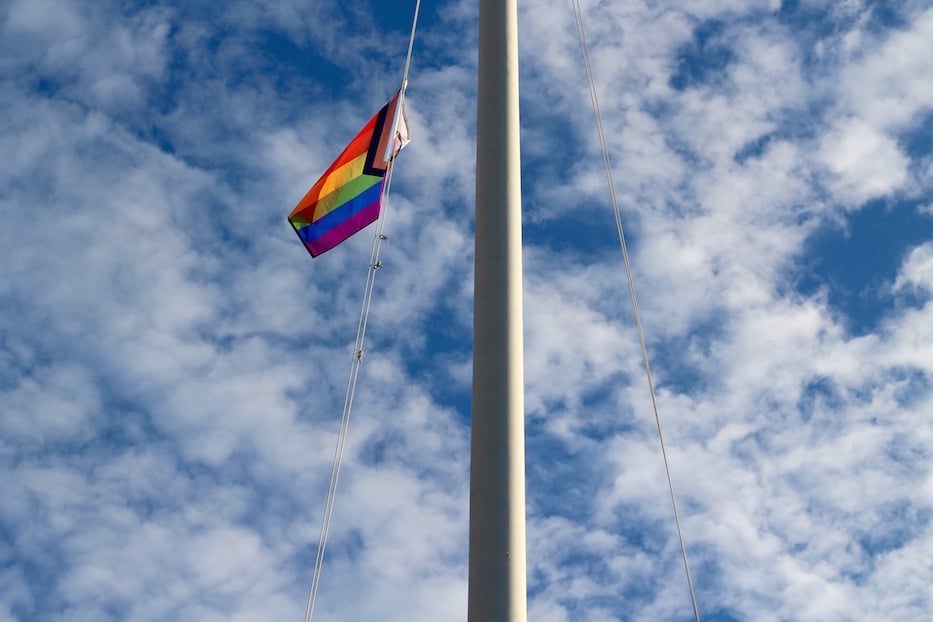 Top: Sean Michael Hazuda, executive director of the Triangle Community Center, and Josh O' Connell of the New Haven Pride Center lead the march to Audubon Street. Bottom: Daniel Quasar's new flag design. Lucy Gellman Photos.
There hasn't been a rainbow over the New Haven Green in decades. This weekend, the New Haven Pride Center decided to put one there for at least a week—and make it as inclusive as possible.
Sunday afternoon, around 50 people gathered on the New Haven Green for a flag raising and kickoff reception for PRIDE New Haven, a weeklong celebration of LGBTQ+ pride in the city with invited speakers, open mic nights, exhibition openings, queer history tours, and a PRIDE march among other programs.
This year, the week offers more than 20 events, with over 100 artists and the largest representation of Connecticut LGBTQ+ artists in the state. It follows Connecticut's first-ever Gay Black Pride, a collaboration between Black Lives Matter New Haven and A Place To Nourish Your Health (APNH) that was held in Goffe Street Park on Saturday afternoon.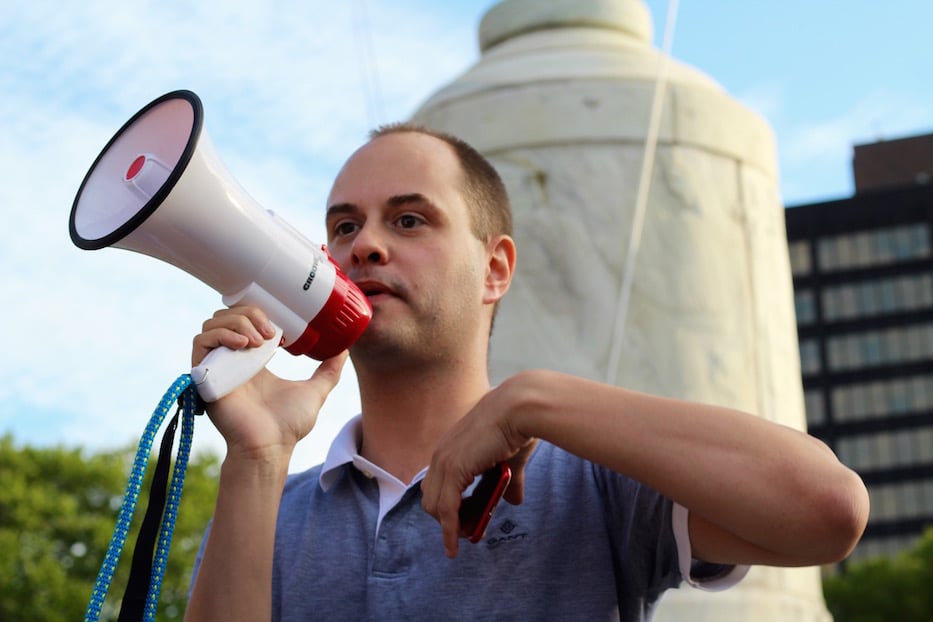 Dunn welcomed attendees holding a bullhorn borrowed from mayoral hopeful and vocal trans rights supporter Urn Pendragon, a gesture he joked seemed appropriate because "pride started as a protest, not as a party."
"I'm so honored that when I look around, I see my family, I see my friends, I see people who I work with, I see incredible leaders in our community, I see allies," said Patrick Dunn, executive director at the New Haven Pride Center. "It's just incredible to see all of you here and be a part of this with you as we kick off what's going to be an incredible week here in New Haven."
While PRIDE New Haven celebrations have run intermittently since 1998, they have grown precipitously in the past two years, since Dunn became the New Haven Pride Center' first paid director and brought on several new programming positions. Sunday, that began as attendees arrived carrying not only variations on Gilbert Baker's iconic rainbow flag, but flags for bisexual pride, asexual pride, pansexual pride, intersex pride, transgender pride, and others.
Particularly visible were rainbow flags with black bands, first added in Philadelphia to signify the importance of people of color in LGBTQ+ liberation. In the crowd, a mix of local grassroots activists, longtime New Haveners, and mayoral candidates Justin Elicker, Urn Pendragon and Wendy Hamilton cheered along as flags seemed to multiply.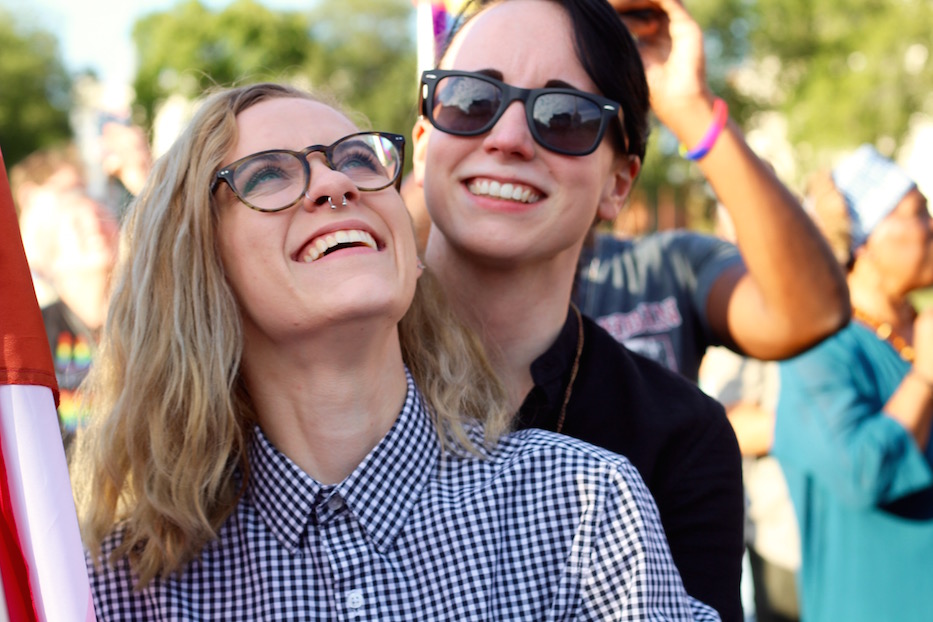 Laura Boccadoro, who works at the center through the Connecticut Office of the Arts' Arts Workforce Initiative, and her girlfriend Ashley Buhrer.
On the base of the green's flagpole, Daniel Quasar's reimagined "progress forward flag" flapped in a late afternoon breeze. Before it made its maiden voyage, Dunn spoke on the design, which mixes a traditional rainbow format with new stripes for people of color and members of the trans community. He said that he'd chosen the flag after reflecting on the pride center's inclusive and often intersectional mission, which has sought to make more room for youth and queer people of color in the last two years.
"Yes, we need to remember that we are a community that comes together under one rainbow," he said. "But we also need to keep our eye on where the progress needs to be made for the members of our community, and what direction we need to move to bring everyone to be on the same place, and not just move forward for certain parts of our community."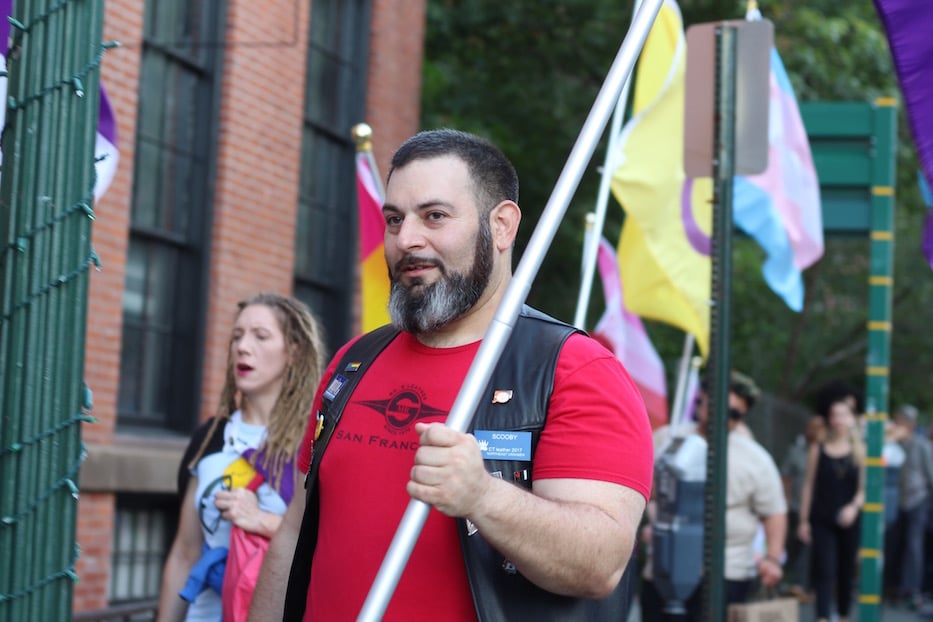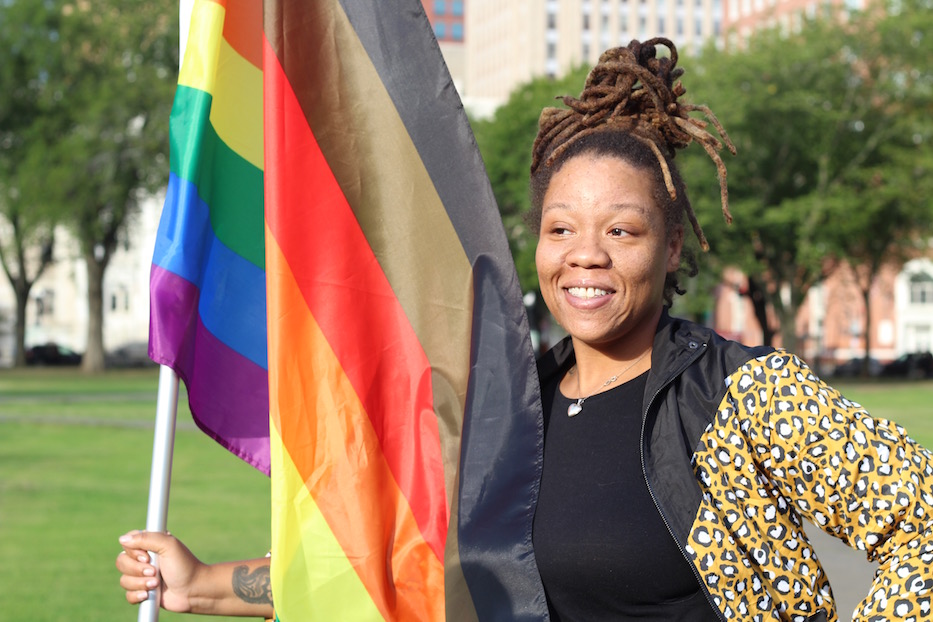 Top: Ian "Scooby" Rosman, who was Mr. CT Leather in 2017. Bottom: Ala Ochumare, co-founder of Black Lives Matter New Haven and manager of youth programs at the center.
A short program of speakers also echoed that message. Taking the bullhorn gleefully, State Rep. Jeff Currey lauded "the gayest legislative session that Connecticut has ever seen," an appellation that received huge cheers, snaps and claps as he thanked the pride center and specifically Dunn for unflagging support.
No sooner had he called LGBTQ+ rights a bipartisan issue—at least in the state—then conservative State Rep. Themis Klarides, minority leader for the Connecticut House of Representatives, was also speaking to the crowd.
"Regardless of the color of our skin, what party we belong to, we're people," she said. "We can fight over the budget, we can fight over extra money here or less money there, but we have to worry about the issues that affect us as human beings. And whether we are black or white or hispanic or gay or straight or whatever, wherever we come from, whatever we like, what we don't like, we're people."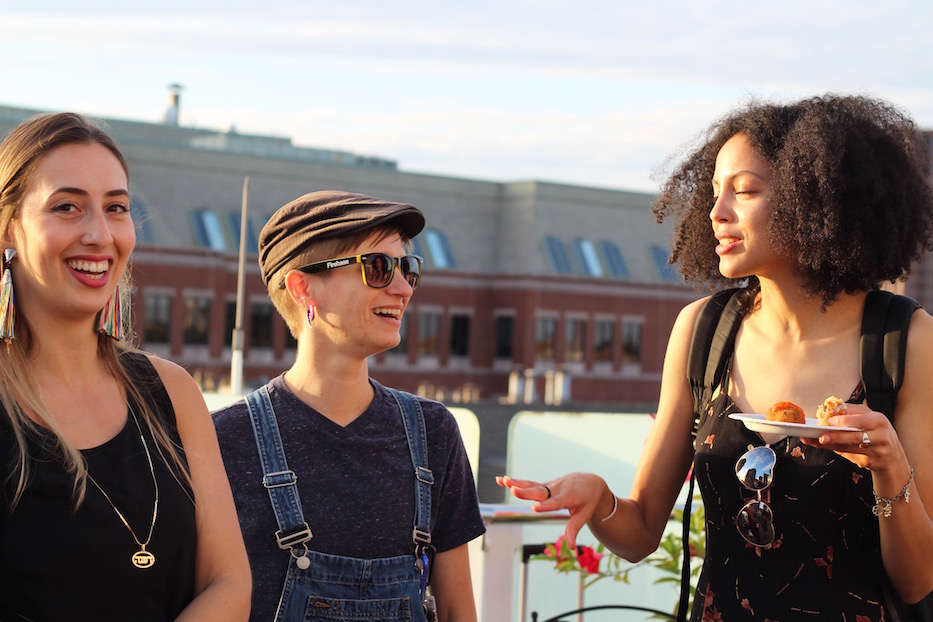 As the flag rose into the sky moments later, someone in the crowd suggested singing. Another voice noted that "I Will Survive" might be an appropriate selection. Hummed lines of songs, some with no particular melody, bubbled up from different spots in the crowd. Back at the flagpole, Quasar's design flew brightly against a blue sky, streaked with wispy white clouds.
"I think it's fantastic!," said Shaams Ashiq, who recalled coming out several years ago in Fairfield, and being unable to find anything similar. "We're showing people that we're here, we're queer, and we're not going anywhere. In fact, we're everywhere."
In a small, informal march that followed, flag-bearers and attendees lined up, then made their way to 70 Audubon St., where a rooftop reception was waiting. Marcher Robb Bartolomeo, who jumpstarted the city's first celebrations in 1998 and is still involved, joked from the front that his dog Max was quickly becoming the week's unofficial mascot.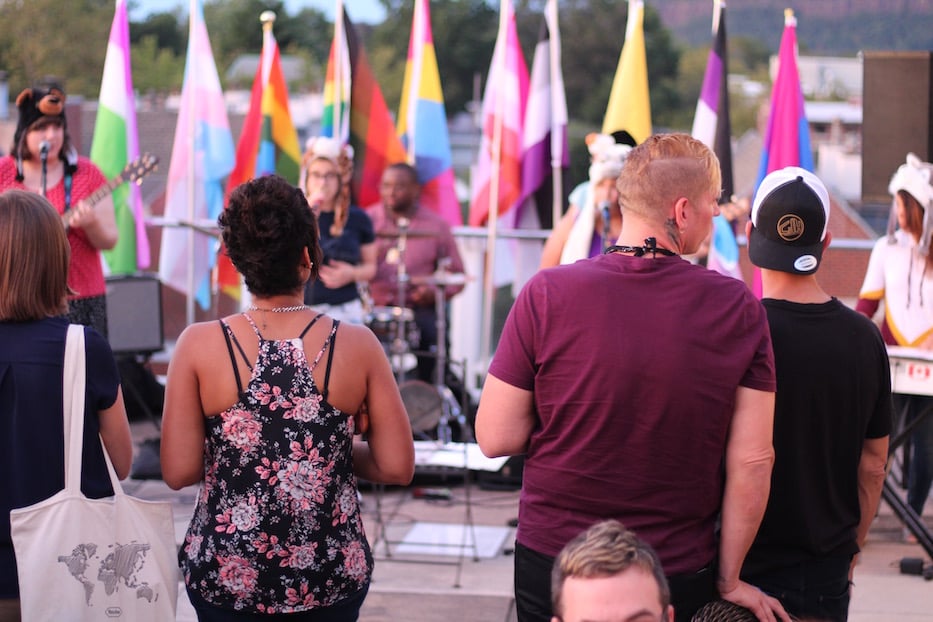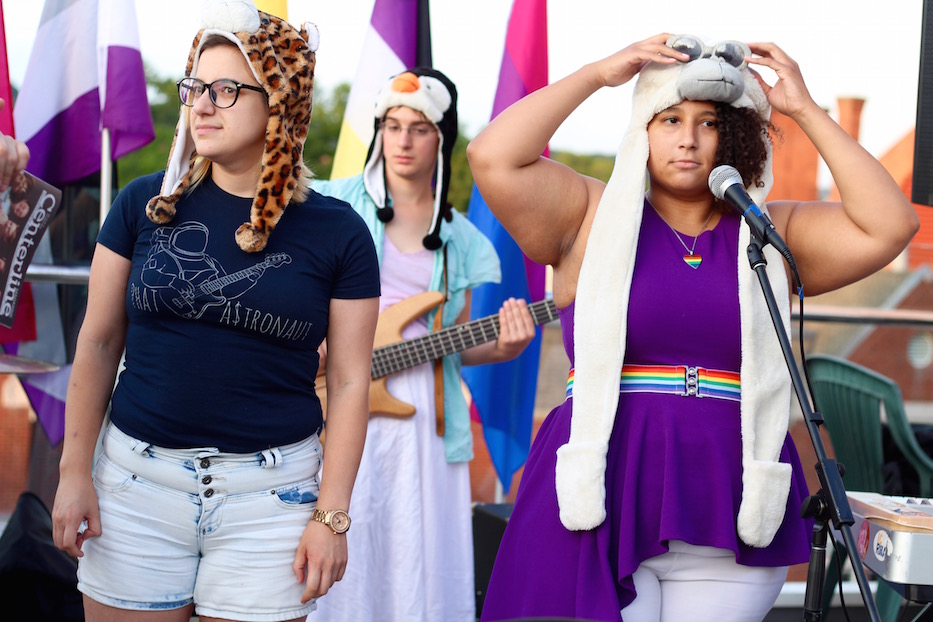 On the roof, band members from animal activist pop band Semaphora and DJ Edgewood greeted attendees, who filtered in until the patio was filled with laughter and thick with food smells from Atelier Florian. At one end of a roof-turned-stage, people grooved to works from Semaphora's album Zoonotic, clapping with the announcement of new songs that hadn't yet been recorded. Others headed up a concrete staircase to check out the sunset, and get a view of the action from above.
On the upper level, friends Make Pabon, David DeHoyos, JohnRyan Criss-Saez and Enrique Alvarado, Jr. snapped selfies and chatted amongst themselves. After meeting a year or so ago on social media, the four became fast friends. Based in Bridgeport and Meriden, the four said they've never attended a pride celebration in New Haven—they usually skip it for New York—but were intrigued by the mention of a rooftop kickoff. All of them said they were so moved by what they saw that they'd return.
"We're appreciating the representation that we have and that we see here," said DeHoyos.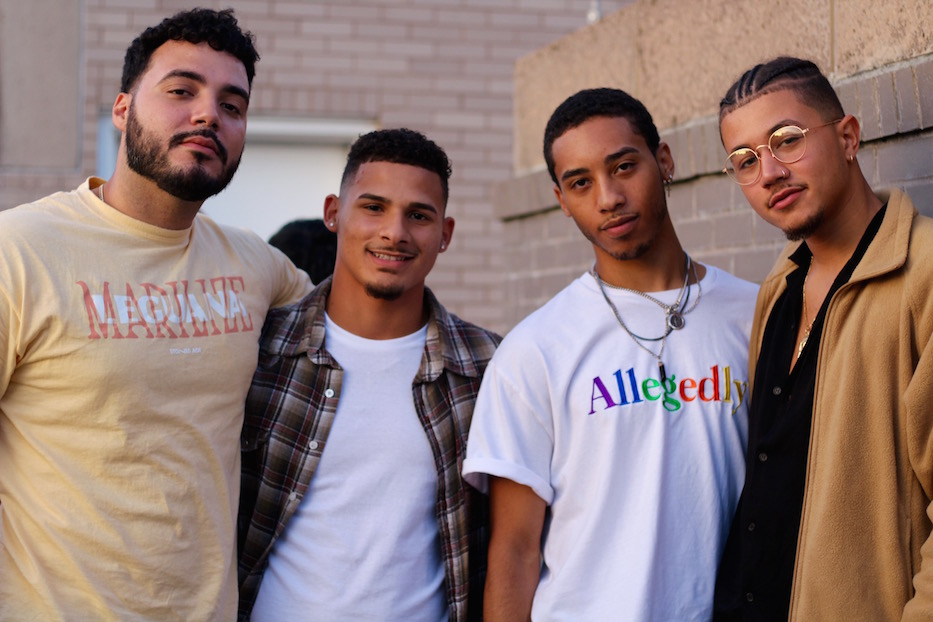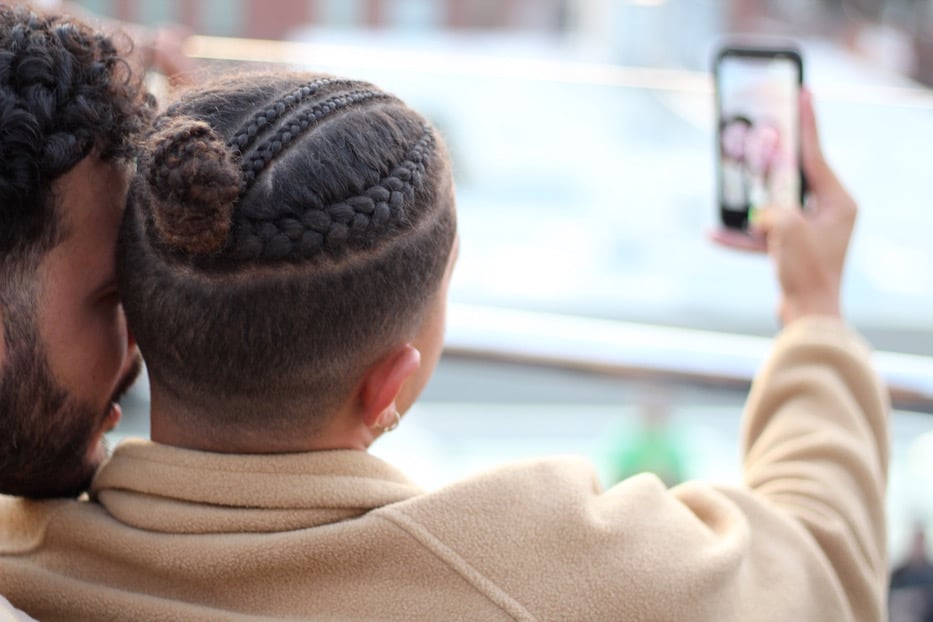 Friends Make Pabon, David DeHoyos, JohnRyan Criss-Saez and Enrique Alvarado, Jr. joked that they photograph like a boy band. "But instead of like, Boys II Men, we're like Straight to Gay," they joked.
Back down the stairs, longtime LGBTQ+ advocate John Allen bobbed to the music with a huge grin on his face. The founding director and board co-president of the New Haven Pride Center, Allen recalled the early years of PRIDE New Haven in the 1990s, when it was still held on the New Haven Green during the John DeStefano administration.
Since then, he said, he has delighted in watching the event come back stronger (it went quiet for a number of years) and transform. He praised the flag raising, noting the community's ability to bring together state representatives from both sides of the political aisle, to talk about their support for the same issue.
When he was founding the pride center over two decades ago, that "was always the vision," he said. Now, it has traveled from the center's first home at 1 Long Wharf Dr. to Orange Street, back to the New Haven Green and on to Audubon.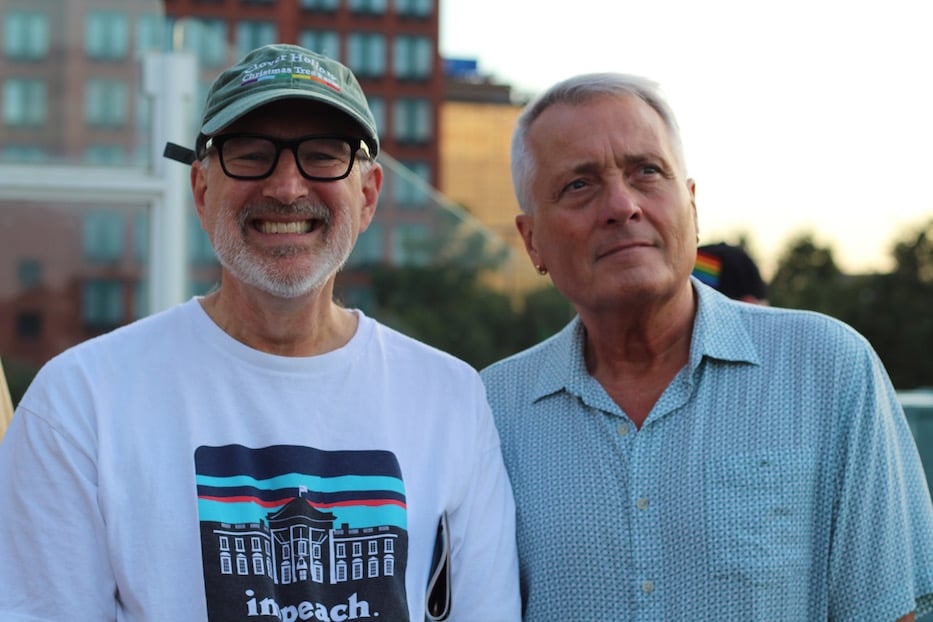 John Allen and his husband Keith Hyatte.
"This is absolutely amazing to see," he said. "You know, all these people together, in downtown New Haven, for a weeklong series of events with artists, the old friends and new people that are coming and the young people that are showing up—people are just so out loud and proud. I just love it."
"I feel so proud of New Haven that we have that at the centerpiece of our community," he said. "For being such a small city, we really have big ideas."
Watch more from the flag raising in the video below.