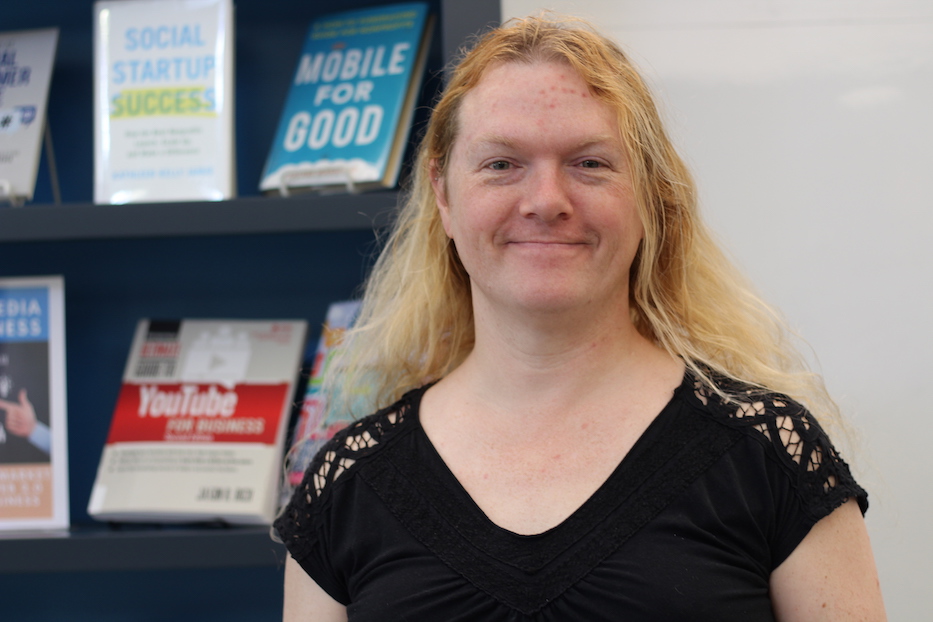 Create The Vote | Politics | Public art | Arts & Culture | Mayoral Campaign 2019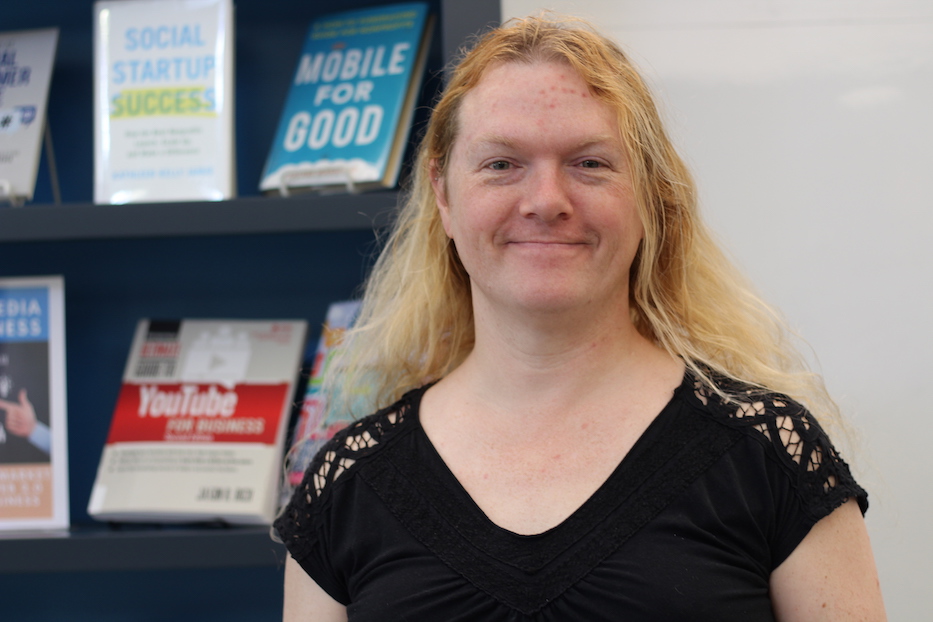 Urn Pendragon: "I think that this would be a really good gateway for expanding the identity of the city. Not that it isn't already, but I think that it needs to be broadened. I think it needs to be, like, 25 or 40 percent of the identity of the city." Lucy Gellman Photo.
Mayoral candidate Urn Pendragon doesn't just think artists can lead to a more eco-friendly New Haven. She sees them leading the charge.
Pendragon, a housing and homelessness advocate who entered the mayoral race in March, made that case in a recent interview on potential arts policy in a Pendragon administration. In the past two months, she has rolled out a platform focused on housing security and environmental sustainability. Now, she sees combining her two passions with enviro-arts projects like wind-turbine trees, large public sculptures, cultural corridors and more collaboration with existing arts organizations.
Pendragon is running against Mayor Toni Harp, fellow Democratic hopefuls Justin Elicker and Wendy Hamilton, as well as unaffiliated candidate Seth Poole.
"I think that this would be a really good gateway for expanding the identity of the city," she said in a recent interview at the New Haven Free Public Library. "Not that it isn't already, but I think that it needs to be broadened. I think it needs to be, like, 25 or 40 percent of the identity of the city."
Now, that means artists actively making the city a more sustainable place. But Long before Pendragon was thinking about politics, she was taken with the power of both visual art and the pen. As a kid, she was an avid reader, falling hard for authors Robert Jordan, Isaac Asimov, and Robert Heinlein among others. She started to write stories at an early age, characters blooming across her pages.
Growing up between the Midwest and North Carolina, she was also drawn to acrylics and oil paints, churning out canvases that she hoped to sell during her teenage years living in Tulsa, Oklahoma. But after losing them in a house fire, she turned to collage art, making macrame with colored paper. In part, she said that it helped her through years of bullying in school, about which she has been candid during her campaign.
"There was some level of escape in it," she said. "I just did it because it felt right. It felt good."
Pendragon put arts on the back burner for several years, as she packed up from North Carolina and ended up in Connecticut for a job at Webster Bank in Wallingford. During the height of the financial crash—she puts it at 2008 or 2009—the bank laid off close to 20 employees in one day. Pendragon was homeless, and living with friends. She found a job with Connecticut-based Cablevision (now Optimum Wifi). She had just started to come out as a transgender woman. And to stay sane, she turned back to writing.
The book, which is now a draft just short of 200 pages, was called the Angeline Chronicles. As she wrote, Pendragon was able to both forget and find herself through a teenage heroine named Angeline, who was cared for by family members who were half-human, half-dragon and hid their dragon-looking body parts with magic. After an invasion of her hometown, Angeline learned to use magic too, discovering its unwieldy aftershocks, rough edges and an underground magical resistance that set her on the path to adventure.
Back in her world, Pendragon used half-hour lunch breaks at Cablevision to push the story forward. She recalled sitting in the staff cafeteria with whatever she had brought to write—sometimes a laptop, sometimes just a blank piece of paper or a three-ring notebook—and building out her world as far as it would go in 30 minutes.
Four revisions later, she said she is still interested in finding a publisher for the book and plans to return to writing after the election.
"That was really my diving off point, and it helped me to focus," she said. "If you can picture where your adventurers go, where the main characters go, then you can get a better sense of really plotting things out. It really expanded not only my imagination, but also the realization that the mind itself can be its own explosion of universality."
"It helped me to change profoundly," she added of writing during her transition. "I never would have ever thought of getting involved in politics pre-transition. Now, the true inner self is out! Just, the flood gates."
Now, she wants to push the plot forward for New Haven's creative, environmental and housing economies, and sees artists tying the three together. In a Pendragon administration, the Division of Arts, Culture and Tourism would remain intact in its current form, including arts czar Andy Wolf "if he'd be willing to stay on."
But Pendragon also sees communicating with local artists, arts leaders and "arts activists" in the community, instead of waiting for them to reach out to City Hall. She praised New Haven Pride Center Director Patrick Dunn and his drag alter ego Kiki Lucia, noting that "I would probably tap into his talents and people he knows in this city" if elected.
She proposed courting more private and corporate funding of the arts, citing United Illuminating, the Avangrid Foundation, and Yale University as sources to look toward. (UI and Avangrid have already donated significant amounts to the arts through their "Lighting Up The Arts" and "AvanGives" initiatives, respectively).
She also sees harnessing the arts in ongoing plans for economic development and environmental sustainability. In drafting her platform, she has imagined a revitalized Long Wharf studded with public art, including large metal and stone sculptures and buildings with murals so big and bright they are visible from the highway. She did not comment on whether that would merge with Harp's existing plan for redevelopment of the area.
She also said she is excited about the potential of community art projects in Dixwell, Goffe and Whalley. She proposed turning the area into an arts corridor (which, once upon a time before urban renewal, Dixwell used to be) with more affordable housing in the same space. She suggested more collaboration with arts-based organizations including Site Projects, which has brought several public art pieces to the city in years past, as well as focusing city support on neighborhood projects and increasing public-private partnerships.
In addition, she said she envisions artists partnering with tech and solar energy options to make the city a more sustainable place to live. Citing examples from the European Union, she said that she sees artists getting city commissions to make wind turbine trees, energy-conserving sculptures that create power when their synthetic leaves turn wildly in the wind. That idea also goes back to her graduate work at Southern Connecticut State University (SCSU), focused on "getting to 100 percent of the city's needs" through renewable energy.
After reading about turbine trees—also called arbres à vent after an initial installation of them in Paris—in a Quartz article, Pendragon was hooked by the idea. She suggested placing them at climate-controlled bus stops, where wind could harness enough energy to run the streetlights at night. For windless days, she'd have battery power for backup. She added that she sees them in multiple forms, including on the top of buildings, gathering wind power there as well.
"You can use these as a central hub, kind of like Grand Central is to New York, but outside," she said. "You create climate-controlled bus stops. Then you work with artists to put art inside, or on the outside. Make it art deco."
If New Haven makes that move, she suggested, its plot will move forward differently. She said that as mayor, she would be excited to work on sustainability initiatives not only with artists in the city, but also with state legislators including State Sen. Gary Winfield and Reps. Josh Elliott, Juan Candelaria, Roland Lemar, Toni Walker among others.
"These are ideas that I haven't seen anyone else in the state come up with," she said. "One this broad, this wide, I haven't seen anything yet."
"I've done everything on my own so far," she added. "Between working two part-time jobs, I think I've done an incredibly good job so far."
This marks our third installment of this mayoral campaign season, in which talk to candidates about proposed and existing arts policy. Read what Mayor Toni Harp had to say here and Justin Elicker here.