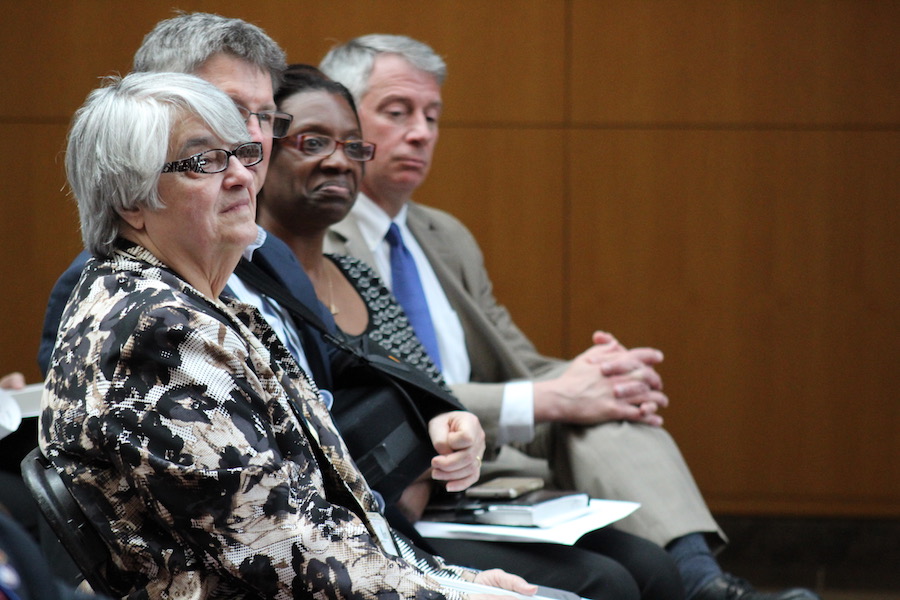 Marianne Carolla at Tuesday's ceremony. Lucy Gellman Photos.
On Marianne Carolla's first day at the New Haven Free Public Library, she made friends with almost everyone she met. Fifty-two years and thousands of library visitors later, she's still doing that work—and has no plan of stopping anytime soon.
Tuesday afternoon, Carrolla was among six New Haveners and New Haven organizations to win "City Spirit" awards at New Haven's 381st birthday party, held in the atrium of City Hall for a small crowd of city representatives, elected officials and area nonprofit leaders. In true birthday form, the party featured swing and a cappella as well as cupcakes and a New Haven swag booth. The event was organized by the city's Division of Arts, Culture and Tourism.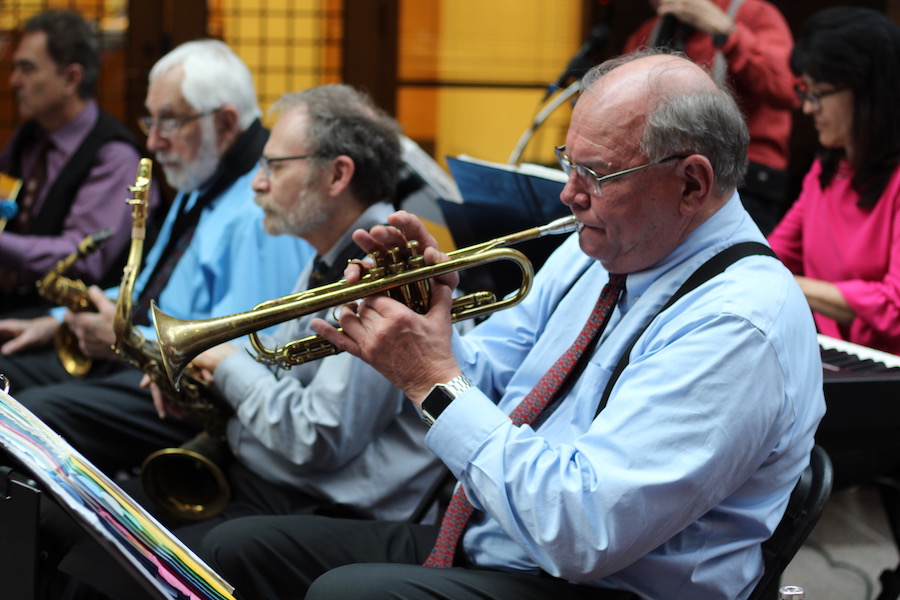 Members of the Survivors Swing Band, who provided entertainment for the party.
"New Haven is a quintessential American city, and by some measures, it is the most American city," said U.S. Rep. Rosa DeLauro, there with her husband and young grandson, Gus. "Our demographic reflects the richness of America more than any other city nationwide. It is our strength. It is our strength."
Honorees included Carrolla, the Greater New Haven Chamber of Commerce, Southern Connecticut State University (SCSU), the New Haven Symphony Orchestra (NHSO), Yale Bands, and Franklin Communities. It's a year of anniversaries: the symphony and SCSU are each celebrating 125 years in existence, Yale Bands and Franklin Communities are both turning a century old, and the Chamber will ring in 225 years in a celebration on May 3.
"Happy birthday, New Haven!," said Mayor Toni Harp. "Today we gather to celebrate the city we call home. The geographic and historic center of this proud region. And the community that has come to represent the new urbanism underway these past five years."
Aleta Stanton served as the emcee for the day's festivities.
As New Haven "is undergoing transformative changes," Harp continued, it has drawn strength from many of its longest-serving community members. That includes figures like Carrolla, whose relationship with the New Haven Free Public Library began during her childhood in New Haven. In those years, Carrolla was just a young kid, using the library to build on her lessons from St. Mary's Catholic School.
The middle child in a family of three kids—she has one older brother and one younger brother—she recalled visiting the library with her siblings, bouncing between its satellite locations. While pursuing an undergraduate degree at SCSU, she began work as an administrative assistant downtown. The date was October 1966—the same year that the library dedicated a new building for the Mitchell Branch library in Westville, and just two before a new Stetson Branch at 200 Dixwell Ave.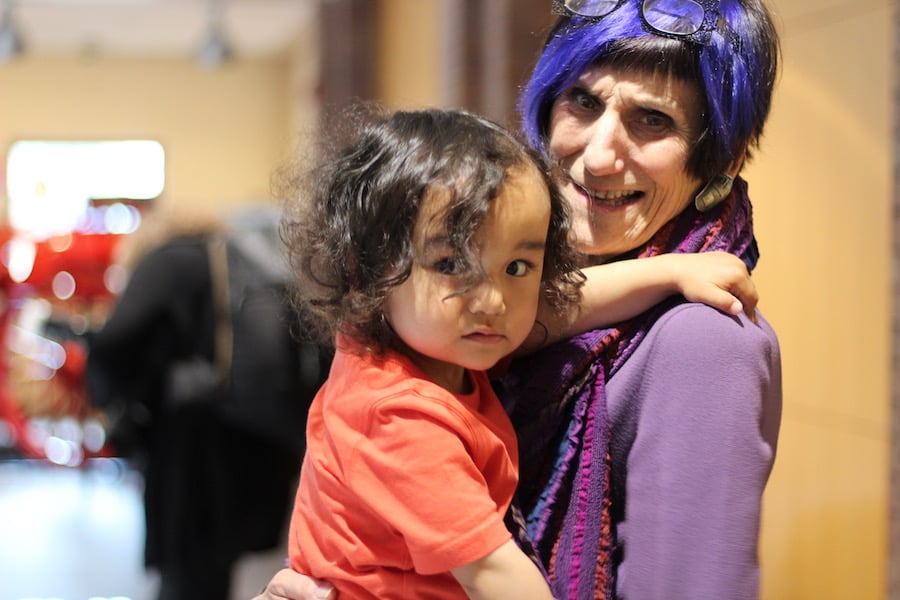 U.S. Rep. Rosa DeLauro with her grandson Gus.
In those years, she didn't know that she would stay for over half a century. But the library seemed to want to keep her: after earning a graduate degree in library science at SCSU, she was promoted to reference librarian, specializing in adult learning at the library's downtown branch. Now, many of her former young readers come in with their own kids, introducing her as the librarian who made a difference in their lives.
Tuesday, City Librarian Martha Brogan praised her for her service to the library, calling it proof of "how one dedicated and purpose-driven public manager can impact the lives and happiness of generations of readers and grateful residents in our historic city."
"I would like to thank everyone for coming today," Carrolla said, speaking through tears. "It's an honor I didn't expect."
Other honorees also honed in on that long—like, sometimes centuries long—relationship with the city. Lauding the Chamber for its 225 years, Board of Alders President Tyisha Walker-Myers painted a Hamilton-esque scene for attendees, in which a nascent 1794 chamber helped New Haven bloom into the economic engine that it is today.
Accepting the award for SCSU, Vice President for Institutional Advancement Michael Kingan called the school a meeting place of past and present, with a student body that is now 52 percent students of color. Trying not to cry, Franklin Communities Chief Executive Officer Stephen Tagliatela accepted the award as a tribute to his late mother, who died earlier this month.
And others relied on few or no words at all. Elaine Carroll, executive director of the NHSO, pulled out her flute to play "happy birthday," cuing in the band behind her with a nod of her head. Yale Bands accepted its award with a literal fanfare from two student musicians, ushering in an encore that lasted until almost all the event's cupcakes had been eaten.
"What is so important about the arts is the diversity that we have in our entertainment," said DeLauro. "When you think about the theater and symphony … and when you think about the culture that is a hallmark of what New Haven is about, it makes your heart sing to be a part of this community."
To watch more from the celebration, click on the videos below.