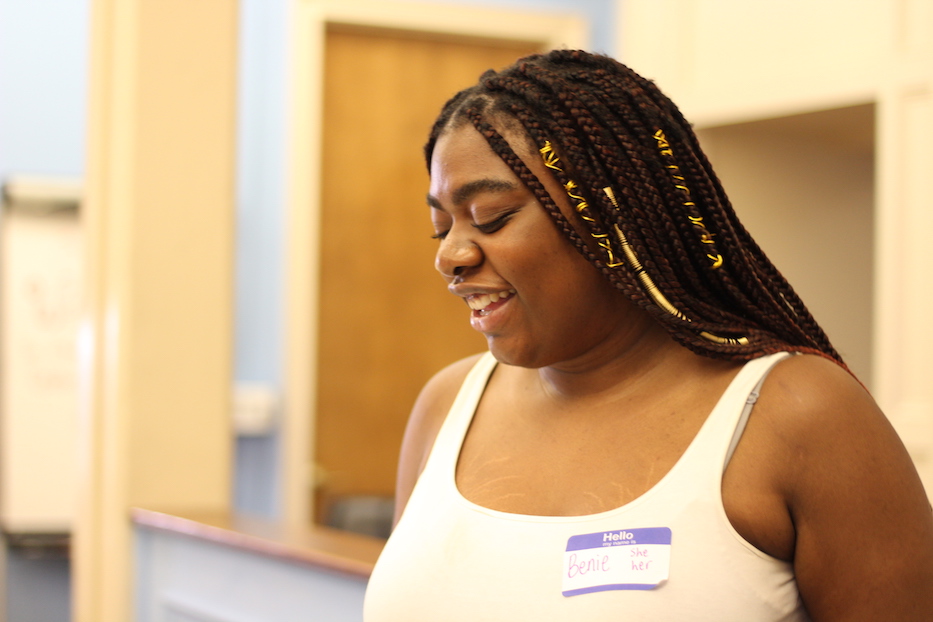 Education & Youth | Politics | New Haven Public Schools | Arts, Culture & Community | State Legislature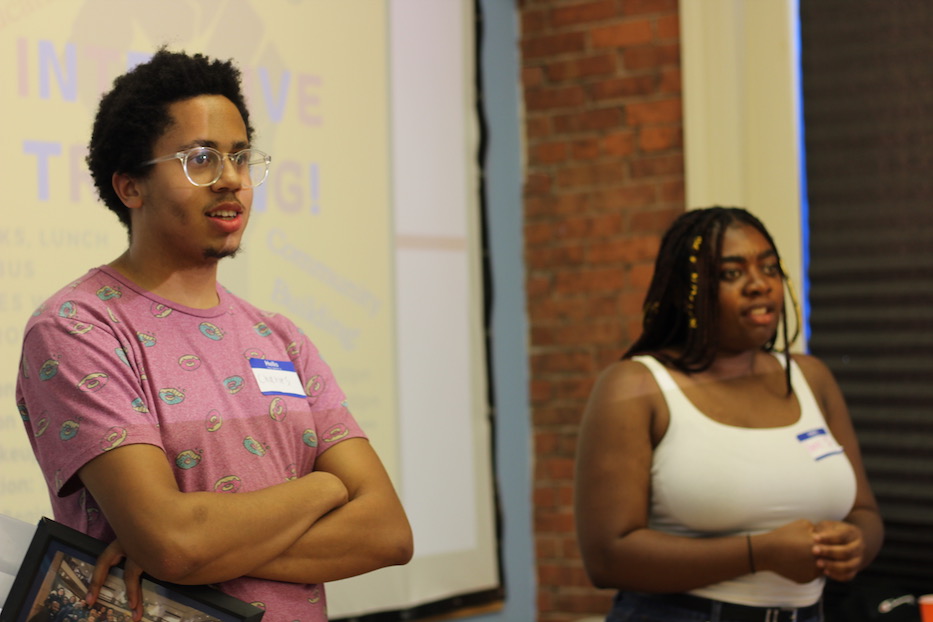 Charles Mabry and Benie N'sumbu. Lucy Gellman Photos.
First they organized. Then they testified. Now many of them are making sure the state doesn't mess up a law they helped pass.
That's the case for Students for Educational Justice (SEJ), which celebrated the culmination of the school year, graduating class of 2019, and passage of House Bill 7082 with a pizza party, pumping playlist, and animated conversation last Thursday at Agora New Haven.
Just one month after a major legislative victory for Black and Latinx studies in the state, many in the organization are looking ahead to how they are going to help build curricula that reflects African-American and Latino history—and gets teachers ready to teach it.
"My primary concern was, and still is, that it's gonna be implemented and it's gonna be harmful," said Benie N'sumbu, a project coordinator with the group who plans to study political science at Boston College in the fall. "That teachers are not prepared to teach this, that they do not have the training, the material, the content to be teaching this to students."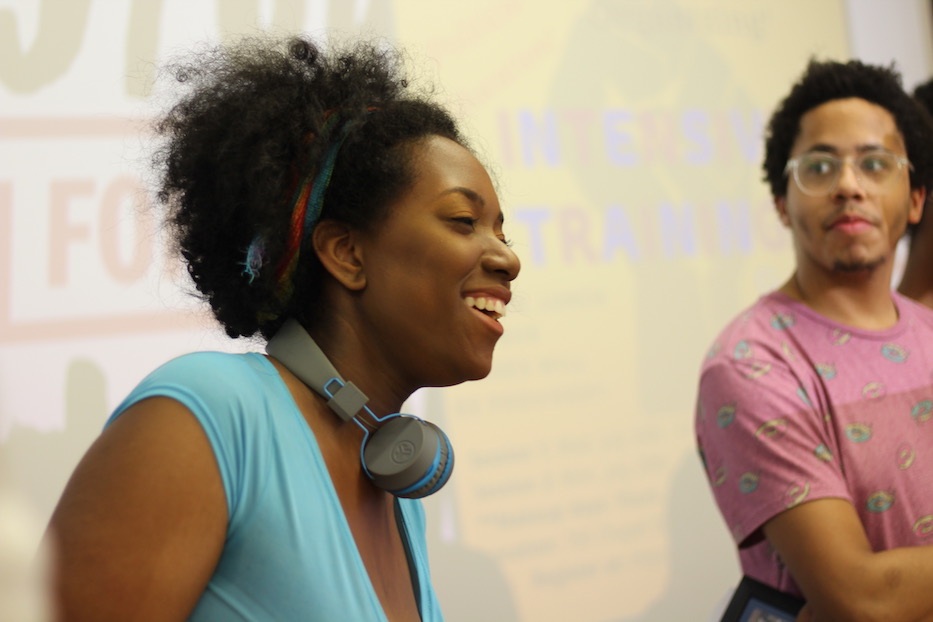 Mia Joseph, who praised her peers and especially N'sumbu for their work this year. She said that SEJ had helped her discover herself in ways that she could not have imagined just a few years ago.
The law, originally proposed by Bloomfield/Windsor State Rep. Bobby Gibson, requires all Connecticut schools to be ready to offer a course in African-American and Latino history by July 1, 2021. Before it was passed in May, it received significant support from legislators, educators, and students who showed up to voice their support for the bill at a public hearing in March. At the time, SEJ also included a set of proposed amendments to the bill, which were ultimately not implemented but included teaching the history of race and racism in the United States.
In the lead-up to implementation, the Connecticut Board of Education will be working closely with the State Education Resource Center (SERC) on the language, content, and implementation of the curriculum and materials, a draft of which is due in January 2021. Then between 2022 and 2024, according to the law, "the Department of Education shall conduct an annual audit to ensure that the black and Latino studies course approved pursuant to this section is being offered by each local and regional board of education."
That's good news for SEJ Executive Director Hillary Bridges, who has centered the organization around culturally responsive education, youth advocacy, and equity and justice in education since co-founding it as People for Race and Ethnicity Studies Today (PREST). The organization changed its name in 2017.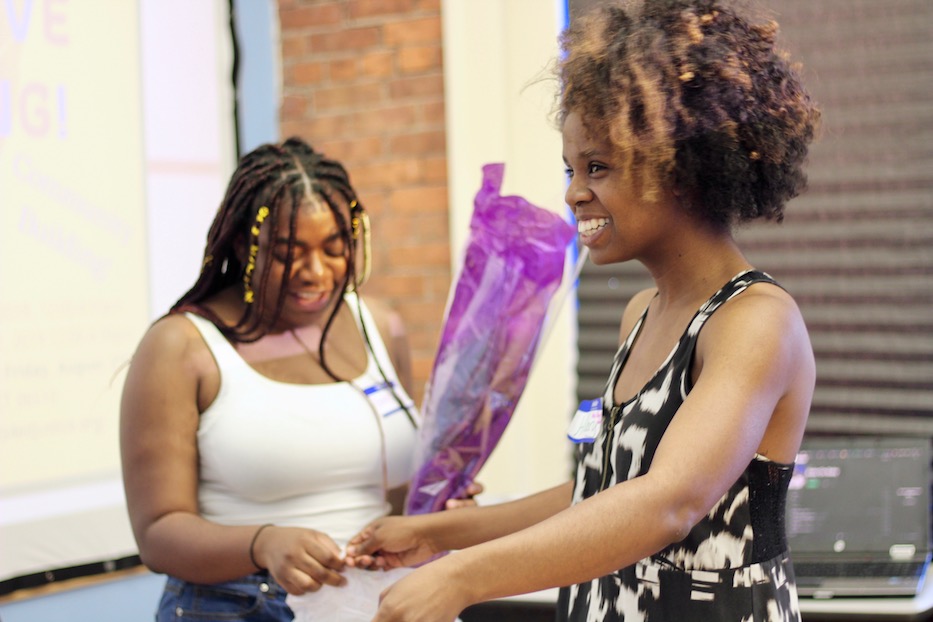 Hillary Bridges and Program Director Chinedum Nnodum gave flowers and journals to graduating students.
But, she said Thursday, it's also jarring news—because the timeline means that some teachers across the state may not be prepared to meet the requirement—or teach it correctly—in the time allotted between the bill's passage and curricular development and implementation. In Connecticut, many of the state's educators are also disproportionately white, despite the passage of a senate bill in this year's session aimed at recruiting and retaining teachers of color.
"I feel really excited, and I also feel terrified," she said. "We have a lot of work to do. But it's a first step."
In particular, she and other SEJ members are working closely with a Yale University professor in Ethnicity, Race, and Migration, as well as several teachers across the state, to work on suggestions for the State Education Resource Center. In the fall, they also hope to build a resource database for teaching African-American and Latinx studies as well as the history of race and racism.
Bridges said they also plan to work with preservice teachers—those are teachers who are still in training—to learn new, relevant material before they graduate, so they will enter the field with a much more comprehensive understanding of the law, of race and racism, and of how to teach Black and Latinx histories.
"Right now we're trying to build this collective, give them a space and a platform to do this," said N'sumbu. "We're hoping to get it started in the fall."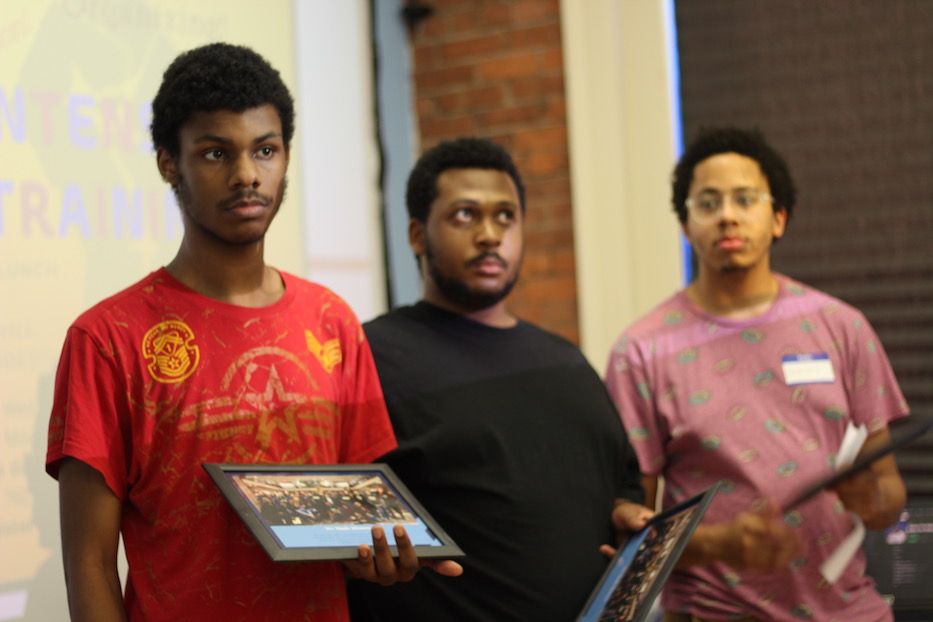 Brycen Thompson, holding a commemorative photo, was one of several students who testified at the State Capitol in early March. In his testimony earlier this year, he shared that "throughout my for years of high school I have come in contact with a variety of history educators. They have all been white."
Those trepidations, and the work still to come, did not damper an infectious sense of celebration Thursday. Mia Joseph, who has served as the team's lead organizer and will be attending Tufts University in the fall, lauded her fellow students for their collective work, saving the highest praise for N'sumbu.
Charles Mabry, who graduated from the strings program at Cooperative Arts & Humanities High School in June, said that he testified in favor of the bill to pave the way for other students who may not have the same grounding in history. That is, all history.
As a student at Co-Op, Mabry said he was "very fortunate" to have an elective course in African-American history offered at his school. To him, he said that it felt comprehensive, despite a dearth of teachers of color at the school. But talking to fellow students, he also got the feeling that that was the exception, and not the rule.
"I'm not going to be in high school anymore, but I'm happy about the bill," he said. "It's important that more people acknowledge Black history, so that racism can sort of die out. It's not going to completely die, but it will become more suppressed."
"Hopefully everybody can see [history] the same way, instead of statistics and stereotypes," he added. "It's going to be great for all our youth and young people. Not only will it give background on each ethnic group, but it can also prep people for real life and what's happening in current events, so people won't be blindsided."
SEJ member Brian Reginald Payne, Jr., who joined the group when it was still known as PREST, said he's also excited about the bill. Born and raised in New Haven, he said that he would have loved a similar requirement before heading to college. He is now studying visual arts at Western Connecticut State University, but returns to New Haven on school vacations and during the summer.
"I think this is great, because it gives students a chance to learn the history of African-Americans and of course Latinos," he said. "The origin, upbringing and of course the struggles that both of those groups go through."
"I think it will give people a chance to really be more open-minded," he continued. "You know, less ignorant. It's one of those things that could … if you learn about a new culture, you're more open-minded to it. You gotta be open-minded. Because in life, you're gonna be around people of different races, religions and gender. So learning about that other person, learning about that difference, can help you be more open to it. Cause there's a whole lot of that in the world."
"My primary concern was, and still is, that it's gonna be implemented and it's gonna be harmful. That teachers are not prepared to teach this, that they do not have the training, the material, the content to be teaching this to students."
One of the most vocal proponents of the bill (read her full testimony here), N'sumbu left the party upbeat, holding a new journal and gift bag that SEJ had gifted her as a graduation present. While she acknowledged that some of the educational work is just beginning, she said she was moved by the collective enthusiasm that helped push the bill forward this year.
In May, she made last-minute trips to Hartford twice, once to hear the Connecticut House discuss the bill, and again as it went to Gov. Ned Lamont. Almost as soon as it passed, she turned her focus to mobilizing in New Haven, where the city's Board of Education proposed reassigning 53 teachers in May. Before starting up SEJ work again, she said she also plans to take advantage of the summer—at least a little.
"I feel good. I'm excited, like a 10," she said. "It's all of it. The bill being signed and going into effect, the things that we're planning at SEJ, the fact that it's summer and I'm about to go on vacation. So I'm really just excited. Everything's happening."
Despite heading to Boston for a week-long orientation in June and then school in the fall, she added that she plans to remain connected with educational justice work and with the city.
"New Haven is my home," she said. "I'm not going anywhere."