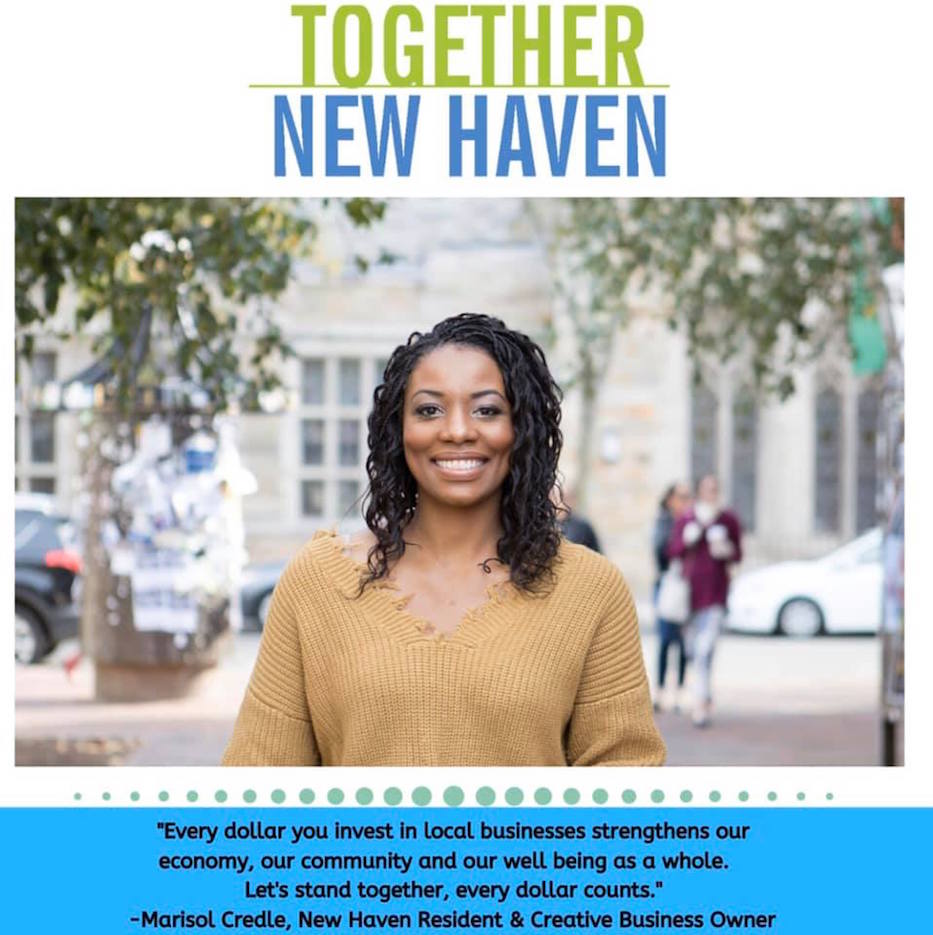 Culture & Community | Economic Development | Arts & Culture | Elicker Administration | COVID-19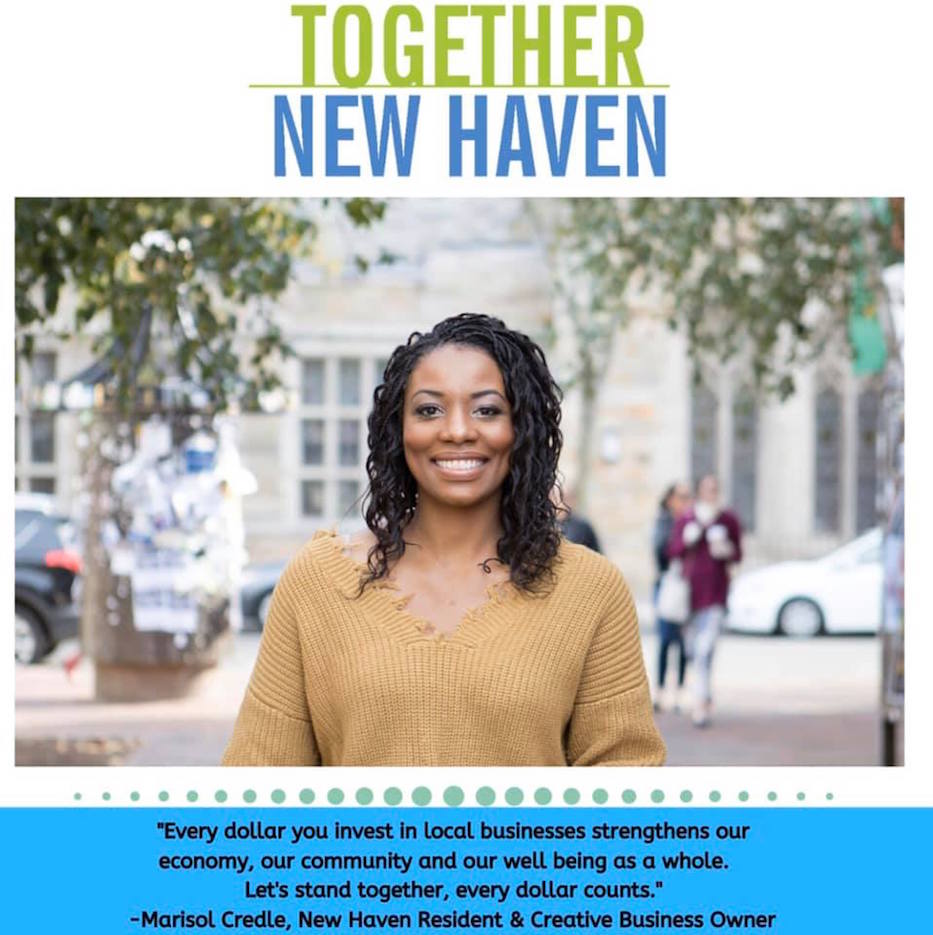 One of the images for #TogetherNewHaven that Jefferson has worked on. Division of Arts, Culture & Tourism Photo.
A new artist's relief fund, pitch for local business support, and social media campaign are all getting behind the same message: New Haveners may be isolated right now, but they'll be stronger against COVID-19 if they work together. Virtually, that is.
That's the idea behind #TogetherNewHaven, a new website, business-focused umbrella, and online campaign intended to help artists, local vendors, and small businesses get through the economic uncertainty of COVID-19. Thursday morning, city officials launched the initiative with a virtual press conference on Zoom. In addition to its pitch to shop local, it includes a new $60,000 Creative Sector Relief Fund for New Haven artists.
It joins ongoing, largely grassroots efforts from New Haven residents to support local food businesses, provide food donations, and get funding to artists who are scrambling with upcoming rent, mortgage, car and food payments.
"I think it's been pretty clear that we're all going through some pretty serious challenges, and our team is starting to work under the umbrella of Together New Haven," Mayor Justin Elicker said Thursday. "It's all about supporting one another, buying local where possible, and also staying connected."
Partners include New Haven's Economic Development Administration and Division of Arts, Culture, and Tourism, the Connecticut Department of Economic and Community Development (DECD), Greater New Haven Chamber of Commerce, Economic Development Corporation of New Haven, Town Green Special Services District, Market New Haven and the Arts Council of Greater New Haven.
Representatives from each group will also serve on an Economic Resiliency Task Force.
The announcement comes as a proposed $2.2 trillion federal stimulus package moves from the U.S. Senate to the U.S. House of Representatives. While the package would provide vital relief to both individuals and small business owners, several in the conference said they are concerned it excludes people who are part of the wider gig economy. In other words, many of the city's independent artists.
Emergency Support To Local Artists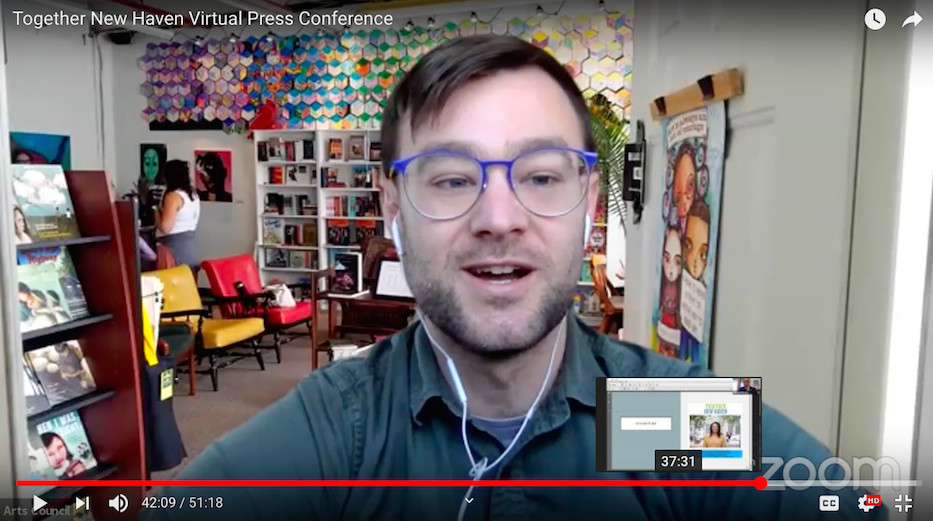 In the meeting, city officials announced that artists will be some of the first to access emergency funding. As of Thursday morning, New Haven artists and small arts organizations are now eligible for $1,000, in a new relief funding program from the Division of Arts, Culture and Tourism and Arts Council of Greater New Haven.
The fund currently holds $60,000—$50,000 from the division's not-for-profit arm New Haven Festivals, Inc. and $10,000 from the Arts Council's Artist Next Door Fund—and will be taking donations online in order to grow. As the fund launched Thursday, Arts Council Executive Director Daniel Fitzmaurice announced on social media that he was trying to raise an additional $5,000 through Facebook donations for his March 26 birthday. (For full transparency, the Arts Paper is an arm of the Arts Council but is editorially independent from it).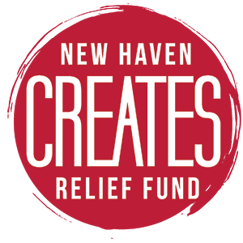 "We understand that $60,000 is not a lot," said Cultural Affairs Director Adriane Jefferson. "Everyone is hurting right now. We understand that $1,000 is very little. But we're trying our best to assist where we can for right now."
To qualify, artists must meet the United Way's ALICE (Asset Limited, Income Constrained, Employed) Stability threshold. The fund is currently open to "practicing artists of any discipline, teaching artists, and arts industry workers," as well as arts organizations with a budget of less than $500,000 per year.
Fitzmaurice said that the fund puts New Haven in step with larger cities around the country that have already set aside funding to support artists. The application is accessible here.
The fund is part of a number of new emergency funding initiatives for arts and culture in the state and in the country (access more resources here and here). In the current federal stimulus package, $75 million per agency is earmarked for the National Endowment for the Arts, National Endowment for the Humanities, and the Corporation for Public Broadcasting. $50 million will go toward the Institute of Library and Museum Sciences, $25 million toward the Kennedy Center, and $7.5 million to the Smithsonian.
Locally, a number of foundations and not-for-profits have also been responding. The New Haven Symphony Orchestra and Arts For Learning Connecticut have both launched emergency relief funds specifically to benefit their contract workers and teaching artists (Arts For Learning projects that its artists will lose $60,000 this month alone; the NHSO estimates that it has lost $65,000). Last week, the Community Foundation for Greater New Haven launched a $2 million relief fund for nonprofits in the community.
Jefferson and Fitzmaurice are also encouraging artists to log their responses to a local COVID-19 Impact Survey intended to gather responses from artists in the region. At the end of last week, the survey had brought in almost 100 respondents who collectively reported a $2 million loss in income. Jefferson has also started offering one-on-one virtual office hours with artists moving their work online: in under three days she has held five and scheduled several more.
Support To Small Businesses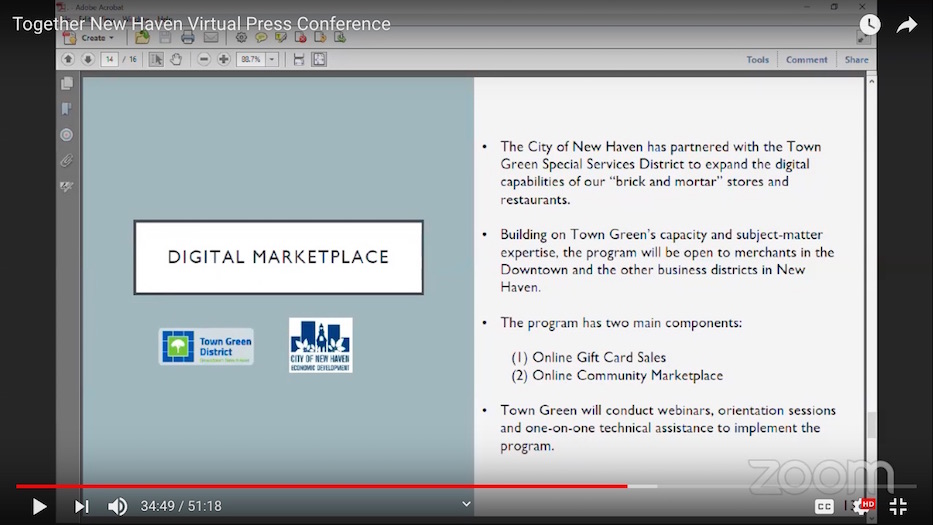 Elicker, DECD Commissioner David Lehman, and City Economic Development Administrator Michael Piscitelli also focused on the importance of supporting small, local businesses through the unexpected closures that have come in the midst of COVID-19. Around the city and the state, businesses have moved overnight to no service or takeout and delivery.
Piscitelli pointed to the tens of thousands of restaurant, hospitality and small food business owners directly affected by those shutdowns.
"We're finding our way together," he said. "All of our messaging with the business community is to follow the lead of public health right now and make our very, very best efforts to flatten the curve."
This week, DECD rolled out a $25 million Connecticut Recovery Bridge Loan Program, intended to provide emergency financial support to small businesses and not-for-profits up to $75,000. In addition, Lehmen is also directing small business owners to the Connecticut Department of Labor's Shared Work Program, and disaster loan assistance programs offered through the U.S. Small Business Administration. He said that the department is expecting to turn around between 500 and 700 bridge loans "very very quickly" in the next weeks.
"We understand how difficult the revenue environment has been, with business falling off in many, many areas," he said in the meeting, calling in via phone. "This is an alternative to basically get operating cash flow, or a loan for operating cash flow, for up to three months."
Locally, work to create a small business hub is already well underway. Already, Info New Haven has dedicated the bulk of its website to a growing list of businesses offering take out, delivery, and groceries, stores from which one can buy gift cards, and local museums offering virtual tours. The Greater New Haven Chamber of Commerce is offering free webinars with a website updated for COVID-19 specific resources.
Town Green Executive Director Win Davis showed off an in-the-works Etsy-esque "Digital Marketplace" for New Haven vendors that will be going live in the next two weeks. Using the marketplace, residents can shop local goods without leaving their homes. While some shops already have robust online presences—Civvies, VintanthroModern, and Strange Ways for instance—others are just coming online now.
"We do not see one front door, or a consolidated portal, or a clearing house associated with this crisis," said Piscitelli. "So one thing that we're working very hard on is to make sure that we put the customer in the middle of the conversation. And regardless of which front door you pick, we're gonna be able to serve them as best we can in an ever-changing and fast-moving environment."
Building #TogetherNewHaven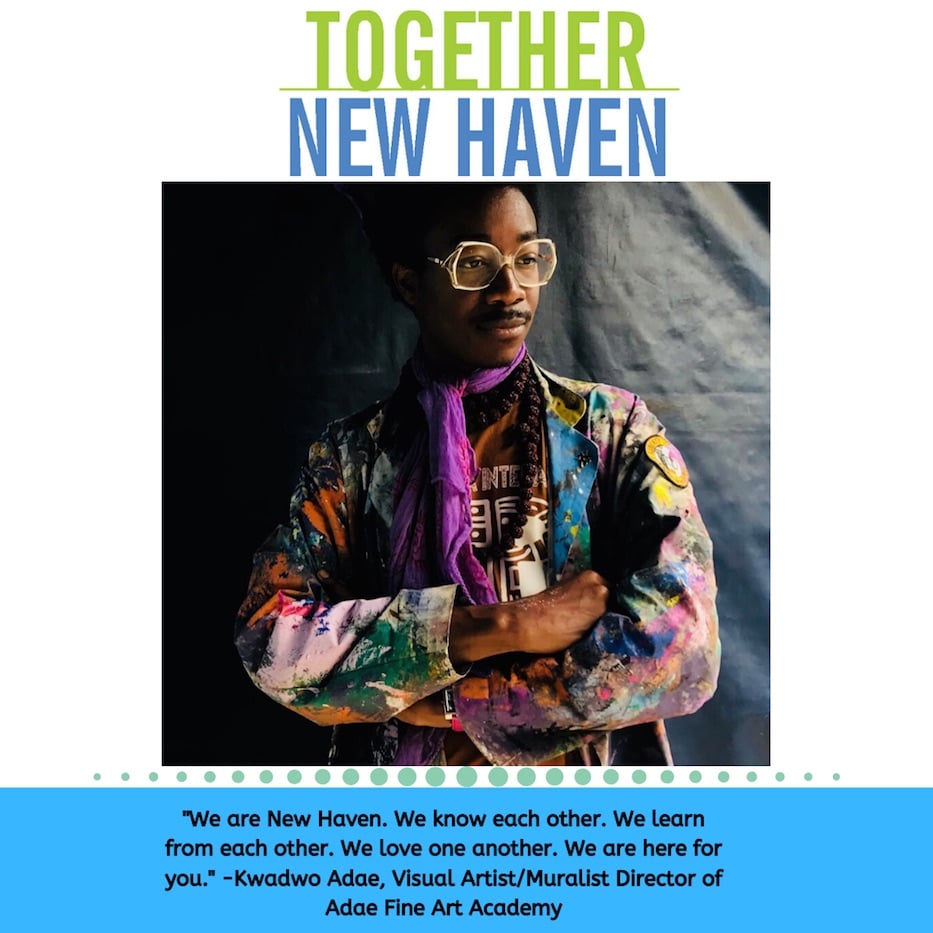 The final piece of supporting local makers is a #TogetherNewHaven hashtag, spearheaded by the Division of Arts, Culture & Tourism. In under a week, Jefferson built out several images of New Haven artists, business owners, and creatives—A Kidd From New Haven for instance, or Top Secret Songwriter creator Marisol Credle—with text about why they live and work in New Haven. Since Tuesday, they've been spreading on Facebook, Twitter, and Instagram.
It's part of "creating a virtual community through arts and culture," Jefferson said Thursday. "Shifting to: what does arts and culture look like and feel like from a totally virtual perspective?"
She noted that she is working on a more streamlined process for arts education, the creation of a virtual show on Facebook and Instagram live, more virtual professional development opportunities, and #TogetherNewHaven online arts challenges.
"In the long run, though, we are looking at the gig economy," she said. "Once we're through through this, there are going to be so many people doing events, hiring freelancers and contractors, and different people who are from the gig economy.We are trying to measure that now, because when we come out of this, they will be able to benefit from the resources that are available."