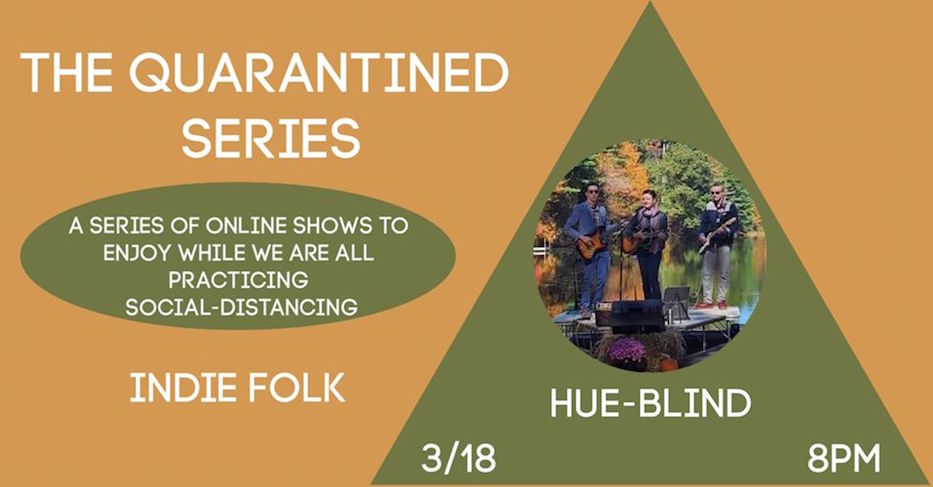 Music | Arts & Culture | COVID-19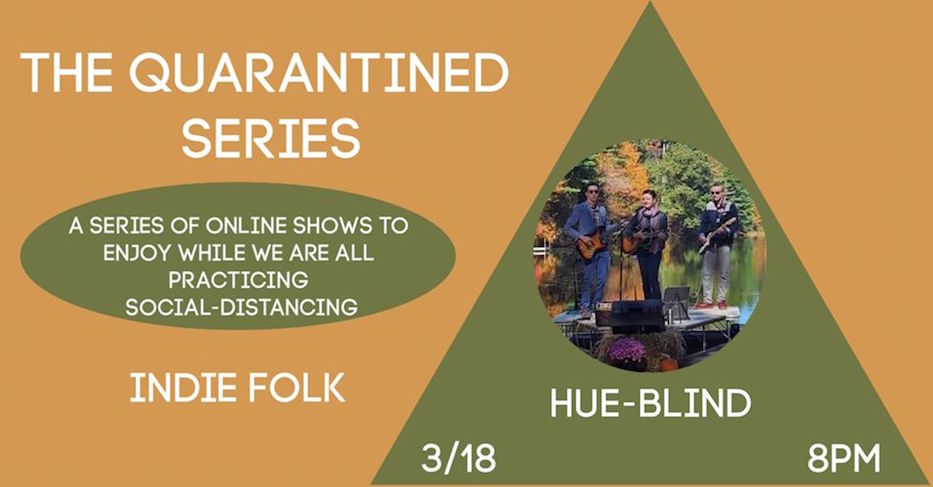 Image from the series' launch on Wednesday. The Quarantined Series Photo.
Lauren Michaud adjusted her mic and swayed from side to side. Her head bobbed almost imperceptibly. A monitor glowed green and black behind her. On each side of her—not quite six feet, but getting there—Justin LaFountain and Austin Rivera took the audience to somewhere that wasn't a living room, in the middle of a cool and wet March night, in the middle of a pandemic.
"Can't you see, oh can't you see," Michaud crooned. "It's more than you, it's more than me."
Michaud is the voice behind Hue-Blind, a Hartford-based group that kicked off "The Quarantined Series" via Facebook Live Wednesday night. The brainchild of musician Sarah B. Golley, the series is intended to bring attention to—and help raise money for—artists who are out of work as the COVID-19 pandemic cancels months of performances and forces them inside.
"I started the series to help organize all the live-streams happening so everybody can find them in one place and artists can choose to not overlap their performances if they wish," wrote Golley in a chat interview before the show. "We're all hurting without shows, we're all home with plenty of time to practice and nowhere to play. I just wanted to help things feel more normal."
She added that the concerts in the series, of which there is already a long list, can lead to a source of revenue for the performers. Even before this week, artists were feeling the economic strain of cancelled and postponed gigs as venues started to take measures to prevent the spread of COVID-19. By last Friday, most theaters, opera houses, and symphonies had shuttered through at least March and April.
On Monday, Gov. Ned Lamont closed all remaining restaurants, cafes, bars, and theaters by executive order. On Tuesday, both he and New Haven Mayor Justin Elicker announced that they were considering shelter-in-place orders.
By then, performers were already streaming concerts online, but with no kind of system in place to make sure they didn't overlap with each other. While the series is free and accessible to anyone who wants to hear live music and has an internet connection, Golley suggested that viewers can visit the groups on Bandcamp to kick funds their way.
Upcoming performances include An Historic, Murderous Chanteuse, Turkey Vulture and Chad Browne-Springer all before the week is over. A full schedule is available here.
"You can help artists by tipping them for their performances, buying their merch online, and sharing their work with others," she said Wednesday. "That's huge. The series is open to everybody, and shows can be at any time."
The series also comes as many performers work through COVID-19 together, separated through their screens though they may be. On social media, artists have been talking each other through emergency grant resources and filing for unemployment insurance. Others have posted links to their Venmo and Bandcamp pages and small businesses.
Wednesday, Hue-Blind began its set just hours after Connecticut Gov. Ned Lamont announced the state's first coronavirus death, in a world where virtual space and physical space are increasingly collapsed onto each other. Outside, the night was cool and a little heavy. A wet breeze clung to anything that stayed still too long. Inside, Michaud fiddled with a camera.
Then, suddenly, there was a small moment of comfort: performers did exactly what the band would have at a show.
LaFountain and Rivera pulled their guitar straps over their shoulders and nodded at each other from across the room. Michaud checked something on her phone and tested out the stream on another screen, waving at a virtual audience. Performers scooted into position on three stools and warmed up, vocals immediately hitting at heart center. Just when it seemed the group was getting into a groove, they stopped and adjusted their levels.
No one stopped to ask for a tall glass of water or a beer from the bar. No one yelled about needing to find the sound guy. No one crowded the stage to sway awkwardly and figure out where to put their hands. But it still felt like a show. A weird, new kind of show.
Michaud got in close to the screen to introduce the group, as if she had stepped into the thick of things.
"Hope everybody's home, enjoying themselves as much as they can" she said as viewers started to tune in online. "We're very fortunate to be able to play for you guys today. We had two gigs lined up this month, month and a half, that we were excited for, and unfortunately everything's getting cancelled. So we figured, we've been practicing, why not do something in case people want to watch."
For almost an hour, her vocals coasted over an invisible audience, songs flowing into audience banter and then back into song again. As she started with "Where's My Voice," based on a series of poems by her aunt Rachel, her influences popped one by one from the woodwork. Her work is winding and poetic itself; songs off her EP Bluets recall Maggie Nelson's collection of the same name.
The longer one listened, the easier it was to drift, just as one does at an in-person show. There was a heavy-handed nod to The Cranberries' frontgirl Dolores O'Riordan, and maybe a dash of Sarah McLachlan. But in it, Michaud also brought something that was entirely her own, her voice as clear as a bell and somehow full-lunged at the same time. Guitar, sometimes so close to the recording it got fuzzy, lapped over the vocals like a low, unhurried tide.
Michaud let her shoulders relax a little and coasted into a chorus. Vocals floated. As she played, comments rolled in: one listener noted that she was "waving light slowly back and forth" virtually. Another joked that he'd tried to start a mosh pit to no avail. Another, close to the end of the set, thanked the group for putting on a form of stress relief to the end of their day.
By the time the band announced its song "It's Been A Long Day," the title felt prophetic. Michaud, crooning, let her voice carry listeners somewhere far away from the unexpected layoffs, cancelled gigs, back-to-back Zoom conversations, at-home music, art, and school lessons, and pandemonium-laced trips to the grocery store that have defined the last several days. While only a few dozen watched the set live, almost 500 had watched it by midnight Wednesday.
"Thanks for joining us," she said as more people started watching from as far as Arizona and the West Coast. "Really grateful to be able to do something involving our friends and family even though a lot of us are very far apart for now."
Hue-Blind is on Bandcamp and Facebook. On Friday, Bandcamp will be giving 100% of sales to its artists. Read more about that here.