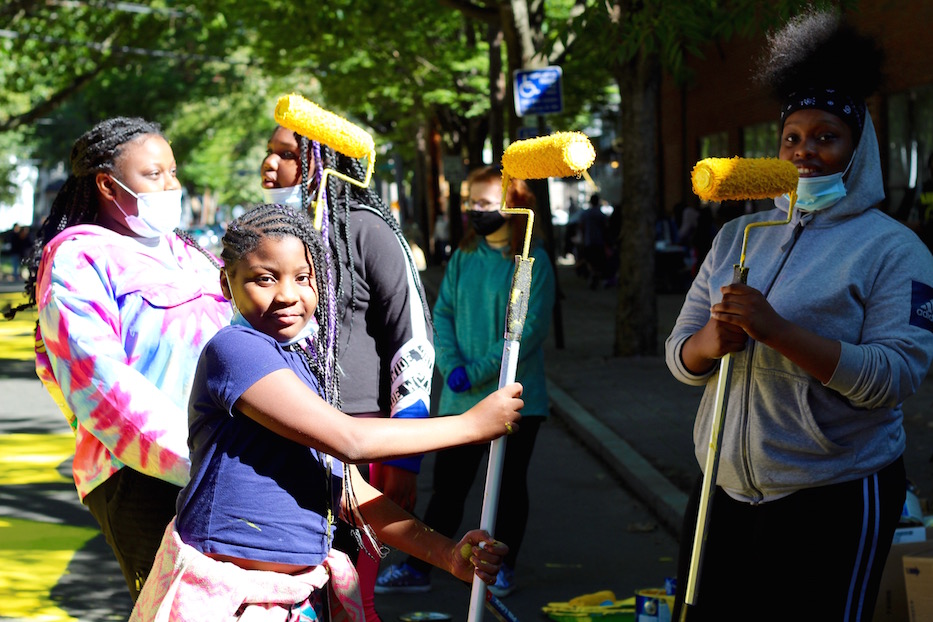 Kwadwo Adae | Public art | Arts & Culture | Newhallville | Black Lives Matter | Arts & Anti-racism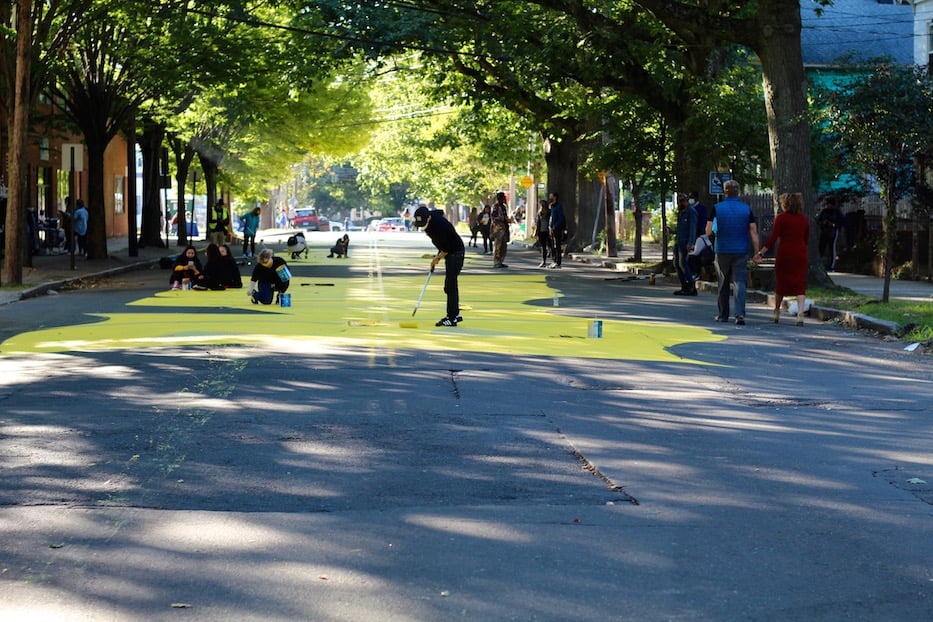 The mural is a collaboration among Black Lives Matter New Haven, the City of New Haven, and artist Kwadwo Adae. BLMNHV comprises Sun Queen, Ala Ochumare, Ashleigh Huckabey, Sy Frasier, and MiAsia Harris. Lucy Gellman Photos.
Shiloh Henderson was in her Bassett Street home Saturday morning when she heard voices outside, rising around a call for Black lives. At first, she thought it might be a protest. But when she peeked out a window, she saw something else: three bright yellow words sprawled across the length of a city block, waiting for hands to fill them in one by one.
Saturday, Henderson was one of hundreds to leave her mark on New Haven's inaugural Black Lives Matter mural, installed on Bassett Street in the city's Newhallville neighborhood. A collaboration among Black Lives Matter New Haven (BLMNH), artist Kwadwo Adae, and the city's Division of Arts, Culture and Tourism, the 277-foot mural is meant to spread Black joy—and a fierce message of affirmation—through one of the city's oldest and most historic Black neighborhoods.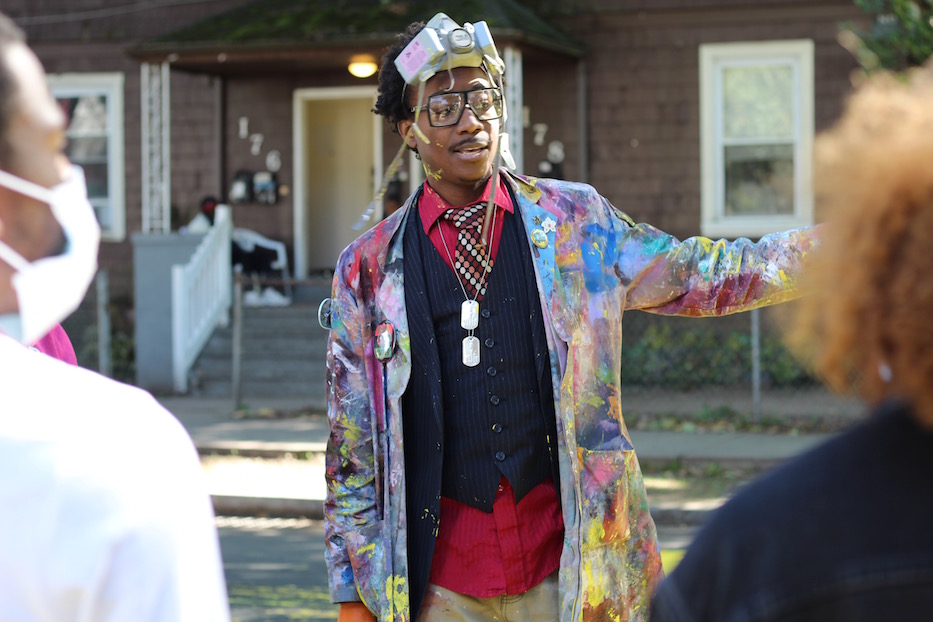 Artist Kwadwo Adae: "The people who have been unjustly incarcerated, unjustly harassed, beaten, murdered—this is the statement that they are no longer able to make."
"Oftentimes, Black folks don't take the time they need—or have that time—to process and share space together," said BLMNH Co-Founder Sun Queen (a.k.a. Lauren Pittman), a writer who also grew up in Newhallville. "Oftentimes we are out in the street, marching and making demands. But today is about Black love and Black joy. Everyone is so excited to be a part of this."
The mural is the first of eight that BLMNH is planning between 2020 and 2021. The second, also by Adae, will be installed on Temple Street Oct. 3. The others are slated for 2021; their locations have yet to be determined. Both Rev. Steve Cousin at Bethel AME and Rev. Kelcy Steele at Varick AME Zion have volunteered their churches. The group is also interested in installing a number of tapestries across the city.
The momentum follows Black Lives Matter mural projects in Hartford, Stamford, Bloomfield and South Norwalk, as well as a pending proposal for one in West Haven. Prior to installation, all of the dollars for the mural were raised between BLMNHV and the city, with support from individual donors and a few local organizations. Cultural Affairs Director Adriane Jefferson said she's ready to help BLMNH see those projects through in New Haven. Saturday, she arrived ready to paint, looking out over the design with anticipation.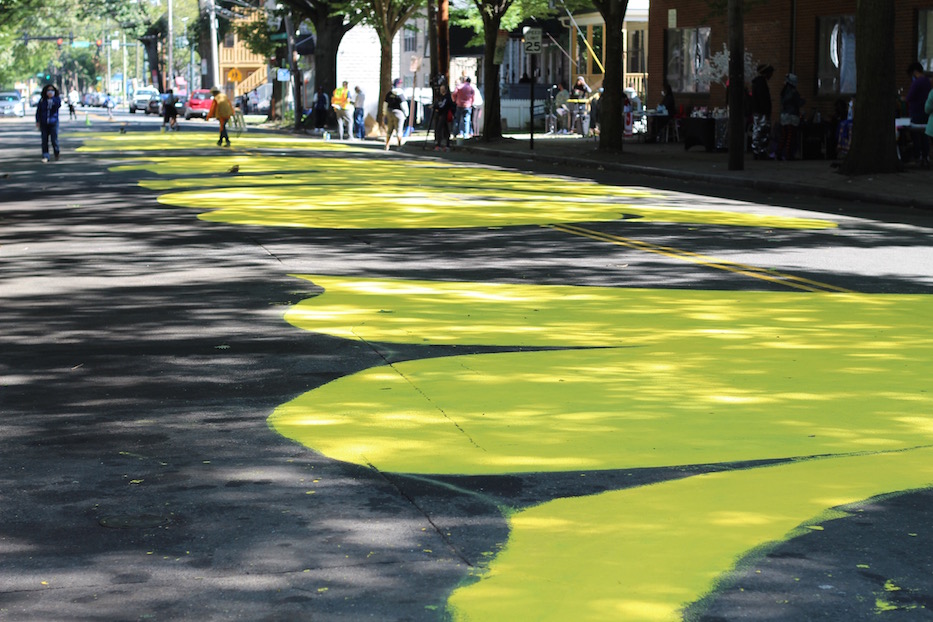 "I'm excited!" she said. "I'm very excited. I think it's important that we show a lot of Black joy. Because we have a lot of Black trauma."
For 11 hours, collaborators worked to spread that message up and down the block, their vocals weaving into open mic sessions, pumping DJ sets and impromptu dance parties beside the bright yellow paint. Almost as soon as organizers had started setting up, residents ventured out of their houses to see what was going on.
From the street, Adae looked up every so often and smiled from his paint-splattered coat and heavy-duty mask. After arriving at 6 a.m. to set up—after a 2 a.m. site visit earlier in the week—he outlined the words, letting the weight of each letter sink in. At 22 by 277 feet, the piece is the largest mural he has ever done, and his fourth in the Newhallville neighborhood (read about the others here, here and here).
The design is not subtle or quiet: it is rendered in a deep, arresting yellow with butter-colored edges that make it pop, inspired by graffiti artists across the city and the globe. When he was doing research on the work, Adae looked to work specifically by local artists Dooley-O, Tank, JCX Arts, and Believe In People (BIP).
"The people who have been unjustly incarcerated, unjustly harassed, beaten, murdered—this is the statement that they are no longer able to make," Adae said. "It's sad that I have to make a sign to remind people of the humanity of Black and Brown bodies. To remind people that the police murder and incarcerate us at rates that are disproportionate to our population. It is a sad thing and I would much rather be painting anything else, in all honesty. But this message is so important."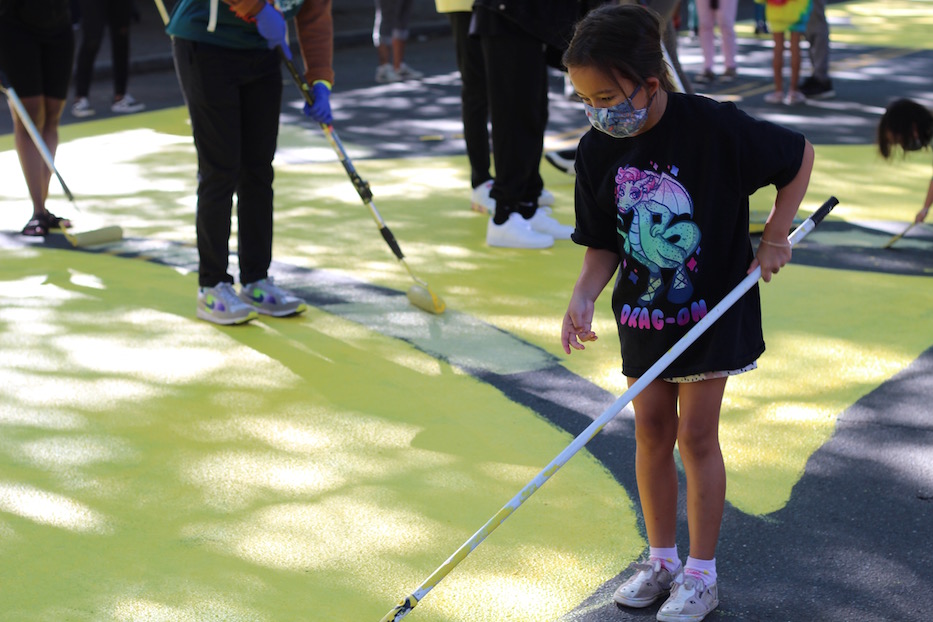 7-year-old Magdalena Diaz gets in on the action. Her mom, Jenny Heikkila Diaz, talked to her daughters about the significance of the mural before heading over to Bassett Street on Saturday.
Saturday, part of that allowed for improvisation. Around 9 a.m.—just after the street had closed—a truck came rumbling through and rolled over a paint can. Yellow paint exploded over the mural's anchoring B. Adae devised a quick fix: a rounded, bulbous bottom to the letter. Then he started welcoming people from the community, ready with brushes and rollers.
He shook off the coolness of the day, which seemed to snap and buzz with excitement every time a breeze rolled in. At 6 a.m., the street had still looked like a street. By the end of the day, it would look like a communal masterpiece.
By mid-morning neighbors stood on the periphery, taking it in as members of BLMNH emceed on the mic and walked around in sweatshirts with their names outlined on the back. On the street, the design mingled with calls of "Black Lives/Matter!" and "No justice/No peace!" and loud crackling music. Ochumare called it a testament to the work that the group has been doing in one of the neighborhoods that has been most affected by the parallel pandemics of COVID-19 and racism.
Onlookers peered out from their stoops, porches and front yards; others hopped off the 238 bus and made their way toward the sound. A few, who had heard about the mural on social media, trekked to the letters as if they were headed to a pilgrimage site. On one side of the street, a mom came out of her house bouncing a baby. Two girls stood on the sidewalk, choreographing a dance. It felt like fall, with new rules around masks and distancing.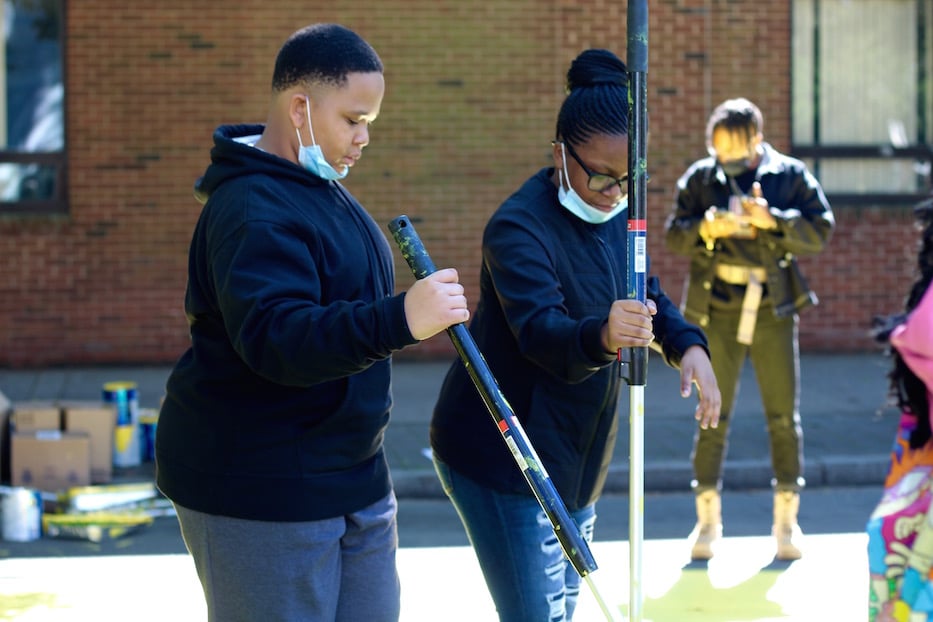 13-year-old Airis Scott and her 11-year-old brother Eric.
It intrigued 13-year-old Airis Scott and her 11-year-old brother Eric, who came out to paint and stayed for hours. The two are Sun Queen's younger cousins; Airis said she aspires to be a community organizer in New Haven, doing work for the community where she grew up. After grabbing rollers and trays of thick, mustard yellow from Adae, they worked on an I, not far from where the street meets the Farmington Canal.
"It makes me feel good," said Airis, who attends Highville Charter School nearby in Science Park. "We really came out for the community. You know, sometimes Black people are hurt or mistreated for the color of their skin. But what Black Lives Matter means to me … God made me Black for a reason."
"With all this racial oppression going on, this is the least we can do," she later added. "Sometimes, racism is just ignorance."
Her younger brother Eric, who also attends Highville Charter, said he often feels frustrated when classmates tell him he isn't Black because his skin is lighter than his sister's. For him, he said, the phrase "Black Lives Matter"—let alone the movement—means a universal respect of Black people and Black skin, no matter the shade. As they painted, their uncle Jonathan Guest looked on and filmed.
"This is bringing the community together," he said. "I love it. I love it. I really do. It's about time."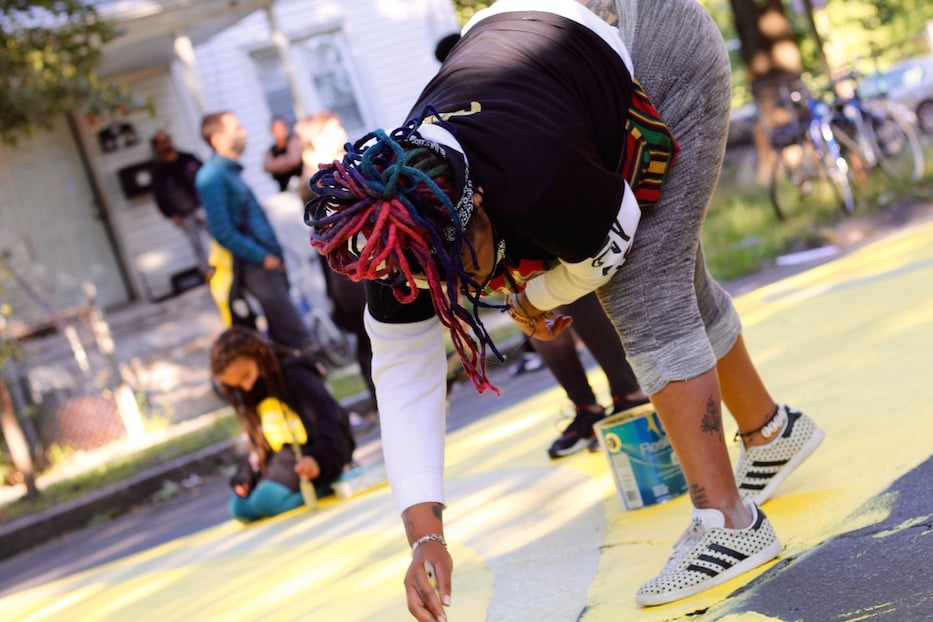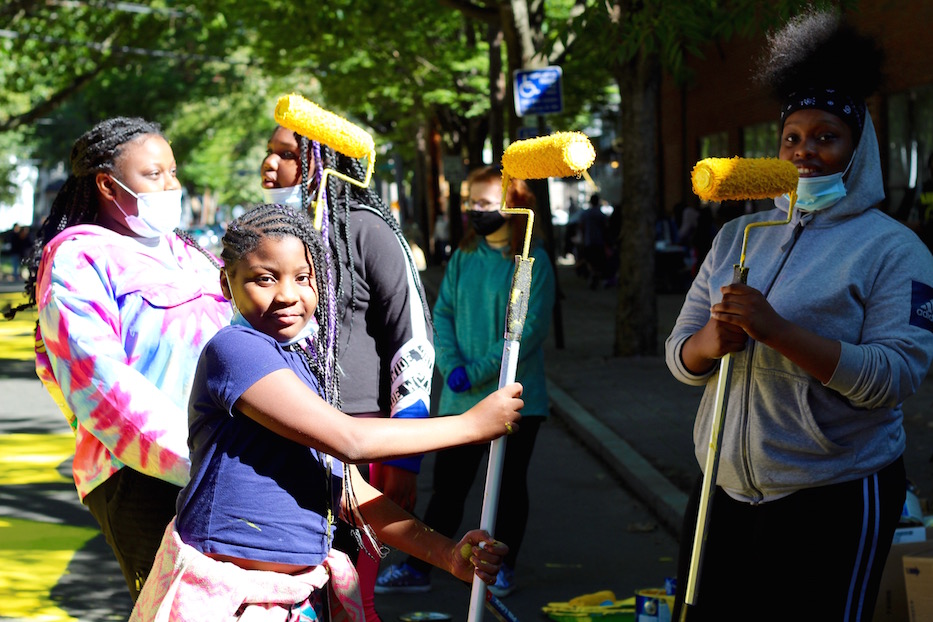 Top: BLMNH Co-Founder Ala Ochumare. Bottom: Shiloh Henderson (foreground), MyAsia Robinson, Makala Lane, and Robena Lane. In the afternoon, Ochumare noted that "It's really important for us to have the people of the city who are most affected experience joy."
Elsewhere on the street, friends MyAsia Robinson, Makala Lane, Shiloh Henderson, and Robena Lane were working together on a thick, blocky C, their rollers leaving glistening stripes of yellow on the pavement. All four had been inside a house on Bassett Street when they heard voices from an open mic bouncing down the street.
Outside their home, the air had been charged with phrases like "America/release your cold-blooded ways/We will never stop fighting for our freedom and justice/And know that we love our Blackness/we are branches of our ancestors." Spoken word boomed over the street. The four decided to get involved. They ended up staying for hours.
"It means a lot to us, to have it here," said Robinson. "Every day, in this neighborhood people can be gone."
"The reason we're out here doing this is because we don't get treated right because of the color of our skin," Henderson said. "And that's not fair. I'm happy with my skin color. We all deserve a right to speak out."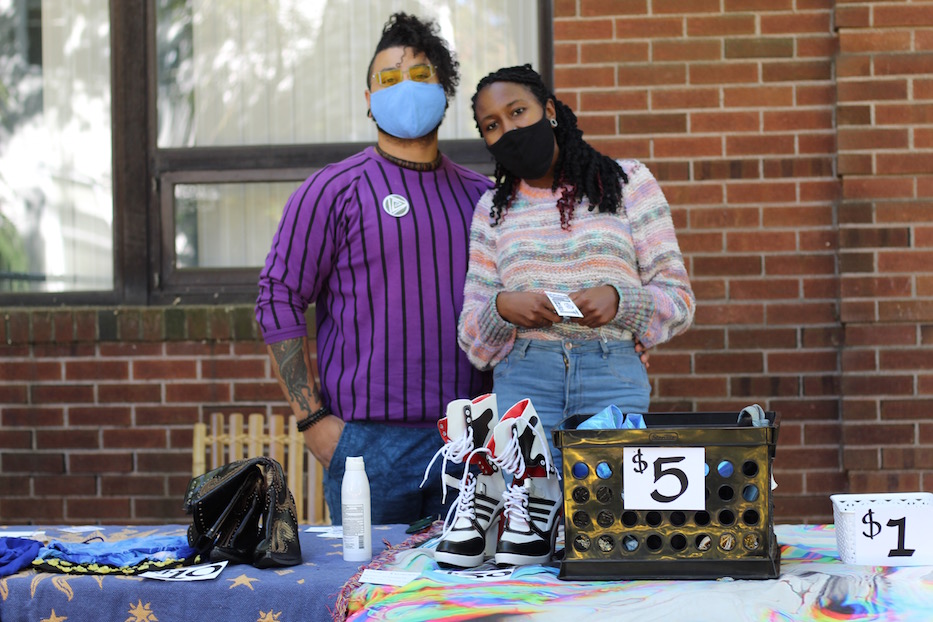 Zaaqqara Powell and Travis Golden of Wizard Up.
Nearby, vendors set up booths from small, Black-owned local artists and small businesses. Some had heard about the event from Dyme Ellis, who curated the city's inaugural Black Art Fair at Artspace New Haven three weeks ago.
Others came representing municipal groups, including the New Haven Registrar of Voters. By mid-afternoon, the event had churned out at least 20 new voters, including some that Sun Queen had met on a short trip to Visel's Pharmacy nearby.
Up the block, Zaaqqara Powell and Travis Golden stopped passers-by to chat about Wizard Up, a new, pop-up vintage shop that the two founded earlier this year in the midst of COVID-19. From their table, a shiny, round-toed boot asked viewers to come closer. The two looked back out on the street, studying the mural's progress.
"This is just an awesome idea," Powell said.
Powell said she felt like she fit right in: the store is based on both art making and upcycling, or the reuse of products that have reached the ostensible end of their functional lives. She reuses old bits of fabric as patches or paints over blemishes to create new patterns. Because they don't have a storefront, the two rely on a mix of online sales and one-day events to get the word out. Powell said she was thrilled to spend Saturday surrounded by artists who looked like her.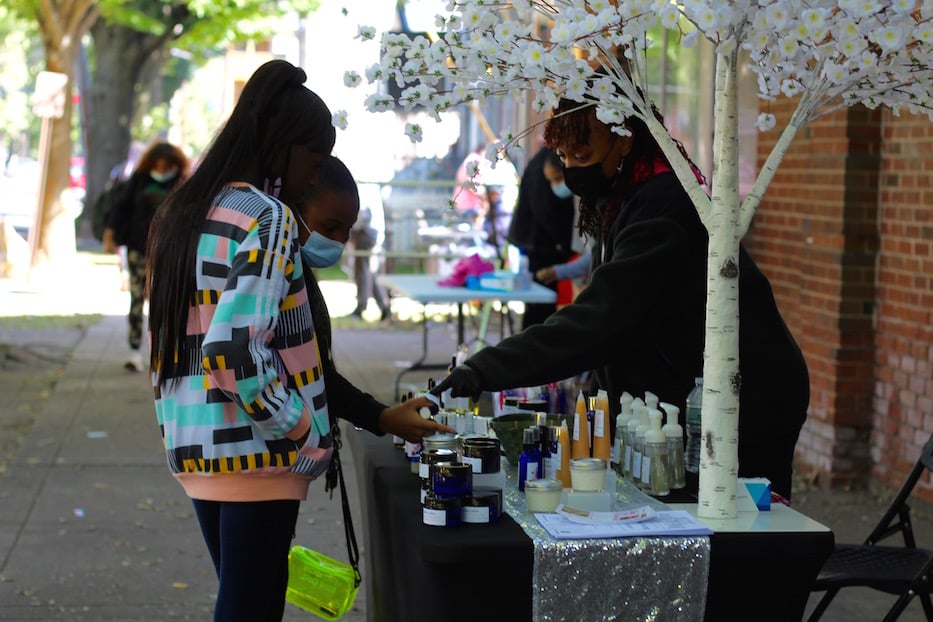 Monique Daniels and Jazmin Ellis run Jazz' Beauty Bar.
Beside them, Annissa Carter of Wrapped Artist Gems worked as she chatted with potential customers, making new jewelry to replace the rings and necklaces that she had sold in just hours. Monique Daniels and Jazmin Ellis talked to painters about Jazz' Beauty Bar, a line of skincare products inspired by Daniels' own improvisations when Ellis was young, and she wanted to find products that didn't have chemicals for her eczema.
Back in the thick of painting, volunteers jammed out to music as DJ Basketball Jones switched from TLC's "No Scrubs" to a pulsing remix of Rhianna's "Diamonds." Meredith Benson, a member of BLMNH's fundraising collective who also works with Planned Parenthood of Southern New England, said she was excited to see the work going in because it spoke directly to the neighborhood.
"This is one of a series of eight that will be an outward expression of all the work that the community is doing," she said. "Because being Black is exhausting. It is exhausting. Sometimes you need a reminder in your community that your existence matters."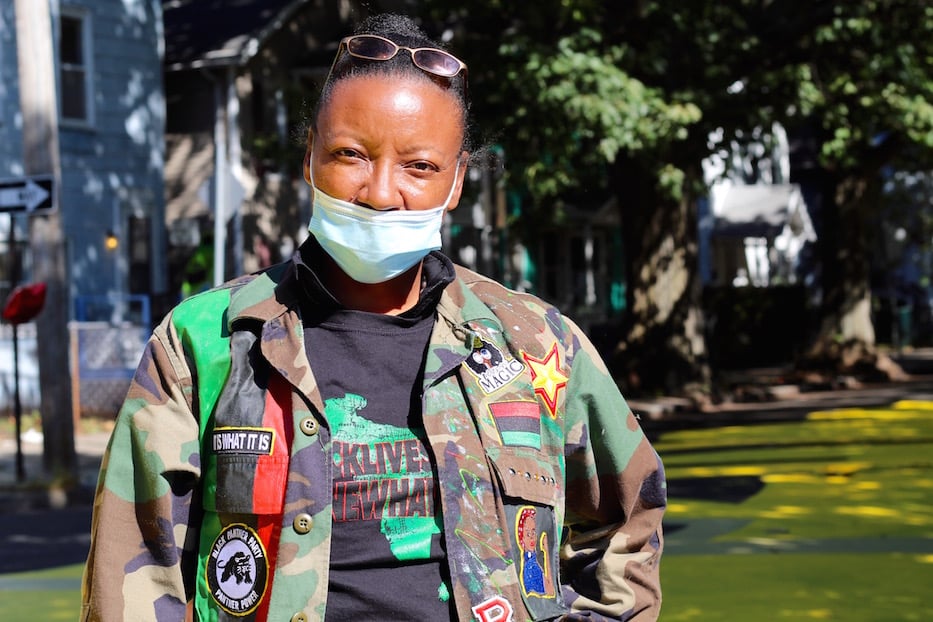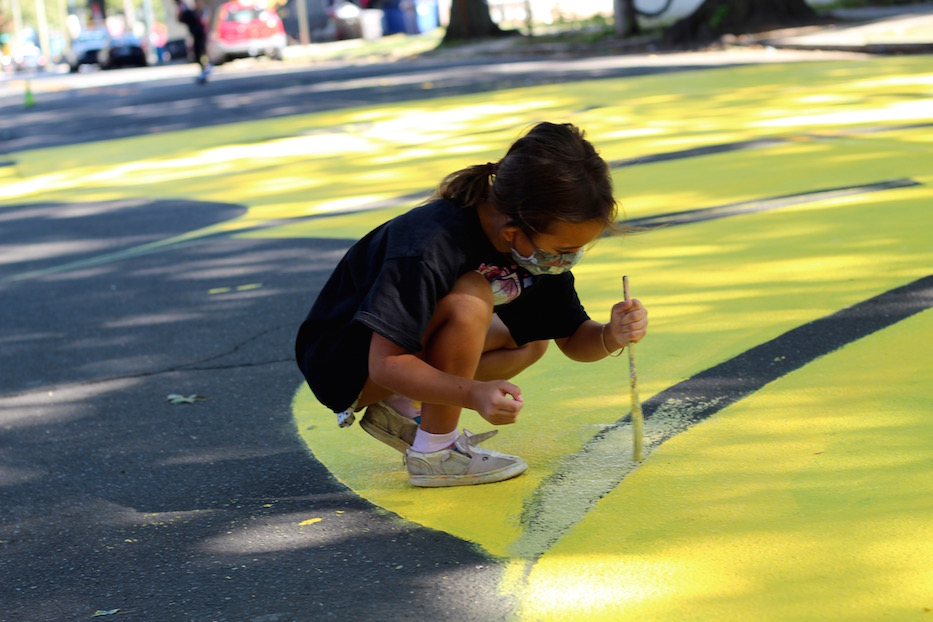 Top: Meredith Benson. Bottom: 7-year-old Magdalena Diaz.
Jenny Heikkila Diaz, also a member of BLMNH's fundraising collective, took the public art project as a chance to talk to her daughters about both Black Lives Matter and the city's Newhallville neighborhood. Before coming out to the site, she explained that the mural found a home in Newhallville—historically home to some of New Haven's first Black homeowners, and a twentieth-century mecca for Black jobs—instead of other, whiter sections of New Haven.
As Diaz waited for brushes from Adae, her 4-year-old Gabriela jumped up and down, excited to help. Magdalena, who is 7, said that she was ready to add a few strokes.
"It is for Black lives," she said of the piece. "Right now, some of them are getting killed, so it's important to protect them."
Nearby—just before the reworked B, in fact—Adae was showing the work to a group of students from the University of New Haven, all members of the school's chapter of the National Association for the Advancement of Colored People (NAACP). Sadara Funches, a freshman who is studying fire science, suggested that the mural is part of letting Newhallville speak for itself.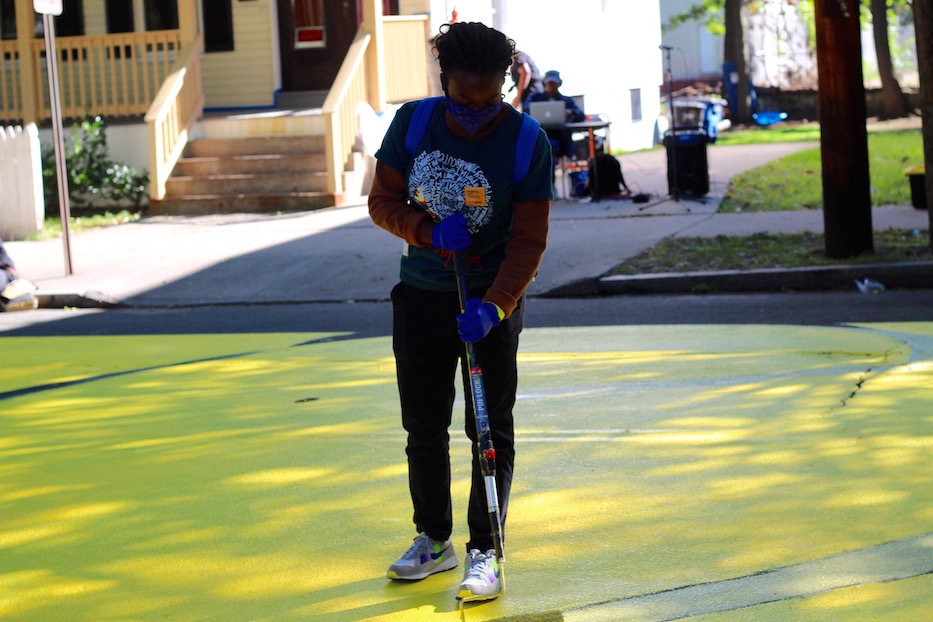 Saturday marked her first time in the neighborhood, after moving to New Haven from Northern Virginia last month. Within five minutes, she had a paintbrush in her hand.
"To me, Black Lives Matter means changing the narrative," she said. "It starts young, and it means being able to see people who look like you. Black Lives Matter is saying, 'I can do anything anyone else can do just as well, and maybe even better. I'm super happy to see that people are coming out for this. It's not performative. They're not here to take selfies. They've got their work gloves on."
As the afternoon ticked on, Adae announced that the letters were almost finished—the mural was speeding toward completion in record time. He switched painters to a light yellow, one shade off from white. Suddenly, the message looked as if it were encased in neon. Sheaves of sunlight broke through the trees and shone onto the street.
Painters kept arriving, filtering in from the surrounding side streets, from front porches, and from Shelton Avenue nearby. One City Initiative Founder Kim Harris walked up and down the street, studying each letter as she chatted with The Perfect Blend Founder Jeanette Sykes. She said she hopes the project can be part of a better signage campaign for the neighborhood's schools and sections of the Farmington Canal.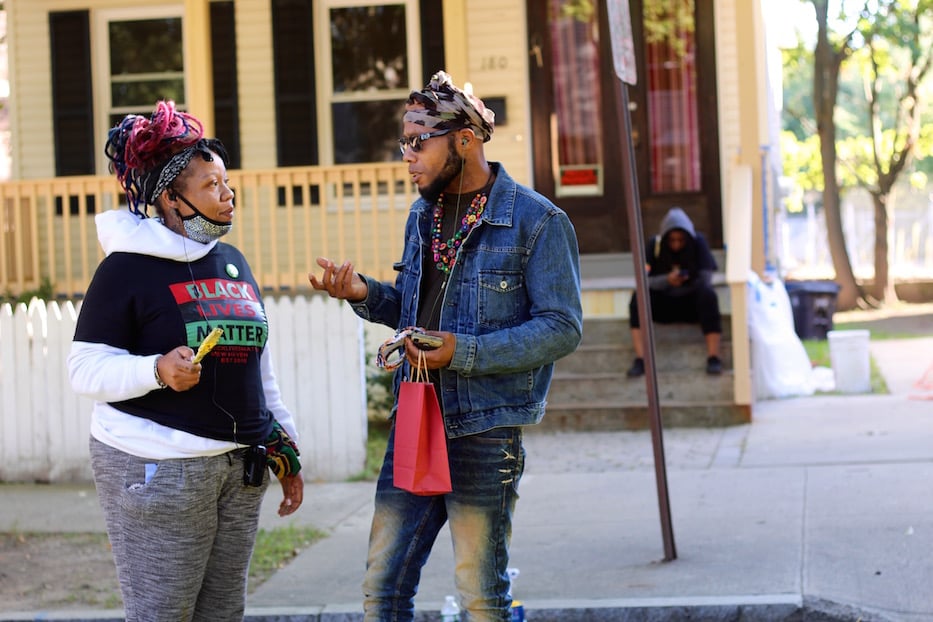 "To me, Newhallville doesn't have a lot of things that say us," Harris said. "Like, our culture, who we are, things that reflect us. Black Lives Matter may not reflect everyone in the neighborhood, but it's saying something about us. It really is. We got a chance right now, during this hard COVID time, to move forward and to have signs for who we are. This is transformative. This is transformative and proud."
"I think this is a good reflection of who we are," Sykes chimed in. "It's a main strip. You can see it. You can feel it. As you're driving by, you can keep it in your thought process. Newhallville really has to have something to represent their own. And I think this is a good start."
At the community greenspace that graces Bassett and Watson, Malcolm Welfare had been bidding his goodbyes for over 10 minutes. He'd come by the site to distribute fliers for the 29th annual James Barber 5K, a walk that benefits research for Sickle Cell Disease. He'd stayed a while to watch the painting and listen to the street in motion, public art turned into its heartbeat.
"It is so wonderful watching the community come out to do this," he said. "And it's really good to see residents being included."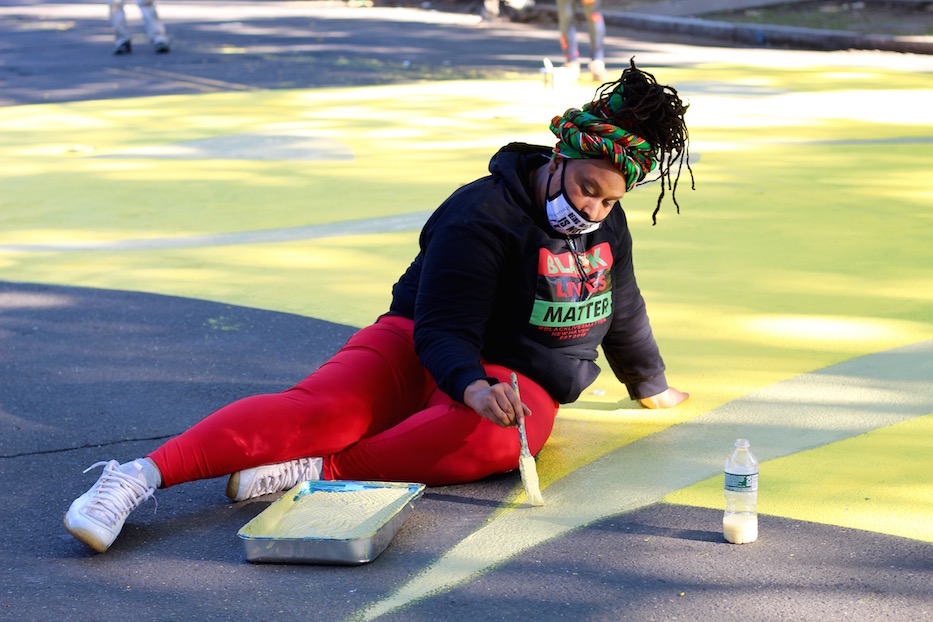 Sun Queen: "Oftentimes we are out in the street, marching and making demands. But today is about Black love and Black joy. Everyone is so excited to be a part of this."
Sun Queen sat beside him, giving her feet a rest for the first time that day. She added that the mural—and the act of painting—also doubles as a healing experience for the neighborhood, which has seen some of the city's highest levels of food insecurity, unemployment, and gun violence.
In 2012, her brother Christopher was shot and killed while riding his bike in the neighborhood. She has since moved out of the neighborhood, but still has family near Bassett Street and visits often. She called Saturday a balm to a place that is both home for her and causes immense pain.
"Representation matters," she said. "When you come out here, and you see people who look like you, it feels different. This is Black joy. We have had people come out from their homes come out, share in this black joy, this black love. to be in community together, it just feels good."
"I had folks just turning to their left and their right just to tell the person next to them that they loved them," she said, laughing at the suggestion that it sounded like church. "It's just, it's just really good. The energy is high. It's happy. I'm happy."