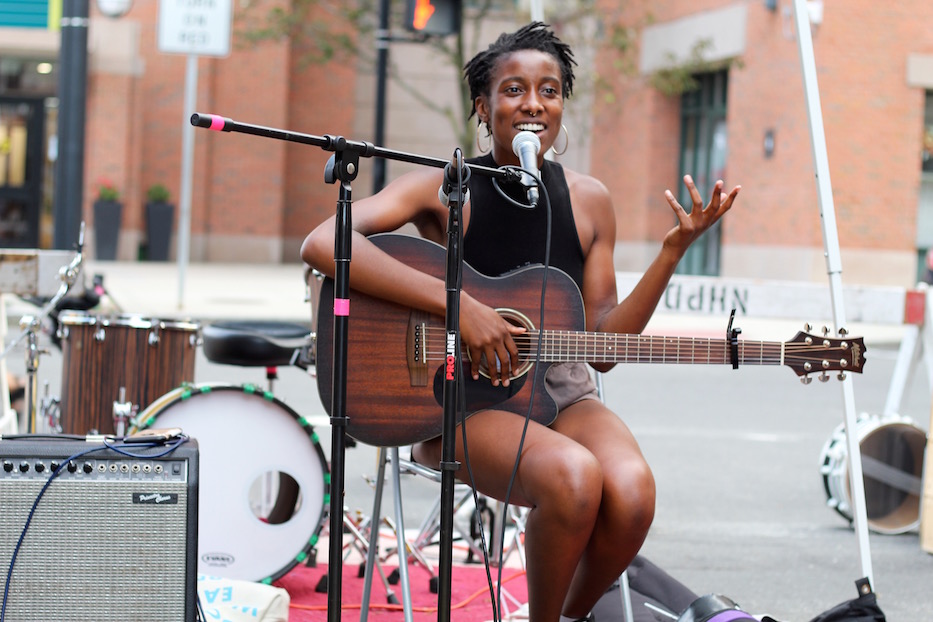 Music | Arts & Culture | Artspace New Haven | Ninth Square | Visual Arts | Black Lives Matter | COVID-19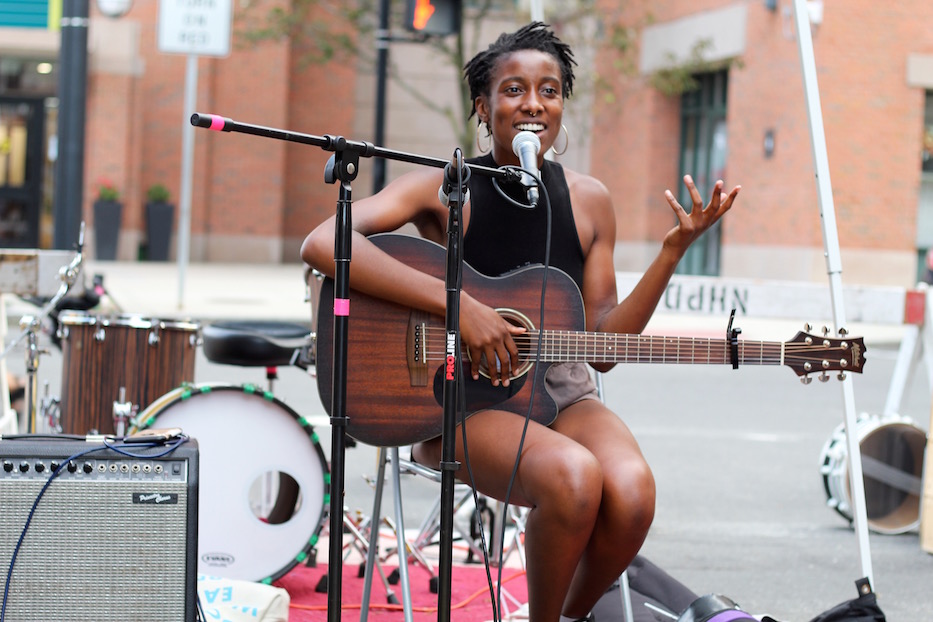 Ro Godwynn. Lucy Gellman Photos.
Ro Godwynn looked up at a sea of masked faces that had gathered around her on Orange Street. A moment before, her voice had been coasting, birdsong-like with the words I don't know how much longer I can do this on my own. Hundreds of eyes crinkled at the edges as attendees smiled and broke into applause. Godwynn took a breath in.
"I think that this is a time that is very sad and unprecedented," she said. "But hope is our right. We still have hope, and we can keep holding on."
Friday, Godwynn was one of over 45 artists, makers, and performers to use art as a form of resistance during Black Art Matters, an outdoor art fair and festival celebrating Black artists in greater New Haven. The event was organized by Dyme Ellis, a Public Ally and summer apprenticeship program (SAP) coordinator for Artspace New Haven. Ellis, who uses they/them pronouns, also enlisted help from Connecticut Against Brutality and Westville-based Lotta Studios.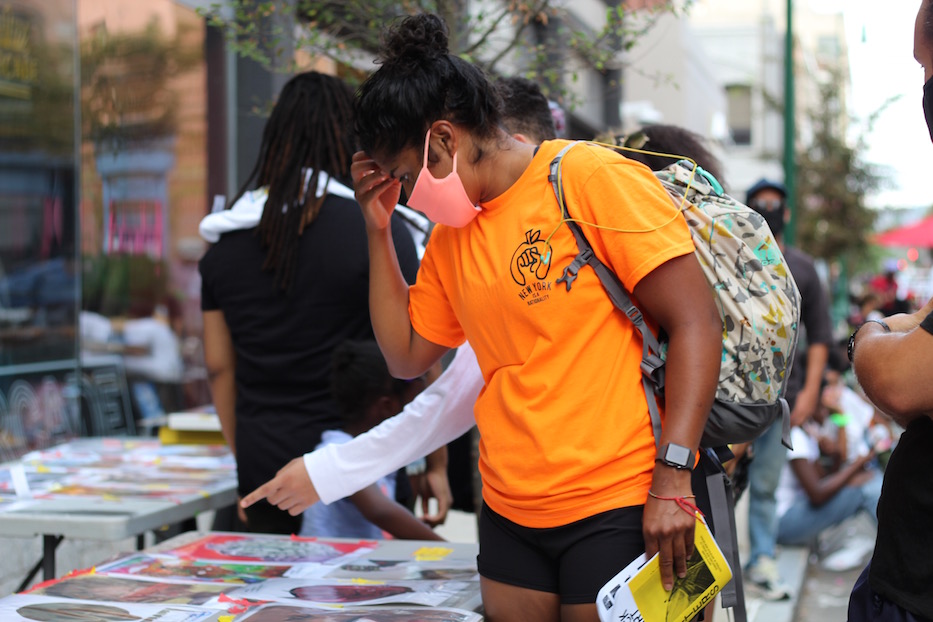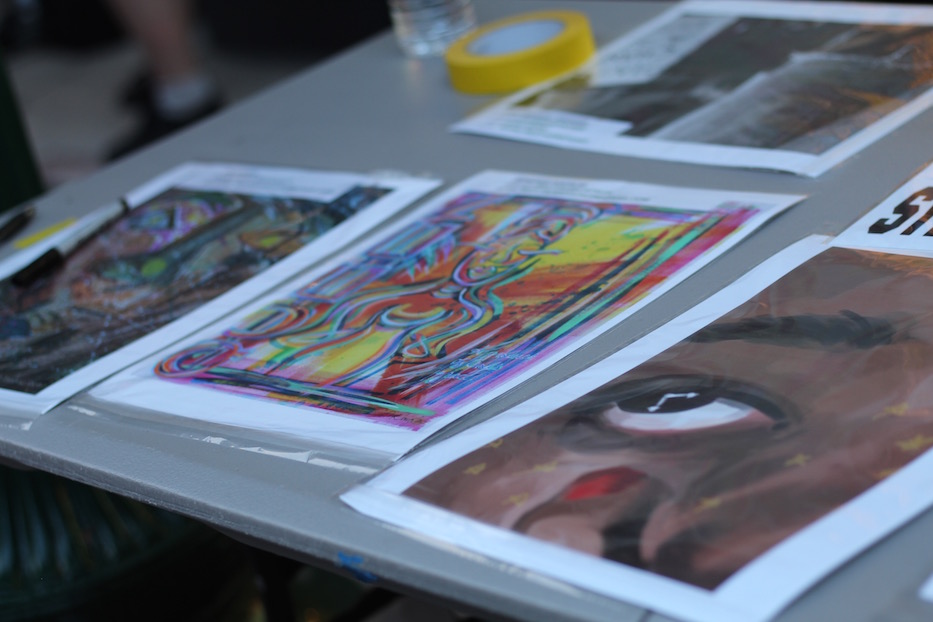 It coincided with Artspace's exhibition Revolution On Trial, which explores the legacy of the Black Panther Party 50 years after May Day in New Haven. More forcefully Friday, it served as a reminder of Black creation—and Black joy—in the face of white supremacy, ongoing police brutality, and a global pandemic that has disproportionately affected Black Americans.
As Ellis suggested at one point during the evening, the state-sanctioned violence in Wisconsin was not far from anyone's mind—but neither was the possibility of liberation.
"I saw an opportunity to lean into my desire to do more curatorial work," they said Friday, adding that the fair came together in just three weeks. "There are hate crimes against Black people every day. There is COVID-19. We haven't had the outlet to express our frustration at the state of this country. Meanwhile, we're in our homes creating. This gives us an outlet to express ourselves and tackle a real issue of financial disparity."
As attendees drifted in and out of Artspace, Orange Street came alive in a way that it hasn't for months, after a spring and summer submerged in the strange, disconcerting quiet of COVID-19. Earlier this summer, the Department of Traffic, Transportation and Parking closed the block to vehicles between Center and Crown Streets, where it is now wide open and painted in rainbow stripes.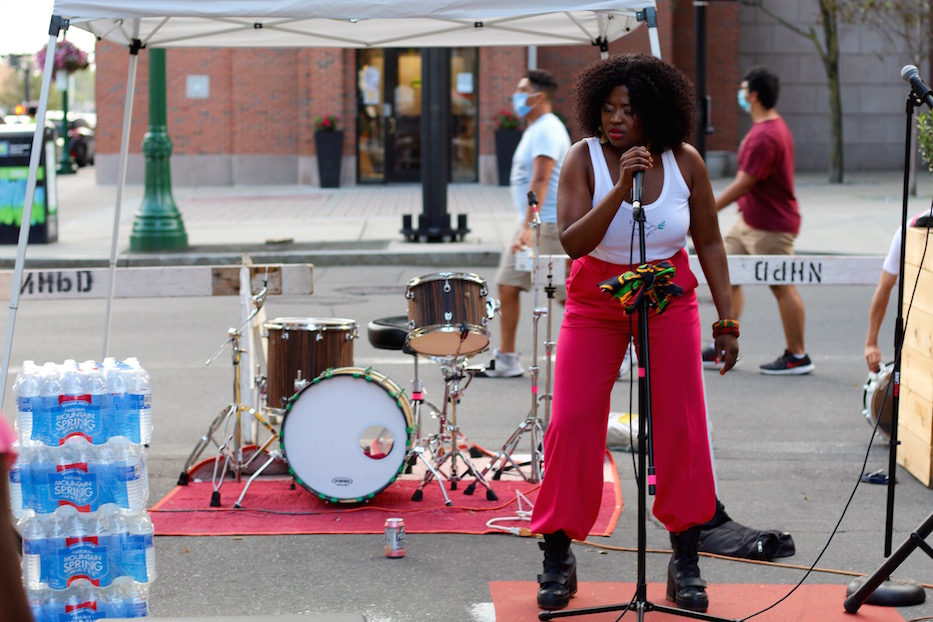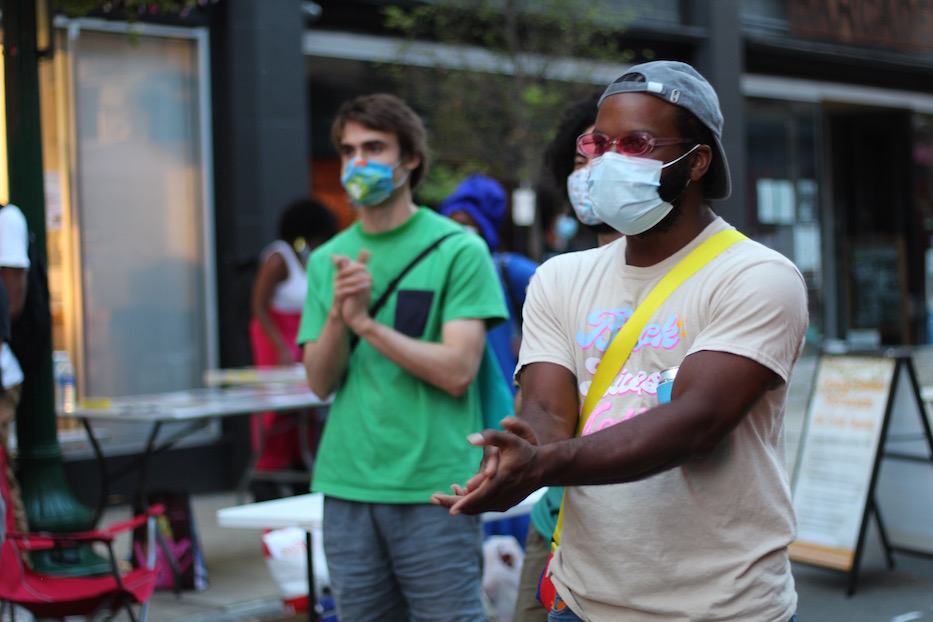 Just after 6 p.m. Thabisa held the street, performing old and new works with accompaniment from guitarist Clifford Schloss. As she stepped up to the mic, attendees quieted around her, some sitting on the curbs as others kneeled, crouched and stood in the middle of the street, where asphalt now meets bright color. She crooned in a mix of Xhosa and English, attendees hanging on to each sound.
Somewhere in her throat, the improvisation of jazz caught on the strain of a wail. She rode it out, shoulders rolling softly forward. Her arms glowed against the white of her shirt, the matching pink of her pants and lipstick. Her gold earrings, dangling cutouts of the African continent, glinted in the sunlight. Her knees bent in time with a pre-recorded track that unspooled beneath her. She lifted a finger to her lips, and added another layer of sound the the piece.
Between songs, she spoke to the audience about her own struggles with homelessness in South Africa, tracing her fear years ago to her present-day experience as a Black woman in New Haven. She leaned back into the mic, and dozens of attendees leaned right with her, waiting to see what she would do next.
As she flowed into "Eyodidi," art stretched back onto the street before her. Close to the makeshift stage, members of Connecticut Against Brutality supervised sales of $20 works, printed by Lotta Studio free of charge for the event. Ellis said the format was modeled off of an art-focused protest in West Haven last month, organized by Connecticut Against Brutality. Instead of bringing large, single works, artists sent images to Lotta, which prepared them for Friday evening. Throughout the evening, a few of the works were also raffled off as prizes.
Artist Amira Brown, who launched the Bail Out Gallery earlier this summer, walked away with $200 after selling all of her prints. She told Ellis that the money allowed her to pay her bills—and to find and support new artists in the city that she hadn't yet discovered. She praised the fair as both an affinity space and a celebration of New Haven makers who are often underrepresented, under-resourced, and passed over for their white peers.
"This is just bringing people together," Brown said. "It's giving us a chance to support artists who need to be supported."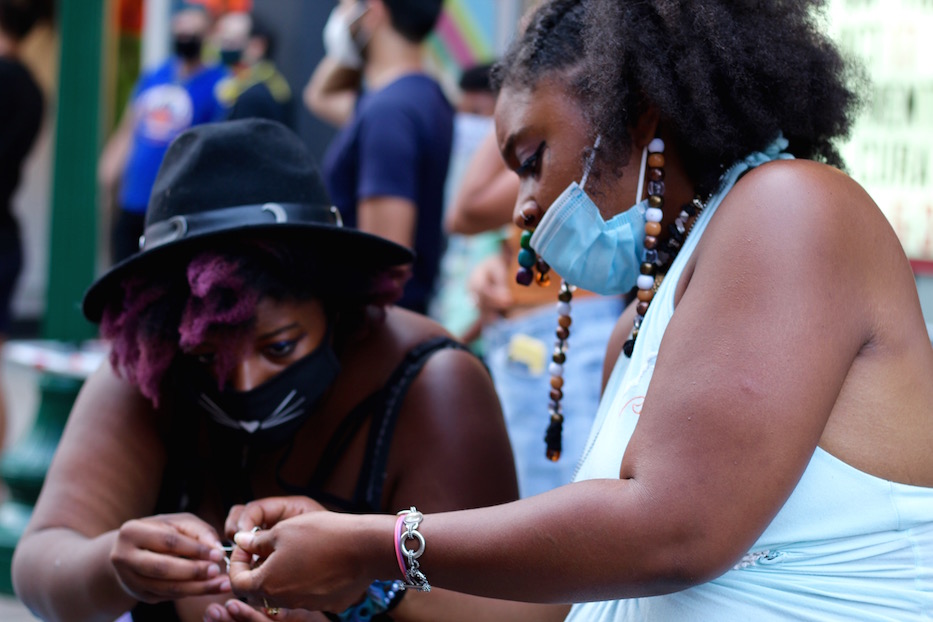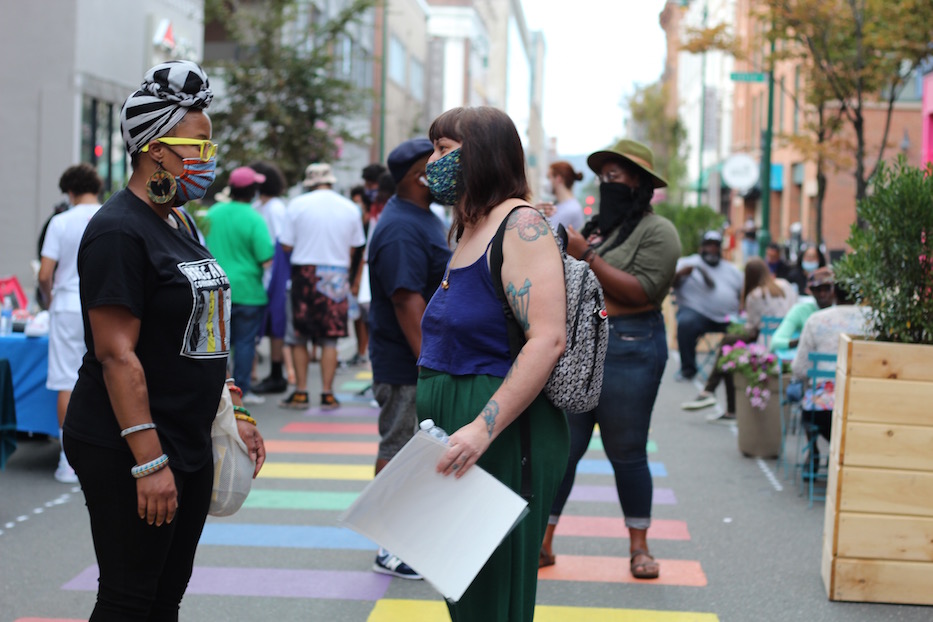 Top: Carter (at right) with a fellow artist. Bottom: Maza Monteiro Rey and Aly Maderson Quinlog.
Nearby, Annissa Carter chatted with attendees about her business, Wrapped Artist Gems. Born and raised in New Haven, Carter now lives in Waterbury, where she makes rings, earrings, wrapped crystals and marble-sized gems to adorn hair. She first started making jewelry in college, after falling in with a crowd of artists and makers. As she spoke to attendees, several marveled at the work. A customer marveled at a pair of dangly earrings with oxblood-colored stones at the end.
Like Brown, she said she was excited to have an event dedicated to artists who look like her, many of whom may be struggling to stay afloat.
"It is really refreshing to see that this is a space specifically for Black artists," she said. "I feel like they're [Artspace] really supporting the community right now."
Independent designers filled the street in either direction, careful to socially distance as they talked to customers and curious onlookers from tables that lined the block. Siblings Sage and Farrin Paglia showed off their work from The Juice Box, a still-new venue dedicated to custom sneaker and shoe design. Closer to the corner of Crown Street, artist and designer Sydney Bell modeled designs from Syd University, her own line of clothing.
In the middle of the street, photographer Maza Monteiro Rey chatted with artist Aly Maderson Quinlog. Quinlog held one of Rey's photographs, depicting a woman calf-deep in water at the moment dawn breaks across the sky. A rising, peaceful blue is all around her; one can almost see the water breathing with her body. She is regal, gazing downward in a yellow dress and matching veil. Rey, who works out of Lotta Studio, said she was thrilled to participate after receiving an invite from Ellis earlier this month.
"I just think this is important," she said. "I do need to be around Brown and Black artists."
Back at the front of the street, Godwynn had slowed it down with one of the final sets of the evening, her voice rising over dozens of attendees. It curled upwards in ribbons, floating for a moment before dissolving on the still-warm wind. She slipped into a piece inspired by a conversation with a gentleman who was housing insecure, and had told her she looked just like his sister. Then she played in a new song.
"Just feel the breeze between your fingers, know that everything will be okay," she said. Above her head, the Connecticut sky was still wide and blue. "We're gonna be okay."
Godwynn made room for Mighty MoonChew, the nascent creation of Mooncha, MarkDaMighty, and drummer Chris Chew. Before the fair, Mooncha explained, the group had only been together for about a week. In that time, they've used writing and music as an outlet for a world turned completely upside down. The lyrics, some poppy and others shred-worthy with a metallic edge, reflected it.
"Upside down/upside down/upside down/upside down," Mooncha sang as the audience moved in and cheered. "I feel/like the world is cavin' all up on me."
Around the group, attendees and performers started to dance. Thabisa and Godwynn made their way into the street, arms reaching towards the clouds. Mooncha got a clap going. A cheer went up from the audience, then a second. Off to the side, an audio engineer pumped the guitar up ("We need to melt their faces off!" Mooncha instructed). Bodies joined in, orbiting each other like jovial, distant planets.
Inside, Ellis was packing up. Beyond a door, they had transformed Artspace's front office into a bright inner sanctum. Prints, wrapped neatly in plastic and waiting for their new homes, fanned out across a desk. Artists came in and out to collect cash they had made off their work. Every so often, Ellis paused to take a phone call and sort out a final logistical issue. Smiling, red-faced devils grinned in a pattern across their pink silk shirt. They listened to the end of Mighty MoonChew's set through the glass.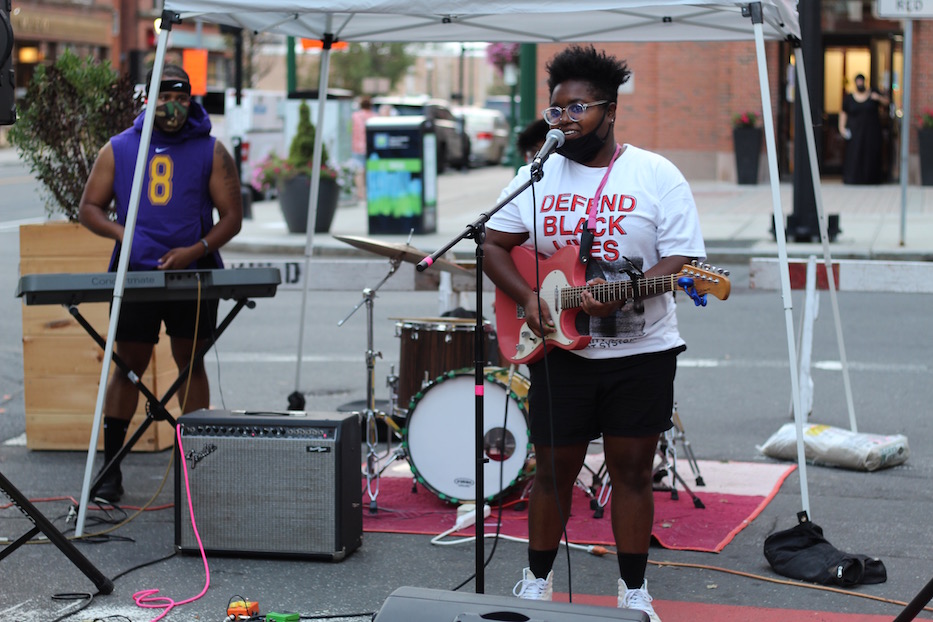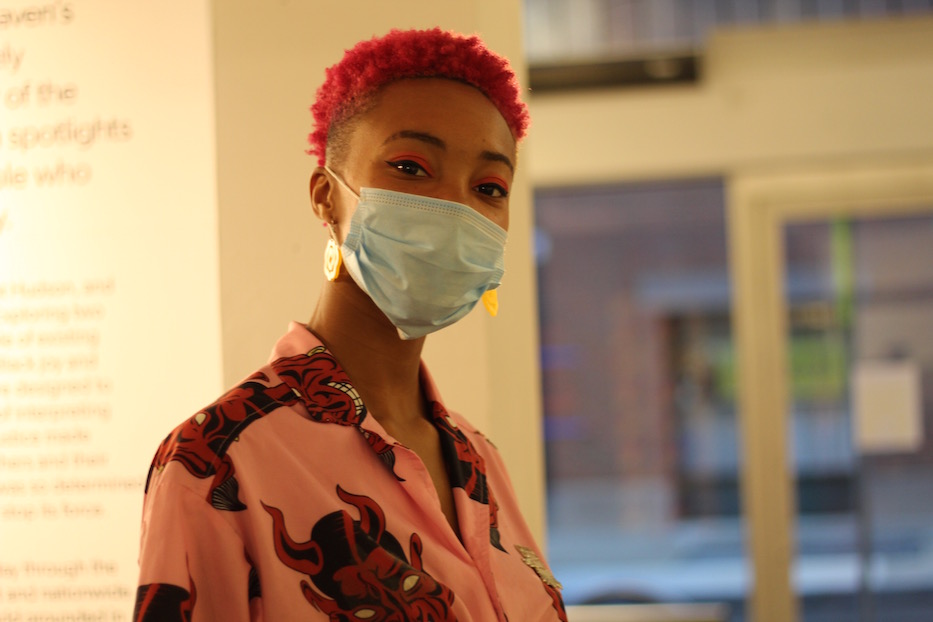 Top: Mighty MoonChew's debut. Bottom: Ellis at the end of a very long day. "But once it's over, I'm like, damn. I want to do it over again," they said of the event.
"I'm exhausted," they said. "This is how I always feel. It's kind of like giving birth. I haven't given birth, but like a birth, There's a lot of pain, and there's screaming involved. There's definitely screaming involved. But once it's over, I'm like, damn. I want to do it over again. I'm really, really proud to give this to local Black artists."
"Art is powerful," they added. "Art is confrontation without violence—it means we're experiencing critical thought. It's a critical expression of self, and of the environment around us."
Programming related to Artspace New Haven's exhibition Revolution On Trial continues Wednesday Sept. 2 with "Music And The Movement," a concert with musician Paul Bryant Hudson. Find out more about the event, which runs from 5:30 to 7 p.m., here.