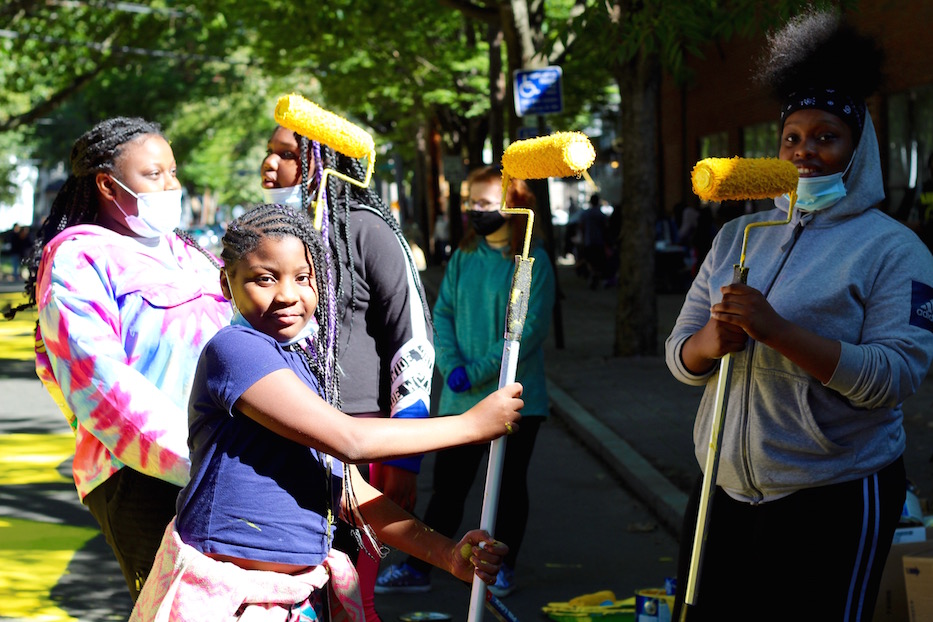 Dance | Education & Youth | Juneteenth | Long Wharf Theatre | Music | Paul Bryant Hudson | Public art | Arts & Culture | Artspace New Haven | Visual Arts | Black Lives Matter | Public Health | Sculpture | Citywide Youth Coalition | COVID-19 | CTCore | Arts & Anti-racism | chad browne-springer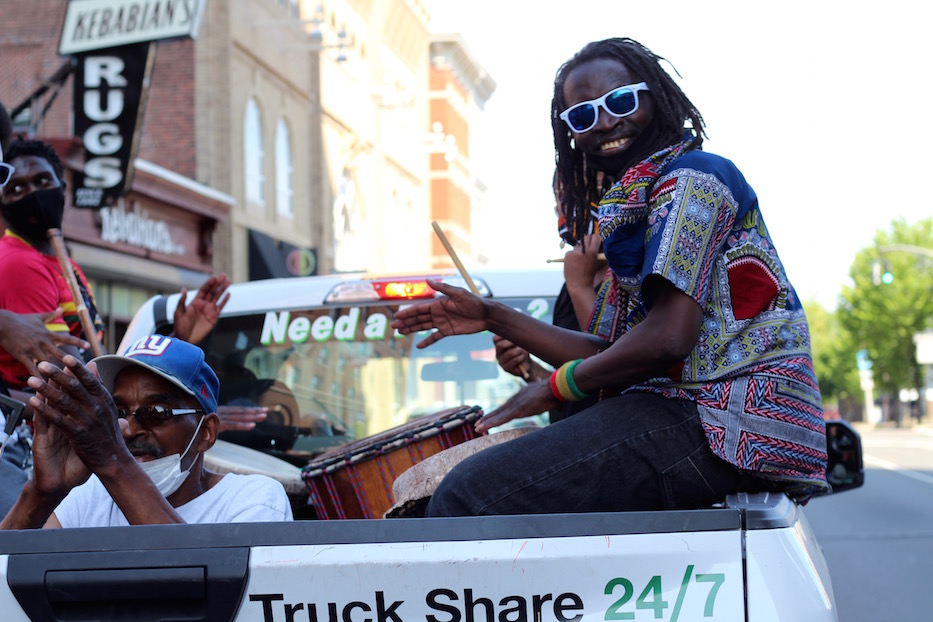 Aly Tatchöl Camara leads a Juneteenth march from the New Haven Green to East Rock Park. Lucy Gellman Photo.
Sometimes it was an online concert that reminded us to breathe when we needed it most. Sometimes it was a dance class or virtual music lesson, completed in one-inch boxes and empty studios. Often, it was a dance party or song that came out of nowhere and left us with sweat stains and crackling synapses. Always, New Haven showed up.
Whether it was on a screen or in the streets, artists kept the city's heart beating through this year. For the past 12 months, our small but mighty crew of writers has watched as they braved the remote pivot, figured out safe gathering protocols, and kept making. We watched as artists spread the gospel of public health and read stories to kids over social media. And as they mobilized around Black Lives Matter, around public art, around voting and civic engagement.
They did it as COVID-19 ravaged the community and the country. They did it as epidemics of state-sanctioned and economic violence reached across the U.S., striking again and again. They did it in the service of others—in meditation classes, in community painting days, in classrooms and Zoom rooms—even when they sometimes stood on precarious ground.
Did we ever say thank you? Did we say it enough? Thank you.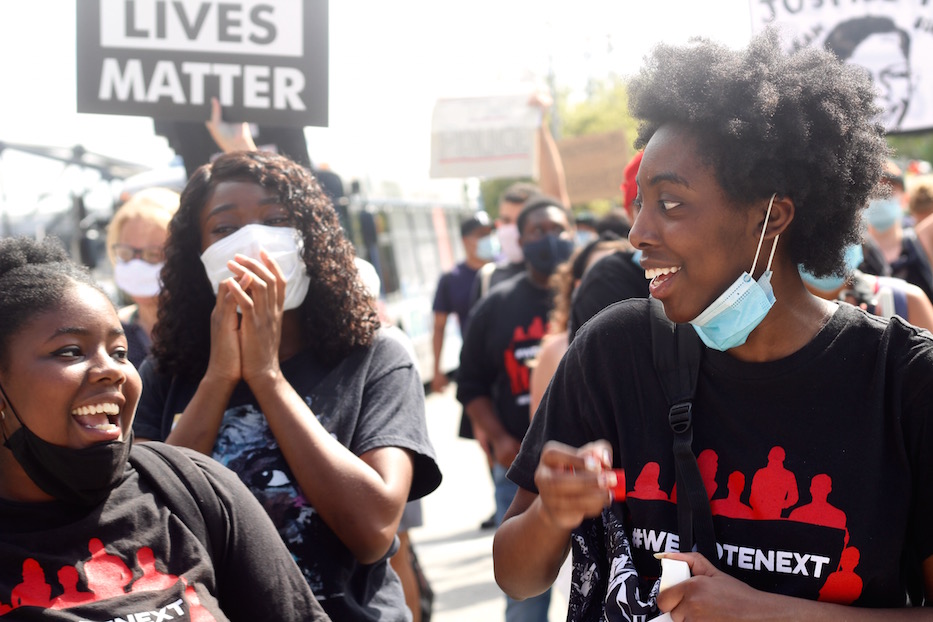 Jamila Washington and Mellody Massaquoi, both members of City Wide Youth Coalition, in July 2020. Lucy Gellman Photo.
Often, the youngest creatives led the charge. This year reminded us that we are better people when we listen to them. On our team, 10 fearless youth arts journalists broke some of our top stories, from restaurants trying to survive COVID-19 to the New Haven Pride Center's food distribution efforts. Members of City Wide Youth Coalition used the arts as they marched to defund the police and get cops out of schools.
It has been joyous and also painful to watch. We've chronicled stories of resilience and loss in high school auditoriums, teary phone calls and Zoom interviews, newly opened restaurants and bakeries, shuttered storefronts and remote classes. We streamed theater performances and commiserated with high school actors who never got to see their play produced. We talked to artist after artist who saw work disappear overnight and kept going.
Here are just ten of our favorite artistic moments, performances, revelations. Often, they happened out of the spotlight or on shoestring budgets as neighbors came together, masked up, and made magic. Some are the final memories of carefree in-person gathering that we have (remember live music shows?). Others took us by virtual surprise and delight. Sometimes they were loud and sweaty, and reminded us that behind masks and hand sanitizer, this city is still defined by its humanity.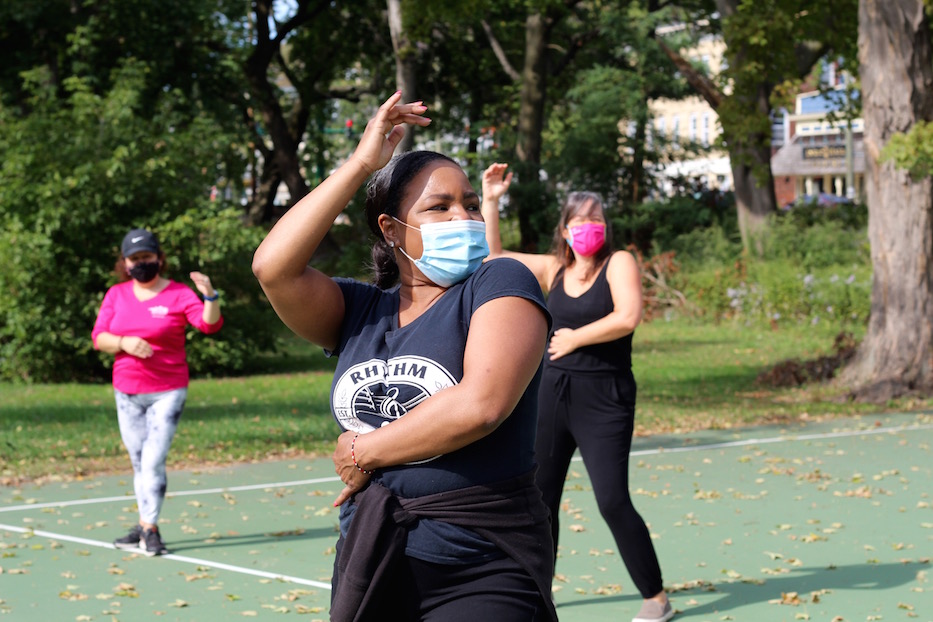 Alisa Bowens-Mercado leads a lesson in Edgewood Park in October 2020. Lucy Gellman Photo.
They do not represent an exhaustive list; we could have easily added 10 or 20 more. Westville bloomed in the midst of a pandemic. Downtown restaurants cooked thousands of meals for healthcare workers and got inventive with their takeout models. Costume designers, set builders, and local fashionistas turned into emergency PPE shops.
Theaters redefined outdoor performance and streaming from the stage. Teachers and parents worked to bring students some semblance of normalcy in a year that was anything but. The symphony played outdoors, and let seagulls and the Long Island Sound become part of the melody. Businesses opened and fed the community. We could go on, and on. But here's the list.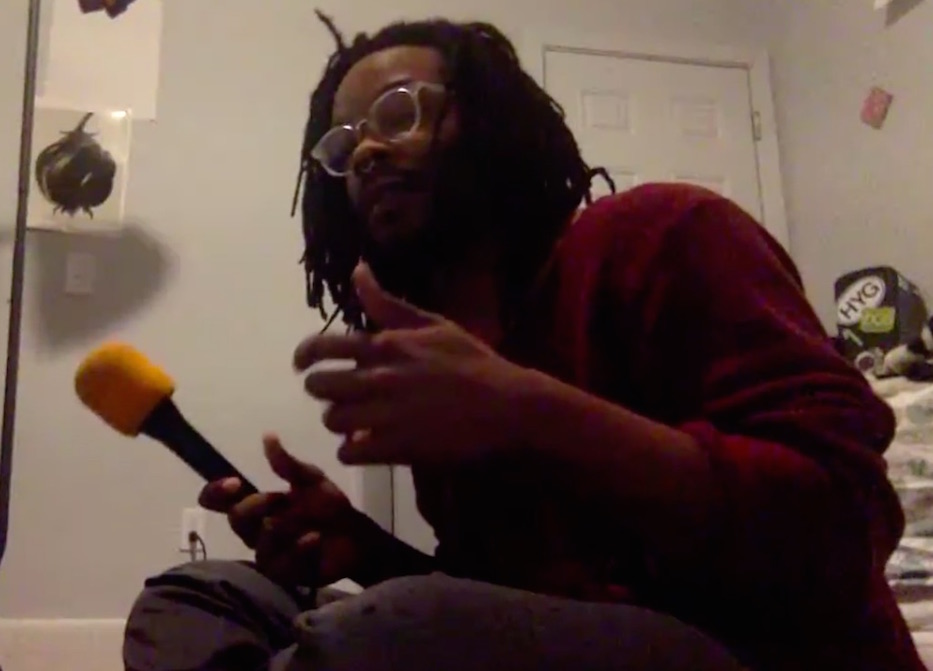 chad browne-springer. Facebook live screenshot.
Yes, this is technically two. But we wrote the list.
At the end of the first full week of stay-at-home orders in March, musician chad browne-springer sang out a week that collapsed digital and physical space, introduced and defined the term "social distancing," and saw the state's first three deaths from COVID-19 (since that time, over 5,700 Connecticut residents have died from coronavirus). An independent musician and frontman of the band Phat A$tronaut, they delivered it entirely from the floor of a closet-turned-studio. Watch the full video here and read the article here.
Two months later, when we had all lost track of time and eating cold lasagna in the shower was an acceptable thing to do, the artist STOUT blessed New Haven for 45 minutes straight, performing an intimate tribute to the late Nina Simone as part of At Home in New Haven (AHiNH). Beamed out from Kennies Earl Kreative House on Shelton Avenue, the concert was one of over 40 that packed the inaugural week of the program, a virtual stage for the city's artists, chefs, gardeners, writers and musicians. Read about it here.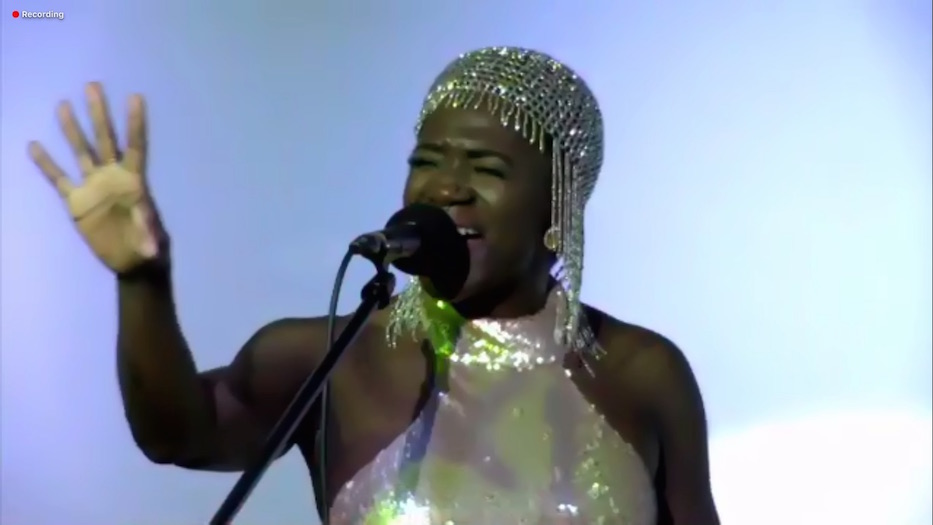 STOUT. Zoom Screenshot.
The year became a defining one for both artists. browne-springer toggled between music and activism and released new music that still brings us to our knees months later. STOUT convinced listeners, in 45 minutes, that they would survive. She went on to drop an EP later this year and has been a role model to local artists including Salwa Abdussabur, who said "she shows me that I can do this thing" before launching the Black Haven Film Festival this fall.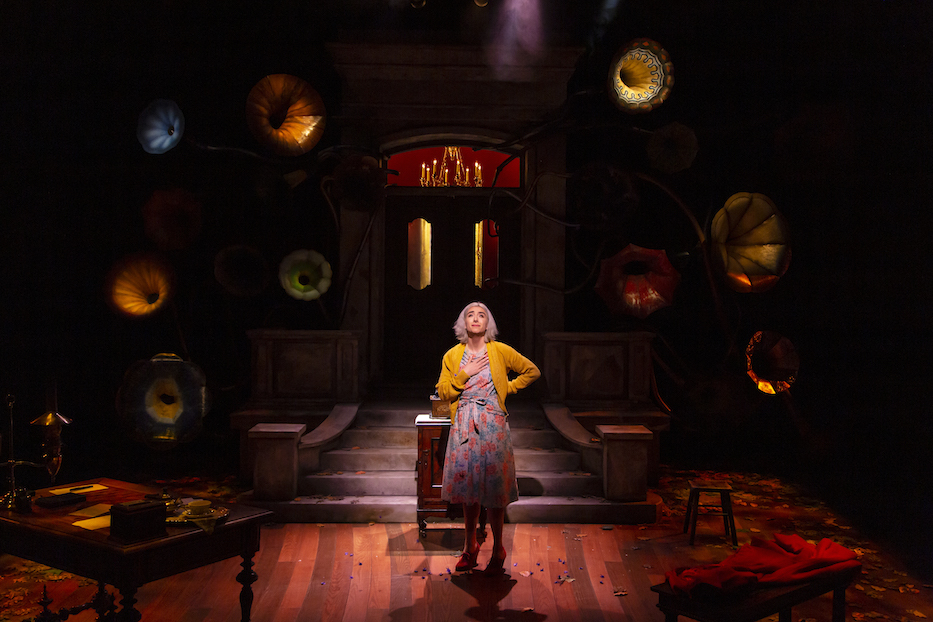 Mason Alexander Park in I Am My Own Wife. T. Charles Erickson Photo.
This was one of the last works we saw in a packed theater, and it's one of the approximately one billion reasons we miss live performance in a physical, visceral way. In the show, Mason Alexander Park delivered a spellbinding, gut-wrenching, humor-flecked, and entirely symphonic portrait of resistance that gave the play back to its central character, Charlotte von Mahlsdorf. The one-person play is about a German trans woman who survived both WWII and the repressive Stasi regime of East Germany. Park, surrounded by a fantastical set by Britton Mauk, played dozens of different characters who together told the story of von Mahlsdorf's life and legacy.
In some ways, the show was a prelude to the community partnerships that the theater rolled out for its current season, "One City, Many Stages." Before the play, Park and Assistant Director Kevin Paley joined the New Haven Pride Center at 168 York Street Cafe for a conversation on queer representation in theater. Even after the stage went dark in March, the theater held fast to that mission with Black Trans Voices At The Center in August and A Little Bit Of Death earlier this month. The play, and the programming that has followed it, have also made a strong case for the theater's survival as it charts an uncertain path ahead.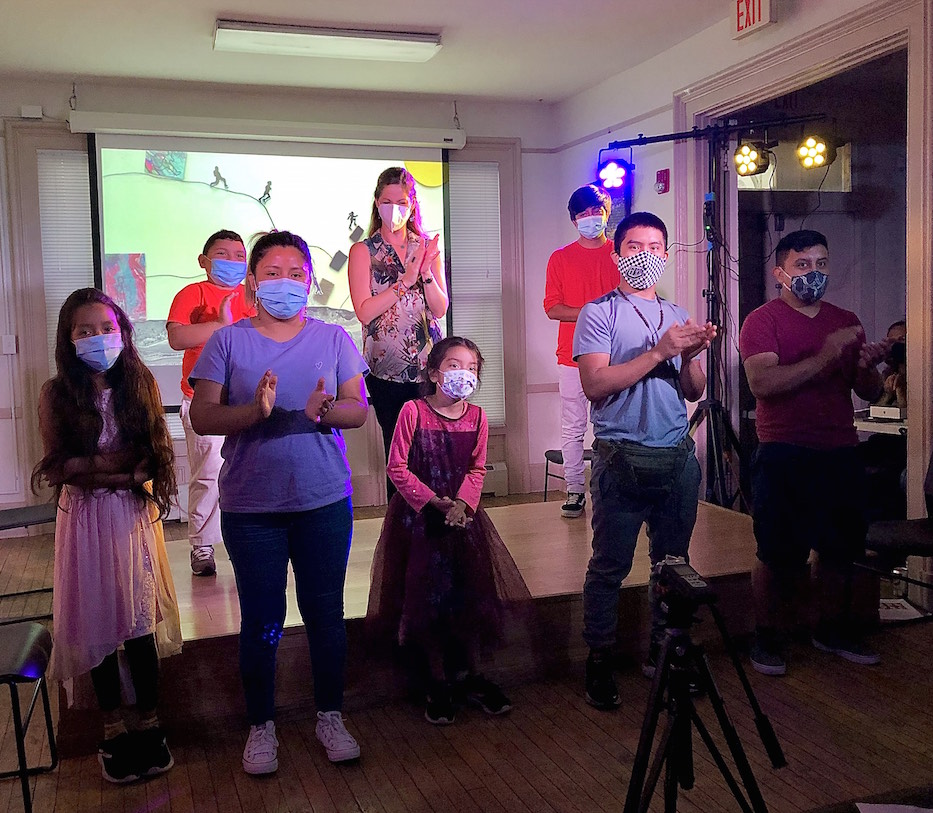 Sandra Gumuzzio and the children interviewed in the show thank the audience. Sandie Luna Photo.
The work, an adaptation of Valeria Luiselli's Dime cómo termina: un ensayo en cuarenta preguntas (Tell Me How It Ends: An Essay in 40 Questions) ran at the New Haven People's Center on Howe Street at the end of August. The 40 questions is a reference to the questions Luiselli translated and asked undocumented Latin American children facing deportation.
It came to the People's Center as a collaboration between ULA and the Bronx-based ID Studio Theater, which also put on Casa Grande at Bregamos Community Theater last year. All performances were in Spanish. Read about it here.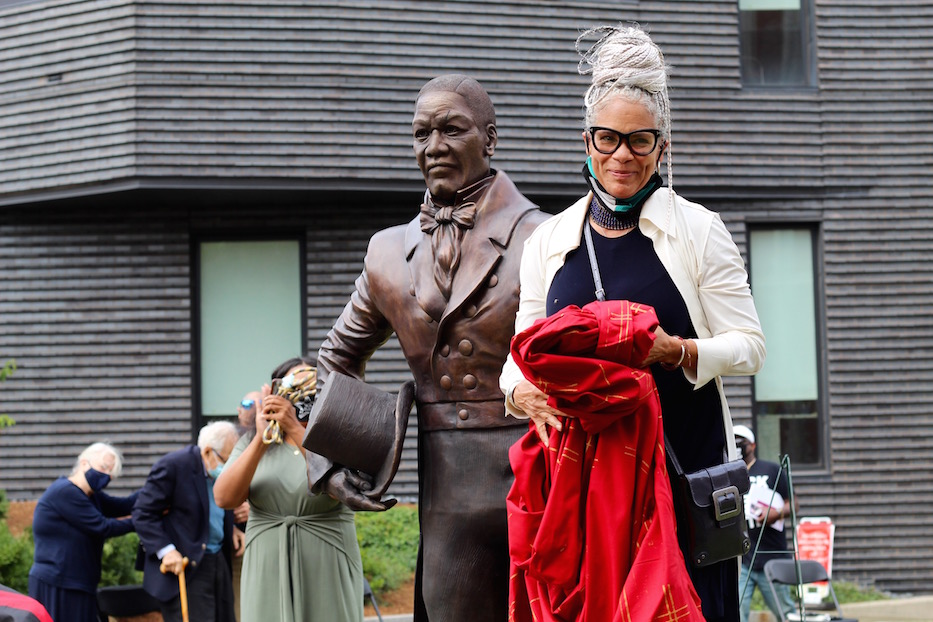 Sculptor Dana King with the sculpture of William Lanson at a Sept. 24 unveiling. Lucy Gellman Photo.
September marked the long-awaited unveiling of a seven-foot bronze of William Lanson, the city's nineteenth-century "Black governor" and engineer of New Haven's Long Wharf, sections of the Farmington Canal and the city's first integrated neighborhood in what is now Wooster Square. The sculpture comes from artist Dana King and a collaboration between the Amistad Committee and the City of New Haven that has spanned eight years and two mayoral administrations. It now stands at the mouth of the Farmington Canal at Lock Street. Read about it here.
Before the unveiling ceremony in September, King spoke with New Haven Public School (NHPS) students via Zoom and to the city's Cultural Affairs Commission remotely. The sculpture was installed by a quiet champion of this year: conservator Francis Miller, who also removed the statue of Christopher Columbus in Wooster Square in June. Members of The Lineage Group later pushed unsuccessfully to have the area renamed to "William Lanson Park." In November, members of the Wooster Square Monument Committee announced plans for a new monument.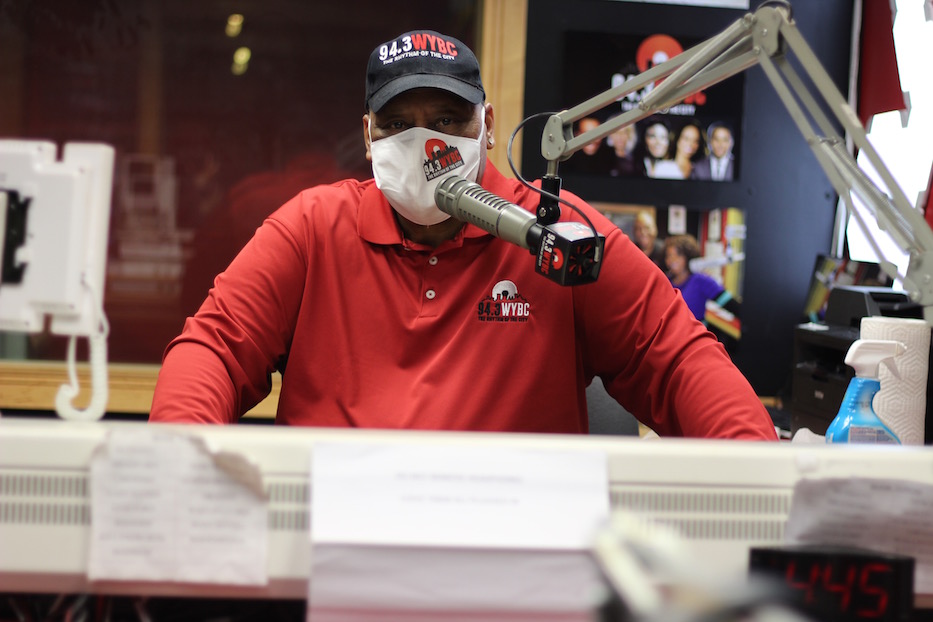 WYBC Host Juan Castillo in his downtown studio, where he was photographed for the campaign. Lucy Gellman Photo.
In May, billboards popped up around the city. They featured WYBC's Juan Castillo, musician and producer Aaron Rodgers, educator Avery 'Slay' Washington and others practicing the coolest new public health trend—wearing a mask correctly over their mouth and nose. It came as the city, with much of the country, recognized that masks were (and continue to be) one of the safest and most effective ways to stop the spread of respiratory droplets carrying the COVID-19 virus.
The campaign was organized by the city's Division of Arts, Culture & Tourism, in collaboration with local artists, photographers, small business owners and neighborhood advocates. Photographers included Leigh Busby, Aligning Media's Tiffany Stewart and Donnell Durden, and I Love New Haven's Chris Randall. The images were displayed on billboards that originally read "Spread The Facts/Not The Virus." It took place only months after Adriane Jefferson took over as director of Cultural Affairs for the city, piloting the #TogetherNewHaven campaign with the city's Economic Development Administration.
It was one of many artist-led efforts to spread accurate information around COVID-19 to the New Haven community. At the very beginning of the pandemic, artist Jesus Abraham Morales Sánchez drew a comic in Spanish explaining what the virus was and best public health practices (he has since completed another comic explaining the COVID-19 vaccine in Spanish). In the months that followed, faith leaders, mariachi musicians, state historians, community management teams, and high school students all joined the call for masking up.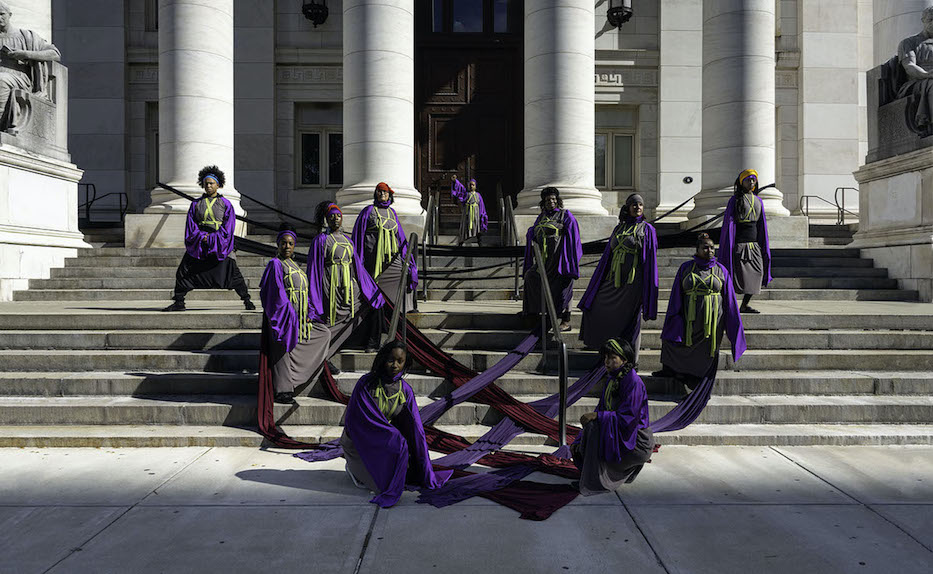 If Justice Is A Woman. Melanie Crean Photo.
Originally scheduled for early 2020, the exhibition ran at Artspace New Haven from mid July through October. It was co-curated by La Tanya Autry and Sarah Fritchey in collaboration with living members from the New Haven Black Panther Party, including New Havener George Edwards. The show originally centered on the 1970 May Day Trial, but quickly grew to become a larger exploration of Black New Haven's organizing roots past and present.
What made the exhibition itself wasn't just its spirit of grassroots collaboration, but also the programming that ran through the summer in person and online. In August, the artist Dyme Ellis worked with the organization to stage Black Art Matters, a day-long Black art fair on Orange Street. The following month, musician Paul Bryant Hudson joined Co-Creating Effective Organizations (CEIO) co-founder Niyonu Spann to talk about his audio installation The Soundtrack.
In addition, the organization hosted a conversation between Angela Davis and Ericka Huggins, reimagining education after months of remote learning for New Haven Public Schools students. One week before it closed the exhibition in October, it unveiled Melanie Crean's If Justice Is A Woman, featuring local activists who are carrying on the Panther legacy. The focus on activists and organizers laid the groundwork for Who Governs? at Artspace later in the year.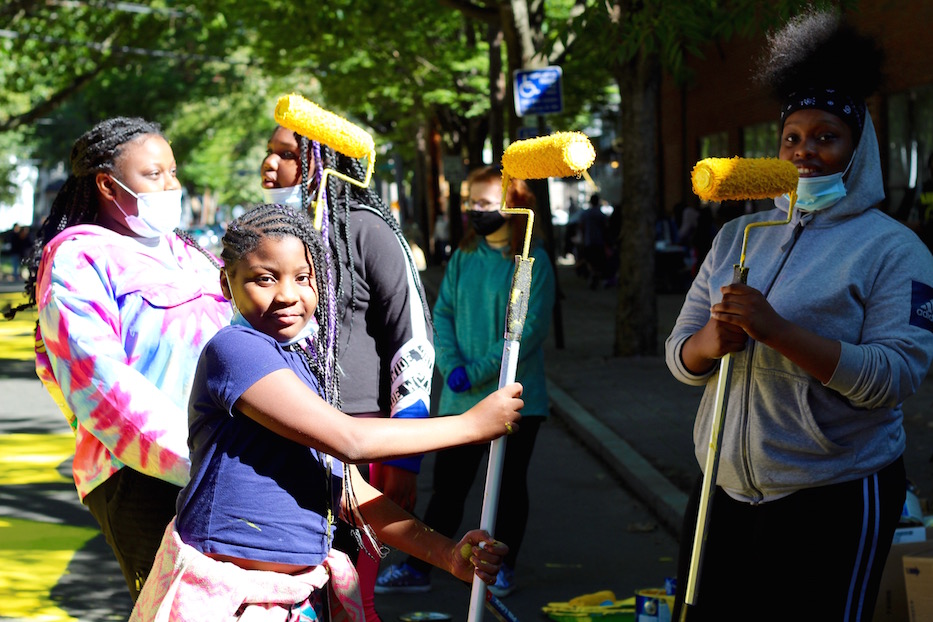 Painters Shiloh Henderson (foreground), MyAsia Robinson, Makala Lane, and Robena Lane on Bassett Street. Lucy Gellman Photo.
In a year that saw the overlapping pandemics of COVID-19, state-sanctioned violence, and white supremacy, Black Lives Matter New Haven (BLMNH) celebrated its fifth birthday not only protesting in the streets, but also painting in them. Amidst backpack drives and forceful calls for justice, members brought joy into neighborhoods.
In September, New Haven's inaugural Black Lives Matter mural landed on Bassett Street in the city's Newhallville neighborhood. A collaboration among BLMNH, artist Kwadwo Adae, and the city's Division of Arts, Culture and Tourism, the 277-foot mural now spreads Black joy—and a fierce message of affirmation—through one of the city's oldest and most historic Black neighborhoods.
In early October, organizers and artists bought that mission and message downtown. the second Black Lives Matter mural now sits on Temple Street between Elm and Chapel Streets. The spot is in front of the New Haven Green, facing City Hall . The 250-foot mural was a collaboration among Black Lives Matter New Haven, the city's Division of Arts, Culture and Tourism, and artists Candyce "Marsh" John (a.k.a. Marshun Art), Jesse Wolf, and Carlos Perez. The event felt more like a block party than an art installation. Read about it here.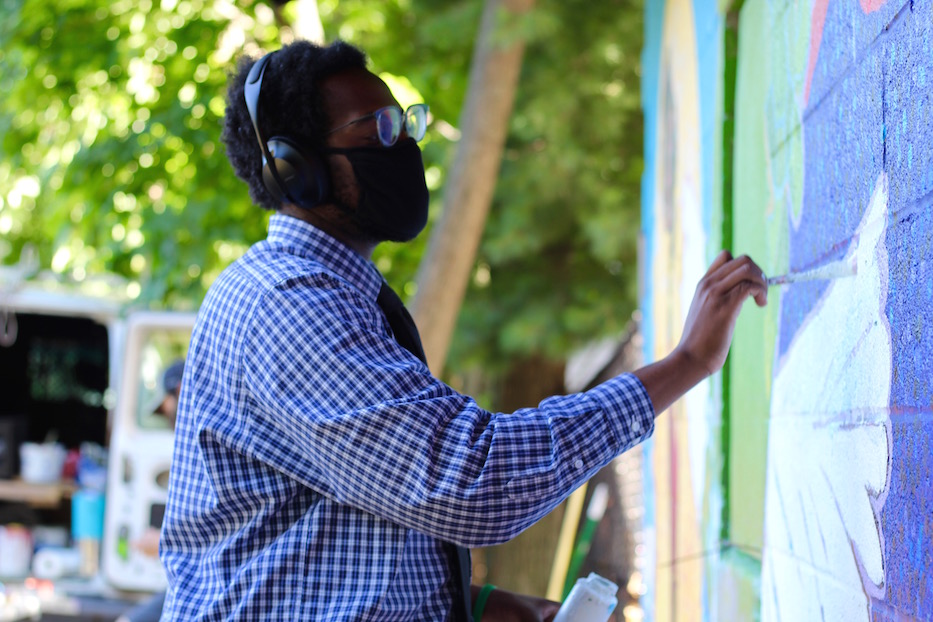 Justin Farmer working on the Farmington Canal, where a new mural adorns the back side of the King David House of Essence. Lucy Gellman Photo.
The murals joined a wider blossoming of public art across the city this year. Over the summer, Youth@Work students added storm drain art in the West River, Newhallville, and Fair Haven through the eco-art engine Lots of Fish. In August, Michael DeAngelo painted a mural of Sun Ra on the side of Cafe Nine.
In September, artist JoAnn Moran added a 28-foot mural celebrating Ethiopia at the King David House of Essence. Three murals from Town Green Special Services District and one celebrating William Lanson from Site Projects New Haven have also appeared in the Ninth Square. A painted crosswalk downtown is scheduled for next summer.
Addys Castillo, director of Citywide Youth Coalition. Lucy Gellman Photo.
Poetry, dance, spoken word and song filled the streets in early June, as 5,000 New Haveners rallied to demand an end to police brutality and reallocation of funds from the New Haven Police Department to the New Haven Public Schools. The rally, which traveled from the New Haven Green to police headquarters at 1 Union Ave., was organized by Citywide Youth Coalition and Black Lives Matter New Haven. Bomba became its activist core.
Bomba is a communicative dance form that spread during the Afro-Caribbean slave trade. Its roots are in Puerto Rico, where drums and dance replaced language among those stolen from the African continent and treated as human property. Through a system of call and response, dancers "talk" to drummers and percussionists without ever having to use words, moving their bodies, feet and their long, ruffled white skirts, hats, and wrapped hair as a form of speech.
It is a movement and music of resistance, meaning that it is electric. That day in June, the congas became a heartbeat. Just feet away, dozens of people moved back, an asphalt batey suddenly visible at the center of Union Avenue. Hands clapped. Hips rocked. Shoulders unclenched for flexing arms. The drums, now singing, slid into a rhythm New Haven hadn't heard for months. Revolution was coming. Read about it here.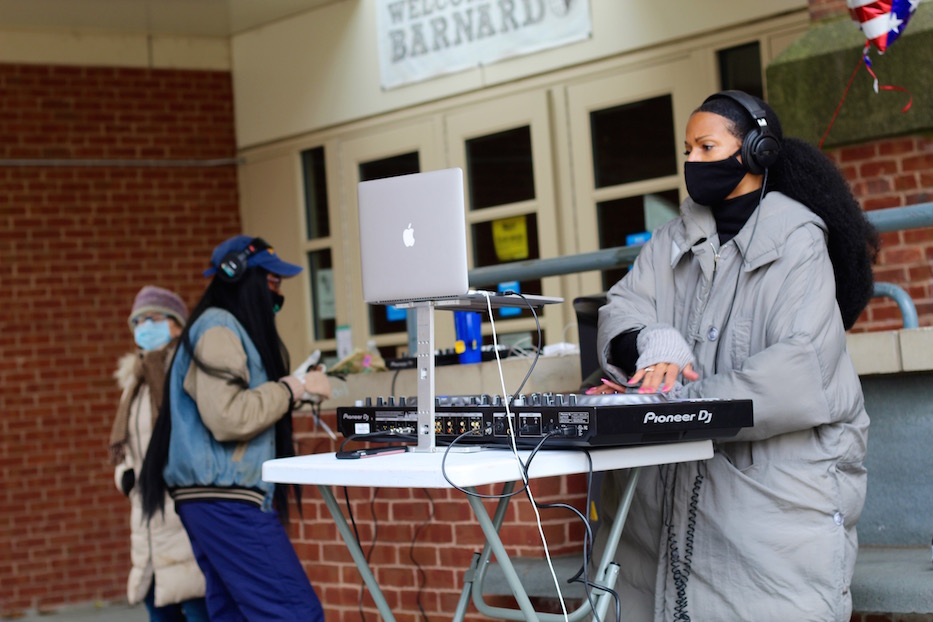 DJ That Dana Game (Dana Cobbs) plays the 8-10 a.m. shift at Barnard Environmental Magnet School. She left at 10 a.m. to go vote in Hamden. Lucy Gellman Photo.
We danced through election day! As over 27,000 New Haveners came out to vote in person, they got an Election Day surprise—DJs working to spin and mix a citywide, nonpartisan dance party at the polls. The citywide effort came from Dr. Khalilah L. Brown-Dean, a political science professor at Quinnipiac University and host of WNPR's weekly program "Disrupted." In under seven days, she worked with ward committee co-chairs, DJs, self-proclaimed "concerned New Haven voters," and the Arts Council of Greater New Haven to keep morale high at the polls. They had us jamming all day and into the evening.
It wasn't the only way artists showed up to get out the vote and celebrate the election. String musicians serenaded evening voters at locations across Westville. In the days that followed the election, both Bethel AME Church and People Get Ready Bookspace turned to the literary arts to praise Stacey Abrams and grassroots organizing. Members of the Theta Epsilon Omega chapter of the Alpha Kappa Alpha Sorority, Incorporated gathered outside of Wexler-Grant Community School to celebrate Kamala Harris' victory with the historic sorority's signature stroll.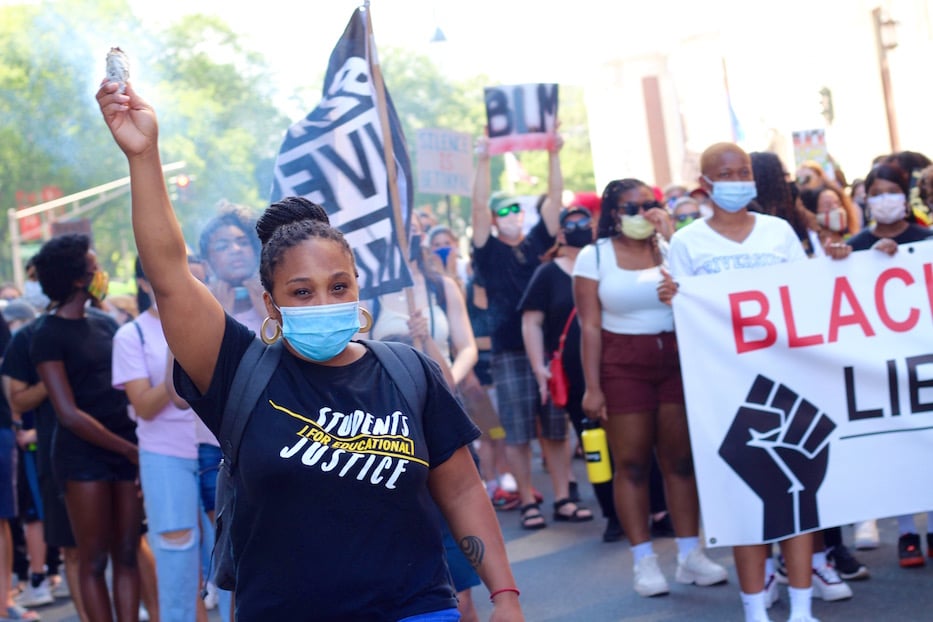 Rashanda McCollum, executive director of Students for Educational Justice, leads a Juneteenth March. Lucy Gellman Photo.
Juneteenth commemorates the emancipation of enslaved Black people in Galveston, Tex. on June 19, 1865. The date, which fell two and a half years after the Emancipation Proclamation was signed, marked the end of chattel slavery in the United States. It did not mark the end of the economic disenfranchisement of Black Americans, which still continues today.
Across the city's streets, steps, and screens—and abroad—New Haveners showed up for Juneteenth. Paul Bryant Hudson dropped his song "John," a folk reclamation of the John Henry mythology. In the heart of downtown, hundreds of people marched, danced, and sang from the New Haven Green to East Rock Park, where members of Students for Educational Justice and City Wide Youth Coalition held a teach-in.
Across town, the abandoned Goffe Street Armory came to life during a Juneteenth Community Altar Building, hosted by CTCore-Organize Now! and One Village Healing to honor the lives of Black women and non-binary people now among the ancestors. Read about it here.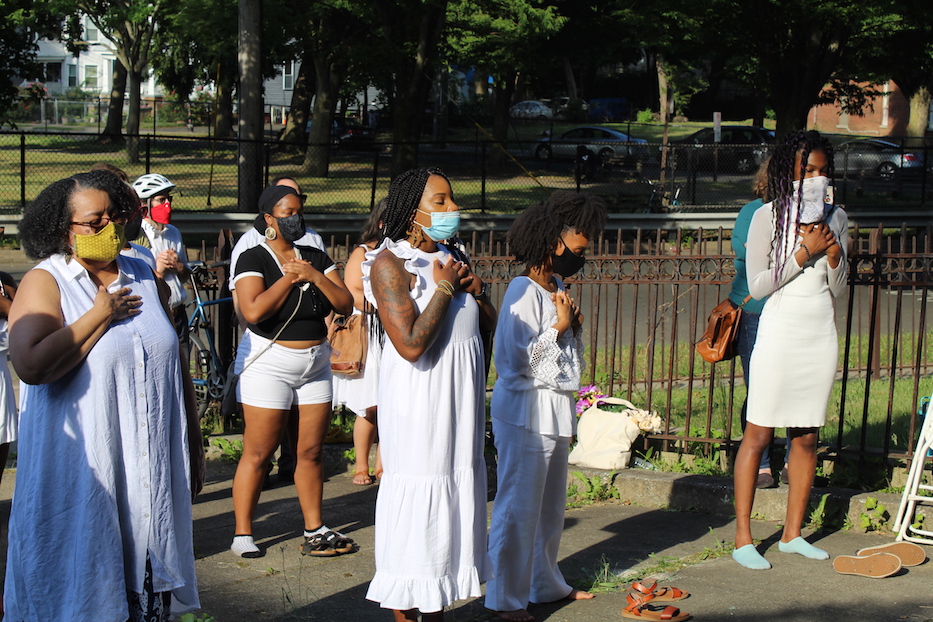 Thema Haida, co-founder of One Village Healing, led Black womxn attendees in a breathing exercise at a Juneteenth altar building outside of the Goffe Street Armory. Arturo Pineda Photo.
Online, Juneteenth spanned both the city and the globe. Members of Students for Educational Justice held a roundtable on the history and legacy of Juneteenth. So did the International Festival Of Arts & Ideas, with a conversation between 1619 Project originator Nikole Hannah-Jones, reporter and Reveal News host Al Letson, and The Narrative Project Founder Mercy Quaye. During that weekend, the Festival also teamed up with Artsucation Academy Network co-founder Hanan Hameen and the Official Juneteenth Coalition of Greater New Haven. Together, the coalition ushered in its eighth year with Juneteenth celebrations from across the African diaspora and a virtual ceremony honoring community elders to New Haven through the power of Zoom.
Over three days, the coalition collaborated with and compensated over 40 artists practicing between New Haven, New York, Washington, D.C., Senegal, Guinea, and South Africa. Watch more about that here, listen here, and read about it here.
Celebrations spanned the city, from downtown to East Rock to Dixwell to the virtual realm. It was a gorgeous, polyphonic day of art-making and education. It tops our list because it embodies the best of what we cover every day at the Arts Paper: arts, culture, community, and a collective striving towards a brighter future.
We are so proud to cover you, New Haven. Here's to a bright 2021.
Arturo Pineda contributed reporting. For more on the year in arts journalism, check out the New Haven Independent's piece on this year in music and an episode of "Arts Respond" on WNHH Community Radio with the Arts Paper's Lucy Gellman and Arturo Pineda, the New Haven Independent's Brian Slattery and Karen Ponzio, and the Inner-City News' Babz Rawls Ivy.