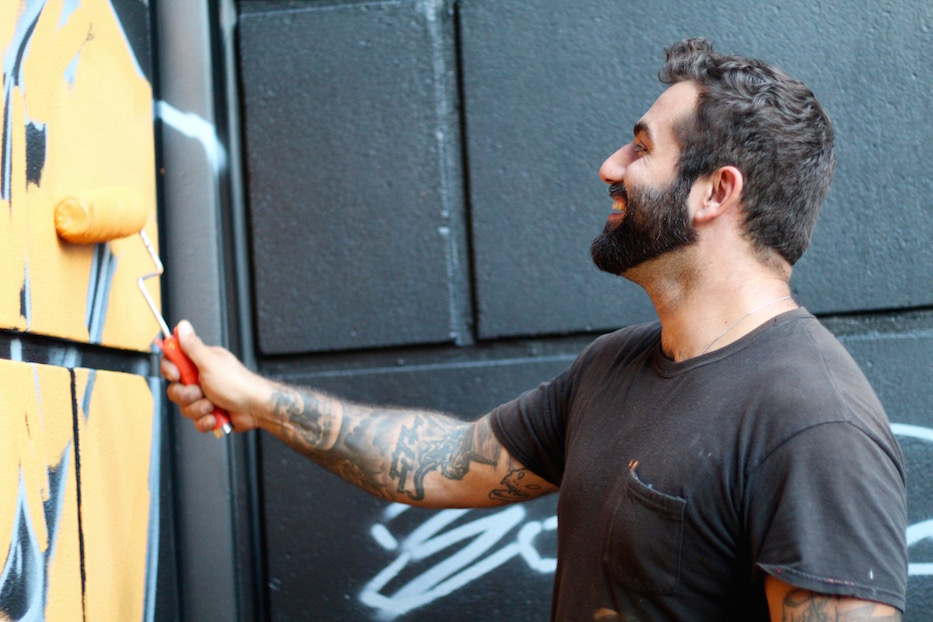 Public art | Arts & Culture | Ninth Square | Town Green Special Services District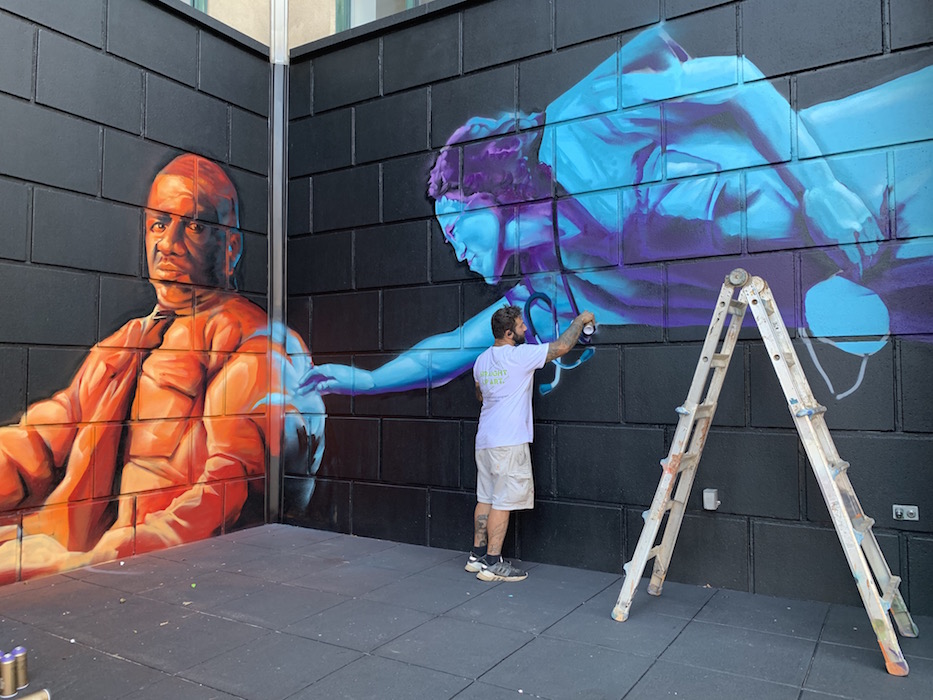 Michael DeAngelo's work sits at 44 Orange Street, just outside the Ninth Square Residences. Lucy Gellman Photos.
On Center Street, a zigzag of black-and-white flowers rises up from the ground, exploding into bloom across a multi-layered streetscape. Around the corner, a strip of old-boned Victorian buildings is starting its ascent into the sky. Further down the street, a healthcare worker places her hand on a bus driver's shoulder.
The stethoscope around her neck glints black and silver. A blue-and-white N95 mask flutters in her left hand. She steadies herself, superwoman in flight.
Muralists are bringing those images to the Ninth Square as part of Straight Up Art, the latest public art project from the Town Green Special Services District and the New Haven Innovation Collaborative. The project, for which painting began Friday, includes new murals from artists Francisco Del Carpio-Beltran, Michael DeAngelo and Alexander Fournier.
Town Green secured permission from Beacon Communities, the Boston-based landlord that owns the Residences at Ninth Square and several surrounding properties. The program is funded by a new $15,000 item in Town Green's budget and matching funds from the Innovation Collaborative. After starting Friday, painting will continue for the next several weeks.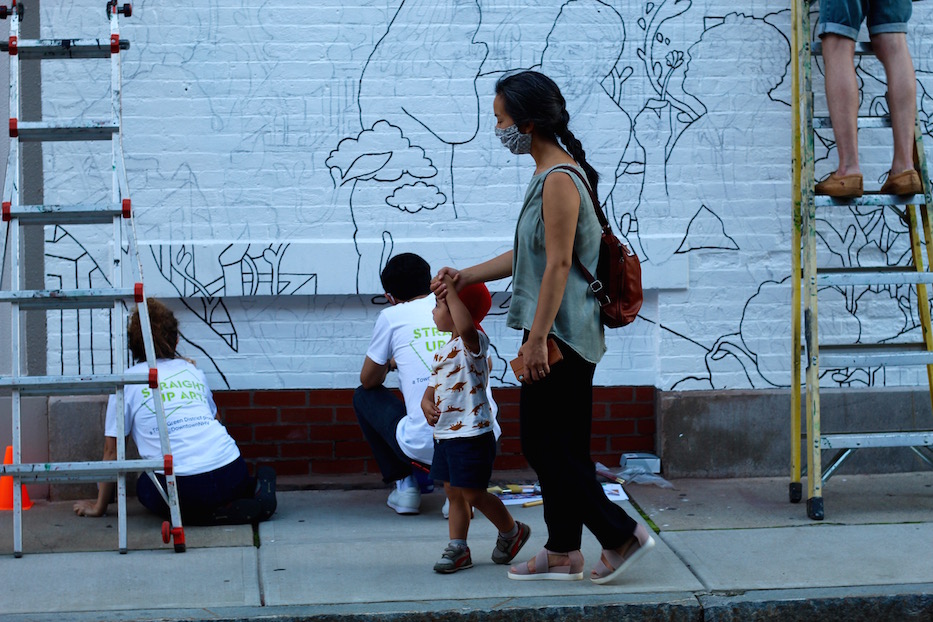 "A lot of people have been wanting murals, and talking about murals in this area and in New Haven," said Elizabeth Bickley, manager of public space planning and development for Town Green. "There finally became a critical mass of people."
The project was born last year, during a MakeHaven social at Barcade New Haven on Orange Street. Bickley had gathered with business owners and artists from the area, including MakeHaven's Lior Trestman and J.R. Logan, Matt Fantastic of Elm City Games, and SeeClickFix's Ben Berkowitz. All of them bemoaned the lack of public art in the neighborhood, which has suffered for years from low foot traffic and a rotating door of small businesses.
Bickley said that she's long yearned for more robust public art programs, like the well-oiled organizations Mural Arts Philadelphia or Beyond Walls in Lynn, Mass. Last year, she attended a conference on Beyond Wall's work and returned with her head bursting with bright public art ideas for the city's blank walls. It's been 40 years since the city's thriving but short-lived Comprehensive Employment and Training Act (CETA)—more than enough time for another mural heyday in New Haven.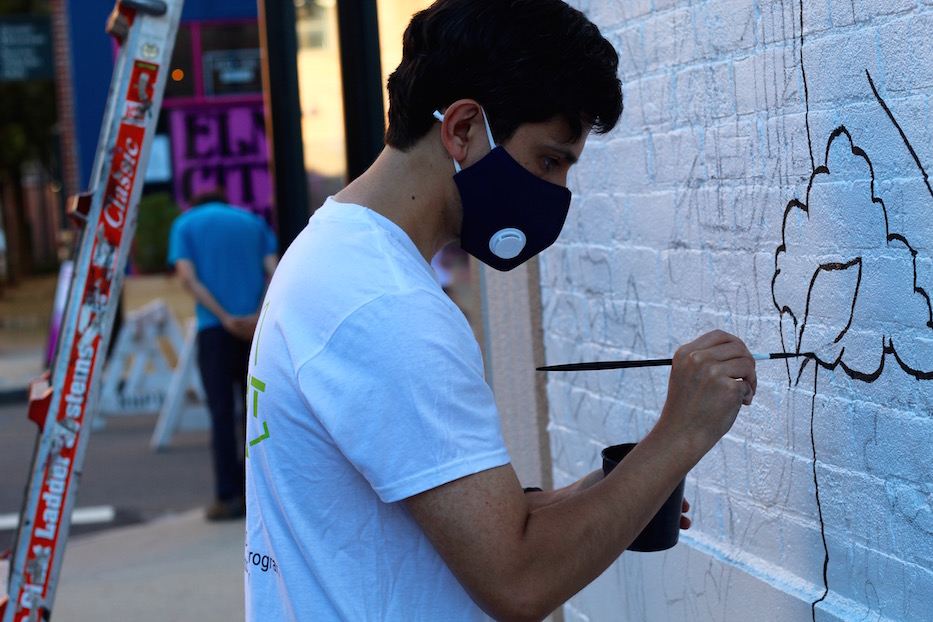 Francisco Del Carpio-Beltran,Friday evening.
But downtown landlords often seem like they don't want public art, she said. Two years ago, artist Kwadwo Adae had to put the brakes on a Church Street mural project honoring Edward Bouchet, the first Black man to earn a doctorate from Yale University, when a building owner pulled permissions on his wall. Bickley recalled getting rejections from landlords over and over again when she proposed projects downtown. It's not just landlords: two long-suffering mural projects on State Street have been awaiting approval from the Connecticut Department of Transportation for almost two full years.
Then Beacon Communities moved in. While the group is based in Boston, Bickley watched as representatives jumped in to fill empty storefronts and work with residents to find out what they wanted in the neighborhood. She suddenly had an opening.
"It took a lot of 'nos' before we got to Beacon," she said. "It takes a lot of trust to have a landlord who is comfortable with something going up on a building. They have been wonderful to work with."
After a call for proposals went out earlier this year, Town Green assembled a jury of neighborhood businesses and cultural organizations, including representatives from Creative Arts Workshop, the New Haven Pride Center, Artist & Craftsman, MakeHaven, and Breathing Room Yoga. The jury narrowed proposals down to 10, and then to six final designs. They selected three. Of the artists, all come from the greater New Haven and greater Hartford area. Only Del Carpio-Beltran still lives in the city, on the lip of the Dwight neighborhood.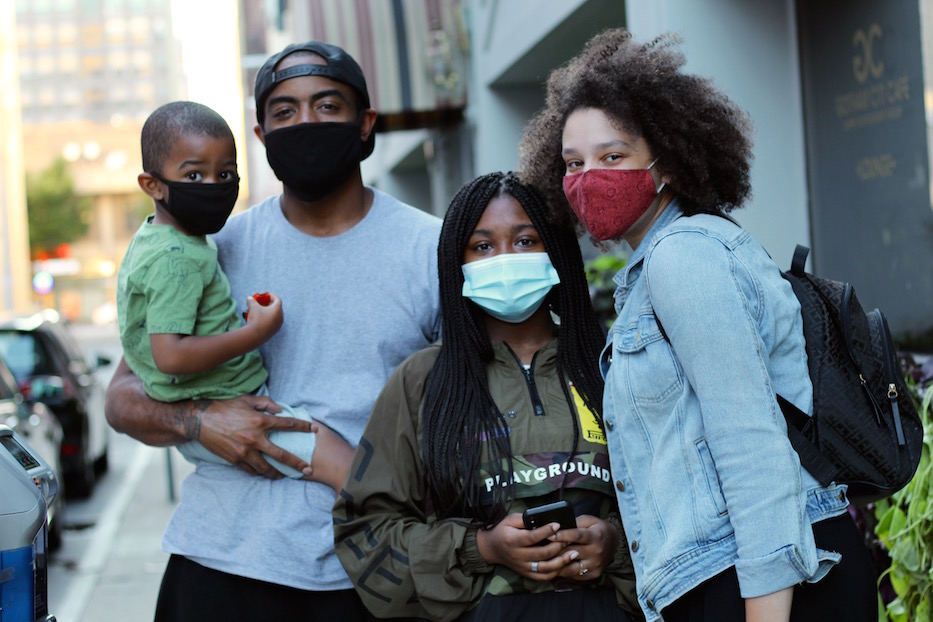 Aaron Ellison with 2-year-old Jace, Avianna Ellison, and Denisha Thomas.
Friday, he was the first to appear on Center Street ready to paint, as colleagues and collaborators from Svigals + Partners buzzed around with ladders, and quarter-full plastic cups of glossy black paint. Because the design is so large, he said he expects to be at the wall painting for at least another few weeks. He spent the weekend outlining the work in black, inviting passers-by to join every so often.
In the finished rendering, flowers sprout from planters and buildings, growing with wild and magical abandon. Parents blow bubbles and play music with their children; musicians lift their instruments while servers tie their aprons and bustle around in the upper lefthand corner. Across from them, a couple dances what looks like tango. It sits at 72 Center St.—just feet from Svigals + Partners' front door.
Born in Peru, Del Carpio-Beltran came to New Haven when he was 11. He has been working at Svigals + Partners since he was an intern there in high school, a year after which he returned for a job. After attending Gateway Community College and Western Connecticut State University, he has stayed on. His background includes illustration and graphic design.
Although he has painted murals at ConnCAT, Lincoln-Bassett School and Biohaven, the mural is his first outdoor large-scale work of public art. He said he was excited to work on a design that honored the neighborhood's history and its hopes for a vibrant future.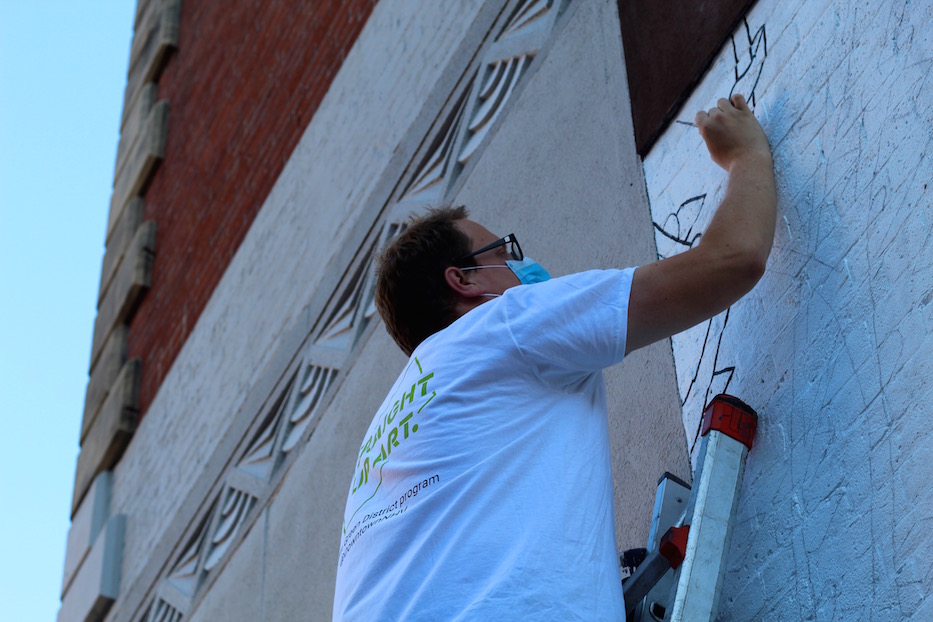 Jeremy Jamilkowski, who collaborated on the design.
Christopher Bockstael, a partner at the firm, praised the design and sense of collaboration around it. After arriving in New Haven in 2001, he watched the Ninth Square remain "sort of a hidden gem" between downtown, the Hill, Wooster Square and Union Station. He called the design a fusion of "what the Ninth Square is, and where it's going."
"When we saw the application, we said 'Oh my God, we've gotta do this,'" he recalled. "We've seen how public art really enlivens the built environment."
That vision sounded good to Rev. Kevin Ewing, who runs Baobab Tree Studios across the street. Since COVID-19 hit New Haven, his own business has largely pivoted to streaming events to stay afloat. He worries about the neighborhood's ability to stay afloat. When he spots public art, he feels a jolt of cautious optimism. Friday, he looked on as painters arrived in their white-and-green "Straight Up Art" shirts and began to work.
"I like the murals!" he said, watching from Orange Street in a pink shirt that matched the paint behind it. "Every time I walk past a blank wall, I think 'We should have more art there!' I hope it brings foot traffic. What we really need right now is people. Downtown is empty compared to what it was before COVID."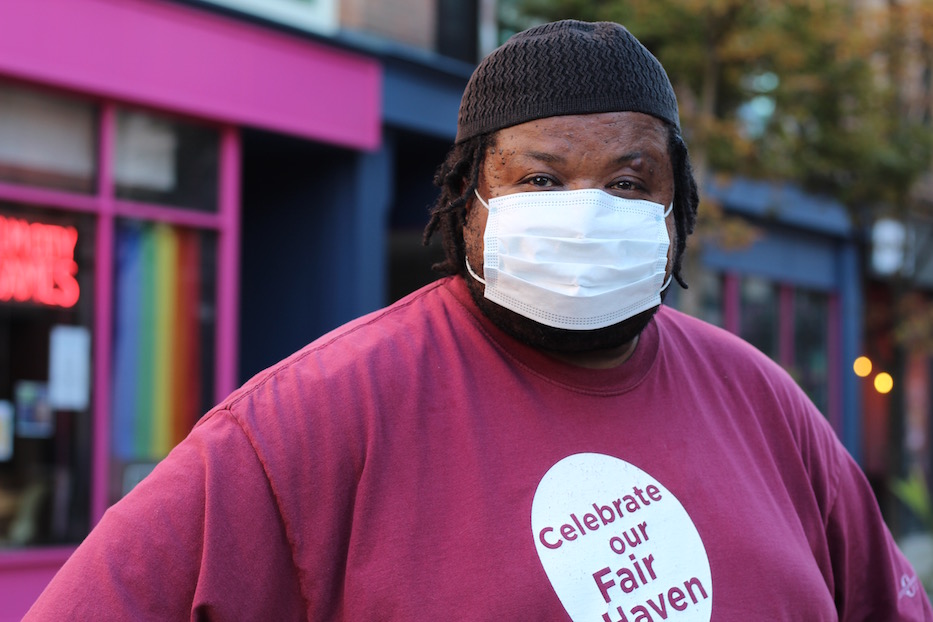 Rev. Kevin Ewing, who runs Baobab Tree Studios.
That's part of Straight Up Art's mission, said Bickley. Friday night, passers-by stopped to watch artists at work, some staying to grab an arepa or slurp a bowl of pho next door. Outside of Skappo Merkato, an outdoor dining area slowly filled up as afternoon turned into evening, and the sky began to darken. In the past months, Town Green has worked with the Department of Traffic, Transportation and Parking to add street art and outdoor dining to enliven the neighborhood in the midst of COVID-19.
Dental technician Aaron Ellison stopped by to watch with his daughter Avianna, an aspiring artist who lives in Los Angeles. Ellison's friend Denisha Thomas, a bartender at Barcade, had seen the event on Instagram and thought it looked fun. A short outing turned into almost half an hour as they looked on, transfixed. Eddie W., who was delivering a pickup for Uber Eats, took a minute to absorb the design before hopping back in his car.
"I think it's beautiful," he said. "It adds beauty. It provides thought. It adds liveliness to the neighborhood."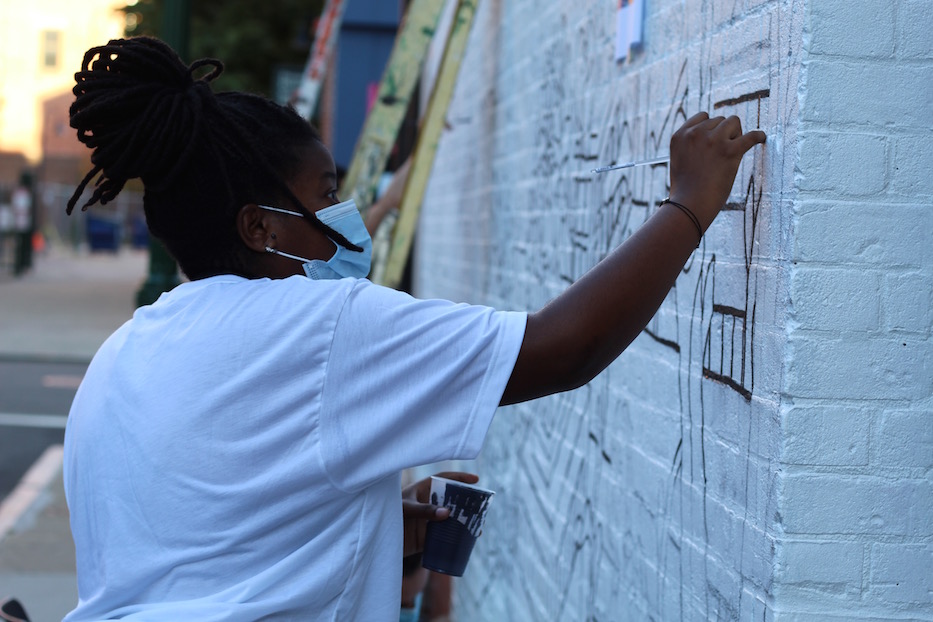 Photographer Ashley LaRue.
Photographer Ashley LaRue, there to document the event, found herself picking up a paintbrush between the soothing, soft clicks and whirrs of her camera. After graduating from college and graduate school, she turned to art to preserve her mental health. Dyme Ellis, who she knows from Artspace New Haven, suggested her work to Town Green. As she focused on the wall, a thick line of black paint materialized before her.
Friday, LaRue said that she saw the project as part of two New Havens that exist within the same 18.7 square miles. There is the New Haven where public art projects are neatly reviewed, well-funded, and beautifully executed. There's also the New Haven where she lives in the Hill, where words like community engagement and neighborhood beautification have been sidelined by multiple shootings in the past month and an especially violent summer on Rosette Street.
"New Haven is two places at the same time," she said. "We have community gatherings like this, we have art, we have people trying to build each other up," she said. "Then there's the New Haven by Howard Avenue, where I live. My work going forward is trying to marry the two."
"I think that when you pull people from the community, people whose work you wouldn't see otherwise, you can bridge the two," she later added. "It's nice. It brings people out of their neighborhoods and downtown."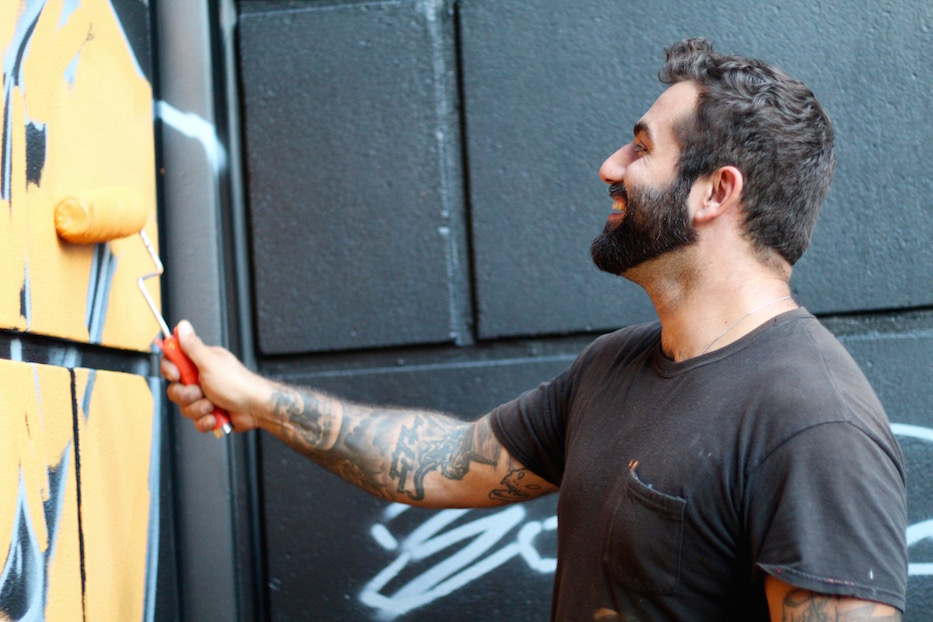 All the way down Orange Street, DeAngelo was working on a different vision of community-focused design, set against a wall that had been painted black. In his mural, real-life figures Dave Higgins and Michelle Salazar fill the space, transformed into superheroes with bright orange, blue and purple spray paint that gives them depth, as if they are about to emerge from the wall.
Both are essential workers: Higgins is a bus driver for CT Transit and Salazar is a general surgery resident at the Yale School of Medicine. Earlier this year, she volunteered to be part of a team that was treating COVID-19 patients at Yale-New Haven Hospital. When she came home exhausted after shifts, it was to her apartment in the Ninth Square.
"It was hard," she said. "Mostly hard because patients were not able to see their families, and we were working under these new conditions."
She described the early days of the pandemic as defined by the stress of not knowing what coronavirus was or what protocols she and her team should be taking. She and her colleagues worried constantly that they would run out of Personal Protective Equipment (PPE). They understood less about how COVID-19 behaved in human bodies than they do now. While things are "more back to normal," COVID-19 cases still come in.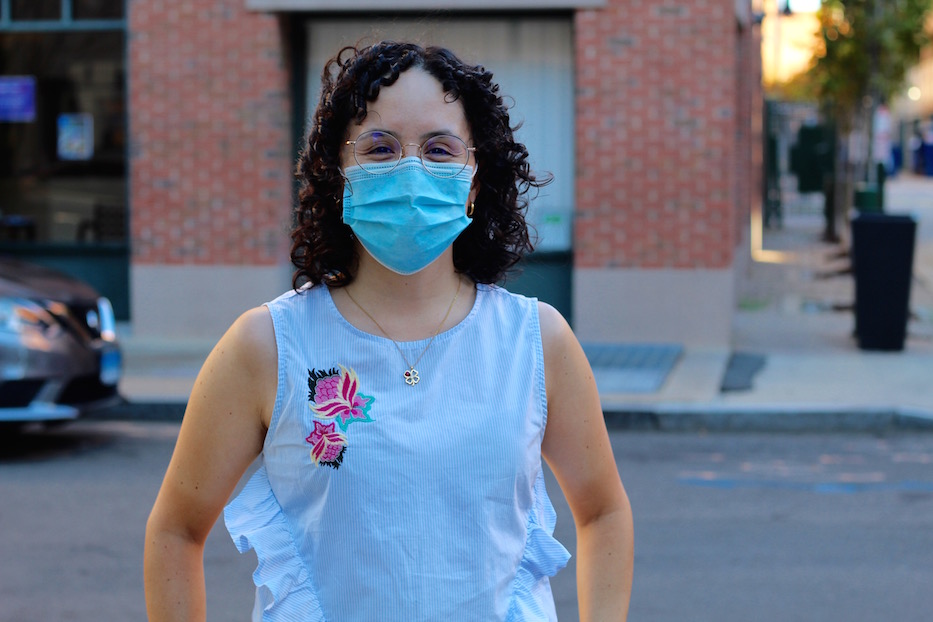 In the design, a purple-and-blue Salazar flies toward Higgins, horizontal as if she is a superhero. To her left, Higgins looks out onto the street, eyes toward any viewer walking down Orange. He is the color of late fall campfires and fall leaves—except for one shoulder, which floods with blue as Salazar touches it.
"I am so excited," Salazar said Friday. "I'm humbled by this opportunity. I feel like it's a great change to our neighborhood. Sometimes, the Ninth Square can feel forgotten. This makes it more beautiful and more inclusive."
DeAngelo, who completed a mural of Sun Ra on the building that houses Cafe Nine last month, said that he considers the project design rather than his personal art. The directives have come from Town Green; he's there to paint them into being. In the lead-up to the Straight Up Art the mural, he had an artist photograph both subjects, sessions that gave him a chance to get to know them.
"I think having this public imagery here is nice," he said. As he worked, people coming and going from the building stopped to watch him work.
By Sunday afternoon, he was putting the finishing touches on the piece, shaking cans of spray paint that clicked knowingly in the afternoon sun. He focused on a wide orange-and-blue band that joins the two, and makes the mural pop from the wall behind it. Suddenly, the black paint became a container for the piece, a trompe l'oeil homage to those on the front lines of the coronavirus pandemic.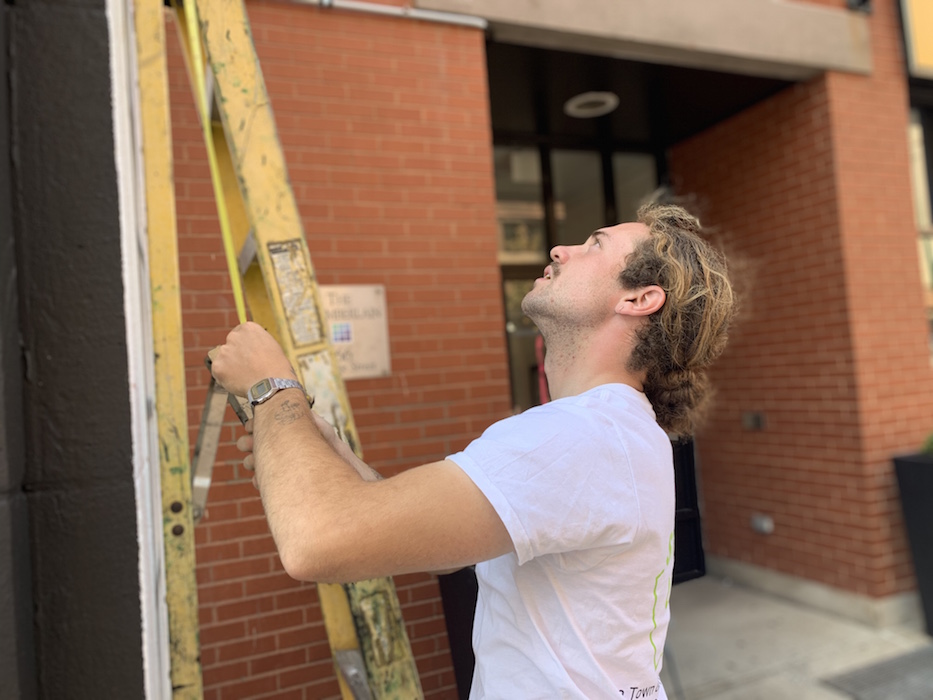 Fournier, who said he first heard about the project from Berkowitz, began his design on Orange Street Sunday afternoon. Because his day job is delivery for UPS, he is often pressed for time, and said he expected the process to take him weeks. It is inspired by the old buildings that once populated the neighborhood, and as an ode to Victorian architecture more broadly. Another finished Fournier mural sits inside 990 Chapel St., in the now-defunct OkieDokie Country Club.
"I think it's just amazing what people were able to do without power," he said. "It's [this mural] like a protest of the new shiny bright angles and stainless steel. Once you destroy the old and the beautiful, you can never go back."
Sunday afternoon, he measured and re-measured the wall before picking up paint to start filling in the design. He chatted about his fondness for the city, which includes time living just off Wooster Square. While he is now just outside of Hartford, he said it was good to be back.
"I like this city," he said. "I guess I want to leave my mark."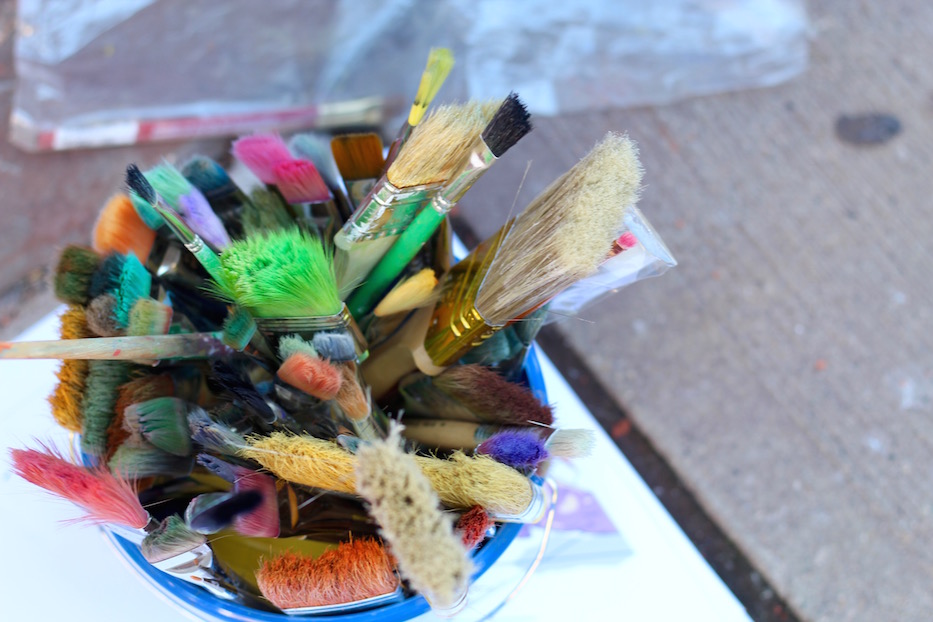 The murals join a steady increase in public art in the city. Works by Adae and JoAnn Moran have appeared on the Farmington Canal Heritage Trail and Diwell Avenue in the last two years. Town Green's Windowed Worlds series has sprung up downtown, as has the homage to Sun Ra by DeAngelo that recently appeared at the end of Crown Street. Over the summer, storm drain art from the organization Lots of Fish popped up in West River, Newhallville, and Fair Haven.
A community mural from Black Lives Matter New Haven is coming to Bassett Street later this month. Town Green is also moving forward with its "Intersection To Connection" project, phases of which were stymied by COVID-19 and slowed funding. The organization is also part of a new installation titled Black Kid Joy at City Hall.