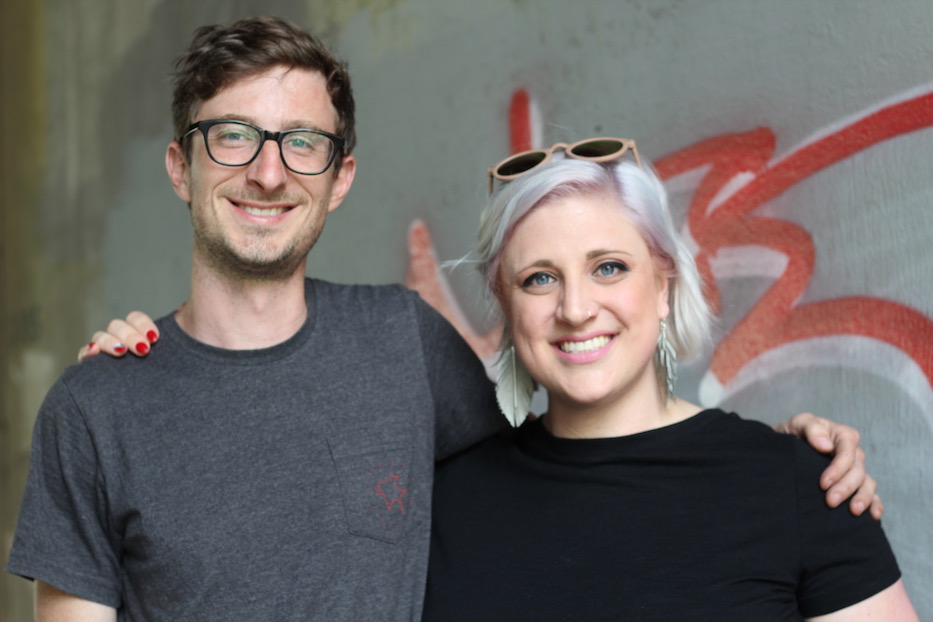 Bradley Street Bike Co-Op | East Rock | Public art | Arts & Culture | Could Be Fund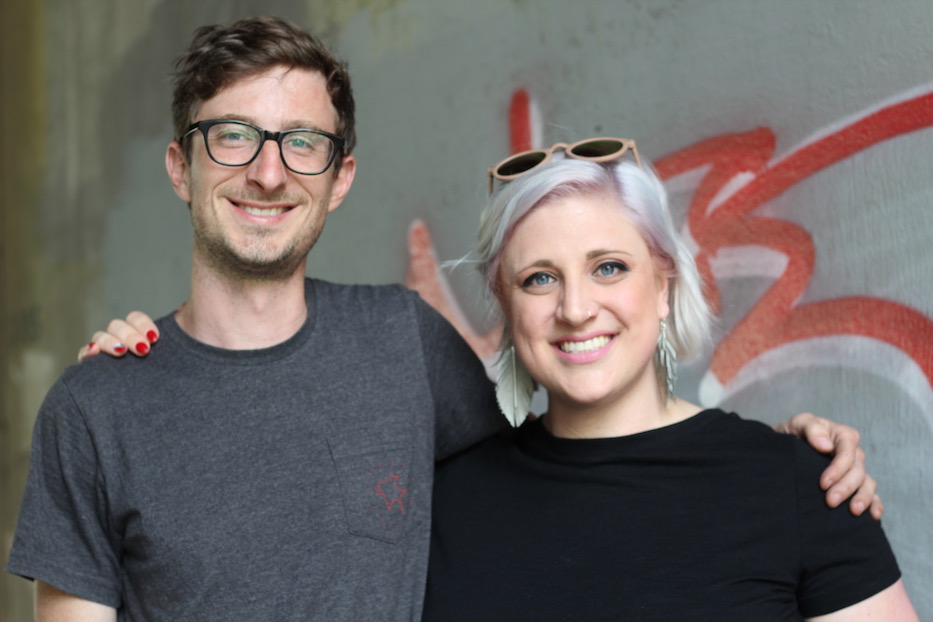 John Martin and Alex Novak. Artist Anika Stewart is also working on the project with them. Lucy Gellman Photo.
An East Rock overpass is shedding its grimy shell this summer—and hoping for some help from the community as a group of artists and community members get to work. That is, if they can get the permits to make the project a reality.
That's the latest for the State Street Mural Project, a collaboration among the Bradley Street Bicycle Co-Op (BSBC), Arts For Learning Connecticut, the Upper State Street Association (USSA) and local artists Alex Novak and Anika Stewart. Earlier this year, the project received $8,000 from the Could Be Fund, a project of the Elm City Innovation Collaborative. As they work to reach matching funds by the end of the fiscal year, artists plan to begin priming at the end of the month.
"It's a real way of tying the neighborhood together," said BSBC Founder and USSA Co-President John Martin. "I'm doing it because I want a better city and a better built environment."
The mural is set for the overpass where State Street runs between Bradley and Trumbull Streets, long decried as an eyesore for poor lighting and trash pileup. In an interview at the overpass last week, Martin said that it feels like "a sore divider" between Upper State Street businesses and those closer to Trumbull, Audubon and Grove Streets. He said he'd also love to see better lighting at the location because it is a designated bus stop for the 223 line, which runs up State to Lombard Street and back downtown.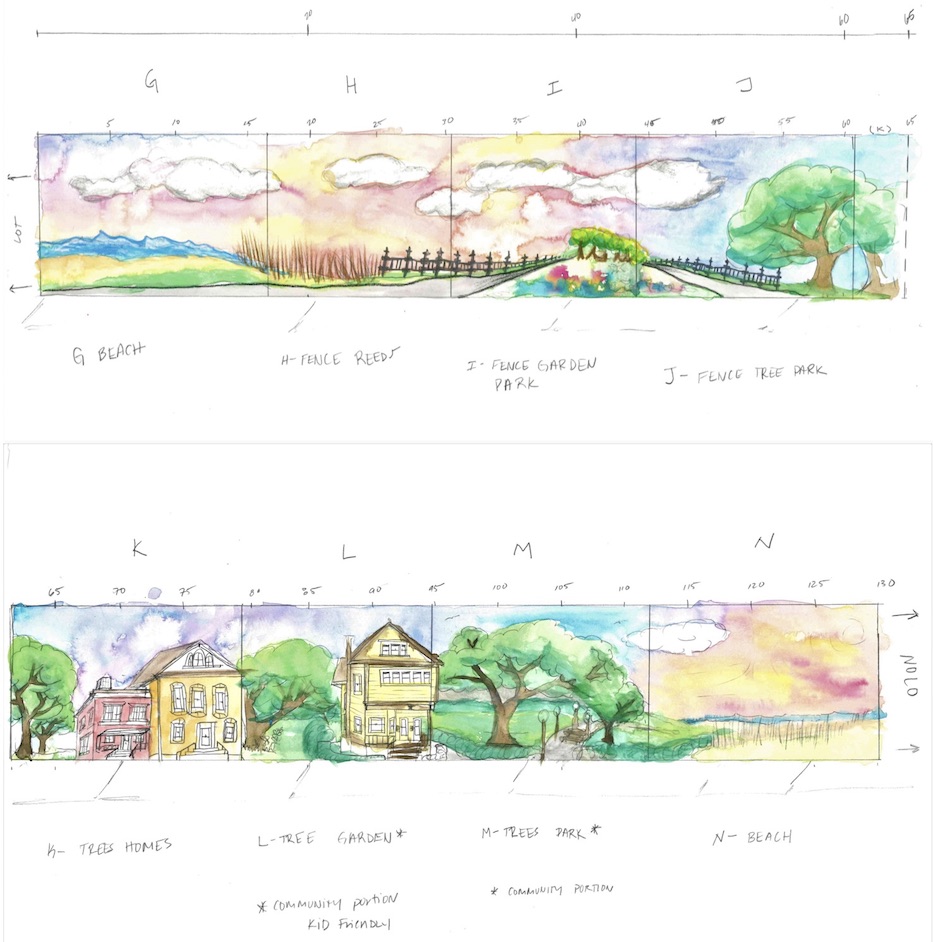 Renderings of the mural that Novak has submitted. State Street Mural Project Photo.
He added that he hopes it will also help out the property at 754 State St., which has been a revolving door of restaurants that struggle to stay open (it may have finally found the right culinary formula with September in Bangkok). Because the project has been pitched as good for businesses, several USSA merchants have also pledged their support.
The mural's subject matter—historic East Rock and State Street architecture—draws from the history of urban renewal, which sliced up several city neighborhoods under the guise of slum clearance and highway development in the second half of the twentieth century. In particular, Novak said, viewers will see renderings of buildings that look very familiar—and buildings that no longer exist because they have been demolished.
While State Street has been a main artery in the city since 1640 (it was then known as Neck Lane, according to maps from New Haven's City Plan Commission), its entanglement with development and urban renewal dates back to the middle and end of the nineteenth century, during which the area was built as a mix of commercial, residential and industrial housing.
But in the early 1960s, construction of I-91 cut the area off from parts of the city to the east. The highway became a loud and intrusive part of the neighborhood's built environment, standing over 25 feet above State Street. In 1968, several of the area's historic buildings were razed as part of the State Street Redevelopment Program, a multi-million dollar project that was ultimately halted before completion.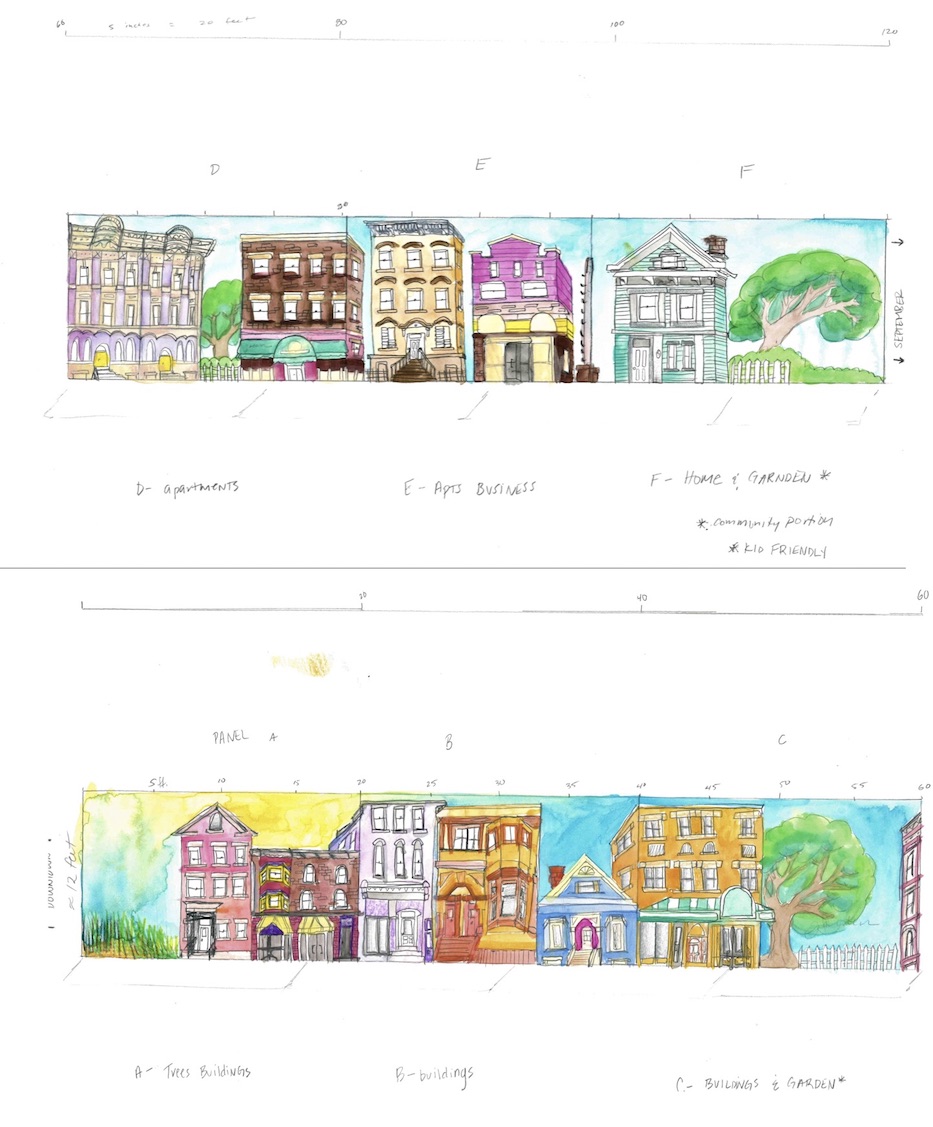 State Street Mural Project Photo.
The USSA was officially born in 1979, to address the neighborhood's long-shrinking population and empty properties. At that point, it was a collaboration among merchant John Matthews and developer Robert Frew, according to 1994 interviews in the Yale Law & Policy Review. After a lapse in the late twentieth century, several developers and merchants resurrected it in 2008.
Since reconvening, both members of the association and State Street residents have been talking about what to do to make the overpass feel safer. In June 2017, representatives of the state's Department of Transportation opened a work order for lights at the location, which Martin said he hasn't seen any work on (there are currently four high-sodium yellow lights under the overpass).
Then in June 2018, DOT Special Services Manager Paul Holmes was in touch with New Haven transit czar Doug Hausladen for the purpose of "obtaining LED fixtures from the city" for the overpass, according to an email that he sent last summer. In the year since, Martin said those also have not been implemented.
In a response, Holmes said he had seen emails about both the mural and potential lighting updates but not received any formal submission from the city.
Martin and Novak said that while they can't change the history of urban renewal retroactively, they can fight its legacy in New Haven. Both are transplants with ties to the area: Martin grew up close by and runs the Co-Op in a building his dad has owned since the 1960s, and Novak's dad and grandfather were both raised East Rock. While she grew up in Longmeadow, Mass., she spent time visiting family in the area, particularly on nearby Avon Street. So "I feel like I'm half from here," she said.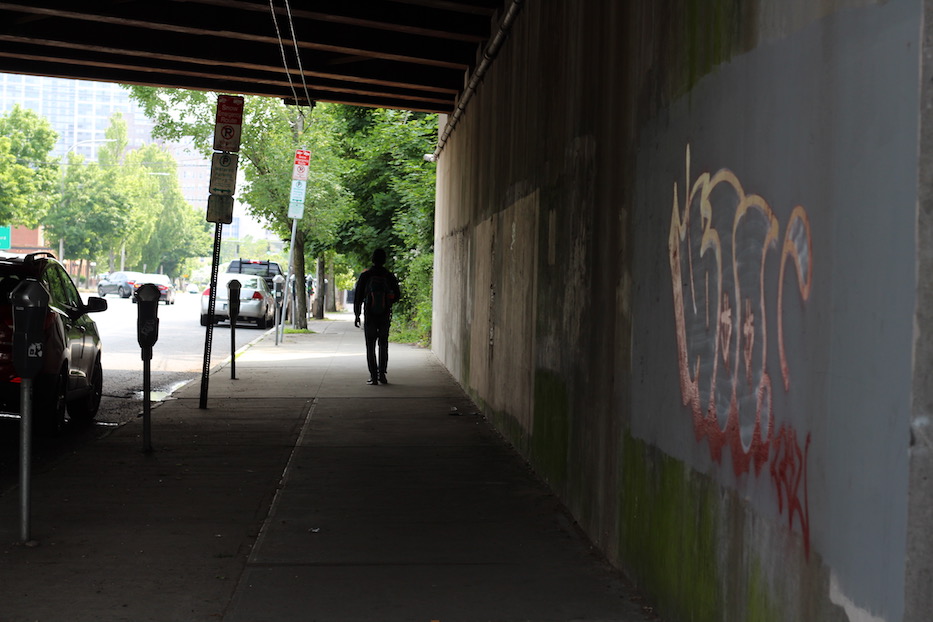 The overpass, photographed from the corner of Bradley and State. Lucy Gellman Photo.
She moved to East Rock in 2011, after studying at Ithaca College. After teaching in the city's public schools for a few years, she joined Hamden-based Arts For Learning Connecticut and also started a business offering private mural projects in homes and businesses around New Haven and Hamden. In December of last year, she and Martin connected through East Rock and Downtown Alder Abby Roth, and began designs based on buildings in the neighborhood.
She said she is excited for the project, as a way to both connect and involve community members. In addition to a date for priming at the end of the month, she has scheduled three community paint dates in July, all of which are subject to change depending on permitting that has not yet come through.
"I wanted to bring a community aspect into this job and facilitate community-based arts learning," she said. "You can think of it as a kind of community paint-by-numbers, where certain buildings [in the design] will be marked to be different colors."
Since scoring a grant from the Could Be Fund earlier this year, the two have also received support from State Street business owners and residents of the neighborhood who live nearby. In particular, she said, businesses are excited by the possibility of increased foot traffic to their stretch of State Street.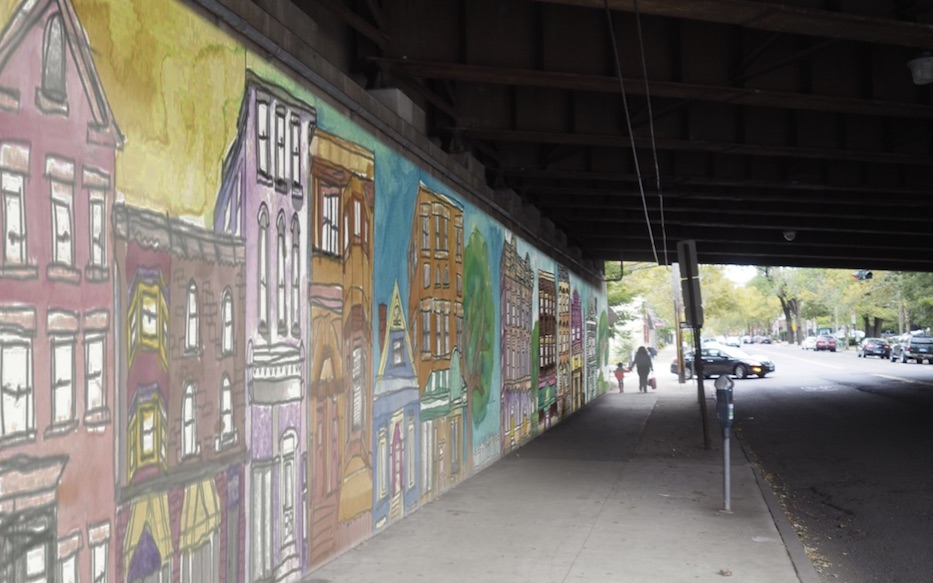 State Street Mural Project Rendering.
"I'm really excited for the project," said Alison DeRenzi, who owns L'Orcio with her husband, Chef Francesco D'Amuri, and serves as a co-president of the USSA with Martin. "I think it's going to connect our side of the street to the other side of the overpass. I hope that it creates a friendlier vibe."
She added that the overpass isn't just a physical barrier—it's also a visual one, plagued by parking lots and dead space on the other side. Currently, L'Orcio gets a mix of foot traffic, neighborhood regulars and people who have driven from surrounding neighborhoods, towns and even states for the spot's Italian food. DeRenzi suggested that the mural, when finished, will make potential patrons more likely to "turn left as opposed to right" when coming onto State Street.
Now, the project's team is focused on meeting its funding goal before the end of the fiscal year. Of the $8,000 that they must match, Novak said they have raised over $3,000 through a mix of door-to-door fundraising and fundraising events, the next of which will be held at NOLO later this month. In addition, she said, she and Martin are raising extra funds specifically for maintenance of the project, in case it is graffitied over like the nearby, now-gone Inside Out project five years ago.
"It might happen," she said. "We know that. I mean, it's an occupational hazard."
She expects the beautification of the underpass to take time, she added. Currently, a big red graffiti tag blooms in the corner closest to Bradley Street. Cars zoom past and pedestrians trudge through the space without stopping. Trash, dirt and dust blow and roll through. The only people who pause to take in the space's appearance are those waiting for the bus, with time to kill.
"The mural will better connect Downtown and lower East Rock along State Street, by making the State and Bradley underpass really inviting to walk through," wrote Roth in an email Wednesday. "It has been wonderful to see residents and local businesses get so excited about this project. It reflects their devotion to the neighborhood and enthusiasm for making it even better!"
"John and Alex have been tremendous leaders in making the mural project a reality—and make it a fun project for everyone because of their excitement about it," she added.
As they fundraise, Novak and Martin are also waiting on permitting from both the state of Connecticut and the city that could interfere with planned priming and community paint dates in June and July. Reached by phone Wednesday morning, ECIC Director Michael Harris said that their designs have been submitted to both the state's DOT and New Haven's Economic Development Administration, but there is no timeline for the project.
"It's being reviewed," he said. "It requires agreements from the city and the state. We've started the conversation but the design work takes time. It's submitted and pending approval."
To learn more about the State Street Mural Project, click here. NOLO will be hosting a happy hour for the project later this month, on Wednesday June 26 from 3 to 6 p.m.