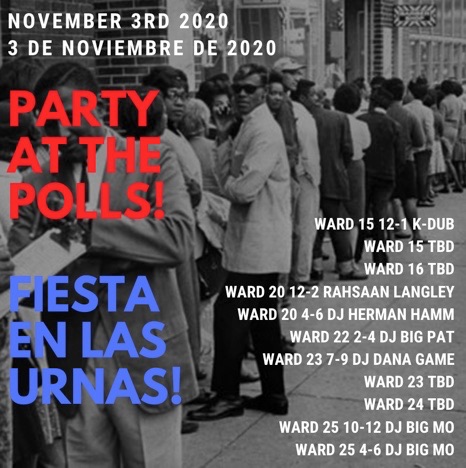 Music | Politics | Presidential Election | Arts & Culture | COVID-19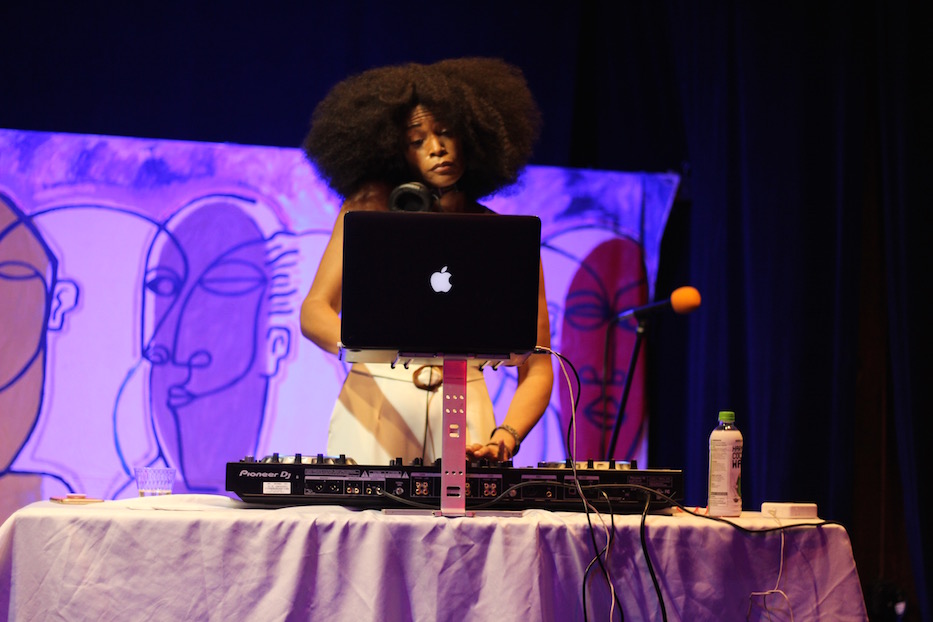 Dana Cobbs at an event in December 2019 at Bregamos Community Theatre. Lucy Gellman File Photo. The poster below is her design.
Eight DJs and one political science professor have a plan for Election Day. They'll be turning polling places into dance parties, with the hope of pumping up the volume—and getting out the vote.
That veritable "Party At The Polls" is the brainchild of Dr. Khalilah Brown-Dean, a political science professor at Quinnipiac University and host of WNPR's weekly program "Disrupted." With less than a week remaining until the general election, she has partnered with ward committee co-chairs, DJs, self-proclaimed "concerned New Haven voters," and a regional arts council to keep morale high at the polls.
Currently, she has scheduled DJ appearances at seven polling places in New Haven and one in Hamden. DJs and artists include K-Dub, Rahsaan Langley, Herman Ham, That Dana Game, DJ Prime, DJ Big Moe, DJ Big Pat and DJ Toot; they plan to play across the city from Fair Haven to Newhallville and Beaver Hills. They will spin in two-hour installments at their respective locations, starting in the morning and going into the late afternoon.
The nonpartisan effort is inspired by a now-viral video of early voters doing the Mississippi Cha-Cha Slide in front of Tilden Middle School in Southwest Philadelphia. That event was organized by Nelini Stamp, director of strategy for the Working Families Party, founder of the Resistance Revival Chorus and head of Joy To The Polls, a nonpartisan initiative from Election Defenders to "make voting a celebration." A D.J. started pumping the music after members of the chorus, dressed in white, serenaded early voters with a number of protest songs.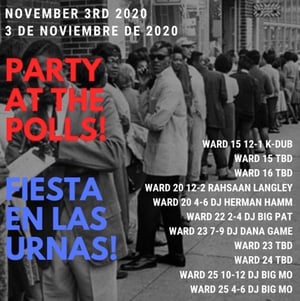 "Unlike other states that consider themselves 'progressive,' Connecticut doesn't have in person early voting," she wrote on social media with a link to the video. "A lot of us are prepping for long lines on election day in spite of the surge in absentee voting. Imagine if every polling place in urban neighborhoods had a DJ or local artists on hand to help pass the time and showcase that we are resource rich. Joy is an act of resistance. Claim it as your birthright."
Brown-Dean saw the video on Sunday and started thinking about how to bring a similar effort to New Haven. She looked to the image of 31-year-old voter Klinton Cooper at the front of the line at Tilden, bouncing to the down beat as his arms reached toward the sky. Cooper grew up in the neighborhood where he now votes. He lost his grandfather to COVID-19 last month. He was dancing through it all.
"It had me thinking about what's probably going to happen across Connecticut," Brown-Dean said in a planning meeting Monday night. "We have increasing Covid rates in neighborhoods, and those are the same neighborhoods that people are also looking to in terms of voter turnout. How can we encourage those communities to vote, and highlight the arts in this city? How do we promote art as being this release and source of joy?"
Brown-Dean put a call out on social media Sunday afternoon. By Sunday night, she had heard from artists around the city and the state, including DJ Herman Ham, Rahsaan Langley, and Dana Cobbs. Ward 26 co-chairs Amy Marx and Sharon Jones jumped onboard. Dr. Deborah Desir, who leads The New Haven Chapter of Links, Incorporated, offered to provide hundreds of medical-grade and N95 masks at polling locations. Erick Russell, a New Havener and vice chair of the Democratic State Central Committee, offered to help in whatever way he could.
On Monday, Brown-Dean met with a group of people who had volunteered on social media, deputizing them as the election clock continued to tick down. Members identified seven polling locations in New Haven Wards 15, 16, 20, 22, 23, 24, 28, and Hamden Ward 3. In New Haven and in Hamden, those spots span Fair Haven, Newhallville, Dixwell, West River and Beaver Hills and go just over the New Haven/Hamden border on Dixwell Avenue.
"We're looking at wards where we want to lift spirits up and stay on the line," said Paul Nuñez. Nuñez and his wife Talia live in Ward 25, which has historically seen some of the city's highest voter turnout. The wards that the party at the polls is targeting have historically seen lower voter turnout.
As of Wednesday night, Brown-Dean had matched eight artists with seven polling places, with some filling in for multiple shifts. At 7 a.m., DJ Dana Cobbs—better known as ThatDanaGame—will kick off the party with a two-hour set at Barnard School, spinning through potential wait times and ballot anxiety in the West River.
"Voting and civic engagement is important to me because it is one of the rare times that we truly get to have our voices heard and our choices counted towards a future we believe in," she said Wednesday night by text message. "My ancestors didn't have the opportunity (on paper) until 1870, and truly until the Voting Rights Act of 1965. For me, music and change go hand-in-hand."
"Music has long gotten Americans through the struggle," she added. "It's uplifting. It is spiritual, it is mood changing. A simple drumbeat can call people together. I play music to provide joy. The music I play is soulful—and meaningful. It has purpose and intention. I play to make people 'feel.' I play good music—and we all need that right now."
From top left: Brown-Dean, this reporter, Ward 26 committee co-chair Amy Marx, Ward 26 committee co-chair Sharon Jones, Erick Russell, Paul and Talia Nuñez, Dana Cobbs, Arts Council of Greater New Haven Executive Director Daniel Fitzmaurice.
By noon, the musician K-Dub will be performing on Chatham Street for Fair Haven's Ward 15 voters, as musician Rahsaan Langley gets Lincoln Bassett Voters grooving through any potential line. At 2 p.m., DJ Big Pat will be keeping Wexler Grant voters on their feet. The afternoon will be filled with the sounds of DJ Prime, DJ Big Moe, DJ Toot and others.
"Polls are very busy from about 7:30 to 9:30 in the morning and then 4:45 p.m. to about 6:45 p.m.," Marx said Monday. "These are some neighborhoods that don't always have turnout. I'm thinking a morning session to sort of get things rocking … and then excite people for the rest of the day."
The evening is a little trickier, Brown-Dean noted. DJs can't always work in the dark, which comes at 6 p.m.—two hours before polls close. But she's keeping an ear to the ground for what happens on Nov. 3, in case she needs to send in musical reinforcements for long late-evening lines. She also is still looking for a bilingual DJ for John Martinez School, a large brick building that sits on James Street in the city's Fair Haven neighborhood.
She explained that her mission goes beyond the reclamation of joy: she also wants to compensate artists who watched the music industry shudder and grind to a halt eight months ago. Many of them have lost their livelihoods; a few have returned to limited capacity, socially distanced events. She is also trying to work with area food trucks that might be interested in a some civically engaged business.
To pay artists, the project has received funding from the Arts Council of Greater New Haven, which is also acting as a fiduciary for individual donations. In the interest of full transparency, the Arts Paper is an arm of the Arts Council but is editorially independent from it.
Photo courtesy of Herman Ham.
Ham, who will be spinning an afternoon set at Lincoln-Bassett School from 4 to 6 p.m., said that he can't imagine a better way to be spending Election Day. The DJ grew up spending time in New Haven: he feels a deep allegiance to the city to this day. He said he doesn't yet know what he'll be playing—he reads a crowd and chooses music based on what they respond to.
He does know for certain his voting plan: he will be at the polls at 6 a.m. in Trumbull, where he lives, before heading to New Haven.
"I believe your vote is your voice on issues affecting things in your community," he said Wednesday night. "We have the power to decide on the quality of life that we desire for ourselves and future generations. Voting is a chance to stand up for the issues we care about that sometimes are overlooked and I'm hoping my involvement will encourage people to come out and vote."
Polls on at 6 a.m. and close at 8 p.m. on Nov. 3. In-person absentee voting will also be taking place from Oct. 31 and Nov. 1 from 11 a.m. to 5 p.m. at 200 Orange Street. Read more about the election here and check your voter registration and polling location here.