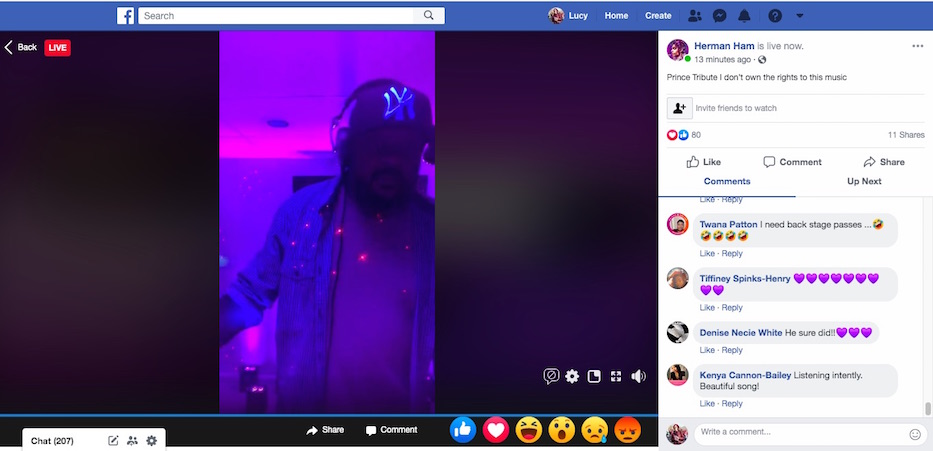 Culture & Community | Music | Arts & Culture | COVID-19 | Prince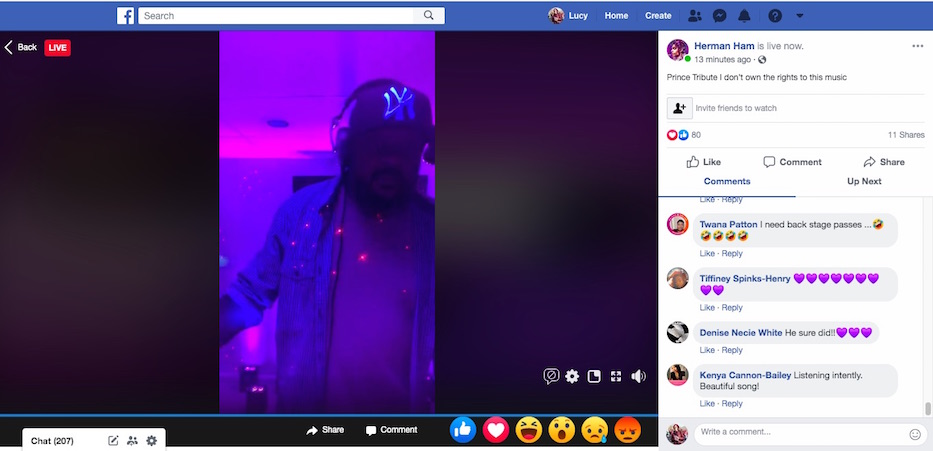 Facebook. Photos below courtesy Herman Ham Group.
The set was somewhere between "1000 X'S & O'S" and "If I Was Your Girlfriend" when Herman Ham looked up into the camera, not for the first time of the night. Around him, pink and purple light flooded the background. Pin pricks of red and green danced across his shirt. Ham pointed out to his viewers and rocked his shoulders.
"Trust me, I got so much in store for you tonight," he said. "If you wasn't a Prince fan before tonight, you gonna be one after tonight."
The founder of the Herman Ham Group, Ham is a DJ and entertainer from New Haven who now lives on the north end of Bridgeport. Tuesday, he brought Prince into homes across the state—and the country—to celebrate The High Priest of Pop four years after his untimely death. Hundreds listened live through Facebook, and returned Wednesday morning for an encore.
"It's keeping me sane," he said in an interview Monday, while prepping for a sprawling, jubilant three-hour tribute to Prince. "I think that's the same for me as it is for the listeners who show up. I'm at the point where I just do this for the love of doing it."
Before coronavirus hit Connecticut, Ham had never done a DJ set from his house because he was rarely home. A longtime music promoter and DJ in Connecticut, he was doing hundreds of shows from the road. In a given week, work looked like DJ-ing a wedding, birthday, Bar Mitzvah, Quinceañera or Alpha Kappa Alpha (AKA) Sorority event. His customer base was a mix of corporate business and word-of-mouth, with friends, parents, and sorority sisters who all somehow found their way to him.
"I'd get a call from a girl asking if I could do her birthday," he said. "And then it would be like, 'I'm getting married, can you do my wedding?' And then I would do her baby shower. And suddenly her mother's turning 80."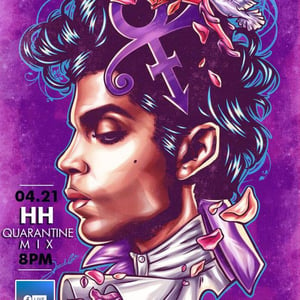 In the months leading up to March, business looked good. He had months of gigs lined up, from Hartford and New Haven all the way to Baltimore, Washington, D.C., and Atlanta. In Hamden, Ham led a weekly happy hour at Lynon's Restaurant & Bar that brought people out to drink and dance at the end of the work week.
People were booking him for their weddings two years out, covering travel expenses when he needed to fly out of state and rent DJ equipment. He was doing work with WYBC's Juan Castillo. His limo company, which he runs in addition to DJ work, was thriving. For the first time in 11 years, he had secured the Oakdale Theatre—where he once saw Prince perform, three decades ago—for his annual White Party in June.
Then, almost overnight, everything came to a halt. As he watched months of cancellations and postponements roll in, Ham set up his equipment at home. Around a table of electronics, he threw lighting into the mix. He set up a camera that could beam performances out to anyone with an internet connection.
The first Friday of COVID-19 shutdowns, he started spinning for a home-bound happy hour. Hundreds of followers tuned in and left requests in the comments panel. People started watch parties and danced along in their kitchens, bedrooms, and living rooms. On Facebook, someone sent him a photo of white and multicolored holiday lights they were stringing up for the occasion.
Ham cycled through his repertoire: rock, pop, reggaeton, hip-hop and jazz. He mixed in the sound of his youth—he still falls hard for Earth, Wind & Fire and Hall & Oates—and kept the set pumping. At one point, a listener requested gospel and he found a soaring anthem to throw into the mix. He ended the night feeling more satisfied than he had in a week.
"Then I was like, 'What if I just do a gospel set on Sunday?'" he recalled. Ham had grown up going to church, but his work often meant that he was out on weekends. Now he was home. "So I tried it. I had like, 400 people watching, and 6,000 comments."
In the month since, he has hosted weekly gospel sets each Sunday, most of which run for three or four hours. During the week he has hopped on for short sets, added signature drinks for listening parties. He's taken time to fête departed icons including Luther Vandross, who would have been 69 years old on April 20.
"When I'm DJ-ing [at events], I pull out all the stops," he said. "I do the dry ice, the lighting and sound. I want people to have that kind of concert experience."
In addition to keeping him busy—Ham is currently isolating at home and living off of savings as months of work remain cancelled—he said that it's a way to give back to a community that has supported him for decades.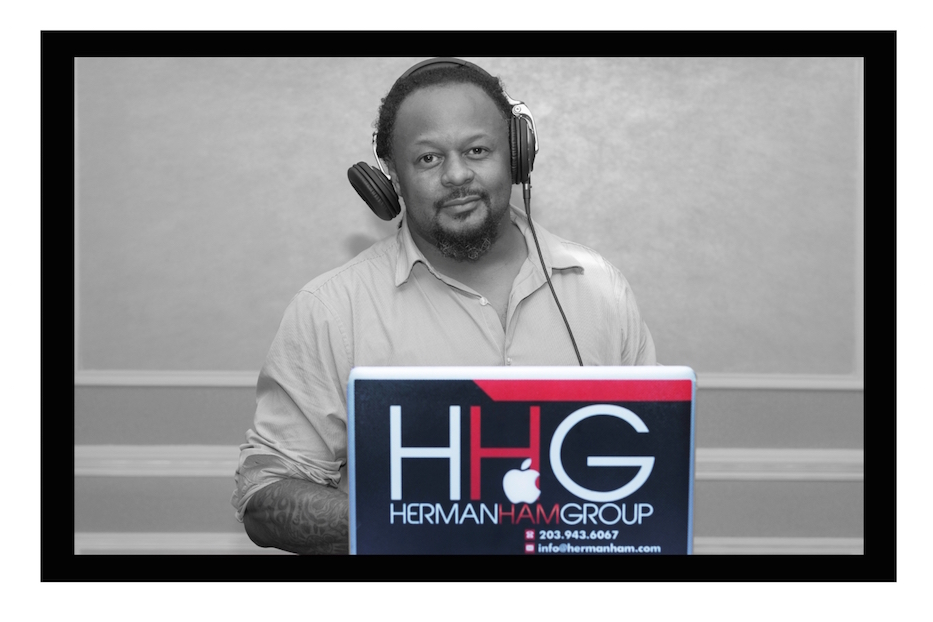 Image courtesy Herman Ham.
Born and raised in New Haven's Hill neighborhood in the 1970s, he grew up loving music. He frequented venues that used to populate the city: the long-gone Montego Bay and Cat Club, Brick N' Wood in the former New Haven Clock Company, a spot called Tony's on York Street, which would stop playing music and start serving breakfast around 2 a.m.
Ten years ago, a friend gave him an old hard drive, and Ham started playing music between live sets from the The Rahsaan Langley Project. The more he practiced, the better he got—and the more people wanted him for their major life events. Now, he said he considers it "a blessing" that he can use that skill to keep his fans dancing through a public health crisis.
Before launching into his musical tribute Tuesday, he waxed poetic on Prince's sheer genius. During the musician's life, Ham saw him perform twice—once at Connecticut's Oakdale Theater in the 1990s, and once at Madison Square Garden in New York City. He recalled the concert as "like a time warp," where the crowd arrived in head-to-toe purple outfits. Since, Ham has been building a Prince discography that he can flip through off the top of his head.
"Prince was a musical genius," he said. "I love, love, love Prince. The guy produced and wrote so much stuff in his own studio, he taught himself 15 instruments, and he was also a very private kind of guy."
As he rolled out a set Tuesday, dozens of viewers tuned in. Some faithful listeners had posted thank you messages to his wall ("A DJ saved my life tonight!") before he began. Others wrote in with comments beside the videos, fixing their purple rain cocktails from New Haven to Florida, where several of Ham's cousins live.
As requests flooded the feed, he joked that there was no song he hadn't already thought of. Somewhere around Prince's 2004 "Musicology," he promised listeners he was just getting started. As the musician plowed through "And God Created Women," Ham announced that "this is my joint right here!" and rocked with the lyrics.
By the time he got to a cover of Bonnie Rait's "I Can't Make You Love Me," he was gliding. He soared through Stevie Nicks' tribute to "Little Red Corvette," peppering the track with the history of the song. Then, at the end of almost four hours, he announced that the party would be ending.
"You know how I gotta end the night," he said. "You know. I'm just saying."
He stepped away from the table to reveal an image of Prince in the background. The first notes of "Purple Rain" filled an empty room bathed in pink and purple light. Ham smiled, did a little shoulder shrug, and listened as Prince played himself out. He promised that he'd return soon. He is now doing Reggaeton on Thursday afternoons as well as gospel on Sunday mornings.
"Maybe I'll pop up and do a midday mix," he said. "Thanks for hanging out with me and the Purple One. We will talk soon."
To find out more about Herman Ham or the Herman Ham Entertainment Group, find him on Facebook.