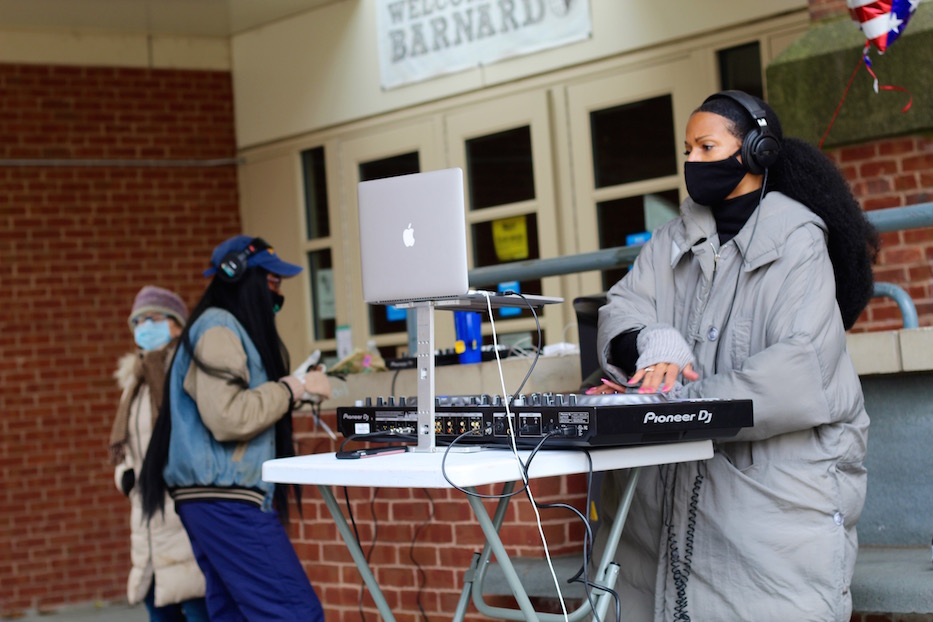 Beaver Hills | Dixwell | Fair Haven | Music | Politics | Presidential Election | Arts & Culture | Newhallville | West River | COVID-19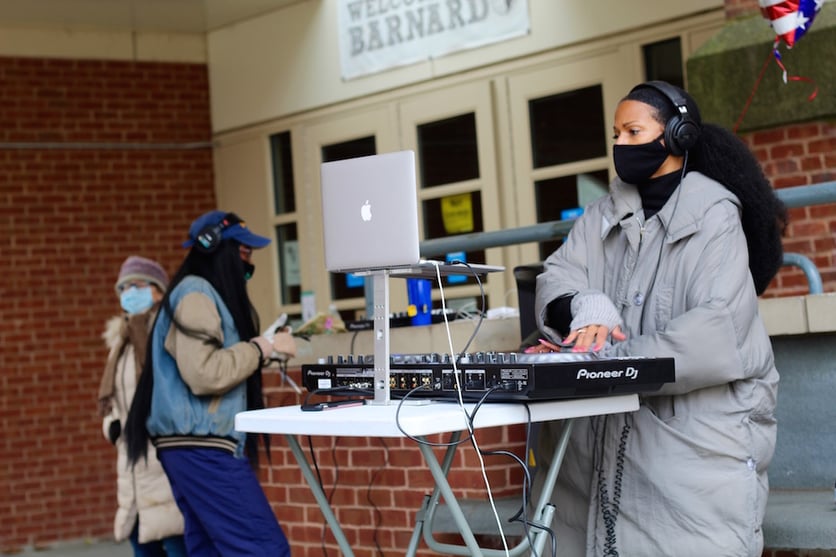 DJ That Dana Game (Dana Cobbs) plays the 8-10 a.m. shift at Barnard. She left at 10 a.m. to go vote in Hamden. Lucy Gellman Photo.
Kenneth Driffin showed up at Barnard Environmental Magnet School to cast his vote for Sergio Rodriguez and the Working Families' Party ticket. He stayed to dance.
Tuesday, Driffin was one of over 27,000 New Haveners to come out to the polls, after a record 97 million Americans cast their votes by absentee ballot. Across the city, he and thousands of other voters were greeted with an Election Day surprise—DJs working to spin and mix a citywide, nonpartisan dance party at the polls.
"I always vote!,"Driffin said, taking his partner Laura Bedini's hand to dance. At a table, DJ Basketball Jones mixed solo Justin Timberlake right into NSync's "Bye Bye Bye." "The thing about music here today—music is universal. It puts you in a relationship with everyone around you."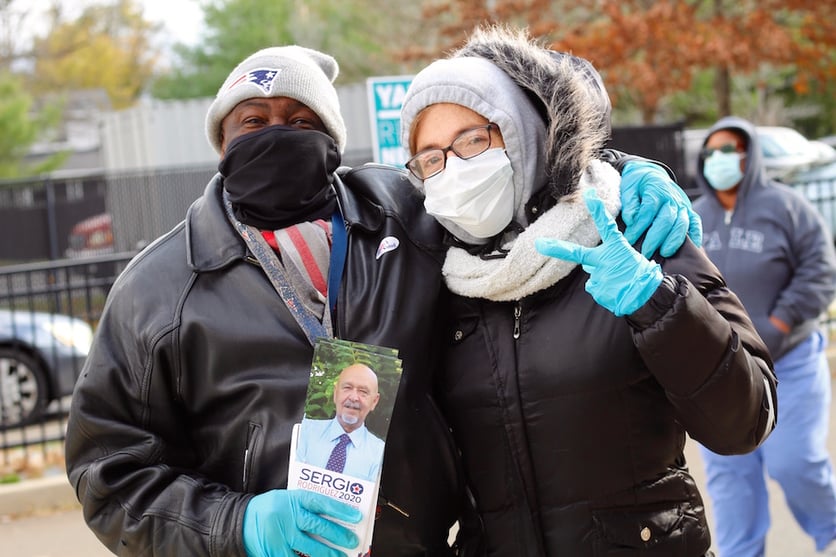 Kenneth Driffin and his better half, Laura Bedini, gear up to dance outside Barnard Environmental Magnet School. Lucy Gellman Photo.
The concept came from political science professor and author Khalilah Brown-Dean last week, with just days to go before the general election. In eight days, she and a group of volunteers organized DJ stations in New Haven Wards 15, 16, 20, 22, 23, 24, 28 and Hamden Ward 3. Those polling locations translate to schools and community centers in the West River, Fair Haven, Dixwell, and Newhallville neighborhoods and Hamden just over the city border.
All of the music and participation was nonpartisan. Read more of the event's backstory here.
Tuesday, voters started jamming to the music almost as soon as DJs had arrived. Around 9:30 a.m., West River voter Mamady Kouyaté listened closely to DJ Dana Cobbs—better known as That Dana Game—as she mixed Beyoncé into Ed Sheeran, and then wound back the clock to old school jams. As she lifted her arms above a console, he let the melody distract his from the growing line and low-hanging dark sky overhead.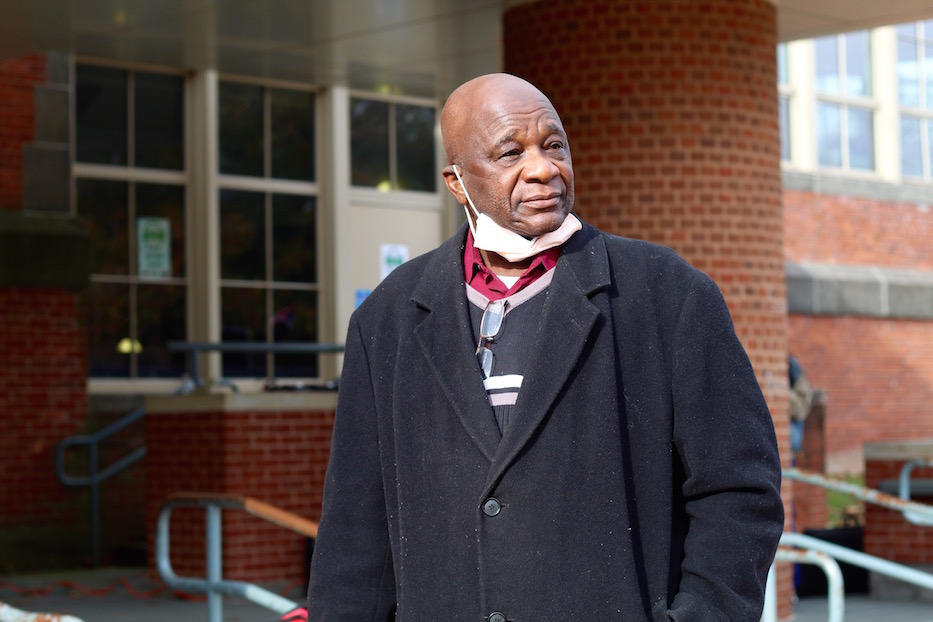 West River voter Mamady Kouyaté. Kouyaté removed his mask only for the photo, and then promptly put it back on. Lucy Gellman Photo.
Kouyaté knows his music: he is a guitarist and founder of the Mandingo Ambassadors, a band that has lost eight months of performances due to COVID-19. He's also an avid voter—he's voted in every election that he can since immigrating from Guinea and becoming a U.S. citizen decades ago. While his own music comes out of the Guinean dance bands of the 1970s, he said he valued Cobbs' choice of pumping bass and vocals, which seemed to ward away the morning chill as they sailed over the sidewalk and the parking lot.
He didn't mind the wait, he added. As an immigrant and a working artist, he has always voted for the Democratic ticket. He said he was excited to cast his vote for Joe Biden and Kamala Harris—he's listened to the candidates in three debates and likes what they have to say.
The president's handling of the COVID-19 pandemic was also at the forefront of his mind as he prepared to cast his ballot. Due to the virus, the Mandingo Ambassadors have not been able to return to a standing weekly show at Brooklyn's famed Barbès music club, which translates to an anemic revenue stream.
"I miss it," he said.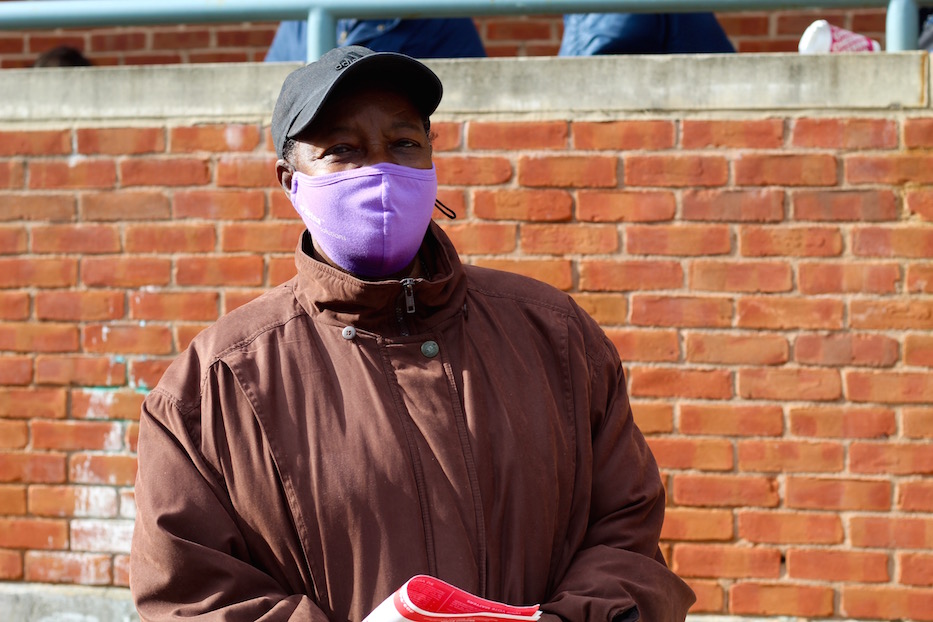 Aldith Prichett. Lucy Gellman Photo.
In line, voter Aldith Prichett pulled a chair up six feet as the line moved forward slowly. Fifty years ago, Pritchett moved to New Haven from St. Elizabeth Parish in Jamaica. As a Black woman and an immigrant, she said that nothing can keep her from the polls. Tuesday, a poll worker found a chair for her after Prichett realized that she would be unable to stand for hours. She called Joe Biden "the right man for the job."
"I love this music," she added, noting that she would have been practicing her best moves were it not for two bad knees. "I wish I could dance."
A few voters down, 70-year-old Boz Gibson had his ID ready and eyed the school's open door, bouncing from foot to foot in time with the music. Gibson makes it a point to vote in every election: he moved to New Haven the same year Richard Nixon was elected president. He missed voting in that election because he was just a few months shy of 18 years old.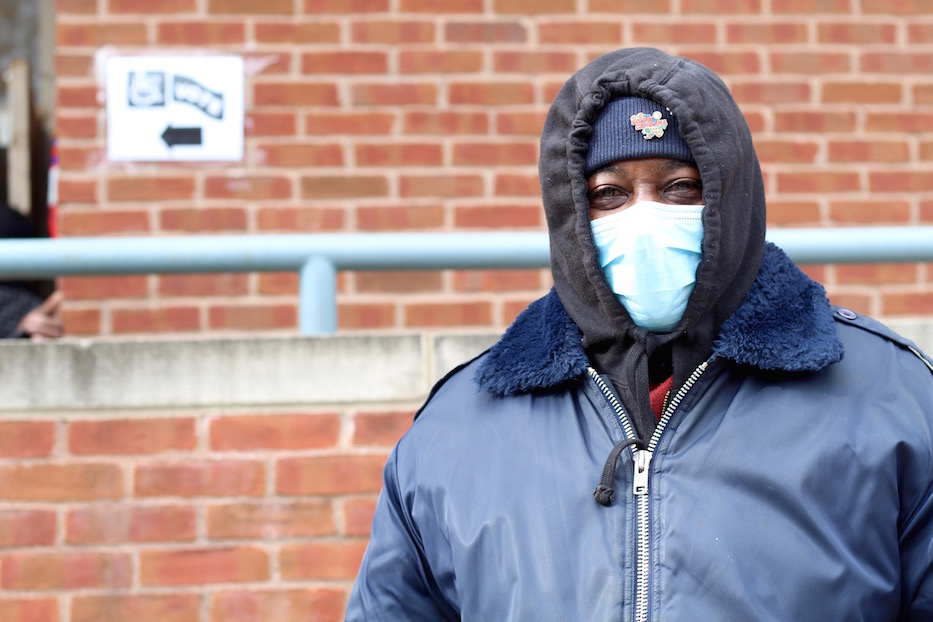 Boz Gibson. Lucy Gellman Photo.
"I am an every election voter," he said. "I feel a responsibility to do so. It lets people know we are here. Otherwise, they'll ignore you."
This year, he said he was excited to vote for the Democratic ticket on both a national and local level. As a retiree, healthcare and a plan for COVID-19 are his biggest priorities this year. If he loses access to Medicare, he doesn't know what he'll do. He said that "social unrest," broadly construed, is a close third. He praised the DJs for giving him something to listen to that "beats listening to the wind blow."
"I'll be voting Democrat across because they're concerned about the issues that I'm concerned about," he said. "You know, I appreciate that.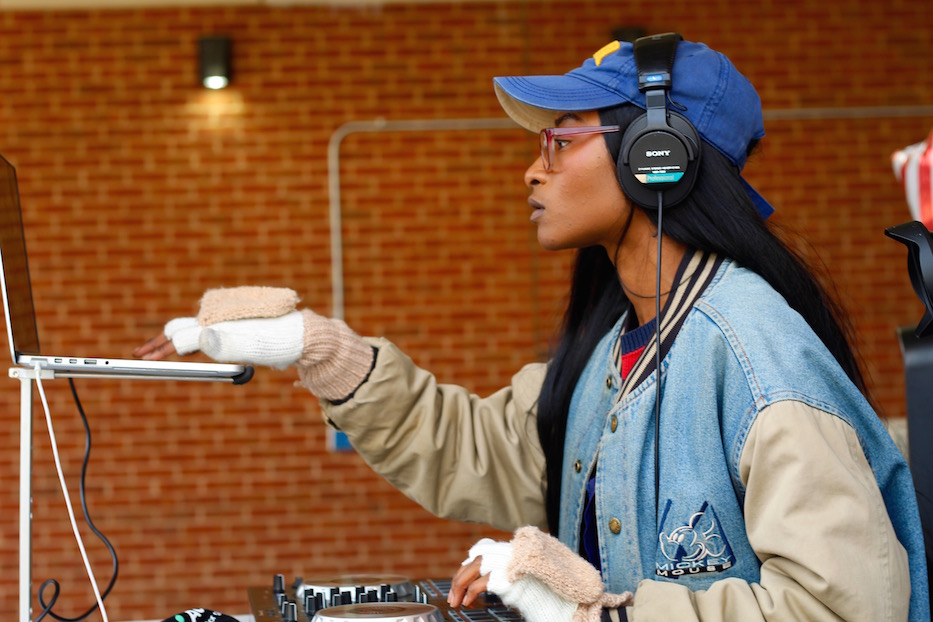 DJ Basketball Jones. Lucy Gellman Photo.
At a table off to the side, Cobbs packed up her gear and handed things over to DJ Basketball Jones. For the second time in four hours, she was headed to Hamden's Keefe Center to vote. Tuesday morning, she arrived at the center at 6 a.m. and found the lines too long with an 8 a.m. DJ set in New Haven. Spinning beforehand had helped steady her mind.
"It felt so good to be here," she said. "Because of quarantine, a lot of DJs, we don't get to play for anyone anymore. So this is awesome! People were dancing, singing, all together. When I'm doing these [sets], I always read the crowd. In the morning I feel like you see more older people, and now that the crowd is getting younger. It's a perfect time for Ms. Jones to take over."
Brown-Dean also stopped by the site a little after 10 a.m., before teaching an election day class to her students at Quinnipiac University. She joked that she had prepared an entire lecture, but was expecting to spend most of the time "riffing" on the election. She brought her own voting buddy: her daughter Haley.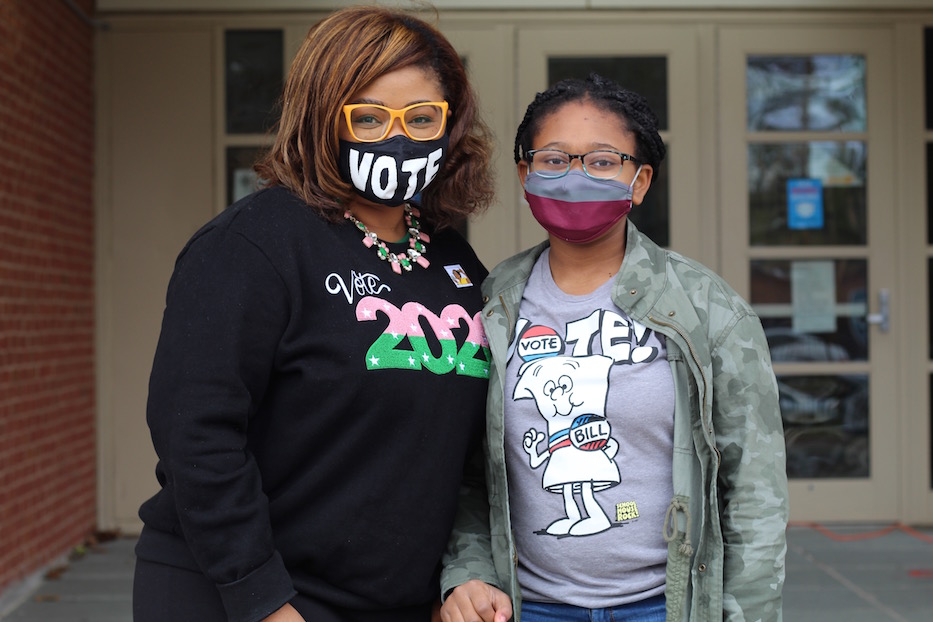 Professor Khalilah Brown-Dean with her daughter, Haley.
"You know, I've been watching people line up across the country and I've been watching people in New Haven who are anxious and eager to do this," she said, watching as Driffin helped 79-year-old Mae Knight move a lawn chair forward in the line. "The music—it's about joy, connectivity, the beauty of this community. It's like a family reunion. This commitment to each other—it is palpable."
As she spoke, she looked out over the line of voters, smiling at families who had come together and grandparents who had brought their pint-sized grandchildren for a crash course in Democracy. Back at the console, DJ Basketball Jones faded "Oops I Did It Again" into Shakira's "Hips Don't Lie," which soon became Sade's "Paradise."
She was masterful, shoulders popping in time with the down beat as she paired Sade with Amy Winehouse's "You Know I'm No Good." At the back of the line, Driffin and Bedini chatted with voters. After voting themselves, they stayed to stump for Rodriguez and cheers on neighbors frustrated by the lines. They joined hands and began to dance with each other.
Stevie Wonder Charms Ellsworth Avenue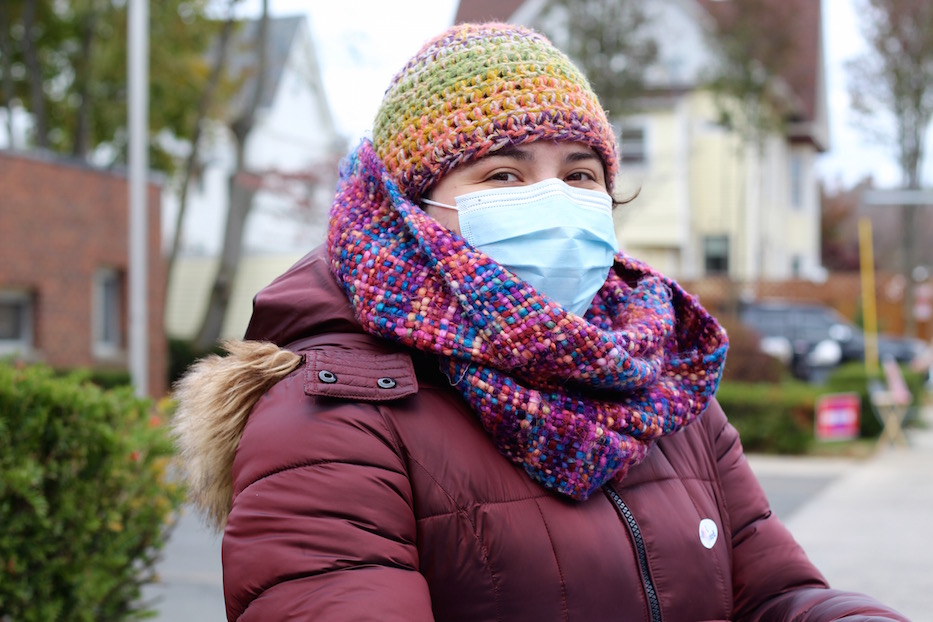 Ward 24 volunteer Elida Paiz. Lucy Gellman Photo.
Just a few blocks away at the Ellsworth Avenue fire station, Ward 24 volunteer Elida Paiz hooked up her phone to a speaker to keep spirits high. She scrolled to the first thing she could find: a Stevie Wonder playlist saved to her favorite music. The music seemed right on time: as she blasted "Don't You Worry Bout A Thing," a few dancers shook their hips and legs to the tune. While the clouds had parted for blue sky, a chill still hung in the air.
Art Perlo, who serves as the ward's democratic co-chair, said he was seeing far higher turnout than usual. At 6 a.m., a line wound from the fire station down Ellsworth Avenue, and well onto Stanley Street. By 11 a.m., he estimated that a few hundred had voted. Containers of muffins sat nearby for voters who needed comestible reinforcements. The track switched to "Signed Sealed Delivered."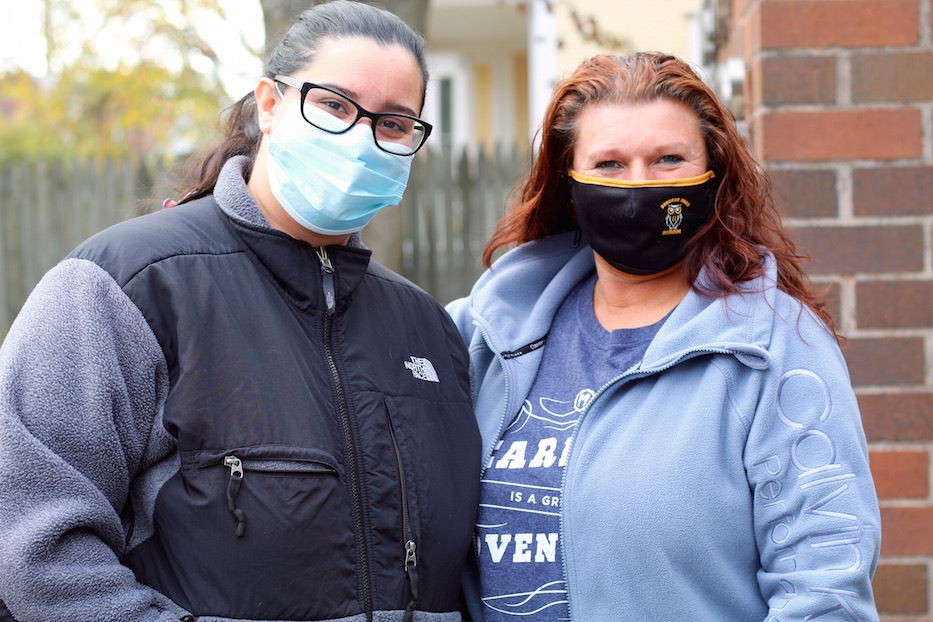 Bianca and Daniela Soradi. Lucy Gellman Photo.
In line, Mother-daughter duo Daniela and Bianca Soradi said they both planned to vote for President Donald Trump. Bianca, who is 27, sat the 2016 election out. Her mom, who also voted for Trump four years ago, said that she listened to Democratic candidate Joe Biden, but found that "he's just not aggressive enough."
"Trump, he says it the way it is," she said.
When asked if it bothered her that the president has been the subject of sexual harassment and assault allegations from over two dozen women, she said it did not. She added that she was also not concerned that he has declined to denounce white supremacists and praised supporters for road rage in Texas, New York and New Jersey.
"I do get what they say because he's shrewd when he speaks," she said. "But you know exactly where he stands."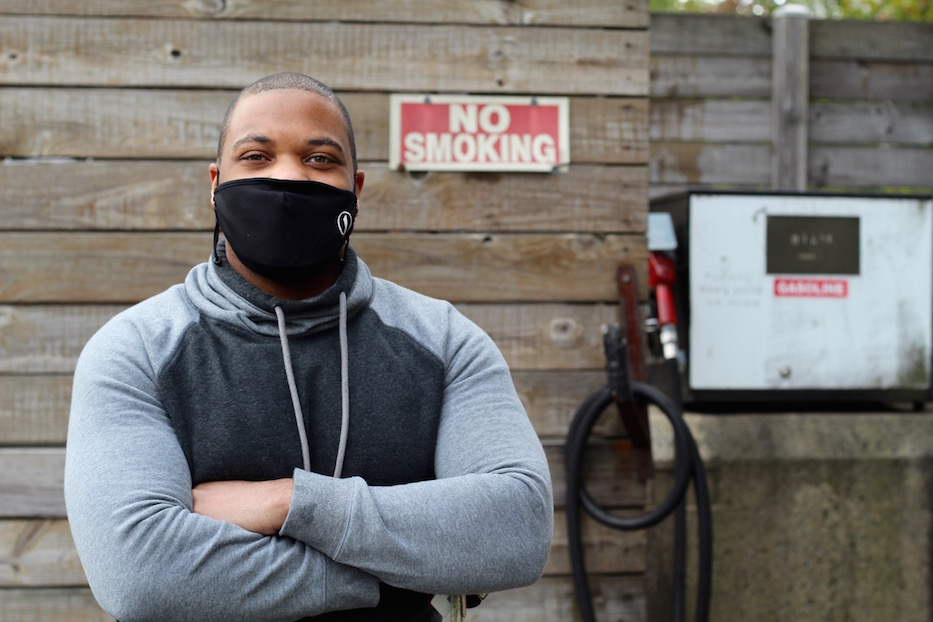 Ozzie Gooding. Lucy Gellman Photo.
Closer to the back of the line—which had died down by 11 a.m.—producer Ozzie Gooding introduced himself as a reformed and repentant 2016 Trump voter. Four years ago, he cast a vote for Trump to protest Hillary Clinton's candidacy. A Bernie Sanders supporter, he said that he was upset after leaked audio featured Clinton calling Sanders supporters "Children of the Great Recession ... living in their parents' basement,"
He figured Trump would swing left after he got to the White House. Instead, he was appalled by what he saw coming out of Washington. He called the white nationalist rallies in Charlottesville, Virginia a turning point.
"I'm tired of Donnie," he said. "I've realized, this man is crazy. After the rallies in Charlottesville, I couldn't take it. And then what really made me feel done was the COVID-19 pandemic. When Joe Biden picked Kamala Harris, I knew. Locally, I'm gonna vote for Rosa [DeLauro]."
The View From Fair Haven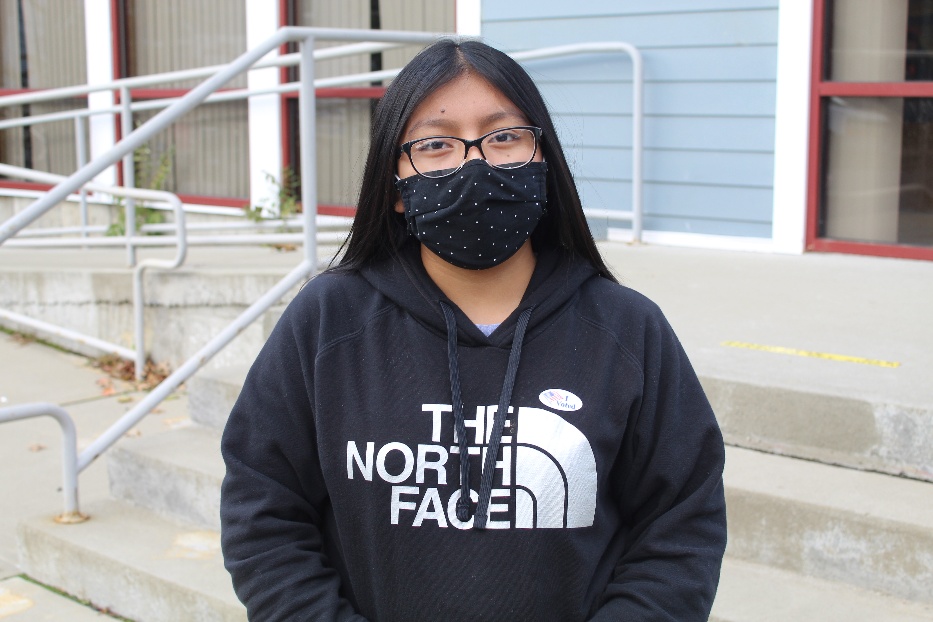 Eighteen-year-old Johanna Zunun. Arturo Pineda Photo.
Eighteen-year-old Johanna Zunun came out with the objective of voting President Trump out of office. Her vote speaks for many people in her circle: her parents and many of her community members are not United States citizens. If they don't have a voice in this election, she wants to.
"I want them to have a better future after the election," she said. "I also think it is important to support Black Lives Matter when the President is so against it."
At the Community Room on Chatham Street, DJ Gabby set the mood by playing old school throwbacks. To mix it up, he played an Angela Davis interview from 1972 over a soft beat. The interview, conducted from her prison cell at the time, touched on misconceptions around a violent revolution.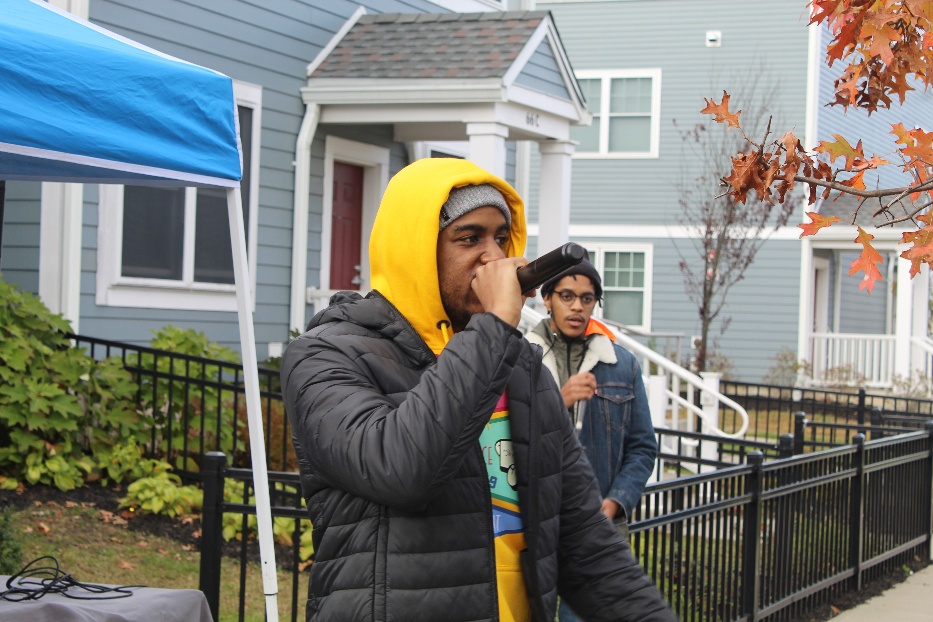 New Haven artist KDub. Arturo Pineda Photo.
"When you talk about a revolution, most people think violence, without realizing that the real content of any kind of revolutionary thrust lies in the principles, in the goal that you're striving for, not in the way you reach them," she said over the track.
To complement the words of Davis, local New Haven artist KDub (Kevin Walton, Jr.) performed songs from his debut album, Elm City Trees. He explained that the songs were a love letter to the city that raised him and has given him strength wherever he's gone.
"I'm back where I belong/ I'm Black and I'm strong/All I need is my Elm City Tree/, I'm Elm City's Own and I'm coming for the throne."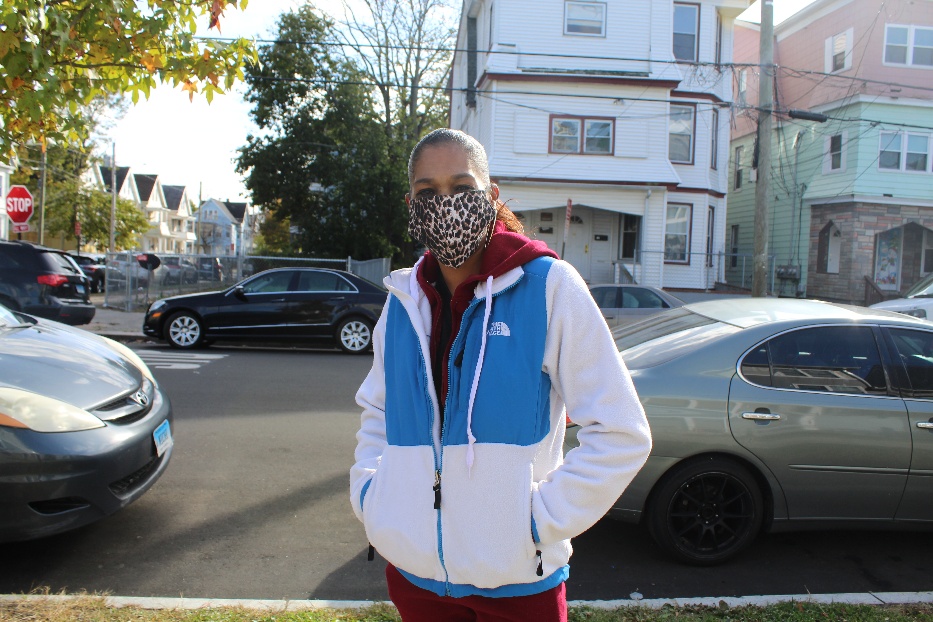 Niszaida Berrios, who brought her mother to the polls. Arturo Pineda Photo.
In the short line that formed outside of the center, members swayed and tapped their feet to the music. Niszaida Berrios brought her mother to the polls after she herself voted earlier that day in another ward. She spoke about the mishandling of the COVID-19 pandemic under the Trump administration and the toll it has taken on Black communities.
"This is more about the country and people dying," she said. "We are losing Black people more than anything else in the world."
Monica, who asked to be identified by her first name, also felt that the election comes at a time when it is difficult to believe in the government as unemployment remains high. She cast her vote for Joe Biden.
"I hope to see change but voting doesn't guarantee change," she said. "It saddens me. When I turn on the TV they try to push hope. How can you expect me to have hope? In the first election, he [President Trump] promised jobs. No one has a job now."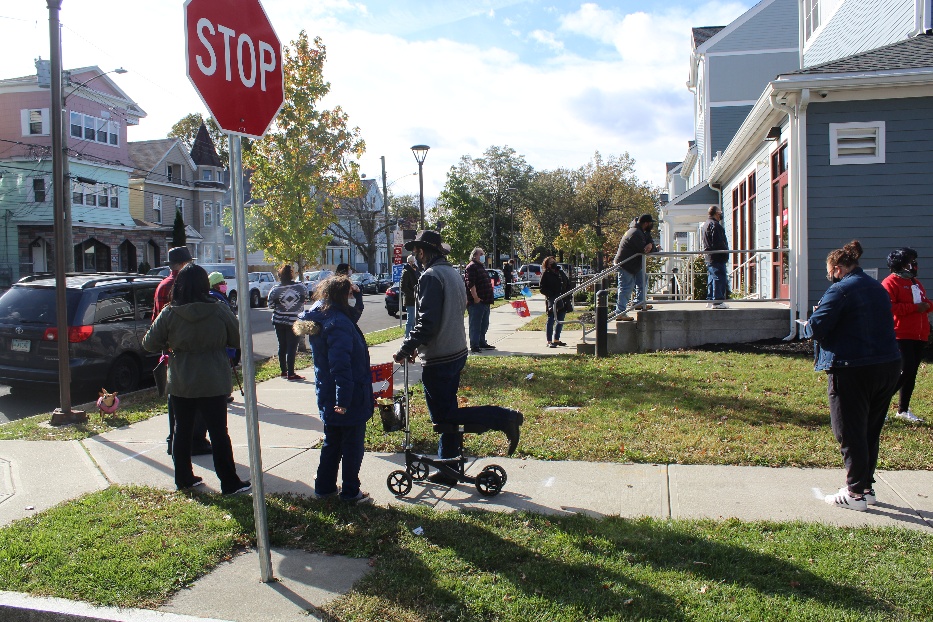 The line outside the community center. Arturo Pineda Photo.
As voters came in searching for the entrance, members of Ella's PAC helped point voters in the right direction. The PAC's mission is to support progressive candidates for state and local office in New Haven and Hamden, with a focus on "more marginalized communities," particularly Black and Brown communities.
For founding member Karen DuBois-Walton, the election is the start of a long journey towards increasing voter turnout in Black and Brown communities in future elections. She said that the low voter turnout in communities like Fair Haven and parts of Dixwell are not necessarily representative of the communities' interests.
"We want to see turnout in Black and Latinx neighborhoods to be like the turnout in Westville," she said."Maybe we will see new candidates and members at the community management [team] meetings."
Two unregistered voters showed up to the poll but were unable to vote. Members of the PAC offered to give them rides to City Hall to do same-registration and vote, but the pair refused.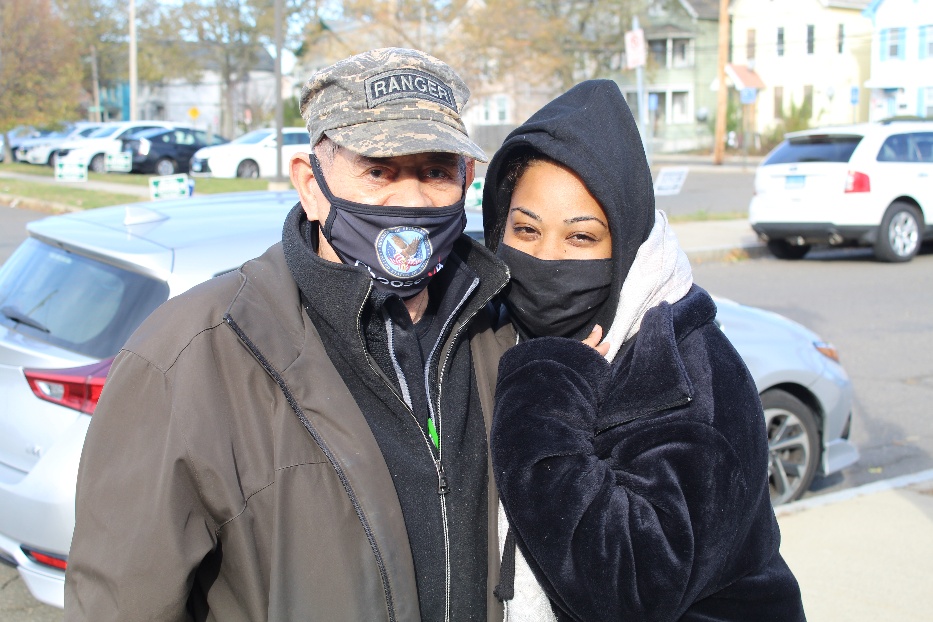 Ward 16 co-chairs Celestino Cordova and Sarah Derbala. Arturo Pineda Photo.
Not too far from the Community Room on Chatham, voters steadily trickled into John Martinez School at 100 James St. By 2 p.m., approximately 400 people had cast their ballots. The turnout was a major increase from turnout in previous years, according to Ward 16 Democratic co-chairs Celestino Cordova and Sarah Derbala.
Derbala spoke about the importance of local and state elections not being overshadowed by the presidential election. Latino voters are an important voting bloc and should not be overlooked by the state, Derbala said.
"It is about the Latino community saying we care, " she said. "It does not mean we are less American because we are Latinos."
Margarita Rodriguez and her 11-year-old grandson Johan. Arturo Pineda Photo.
Longtime Fair Haven resident Margarita Rodriguez brought her 11-year-old grandson Johan with her to the polls. She voted with the hope that local officials will invest more in afterschool programs for her youth.
"There isn't enough to entertain the youth and keep busy," she said. "We need more programs to keep them happy and entertained."
At the opposite end of the spectrum, Irvin Silva came out to support Joe Biden with the hope that he will protect and expand social security benefits. Senior citizens like himself are reliant on social security to pay rent and support themselves, he said.
"If they cut my social security, I'll lose everything," he said.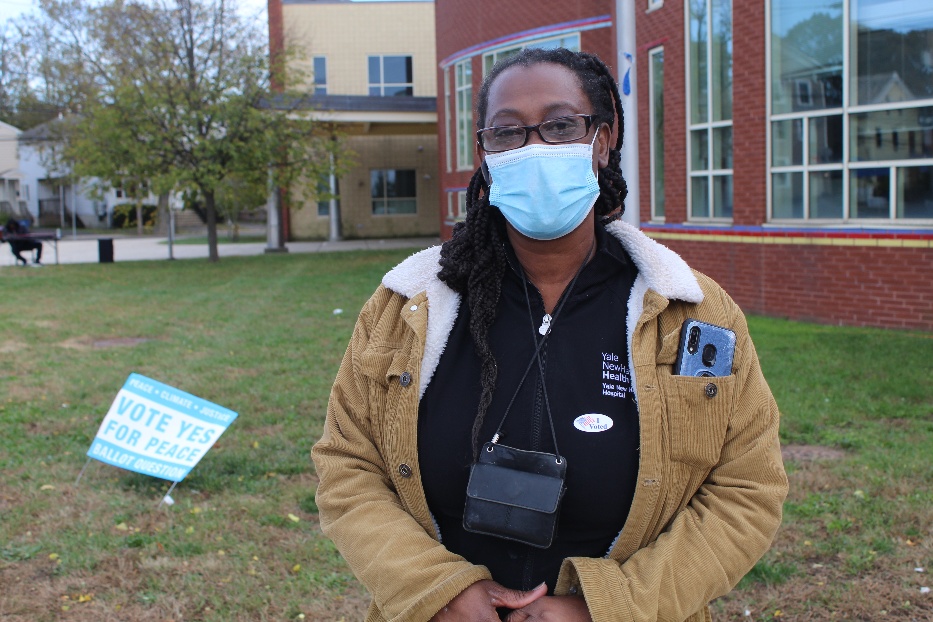 Patricia Briley. Arturo Pineda Photo.
Patricia Briley took a break from work to come out to vote with the hope that a new president might help ease much of the violence. In her eyes, violence has taken a heavy toll on American families and immigrants.
"Families need to be protected," she said. "I think that the immigrants that came to this county to work need a break."
Despite having a record-high turnout, Derbala expected to see a large influx of people around 5 or 6 p.m. after people got off of work.
Tapping Feet, From Beaver Hills To Newhallville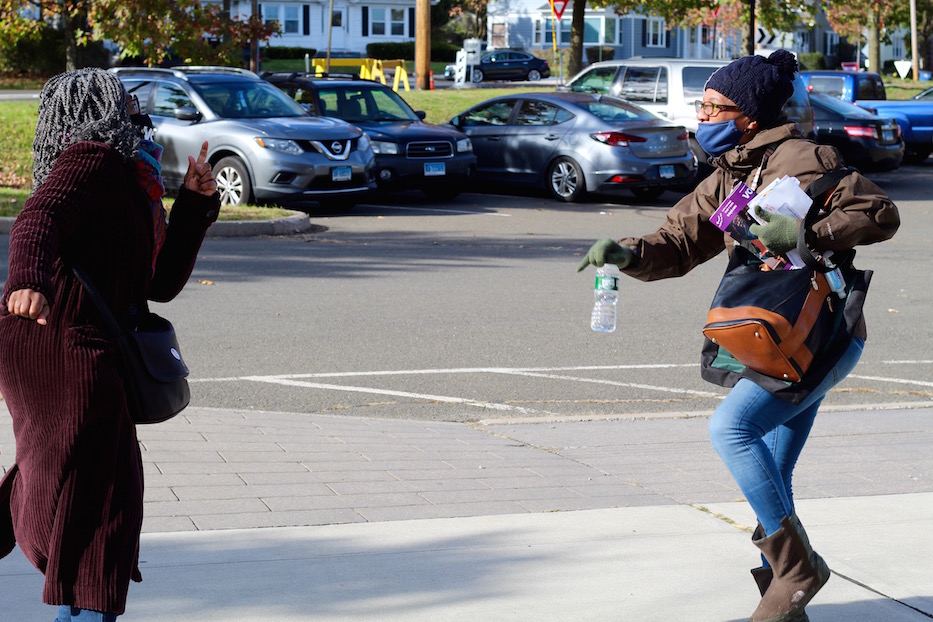 Top: DJ Big Moe. Bottom: IfeMichelle Gardin and Tasheika Shaw break it down. Lucy Gellman Photo.
At James Hillhouse High School, an early morning flood of voters became a midday trickle. A few yards from DJ Big Moe (Moe Carrington), Elm City Lit Fest Founder IfeMichelle Gardin had been dancing on and off for nearly five hours. After voting around 8 a.m., she volunteered to stick around, dance, and help voters navigate the polls.
As she twirled, side-stepped, and stretched her fingers toward the sky, the sun peeked out from a smear of light blue. She bobbed her head to the music and found momentary dance partners in voters that were coming out of the building. Close to 1 p.m., Gardin's friend Tasheika Shaw spotted her and came over to jam. While she would not divulge who she voted for, she said that ending poverty remains the issue closest to her heart when she goes to the polls.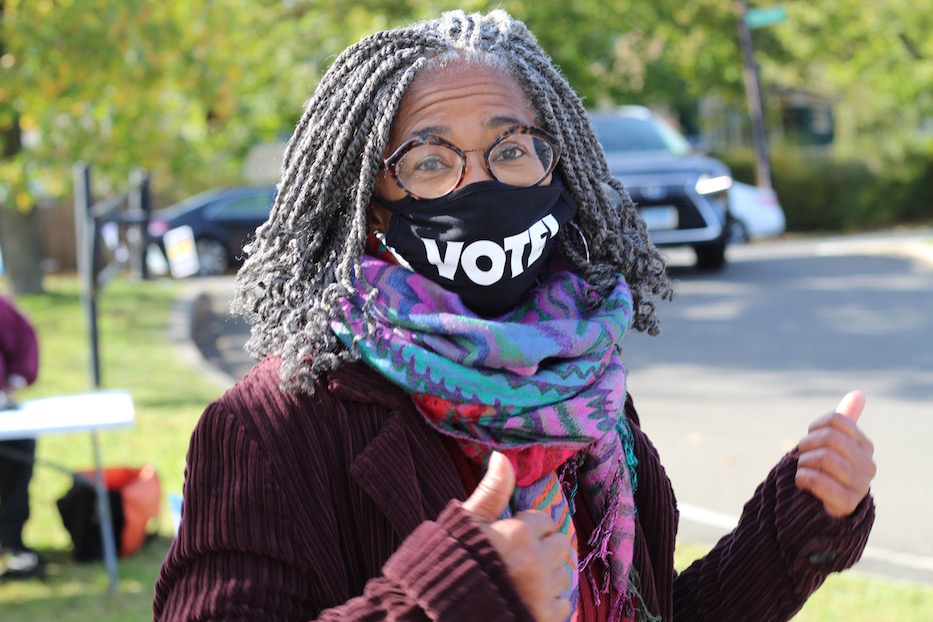 "I'm dancing because I want to be hopeful," Gardin said as DJ Big Moe slipped into Stevie Wonder's "Do I Do." "I've got to be. I'm kind of staying as positive as possible. I'm trying to stay motivated. Either way it turns out, we will still have resilience. We've gotta keep it going."
At a table recessed from the school, Carrington said that he was excited to be bringing music to voters. He added that there is no single issue that brings him to the polls—he sees his vote as a chance to reflect on "everything in my life."
"What's resting on this election?" he said, yelling over Ja Rule's "Livin' It Up." Everything!"
Just a mile away off Shelton Avenue, voters at Lincoln-Bassett School were finishing a mid-afternoon Mississippi Cha-Cha Slide, the same song that inspired Brown-Dean to start the challenge just a week ago. As DJ Herman Ham brought on Cheryl Lynn's 1978 "Got To Be Real," members of Delta Sigma Theta Sorority, Inc. began to move in unison, eliciting instant applause from a group of students from Harris and Tucker School who had come by to dance and learn about voting.
"I think this is such an amazing and community-centered idea," DuBois-Walton said during a dance break. "When we were in Fair Haven earlier today, we watched as it drew people to the polls. They stopped their cars and asked 'what's going on here?'"
Ward 20 Democratic Co-Chair Barbara Vereen said the music had left her in a high spirits all day. At 5 a.m., there was a line outside the school that curved around Bassett Street and kept going. By 3 p.m., she estimated that over 900 people had voted in person. By the time polls closed at 8 p.m., that number was over 1,300.
She praised Democratic Registrar Shannel Evans for helping troubleshoot a system that allowed for greater social distancing. All day, the site had seen a steady stream of voters and visitors, from candidates to neighborhood residents to school kids. She looked on, a smile spreading across her face as Harris and Tucker students started dancing to "Old Town Road." They knew every lyric by heart.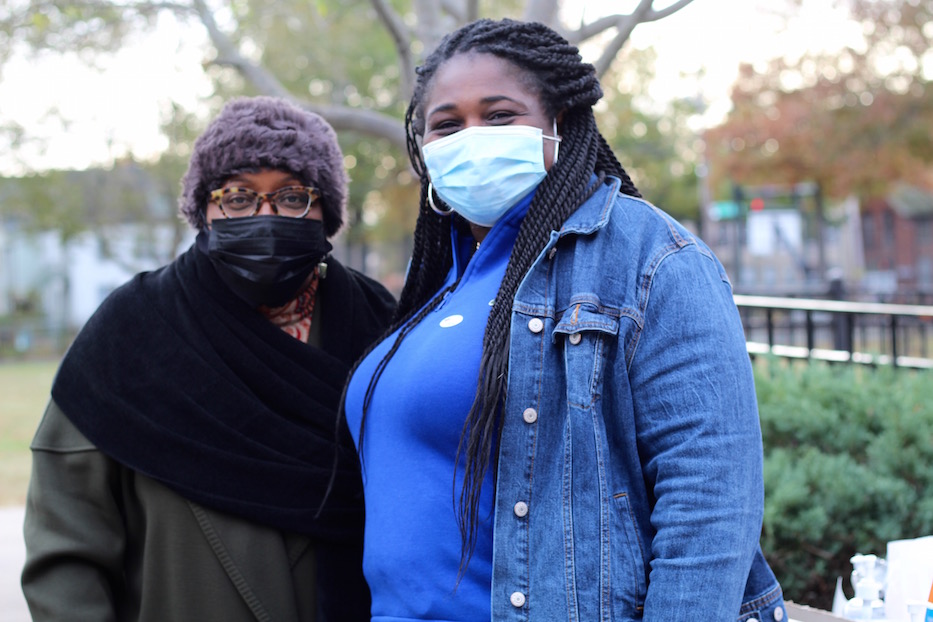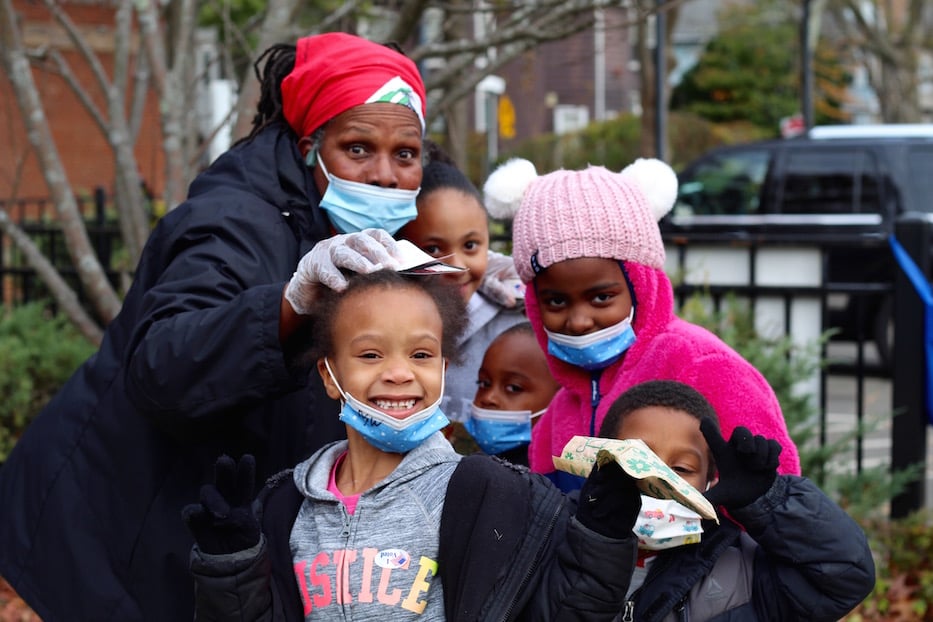 Top: Ward 20 Democratic Co-Chair Barbara Vereen and Ward 20 Alder Delphine Clyburn. Bottom: Kim Harris and students from Harris and Tucker Preschool get a firsthand look at the election process.
"We gotta do something about the systemic racism that's coming out of the White House," she said. "You gotta think about the hatred that is coming out of there, and how it emboldens people. As a Black parent, you can teach your kids to do and say everything right, and they are still targeted. I have three sons. I'm voting for my sons and my grandson."
She added that she was grateful for the addition of music. Ham's afternoon appearance was his second of the day: he had started around 10 a.m., stopped for a break at noon, and planned to spin through 6 p.m. Vereen said Ham has helped her stay sane: she has tuned in to his quarantine gospel Sundays and Friday happy hours on Facebook.
Ward 20 Alder Delphine Clyburn danced as she entered the building to vote. When she exited with a sticker, she clapped her hands. While inside, she had learned that she was voter number 931—a number that she saw as a sign that voter turnout efforts were working. She said that education, safe and affordable housing, healthcare and reliable COVID-19 testing were at the forefront of her mind when she cast her ballot for the Democratic ticket. She was planning to dance the remaining hours away to stay warm.
"I think it is just an awesome thing," she said of the music. "It gives us a chance to dance with each other and be with each other. And some of us haven't seen people in a while. Music brings people together."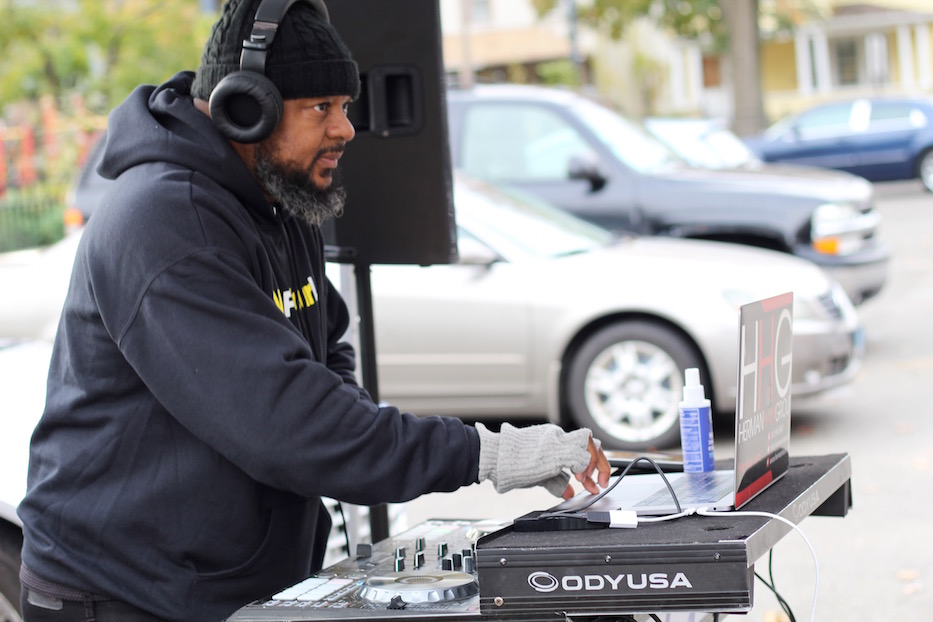 DJ Herman Ham. Lucy Gellman Photo.
Beneath a tent, Ham ran a perfect through line from The Commodores to Bruno Mars, sliding KC and The Sunshine Band right in between. Marshall Cruz, who lives nearby on Shepard Street, started spinning in time with "Uptown Funk."
He said he had come out to vote for Rodriguez, Biden, and U.S. Rep. Rosa DeLauro, and stayed to break it down. At one point, he spun around so fiercely that his respirator mask slipped off one ear. He smiled, readjusted it and kept going.
"In the last four years, this country has become super polarized, and this election is the change to put it back together," he said. "I feel like everybody's in limbo right now. The community needs someone who can make decisions for the good of everybody, not just the good of a few."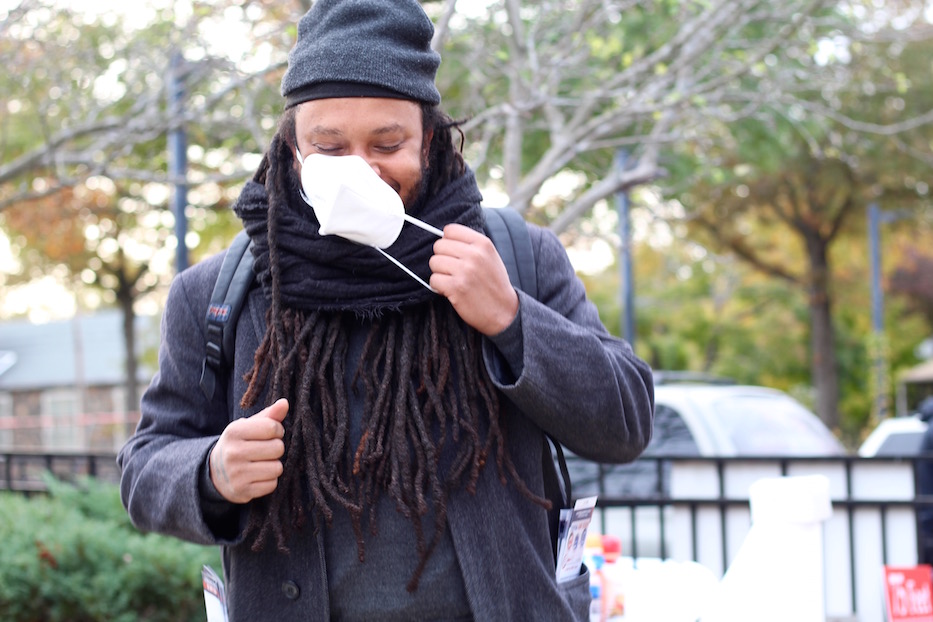 Marshall Cruz. Lucy Gellman Photo.
He noted that he's been dismayed to see several hip-hop artists, including Lil Wayne and 50 Cent, supporting Trump because they believe his tax cuts will benefit them. Meanwhile, many of the people listening to their music may not have the same financial capital or flexibility with their money.
"But we are out here gettin down," he added as he sank into bended knees and started to move once more. "We are gettin our boogie "
"It's all about the votes," Ham added. "We're working to lift spirits and get 'em to vote."
Dixwell Dances To The Beat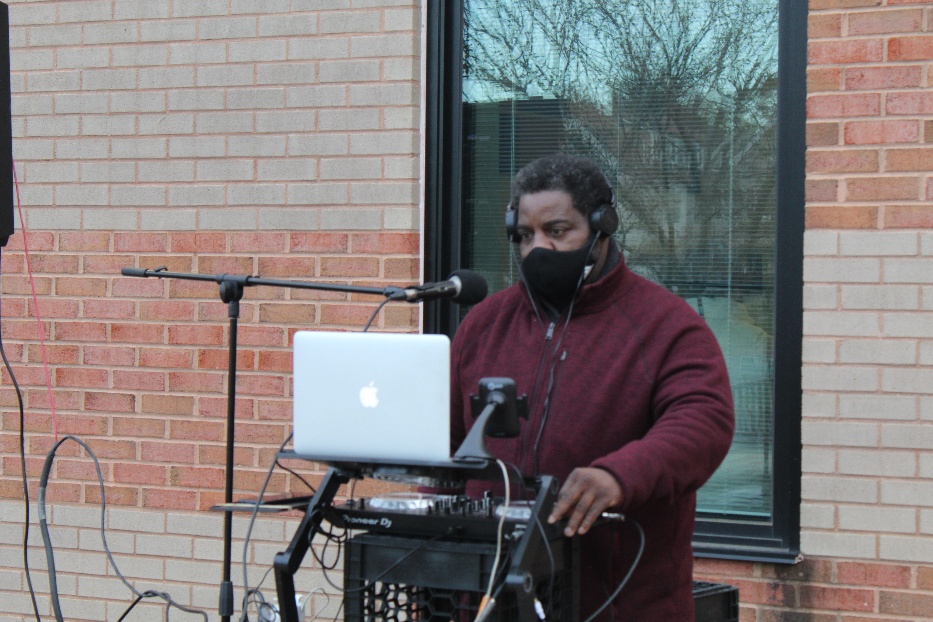 DJ People's Choice Big Pat. Arturo Pineda Photo.
In front of Wexler-Grant Community School, DJ People's Choice Big Pat (Patrick Burroughs Sr.) blasted Earth, Wind, and Fire's September. He said he wanted to avoid music with notions of violence and make the environment as welcoming as possible.
"The people are ready for a change," he said. "We are ready to see a change about police brutality. The police have become bold. They used to beat us but now they take our lives."
This election reminded Stephanie Sutton of the 2008 election, when Barack Obama ran against John McCain. As a Black woman, she said she also hopes that the election can help end police brutality.
"I just want my people to be treated better," she said. "The cops keep killing Black people.I hope that with Biden we see some change."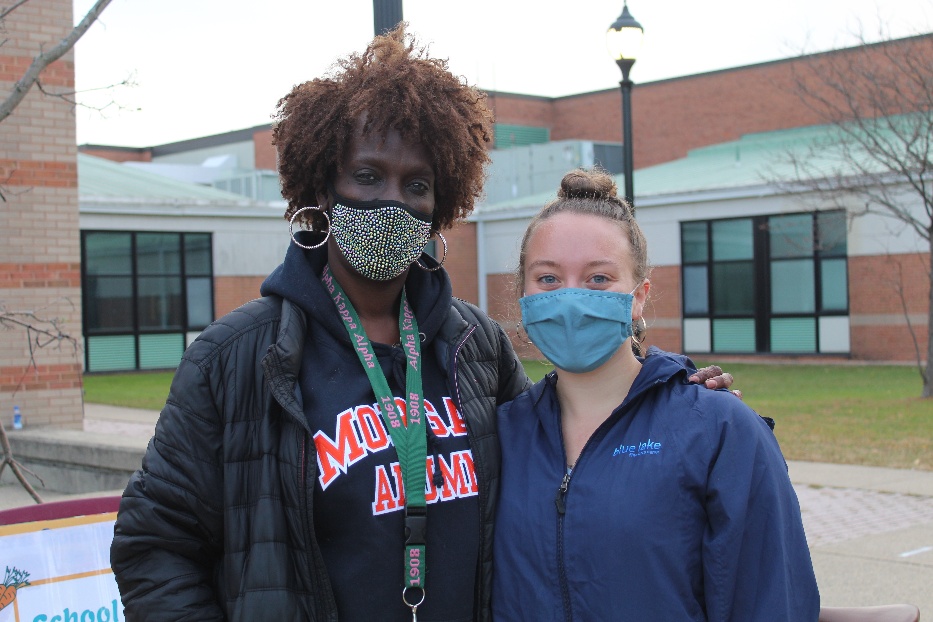 Dixwell Alder Jeanette Morrison and Ward 22 co-chair Sarah Grube. Arturo Pineda Photo.
Like other wards across the city, Ward 22 saw a record number of voter turnout. By noon, more than 500 people had cast their ballot. In 2016, it took almost the entire day to get a similar number of votes, said Alder Jeanette Morrison. She also expected a surge of voters after 5 p.m..
She recognized that candidates have flaws and voters may not be enthused by the options but voters must search for a middle ground.
"Voting is everything … people lost limbs for the right to vote," she said. "You gotta look at who is closest aligned with your values."