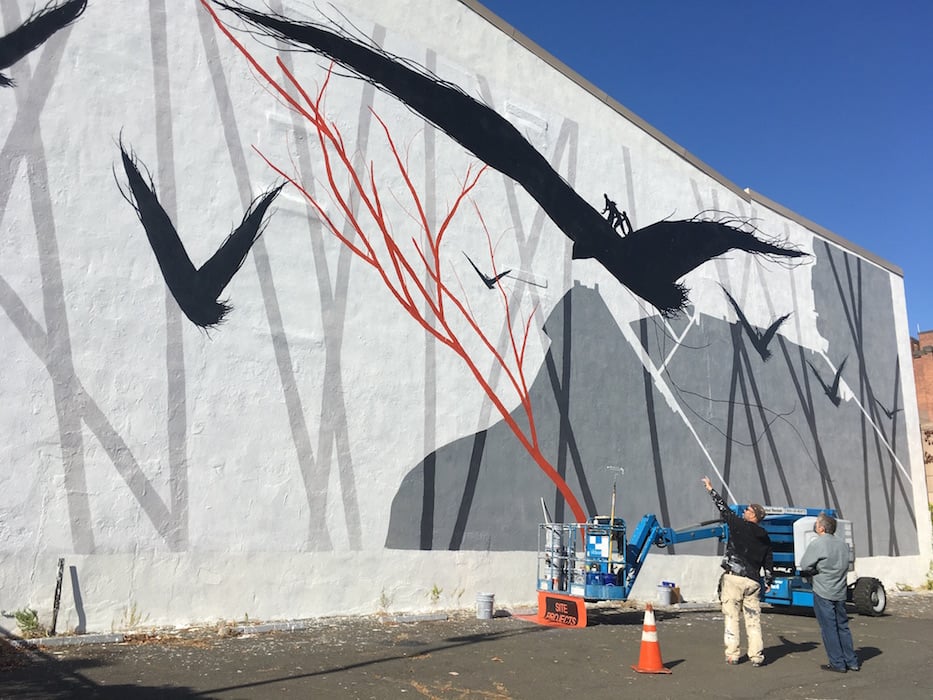 Public art | Arts & Culture | Ninth Square | COVID-19 | Site Projects New Haven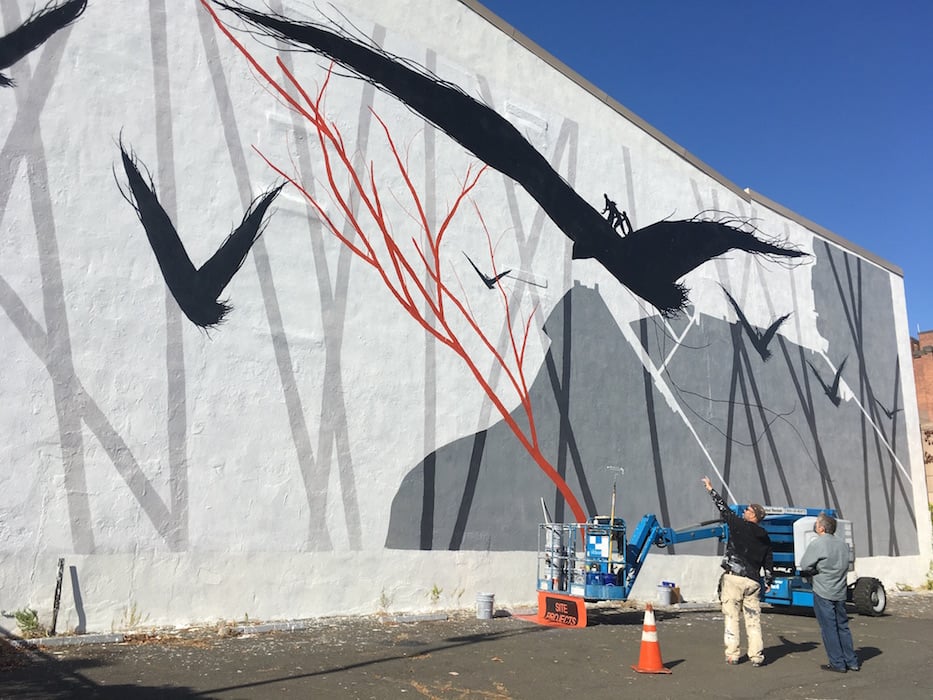 Lucy Gellman Photos.
The eagle is the first thing you see, spreading its full wingspan on Crown Street. Three figures ride on its back, their bodies intertwined in the deep black V between its wings. Beneath it, smaller birds appear, coasting over a shadow of the city's Long Wharf. A tree slices through the left side of the wall, its red limbs extended toward the sky. A single teardrop-shaped leaf remains on one of its branches.
The design is part of Uruguayan muralist David de la Mano's Ninth Square tribute to nineteenth century engineer William Lanson, the free Black man responsible for extending New Haven's Long Wharf and building its first integrated neighborhood in what is now Wooster Square. This month, the Uruguayan artist has brought his vision to Crown Street through Site Projects, after months of delays related to the COVID-19 pandemic. The completed 98-foot work sits at 33 Crown St., perhaps best known as the former home of ACME Furniture.
"It's always special work that I'm drawn to," he said in an interview Friday at the site, bouncing between English and Spanish. "I want it to be open to interpretation. In the piece, there is a lot of allegory. You need to think when you look at it. I feel that when the art has mystery, the message, the idea is stronger."
The mural has been years in the making. In 2017, Site Projects Director Laura Clarke initially envisioned a work downtown that would honor the Quinnipiac people, who were the initial inhabitants of New Haven and stewarded the land for centuries before they were displaced by force. But Site Projects struggled to create partnerships with local Indigenous groups, without whom Clarke did not want to continue the project. She and members of the board were sitting around a table when someone suggested William Lanson.
"It just seemed like the natural thing to do," recalled artist and board member David Sepulveda at the Crown Street site. "We are just standing feet from where he stood."
Clarke, who believes that "the story of Lanson can't be told enough," started scouting out locations. Site Projects members first suggested the Farmington Canal Heritage Trail, where Lanson built a section of the retaining walls during his lifetime. Then they discovered that the Amistad Committee had commissioned Oakland-based artist Dana King for a sculpture of Lanson that would sit at the trail's Lock Street entrance.
They pivoted to the Ninth Square, which sits just half a mile from Lanson's former New Township neighborhood. Jeff Spiritos, the New York based developer who bought 33 Crown Street three years ago, told Clarke that he loves public art and would be honored to have a mural on his building.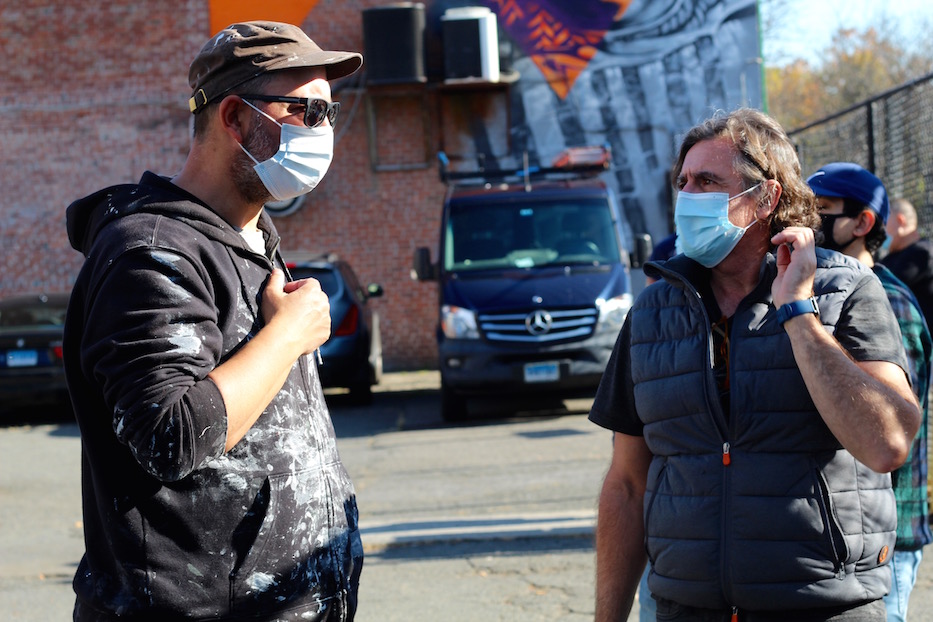 Gallery owner and Westvillian Gabriel da Silva, who also sits on the board, was the one to think of David de la Mano. A few years ago, he heard about de la Mano's work through the artist Faring Purth, who has completed both outdoor and indoor murals in the city's Westville neighborhood.
He was excited by the prospect of having a fellow Uruguayan leave his mark on New Haven. He reached out to the artist, and unspooled Lanson's history over a series of conversations. The organization started raising the $18,000 it needed for the project, half of which came from the Could Be Fund and half of which came from individual donors.
Meanwhile, he watched as a small explosion of public art spread across the city, from three murals in the Ninth Square to two from Black Lives Matter New Haven and one on the Farmington Canal. Across from de la Mano's work, Michael DeAngelo's mural of Sun Ra rises on the side of Cafe Nine. Artist Kwadwo Adae, who led painting efforts for a Black Lives Matter mural on Bassett Street, also finished a mural of sparrows in flight on Division Street and Dixwell Avenue this summer.
The work comes during a year that has centered Lanson's story in the midst of both COVID-19 and virulent pandemic of white supremacy and anti-Black racism. Earlier this year, playwright and journalist Allan Appel had lined up readings of "My Liberia," his play about Lanson's life and work, that were cut short by COVID-19. In late June, The Lineage Group proposed renaming Wooster Square after Lanson following the removal of the park's Christopher Columbus statue. In September, King visited New Haven to unveil her sculpture, a larger-than-life bronze of Lanson, on the Farmington Canal.
De la Mano, who has become known around the globe for his minimalist abstractions, said he was moved by Lanson's story the more he learned. While he was working in Uruguay, Site Projects sent him materials on Lanson's life and work on the city's Long Wharf, and the extension that allowed it to compete with the port of New York City. He sent back dozens of renderings, including the design that now soars over Crown Street. He was scheduled to arrive in mid-June, at a time that would have coincided with the International Festival of Arts & Ideas.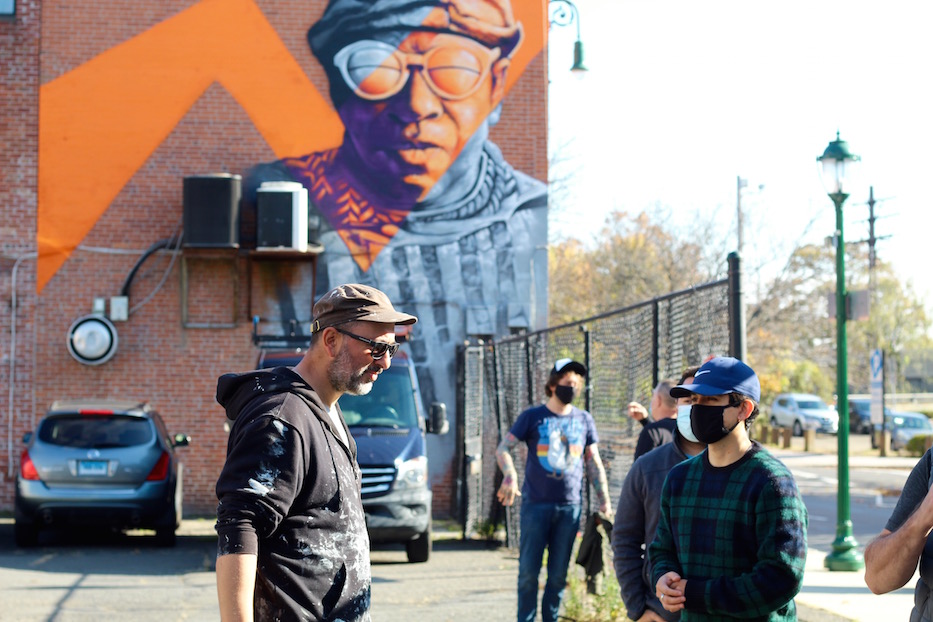 David de la Mano chats with fellow muralist Francisco Del Carpio-Beltran, who painted a mural on Center Street earlier this year.
Then COVID-19 hit. In weeks, international boundaries became a nightmare. While Uruguay's case count has remained relatively low since March—3514 cases and 62 recorded deaths to date—most flight paths took de la Mano through nearby Chile and Argentina, where cases were exploding. In the U.S., Clarke and the Site Projects team watched as the country failed to contain its first wave, and then crashed right into a second one. A June arrival became August, and then September, and then October.
De la Mano ultimately arrived in New York at the end of October, on the same day a 40-foot scissor lift was delivered downtown. He got to work, painting the wall white and then gridding it before starting on the design. He works quickly: he began just before Election Day and was done by last Saturday. He is staying with Da Silva, to both cut down on the costs and risks of staying in a hotel as Connecticut's case numbers spike.
In the finished mural, black eagles fly against a bone-white background, some coasting over a grey outline of Long Wharf. The largest soars near the center, with three silhouetted figures hunched on its back. Behind it, interlocking bars stretch across the background, as if someone is pulling a heavy gate shut and trying to lock the eagle in. Against the shape, the bird expands its wings and keeps flying. A spindly tree leans to the left, raising its thin branches as if to say hello.
"What we saw, what I saw, when I saw the eagle—it was him," said Da Silva. "It was William Lanson."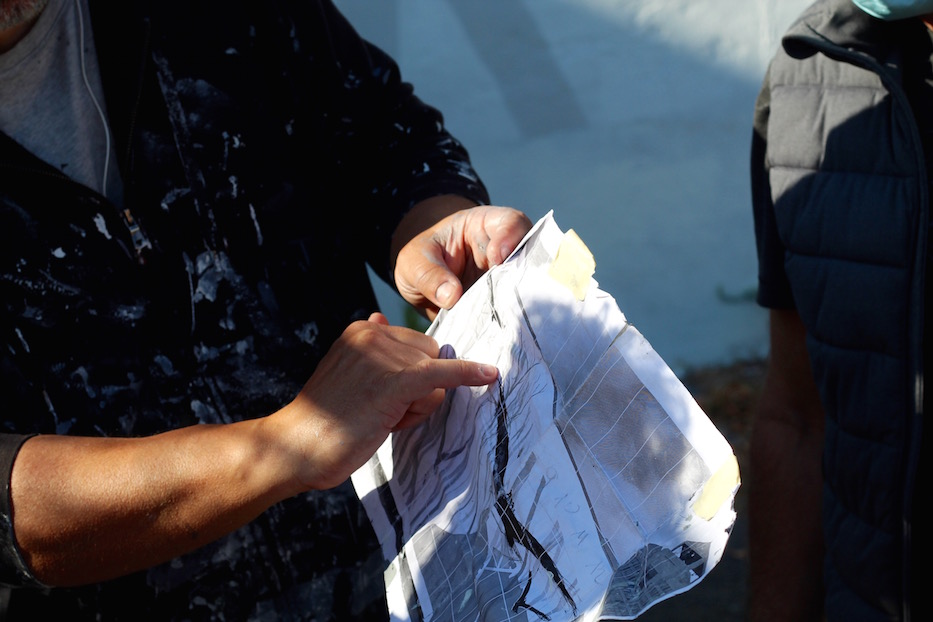 De la Mano is less forthright about the meaning of the piece, which he plans to leave untitled. While he acknowledged that the largest eagle represents Lanson's ability to soar despite fierce racism—he was one of only about 800 free Black people living in the city, and lived while Connecticut was still a slave state—he also wants viewers to draw their own conclusions.
"You decide how high you can fly," he said. "But you must know that there are a lot of bars. We all know that it's possible to break them and continue our flight."
He added that his own reading of the work is bittersweet. Lanson soars over his landscape, triumphant. The tree, a shock of red-orange, is a reminder that his life ended in state-sanctioned physical and economic violence that still lives today. Its single leaf, hanging onto a branch for dear life, may be a sign that the tree no longer bearing the same amount of bitter fruit, or a sign that it will bloom again.
"The color red is for the continued ramifications of a story that keeps repeating," he said. "We know that there are perhaps thousands of similar histories."