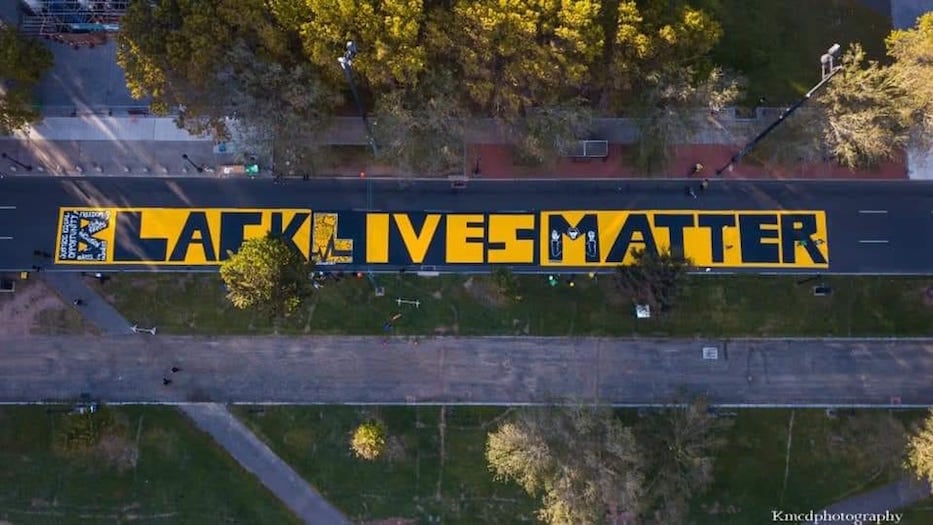 Downtown | Arts & Culture | Visual Arts | Black Lives Matter | Arts & Anti-racism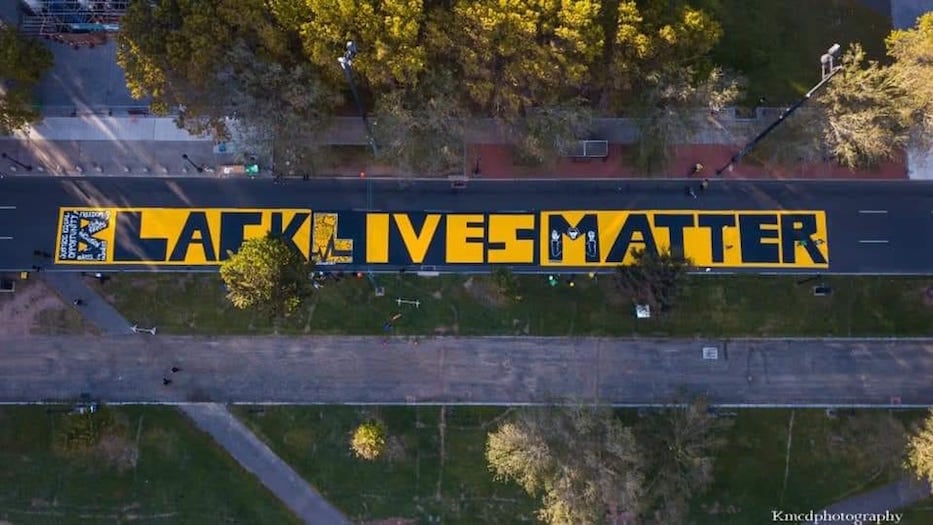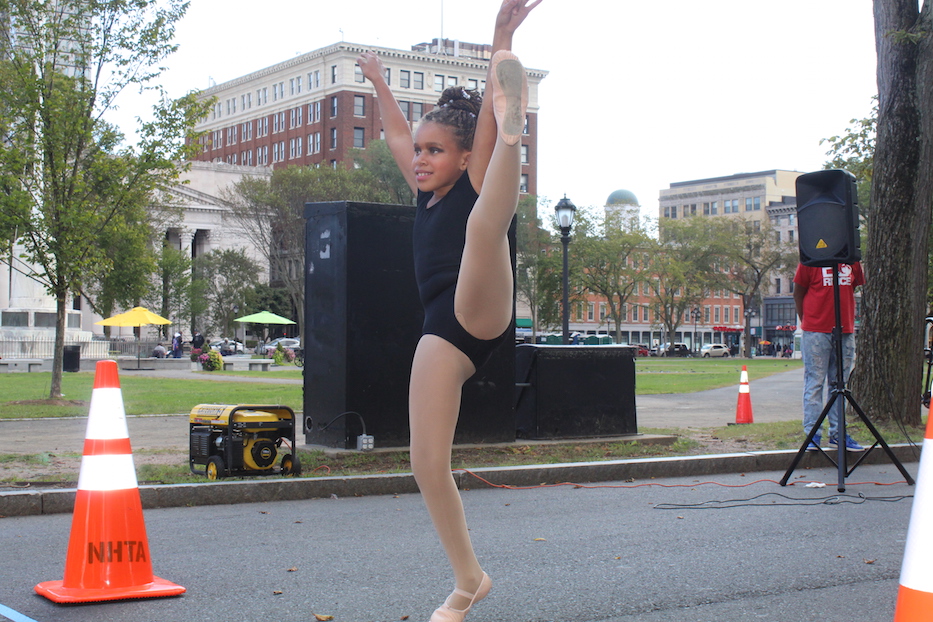 Top: A drone shot of the mural, courtesy of photographer Keith McDonald . Bottom: Avery Tauro dancing to Andra Day's "Rise Up." Arturo Pineda Photo.
Avery Tauro smiled looking onto the crowd of more than 100 people. She took a deep breath, pointed her left foot, and took off. She twirled and leapt across the asphalt to Andra Day's "Rise Up" as if it were her dance recital. The crowd cheered her on after every dynamic high kick and graceful leap. In the end, she knelt to the ground and lowered her head to the ground.
The crowd had gathered to install the second Black Lives Matter mural on Temple Street between Elm and Chapel Streets. The spot is in front of the New Haven Green, facing City Hall (read our coverage of the first installation here). The 250-foot mural is a collaboration among Black Lives Matter New Haven (BLMNHV), the city's Division of Arts, Culture and Tourism, and artists Candyce "Marsh" John (a.k.a. Marshun Art), Jesse Wolf, and Carlos Perez.
The event felt more like a block party than an art installation. Or as BLMNH Co-Founder Sun Queen (a.k.a. Lauren Pittman) called it, a cookout without any of the food. To her, the mural was the perfect opportunity to bring the community together during a time of collective grief over the death of Breonna Taylor, the non-indictment of the officers who murdered her, and the countless other Black lives lost to state-sanctioned violence.
"Every time the community gets together it is always a different experience. This is self care," she said. "Although we are in mourning and pain, we release that pain through the paint brush."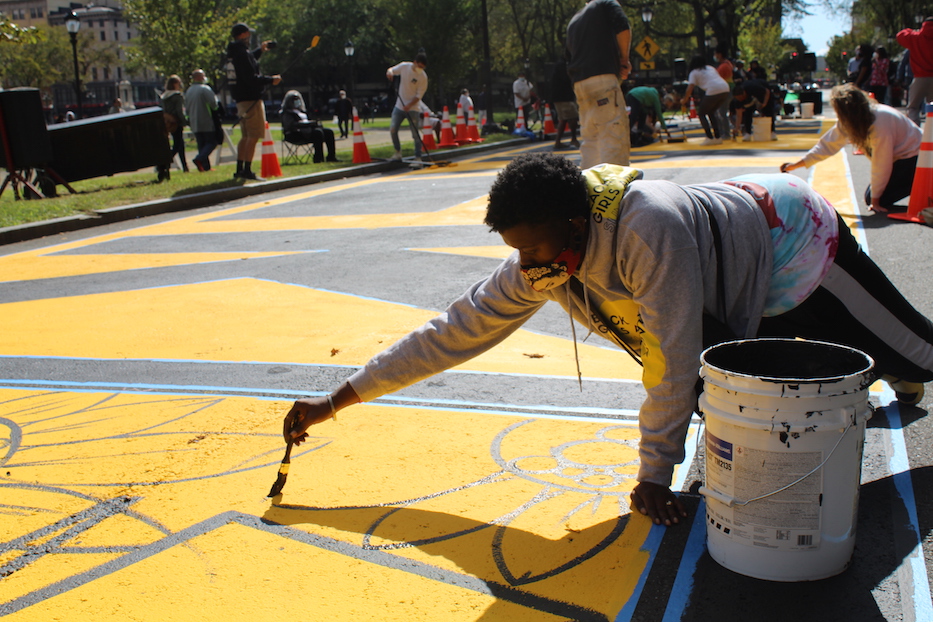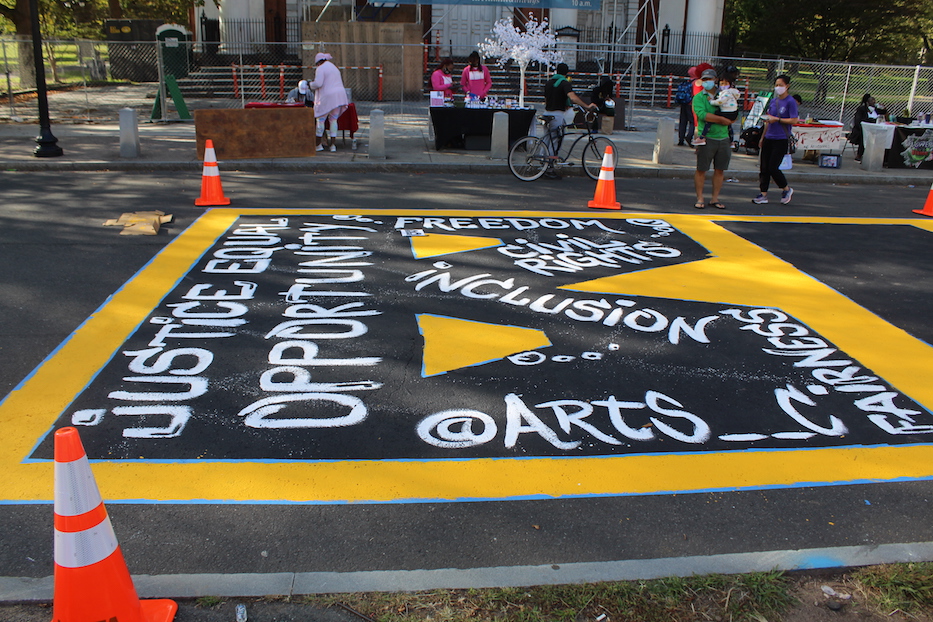 Top: Marshun Art (Candyce Marsh John) outlining the flower. Bottom: Carlos Perez's B. Arturo Pineda Photos.
The mural is the second of eight that BLMNH is planning between 2020 and 2021. The others are slated for 2021 due to the impending winter weather and continued fundraising. The next two murals will be installed at Bethel AME and Varick AME, said Ala Ochumare, co-founder of BLMNHV. In neighborhoods with less space, the group is interested in installing tapestries.
The momentum follows Black Lives Matter mural projects in Hartford, Stamford, Bloomfield and South Norwalk, as well as a pending proposal for one in West Haven. Artist John helped with the Hartford installation. The money for the mural was raised between BLMNHV and the city, with support from individual donors and a few local organizations. After an organizing congress earlier this year, BLMNHV founded a fundraising collective specifically for these types of projects.
Cultural Affairs Director Adriane Jefferson said the mural is disrupting conventional notions of art in the city— particularly art commissioned by the city. She cited the Black Kid Joy installation at City Hall, by the artist Isaac Bloodworth, as another example of art that is bringing joy to the community and challenging what New Haven's public art landscape has and can look like.
"It is art by the community for the community," she said. "This is cultural equity."
Ochumare and Sy Faiser both agreed that murals are a start to future projects which will allow the community to create and provide for themselves. Faiser said that groups like BLMNHV and others have a deep understanding of the community's needs.
"Work with us, we can help you," she said. "We are on the ground and know what the community needs."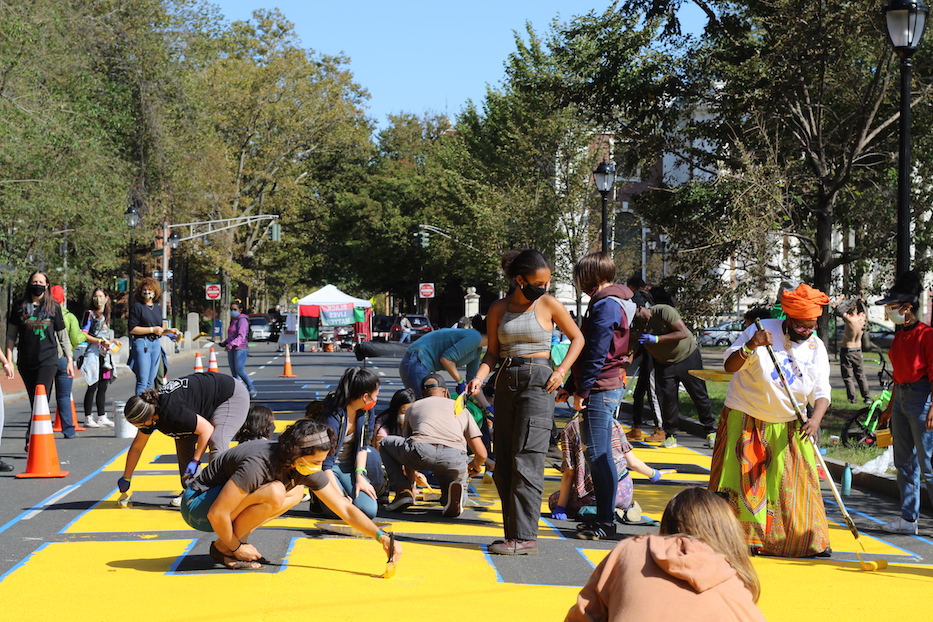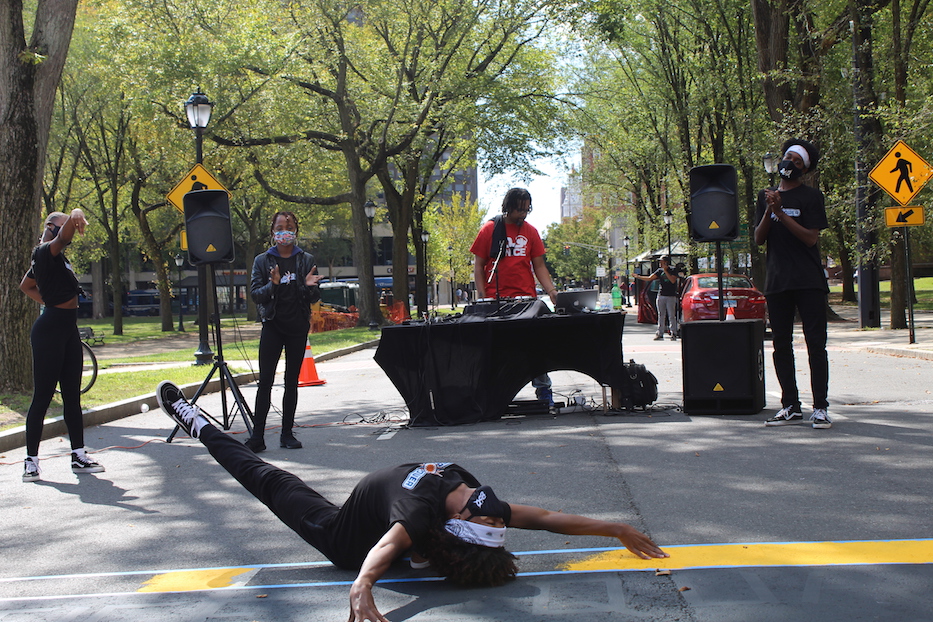 Top: Volunteers painting the second word of the mural. Bottom: Tyler Jackson of Solar Power performs a dip in the middle of the routine. Arturo Pineda Photos.
For more than eight hours, volunteers and artists painted and danced in almost equal amounts. DJ RNICE blasted 2000s hits including Amerie's "1 Thing" and Cupid's "Cupid Shuffle" with volunteers teaching one another dance moves.
In addition to Tauro's dance, The CT Sun dance team Solar Power performed a series of sets dancing to "Tchelete" by Davido ft. Mafikizolo. The group seamlessly integrated voguing elements like duck walk and dips with acrobatic flips and backbends. The team members are also company members of Studio 860.
The group has mostly been performing in smaller venues, as they have not been able to perform with the team due to COVID-19 restrictions.
"Just to perform and support the BLM movement and spread all the energy with the audience," said team member Jasmine McPherson.
At the front of the mural, Perez wrote "Civil Rights, Inclusion, and Freedom" in broad white brushstrokes inside the capital B. With the other artists and members from BLMNHV, he came out at 11 p.m. the night before and laid out the tape until 1 a.m. Around midnight, a group of three men passing by got out of their cars to help lay down the last word.
"It is history," he said. "It is amazing that it is happening and that we have so many views and eyes. You feel like justice can be served."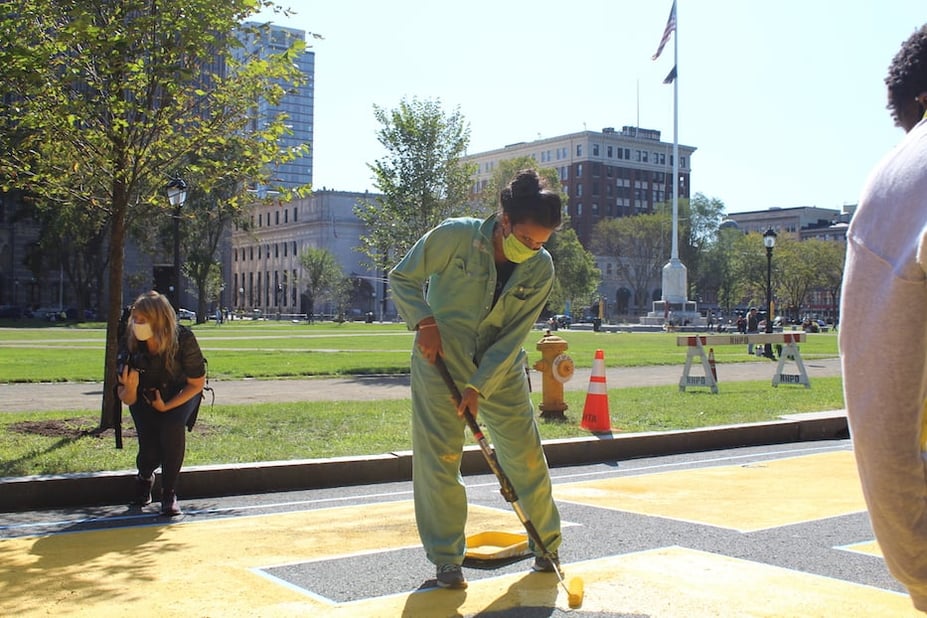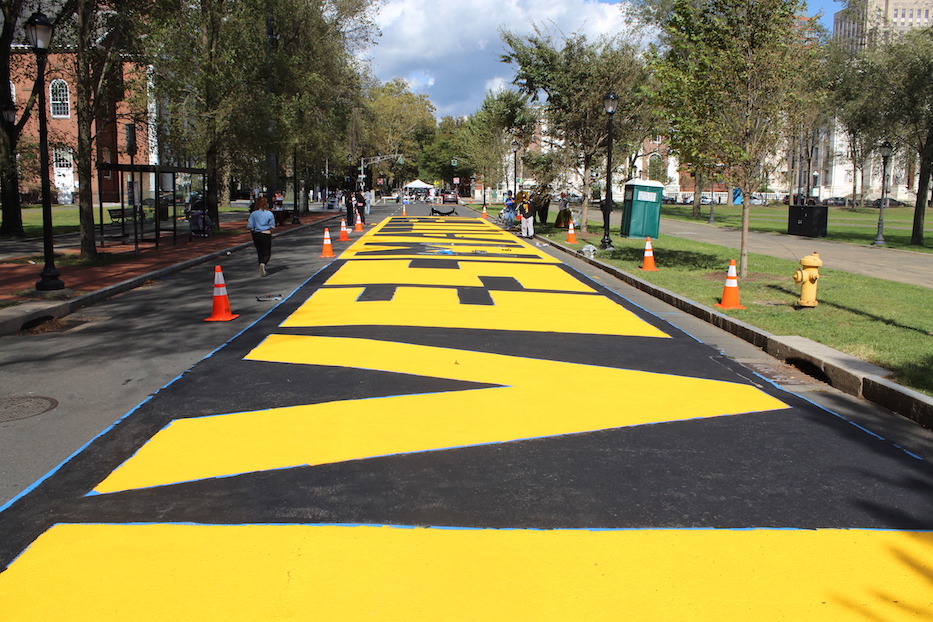 Top: Janina Tauro, a member of BLMNHV Fundraising Collective. Bottom: The mural close to completion. Arturo Pineda Photos.
Next to Perez, his son CJ touched up some of the spots with a hand brush. A senior at Cooperative Arts & Humanities High School (Co-Op), CJ came out to paint because he felt that there is a lack of representation of Black and Brown boys in the media especially when he was growing up.
"I am here to show the kids that didn't see themselves [in the media] that we matter," he said.
A little afterwards, painters and volunteers working on the letter B started dancing to the Cupid Shuffle. They shuffled left and right pulling in people from the vendor area to join in.
Not too far away, John traced large black flower outlines in the L of LIVES. Having previously worked on the Hartford mural, she wanted to bring the same spirit to New Haven. She does not consider herself an activist but believes strongly in the power of protest art.
"I am not an activist out on the streets," she said. "I don't do that. This is my personality. My story will be able to live after me."
To choose the final design, the three artists each proposed two designs based on their personal styles. The final design was Perez's, but to showcase their individual style each one of them painted a unique design in the first letter of each word.
In between painting breaks, volunteers and artists visited the row of Black-owned vendors. Many vendors viewed the opportunity to set up shop during difficult economic times as a blessing for their small businesses.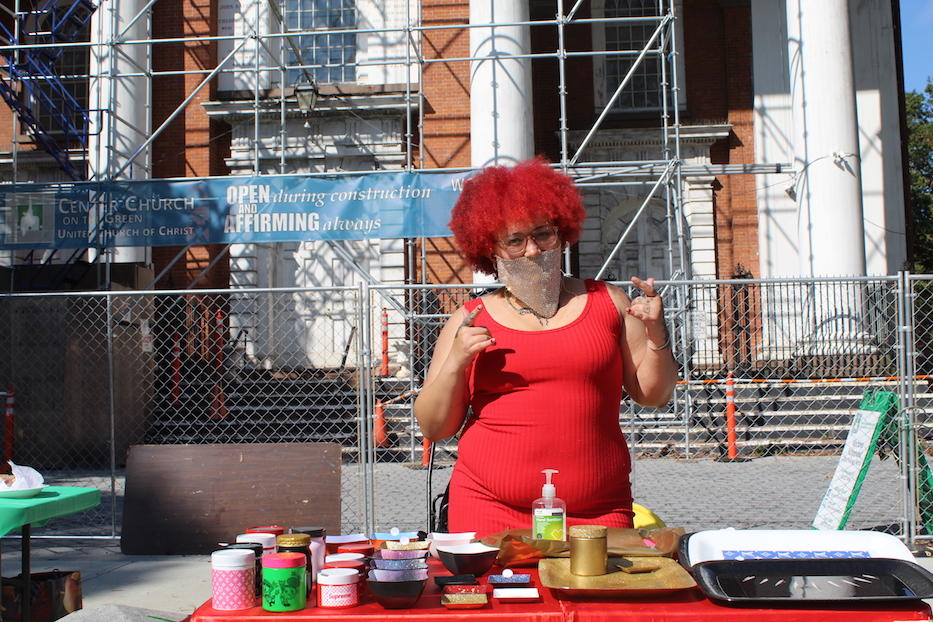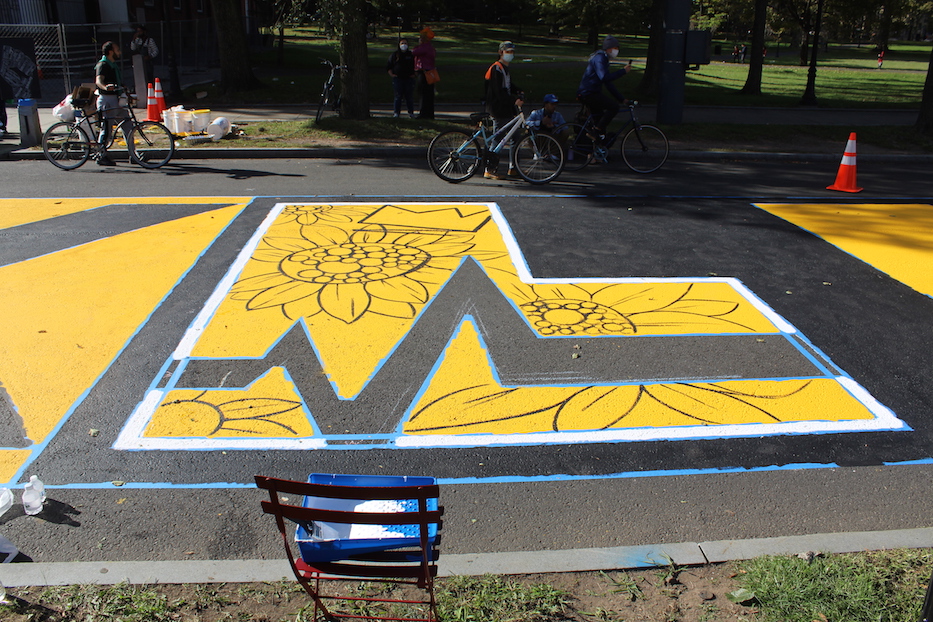 Top: Danica Graham, owner of Top Tier Rolling Accescories. Bottom: Candyce Marsh John's L. Arturo Pineda Photos.
Danica Graham, owner of Top Tier Rolling Accessories, Laura Chamber, owner of Sphinx's Flowers & Flames, and Saffiyah Shakid, owner of Saffyre's Herbal Butters, all founded their business in the summer when COVID-19 peaked across the state. Graham and Chamber were both looking for a way to supplement their income after losing work due to COVID-19.
"It is one of the best opportunities happening for Black folks right now," Graham said. "My daughter wants to be a businesswoman. I want to make a bright future for the young Black kids."
Next to Shakid's table mom-and-daughter Monique Daniels and Jazminx Ellis told painters about their eczema cream, a part of Jazz' Beauty Bar skincare line. At the far end was a table filled with prints of smiling and laughing Black and Brown faces surrounded by pastel colors. Alana Ladson wanted to draw Black and Brown people in a pretty and soft style. Having at the table at the event was an opportunity to center and promote Black-owned businesses she said.
"Maybe you don't know if a Black-owned business has what you want," she said. " This allows us to support Black business and put us at the forefront instead of other places like Amazon."
Directly in front of the vendors, a group of Trinity College students worked on the A in BLACK. The students, members of Lambda Pi Upsilon Sorority Latinas Poderosas Unidas Inc., heard about the mural from an alumnus and drove down from Hartford. The group does advocacy work around inclusion and diversity at their school and felt the mural aligned with their values, said Janira Delgado.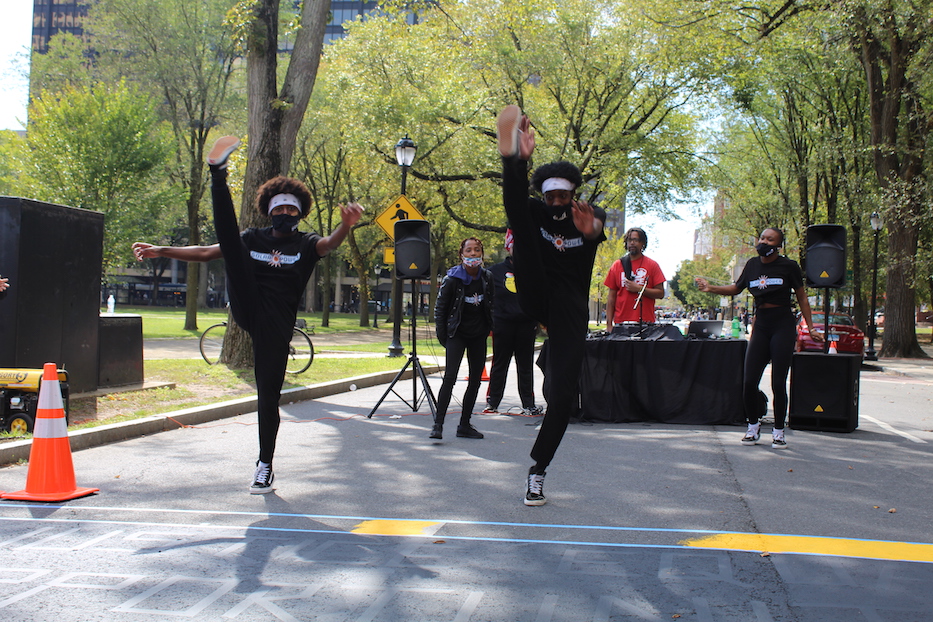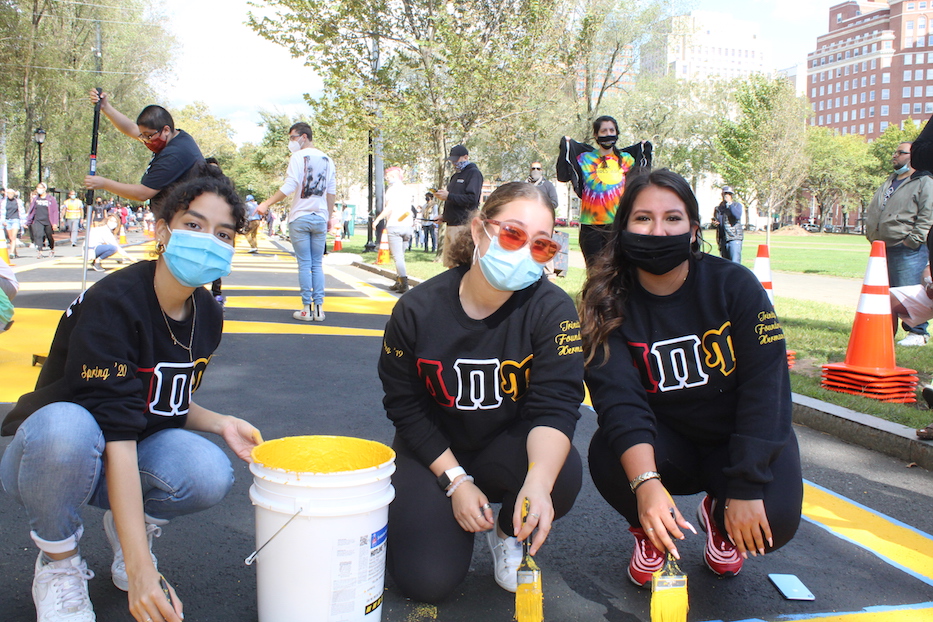 Top: Tyler Jackson and Gabriel Francias from Solar Power performing high kicks. Bottom: Ailani Cruceta Janira Delgado and Debbie Herrera. Arturo Pineda Photos.
"We wanted to be a part of a bigger project like the mural," she said. "I think it is important to support one another … and understand the situation from different perspectives."
In front of LIVES, BLMNH fundraising collective member Meredith Benson danced to the 90s hit "100% Pure Love" by Crystal Waters. She said she views this mural differently than the Bassett street mural because it is located downtown.
"This mural is a notice to the city that we are here and not going anywhere," she said. "We might not be protesting everyday or out in the streets but we're tearing down systems behind closed doors."
At the end of the block, UNH student Rhea Thomas and her friends, Kaylib Negron and Shania Wauchope, filled in the A with paint rollers. The group caught word about the mural that same morning through word of mouth. Thomas said she felt that the mural was a beautiful event for the community, but also a grim reminder of what Black Lives Matter means.
"We shouldn't have to do this," she said. "It is a good thing but not for the right reason."
Next to them, lead artist Wolf drew the outline of a young man with his hands up inside the M. The image is a reference to the 2014 shooting of Michael Brown, an unarmed Black teenager whose hands were up when police shot him in Ferguson, Missouri.
Wolf has done murals in the past, including a mural for the Saint Raphael Campus of Yale New Haven Hospital. He believes that the city is moving in the right direction by working with New Haven artists and providing employment opportunities.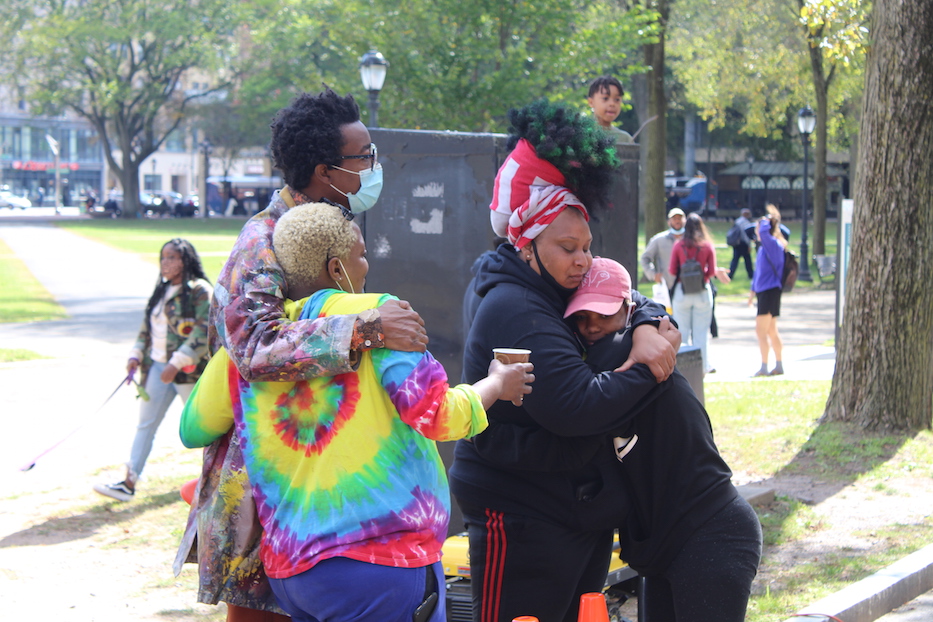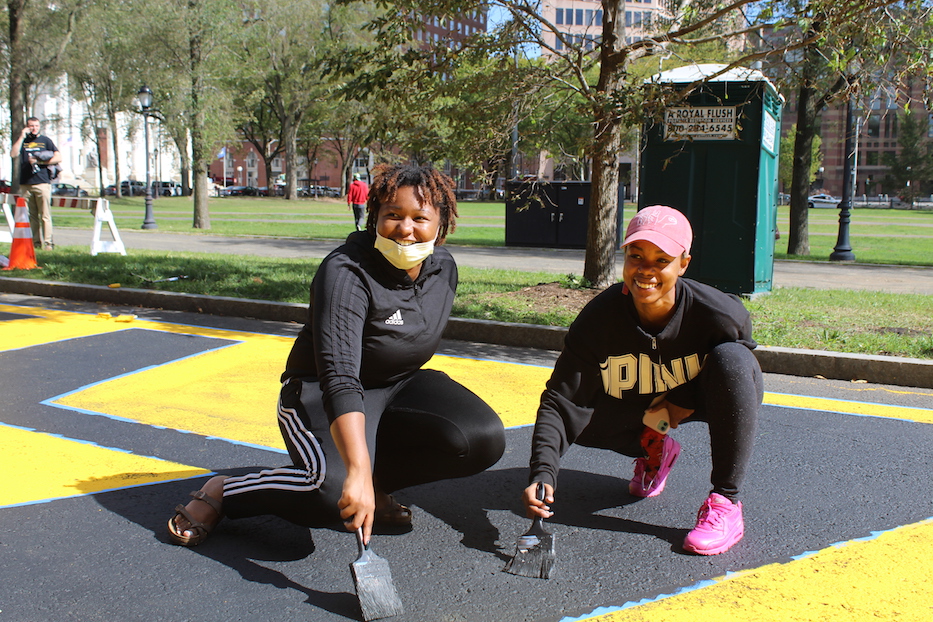 Top: Kwadwo Adae, Ashleigh Huckabey, Sun Queen, and Stephanie Washington. Bottom: Paige Steward and Stephanie Washington touch up the mural. Arturo Pineda Photos.
Corinna Santos, a marketing consultant working with the Department of Arts, Culture and Tourism, said that the city will continue to incorporate Black and Brown New Haven artists into future city art initiatives. The murals are just the beginning of a longer relationship she said.
Wolf believes that the mural should also serve as a reminder to the police officers who pass by it as they patrol the city.
"Cops have to pass by it," he said. "I hope they think twice and remember Black lives do matter and take more caution."
Later in the event, Queen took the microphone to honor one of the attendees, Stephanie Washington.
Washington and her partner, Paul Witherspoon, were shot on April 16, 2019 by Hamden Police Officer Devin Eaton and Yale Police Officer Terrance Pollock after being pulled over on a report of an armed robbery in Hamden. Both of them were unarmed. She was hospitalized at Yale-New Haven Hospital with a fractured spine for four days.
In the wake of the shooting, BLM NHV marched for five days straight demanding justice for Witherspoon and Washington. Members of the New Haven clergy also demanded justice, but waited until after Easter Sunday to take action of any sort.
"Stephanie is still living. She is breathing," said Queen. "She is a walking testimony,"
"Black trauma is real and if there is anything BLM NHV can do to support you we are here." she said. "I have never met you, but you are me, I am you. We are each other."
Washington did not address the crowd but stood alongside BLMNHV. In an interview, she said that she wants Black Lives Matter to be a year round project and become more widely accepted among the general public. To her, the mural was a big deal and a push in the right direction for the city.
"If people can accept it [Black Lives Matter] and work it into parts of life, maybe this will open to learn more about Black people and education," she said.
Queen cherished the moment with Washington, whom she had never met before prior to the event. She described the encounter as giving her hope and reminding her why she does community organizing.
"This is why I do this. I'm not just in it for my family, "she said. "The community is my family."