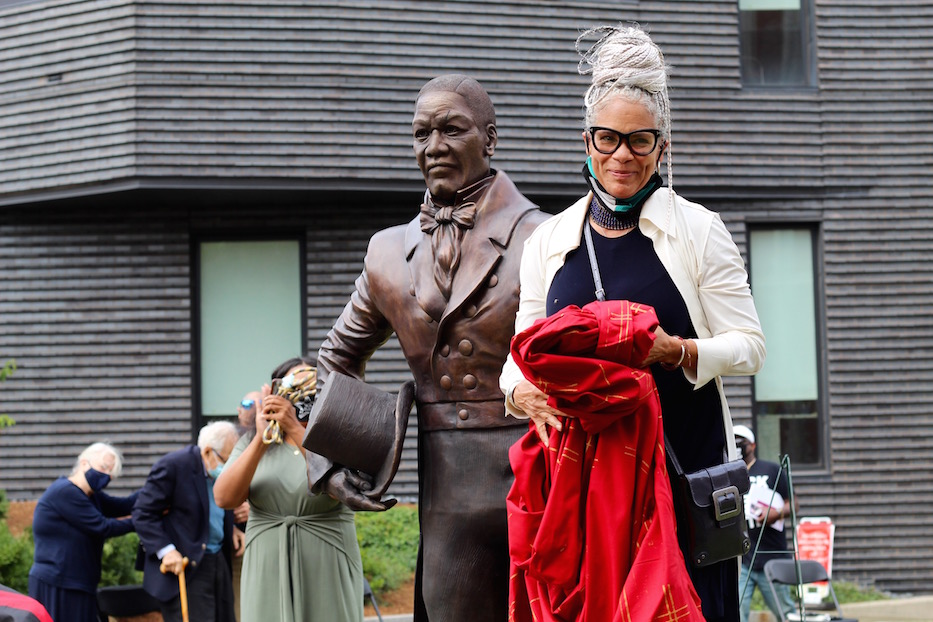 Dixwell | Arts & Culture | Visual Arts | Black Lives Matter | Sculpture | COVID-19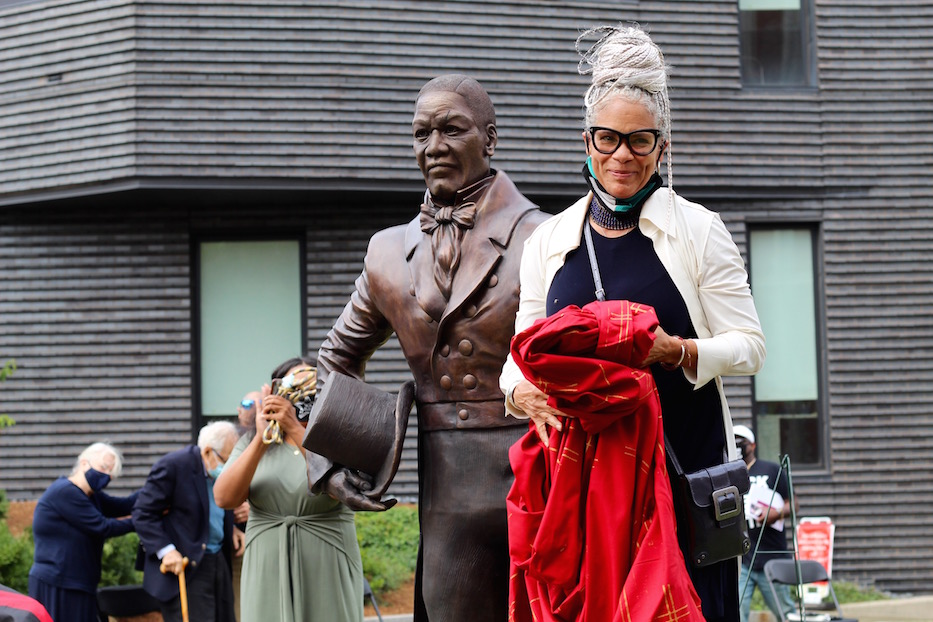 Sculptor Dana King with William Lanson. Lucy Gellman Photos.
The man looks out on the Farmington Canal, inspecting the stone walls he once built. His eyes are kind but curious, ever unblinking. His legs, one raised, show ropes of muscle nearly straining against the fabric. A long, leather coat gleams around his shoulders and down his back. His hand rests on his thigh, curled into a fist. If he raised it, he could walk right out of the nineteenth century and into a protest against police brutality.
Mr. William Lanson is finally home.
Saturday marked the long-awaited unveiling of a seven-foot bronze of William Lanson, the city's nineteenth-century "Black governor" and engineer of New Haven's Long Wharf, sections of the Farmington Canal and the city's first integrated neighborhood in what is now Wooster Square. The sculpture comes from artist Dana King and a collaboration between the Amistad Committee and the City of New Haven that has spanned eight years and two mayoral administrations.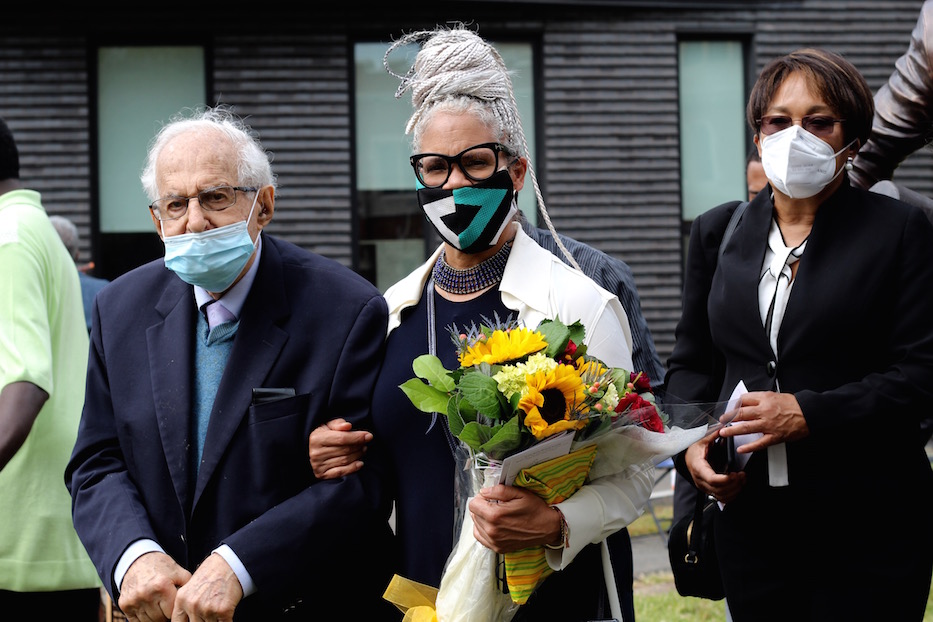 King (center) with Amistad Committee President and Founder Al Marder. Former Mayor Toni Harp stands to the right.
"Black bodies in bronze—in bronze—can no longer be hurt," King said Saturday. "They can't be hurt anymore. There's no more running. There's no more tears. There's no more heartache. Black bodies in bronze exist to tell the story of triumph. Of winning. Of existence beyond measure. They are a journey through time, revealing the excellence of their lives. This is a journey to be shared back to the beginning. Mr. Lanson is home. He's back home."
The event capped off four days of celebration around the statue, which sits at the Lock Street entrance to the Farmington Canal Heritage Trail. Saturday, speaker after speaker focused on its potential as an educational bridge, telling a righted, more robust story of the city's past that can inform its present.
"This Is A Milestone For Him"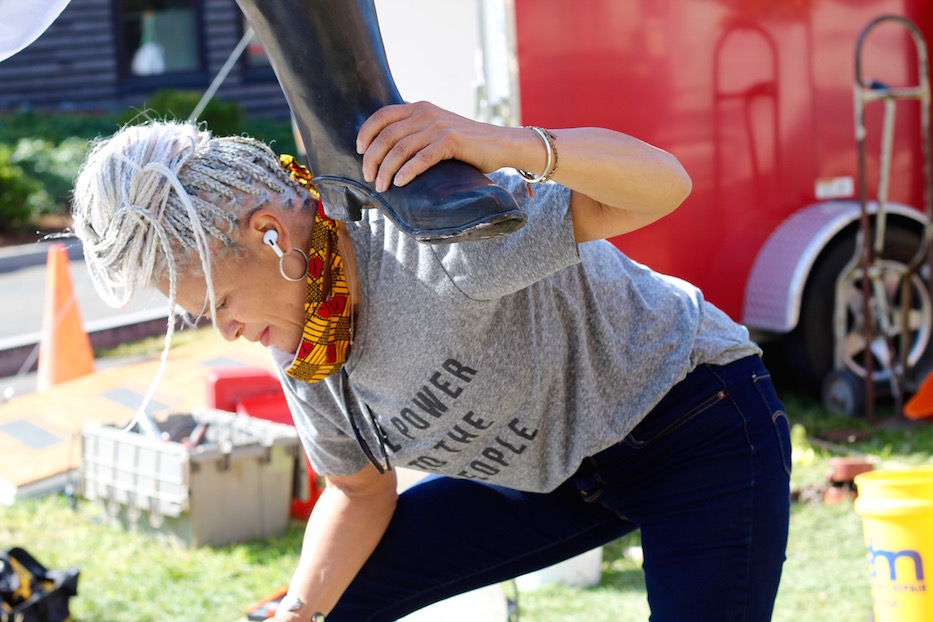 Three days before Saturday's festivities, King stood at the site with conservator Francis Miller, watching a crane lift Lanson over three slabs of stone. A wool blanket was fitted over his shoulders, obscuring his long coat and knotted collar. His boots, scuffed with years of wear, peeked out below.
In the midst of COVID-19, King took two planes to get to New Haven to supervise the installation. Lanson took a network of interstate highways, making the 45-hour, 3,000-mile journey from the sculptor's Oakland studio in a snug wooden crate. As his boots grazed the stone for the first time, King raised her arms above her head.
"Touchdown!" she cried. She gave a thumbs-up motion to the crane operator and did an air high-five with Miller, who helped remove the statue of Christopher Columbus from Wooster Square earlier this year. Then she watched as he examined the spot, and started making tweaks so the statue would stay in place.
"I can't leave him feeling like I didn't do everything that I possibly could to make sure that he is stable, safe, and secure," she said.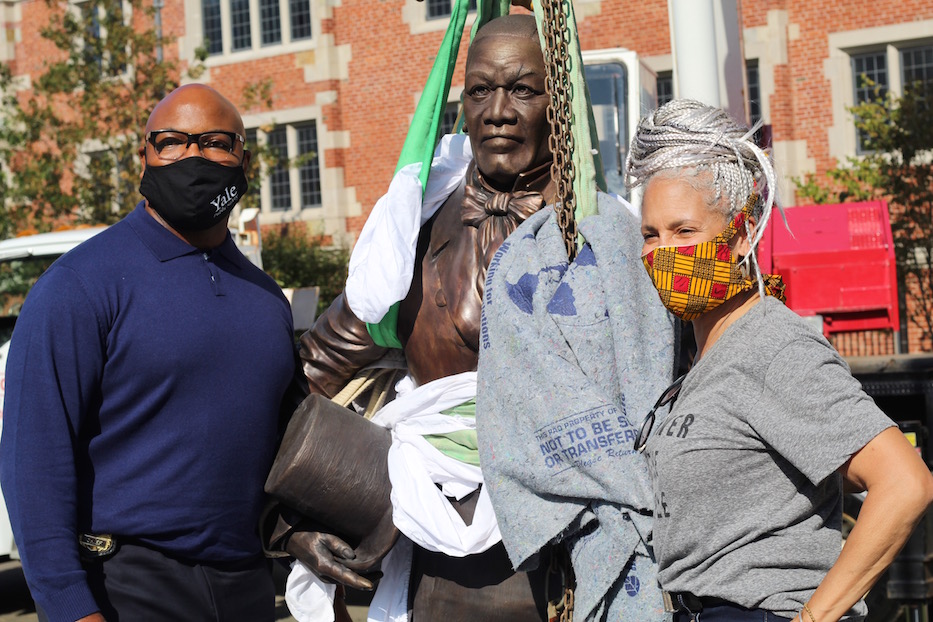 Ronnell Higgins, William Lanson, and Dana King.
Around her, Lanson already had a few visitors. Ronnell Higgins, who is chief of Yale's private campus police force, has invited King to do a Zoom-based training on Lanson's life and work for other officers in the department. He said he was inspired by a trip to Washington, D.C., during which the Capitol Police "knew the whole history of the building," including every piece of artwork inside.
Years ago, he learned the history of Woolsey Hall, and would share it with visitors while patrolling central campus. When he heard that King had arrived in New Haven, he walked over from the Rose Center down the street to see what the statue looked like. Yale's campus police are part of the so-called "triple occupation" of New Haven, the end of which activists have been calling for for years.
"It's times like this when we feel so very proud," he said. "We have places all over the city that are named after people. But how many times do you get to see something as it is placed?"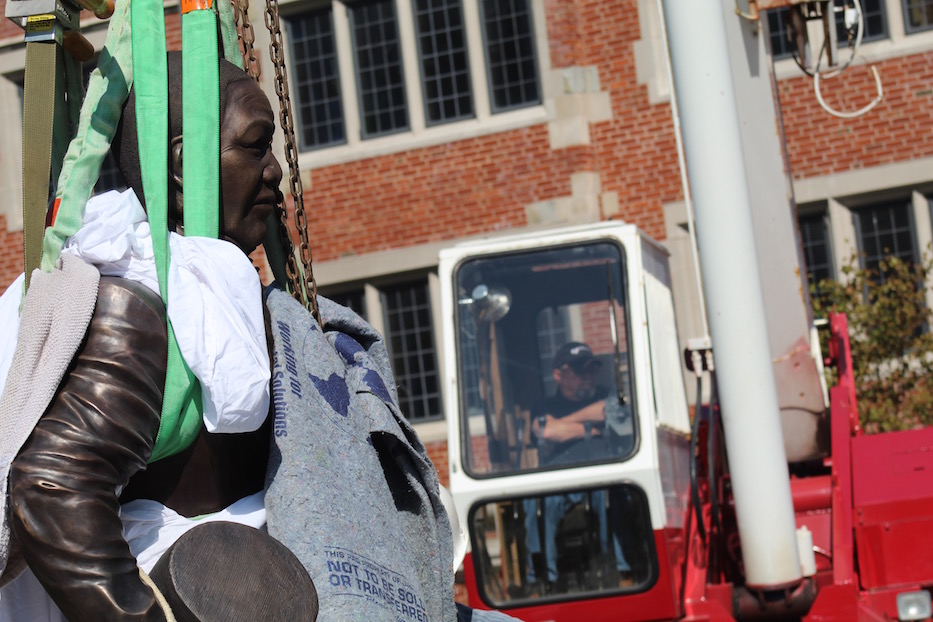 He added that he wants the space to be a place "where young people can feel comfortable," which has not historically been the case. Lanson stands on city land, between the Yale Health Plan and university's new Pauli Murray and Ben Franklin residential colleges. He is across the street from Grove Street Cemetery, the final resting place of runaway slave William Grimes and nineteenth-century Black diplomat Ebenezer Basset.
He also sits at the tip of New Haven's Dixwell neighborhood, a part of the city that is steeped in twentieth-century Black history that extends through today.
Leaning on a signpost, lab technician Edgar Rivera examined the statue from afar. Normally, he said, he doesn't get much excitement during the day. He works on the second floor of the Yale Health Plan, where he can peer out of a little window onto the world and takes his lunch break outside to get some air. He hadn't heard Lanson's name until he saw the work going in, and tried to find more information.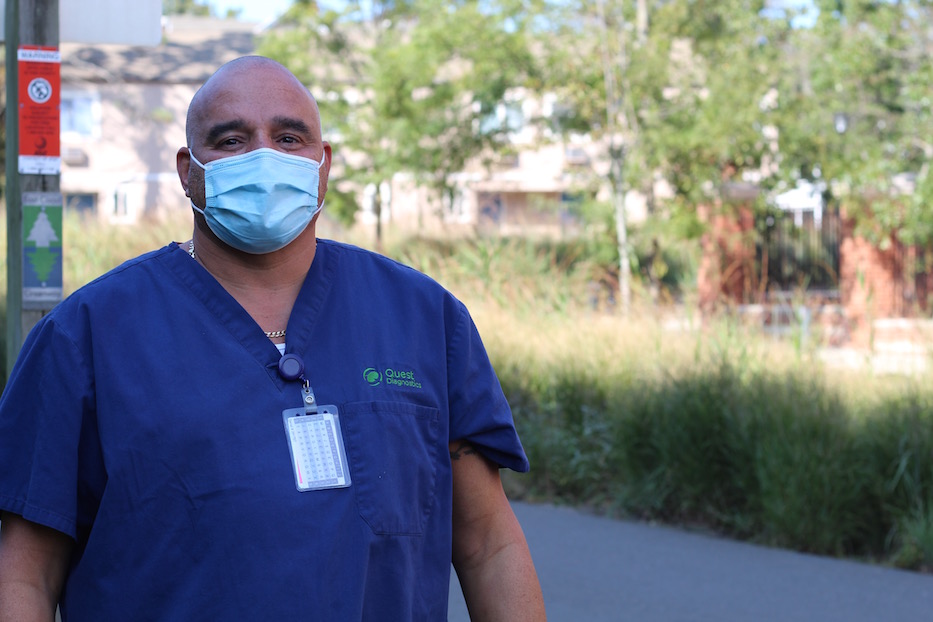 "We need history," he said. "Without a history, we wouldn't be where we're at right now. I think it's fascinating that he's going in—I respect anyone who has done good things for humanity. And it sounds like he has."
Whizzing by on roller skates, Stamford resident Heather Keene stopped by to ask if it was a statue of Elihu Yale, the slave trader and British-American benefactor after whom Yale was named in 1718. King explained that Keene was actually looking at William Lanson—a free Black man responsible for New Haven's ability to compete in trade.
At the time that he lived, Lanson was one of about 800 free Black people in Connecticut, which was a slave state until 1848. He advocated for both abolition and voting rights up until his death in 1851.
"I think that is amazing," Keene said. "It's celebrating the people that have been great for our country, but maybe overlooked by history. It feels like this brings a little light. And honestly, we're at a time right now when we could use a little light."
Members of the Amistad Committee, not eager to wait until Saturday, also came by to get a first look. Charles Warner, Jr. grew up hearing the Lanson family name as a congregant at the Dixwell Avenue Congregational Church of Christ, the seeds of which Lanson planted when he co-founded Temple Street Church. But in school, Warner learned almost no Black history, and nothing about Lanson. When he returned to New Haven after four years at Morehouse College, he was determined to learn more of the city's Black history.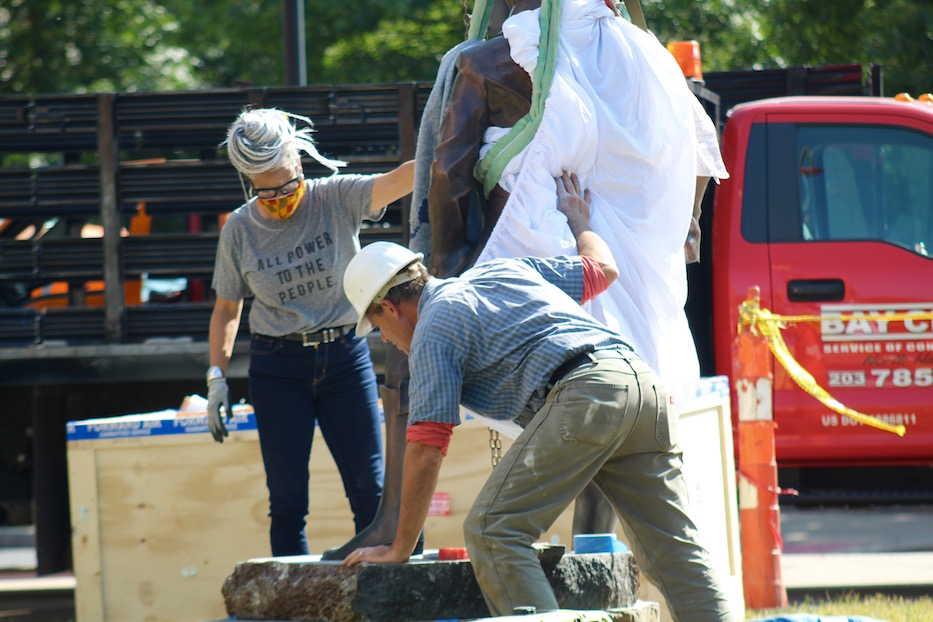 Now chairman of the Connecticut Freedom Trail, he learned that Lanson's father had been a soldier in the Revolutionary War. He learned that Lanson's brothers and children were also entrepreneurs in New Haven, and that his stepmother lived on Rosette Street. And his downfall—for which he died in an almshouse—likely came because of his advocacy for the first historically Black College in New Haven. Yale blocked that move in 1831. In the years that followed, Lanson faced frequent harassment from the police, including stints in jail for selling liquor at his hotel.
"I think the story of William Lanson is tied to so many political things that were happening at one time," Warner said. "He was not just a mythological figure like John Henry. He was a free Black man who worked with white people. He became the symbol of wealth and influence."
Susan Robinson, also a member of the Amistad Committee, said she is excited to have Lanson in the neighborhood. Like Alder Jeanette Morrison, she sees the statue's arrival as part of a Dixwell revival. Just a few streets away on Dixwell Avenue, the new Q House is going up. Down the trail, a skate park now rises out of the grass. ConnCAT's subsidiary, ConnCORP, has announced its plans for a massively renovated Dixwell Plaza.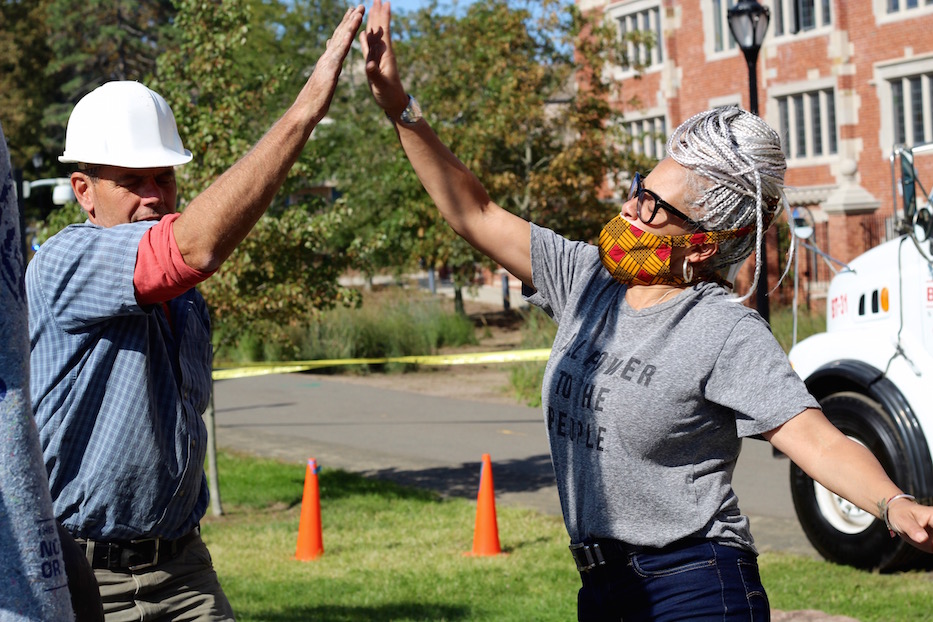 Robinson stood before the statue with Dee Marshall, a history teacher in the city's public schools and member of the Dixwell Avenue Congregational Church. Marshall said she'd opened her classes Wednesday with a journal exercise on Lanson, educating her students as questions popped up.
"Now that William Lanson is back home, it means that the conversation between young people can expand and be more inclusive," Robinson said. "For him to be standing upright and leaving a story and a legacy, it's really exciting. It feels like it is a lot more for the neighborhood and for the people. This is a milestone for him."
"This Is A Black Lives Matter Issue"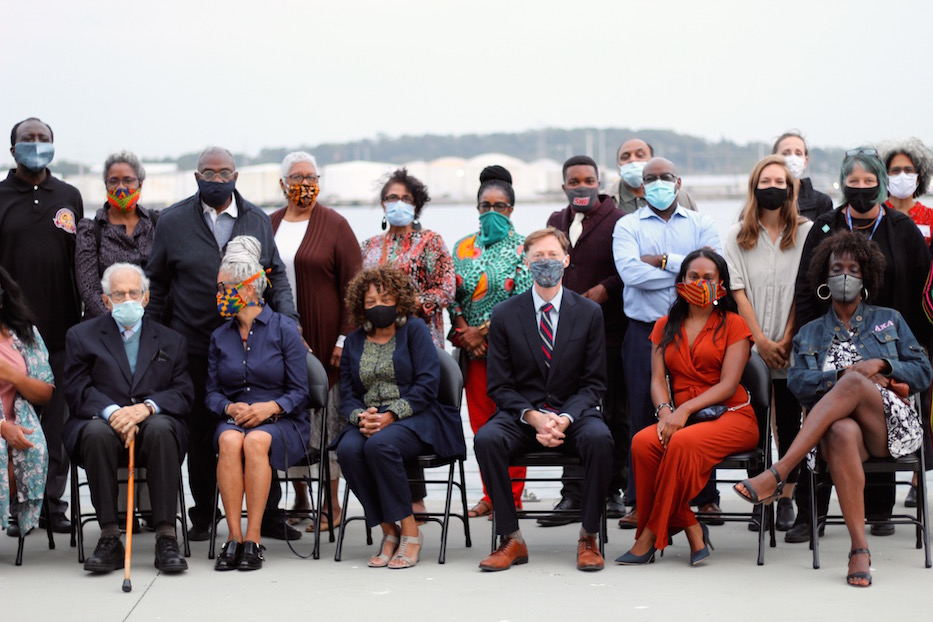 Lanson was officially installed at 4:10 p.m. on Thursday afternoon. On Thursday evening, the Amistad Committee began its formal celebrations of the statue, gathering outside the Canal Dock Boathouse just off Sargent Drive. The site looks directly out onto the New Haven Harbor—a view that Lanson would have seen during his lifetime, unimpeded by oil tanks and the rust-colored dome of Sports Haven in the distance.
When Lanson led extensions to Long Wharf in 1810, his innovations allowed New Haven to compete with nearby ports, including the port of New York. Thursday, all eyes were on his life and work as a kind of sustained, measured activism that has long echoes through history.
As dozens took their seats outside the boathouse, speakers pivoted to the hundreds of New Haveners marching downtown to demand justice for Breonna Taylor, and the ones before that who had filled the streets for George Floyd, Ahmaud Arbery, Tony McDade, Sandra Bland, and hundreds of others whose lives were taken in acts of state-sanctioned violence against Black people.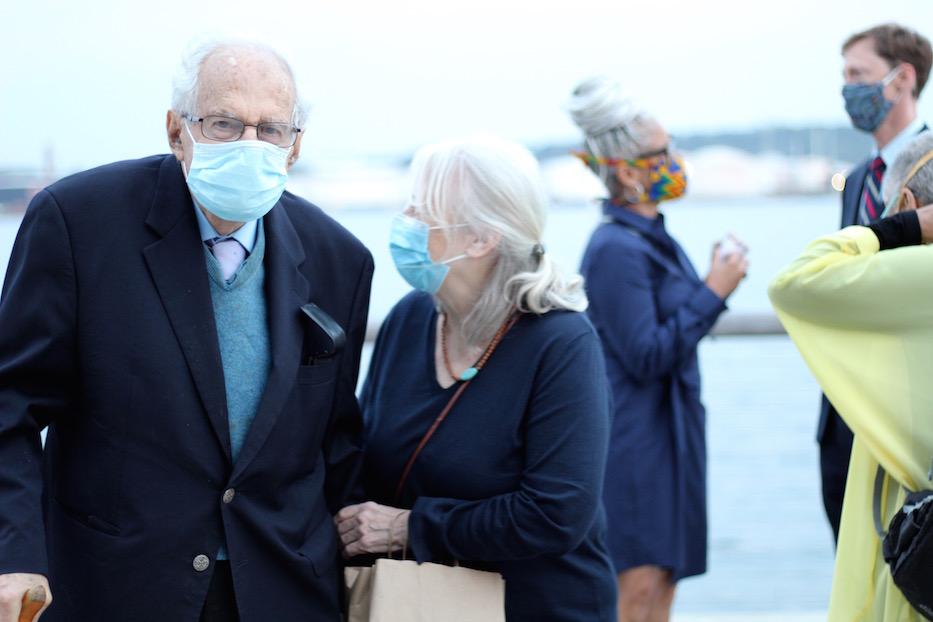 Amistad Committee President and Founder Alfred (Al) Marder.
"We have come together at a time when people in the millions throughout our country, Black, Brown, and white, are demanding an end to the racism that has plagued our nation for 400 years," said Amistad Committee President and Founder Alfred Marder. "Your presence here is your voice. Artists and their creativity play such an important role in our collective historical memory. When we hear the voices of protest, we reach back to the historic struggle for freedom, equality and justice."
Over and over again, speakers looked to Lanson as a historical through line, binding his oft-buried legacy to the present-day Black Lives Matter movement. Amistad Committee Roslyn Hamilton shouted out "our new warriors who are out there every day," including those on the Green who would later shut down Whalley Avenue.
Dorthula Green, a member of the National Council of Negro Women, invoked the poetry of Langston Hughes. Malcolm Welfare, a member of the Amistad Committee who led efforts to rename Wooster Square in honor of Lanson earlier this year, led attendees in several rounds of the chant "I am William Lanson!"
From a podium, he looked out over the group, and to the grey, sparking water beyond.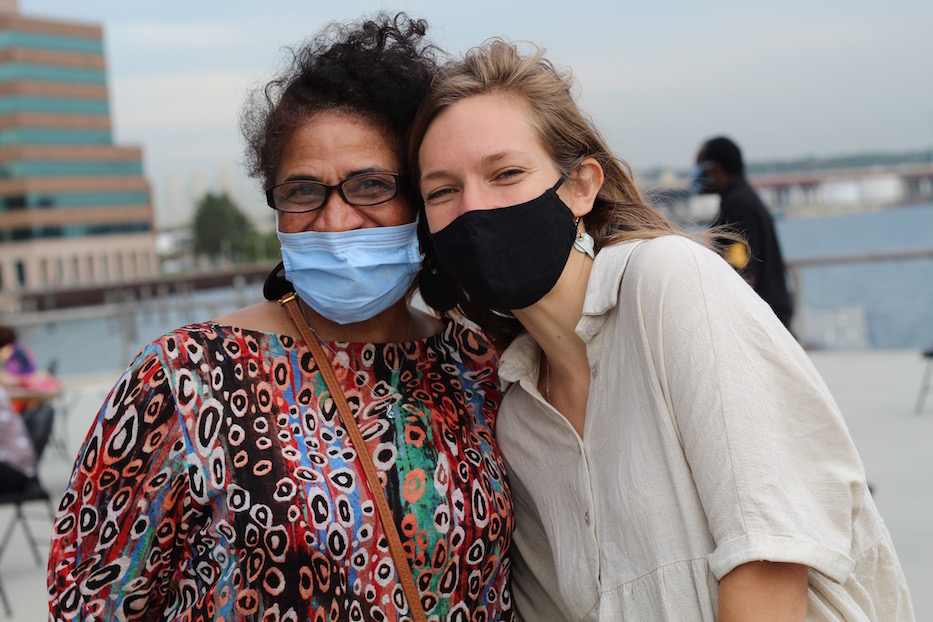 Amistad Committee member Susan Robinson and Stacey Davis of the New Haven City Plan Department.
"This is a Black Lives Matter issue," he said. "This is a beacon that your life matters. It is our job today to spread the word about that beacon. We have to bring that beacon to life. It is not enough to have rhetoric around this. We have to take action and make change."
Mayor Justin Elicker, who had started the evening at the march for Taylor, praised King for bringing Lanson's legacy to life. He said he was particularly moved to learn that King had given Lanson a scar above his right eye, to represent both the backbreaking, physically dangerous labor and profound emotional pain that he experienced during his lifetime.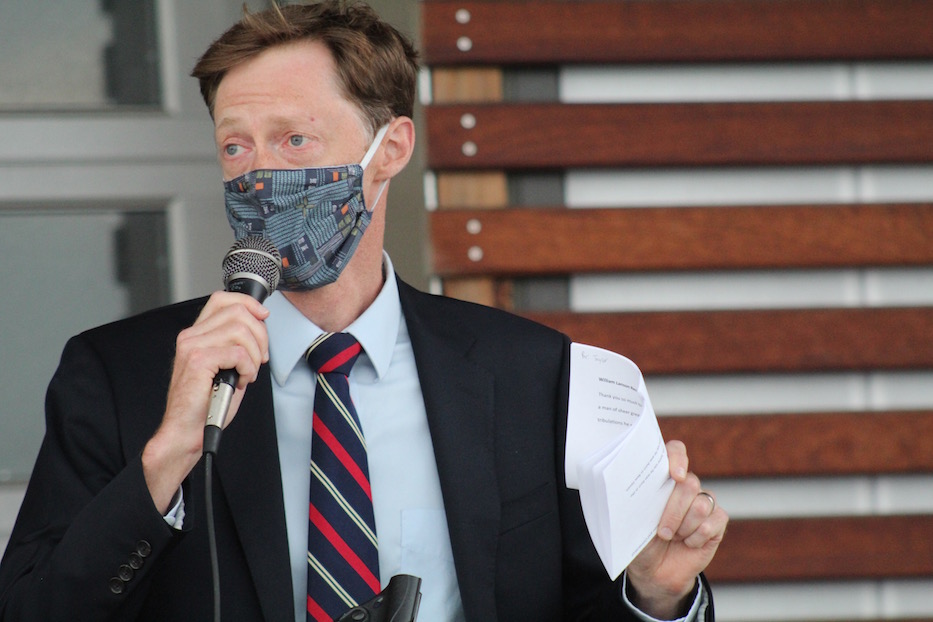 "Later in life, the white power structure determined that William Lanson's time was up. That he had become way too powerful for a Black man," he said. "When that happened, the system failed him like the deeply rooted tree that he had become. And when I read that—I'm going off script here—you could almost read that about people today. You could almost read that about people today. People are struggling, and there's a system that is putting up barriers to their success."
Attorney General William Tong noted that there is still a system which economic freedom and personal liberty are no longer guaranteed—and perhaps never were for some residents of Connecticut.
"There are people in this city that are less free than others," he said. "So let this statue be a lesson to us."
"That's My Dad"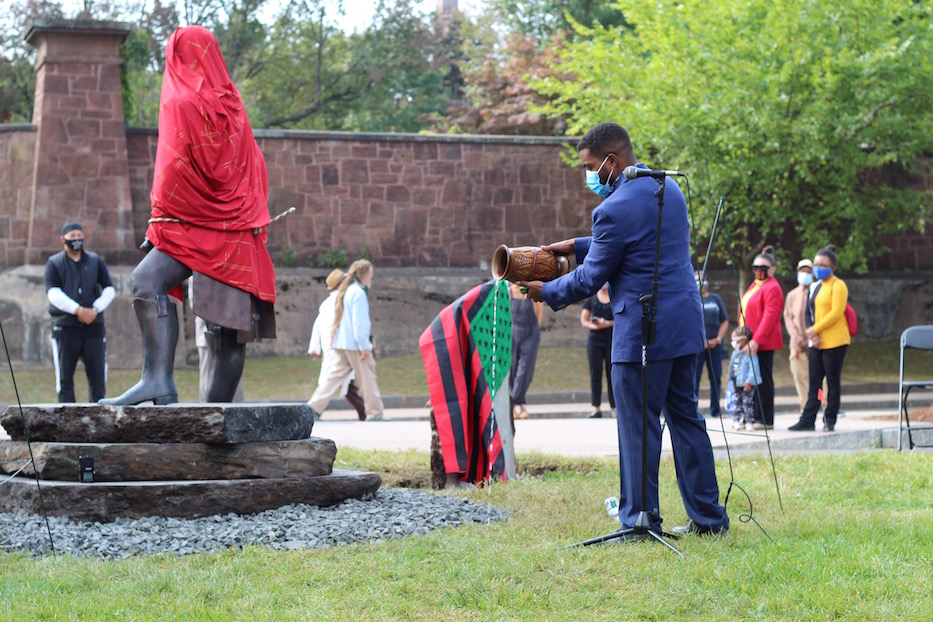 Malcolm Welfare performs libation to cleanse the land.
Saturday, that call echoed through a two-hour unveiling as poetry, song, music, and tributes flowed like the waters that once bent to Lanson's will. As attendees took their seats around a statue wrapped in cloth, the sound of drums rang out, heartbeat-like in the warm morning air. The crowd fell to a hush with "We Shall Overcome" from jazz musician William Fluker.
"William Lanson is a Connecticut story, a New Haven story, and a uniquely American story," Warner said as he welcomed attendees. "He's the story of us. Today, as you listen, as you learn, and as you rejoice, think like William Lanson. Think of your fellow man. Be happy to be with each other. And think about us being united as one body. A New Haven body. A human family, and a group of people who are dedicated to making our city and this world a better place."
One by one, students, Amistad Committee members, educators and current and former elected officials all praised the statue as a chance to not only right some of history's wrongs, but teach and learn from them. Almost every speaker invoked the current moment, with nods to the passing of U.S. Supreme Court Justice Ruth Bader Ginsburg, the non-indictment of officers who murdered Breonna Taylor, and the upcoming general election on Nov. 3. The committee gave out masks emblazoned with a message to vote.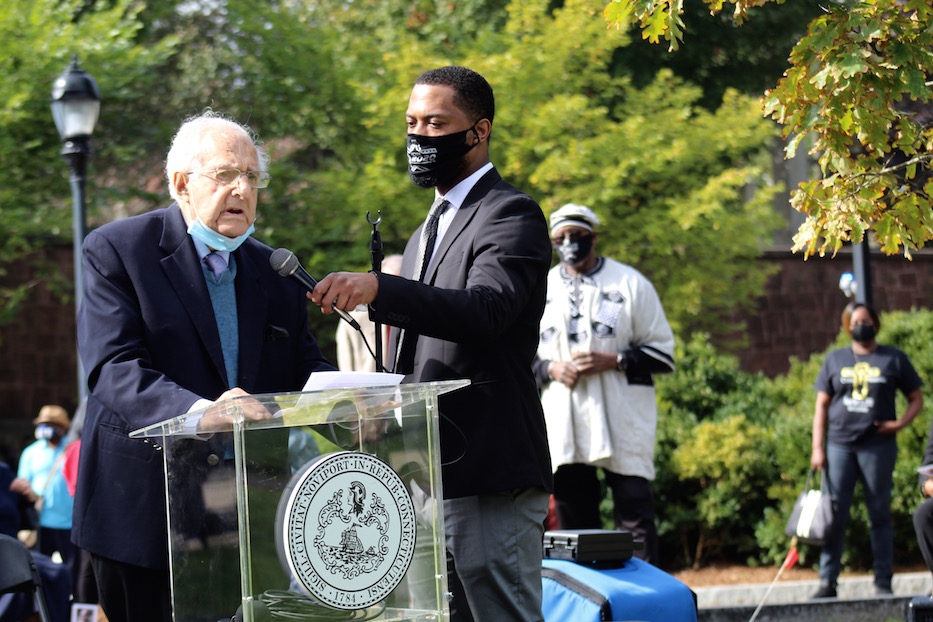 Marder and Charles Warner.
"William Lanson's past and our present mirror one another as we find ourselves still fighting for equality, equity and racial justice 169 years after his death," said Lt. Gov. Susan Bysiewicz. "The best way that we can honor his memory and his legacy is simply to carry on his fight."
"Here we are … in the aftermath of the George Floyd murder, as justice for Breonna Taylor has not been served, as women's rights continue to be disrespected, as immigrants continue to be discriminated against, as voting rights are threatened," she continued. "It's up to us to stand up and to fight for the legacy that Mr. William Lanson has left us."
During his lifetime, Lanson employed free and formerly enslaved Black people. He bought land that was seen as widely undesirable and turned it into integrated housing. He owned and operated a hotel that took in people who were unwelcome in other establishments. Records indicate that he also had a grocery store and carriage business to help provide for his family.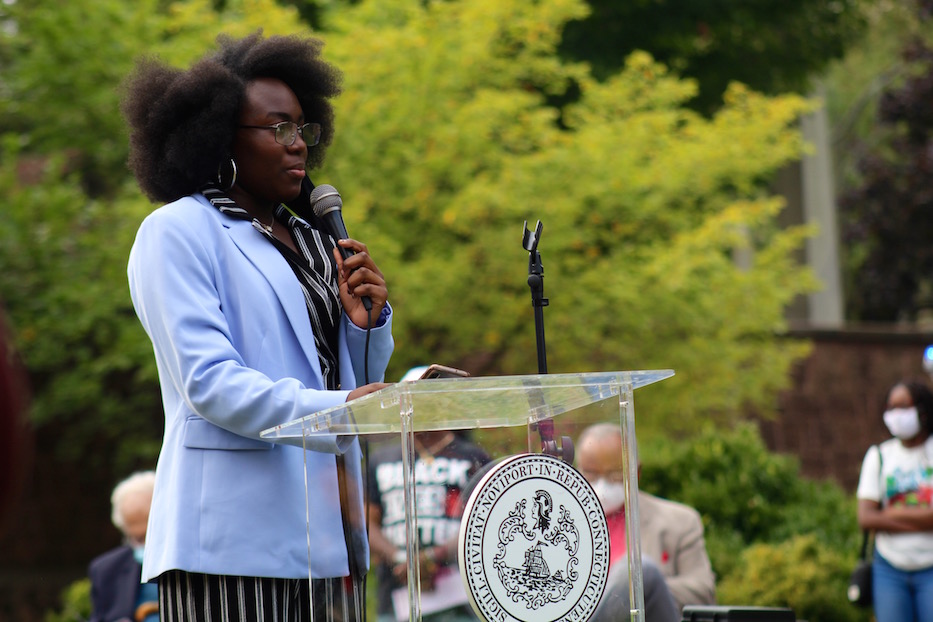 Antonia Wright, a student at Metropolitan Business Academy.
As a man of faith, he co-founded the Temple Street Church. He advocated for voting rights and higher education for Black people, and for the abolition of slavery in Connecticut. In the early 1830s—just five or so years after the last documented sale of enslaved Black people on the New Haven Green—he aligned himself with Peter Williams and Simeon Jocelyn as they fought for a Black college in the city. It cost him almost everything.
"The true importance of his story does not lie in his personal achievements, but in his selflessness, and the way he used it to build up his community and be of help to his fellow man," said Antonia Wright, a student at Metropolitan Business Academy. "His life also shows the price one pays for speaking truth to power, and challenging oppressive legal and social systems."
Several speakers also recalled how little Black history they learned in school. Growing up in Salt Lake City, former Mayor Toni Harp learned only "that there was slavery in the South," a fact that seemed deeply incomplete to her even then. At some point, she started to wonder what she was missing.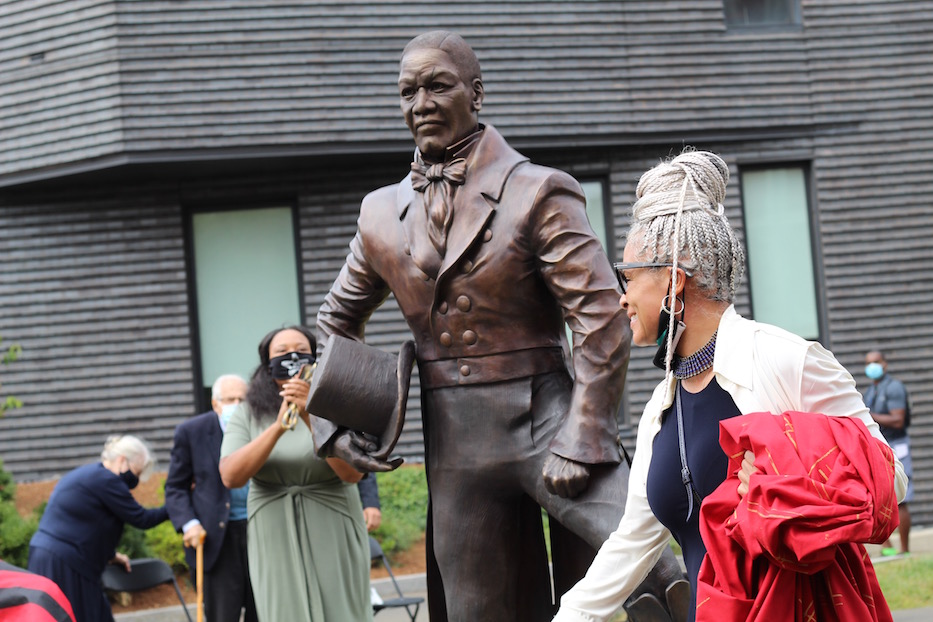 As she got older, she read about George Washington Carver through a book from her mom, rather than her teachers. After her move to New Haven, she learned about the Amistad uprising through the Amistad Committee—rather than the university she'd relocated for. With Marder, she pushed for the installation of Ed Hamilton's Amistad Memorial in front of City Hall during her time as an alder. As she took elected office in the State Senate, she learned about the seeds of the Connecticut Freedom Trail through Marder. Then she learned about Lanson.
"This was a man who was not educated in a formal way, but was just talented," she said. "And how often do we have to fight today to get people to think that African-Americans who are educated are talented? And so, it is important that this statue is here. It is important that we recognize the contributions, which are extraordinary, to New Haven."
Dixwell Alder Jeanette Morrison thanked King for creating a statue that reflects her history. As a student at James Hillhouse High School, she learned that "Martin Luther King was a good man, Malcolm X was a bad man, and Harriet Tubman freed the slaves." Only when she arrived at Morgan State University—an HBCU where her peers wore shirts emblazoned with Malcom X—did she realize how much she had missed.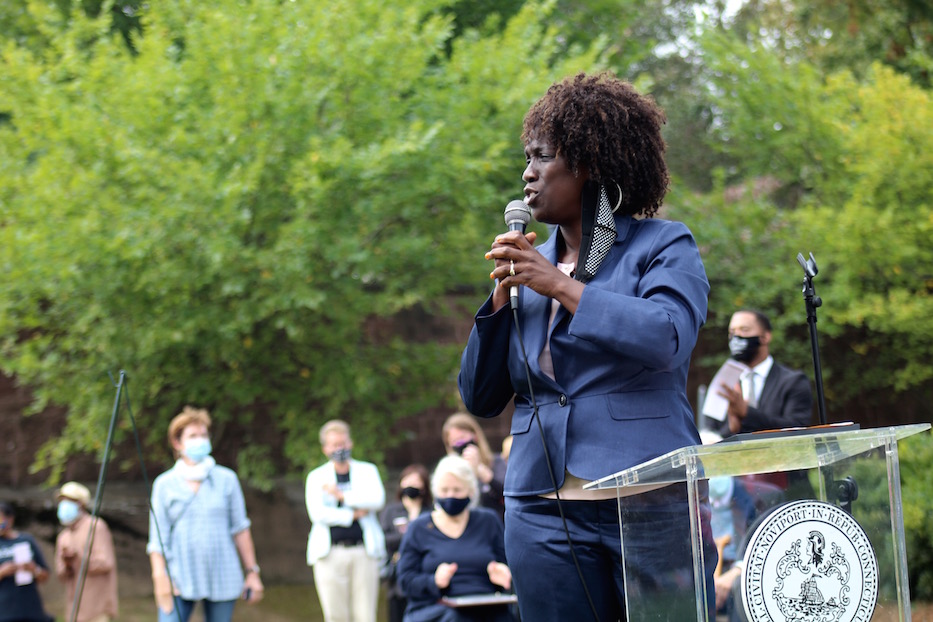 "You allowed God to use your eyes to give us the face of this man."
"Ms. Dana, you are the bomb dot com," she said to King, getting a laugh from both the sculptor and the audience. "You allowed God to use your eyes to give us the face of this man. This man, that's my dad. That's my uncle. That's my brother. That's my son. Husband. That's everyone. And that's what you did. You allowed God to use you."
"I hope and I pray that somewhere in the curriculum, we need to know about Mr. Lanson," she added.
That may soon be a reality: the state legislature passed a law last year requiring that all Connecticut high schools be ready to offer a course in African-American and Latinx history by July 1, 2021. In New Haven, some teachers have already taken up that charge and are teaching Lanson alongside icons like Constance Baker Motley, Dixwell's deep jazz history and modern-day activist Corey Menafee.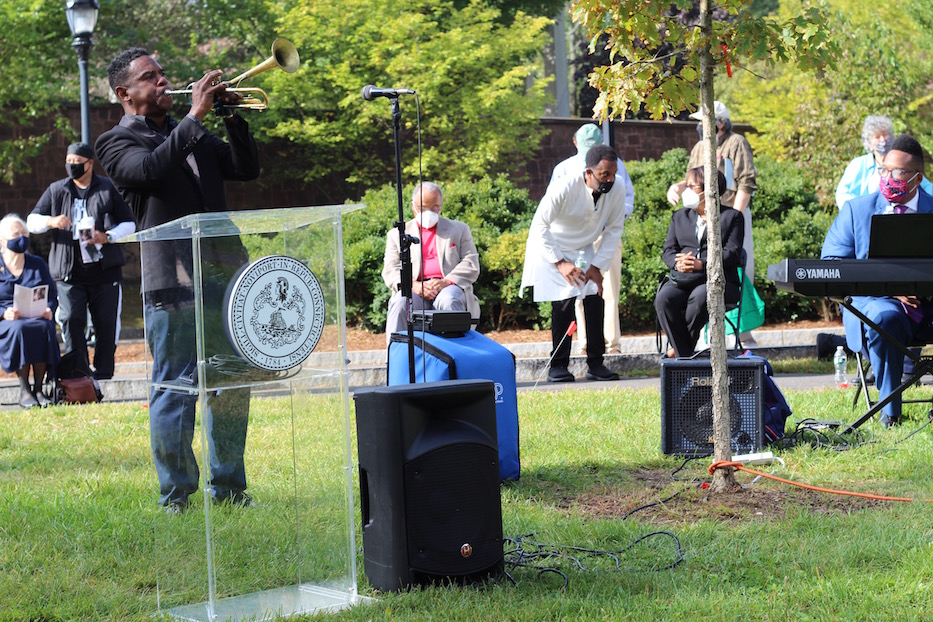 Declaring Sept 26 "William Lanson Day," Mayor Justin Elicker also issued a formal apology to Lanson for the harassment that he endured as a Black man. In the final years of his life, Lanson wrote that he was placed in prison five times in six years, for a total of 450 days. His offenses were small and often suspect, including allegations of untoward behavior at his hotel.
"We must tell Mr. Lanson's story," Elicker said. "We must tell his, and so many other Black heroes' stories. The parts that highlight their successes, and the parts that remind us of the work that we all must do to undo the system of inequalities and racism."
At long last, King took the mic, starting with a land recognition that peeled back the layers of the land to its original Quinnipiac inhabitants. She thanked the city, the Amistad Committee, and Miller for their work on bringing Lanson back to New Haven.
"You know, the Black body is one of the most regulated, public, on display, culturally captive spaces," she said. "Defined by everyone. Controlled by everyone. Encoded and objectified, beaten, hung and hated. Now, we are appreciated for a few things. For our athleticism. For our musical talents. For our beauty. But we are watched and we are hunted. George Floyd. Breonna Taylor. Ahmaud Arbery. Sandra Bland. Tamir Rice. Mike Brown. A list that is endless. Relegated to the painful ends of history for being a Black body."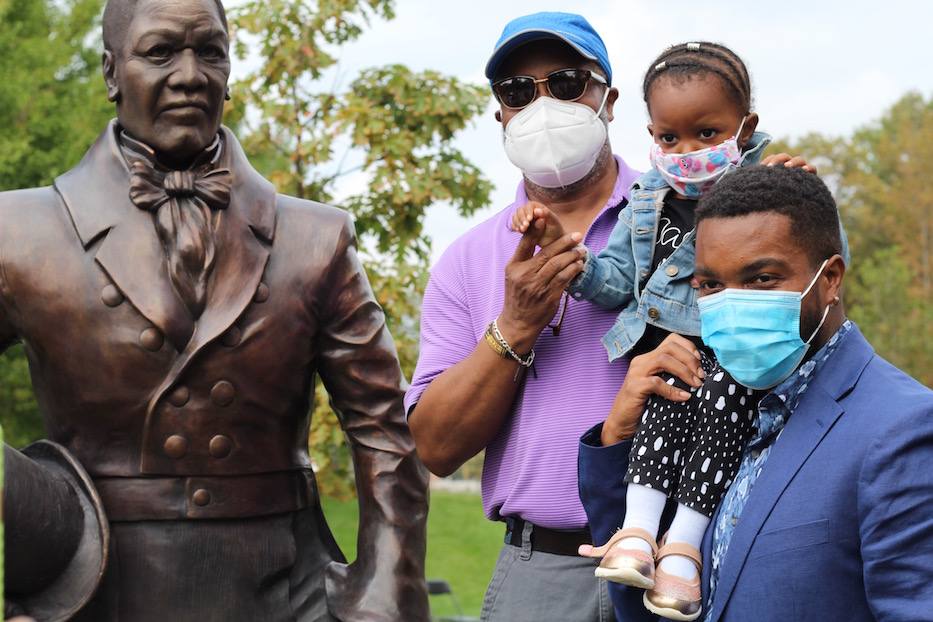 "I create Back bodies in bronze to reclaim agency on our bodies. On our history. The Black bodies I create are constructed with reverence, love, built with knowing from the inside out as well as the outside in. I can't craft them without understanding who they were, and how they moved in the world."
Later, as she lifted the fabric, cheers and applause went up from the crowd. Amistad Committee member Kai Perry began to weep. King smiled a tight-lipped, don't-make-me-cry kind of smile. A centuries-long homecoming was finally complete.
Welfare stood by the statue with his two-year-old daughter ZoraLee in his arms. As others posed at the statue—Mr. Lanson was already a popular man—she examined it, waving to Lanson and then to attendees. For a moment, it seemed like Mr. Lanson adjusted his tophat and looked right back.
"I feel elated," Welfare said as he rested ZoraLee on his hip. "I feel excited. And I feel hopeful. This has been such a lesson in perspective and persistence. This will hopefully be the spark for many more celebrations around the city."
To watch videos from the unveiling, click here.