Culture & Community | Arts & Culture | Visual Arts | COVID-19
The light flickered from an East Rock kitchen window, the color of honey and beeswax candles. From Pearl Street, it looked like a flame, dancing in the cold, sudden blue of a fall night. Nine lines of text shifted into focus.
R.G.B./R.I.P., they began. They Will Put Someone/In Your Place/But/ They Will Never/Replace You.
Thank You For Being/Our Champion.
Starting Friday night, several New Haven and Connecticut artists mounted work to honor U.S. Supreme Court Justice Ruth Bader Ginsburg, who died Friday of complications from metastatic pancreatic cancer. In her 87 years of life, Ginsburg became a fierce advocate for women's rights and human rights, fighting gender- and sex-based discrimination and civil rights offenses. Among the sharp-tongued rejoinders that earned her the nickname "Notorious RBG," she helped blaze a trail towards gender parity and reproductive freedom.
She was the second woman ever to serve on the U.S. Supreme Court, and the only woman on the court from 2006 to 2009. Less than five hours after the announcement of her death on Friday—and during celebrations of Rosh Hashanah, or the Jewish New Year—U.S. Sen. Mitch McConnell announced that he intends to ram an appointment through before the general election in November, despite a precedent that he himself set four years ago.
Through a thick, shared grief that rippled across the country, artists began responding with new and existing work. For many of them, Ginsburg's death marked both a palpable loss and a symbol of the increasingly thin threads by which American democracy is hanging on.
Friday night, artist Martha Lewis was in her home, sitting down to write her nightly Quarantine Cinegram when she heard the ding of a news alert from the BBC on her phone. The announcement flashed across her screen. In just seconds, she knew what she wanted to write.
"I was just thinking about what was important about that day," she said. "That's one of the reasons I don't write it until the end of the day. At this particular moment in time, there are so many last minute surprises."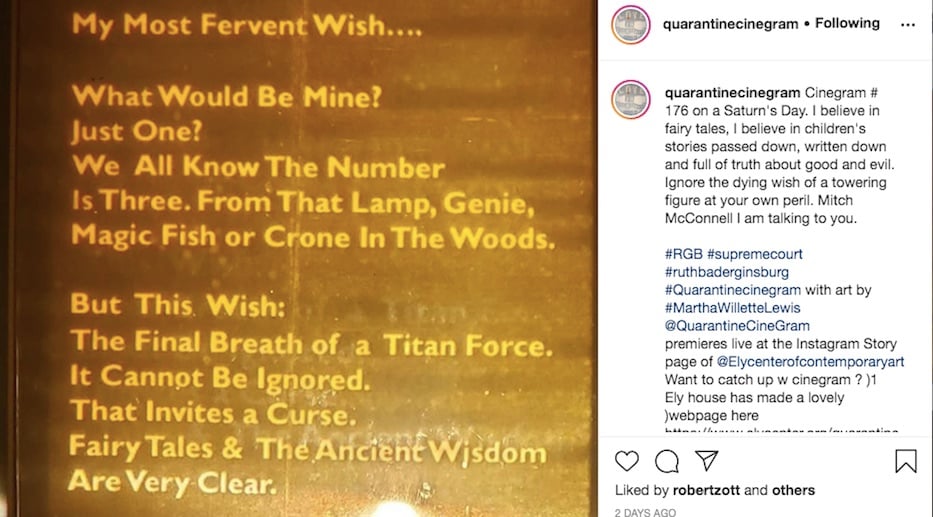 Ginsburg's legacy—which reached the farthest, darkest corners of legislation and the highest echelons of pop culture—has been on her mind since. For the past several days, the artist has been cloistered inside the Institute Library on Chapel Street to install Declaration Of Sentiments, an exhibition commemorating and exploring the centennial of the 19th Amendment. At the opening later this month, she plans to wear a beaded collar in Ginsburg's honor.
On Saturday, she dedicated a second cinegram to the justice, titled "My Most Fervent Wish." The title is a reference to Ginsburg's dying words to her granddaughter, which have since been publicly disregarded by Vice President Mike Pence among other Republican leaders.
What would be mine? It asked for passers-by. Just one?/We All Know The Number/Is Three/From That Lamp, Genie/Magic Fish or Crone In The Woods
But This Wish:/That The Final Breath of a Titan Force/It Cannot Be Ignored./That Invites a Curse./Fairy Tales & The Ancient Wisdom/Are very clear.
"I believe in fairy tales, I believe in children's stories passed down, written down and full of truth about good and evil," she wrote. "Ignore the dying wish of a towering figure at your own peril. Mitch McConnell I am talking to you."
In a phone call Monday, Lewis added that Ginsburg leaves behind a powerful model for public servitude. When she learned that her cancer had returned in 2018, the justice didn't retire. Before her death, she said that she would do all she could to live through November. For months, she continued working while undergoing chemotherapy, hospitalizations and surgical procedures.
"Beyond being a person and an intellectual, she very consciously made it clear that she was doing this for all of us," Lewis said. "That was an extraordinary gesture. A lot of people, when that happens, they're like, I need to take time for myself and my family. She just never did that. It's a very tough act to follow, because of the rigorousness of it."
Across town Friday, musician Jessy Griz heard about Ginsburg's death and picked up a needle, thread and an embroidery hoop, moving through a web of sorrow that has accumulated this year. Griz began stitching out the jabot collar that became synonymous with the justice in the last decade or so. Beneath the collar's scalloped, delicate edges, she stitched the words We'll Take It From Here.
"RBG. You have given more than I could imagine giving in my own one life," she wrote Friday. "You did your lot. We will do our best to take it from here dear one. Rest, now. I hope we can do your legacy even the smallest fraction of justice it deserves."
Other artists returned to work they completed during Ginsburg's lifetime, paying homage to a figure that was very mortal, but became larger than life in their eyes. Artist Danielle Schmitt shared a pen-and-ink portrait that is part of her Inspirational Women series. Jac Lahav, who is based in Lyme, looked back on the dozens of portraits he had painted of Ginsburg over a decade. Lahav has a special connection to that history: his mother is also a legal advocate and was a colleague of Ginsburg's. The justice held him as a baby.
In 2008, the artist began painting Ginsburg as part of his series 48 Jews, which was exhibited at the Jewish Museum the following year. After Ginsburg's death on Friday, he worked with the group Nava Contemporary to print and sell a limited run of his 2020 portrait Legend, originally painted in gouache, flashe and hold leaf. All proceeds between now and the general election on Nov. 3 will go to Planned Parenthood.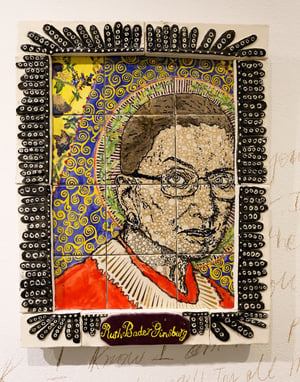 Two summers ago, New Havener Aliya Hafiz completed a ceramic of Ginsburg for Artspace New Haven's Summer Apprenticeship Program with artist Roberto Lugo. At the time, Hafiz was a student at the Educational Center for the Arts. She is now a freshman at the University of Chicago.
In the piece, modeled after work by the Renaissance artist Luca della Robbia, Ginsburg looks out at the viewer, eagle-eyed behind her rounded frames. Her collar sits around her neck in a creamy white, folded like an accordion. Her robes have become a bright red. She does not look angry, just contemplative.
Around her, the background explodes into cacophonous color. Blue-and-yellow patterns fill the frame; flowers bloom in the lefthand corner. A green-and-pink halo glows around her head, hair neatly pulled back into a low bun. On the outside of the frame, Hafiz has rendered a sort of collar for the portrait. Judaism aside, Ginsburg appears here as a sort of intellectual icon, very much "The Notorious RBG" that both Hafiz and millions of Americans came to know and love.
"As an unconfident girl in high school lacking in relatable role models, I admired RBG on an individual level, and in many ways I deeply aspired to mirror her subversion and integrity in my own life," Hafiz wrote in an email Monday. "She was exemplary, especially for her time, enduring obstacles with great fortitude and becoming empowered as an agent of change not only despite but also because of adversity. Though her political legacy was imperfect, RBG reasonably counteracted the cynicism I felt towards an unfair and apathetic world; she was a beacon of hope."
When Great Trees Fall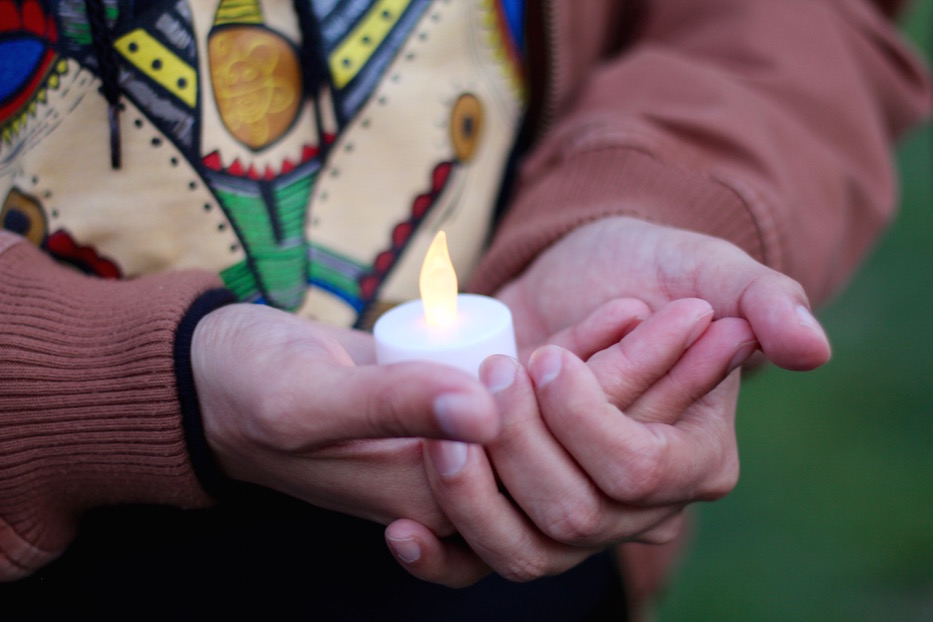 Sunday, that remembrance continued at a small vigil on the New Haven Green, honoring Ginsburg's life and vowing to continue her work. Amidst calls for voting, reproductive rights, and civil liberties, song and poetry flowed through the event.
Jennifer Wilcox, an attorney for Yale New Haven Hospital, led attendees in a round of "Amazing Grace," acknowledging that the song was perhaps not the most appropriate given that Justice Ginsburg was not a Christian (the Mourner's Kaddish, perhaps, would have been fitting; Sunday fell during the Jewish High Holidays, as thousands of Jews practiced the ritual of tashlich across New Haven and the globe).
She then slipped into Maya Angelou's "When Great Trees Fall," adding that she has been reading the poem to deal with the recent death of her own mother. The words rang across the Green, rising up to join the lumbering hum of cars and buses in the near distance.
Great souls die and/our reality, bound to/them, takes leave of us.
Our souls,/dependent upon their/nurture,/now shrink, wizened.
Our minds, formed/and informed by their/radiance,/fall away.
We are not so much maddened/as reduced to the unutterable ignorance/of dark, cold/caves.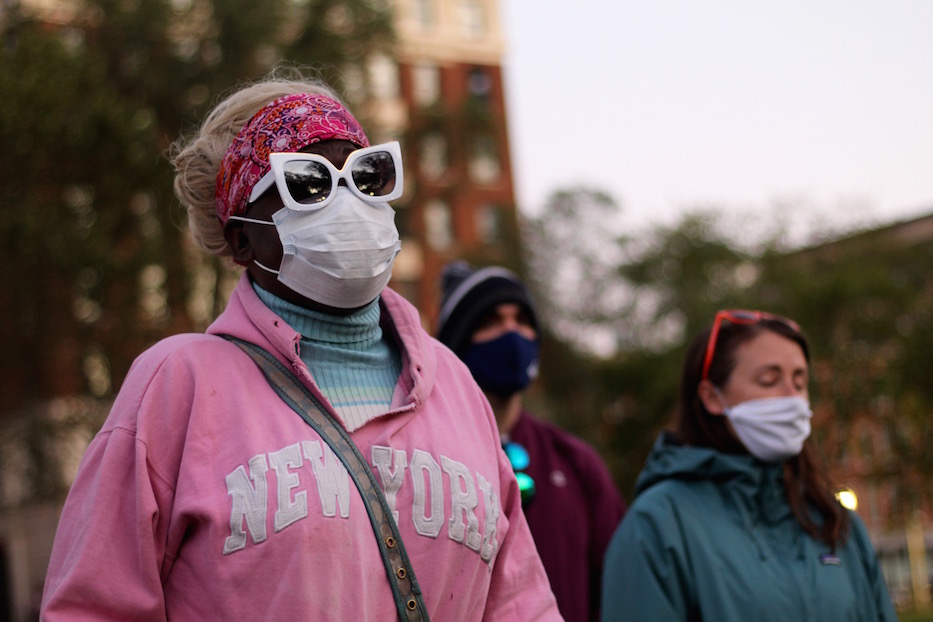 "They cannot be complacent. They need to get out there and vote."
Longtime trans advocate and artist Tia Lynn Waters (more affectionately known as Bubblicious, or Bubbles for short), made an appeal for voter registration. She urged every attendee to find five to ten people who are not yet registered, and make sure they are voting Nov. 3.
"If you know someone who is not registered, or has never voted before, it's the time," she said. "They cannot be complacent. They need to get out there and vote."
Artist and activist Juancarlos Soto, whose work has responded to Deferred Action for Childhood Arrivals (DACA), the #MeToo movement, Black Lives Matter, and Indigeneity and migration, said he is considering working on a tribute piece.
For him, the loss feels profound and immediate: he has been a fierce voice in the fight for reproductive justice and LGBTQ+ rights for years, including in recent work at Planned Parenthood of Southern New England and the New Haven Pride Center. He said he worries about new levels of government censorship, from legislation of women's bodies to legislation curtailing Indigenous symbols in pop culture and visual art.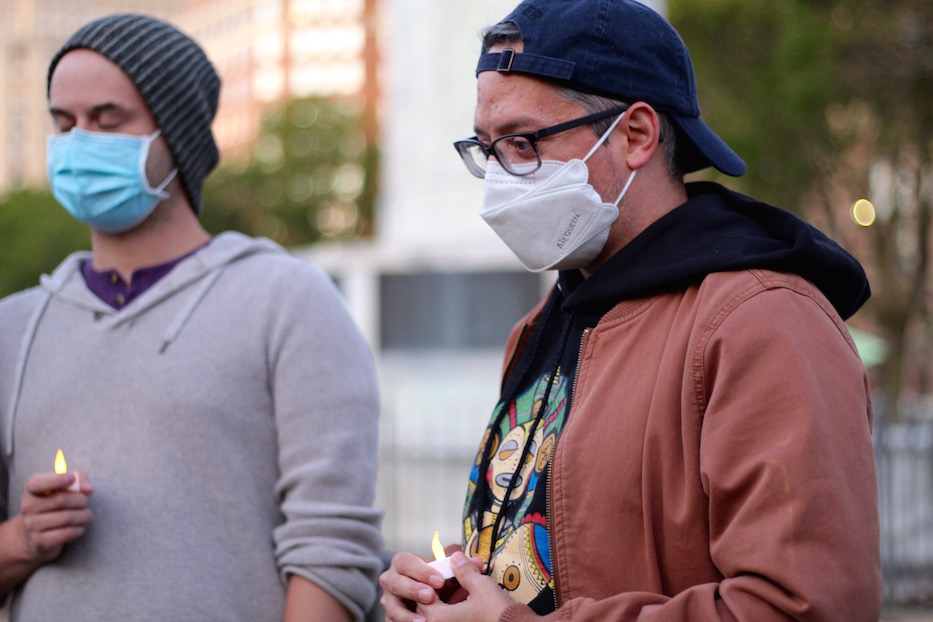 "She reminded me in this interesting way of my grandmother," he said Sunday. "This force of nature that refused to stand by for what others told her she should believe. She had the courage to be authentically her. To be an agent of change. To stand for what she believed in. And understanding and knowing that she wasn't perfect, but she tried to really stand by her values. It encouraged me to be an agent for change, to stand up for what I believe in."
"It feels really scary now," he added. "The appointment to the Supreme Court can have a massive impact for a very long time, and it's really scary to think that folks who may be appointed with a specific political agenda can come in. It used to be that we thought of the Supreme Court as a neutral branch of government, and it's been politicized to the extreme."