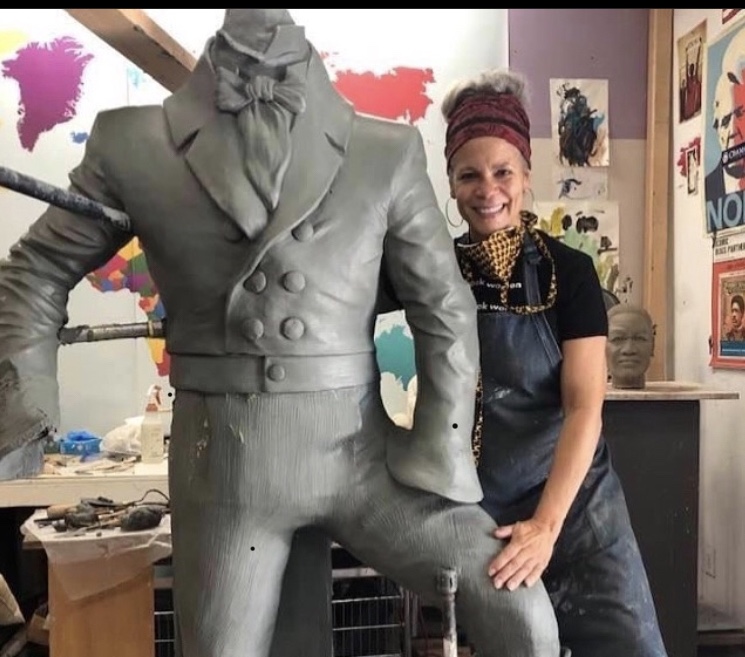 Dixwell | Arts & Culture | Black Lives Matter | Sculpture | COVID-19 | Arts & Anti-racism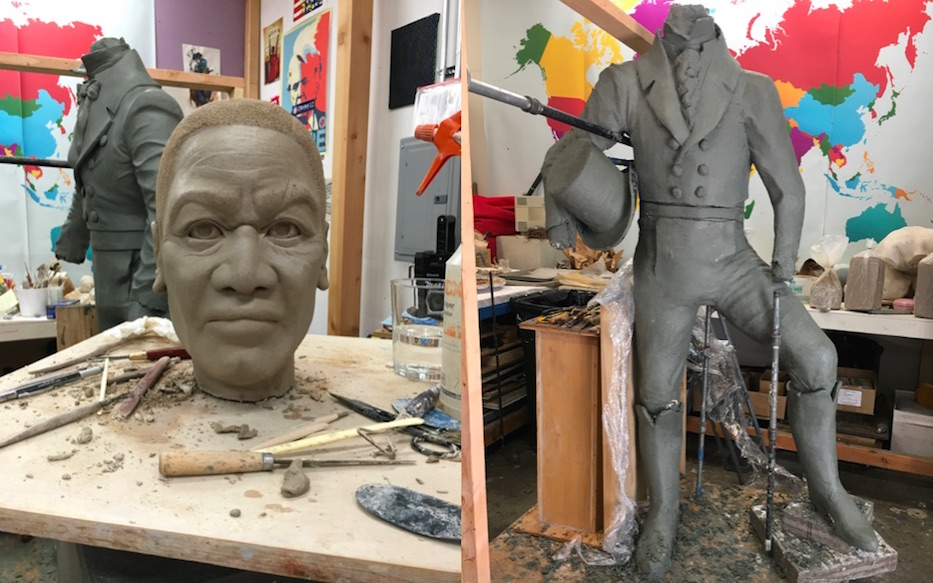 Dana King Photos. The second photo in the story is by

Regina Mason.
William Lanson is coming home. Not to the neighborhood he helped build—but to a city that has never been more ready for him.
A seven-foot, bronze statue of William "King" Lanson will soon grace a section of the Farmington Canal, where Ashmun and Lock Streets run up against the lip of Scantlebury Park. The project is a collaboration among the Amistad Committee, New Haven City Plan Department, and Oakland, Cal. based sculptor Dana King. A dedication is planned for late September.
It is part of the plan for a larger William Lanson Plaza, the timeline for which is still in the works. The plaza will include a timeline of Lanson's life and work in New Haven, as well as the outline of "an historic canal boat," according to the RFQ. Lanson was responsible for building part of the Farmington Canal's retaining wall; the plaza will sit close to what was once the northern terminus of the canal.
"This is all I do," King said in an interview Thursday morning. "I create Black bodies in bronze. I create memories in bronze for African descendants. We have a right to our memories."
The project has been almost a decade in the making. In 2010, the Amistad Committee received a grant to expand its work on the Connecticut Freedom Trail, which it maintains with the state's Historic Preservation Office and Department of Economic and Community Development. That year, historian Katherine Harris published a pamphlet on the trail, which comprises over 130 sites across the state.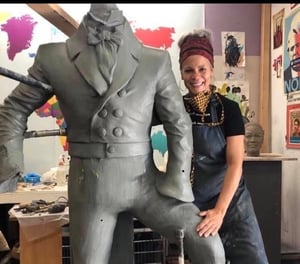 For the committee, the brochure was a springboard: Harris wrote about a "William Lanson Site" at Canal and Lock Streets. In 2011, the city received two plaques commemorating Lanson, one of which was intended for the Farmington Canal. In 2014, the Committee began working with former Mayor Toni Harp to jumpstart a monument at the plaza. But after a dedication at the site with Harp and Yale President Peter Salovey in 2014, the project slowed to a halt, and then fell through the cracks.
"Unfortunately, it did not take place immediately," said Al Marder, the 98-year-old founder and president of the Amistad Committee. He worked to rekindle the project last year, during the final months of the Harp Administration. After sending it to City Plan Director Aïcha Woods, the project got a green light. An RFQ went out last year. This project is unrelated to a push from The Lineage Group to rename Wooster Square after Lanson.
Across the country, King (pictured above) was dedicating herself to the practice of building Black memory through her sculpture, which includes bronze statues at the National Memorial for Peace and Justice and a larger-than-life rendering of Black political trailblazer William Byron Rumford among others. She heard about the project from author Regina Mason, a friend who also happens to be the great-great-great granddaughter of the fugitive slave William Grimes and a colleague of Marder's. Grimes is interred at Grove Street Cemetery; his grave is a stop on the Freedom Trail.
King started researching Lanson, a formerly enslaved Black man who arrived in New Haven at the beginning of the nineteenth century. In 1810, he led the extension of New Haven's Long Wharf by almost 1,500 feet, a move that allowed larger boats to dock in the city's port—and the city to compete with nearby ports including New York. It was a move, she learned, of sheer engineering genius: Lanson completed the extension with stone quarried from nearby East Rock, that was loaded it into boats that could handle its weight.
When he finished Long Wharf—a project that received high praise from Yale President Timothy Dwight and abolitionist James Hillhouse—he went on to build sections of the Farmington Canal. He bought land in what is now Wooster Square, where he envisioned an integrated community decades before slavery was abolished. He also became active in the nascent plans for Temple Street Church, which would become the Dixwell Avenue Congregational Church of Christ.
When Lanson wasn't working, he was pushing for the right of free Black men, of whom there were about 800 in the state, to vote. Not only was enslavement still legal in the South—it was also legal in Connecticut. The last documented sale of Black people in New Haven took place in 1825, on the New Haven Green.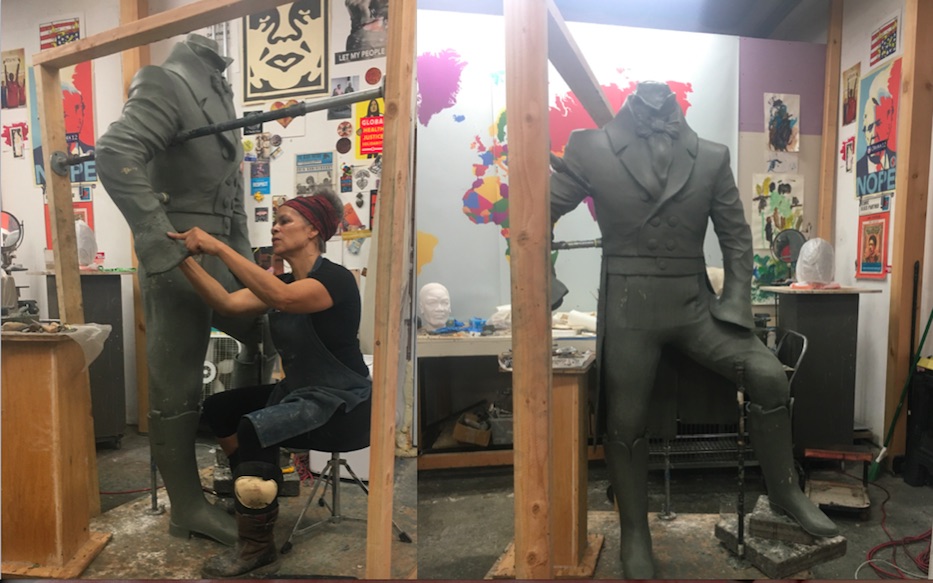 "He was so committed to building up New Haven," King said. "And he did so by the sweat of his labor. Back-breaking labor. When you think about the physicality of cutting rock and getting it from a quarry, and then getting it into the sea … he allowed New Haven to compete with the port of New York. Here's this African-American freeman who put his life on the line every day."
And then—like the story of urban renewal a century later—everything was taken from him. New Township, part of present-day Wooster Square, was purchased by white New Havener Matthew Elliott. A hotel that he had run nearby became the site of ostensible crimes and harassment from the police. Lanson died in poverty in 1851. Back in Oakland in 2020, King felt like she knew him.
"I was just like a cat on a hot tin roof waiting, waiting, waiting for the committee to decide," she recalled in a phone interview Thursday. "I felt connected to his story and I wanted to cast it in bronze."
She started the project in mid-March, with no photographs or period engravings to work from. While she had Lanson's weight—200 pounds—she did not have his height, or any other identifying information.
But King had read enough to know he was strong, muscles almost straining against his clothes ("the clothes were tight at the time!" she explained). The sculpture pictures Lanson in 1825, which "was really the height of his power." He would have been in his early 40s at the time.
As she worked on the sculpture, "he revealed himself to me," she said. She researched the faces of nineteenth-century West Africans, placing a single scar above his right eye. Beneath it, he locks eyes with the viewer. His stare is piercing but benevolent, proud but tired—as if he can see into the future, and wants to freeze time right where it is.
The scar "represents the physical danger that he was in, and the emotional danger that he encountered every day," she said. "The emotional violence that he endured."
"They did take everything from him," she added. "Which they could have done on any given day at any given time. That was what did it for me. The strength, physically and emotionally, of that man. And to think that his struggle is our struggle still today."
When the murder of George Floyd by Minneapolis police officers rocked the country earlier this year, the sculpture took on a new resonance for King. From the moment she had started research, she saw Lanson as a bridge from past to present: a Black man who risked and ultimately lost his life on the grounds of who he was.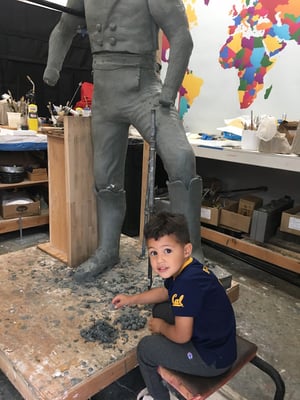 "Working on this piece, it helped me endure this earth-shaking, life-altering change that's occurring in the world right now," she said. "I couldn't go out and protest, so my protest is making this sculpture. I do believe that he [Lanson] would be in lockstep with the Black Lives Matter movement."
"As the country was roiling, I had an epiphany," she continued. In her original renderings, Lanson's right hand holds a top hat. His left hand rests on his left leg. She wrote to the Amistad Committee, requesting that she turn the left hand into a fist. Specifically, the left hand is a fist that connects past to present—the continuation of a movement 169 years after his death.
Were Lanson alive for the moment, she suggested, he'd raise that fist high—for Black power, for resilient and healthy communities, for Black Lives Matter and Black liberation. Marder gave it a resounding green light.
"The closed fist should be our demand for unity," he wrote back. "I hope that some youngster in years to come will ask: How come that fist is closed?"
Months before the unveiling, the sculpture has already started to make an impact (from King's studio, it will now go to the foundry in Berkley, where it can be cast in bronze). In a virtual meeting with Mayor Justin Elicker and Alder Jeanette Morrison, King listened as Morrison noted that it reminded her of her father, whom she described Thursday as "a proud, strong black man who has taken on the responsibilities to ensure justice for people who look like him."
Another attendee noted that they had the same nose. King found herself on the brink of tears.
"That's the point of memory," she said. "That is the point of sculpture. I want children to touch him. I want them to rub his hair. I want people to touch his hands. That's the beauty of public art. Public art is there to commune with. That is the point of memory making. We all share these memories. It's a gift of knowing that we built this country, and we are in every space, but we are invisible."
Morrison, who represents Dixwell, also praised the sculpture for filling in some of New Haven's missing history. She recalled her time as a student at James Hillhouse High School, during which she learned about a total of three Black historical figures. Lanson, was not one of them. Neither was the fact that New Haven was once a proposed site of a Historically Black College.
"We learned that Harriet Tubman freed the slaves, that Martin Luther King was a good man, and that Malcom X was a bad man. Which is a lie," she said. "I was blessed to go to Morgan State. I'm so happy I got the chance to experience an HBCU. I learned about us."
Now, she said, "I'm honored" to have a piece of that history coming to Dixwell. The monument will mark the first sculpture of a Black person in a New Haven neighborhood, rather than right outside of City Hall where the Amistad Memorial currently stands. She suggested that Dixwell is a fitting choice: the neighborhood was a twentieth-century model of Black-owned economic prosperity, then was ravaged by urban renewal, and is now on the cusp of transformation.
"Just like he has risen up, Dixwell is rising," she said, noting the nearly-finished skate park and new Q House. "Dixwell is that diamond in the rough. We've always been a sparkling diamond. So much was buried on top of us. But we're coming out now."
While she has been walking the same loop each day as she works from home—from Webster to Ashmun Street, and Ashmun to York—she said she will be changing her route once the statue arrives in September. She joked that he has officially moved from Wooster Square to Ward 22.
In a phone call Thursday afternoon, Elicker added that he is thinking about issuing a formal apology to Lanson on behalf of the city of New Haven during the dedication in September.
"I think it's important for us to look back on history and reflect on people that were wronged, and take ownership for that and in appropriate cases, apologize for those wrongs," he said. "And for Mr. Lanson, I saw two things where the city treated him wrongly. The first is the city didn't recognize his contribution. The second is there's a lot of evidence that he was harassed by the police and the business community, and his finances struggled because of that."
"You can never say sorry enough," Morrison said. "When you can recognize history, there's a possibility you can recognize me."
To find out more about the Amistad Committee, visit their website. To find out more about sculptor Dana King, check out her work on Instagram or visit her website. A dedication is planned for Sept. 26.