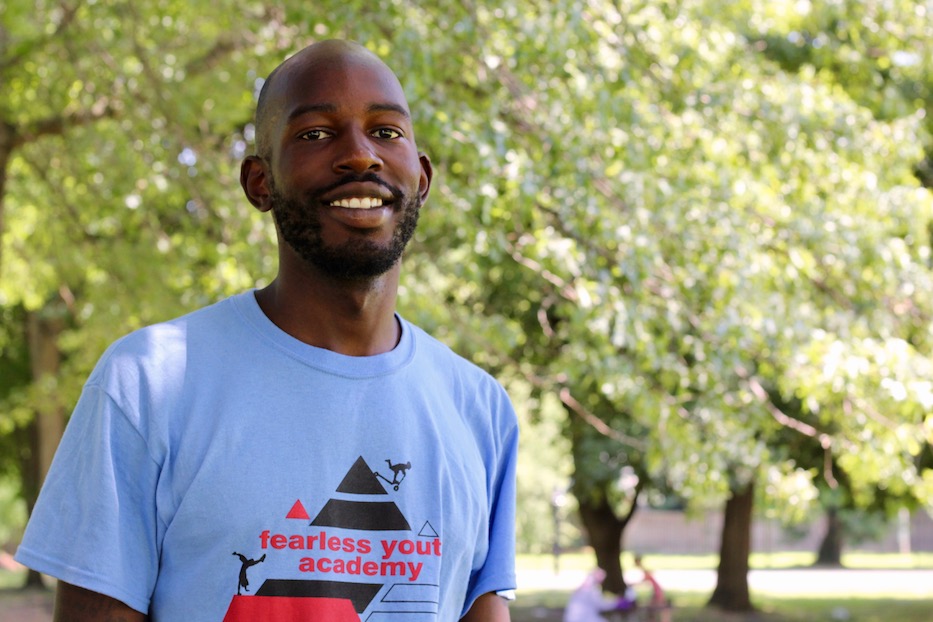 Dixwell | New Haven Parks | Arts, Culture & Community | Skateboarding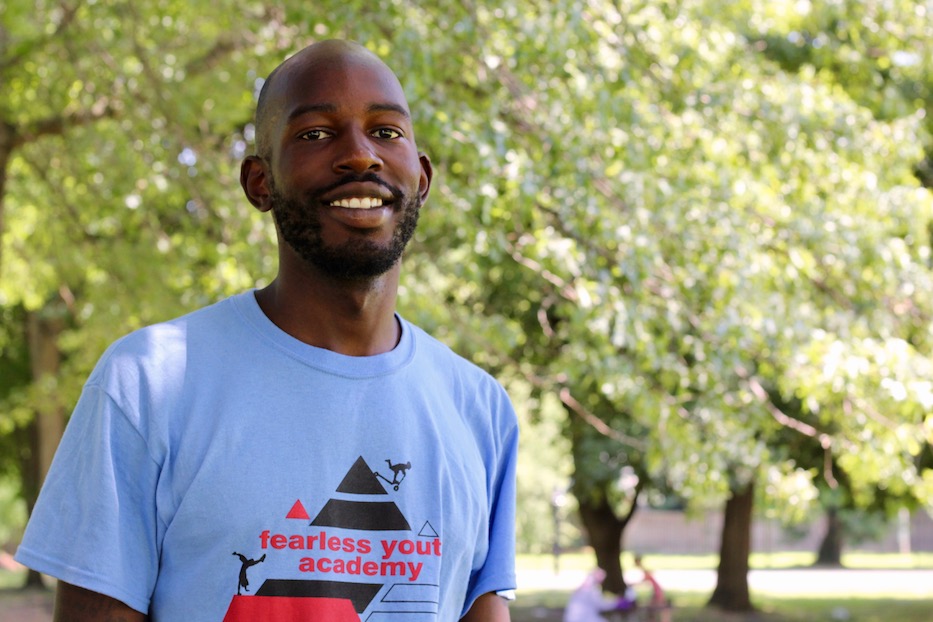 Steve Roberts: Skateboarding ""makes you look at the world differently." Lucy Gellman Photo.
First they dreamed it. Then they inched toward matching funds and drafted blueprints. Now a half-piping, flip-tricking, veterans-of-the-nollie duo is just two votes away from starting work on the city's second skatepark, nestled in New Haven's Dixwell neighborhood.
That's the story for Stephen Roberts and J. Joseph, the skateboarders-turned-designers of a street-level skate park in Scantlebury Park. After presenting the plan to the city's Board of Alders earlier this month, the two are waiting for approval from both the City Plan Commission and Board of Alders' City Services and Environmental Policy Committee. Both are expected to weigh in on the project in August.
The two hope to start work by the end of summer or beginning of fall, with $75,000 in funding already secured. In addition to support from Dixwell Alder Jeanette Morrison and fellow skater Liv, who runs Skate Babes, the two have received backing from the Stephen A. Schwarzman Center at Yale University as well as the Yale Undergraduate Skateboarders Union, led by rising senior Bobby Pourier.
The Schwarzman Center's commitment is tied to its inaugural Director Garth Ross, who organized the multimedia festival "Finding A Line: Skateboarding, Music, and Media" during his tenure at the Kennedy Center in Washington, D.C. Roberts said that they plan to curate a similar "Finding A Line: New Haven" festival in the Elm City, using "skateboarding, music, hip-hop culture as positive change."
"We really have the opportunity to do something big here," said Roberts in a recent interview at Scantlebury Park. "New Haven is already positioning itself as being on the cutting edge of technology and innovation, and this fits right into that."
"It will show that New Haven's really in touch with the needs and wants of its residents," he later added.
Current plans for the 90-foot park, for which they have been working with Svigals + Partners architect Jeremy Jamilkowski, include a street-level concrete course with benches, stairs, guard rails, a quarter pipe and "tree bump," as well as a ground platform and elevated stage for outdoor music and performance. While the park was initially planned to run alongside Bristol Street, the location changed after concerns that it was too close to an existing playground and splash pad. It's now planned to run alongside Ashmun Street on the end closest to Webster.
In many ways, the skatepark has been years in the making. Both Roberts and Joseph grew up in New Haven, where they met a few years ago through the skateboarding community. As a kid in the city's Newhallville neighborhood, Roberts started boarding when he was 13 or 14 years old, and his bike was stolen from the front of a corner store. He needed a way to get around the city, he said, and a board was easier to hold on to than a bike.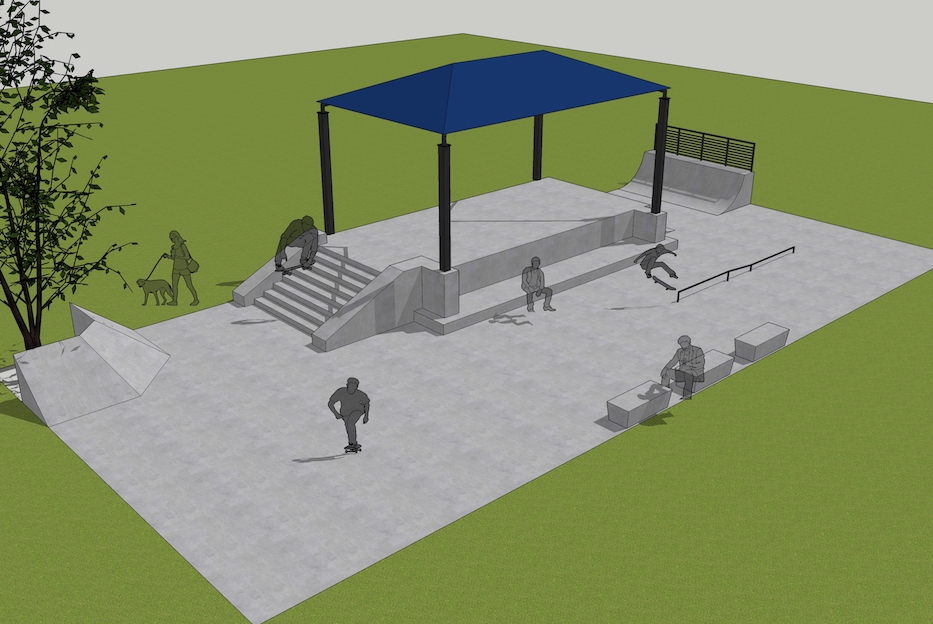 Rendering courtesy of Steve Roberts and J. Joseph.
When he was 15, he discovered Channel 1 Skate Shop, which still lived on State Street (it's now on Forbes Avenue). The owner, a New Havener named Lou Cox who had grown up in the same neighborhood, took Roberts under his wing. At first, Roberts just "hung around," chatting with Cox about the equipment in the store. Then he started learning about different types of boards, some of which Cox kept behind the counter after they'd been broken and needed some care.
After a few months, Roberts started helping out, tending the store if Cox left for 30 minutes or an hour. He pressed t-shirts and folded flyers for upcoming events, learned about skaters who were passing through town. When he wasn't at Channel 1 or in school, he was learning to skate, increasingly part of a community he jokingly referred to as a "band of misfits."
"It was like, you're a loser and I'm a loser, so let's be bros," he recalled. "It makes you look at the world differently. It helped me as well with creative problem solving, falling in love with the process of the trick."
When Roberts left for college in Providence—he studied at Johnson and Wales University, where he also played basketball for the school—he brought that love for counterculture with him, discovering a huge skating scene in his adopted city. He recalled growing excited each year for PVDFEST, a weekend-long cultural festival that includes a skate jam.
Back in New Haven, he used it as a way to both connect with other New Haveners and give back to the community. After a request from Stetson Library Branch Manager Diane Brown, he started to teach skateboarding to kids in the Dixwell community outside the library. He now leads Push To Start, which teaches skateboarding as a life skill to New Haven kids. For him, those lessons "about learning how to take and make space" don't just translate to the skate park—they're techniques he now relies on every day in his work and his friendships.
It's also personal—his dedication to the sport is part of a greater movement to recognize people of color in the skateboarding world, who excel at their craft and have been part of the sport for a very long time (Roberts' Instagram handle is @blackkidsdontskate, and it's filled with praise for Ray Barbee, Harold Hunter, Kareem Campbell and 2018 Skater Of The Year Tyshawn Jones among many others). Recalling a sort of skateboard takeover of Beinecke Plaza a few years ago, he called the sport a great equalizer between town and gown, because it relies on skill over quality of equipment.
"It's like, you go to Yale—so what?" he said. "Can you skate?"
Somewhere along that skating path he also met Joseph, who straddled town and gown as he attended Yale, and led the Yale Undergraduate Skateboarders Union until his graduation in May of this year. Then last fall, SeeClickFix Founder Ben Berkowitz (who is also a skater) reached out to Roberts and Joseph about the idea for a second skate venue, located closer to downtown New Haven.
Berkowitz described the Could Be Fund, a new grantmaking venture from the Elm City Innovation Collaborative (ECIC) of which he is a committee member. The concept made sense to both of them—"like, why not a second skate park," Roberts recalled. While the Edgewood Skate Park has long been a community staple—even more so after reopening last fall—the city doesn't have a spot for street skating, or for folks who live far away from Westville. Not all parents wanted to send their kids across town, they reasoned.
And New Haven seemed like it had the bandwidth for two, Roberts said, because of its proximity to New York and Boston—"two of the biggest skate cities"—as well as Providence and Philadelphia.
After applying to the fund last fall, the two scored an initial $25,000, which was then matched by the Schwarzman Center. Then in June, the two received an additional $25,000 from the Could Be Fund when a downtown mural project from artist Kwadwo Adae fell through. ECIC director Michael Harris, who lead this year's selection process, said that they will not have to match the additional grant. He added that the fund gave the $25,000 to a single project, rather than distributing it to multiple projects, because of how far Roberts and Joseph had gotten in the process.
"It seemed to us like a successful way to build community," he said in an interview last week, adding that it feeds into a greater vision of activating both parks, businesses and science labs along the Farmington Canal Heritage Trail. "This will be creating a welcoming space."
For Roberts, it's right in time. Next year, skateboarding is set to join the lineup of summer sports in the 2020 Tokyo Olympics. If the project gets approval in August, he envisions a build out starting between the late summer and early fall, with chances for the community members to help prepare the space and decorate the park with a mural. He sees a grand opening with a hip-hop festival featuring local artists, hopefully before the winter months.
If all goes well, he added, it will be a space that belongs to the community. He praised Dixwell Alder Jeanette Morrison for her support for the project, which has included multiple community meetings at which Roberts and Joseph faced pushback (read more about that in reporting from our partners at the New Haven Independent here and here). Reached by phone, she said she's excited to see it come to fruition, because it will give neighborhood kids one more reason to play outside.
"The skate park is gonna help kids to put down all those electronics and get outside, sweat, and learn how to talk to one another," she said. "To work out issues with one another, and create friendship."
She recalled her own childhood, during which her mom would send her out of the house with the command to play outside for four or five hours before coming back in. Now, she said, she sees kids playing video games or staring at television screens instead of building social skills.
"It's going to provide these children a sense of community," she said. "These skateboarders are a community. There are four basic needs of every human. The first is to love and be loved. The second is to be a part of something. The third is to be recognized, and the fourth is to reproduce. The skateboard park is gonna help the majority of those things."
"To me, that's what the skate park is," she added. "When you address those basic human needs, the domino effect is positive, because you're no longer looking for those needs."
To listen to an episode of LoveBabz Lovetalk with Steve Roberts and J. Joseph on WNHH Community Radio, click on or download the audio below.