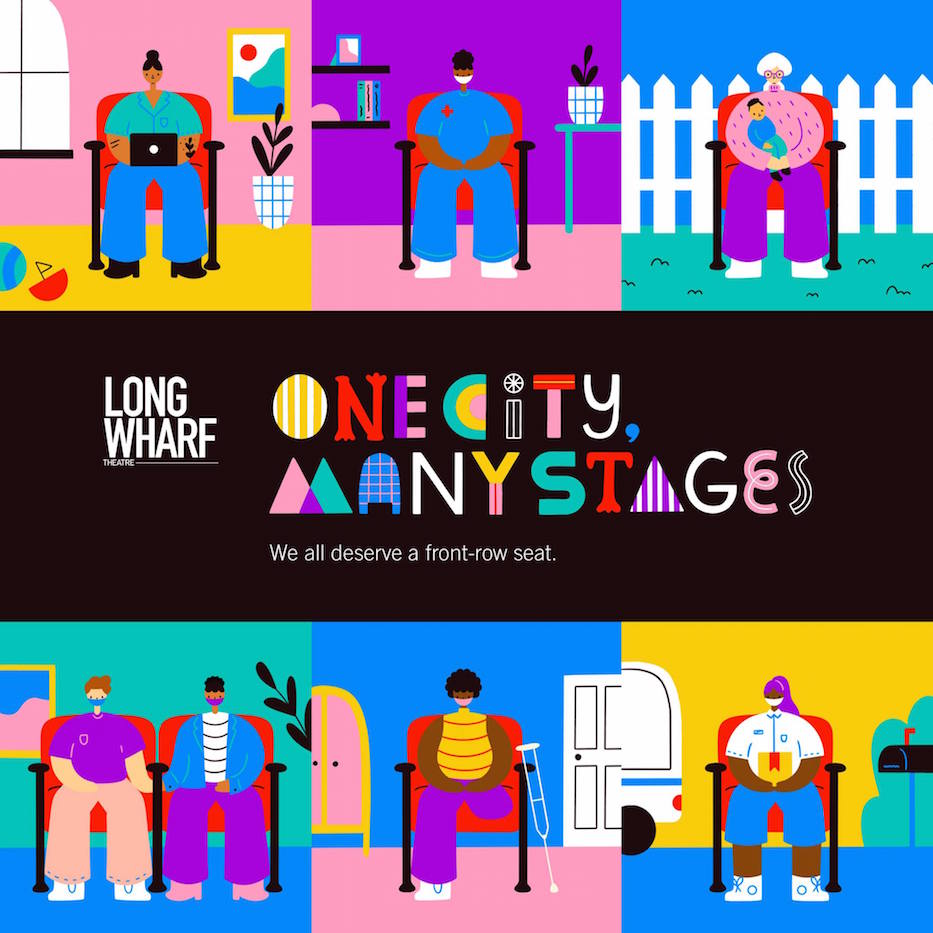 Long Wharf Theatre | Arts & Culture | Theater | COVID-19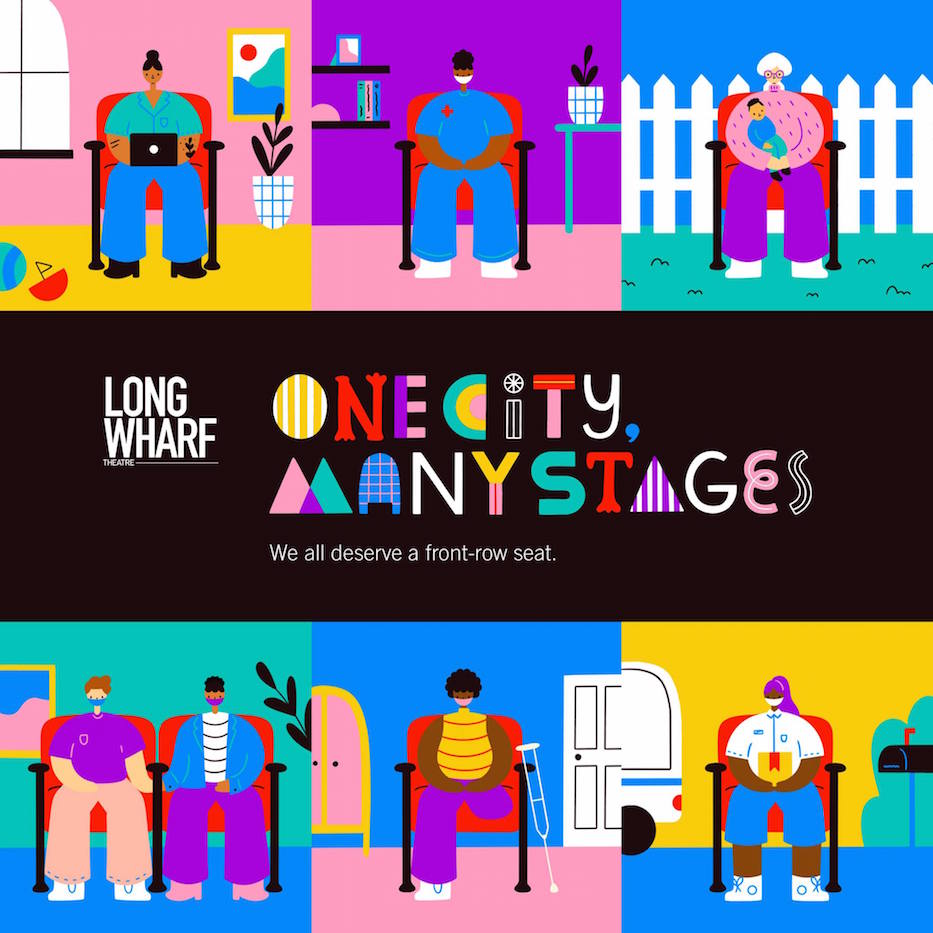 Long Wharf Theatre Photo.
An artistic ensemble is able to gather on Zoom and talk about their hopes for the future of American theater. Ticket sales are out; membership is in. There's a new in-house theater journal in the works. And the season isn't fully planned out yet—but that's part of the vision.
That's the scoop at Long Wharf Theatre, which announced its 2020-2021 season One City, Many Stages Wednesday night via YouTube. The revamped season, at which the theater has been teasing for months, is launching with new and continued partnerships, programming that seeks to be responsive to the present, and a member-sustained model designed to keep the theater's lights on.
It will be Jacob Padrón's first full season as artistic director. Plans for a 2020-2021 season that the theater announced in early March have been pushed tentatively to 2021-2022.
"Friends, my goodness," Padrón said Wednesday, leaning forward as if to share a secret. "There are a lot of challenges facing our world, facing this country, and facing our communities. There's so much suffering. And if there was ever a moment to reimagine the role that theater can play and how a theater company can show up for its community, this is that moment."
What that means, he continued, is a season of "emergent programming," or programming that can respond and adapt to a community's needs as the world shifts on its axis. For instance, it might look like a play festival that explores the Black Lives Matter movement. Or a soundtrack from a local artist, capturing 2020 in an aural time capsule. Or a newly-hatched script, still finding its footing and in need of community feedback.
The idea channels adrienne maree brown's 2017 book Emergent Strategy, which encourages readers to remain alert and responsive to the moment around them. It also challenges a more traditional format for American theater, where seasons are planned a year or more in advance and rely heavily on ticket sales.
Wednesday's announcement included fundraising pitches, programming tidbits, and cameos from artistic ensemble members, staff, and theater geeks turned legislators. It comes on the heels of Long Wharf's plea for federal funding earlier this week, with five other flagship producing theaters in Connecticut.
The season will begin next week with the New Haven Play Project, dedicated to Muslim, refugee and immigrant stories that are told on video, rather than on a physical stage. On Sept. 24, Long Wharf plans to hold a cultural sensitivity training online at 7 p.m. On Sept. 25, it will hold a full-length film screening and live streamed talkback. The project is led by playwright and director Sharece Sellem, who has also been running the Quick Quarantined Play Festival since early April.
"We've learned so much," Sellem said Wednesday, a tree spreading its wide branches from a painting behind her. "I have personally learned so much on this journey, in highlighting stories from these communities."
Other programming has yet to be announced. The theater is continuing to work with UNIVERSES, the New York-based theater collective run by Steven Sapp and Mildred Ruiz-Sapp with which it premiered Sing Their Names earlier this year. It has used Zoom to facilitate an artistic ensemble that Padrón initially announced in March, comprising Ryan Haddad, Mason Alexander Park, Bryce Pinkham, Madeline Sayet, Dexter J. Singleton and Awoye Timpo.
In the midst of COVID-19, Long Wharf is also moving to a member-sustained model. At a press conference on Monday, Managing Director Kit Ingui said that the theater ended the fiscal year with an estimated $2 million in losses from the 2019-2020 season. After an initial round of layoffs in the spring, it eliminated 40 full- and part-time positions, bringing a staff of 65 to 25. Those do not include hundreds of contract workers—actors, directors, dramaturgs, educators, artistic fellows and designers—who usually fill the theater each year.
Wednesday, Ingui announced that the model comes with other new initiatives, including the inaugural publication of Long Wharf's Theatre Arts Journal, a collection of "articles, essays, and one-act plays, dramatic criticism and some visual art that centers the bold storytelling that has been our past and is our future." The theater is also partnering with several local restaurants, as it has in past years.
The season marks an extension of Long Wharf's work to move toward programming that is both more adaptive and more explicitly anti-racist. In June, Padrón was part of We See You WAT, an ongoing campaign to address systemic racism and white supremacy within mainstream American theater. During the spring and summer months, the theater pivoted to an online presence with staged readings and a one-night play festival, Black Trans Women At The Center, on Zoom.
Now, Padrón and other staff are asking audiences to sit tight and come along for the ride. Sayet, a member of the artistic ensemble who also leads the the Yale Indigenous Performing Arts Program (YIPAP), called One City, Many Stages a return to the way "stories have always meant to be told on this land."
"Traditionally, stories were never told in a box," she said. "Stories are relational. They're a collaboration between the storyteller, the story characters, and the story listeners. And the story listeners—the audience, the community—are really the core of deciding what story needs to be told in a given moment, to help us move forward. To heal, to come together."