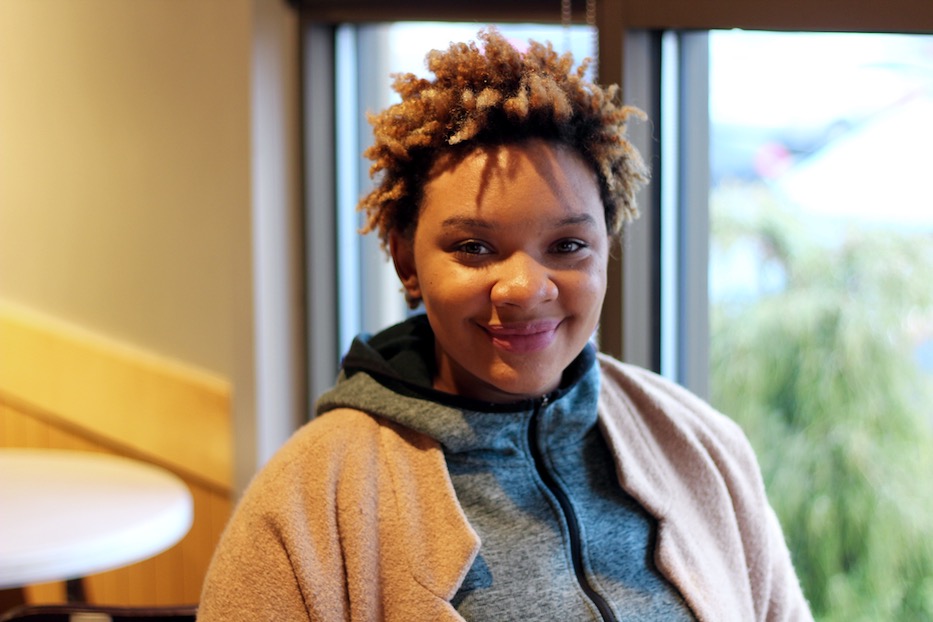 Politics | Arts & Culture | Theater | West Haven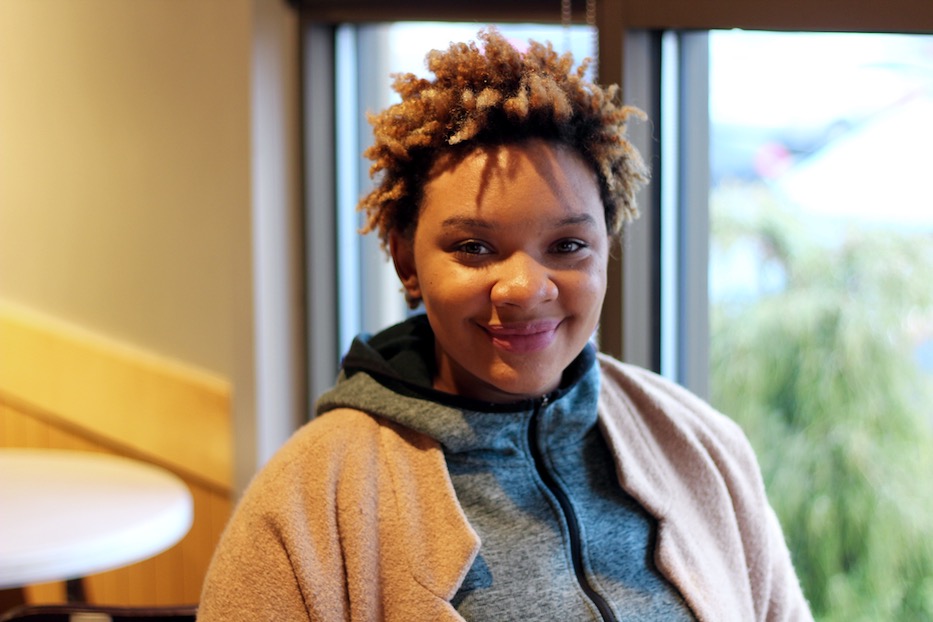 Treneé McGee: "I am first and foremost an artist and an activist." Lucy Gellman Photo.
An advocate for first generation college students, expanded youth programming, and downtown economic development has just become the youngest elected member of West Haven's City Council. As she takes a new role in local politics, she's crediting her time in the performing arts for helping her get there.
That's the story for Treneé McGee, who was elected to serve West Haven's seventh district in November and sworn in last month. A 25-year-old West Havener and graduate of Cooperative Arts and Humanities High School (Co-Op), McGee is stepping onto the political stage with a background that includes August Wilson, Paula Vogel, and social justice in theater. She is the youngest African-American elected to that office.
"I love West Haven," she said in a recent interview at Starbucks Coffee in West Haven, just off Saw Mill Road. "This is where I grew up. I've seen things come. I've seen things go. I see the potential. I see what it can be."
McGee never expected to get into politics. Born and raised in West Haven, she grew up in the district that she now serves, in a house with her parents and three younger siblings. At the end of her block, there was a fire station that would host neighborhood parties and toy drives. She met Nancy Rossi, who is now the mayor, when she was nine years old. Now, she said, she thinks about how those civil servants shaped her view of the world around her.
But as a kid, she was interested in acting, landing commercials and television spots by the time she was three ("I got my SAG card when I was five!" she joked, referencing the Screen Actors Guild). By the time she was nine, she was thinking about it as a serious job. At home, she was buoyed by her faith, attending her grandmother's church in Bridgeport and later Abba's House International Fellowship, a ministry that her parents started out of their home.
In high school, she landed at Co-Op. The school amazed her: suddenly she had the chance to try directing, video production, and acting in classes. During her freshman year, a teacher dropped a collection of August Wilson plays on her desk. She tore through Fences, The Piano Lesson and Seven Guitars, ready to analyze the work. She began studying Wilson's heralded American Century Cycle, a series of ten plays chronicling ten decades of working-class, African-American life in twentieth century Pittsburgh and Chicago. Now, she said, she can look back and see how those plays taught her to understand politics.
"When you get a script and you're reading about this complex person, you learn to the person's core why they're struggling with what they're struggling with," she said. "That affects the way they are on the outside. It affects the choices they make, the people they like, who they vote for. August Wilson wrote Joe Turner from a janitor he knew. So the world around us—the people we represent—they are just characters with complex stories from scripts."
In her college audition tape, she stepped into playwright's world and pulled out Cory from his 1958 Fences. Outside of the classroom, she stepped onto the school's stage, trading fast-paced dialogue for gospel music and solo work as she moved between In Times Of Disaster to Broken Chains: A Gospel Hip-Hopera to Les Belles Soeurs.
Instructor Robert Esposito, who taught and directed her during those years, recalled the attentiveness with which McGee would listen in class and in rehearsal. When she graduated in 2012, he said he could see that she had a bright dramatic path before her.
"She was definitely an exceptional student when she was here," he said. "She had this incredible love for the arts, but also a sense of community engagement and belonging that was beyond her years. You know, it's like you talk to the whole class but she's really listening. Her work reflected that deeper sense of understanding and empathy of the world around her."
In 2012, McGee headed for Marymount Manhattan College to pursue the dramatic arts. Inside of the classroom, professors urged her to immerse herself in her performance studies. As she navigated her work, she recalled being bombarded with the fact that Marymount was a primarily white institution, where posters of Will Smith and Whoopi Goldberg were often the only examples of Black actors students got to see.
But outside of it, her political star was rising before she even realized it. Her sophomore year, McGee was elected to the head of the school's Black and Latino Student Association, a position she held until the end of her junior year. Following the murder of Eric Garner in 2014 and non-indictment of a New York City Police officer in 2015, she organized a march with students and professors, joining thousands as they left the campus and streamed into the streets.
"I've just never felt fiery like that before," she said. "I was tired. I was fed up. I thought about my brothers. It was gruesome that it happened on camera. And the guy who videotaped it was arrested. It bothered me so much. I couldn't sleep. I couldn't eat. It was like, it was all I thought about. This passion was something I never felt before."
McGee recalled marching with a woman who held a sign that read "Yeshiva For Black Lives." The two had never seen each other before. They never exchanged names. Instead, they joined hands and marched, weeping as they moved through New York. When the time felt right, they let go and kept marching. McGee never saw her again. But for her, it marked a turning point.
"She was telling me, 'your life matters to me,'" she said. "Just to see people join across race, gender, socioeconomic background for the common goal, to fight against this system. I walked away from that protest having had an experience that was good. I didn't want to be angry toward groups of people. I didn't want to be angry toward cops. I didn't want to be angry toward white individuals. I wanted to be angry toward a system that allowed things like this."
McGee returned to campus ready to organize. In the months that followed, she worked with students to bring in Judson Shaver, then the president of the college, for a series of campus-wide conversations. She considered changing her major, but ultimately decided that she was too close to finishing to abandon it. She knew, even as she finished those classes, that she tapped into something powerful.
"Studying acting in a conservatory, students and professors would say 'if you see yourself doing anything outside of acting, don't act,'" she said. "Because you face so much rejection. And I always rejected that. Like, my spirit within me rejected that. Because I was like, I love to do so many different things."
In 2016, she graduated and moved home to West Haven, where she began competing in pageants with dramatic monologues that blew the talent portion wide open. She started work as a teaching artist at Long Wharf Theatre, where she wrote curricula, taught workshops, and worked with students to prepare for the August Wilson Monologue Competition. When she wasn't working, she founded Be The F.I.R.S.T., an initiative intended to support first-generation college students. She remained at Long Wharf through last June, then left to work as a teaching artist on a freelance basis.
"Working with Trenée is a really amazing experience," said Madelyn Ardito, director of learning at Long Wharf and McGee's direct supervisor for three years. "I have never seen a teacher be able to go into the classroom and connect so quickly with our students. She has a really keen ability to connect with people, to see what their needs are, and be able to inspire people to be their best self ... and she's someone who brings that passion to everything she does, in acting or in politics."
In January of last year, members of the city's Democratic Town Committee asked McGee if she'd ever consider running. When she won a seat on the committee, they asked if she would be interested in running for city council. After spending the summer knocking on doors, she won the city's primary in September. On election day, her family woke up early and rode to the polls together, the second in line to vote after the mayor.
In her new role on city council, McGee said she wants to expand youth programming and focus on economic development. In part, she sees doing that as the chair of Housing, Planning and Recreation Committee, a position that manages to cover both senior citizens and young kids.
But she also plans to listen. Even before she was elected, she found herself spending time at the city's public library and basketball courts, talking to latchkey kids about what they wanted to see in the city. She heard the same thing over and over again: young people were leaving West Haven to find the extracurricular (and sometimes, curricular) activities that they wanted, because they couldn't find them in the city.
"A lot of people don't even know they're there," she said. "I just want to create more of an importance to listen to the youth of West Haven. Because I do think that this town, the ownership of it happens to be in the hands of older individuals. With that comes sort of a blind eye towards the youth. I want young people to feel important. They're not the next generation. They're now."
"I am first and foremost an artist and an activist," she added. "So that's the way I'm gonna flow. I am hard core for people. If there is something that I don't like, I'm not going to agree to it. That's just who I am."
McGee said she also plans to work on economic development initiatives, in part because West Haven does not have the community or cultural spaces that surrounding cities offer. She chronicled the number of empty storefronts on Campbell Avenue, noting that she sees potential in all of them. She added that she's ready for criticism and tough questions, a few of which she's already received from constituents.
"Nothing prepared me better for politics than acting," she said. "Standing on stage after you have worked so hard to perform a scene and being criticized, or told what you need to change, or what you did well, you build tough skin."