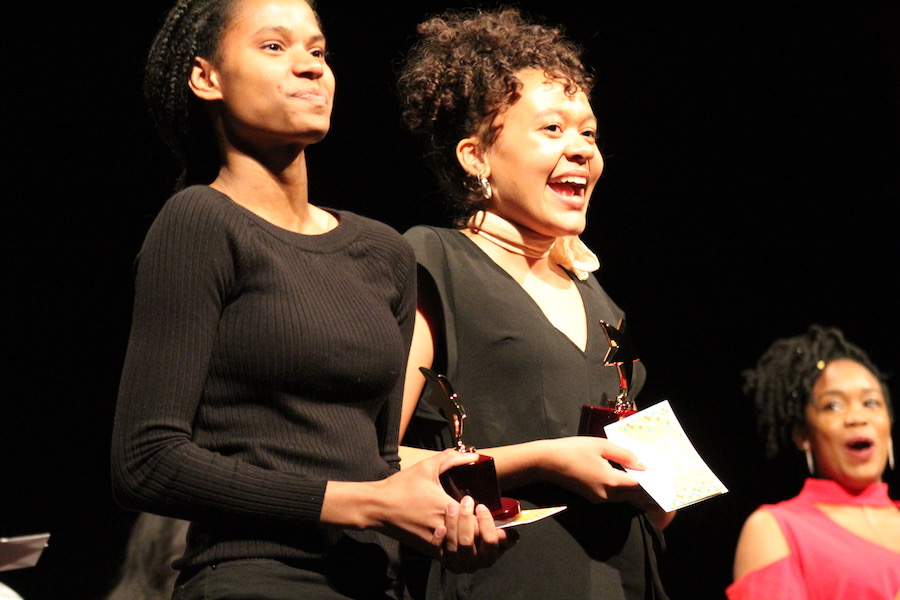 Education & Youth | Long Wharf Theatre | Theater | Yale Rep Theatre | Arts, Culture & Community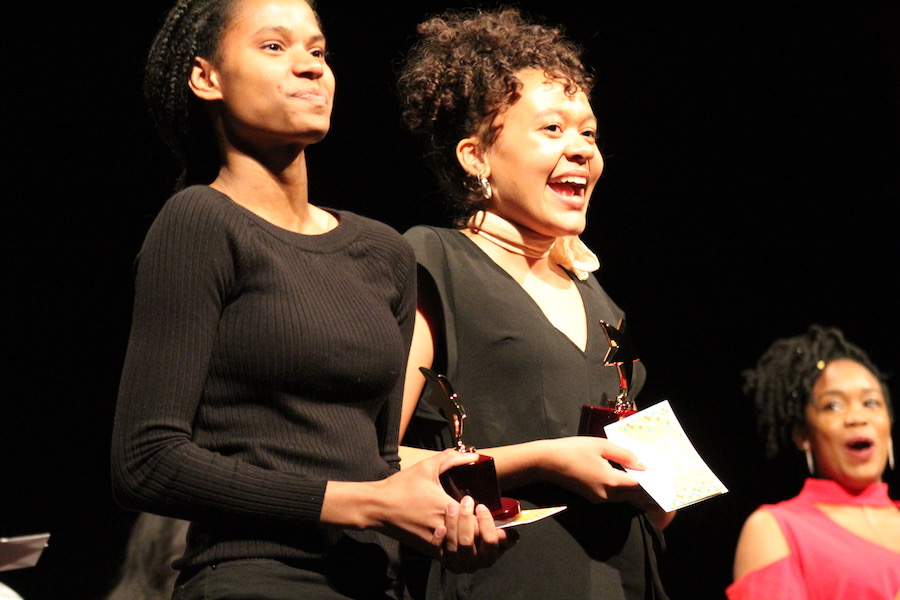 Journee Brown, who read Becker from Jitney, and winner Remsen Welsh, who read Bernie from The Piano Lesson. Lucy Gellman Photos.
Remsen Welsh was on fire. To her left, empty black space looked like it could swallow her up. To her right, a generations-old piano had materialized from thin air. Her hand reached out, and rested on it gingerly. You could almost see the shine of the keys from the stage.
"You always talking about your daddy but you ain't never stopped to look at what his foolishness cost your mama," she near-spit. "Seventeen years' worth of cold nights and an empty bed. For what? For a piano? For a piece a wood? To get even with somebody? "
Thursday night, Welsh was one of 15 New Haven high schoolers to make it to the regional finals of the August Wilson Monologue Competition, a collaboration between Long Wharf Theatre, the Yale Repertory Theatre, and several New Haven public schools. Held at the Yale Repertory Theatre on Chapel Street, the performance brought in close to 100 parents, family members, and amateur Wilsonian scholars ready to dive deeper into the work.
Founded in 2007 by Kenny Leon and Todd Kreidler at the True Colors Theatre Company in Atlanta, the August Wilson Monologue Competition is a national sort of speech tournament meets theater festival. Students choose an approved monologue from Wilson's heralded Pittsburgh Cycle (also called the American Century cycle), a series of ten plays chronicling ten decades of working-class, African-American life in twentieth century Pittsburgh and Chicago.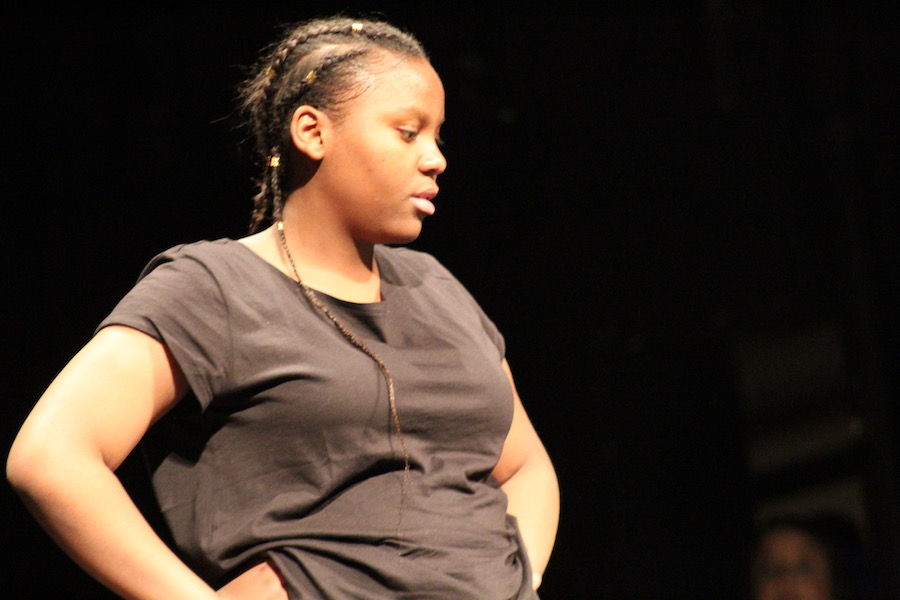 Emmanuella Mwileolo, who read Hedley from Seven Guitars.
Students audition for a coveted spot in a city's regional finals—this year 80 kids competed for 15 places—with the top two winners from each regional competition to national finals in New York City. Currently, New Haven is among 12 cities in the competition, including Atlanta, Chicago, Boston and Los Angeles. The national finals are scheduled for May 6 of this year at the August Wilson Theatre in New York.
In the three years since Long Wharf brought the program to New Haven—2017 was a pilot year, and last year marked the first year at nationals—it has continued to grow. This year, the theater worked with almost 10 schools and hundreds of students in New Haven and Hartford, yoking classroom teaching with staged readings and master classes at branches of the New Haven Free Public Library.
Madelyn Newman, the theater's director of education, praised how it had expanded its network of teaching artists, two of them (Jackie Brown and Treneé McGee) doubling as emcees Thursday evening. In between acts, they swooped in, keeping the audience engaged with August Wilson and Black History Month Trivia as judges deliberated behind closed doors.
"August Wilson, my goodness," said Jacob Padrón, who has been chronicling his first 60 days as Long Wharf's new artistic director (Thursday marked day 25). "He was a man of great depth, of great character. He really shaped how we tell story—and as a person of color, his plays have always resonated with me. To be able to bring his body of work to young people who are our next generation of playmakers and theatergoers is such a gift."
"They are our light at a time when we need light," he added of the 15 students onstage. "Our world is on fire."
Kevins Dinkins, assistant dean at the Yale School of Drama, added that moving the competition downtown (last year it was at Long Wharf Theatre) marks a continued homecoming for Wilson's work, because the playwright premiered six of the ten American Century plays at the Yale Rep.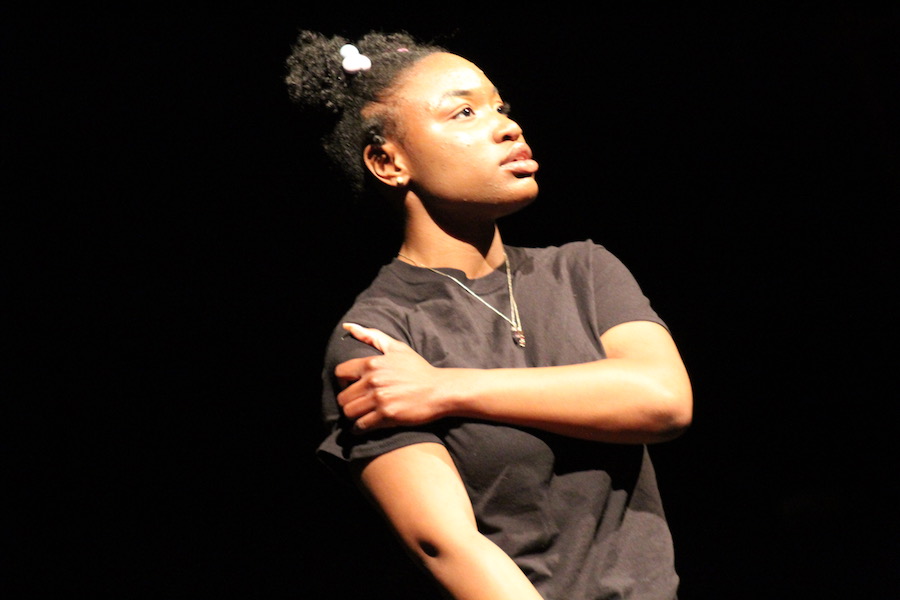 Makaela "Kayla" James, who read Vera from Seven Guitars.
And indeed, monologues that shone most brightly Thursday showcased Wilson's timelessness—sometimes funny, sometimes heart wrenching, and almost always deeply feeling.
From the moment that they came together onstage, the 15 students moved between universes, at once themselves and the characters they have studied obsessively for the past several months. Walking to the edges of the stage transformed, some catapulted back into smoky bars and jazz joints, spousal arguments, cases for child support and fetid living quarters. Then they disbanded into three groups of five, centering themselves before diving deep into a sea of words.
There were students like Tain Gregory, a freshman at Cooperative Arts & Humanities High School (Co-Op) who took on the role of Gabriel from Wilson's 1985 Fences. In the play, which depicts Pittsburgh in the 1950s, Gabriel is developmentally disabled as the result of a wartime injury that left him with a metal plate in his head. It's a character that requires calculated, even conservative acting—too pitying or overblown, and Gabriel becomes a stereotype. Too much pulling back, and we don't know that Gabriel is disabled at all.
On the Yale Rep's stage, Gregory crafted a compassionate portrait of the character, gentle but firm with the role. He integrated constant movement, putting his Gabriel in constant, uneasy motion. This was a Gabriel worthy of joy, devastated first by a war overseas and then one at home. When he uttered the words "Troy . . . Saint Peter got your name in the book. I seen it," one could feel a small knife twisting.
Or Welsh, who took first place for her depiction of Bernice in Wilson's 1987 The Piano Lesson, which opens on Pittsburgh during the Great Depression. On stage, Welsh unearthed a sort of quiet, steely resolve in her monologue, anger simmering just below the surface. Her eyes flashed, locking on an invisible Boy Willie somewhere to her left. Even those in the audience who didn't know the play moved to the edges of their seats, the tension palpable.
"You ain't taking that piano out of my house," she began.
In the audience, audience members could see the world that she was fighting for: a piano that had been in her family since slavery, that her brother was trying to sell. A piano that glistened with years of her Mama Ole's love and obsessive cleaning, that she had played away on for days in a row. At one point, she rested her hand where its smooth wood cover would have been, and the whole instrument appeared. At another, she reached out her arms as if to give a peace offering.
If the ghost of Wilson was in the room, several students could also feel it stirring beneath the stage, and took it as a chance to experiment with the playwright's evocative and sharp language. While Eli Wells and Journee Brown both selected the same Becker monologue from Jitney, written in the late 1980s to depict the late 1970s, their searches led them in wildly different directions.
"I was there!" half-screamed Wells, a student at Wilbur Cross High School, mixed among a weepy but grounded Rena (Tiana McGee) and winning Youngblood (Gian Melendez) also from the play. Something festered and popped in the theater. "I was holding her hand when she died. Where was you? Locked up in a cage like some animal."
Wells stood chest-open to a coming rage. It hit at full force, an angry and starving thing that turned each word into an ask, then tiptoed on the edge of screaming.
Brown approached the monologue with hard kind of anger instead. She, too, had mined the words for emotion—but lines came quietly, with a sort of vexed and chilling grace. She looked out at the audience, as if calculating the impact of each sentence just seconds before it left her mouth. Her voice was steady but exhausted as it packed a final punch.
"Where were you when your mama was dying and calling your name?" she asked.
The risk payed off: she won second place on Thursday, meaning she will be advancing to New York later this year.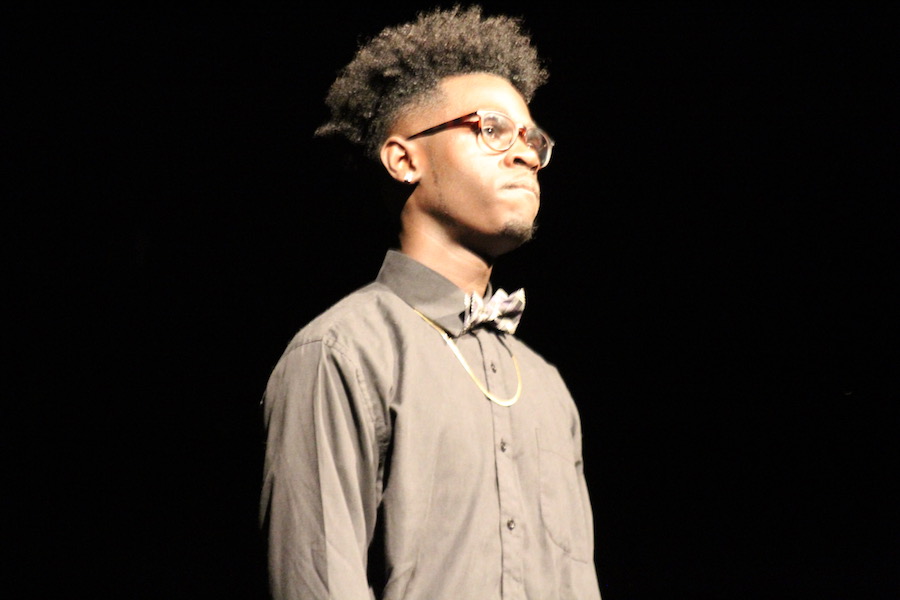 Juwan Lee, reading as Fences' Troy Maxon.
What makes the monologues ache as much as they stick is that Wilson's twentieth century Pittsburgh is strikingly similar to our 2019 New Haven. Enclosed in those plays is the legacy of institutional racism—from violence spurred by exclusionary housing policies and redlining to the censure of Black and Brown bodies that still takes place today. When Co-Op student Juwan Lee, reading as Fences' Troy Maxon, proclaimed "you born with two strikes on you before you come to the plate," we found ourselves not in Pittsburgh but outside the theater, where cops have harassed Yale students simply for being Black and and living their lives.
Or Sarah Williams, who pulled from Gem of the Ocean's Black Mary the kind of hot, pausing humor that can only come from sexism. Playing the monologue for laughs, she stopped and started carefully, Black Mary's each gesture enunciated. She ultimately took third in the competition, meaning that she will serve as an alternate for the national competition.
It was perhaps T'yana Baker, a student at Greater Hartford Academy of the Arts, who embodied it best as the night wound down, reading Tonya from Wilson's 1999 King Hedley II. In the play, set in 1985 Pittsburgh, Tonya is explaining to her boyfriend why she is going to get an abortion. She describes watching a mother who has just lost her child to gun violence, another in a line of young men of color to fall that year, as all the reason she needs.
"Got a tag on his toe say 'John Doe,'" she said, breathe stilling in the room. "They got to put a number on it. John Doe number four. She got the dinner on the table. Say, 'Junior like fried chicken.' She got some of that. Say, 'Junior like string beans.' She got some of that. She don't know Junior ain't eating no more."
Back in the audience, attendees weren't in the theater but the little field house at Goffe Street Park, where students in Ice The Beef have been mourning Tyrick Keyes for over a year. We were at city hall, listening to the mayor describe gun violence as an epidemic. We were crouched beside Bereavement Care, Inc. Founder and Director Nakia Dawson-Douglas, listening to a list of best practices when a mother has lost a child.
The pain ripped right through the auditorium. Back onstage, Baker had hardly raised her voice.