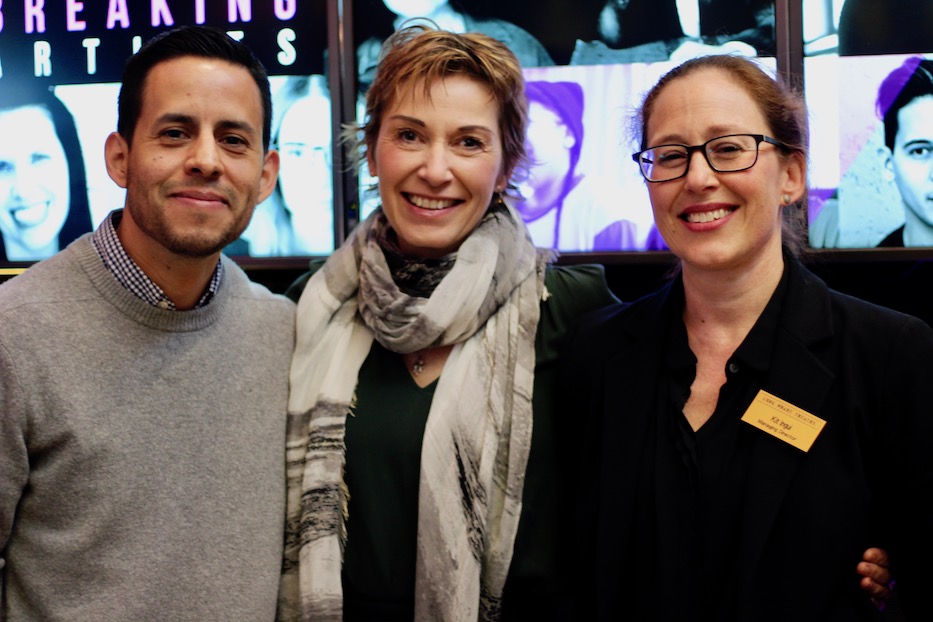 Long Wharf Theatre | Arts & Culture | Theater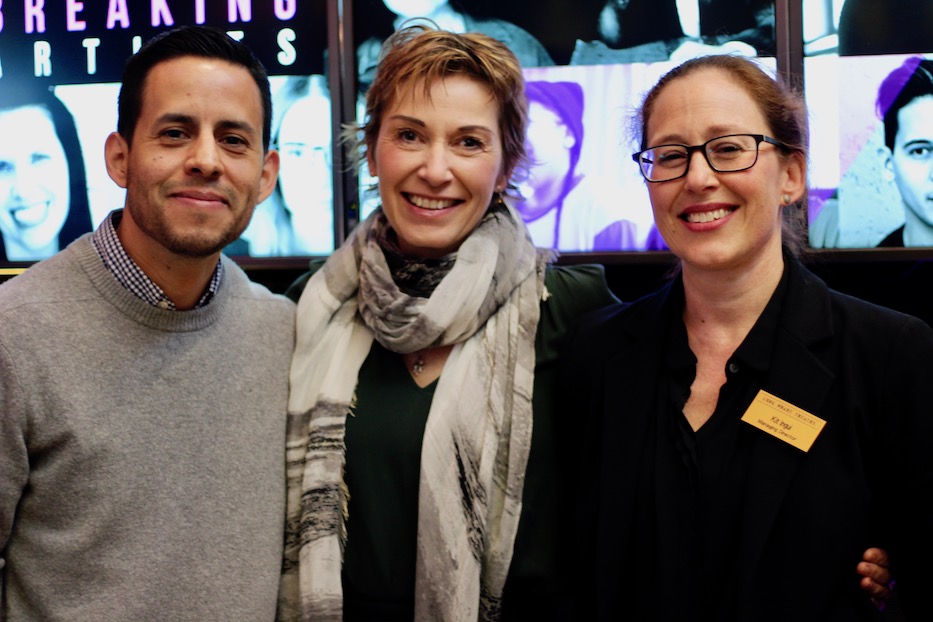 Artistic Director Jacob Padrón, LWT Board Chair Laura Pappano, and Managing Director Kit Ingui. Lucy Gellman Photos.
Collaborations with local arts powerhouses and national theater incubators. An inaugural congress centered around arts and activism. Space for new plays. Five works directed by five women of color, each with a different vision for the American theater in the twenty-first century.
That was the news Wednesday night, as Long Wharf Theatre unveiled a collaborative and convention-shattering 2020-2021 season under the umbrella Breaking Boundaries. From community conversations on arts and activism to a new commissioning program and artistic ensemble, the programming reflects Jacob Padrón's inaugural season as artistic director.
"Long Wharf Theatre is in an exciting transformational moment," he said Wednesday. "We are anchored in our work by the pillars of artistic innovation, radical inclusion, and meaningful connection. And we are committed to creating art that both galvanizes the community of New Haven and revolutionizes the American theater."
"As we rebuild this theater company, my hope is that Long Wharf can be a place for big ideas where art and activism can live side-by-side," he added. "I want to cultivate an audience who is hungry for that kind of lifelong exchange."
Wednesday, he said he is excited to take on a season "of, for, and by the community." While Padrón began his tenure at Long Wharf Theatre in February of last year, the 2019-2020 season was a collaboration with then-Managing Director Joshua Borenstein, who has since left the theater.
After opening with a land acknowledgement and shout out to staff, board, and the theater's fleet of teaching artists, Padrón dove into the five works—and extensive public programming—that will define next year's season. Four of five main stage works will be presented in the theater's Stage II space, to create "a more intimate theatrical experience."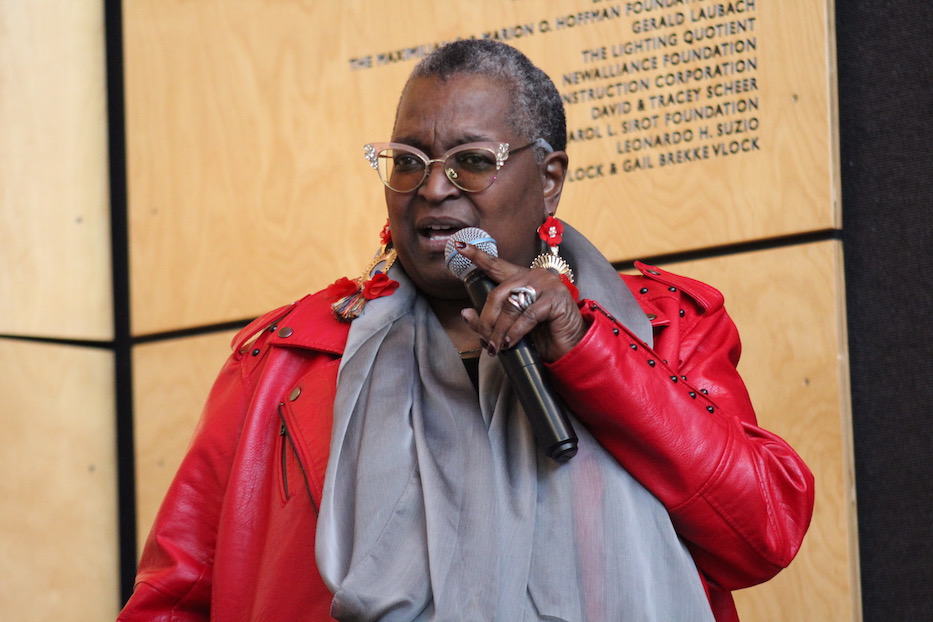 Inner-City News Editor and LWT Board Member Babz Rawls-Ivy.
On Sept. 16, the theater will open its season not with a play but with "State Of The Union," a two-day artists' congress held in partnership with local arts organizations, advocates, activists, and arts practitioners. Scheduled around the 2020 presidential election, the congress is intended to foster discussion around art and activism in the New Haven community.
Then, it will go into full swing with its season, with five works directed by five women of color. In October, the theater will present Torera, the story of a female bullfighter written by Monet Hurst-Mendoza and directed by Tatiana Pandiani. The world premiere performance is presented in partnership with The Sol Project, of which Padrón is the founder.
In November, Long Wharf will continue its season with A Night's Dream, "a radical reimagining" of William Shakespeare's A Midsummer Night's Dream adapted and directed by Shana Cooper. In speaking on the work, Padrón stressed the importance of holding onto dramatic history, while also bringing it fully into the twenty-first century.
He praised Cooper, with whom he attended grad school at Yale, for creating a work intended specifically for the Long Wharf Stage. The play will feature eight actors who play multiple roles.
"We are an artistic home known for classic plays," he said. "I think we want to continue to do classic plays, but we want to do them in new and exciting ways."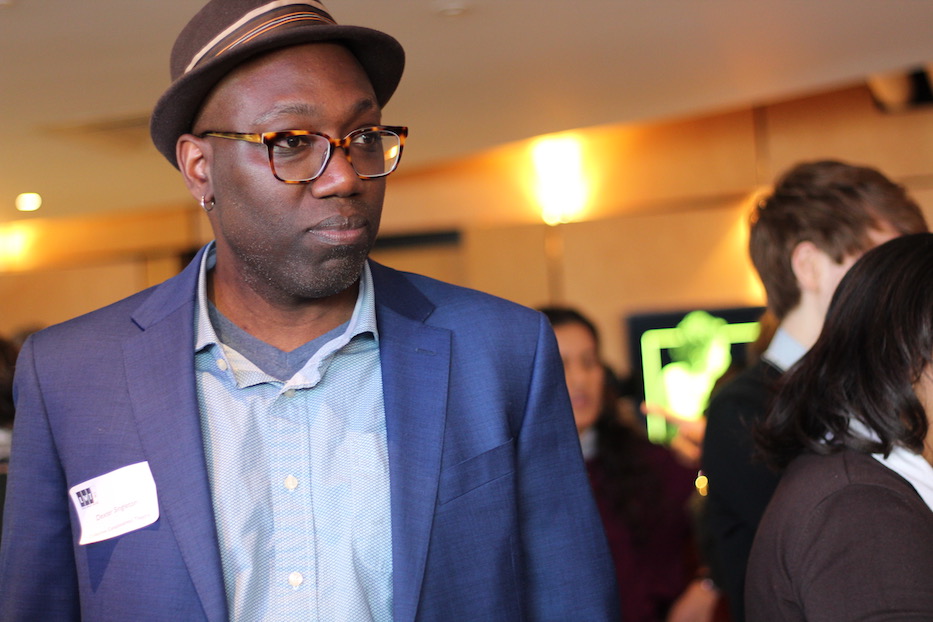 Collective Consciousness Theatre Co-Founder Dexter Singleton.
In January, Long Wharf will partner with New Haven powerhouse Collective Consciousness Theatre to present Kristoffer Diaz' The Elaborate Entrance of Chad Deity, a 2010 satirical work that takes on the world of professional wrestling. Wednesday, Padrón told attendees that he has wanted to work with CCT leaders Dexter Singleton and Jenny Nelson since meeting them in early 2019.
"When we talk about artists and leaders in the community that have been holding it down, Collective Consciousness Theatre is that theatre company," Padrón said. "I am so deeply moved and proud that we will be partnering … it is truly a blessing and an honor."
"Collective Consciousness Theatre is excited for the opportunity to bring this historic partnership and groundbreaking production to our New Haven community," added Singleton in a press release Wednesday night. "The Elaborate Entrance of Chad Deity is a play that is just like us—fun, hard-hitting and unafraid to tackle the tough questions around issues of race, class and culture. We are humbled and grateful to be asked to be a part of Jacob's inaugural season."
In March, the theater is rolling out another artistic partnership as it opens Madhuri Shekar's Queen, directed by Aneesha Kudtarkar and presented with NAATCO (National Asian American Theatre Company). Padrón said that the partnership was born last year, when NAATCO Founder Mia Katigbak was in rehearsals for Lucas Hnath's A Doll's House Part 2.
The work follows two scientists—a mathematician and a biologist—as they wage war with chemical giant Monsanto amidst a bee population crisis. After the work opens at Long Wharf, it will travel to an Off-Broadway theater in New York.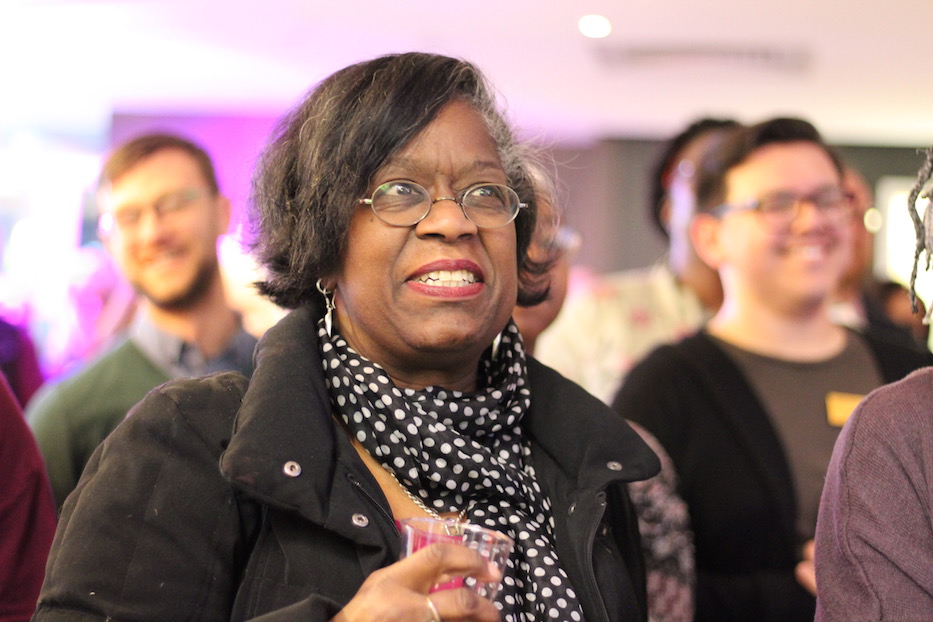 Arts maven Aleta Staton, who cheered when Jelly's Last Jam was announced as the final work of the 2020-2021 season.
The theater's first four performances will take place in its smaller Stage II. Then in late April 2020, the season will return to the main stage for a revival of Jelly's Last Jam, a jazz musical celebrating the life and work of jazz legend Jelly Roll Morton.
The work—the announcement of which received screaming cheers, stomping feet and so much applause that Padrón had to stop his remarks momentarily— will be directed by Patricia McGregor in partnership with the Stetson Branch Library and Dixwell neighborhood. It features a cast of 14, a live jazz ensemble of six, and " and enough music and tap dancing to fill several lifetimes."
McGregor, who directed the work as a graduate student at Yale, wrote in a press release that she is excited to return to the musical and to New Haven.
"At a time when the soul of this country is in such crisis, what better piece than Jelly's Last Jam to examine our past pain and illuminate our future possibilities with glorious theatricality and searing insights," she wrote. "I'm excited to develop this piece with partners in the New Haven community, fortifying George C. Wolfe's powerful vision with these rich perspectives."
The theater will also hold a one-night-only 20th anniversary reading of The Good Person of New Haven in May. The work, written and adapted by Alison Carey from Bertolt Brecht, first premiered at the theater in April 2000.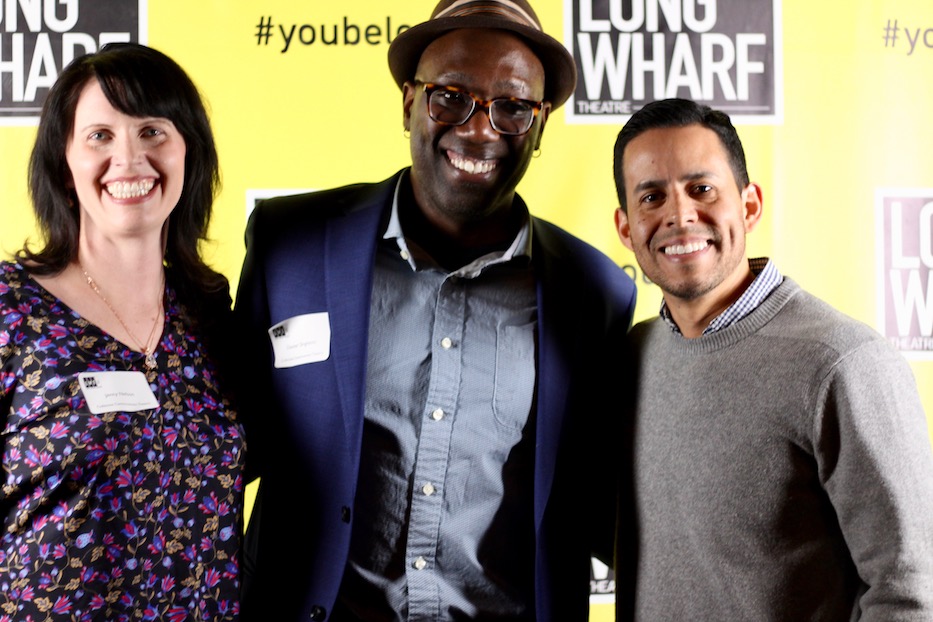 CCT's Jenny Nelson and Dexter Singleton with Padrón.
In addition to its main stage shows, Long Wharf will be exploring its own role as an incubator space. A new commissioning program supported by the Doris Duke Charitable Foundation, Andrew W. Mellon Foundation, and the Lord/Kubler Fund for New Work will give five creatives the space to develop new plays and multimedia projects. They are Jasmin Agosto (perhaps best known locally for La Sala Femme in Hartford), Chris Gabo, Ricardo Pérez González and the artistic collective UNIVERSES (Steven Sapp and Mildred Ruiz-Sapp).
The theater will also be building an eight-member artistic ensemble comprising Ryan Haddad, Mason Alexander Park, Bryce Pinkham, Madeline Sayet, Dexter J. Singleton and Awoye Timpo. Wednesday, Padrón also launched "The Remix," a learning and experimentation lab for "artistic collisions."
It marks a shift in the way that Long Wharf is working with the New Haven community. Prior to Padrón's tenure, the theater's work in community building was supported almost entirely by a single staff member, former Community Partnership Manager Elizabeth Nearing. Artistic partnerships with the New Haven Free Public Library, Connecticut Mental Health Center, Integrated Refugee and Immigrant Services (IRIS), People Against Police Brutality, Tower One/Tower East and tens of others unfolded on a shoestring budget.
Wednesday, Padrón said he is committed to supporting that work—and baking it into Long Wharf's mission—on an institutional level. He pledged his ongoing support for the New Haven Play Project and the "stage squad," a group of high school students from the greater New Haven area "invested in the future of American theater."
He finished by quoting Director of Learning Madelyn Ardito.
"We acknowledge that Long Wharf Theatre has not always been an inclusive organization, and we have a debt to pay to the local organizations and community members who have not been supported or visible in our work for the last 55 years," he read. "It is our goal to find organizations and individuals who are interested in building deep and lasting relationships that will live beyond one season."
Amidst COVID-19 warnings, Inner-City News Editor and newly-appointed board member Babz Rawls-Ivy made a pitch for the theater as a community space. She noted the theater's focus on inclusion, including its use of the hashtag #YouBelong throughout its current season.
"If you all thought that you were in for a ride with this new season, with Jacob, buckle up," she said to laughs. "Listen. Lily-white theatre is no longer. Long Wharf Theatre is ours."
"The only way that we can make this the community theater of our dreams is if everybody shows up to the theater," she added. "The only way that world-class theater works if y'all show up. This is our town. This is our theater. We are neighbors. You belong."
To find out more about Long Wharf Theatre, visit its website.