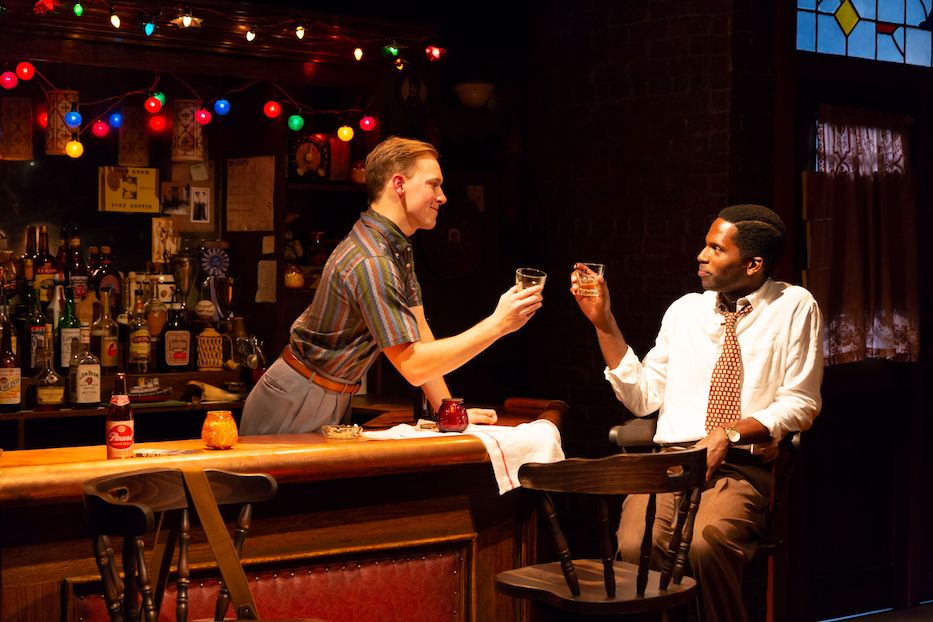 LGBTQ | Long Wharf Theatre | Arts & Culture | Theater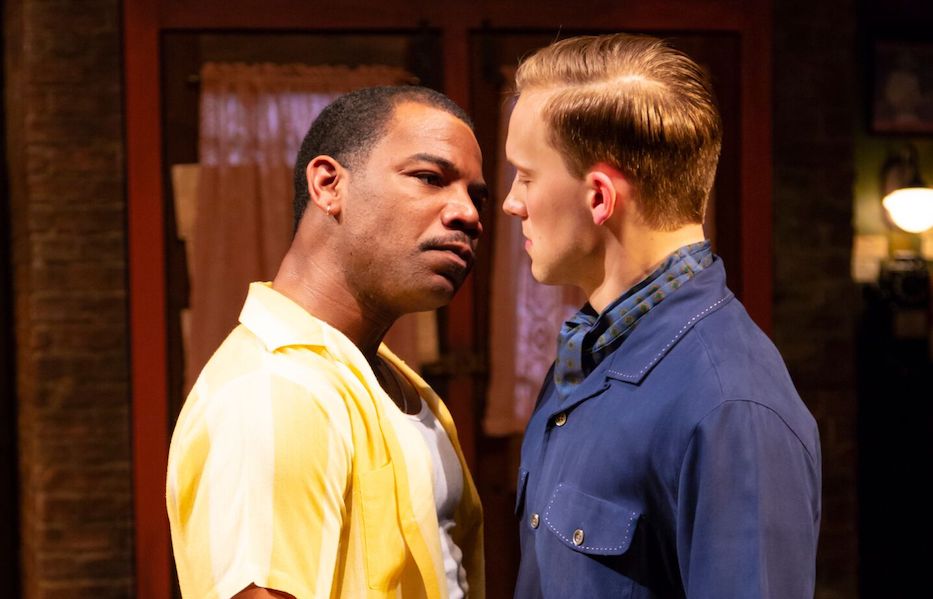 Blake Anthony Morris and Jeremiah Clapp in On The Grounds of Belonging.

T

.

Charles

Erickson Photo.
It started with a romance in the real world. Then a romance bloomed into a forgotten history. And a history into a love story that felt difficult and necessary to tell.
That's the origin of On The Grounds of Belonging, the world premiere of which is running at Long Wharf Theatre now through Nov. 3. Written by Ricardo Pérez González and directed by David Mendizábal, the play follows a biracial gay couple in Jim Crow-era Houston, where their love is threatened by a history that does not want to see it succeed. It is the first in a trilogy by Pérez González that follows generations of queer life in both Houston and New York City.
Opening night at Long Wharf is scheduled for Oct. 16, with preview performances beforehand. Tickets and more information are available here.
"There's very much a creative narrative and a historical narrative taking place," Pérez González said Monday morning, reached by phone. "It's not docudrama, but there are pieces of people's life stories … of the histories of violence against queer bodies and against Black bodies."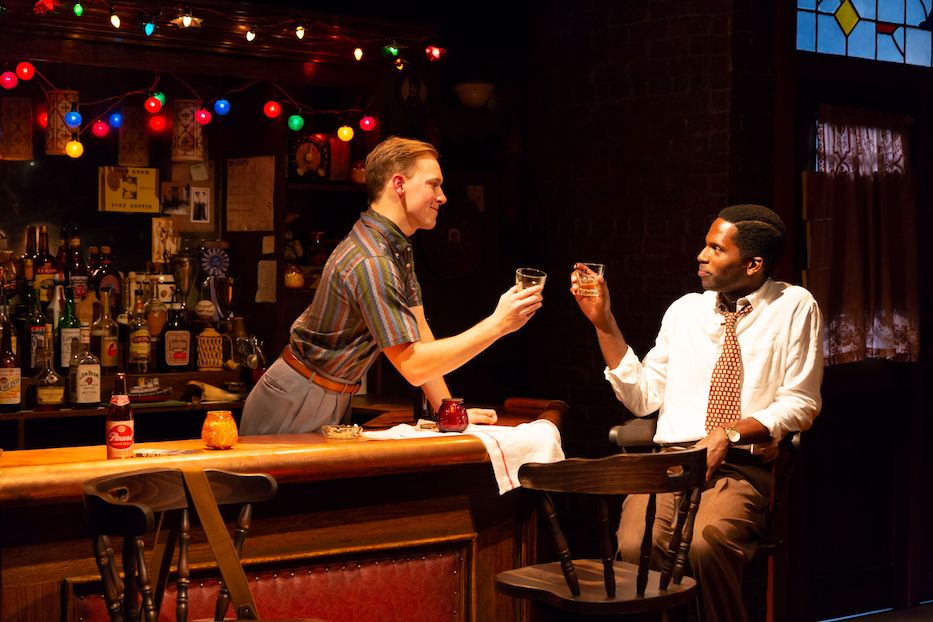 Jeremiah Clapp and Calvin Leon Smith in On The Grounds of Belonging. T.

Charles

Erickson Photo.
Set in Houston on the lip of the 1960s, the play unfolds between two real-life historical locations: the whites-only Red Room and Blacks-only Gold Room, segregated gay bars located blocks from each other in the city's Montrose neighborhood. Both are no longer standing: one is a music venue and the other is now a residential home.
In the play, Pérez González brings them vibrantly back to life. Bouncing between those sites and the city that surrounds them, the play tells the story of Tom, a white man who steps into the wrong bar, and Russell, the Black man who he meets and falls in love with. Together, the two defy the systems that were put in place to keep them apart—or at least they try to.
For Pérez González, whose has built his career on telling underrepresented stories, the play began with a personal romance in Los Angeles, where much of the playwright's work takes him. At the time, he was dating someone who introduced him to a number of "elder queers," including those who had lived through the 1950s and 60s in Houston.
They started telling him stories: of two segregated gay bars ostensibly across the street from each other, of gay couples who found a secret hookup spot at the city's First Methodist Church, where marks from their illicit love would remain in the dust, of falling in love when being gay and being alive was an act of resilience on its own (as it remains, arguably, today).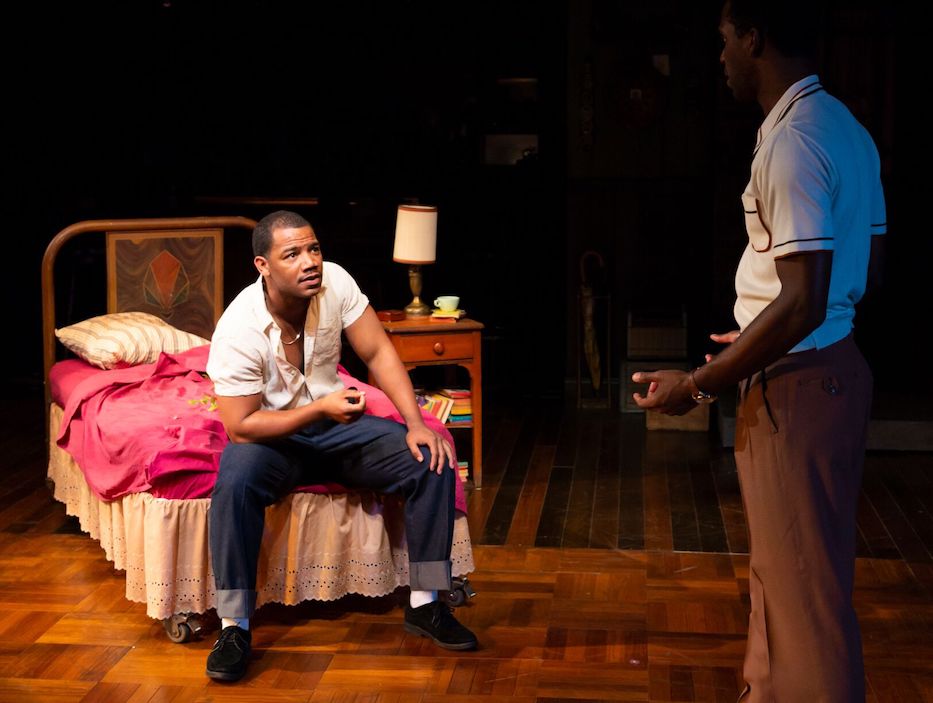 Blake Anthony Morris and Calvin Leon Smith in On The Grounds of Belonging.

T

.

Charles

Erickson Photo.
It was a world that was different and not different from today's: in addition to state-sanctioned segregation, anal sex between two men was still considered an unconstitutional, punishable offense in 13 states including Texas, as it was through the beginning of the twenty-first century. Today, Pérez González acknowledged, those laws aren't in place—but they are wordlessly enforced in racial and economic segregation and anti-LGBTQ+ hate crimes across the country.
"And I thought, 'of course,'" he recalled of first hearing about the bars. "The queer community is not immune to replicating the oppressions of the larger society around it. There still are those places today … it's just not legally enforced segregation."
As he listened to the stories, Pérez González realized that he wanted to know more about these spaces, and to write them back into being. He traveled to Houston, speaking to activists that included First Amendment champion Ray Hill, city council member Sue Lovell, queer historian Brian Reidel and others. He noticed that history and collective memory seemed to shape-shift depending on who he was talking to.
Sometimes the Red Room and Gold Room were right across from the street for each other, and sometimes they were separated by four huge Texas blocks (as they in fact were, with three other gay bars in between). Sometimes an activist's memory was crystal clear, and the historical record complicated it.
"These are primary documents," he said. "When we tell our oral histories, there's always change."
When he started writing the play, he too played "fast and loose" with the historic details, letting the script hang somewhere between the Houston he had been studying and the world he sought to build for both his characters and his audience. While both bars actually opened in the 1960s, Pérez González moved the timeline back to 1958, where the footprint of Jim Crow would feel that much more overbearing.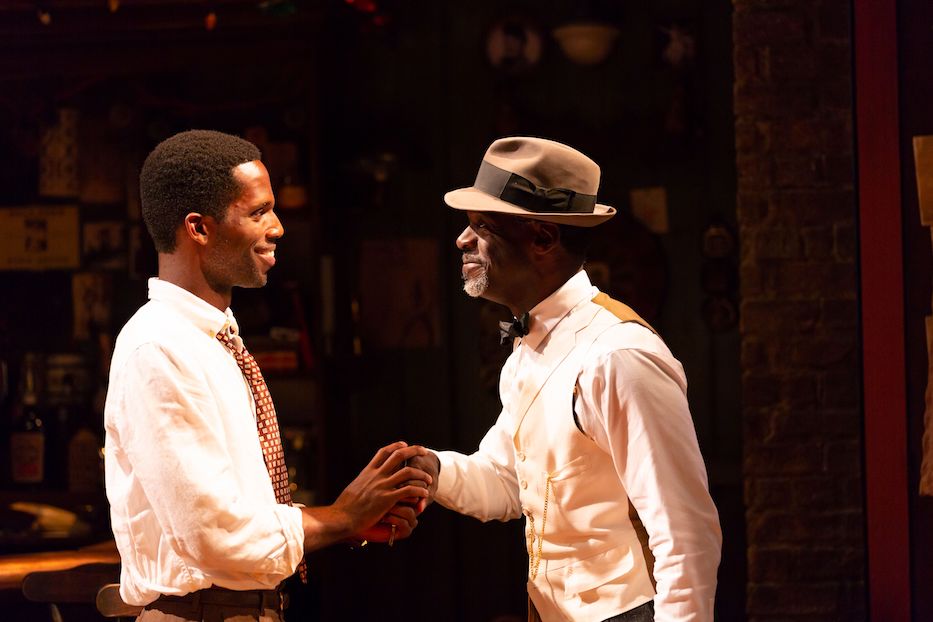 Calvin Leon Smith and Thomas Silcott in On The Grounds of Belonging.

T

.

Charles

Erickson.
In 2017, he began workshopping the show in as part of a residency at the Public Theater, during which time Mendizábal also came onboard as his director (the two have worked on multiple projects together). Originally, he said, On The Grounds was a "now and then play," a mammoth work that jumped from 1950s Houston to the present, packed with lush language and music.
But something got lost in the breadth of it. At Mendizábal's suggestion, Pérez González cut 30 pages in a single night. Then—even though it felt like "everyone was writing trilogies at the time"—he realized that the trilogy format let him tell the story he wanted to tell.
Along the way, he drew inspiration from from James Baldwin (he credited Giovanni's Room as particularly influential), W.E.B. DuBois, and Patricia Highsmith, musicians Sarah Vaughan and Billie Holiday. He breathed the complex web of history itself into his characters, blurring the lines between good and bad as he fleshed out their backstories. He expanded the music in the script, probing the connection between glamorous, flashy divas and smoky-throated lounge singers of the time and the gay men who idolized them, and idolize them still today.
"I hear the rhythm of language and I want it to be euphonic," he said. "I want it to be melodic. Each word has a beat to it. Each piece of information has its own unique rhythm. There's a certain music in the way we interact with each other. It's the music that we create with our rhythms, and our pitches, and our bodies."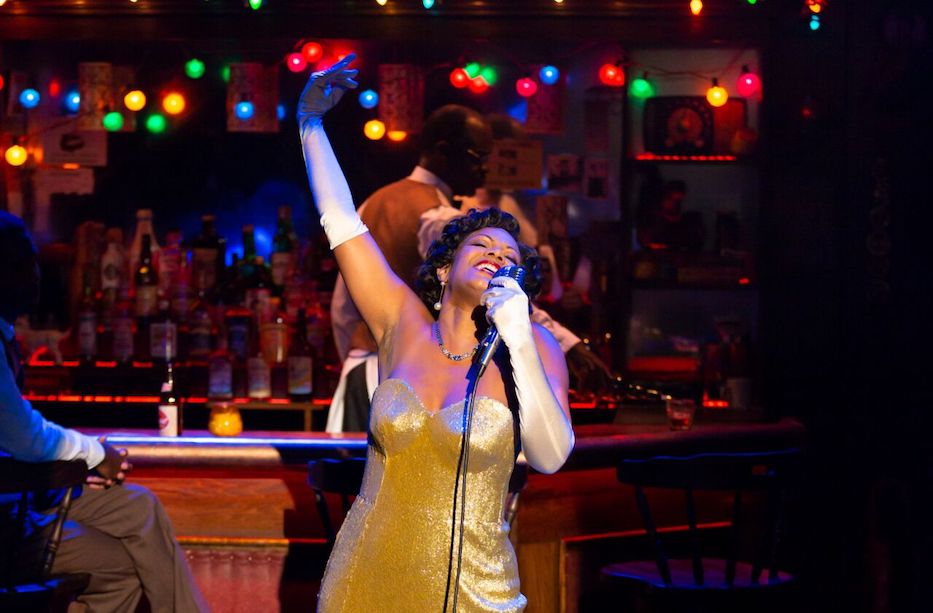 Tracey Conyer Lee in On The Grounds of Belonging. T.

Charles

Erickson Photo.
Now, "everyone in this play is right, and that's really hard to do," Mendizábal added. "Every character—they have their reasons, and it's complicated and messy and human. The bad guy has a story. The good guy has flaws. We want the audience to feel it."
As it comes to Long Wharf this month, both Pérez González and Mendizábal said they are hoping for an audience that understands the story as history—"it is a sort of period play," Pérez González noted— but also draws connections to the present, where queer bodies and bodies of color are actively policed and brutalized.
As two queer, Latinx men, both are bringing that lived experience into the theater, and onto a stage that has not always told non-white and non-heteronormative stories. In the past years, Pérez González has been physically attacked three times "for being queer," including recently in New York City for "wearing nail polish and being a little femme."
"Remember when Obama was elected and people thought we were in post-racial America?" he asked. "People think we're in post-queer America right now."
Mendizábal added that he sees a paradox today, between a mainstream and commercial acceptance of gay pride and a number of histories that are passed over because they complicate a narrative of progress. He recalled getting congratulated in 2015, after the U.S. Supreme Court had ruled in favor of marriage equality, and feeling perplexed, because it was also the highest year on record for the murders of transgender women.
"There are so many narratives left out of the conversation," he said. "My hope is that people see this [play] and realize that it's not enough. It's a love story. But let's not forget what it took to get to this moment. Our love, our bodies, our identities have always been policed. Where are we actually, and where do we have to go?"
"This is a story about love," he added. "It was created with love, and it must be told with love. We're hoping that the audience members … that they recognize this love, they understand this love, they ask 'how can we lead with that kind of love?' What you see is moments in the play where you're like: why not?"
Both Pérez González and Mendizábal also praised Artistic Director Jacob Padrón for bringing the work to New Haven, where they've seen echoes of On The Grounds the city's queer history and segregation that still exists today. In the lead-up to the show, Long Wharf has been working with the New Haven Pride Center for an opening night event. Both the playwright and director appeared on GayTalk 2.0 with Long Wharf's Nick Bussett.
"There's something really special about being a Latinx artist working with a Latinx director under a Latinx artistic director," Pérez González said. "I can't think of any regional theater where this is happening. And that has been a joy."