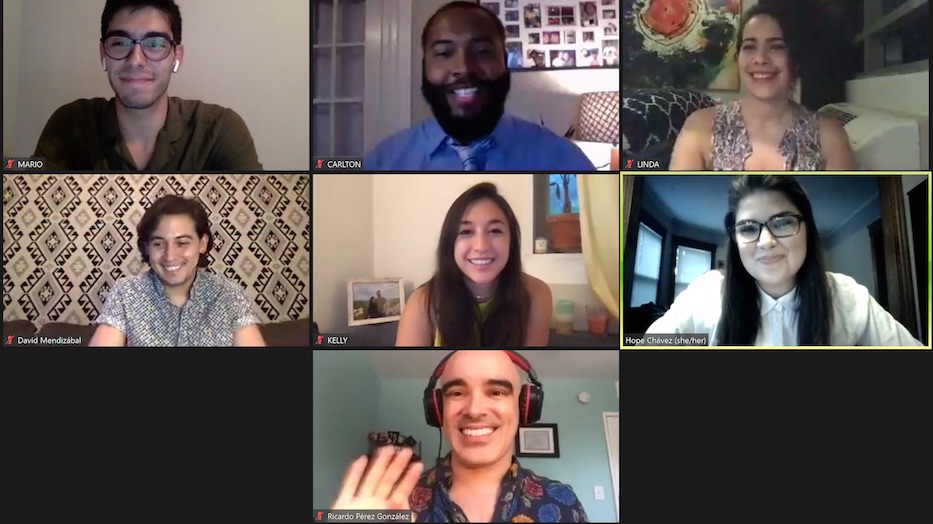 Long Wharf Theatre | Arts & Culture | Theater | COVID-19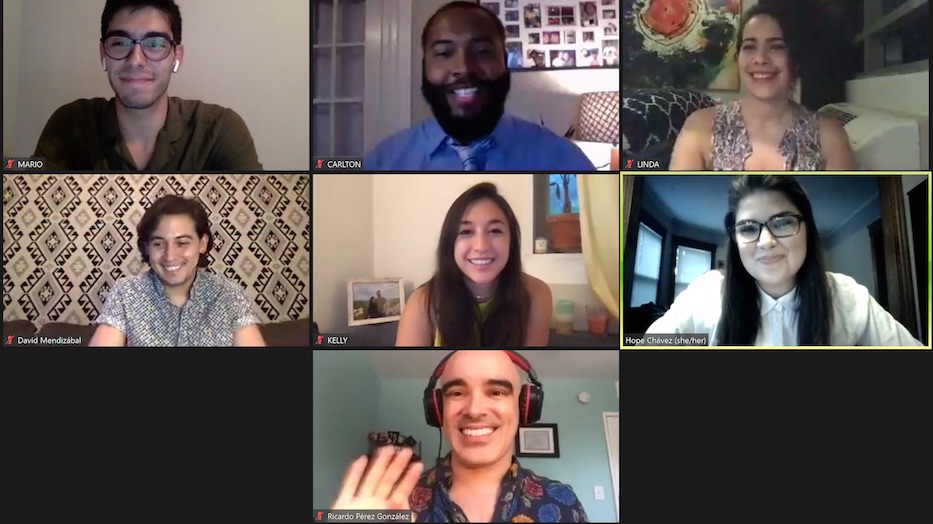 Cast members, director and playwright discus the show. Screenshots via Zoom.
The sound of shattering glass pierced the frigid, evening air. A Zoom call fell deadly silent.
"What was that?" a man asked over the line.
A woman unmuted herself. "Did someone drop a glass? Did one of your kids have an accident or something—?"
Another face lit up. "None of us have kids, and you'd know that if you listened to someone other than yourself—!" The face crinkled, acid fresh off its tongue.
"No one's in the house except me," another man whimpered.
Silence. The timid man stood up from his desk chair and walked out of the camera's frame. His AirPod mics picked up noise in the distance.
"Jesus Christ! Oh, God!"
"I'm calling the police!"
On Thursday evening, Long Wharf Theatre streamed the premiere of Zoomy Zoomy Kill Kill: A Horror Story For A World In Quarantine for virtual audiences. The short play is part of Play At Home, an initiative launched in April to facilitate free, scalable theater performance and keep artists financially afloat during COVID-19. This was Long Wharf's second streamed collaboration with the effort, on which it is also a founding partner.
Play At Home is an initiative from Long Wharf Theatre, Baltimore Center Stage, The Public Theater, Repertory Theater of St Louis, and Woolly Mammoth Theatre Company in Washington, D.C. Wednesday's cast featured actors Chad Carstarphen, Sasha Diamond, Keren Lugo, Ivan Perez, and Jose Useche.
Following the event, Long Wharf Artistic Producer Hope Chávez moderated a panel among cast members, director David Mendizábal, playwright Ricardo Pérez González and viewers. Mendizábal and Pérez González are part of Long Wharf extended dramatic family: the two collaborated on On The Grounds Of Belonging at Long Wharf last year.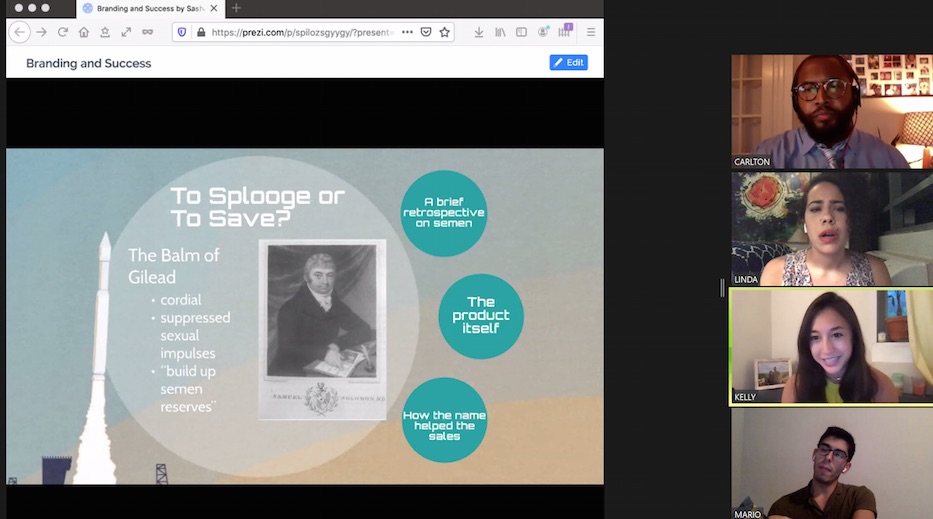 While Play at Home has commissioned many works, Zoomy Zoomy Kill Kill is one of few productions that requires the Zoom platform to function. This was no mistake—Pérez González explained that he has upheld intentionality as a value in his creative process.
"I was just so cognizant of how drastically and sharply the world had changed," he said Wednesday. "I had a show that was canceled due to COVID at the Magic Theatre in San Francisco. At the time I was commissioned, I thought, 'what's the world gonna look like now?' I wanted to bring something that would actually work on Zoom that people could perform separately."
That sentiment remained integral to the play's premise. The comedy-horror starred four coworkers tasked with marketing an erectile dysfunction medication, "Engorg-a-lux." Still in quarantine, the four discussed their gripes over Zoom, using passive-aggressive chats and shoddy screen-share presentations. An ominous noise over the line became the catalyst to larger frustrations boiling to the surface.
"I was just thinking about this notion that we are all confined," Pérez González said. "At this time, the world feels like a hostile, terrifying, terrible place, and the ways in which we interact with each other leave space for emotional leakage."
That leakage seeped into the script, character's words exchanged through a thick, viscous tension. Project lead Carlton, played by Carstarphen, bore the brunt of these frustrations. It was his duty to keep the meeting running amidst a growing tide of microaggressions and insults.
As the call devolved, eye rolls and petty snips became shouts of "gringuita" and arguments over the phrase "all-front-line-workers-matter." Cries of "ass" and screams of "societal priorities" overshadowed Carl's calls for mutual support during "these difficult times." The group's dynamic seemed to reflect our current reality—in the words of antagonist Linda (Keren Lugo), "The world is a post-apocalyptic shitshow."
"Everybody is tearing each other down," Pérez González said. "It [Zoomy Zoomy Kill Kill] was 100 percent written and 100 percent intended to excavate those things and leave them out in the open. It feels like things that I'm experiencing now, things I have experienced—those microaggressions, that social interaction in the way that I can just feel it being in this box right now. I just feel more and more claustrophobic."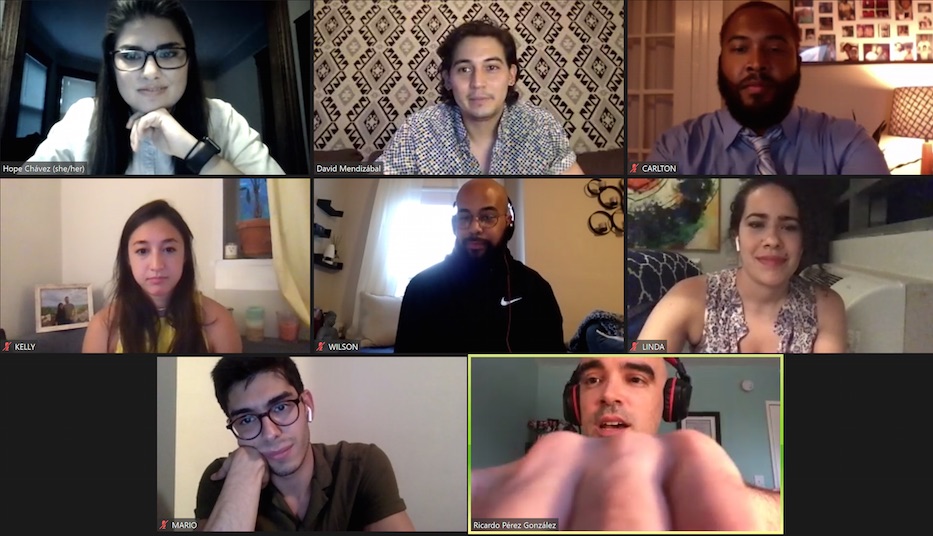 During the talkback, Useche acknowledged that Pérez González had hit a realistic nerve.
"It will be a while before we're all together," he said. "This is such a turn in everyone's life. The idea of new work coming out of this that doesn't acknowledge this chapter feels careless. Even now, when I watch TV that was obviously written and produced pre-pandemic, I see a character get in the car and go to their friend's house, and I'm like, 'where's your mask?' I think we'll need to make room for Zoom as something we used to engage in as part of our storytelling post-pandemic."
Useche's fellow panelists wholeheartedly agreed with his sentiments. Rather than escapist narratives, they suggested, they were interested in seeing live-wire emotions and realism in future audiences would hinge on the use of virtual mediums.
"What's new to us is something that a lot of communities in theater have already been making and creating, these trans-narrative models," Mendizábal said. "I think a lot about Claudia Alick, who spoke about this at TCG and disability justice. The more tools you have in your toolbox, the more flexible you are as an artist. I do think that this [Zoom] is an exciting medium to get to explore. We are all learning so much about it, and I think it's going to be around for a little bit, even after we can gather.
"There's something really exciting about artists' locations not being an issue—there are people gathered here who are all over the country and all over the world," he continued. "We have an opportunity to build community beyond physical neighborhoods."
Zoomy Zoomy Kill Kill's ensemble has already begun to pave the way. During the event, cast members suggested that they'd like to perform in future virtual productions. Pérez González has also aimed to create long-form works in virtual space. Mendizábal plugged 1MOVE: DES19NED BY... a virtual initiative meant to provide designers hit by COVID-19 with income. The Movement Theatre Company has now commissioned 15 designers for works on its virtual platform.
"Performing Zoomy Zoomy Kill Kill was sick," said Lugo. "I felt like I was in the theater again, and it felt great."
You can find Zoomy Zoomy Kill Kill's script here. You can donate to Long Wharf Theatre here and find out more about its upcoming season here.