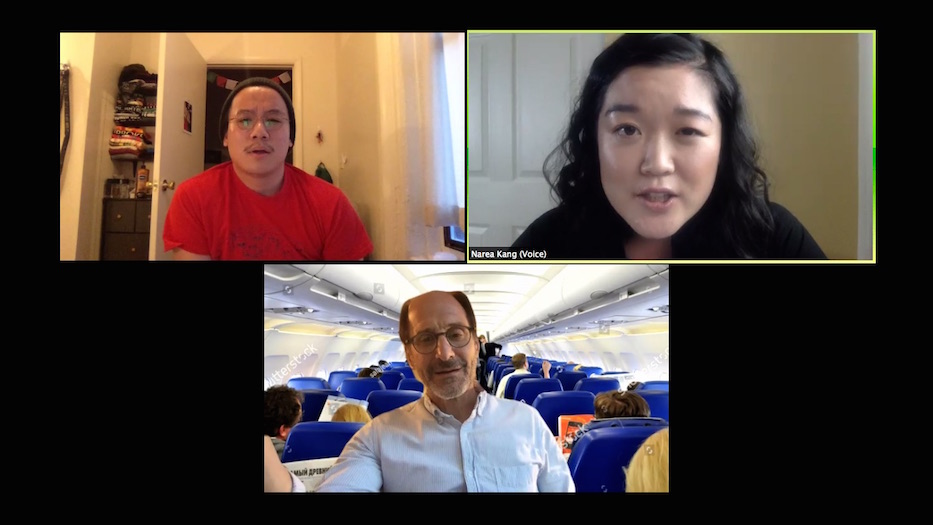 Long Wharf Theatre | Arts & Culture | Theater | COVID-19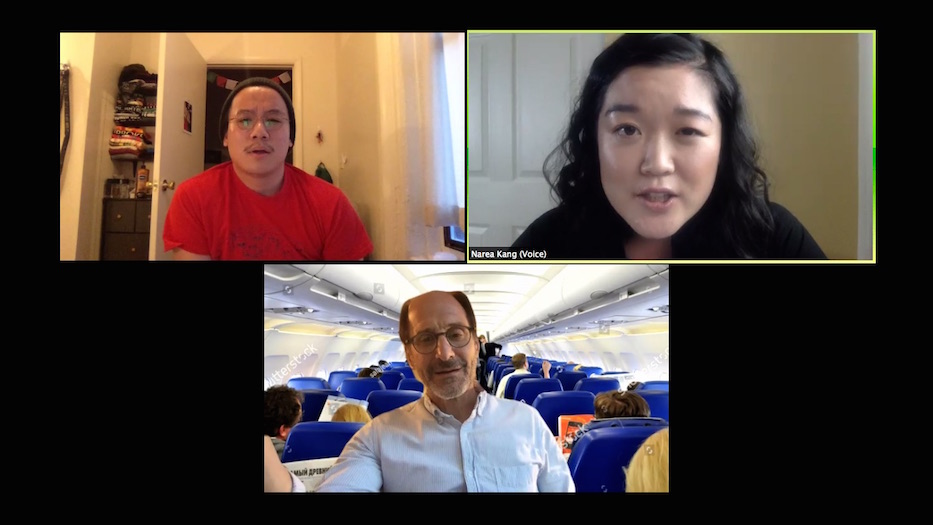 Clockwise from top: actors Tommy Bo, Narea Kang, and Jim Shankman. Screenshot from Zoom.
Narea Kang was walking her proxy (Tommy Bo) through what to expect from an upcoming trip home. He would only need one suitcase, she assured him. Probably, he could fall asleep for most of the plane ride. There might be a meddling seatmate. There is almost always a meddling seatmate. On cue, an imaginary seatmate popped into the frame. They rested a beat, faces strained in one-inch boxes.
"On this trip, you will only crave blood," she said. "This trip is all about blood."
Wednesday evening, Long Wharf Theatre dipped a toe into online programming with The Proxy, a 10-minute work from playwright Lauren Yee and a mix of professional actors and Long Wharf staff and community members. In a pre-coronavirus world, the date would have marked the opening night of Yee's The Great Leap, the final show of the theater's 2019-2020 season.
Almost 100 attended the reading on Zoom. Madeline Sayet, who was slated to direct The Great Leap, joined the cast and Yee in a talkback.
"I just wanted to take a moment to say, we are here," said Artistic Director Jacob Padrón at the beginning of the evening. "We are here with you. This is a time that is really painful, and it is also a time to come together in community and feel buoyed by one another ... I hope that we will feel the abundance of joy and resilience. We're going to get through this storm together."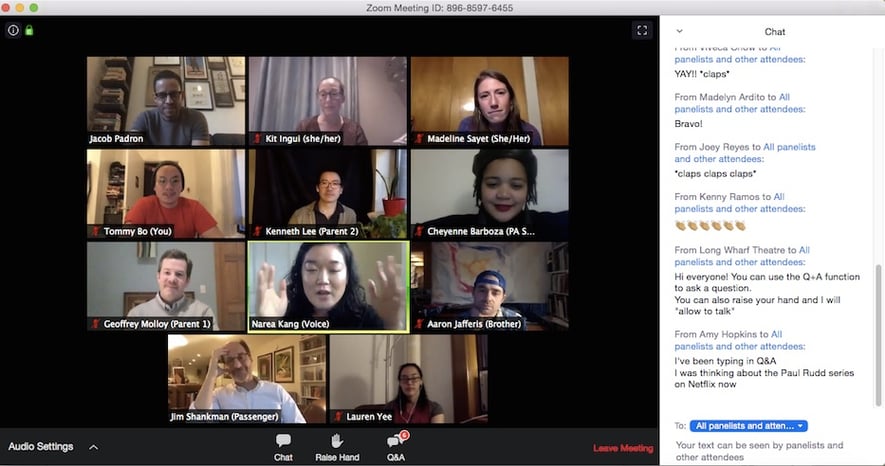 In part, The Proxy speaks directly to the moment the theater—and American theater more broadly—is in. For weeks now, stages have been silent, with no set end date in sight. Some, including the Guthrie Theater in Minneapolis, have delayed their upcoming seasons to the spring of 2021. Others, such as Hartford Stage, have announced tentative plans to open their seasons in the fall. Even Broadway has begun striking musicals from its theaters, which are all closed through at least Labor Day.
In mid-March, Long Wharf closed its doors to the public and cancelled productions of The Chinese Lady and The Great Leap. In the weeks since, it has ended seasonal contracts early, furloughed five employees through the end of June, and eliminated eight full-time staff positions. Earlier this year, Managing Director Kit Ingui estimated that the theater has lost $750,000.
But artists are still making: Yee's work is part of Play At Home, a new initiative from Long Wharf Theatre, Baltimore Center Stage, The Public Theater, Repertory Theater of St Louis, and Woolly Mammoth Theatre Company in Washington, D.C. As part of the project, participating theaters commission and compensate playwrights for short, original work that can be performed at home.
The plays range from funny mini-musicals to chronicles straight from quarantine. In Yee's The Proxy, a narrator (Kang) walks her proxy (Bo) through the steps he'll need to take to get to her family, to celebrate the birthday party of her 91-year-old grandmother.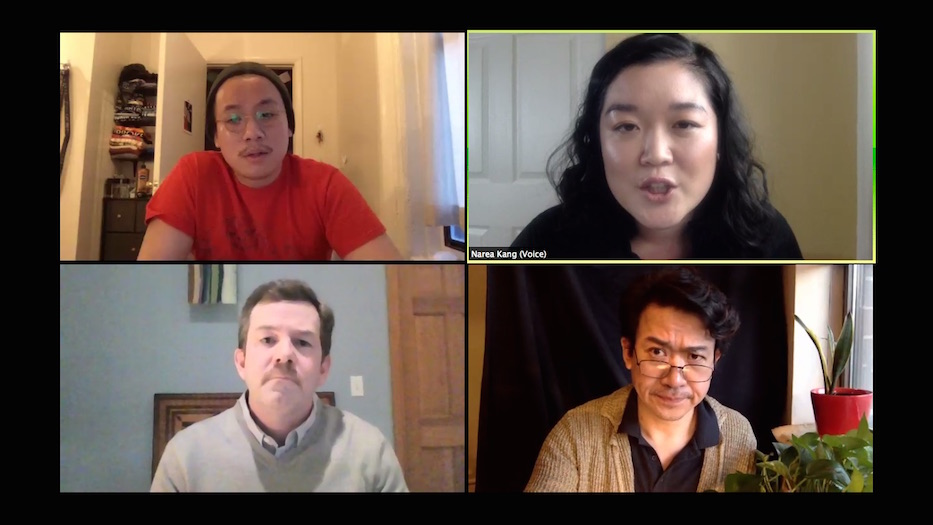 As she goes through the steps, she speaks with an uncanny, mechanical sense of calm, as if she is instructing a new home cook on how to stuff and roast a chicken. Characters pop in and out of the dialogue: a nosy airline passenger, then parents and siblings who are halfway across the country.
In Yee's masterful hands, lines hang between magical realism and dystopian fiction, normal until they're suddenly not. One can't tell, for instance, if "the proxy" in question is human or cyborg, or maybe a kind of mad, Zoom-induced fusion of the two. The characters pop in and out of the frame, organic until they say something that is just strange and poetic enough to throw a viewer off. One never learns why the narrator can't visit her family herself, and that lingering question (is it a virus? A natural disaster?) becomes an off-screen presence itself.
It's also intensely relatable: when the narrator calls it "an extended, but never quite long enough trip," it seems like she is speaking directly to millions of people who have cancelled vacations, mastered Zoom Iftars and pandemic Passover Seders, ministered to empty churches, grappled with distance learning, and workshopped scripts, choreography, and ensemble work without leaving their homes.
In a talkback after the reading, Yee said that the premise is partly based on her own experience with the COVID-19 pandemic. Currently, the playwright is based in New York City, which has become an epicenter of the virus. Her family is across the country in San Francisco. She doesn't know when she'll feel safe getting on a plane to visit them again.
"I think it will probably be a good amount of time before I feel comfortable doing that," she said Wednesday. "I think it's [the play is] imagining a world where it's not maybe our exact world, but you would send a proxy … the core of it is trying to make literal the emotional feeling of not being able to be the place you would like to be.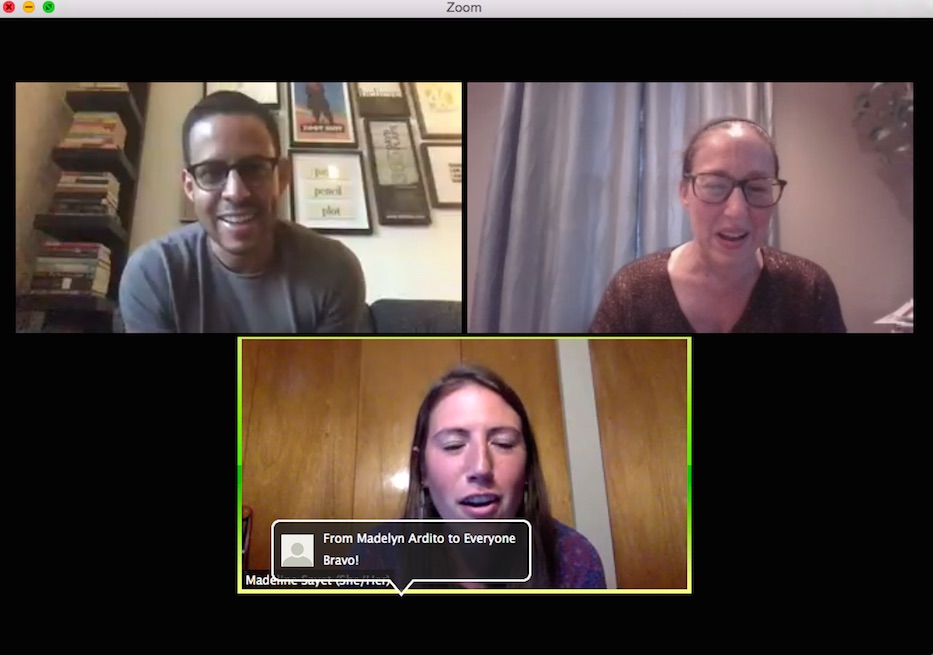 In the meantime, she has watched her creative process upended by the virus. She isn't alone. The reading, which doubled as a benefit for the theater, comes as arts organizations navigate what reopening their doors—or choosing not to—may look like in the days, weeks, and months ahead.
Last month, Connecticut Gov. Ned Lamont set May 20 as the start to a four-phase reopening of the state's economy. It has been a date that both state legislators and public health officials have pinpointed as far too early. In response to the timeline, the Connecticut Office of the Arts released its first set of guidelines for arts institutions operating during COVID-19 on May 6. The document was largely compiled by members of the Connecticut Arts Alliance.
In the guidelines, arts organizations are advised to consider distancing measures, staggered staffing, timed entry and adequate personal protective equipment (PPE) for staff and patrons alike. Among recommendations for disinfection, temperature monitoring and CDC-mandated public health practices, huge questions remain around capacity.
In a phone call last week, Ingui said that the theater is working on what it looks like to get staff safely back in the building after the state's reopening. She suggested that employees who can work remotely will continue to do so, but that there are some who may need to be back on the premises for their work to get done.
Performances are much harder to think about: no one knows what restrictions on capacity will look like in weeks or months. Like live music venues, theaters may be some of the last to welcome audiences back. They are, as Ingui pointed out, based on people gathering to watch the labor and love of actors coming together. In the current landscape, that's impossible.
"We're trying to think as creatively as possible, and to be as innovative as we can," she said. "We have been hampered by the traditional way of doing things. And maybe there's a real big opportunity there."
The theater has not yet released more news on its 2020-2021 season, which Padrón announced just days before the state closed theaters by executive order. Wednesday, Ingui praised the reading as giving her a bright spot.
"I am so grateful to be in this room with all of you," she said. "It really filled me up."
Long Wharf Theatre continues its online presence with a virtual La Sala Femme this weekend and its annual gala on June 8.