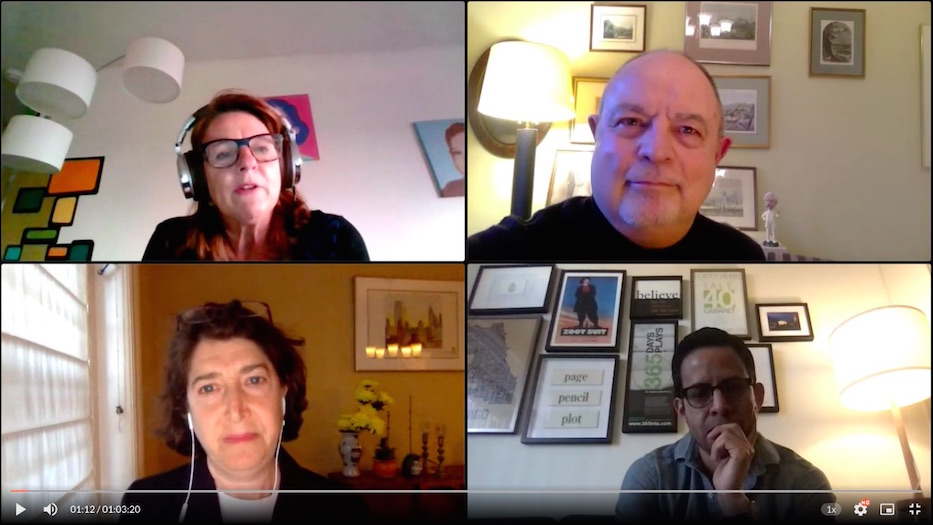 Culture & Community | Long Wharf Theatre | Arts & Culture | Hartford Stage | COVID-19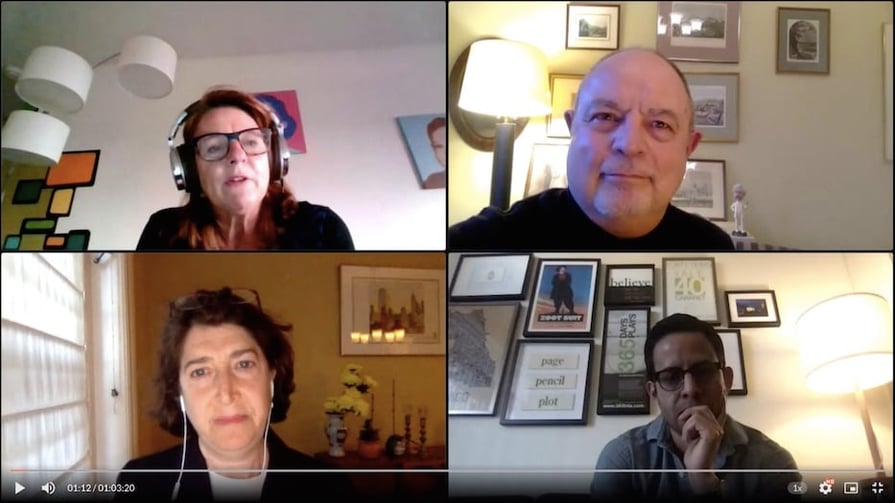 Clockwise from top: Twain House Director of Public Programs Jennifer LaRue, Frank Rizzo, Jacob Padrón and Melia Bensussen. Crowdcast screengrab.
Lights up. The stage is set to fall 2020, and the future of American theater hangs in the balance. At stage right, seasons may look very different than they did just months ago. At stage left, someone is still passing around a hat. Only one thing about this show is certain: regional theaters will only get through it if they get through it together.
Long Wharf Theatre Artistic Director Jacob G. Padrón and Hartford Stage Artistic Director Melia Bensussen made that prediction Thursday night, in an online discussion with theater critic Frank Rizzo hosted by the Mark Twain House and Museum. The event marked the latest installment in Rizzo's "A Little Harmless Fun," streamed for free via Crowdcast due to COVID-19 closures of the museum. Close to 160 people attended.
"How do we stay engaged and connected?" Rizzo asked at the beginning of the discussion. "It's important to people in general right now, who are told to be in their homes, to stay connected. But we in the theater are used to being connected in different ways."
The answer to that question is complex and uncertain, both said. In the past month, COVID-19 has delivered a devastating blow to theaters across the state and the country. Just days after announcing its 2020-2021 season in mid March, Long Wharf Theatre closed its doors for the foreseeable future, canceling performances of The Chinese Lady and The Great Leap that were scheduled for March through May of this year.
In the following weeks, the theater ended seasonal contracts early, including with several teaching artists and Public Allies Americorps Fellows. It furloughed five employees through the end of June, and eliminated eight full-time staff positions. Managing Director Kit Ingui estimated that losses from the two cancelled performances total $750,000.
"It's difficult to predict what the future holds, and there is no consistent or reliable projection to inform how long theatres around the country should and will remain dark," she wrote in an email at the end of March. "We will make official plans to re-open as soon as there is an indication that it is safe to do so."
In the meantime, the theater has become a founding partner of Play At Home, a project to commission playwrights across the country to write short plays that can be read and performed from home. Fellow partner organizations include Baltimore Center Stage, The Public Theater, Repertory Theater of St Louis, and Woolly Mammoth Theatre Company. Padrón called it a way to remain connected—and compensate artists, who are often part of the gig economy—while practicing physical distancing.
In addition, the theater has announced that it will be collecting stories virtually for its now-annual New Haven Play Project, led this year by local director and playwright Sharece Sellem. It has also relaunched The Loading Dock, a weekly newsletter with news and archival materials from the theater and its affiliate partners in the city.
Recent updates have included staff members hard at work on mask making efforts and online programming and from the New Haven Pride Center, which has been a community partner for the 2019-2020 season.
"With great limitations come great opportunities," Padrón said. "I think that's the space I'm trying to really live in."
"What this global pandemic is showing us is the disparity, gosh, the disparity that really does exist in our country and really around the world," he later added. "So I'm just, I'm constantly thinking about: How do we come together? And in the future, how can theater really be of service in response to this global pandemic?"
That's also the case at Hartford Stage, where Bensussen has helped roll out online programming—including a major season announcement—while remaining vocal that there is no substitute for live theater. On March 20, the theater announced that it would be reducing its operating staff by 70 percent, with a projected loss of one million dollars in revenue.
The same week, Bensussen and Managing Director Cynthia Rider started Scene & Heard, a Wednesday afternoon, Zoom-based "cocktail hour" that includes live discussions and interviews with leaders in the theater community and ends each session with a reading and toast. In previous sessions, Bensussen has shouted out Artistic Associate Rachel Alderman and Management Associate Scott Bartelson as fundamental to the program.
"Make no mistake," she said Thursday. "It's very important to not confuse these platforms for live theater. Sorry. You know, I just feel we need to keep reminding people that as much great stuff as there is online, it is not the same as being in a theater with all of us. That's all."
"I'm going to be a missionary for the fact that we need to all be together, breathing the same air as actors," she added. "When it's safe to do so."
But until it's safe to do so, she will continue the theater's presence online. On March 25, the theater also announced plans for its 2020-2021 season, which will begin with Eugene O'Neill's Ah Wilderness! and The Complete History of Comedy (abridged) after both works were postponed with the news of coronavirus. The new season also includes William Shakespeare's As You Like It, the world premiere of Martín Zimmerman's play Simona's Search, Pearl Cleage's Angry, Raucous and Shamelessly Gorgeous, and Mary Shelley's Frankenstein by David Catlin.
Thursday, the two jumped from those upcoming seasons to their own backgrounds in theater to how they are dealing with COVID-19 in both their personal and professional lives. The two opened up on their lives: Bensussen has a full house after both of her adult children moved back home. Padrón's brother is a fireman in California, meaning he is a frontline worker. It's hard for him not to think about his family members in California when he's confined to an East Rock apartment in New Haven.
Both said they are also mourning cuts to staff that the theaters have made in the past month. Currently, there's no official date on which cultural institutions may safely reopen. Early data suggests that COVID-19 will be cyclical, and that members of the public may be hesitant to head back into theaters, restaurants, auditoriums and other indoor spaces even when the CDC deems it safe to do so. In the meantime, millions of Americans have lost work, and thousands have lost their lives."I think we're making it up as we go," Padrón said. "I think that because this is an unprecedented moment, certainly in my lifetime and in many others, and I think for the field, we are making it up in real time. In terms of: How do we continue to stay connected to our audiences? How do we take care of our staff? What is this new normal?"
Bensussen recalled how quickly news changed for the Yale Repertory Theatre last month, which initially reduced its audience size, then cancelled the remainder of its season just a day later, and is now estimating losses of $500,000. Going forward, she said, she isn't sure what the fall season will look like. Plays may need to start months later than they were initially scheduled to. Attendees may sit three or more seats apart. Theaters may start to record performances for live streaming.
"It's a huge act of improv," she said. "If you study improvisation, most of you might know this from popular culture one way or another, it's 'yes, and.' You don't say no to anything. As we move into this new world, it's gonna be a huge act of improvisation."
Both also agreed, nearly in the same breath, that Connecticut's cultural institutions will only make it through COVID-19 if they work together. Padrón noted that it has given a new urgency to the theater's next season, including a two-day "State Of The Union" artists' congress held in partnership with local arts organizations, advocates, activists, and arts practitioners.
For Long Wharf to succeed, he added that he believes Hartford Stage, TheaterWorks, and other regional partners must succeed as well. Bensussen threw in other cultural institutions, including the Wadsworth Atheneum and Mark Twain House.
"You come into this space as strangers, and you walk out a community," Padrón said. "That's the work that the theater does."
To donate to Long Wharf Theatre, click here. To donate to Hartford Stage, click here.