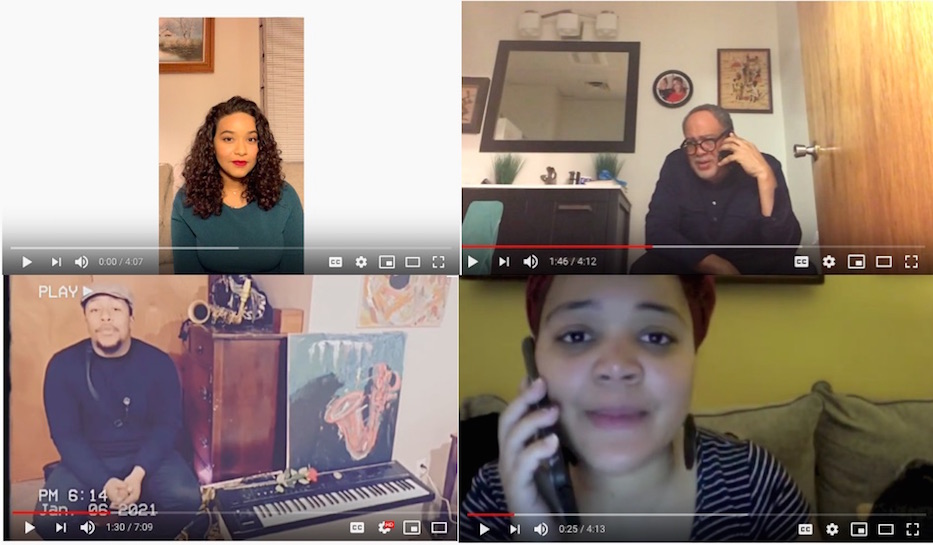 Culture & Community | Arts & Culture | Theater | Sharece Sellem | COVID-19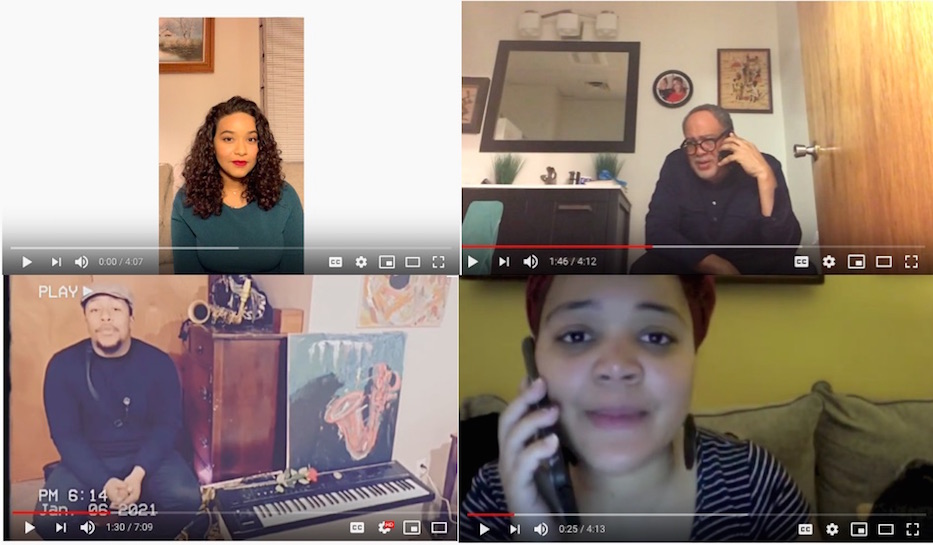 Clockwise from top: Betzabeth Castro in Lori Sinclair Minor's Brand New Day, Mike Twitty in Running Out by Steve Driffin, Cheyenne Barboza in New Norm by Steve Driffin, and Stephen King in Mark of the Beast by Jacqueline Simone. All ten plays are available for free on Sellem's website. Photos below, of playwrights, are courtesy of Sellem.
The shot opens on a well-loved saxophone, fingers pressing down on its keys just so. The camera pans out: a musician beside his keyboard, surrounded by paintings. His hat dips with every slow, reverent nod of his head. There's a timestamp: It's January 6, 2021. Is the coronavirus pandemic over?
"That song was dedicated to my good friend Phoenix," he says as the film flickers like an old videocassette. "My soul mate. Uh .. I uh … I don't know where to start. Um. Phoenix was one in a million."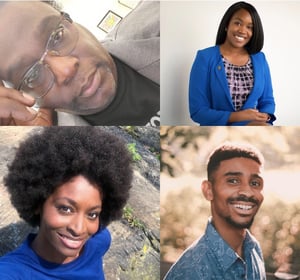 Mark Of The Beast is one of ten videos in a new, weekly Quick Quarantined Play Festival from New Haven playwright Sharece Sellem and her company Vintage Soul Productions.
Last week, the inaugural group of actors and playwrights kicked it off over multiple states, using the internet—and a good amount of adrenaline—to bring the theater community together.
Playwrights included Lori Sinclair Minor, Isaiah Reaves, Jacqueline Simone, and Steve Driffin. Actors included Betzabeth Castro, Tonille Watkins, Stephen King, Jason Hall, Lanea Sellem, Mike Twitty, Catherine Luciani, Cheyenne Barboza, Michele Mary Clay, and Valerie Brookshire. Like Sellem, many of them are professional actors and teaching artists who are suddenly, unexpectedly without work.
"I just felt like I was going to go crazy if I didn't do something theater related," Sellem said Saturday afternoon, in a post-festival Zoom call with Minor and Reaves. "I thought about the amazing folks who live in my area, who are in my life, and who really enjoy doing theater."
She came up with a structure based on 24-hour festivals she's participated in with The Bechdel Group and The Dirty Blondes, both theater companies in New York City. In those, she's had a focus on "guerrilla style" playwriting, where she chooses an actor's headshot and writes like the wind.
In this version, playwrights had 24 hours to write three monologues each. Sellem had a timeline in mind: one monologue had to take place just before COVID-19 hit the U.S., one had to take place in the present, and one had to be set in the future, after a vaccine had been discovered.
All monologues had to be at least three pages. She also included a mandatory list of words that playwrights had to include, from "Donald Trump" to "curried chicken."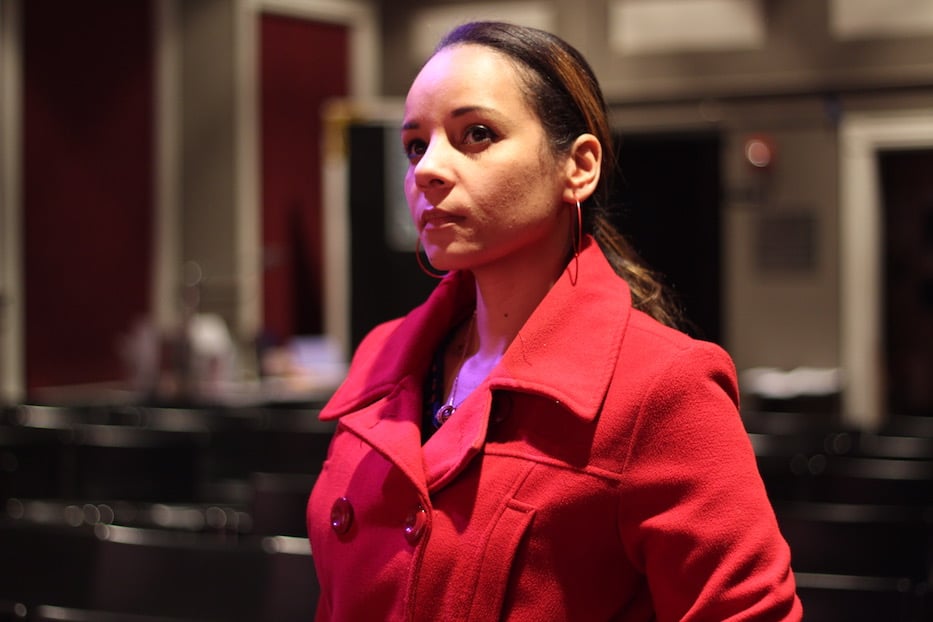 Sellem at a rehearsal for her work Daisies On Harlem's Doorstep at the Norwich Arts Center earlier this year. Lucy Gellman File Photo.
After receiving the scripts, 10 actors had 24 hours to memorize, block, produce and perform the monologues, and send their finished recordings on to Sellem. Robert Esposito, a drama teacher at Cooperative Arts & Humanities High School who has been a frequent collaborator with Sellem, jumped in as an on-call advisor for actors who wanted a second pair of eyes.
Early on, Sellem said she made the decision to lean in to the realities of the pandemic instead of ignoring it, because it was the very thing that had turned her world on its head.
"The importance of documenting, of preserving this history is important," she said. "There has to be a light somewhere in the dark. We're taking a very dark and grey situation, and we're going into the humanity of it. I think that it's important to write that."
The resulting body of work, which lives entirely online, is an explosion of humor, heart-rending sorrow, loss, loneliness, and astounding community support.
In Reaves' Princess, the audience is sent back to a moment in early 2020, just around the time COVID-19 was starting its rapid spread in Italy. A woman named Naomi (Tonille Watkins) is packing a pink suitcase as she talks to her mom over FaceTime.
Watkins has lost no time on character development: she looks every part the princess. Her hair is fixed in curlers, and a silky, night-blue bathrobe ties over her front. White earbuds dangle from her head. The suitcase sits open on the bed, its mouth hungry for more clothes.
The language is heated but economical. She explains to her mom that she has broken up with her boyfriend, who was going to propose to her in Venice. He cancelled the trip because of a virus that is "literally super bad in China or something ... but what does that have to do with us?" So she's going to go to Venice by herself.
There's an immediate desire to reach into the frame, to shake Watkins' character by the shoulders and beg her not to go. To tell her that it's going to be bad over there—worse than in China, actually—and then it's going to be bad here, too. That people she knows, or friends of people she knows, are almost certainly going to die. She might get sick. That there's no vaccine, and Venice looks less beautiful from six feet beneath its wet soil.
But Reaves has also communicated everything the audience needs to know about this character. Naomi knows she's deserving of self-love. She wants to be treated like a princess because she is one. Her mind is made up. She's going to go.
"When working with the character, I knew what was going on, and so I knew she shouldn't go," Watkins said in a phone interview Saturday. "But knowing her needs, I also connected with the part of her that realized she wasn't in love with her ex-boyfriend, and that she was going to do this. I connected with that very human side of her."
"These are probably the most human stories that we can tell right now," she added. "The stories that resonate with everything. It really was about us all just looking at what we had in the moment and making the most of it."
Over the 10 works, playwrights have tapped into the exhaustion, grief, disbelief, biting humor and anxiety that their viewers may also be experiencing. In Mark Of The Beast, the viewer meets a narrator (Stephen King) who has lost a lover and a best friend to the virus. Sort of. Simone is cunning: she draws on nostalgia, raw emotion, and even fond memory before sucker-punching the viewer with a surprise ending.
Her Ms. Slay, performed by Lanea Sellem, captures the exhaustion and uncompensated emotional labor falling to millions of women during this time. Other playwrights change it up: Driffin's "Running Out," performed by Mike Twitty, manages to be tinged with humor and dread all at once.
Monologues are sometimes viscerally human, looking the virus' dark, fear-drenched underbelly right in the eye. In Minor's My Hero, performed by Valerie Brookshire, the playwright takes on the wave of anti-Asian xenophobia that has swept the country and the globe.
The work, in which a mother hears about targeted, violent bullying of an Asian-American student at her son's school, was inspired by a Facebook discussion Minor had been having with her friends.
"I wrote about someone I hoped I would be in the face of adversity," she said Saturday via Zoom. "The person who would speak out in the face of our fellow Americans, our fellow people."
In Driffin's New Norm, there's a different kind of storm brewing. A video opens on the morning after a COVID-19 vaccine has been announced on the nightly news. A young woman (Barboza) is on the phone with a friend who has been quarantining with her partner.
They discuss all the things they're ready to do—like drink coffee outside and hug people. Barboza puts on makeup in the camera, and viewers may think of the last time they showered and put on lipstick. As the expectations mount around a new normal, so do her fears towards the world she is about to meet.
For Barboza, who spent part of March recovering from COVID-19, the work hit close to home. She's been working for Long Wharf Theatre remotely for almost a month, trying to figure out what "normal" even means. While she is usually a playwright and director, the work gave her a chance to flex her acting muscles.
"It was like, 'wow,' look what we do under pressure," she recalled in a phone call on Saturday. "It was fun. It was also a little stressful. You don't have time to overthink it when it's 24 hours."
Several of the participants added that they are thinking about it in terms of mental and emotional wellness. Shortly after Broadway went dark in mid-March, theaters around the state and the country cancelled the reminders of their seasons. Watkins, who is a teaching artist based in Bloomfield, found out that she wouldn't be returning to work from watching the nightly news.
Castro, King, and Hall were all performing in Collective Consciousness Theatre's Skeleton Crew, which halted its run two weeks early. Barboza and Simone both work at Long Wharf Theatre, where productions of The Chinese Lady came to a screeching halt. Sellem has lost months of work from Arts for Learning Connecticut.
Reaves, who is a senior at Northern Kentucky University, is adjusting to life without in-person classes and a summer full of uncertainty. After meeting Sellem at a playwriting festival in Harlem, he has been quarantining in Cincinnati. He's been using the time to read plays—Branden Jacobs-Jenkins is a favorite—and write poetry with his grandmother.
"I think this pandemic and the politics around it are showing us who we are," he said. "Everyone is so emotionally exposed right now. Our political figures are so raw. What better material to work with? We're messy and complicated and human. We're all trying to reach one common goal, which is to make sense of it. We're all trying to get there, sociologically."
Sellem plans on holding one festival for each week the U.S. remains largely inoors. Find out more about the 24 Hour Quarantined Play Festival here.