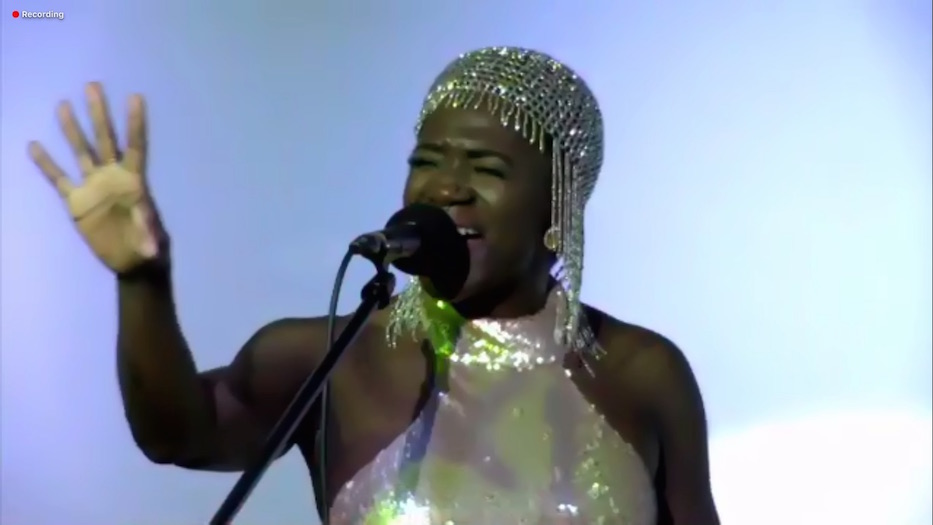 Culture & Community | Music | Arts & Culture | COVID-19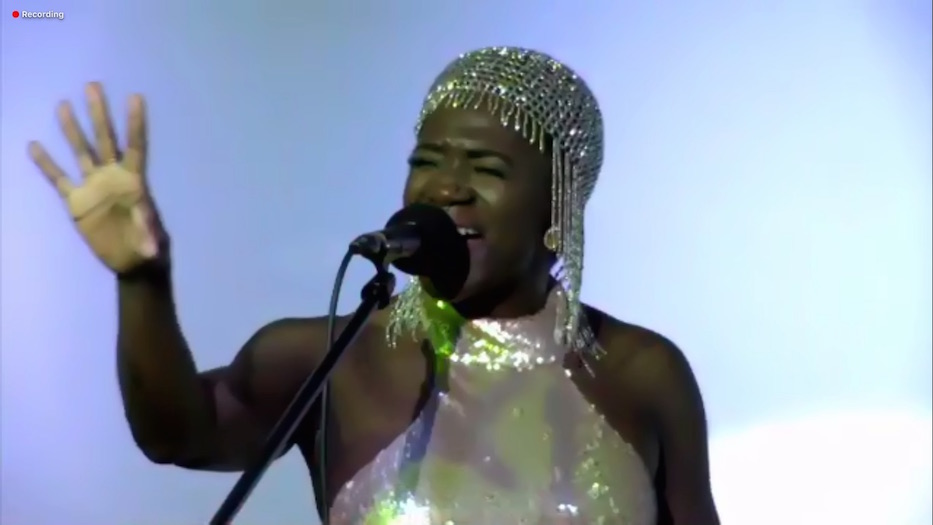 STOUT had summoned the ghost of Nina Simone. On stage, she leaned her whole body into the mic, then threw her head back. Blue-green light flooded the room, bouncing off a silver sequined dress. For a moment, her face was soaked in the glow. She moved her arms skyward, collapsed whole decades of music history, and ushered in Kendrick.
"We gon' be alright," she crooned, vocals soaring. "We gon' be alright."
Friday, STOUT blessed New Haven for 45 minutes straight, performing an intimate tribute to the late Nina Simone as part of At Home in New Haven (AHiNH). Beamed out from Kennies Earl Kreative House on Shelton Aveneue, the concert was one of over 40 that packed the inaugural week of the program, a virtual stage for the city's artists, chefs, gardeners, writers and musicians.
"It is my intention, our intention, to bring you joy in this time," she said Friday. "Take away what you will. But take joy and peace … [because] once this thing lifts, we gotta hit the ground running."
Born and raised in New Haven, STOUT has been performing for her entire life, first in church and school choirs and later on international stages with Alicia Keys, Stevie Wonder, Missy Elliot, Usher, Childish Gambino and others. Three years ago, she joined Cory Henry and The Funk Apostles, with whom she has been traveling since. She has released gospel music, including her 2015 Awakened, under the name Denise Renee.
Maybe for that reason, Friday felt like home and homecoming. As dusk crept over the city, STOUT swept onto the Shelton Avenue stage, dressed head to toe in shimmering silver. If her audience was several screens away, it didn't feel like it: she was ready to sing in the spirit of Queen Nina, and for a moment the performance felt so close one could almost forget the reality of shuttered venues, dry taps and virtual tip jars. Almost.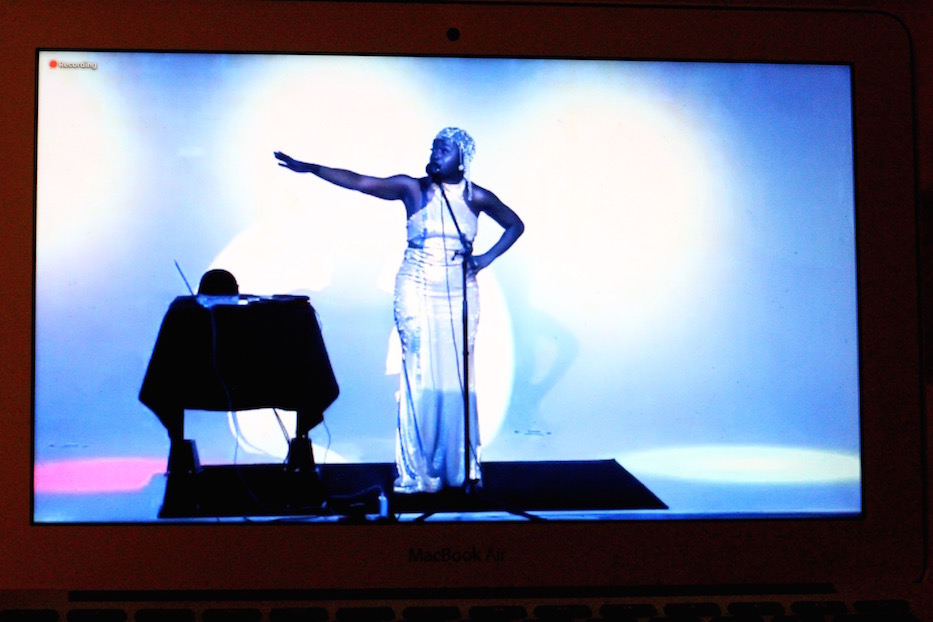 A neat huddle of equipment sat to her right. She glowed at the center of the room, reaching into a bag of tricks that included backup singers, multiple cameras, and a mixture of prayer, poetry and looping that could bring the biggest internet-as-performance skeptic to their knees. As she eased into her set, she praised Simone for her lasting impact on the world.
The musician seemed to move through her body, a force shifting and pulsing with the light in the background. As viewers eased into the performance, she wailed a simmering, slow-burning version of "Feeling Good" that flowed right into "Alright," layering two whip-smart lyricists and musical truth tellers across decades.
"If Nina was here, I think she'd say 'we gon' be alright,'" she half-said, half-sang. She wasn't performing for audience members. She was ministering to them.
She broke through the heavy of the week, singing Simone's sheer will and power into the moment. It felt right on time: for the fear and loneliness of isolation that quarantine breeds, for a virus that has taken over 70,000 American lives and may take many more as states reopen, for a country that allows guns—in white hands—but not protest signs into multiple state capitol buildings.
Nina Simone would not have been shy about the fact that the COVID-19 pandemic joins the 400-year long epidemic and public health crisis that is anti-Black racism, and STOUT wasn't either. This was an homage to an artist who contained multitudes—who could release song birds from her throat in one breath and describe "real girls' talk" as "Marx, Lenin and revolution" in another.
That sense of benediction flowed through the night, anointing everything it touched. At one point, dancers Jolie Diamond and Adjovi Simpini joined her onstage, filling the frame with movement and bright, brilliant color. At another, she lifted a book of poetry and read Nikki Giovanni's "No Heaven," taking time to let each line soak in for listeners who were scattered across tens of screens, at their couches and dinner tables and kitchen counters.
"How can there be no heaven if God created a voice like that?" she asked no one in particular, still holding the words close. Moments later, she added, "I hope it will reach her family."
Close to 30 minutes in, she set a loop into motion, vocals lush and layered as they filled the room. Then she stepped back, and began to wail. It took a second to realize it was "The Lord's Prayer," performed with enough teeth and heart to bring a listener straight to church. With each note, the prayer seemed to radiate further, reaching somewhere that was both New Haven and far beyond New Haven.
Moments later, she launched into The Band's "I Shall Be Released," which Simone covered two years after Bob Dylan initially wrote and recorded the song. As she gave herself over to the lyrics—I see my light come shining/From the West down to the East—they became her own.
She crooned them at a whisper, then released them as bolts of silk into the room. She let her voice bloom and tear right through the space, just as it does on many of her gospel tracks.
Then she wrapped herself in her arms, a gesture that she urged the audience to do at home. She began to minister one last time before the video feed, run by AHiNH organizer and musician Paul Bryant Hudson, concluded.
"I hope it brought you some joy," she said. "No matter what you're going through, we're gonna get through this. And it's gonna be over ... we don't have to live in fear."