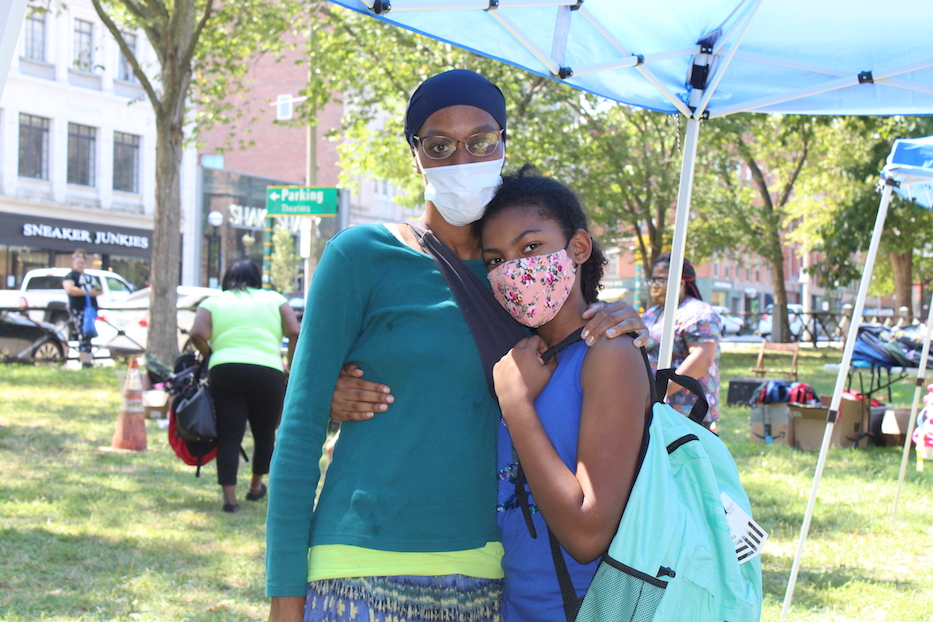 Education & Youth | Arts & Culture | Black Lives Matter | COVID-19 | Arts & Anti-racism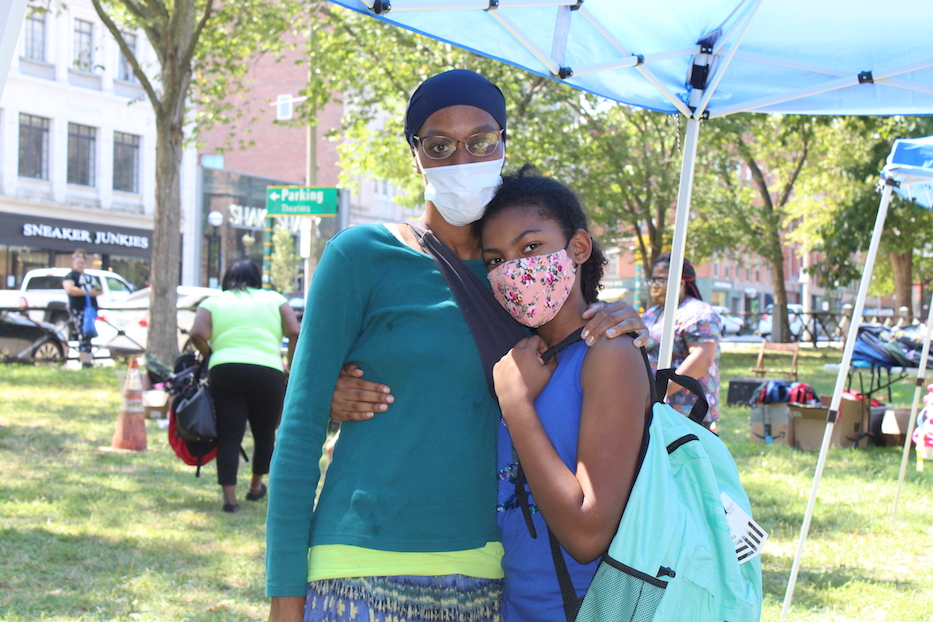 Katabba Muhammad and her daughter Makayla. Arturo Pineda Photos.
It started as a four-hour effort to help the community get ready for the school year. It ended as a two-day celebration of New Haven students, mutual aid, and the rapid five-year-growth of a social justice grassroots movement.
Saturday, members of Black Lives Matter New Haven held their fifth annual Back to School Drive on the New Haven Green behind Trinity Episcopal Church. The event, organized by Black Lives Matter co-founders Sun Queen, Sy Frasier and Ashleigh Huckabey, was originally scheduled for one day, but was extended into Saturday night and then Sunday as donations continued to roll in. By the end of the weekend, Queen said she was happy but completely exhausted.
The drive drew people from towns and cities across the state including Bridgeport, Waterbury, East Haven, Hamden, and North Haven. Many had learned about the event through social media campaigns and word of mouth. The group also provided bookbags and drawstrings bags filled with food and water to adults who were in need, regardless of whether they had students at home.
By the end of the weekend, over 1,100 backpacks had been distributed across the city, filled with back-to-school supplies and snacks that students will be using in less than two weeks. The Board of Education was set to issue a final decision on whether learning will be fully remote or hybrid on Monday evening.
"Whether your child is going back to school for two days a week or staying home, whatever it is, let's get them prepared," said Sun Queen in a video on social media Saturday, while the drive was still downtown. "Grab your friend, your neighbor, and come and get these book bags for the youth. I love y'all."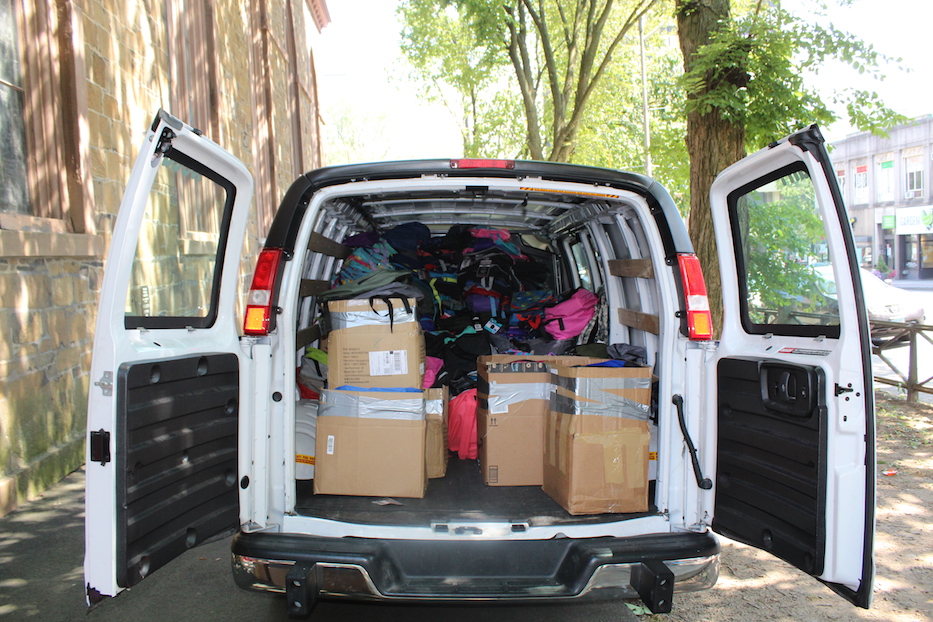 Around her, organizers and volunteers set up tables piled high with colorful, patterned bookbags, stations where kids could learn to dance and drum, and coloring and art making opportunities. Drumbeats rang joyfully across the Green, volunteers sanitizing after each use. Frasier, Huckabey and Sun Queen canvassed the space, the latter in a sunlight-yellow mask. At points, all three jammed along with some of the participants and encouraged young musicians to keep going.
The latter is in line with the group's longterm mission: founding members have always found a way to weave together art, activism, and service to the community. Organizers also brought a white banner where children could sign their name or express their feelings. Even in the middle of a pandemic, children deserve to have some fun, Queen said.
"We need art around us," she said. "Making art brings the children happiness."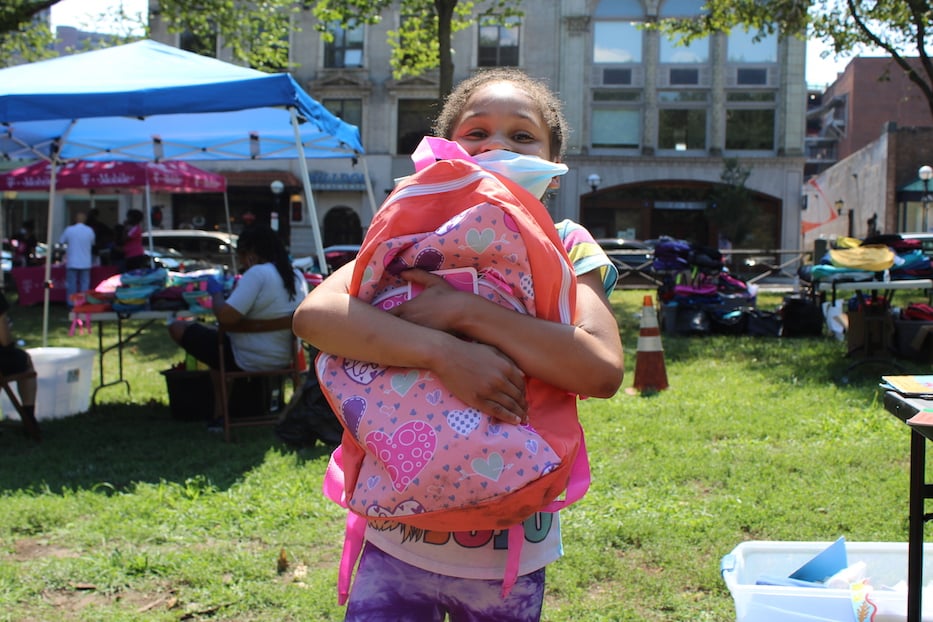 Jaylin holding her new bookbag.
One of those children was Makayla (pictured at top), who left with a bright blue-green backpack and a smile beneath her rosebud-patterned mask. Saturday, her mom Katabba Muhammad had driven from her home in Meriden to eat downtown. She hadn't planned on picking up back-to-school items. But when Makayla spotted the backpacks and bookbags on the Green, they knew they had to stop by.
Muhammad and her husband, both teachers in New Haven, are worried about the reopening of schools and potential financial uncertainty for families. Even as New Haven schools plan to start the year fully remote in two weeks, many families are still preparing for a hybrid model of learning in the future.
"It means everything to get a bookbag," she said. "It is a great help to anyone, especially during these times. Less things I have to buy."
That emphasis toward helping the community is at the group's core—and right on time for its fifth birthday this month. Black Lives Matter New Haven began in 2015 with back-to-school and hat and glove drives, as well as a months-long fundraiser to get water to people in Flint, Mich. This year, the group's call for supplies brought in 700 more bookbags than last year's drive, and grew to include back-to-school supplies such as markers, notebooks, pencils, and calculators as well as toys.
In previous years, the event was often held in a specific neighborhood because of limited resources. After starting on the Green this year, however, the group formed an impromptu car caravan and was able to travel across the city, delivering supplies in over 15 neighborhoods and many of New Haven's public housing developments. Some especially gleeful pint-sized New Haveners may thought they were getting holiday presents in August, when hundreds of backpacks materialized at their homes close to midnight.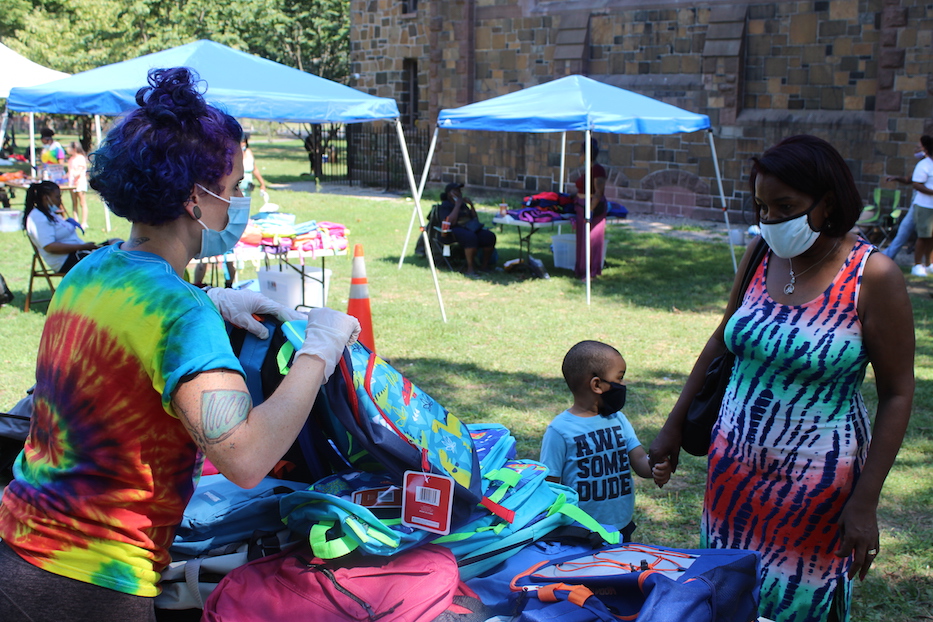 Sarah Pimenta helping people pick out backpacks for the year.
Fraiser, one of the co-founders of Black Lives Matter New Haven and primary organizers of the event, said she was overwhelmed by the turnout and growth the organization has seen in this past year.
"We're finally getting the respect from the city we deserve," she said. "When we first started it was just four girls from the city doing things but we have proved we're here to stay."
In past years, Fraiser, Sun Queen, Huckabey, Dawnise Boulware, and Ala Ochumare did everything on their own. They shopped, packed, and delivered more than 400 bookbags using their own funds. But something changed this year: approximately half of the bookbags were donations from community members or purchased by people through the group's Amazon wish list.
After a call went out on social media earlier this summer, some friends chipped in together on 24-packs of backpacks that helped the group meet its goal quickly. The bags were packed across various cities including New Haven, Bridgeport and Hamden and delivered to New Haven on Friday night.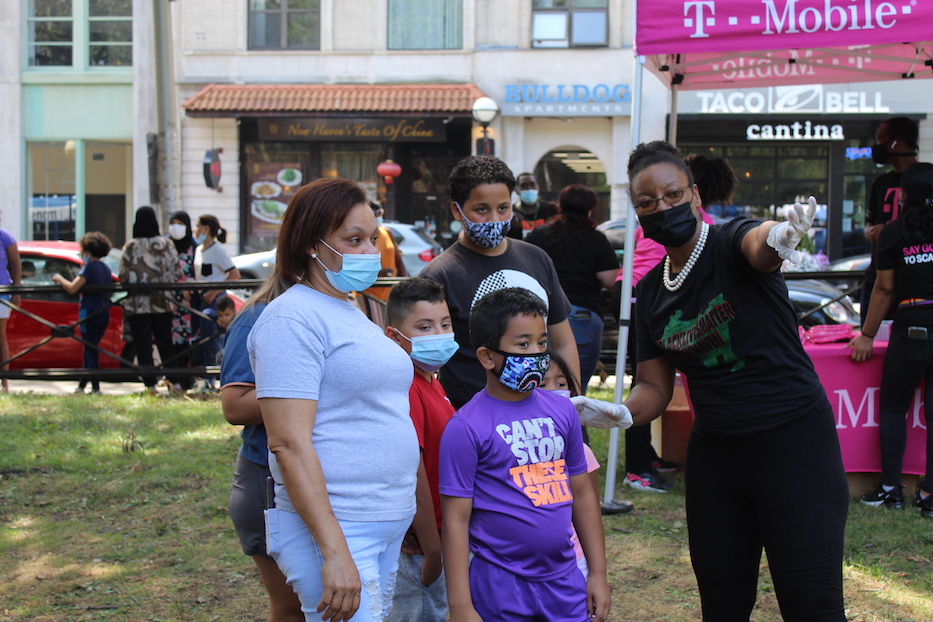 Meredith Benson directing people to the stations.
Ochumare, a co-founder of Black Lives Matter New Haven who volunteered at the event, emphasized the importance of building a community where it already exists and continuing to expand the definition of community across the state.
"We don't operate within these city limits or borders," she said. "We can't let these artificial borders reach out to our communities in other cities. "
Laurie Sweet, an organizer with Hamden Action Now and parent of two, highlighted how meaningful it has been for Hamden residents to show up for New Haveners and likewise. She praised Black Lives Matter New Haven's ability to have a clear pulse on the community and to know what it needs.
As a parent, she remains anxious about the reopening of schools but is grateful that the drive is easing financial burdens across multiple Connecticut cities.
As the day progressed, volunteers, coworkers, and community members continued dropping off more snacks, school supplies, bookbags, and even stuffed animals. Against the church wall, music continued to flow from several drums and tambourines, jubilant dancing soon added to the mix. The items were wiped down after every use.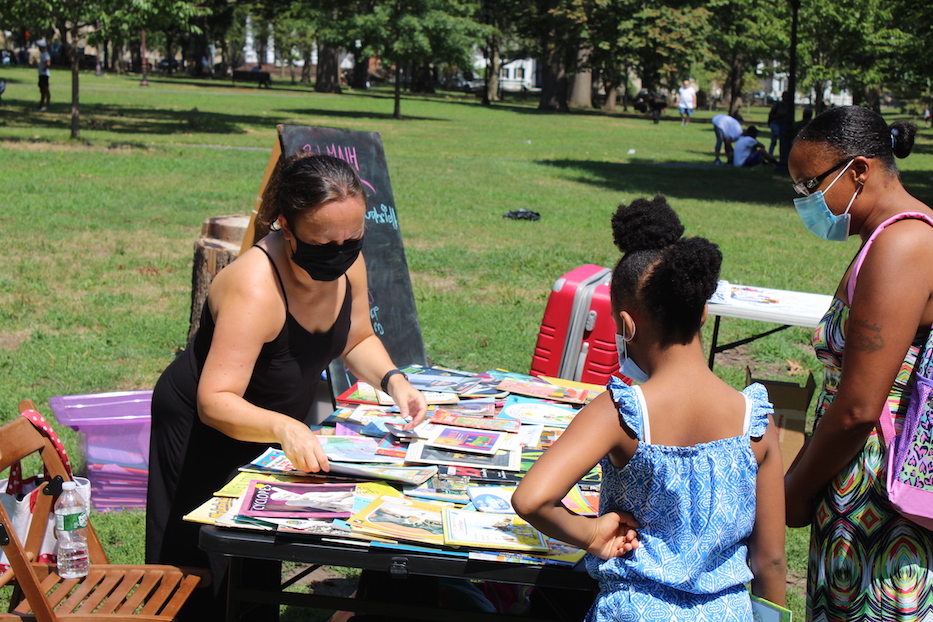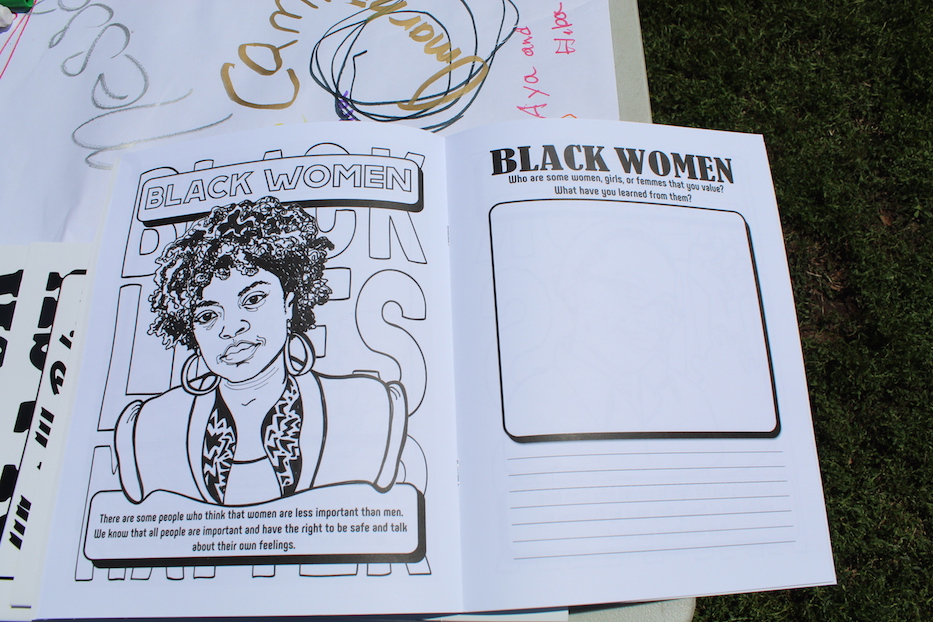 Top: Jennifer Heikkila Díaz helps a family pick out books. Bottom: Pages from the inside of the Black Lives Matter Coloring Book.
In a phone call Monday, Sun Queen joked that it felt like a family reunion or barbeque, without the barbeque. Shirts that read "Black Girls Are Sunshine," a campaign that she has led for over a year, dotted the space. Volunteer Meredith Benson greeted each family by chanting "Black Lives Matter!" and dancing to the beat of the drums.
Benson said she believes these community events are crucial to building community and working towards liberation.
"I feel like this is real liberation," she said. "Giving these students access to an education is so important."
Others, like Winyia Corey, felt the drive was a good opportunity to see community members and take her two younger siblings for an outing. Due to COVID-19, she has been skeptical about taking them to shopping centers to buy school supplies. Her concern was echoed over and over throughout the day: parents are facing an economic recession and a pandemic, and the drive filled an immediate need.
"The opportunity for them to get their own school supplies is so important when they're young," Corey said. "It's nice to get them outside the house so they do that."
Brandi Marshall, a Newhallville Community Management Team member, called the event a chance for New Haven kids to tap into a sense of community, and get a reminder that they're not alone. She emphasized how in March, many students were forced to adjust a new lifestyle without warning. Now, they're being forced to adjust to different school models with limited help.
"For me, I don't care if I'm struggling, " she said. "I know someone else is struggling more."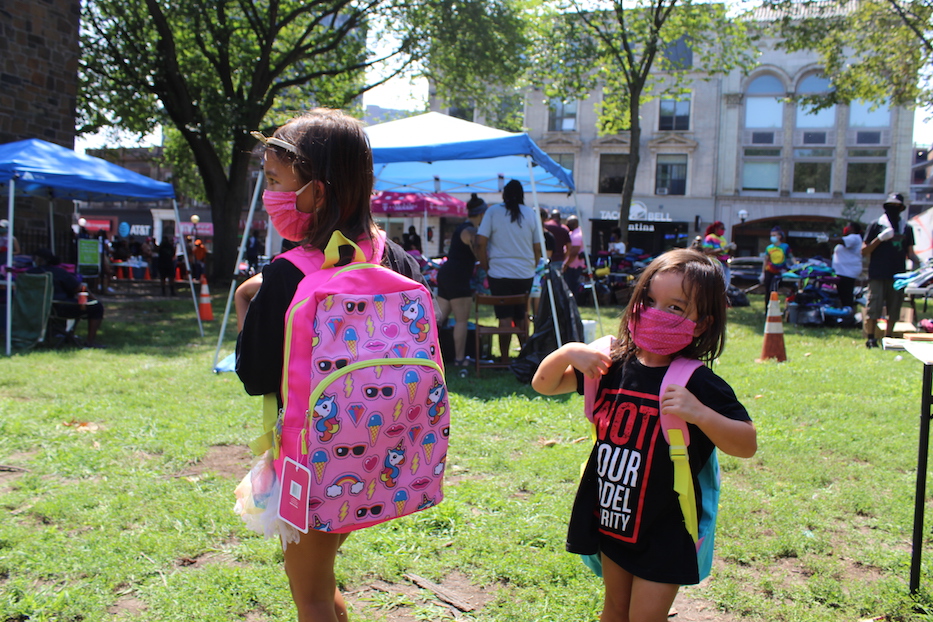 Magdalena and Gabriela show off their new bookbags.
Sheryl Lawrence, the co-chair of the Newhallville Community Management Team, drove by the event on her day off and decided to volunteer. She praised the event's wide community focus, noting that one can't look at someone and know how they are doing based on their clothes.
The drive was a reminder of what community can look like, added Ochumare. She hopes that the drive reminds people that it does take a village to raise a child and begin leaning on one another more.
"It is beautiful to see this," she said. "This all came from the community and we're able to give it back."
As the afternoon wore on and it became clear that the group would had more backpacks to distribute, organizers hatched an idea: turn the drive into a literal drive, on wheels. Members packed up the Green and headed out, as Frasier and Sun Queen put out triumphant updates on her social media, tracking the group's progress and noting that "We are coming to a hood near you."
As the sun sank, members of a back-to-school drive covered the city in cars and a U-Haul, traveling from Front Street to Eastern Circle, and then on to Grand Avenue, through Fair Haven, and all the way to West Hills ("we are the traveling backpacks!" said Sun Queen in a video early in the evening).
As Queen and Frasier posted the group's location—Queen sometimes singing the words unapologetically/Black—other organizers grabbed a megaphone to announce that the group had arrived.
They became a superhuman backpack brigade, dropping in on kids and families like back-to-school fairies equipped with all the right tools. At one stop, Sun Queen recalled, a mom whipped out her phone and began praising the group for its work, noting how happy she was to see both her community and the city's Black youth lifted up in a positive light.
Sun Queen gave updates from the front seat, exhausted but still energetic as the night wore on. After midnight, organizers decided to regroup on Sunday. In one update late in the nighht, she smiled despite burning, aching feet and the knowledge that she would need to do it again in the morning.
"Black villages, they matter," she said. "Black joy, matters. Black youth matter. Black voices matter. We out here, y'all."
"The Back to School Drive is to provide the community scholars with essentials for school," she later added by text, in a message from her, Huckabey and Frasier. "This year was BLMNH's biggest Drive. BLMNH been manifesting for the event to get bigger every year and the fifth year it happened. The number five is linked to balance and grace, which is important while thriving during a pandemic."
"The Back to School Drive is more than just bookbags and supplies," she continued. "It's about Community [her capitalization] and being able to be a resource. This also lifts a little pressure off of parents. It's like a family reunion no barbecue however we do provide fruit, snacks, water etc. There's a lot of organizing that goes into from gathering community donations to going to a variety of stores trying to catch sales and then packaging all the supplies."
"Balancing for Sun, Sy, and Ashleigh looked like working 8-plus hour shifts and then packing bags to 12 a.m or 1 a.m. in the morning. BLMNH's Back to school drive has definitely been able to spread Black Joy. The Drive this year was a two day event reaching as many city neighborhoods—the Island, Eastern Circle, The G, Blatchley & Grand, Ferry & Chatman, The Carter, The Manor, and Brookside. The smiles and conversations were so rewarding and worth the countless hours put into making it successful."
To find out more about Black Lives Matter New Haven, follow the group on Facebook.