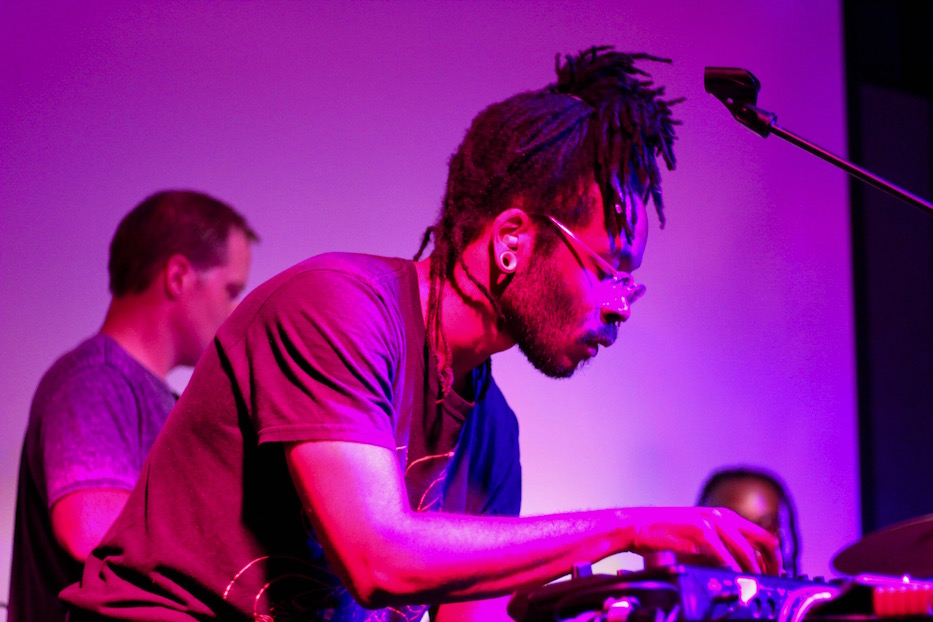 Music | Phat A$tronaut | Arts & Culture | Black Lives Matter | chad browne-springer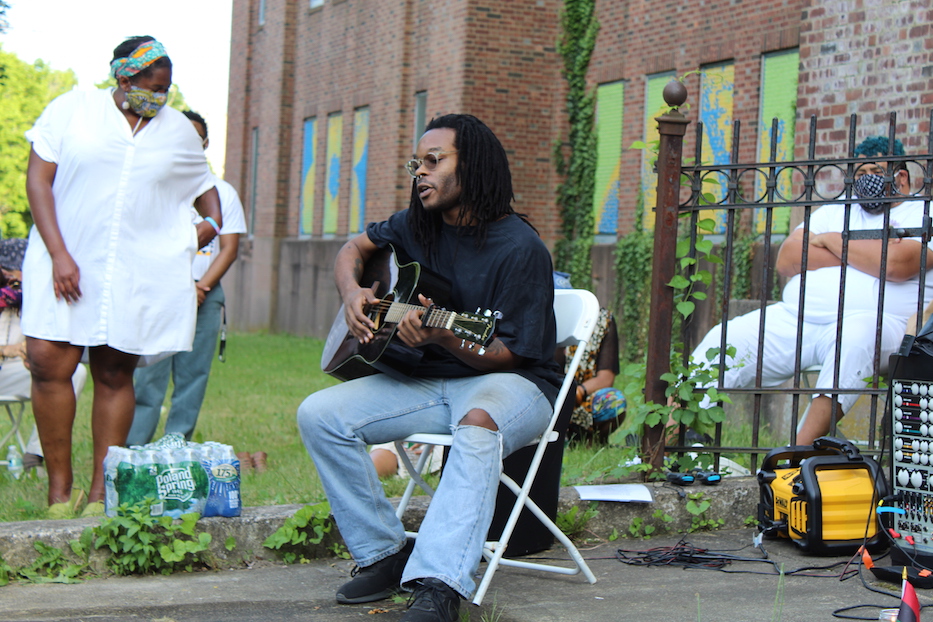 chad browne-springer performing at the Goffe Street Armory on Juneteenth. Arturo Pineda File Photo.
Steady plucks are the first signs of rain. The crooner's warbled notes hit the ears like drops of water. Smoking on a backwoods by the lake. It's drizzling now—a low-registered growl gives goosebumps—cold beads slide down shoulders and backs. Their steady stream soaks listeners to the bone. Oh, to settle down for a while/figure out why I hate myself.
A trio of voices summons raging tides. Their words wash every insecurity and inhibition ashore. Emotions lie bare in its white foam and spray. With this, I wish you the strength to be vulnerable.
The lines belong to "Lakeside," the latest release from musical artist chad browne-springer. browne-springer is the frontman of Neo-soul band Phat A$tronaut and member of musical group Lvls. The Quarantined Series featured a performance by browne-springer in late March. In early April, they premiered their solo track to the world.
Lakeside is different from anything they've ever produced. The song isn't fast-paced or bluesy. Lines don't gyrate in their syncopation, and the tune doesn't oscillate between modes. It's a ballad, slow and steady. Lakeside is an extension of browne-springer themselves, lowercase alias and all.
"I've been doing music all my life, and it's an expressive, cathartic, connective, outlet that has always given me great purpose," browne-springer said in a recent phone interview. "It's given me visibility, emotional connection, and a release for my expressions and intentions."
For a long time, browne-springer's upbringing left little room for those expressions and intentions to develop. They were born and raised in East Hartford, to parents who immigrated to the United States from Barbados for a better life (browne-springer likes to call the Caribbean country the "land of Ri-Ri;" they have referenced Barbados in Phat A$tronaut's "Motherland"). While loving, browne-springer's parents were strict, restrictive, and demanding towards their child. They believed education was the sole path to success.
In turn, browne-springer pushed themselves academically and joined every extracurricular they could—team tennis, swim team, badminton club, show choir, chamber choir, a cappella, marching band, volunteer groups, student council—they invested every part of themselves in their parents' dream. As browne-springer reflected during the interview, they reasoned that their parents wanted the best for them.
"I wasn't listening to hip-hop, R&B, or soul music. I wasn't watching Chappelle's Show either. From my mother's standpoint, she was trying to protect me from the world," browne-springer said. "The world was the streets and Black culture. It was the reality of what it is to be a Black-male voice. She was very aware of how it was gonna be like—what I needed to be prepared for."
Despite their membership in plethora school groups, browne-springer struggled to make meaningful connections. Their family didn't talk much. Their lack of engagement in Black culture separated them from the Black community. Their white peers only saw their exterior, deeming them, as they recalled, "too black" to be a close friend. They weren't masculine enough to their male peers and could find no place among Barbadians. Soon, browne-springer felt no room for emotional expression, connection, or love at the intersection of their race and biological gender.
chad browne-springer at an album release party with Phat A$tronaut in Bridgeport in 2018. Lucy Gellman File Photo.
Music was their buoy. They sang the National Anthem for their school. Their talent stood out in choir and a cappella shows. Their soul jumped touching the keys of a piano or the strings of a guitar. browne-springer recalled dancing around the room as their mother played her Brazilian music on Sundays, her sacred cleaning days. Other times, they'd run to the radio and crank up Lite 100.5, bopping to tunes from Billy Joel, Elton John, The Beatles, Stevie Wonder, and occasionally, Michael Jackson. As they got older, browne-springer added Coldplay, Mumford and Sons, The Killers, and Kimbra to their list of favorite artists.
"What I noticed is that people started looking at me differently after a while," browne-springer said. "It was like they were seeing me for the first time because of my musical abilities. Singing was an outlet that gave me a visibility that I had never experienced before. I still felt alone, and I didn't feel that when I was in music. It's the real—I'm aiming to be genuine, honest, vulnerable, and transparent. Music is a connecting entity—it moves humanity forward. It pushes above imperfections and can change the mind, the soul, nations, and movements. It creates the kind of world I want to live in."
By the time browne-springer hit their late teens, they'd begun considering a career as a singer-songwriter. They wanted to share their developing sense of self with the world. The ability to write lyrics, compose, and produce a song felt like a "superpower." While their parents pushed them to focus on school, browne-springer continued to sing, play instruments, and win their peers' musical admiration until their graduation in 2011.
They tried to keep music a constant throughout college, but they struggled to find their signature sound. For them, music that appealed to the mainstream masses felt disingenuous. Through an acquaintance, they met producer Kyle Rodriguez, who taught them to use music production software. When Rodriguez left for work, browne-springer would experiment with the program's limits.
"I was just making shit up," they recalled. "Anything I created was a masterpiece, and I wanted to release it—even if that wasn't true. I didn't realize the process. Just because you put the paint on the canvas doesn't mean you blended the colors or created a picture. I wasn't thinking about mixing down where the music sits just right in the headphones and mic. Does it sound good in your car? How do the drums work? It was, 'There! I love it! It's perfect! I'm gonna sing on top of it, we're gonna release it, and it's gonna be done!'"
In 2020, browne-springer cringed at the memory. Back in 2013, someone had recognized their budding talent—music producer No Alias. He was a friend of browne-springer's mother. She'd introduced them to each other when browne-springer was just 16. After hearing the new work, No Alias decided to manage and mentor browne-springer himself. Alias taught them the fundamentals of sound production—every note in their cluster chords required three takes, "one for the left ear, one to the right ear, and one in the center." Alias' wisdom was invaluable, adding a certain "seasoning and pop" to browne-springer's music.
The music industry continued to be a finicky business. Soon, No Alias was putting more money into browne-springer and their projects than he was getting out; he couldn't handle the financial strain. He ultimately left browne-springer to recoup their musical journey.
browne-springer pivoted—they focused on honing their skills and sound without a managing producer's help. They sat at their sound station each day and chased the music they heard in their head. They learned from their favorite artists, sampling, and rewriting bits from the likes of Childish Gambino and Kendrick Lamar. Little by little, browne-springer learned how to generate "whole songs from top to bottom."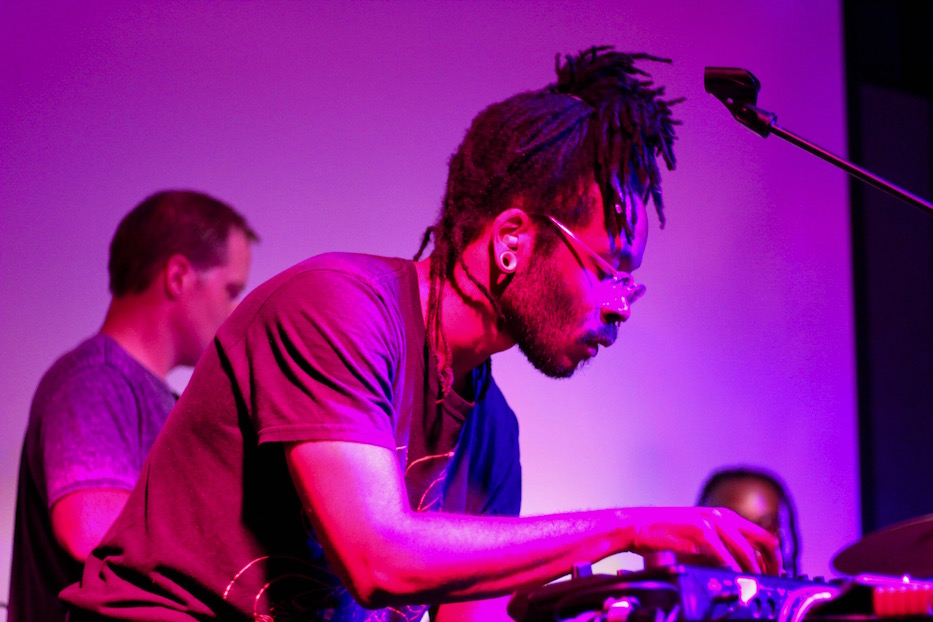 chad browne-springer performing at The State House's first birthday party in August 2019. Lucy Gellman File Photo.
"I thought, 'I don't really have the skills, but I can at least give it a try—I'm all for DIY, that do-it-yourself, figure-that-out shit,'" browne-springer said. "You work with what you have. You have that $1,000,000 equipment sometimes, and you've got that $20 microphone that you've got to make work sometimes. Other times, all you have is your phone and that voice memo feature—you gotta make it work."
During those hard times, browne-springer discovered the artist that would impact their music the strongest—Jon Bellion. Bellion's 2013 single "The Wonder Years" touched browne-springer like nothing else had before. It was the sound he'd been searching for, one with the right mix of grit, storytelling, and soul. He was an inspiration in more ways than one; Bellion also wrote, produced, and mixed his own songs. Browne-springer wanted to sound like him. They needed their music to spark the same fire Bellion lit in their belly.
"He creates this palette of pop, hip-hop beats, experimental electronica, and voice distortion," browne-springer said. "He makes his voice sound like it's underwater or really high and does these beautiful harmonies drawn in and out. In 'The Wonder Years,' he questions the point we lose the innocence of our childhood. 'I'm forgetting how love feels, and my niece is blowing bubbles in the yard.' You know, people turn on the news, and there's people killing each other. That yard is posing the dichotomy of harsh realism, and my niece doesn't give a shit. At what point do we go: 'Take me back to the days when I was younger, and all this bullshit didn't exist?'"
browne-springer took their next leap—purchasing a TC-Helicon VoiceLive Play to get the sound they wanted. It was an economical choice—the compact device functioned as a looper pedal and voice processor. browne-springer could distort their voice to get Bellion's "underwater" effect and tighten their harmonies through autotune. The looper pedal's memory bank was about ten seconds long; the time limit forced browne-springer to become precise in their playing and composition, especially during live performances. They named the pedal "Beck."
browne-springer's music further evolved, co-founding Neo-soul band Phat AStronaut alongside musical director Mark Lyon in October of 2016. Manning a seven-member ensemble forced browne-springer to reconsider their creative approach. Their music had always reflected their own shifting identity—the band's tunes needed to represent six other voices. It was difficult to "relinquish creative-control," but browne-springer didn't regret it. The band produced music browne-springer could never have conceptualized by themselves; each sax, flute, guitar, and voice struck their own perfection.
The group's former bassist, Michael Russo, even helped browne-springer refine their production set-up. Beck required browne-springer to push buttons with his hands to record and playback loops. The bassist noticed how cumbersome the process was and replaced one of Beck's buttons with a simple switch. With that problem tackled, browne-springer sought to expand the device's ten-second-loop limit. With encouragement from the group, they purchased the Boss RC-505 Loop Station, dubbing it "Esther."
browne-springer ended up daisy-chaining all their equipment into an intuitive linear network. Suddenly, they could dance from panel to panel with mesmerizing ease. They invested in a MacBook for Logic Pro X and Adobe Light Room; both programs allowed browne-springer to shoot and record their own music videos. They purchased a ROLI Lightpad Block, utilizing its Bluetooth capability and soundbank. Browne-springer described it as a "little square that lights up and looks like it plays space invaders." With all their gear in tow, both browne-springer and Ph$t Astronaut released several records between 2018 and early 2020.
And then COVID hit.
"Oh, I'm so fucked, okay. And here's why I'm totally fucked," browne-springer said of the pandemic. "I make all of my income off music and the arts to some degree. Those things require gatherings of people, throwing events, or some sort of exchange where it's not just me in my house making the music. Phat A$tronaut was moving towards touring, as well as myself as a solo artist."
Connecticut may be re-opening, but browne-springer isn't. They described a constant struggle between the need for monetary gain and their moral compass. browne-springer cannot, in good conscience, take their band across the country and risk their lives and the lives of gathering crowds to keep themselves afloat. They called the very act "immoral," citing the need for musical expression as a poor "exchange over human life."
Yet, the risk of disease is the least of their woes—the public outcry against police brutality has forced browne-springer to confront the very Blackness their parents discouraged.
"I remember watching the George Floyd video," they said. "I get to maybe four minutes in, and I decide I'm never watching it again. I feel this well, this wave of emotion—angry, hurt, scared, terrified. I felt like crying, like that was my neck under that knee. I've never felt so connected to a thing that I did not want to connect to."
"I never know strangers' perception of this entity, this Black body," browne-springer continued. "It could be fear, lust, or confusion. I don't really have a say in it. I see it in the woman that crosses the street at a distance or the person on Tinder who's looking for some 'Black dick.' I'm slowly realizing I don't even identify as male, but all this time, I've been conditioned to accept myself as a Black male and all the perceptions that come with it. No one's gonna ask me my fucking pronouns, how I feel, or my sexual preference. This all has made me so aware of my position in this world."
Many of browne-springer's friends advocate for social activism through demonstrations. When two acquaintances invited browne-springer to attend Bridgeport's Route 8 protest on May 30, browne-springer initially refused. They were terrified of the virus, terrified that officers wouldn't hesitate to shoot a Black, male body. They rushed to the comfort of their home. Then they had something of a revelation.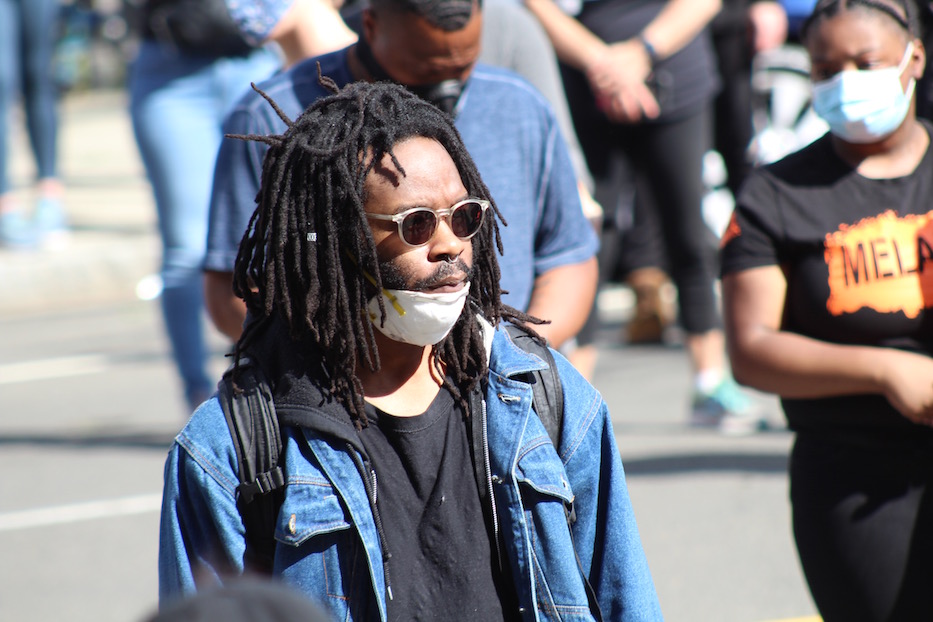 chad browne-springer at a Black Lives Matter protest in New Haven at the beginning of June. Lucy Gellman File Photo.
"I had to ask myself, 'am I more okay with living in fear of a virus or standing for something I believe in? I'm gonna stay inside watching Netflix and not doing shit, or I'm gonna go out there and put my life on the line because my life is on the motherfucking line anyways.' What the fuck does 'safe' even mean?"
browne-springer rushed to the frontlines with their camera in tow—if something were to happen to them, they wanted to document the incident for "future generations to see." They recalled facing the "lions' den," walking outside the police precinct. As they walked further, squads of simple policemen turned into soldiers covered in riot gear. They began to pepper spray peaceful protesters. browne-springer ran away and took cover, filming all the while. The next day, emboldened, browne-springer attended a protest in New Haven, during which protesters shut down I-95.
Connecting with their Black brothers and sisters brought brown-springer a tangible community to hold on to, they said. Despite the systemic injustices that put the community at a disadvantage, browne-springer basked in their Blackness. They praised Malcolm X and jived to Muddy Waters. They felt the soul within Sam Cooke and leaned a mournful ear to Nina Simone. For the first time, being in a "Black, male body" wasn't something shameful.
"I can't say that I have ever carried pride in anything other than my music, never my culture or my history, the history of Black bodies like me in this world," they said. "What the fuck happened before I was here? Nina Simone is a motherfucking queen, and Sam Cooke is this smooth crooner that everybody loved on every television—they fucking forever changed the system. I can't believe their power, their potency, that we share the fabric of their DNA. Being out on the streets, at the frontline of the protests, is me living through that shit."
browne-springer concurrently connected with the Black community and their own family. When they started writing "Lakeside," it was meant to be a party song. At the end of year, browne-springer and their friends hung out by a lake, laughing together and smoking to ring in the New Year. Smoking on a backwoods by the lake. The tune was still knocking around their head on January 12, the day their aunt passed.
Just two days before, they'd come to the hospital to celebrate her birthday with the rest of the family. What a start to the decade.
They weren't even sure they wanted to be there—while their aunt had always been the life of the party at every function, her naivety and optimism had grated on browne-springer growing up, as if her happiness was the reason they couldn't feel whole. Oh, to settle down for a while, / figure out why I hate myself. But browne-springer was there. Their nana was there. All five of their nana's children were there. The family watched their "forever child" lay despondent at the sight of birthday balloons and cake, cancer-ridden body breathing slow and shallow. Just a shell of what I once was. The family knew she was on her way out.
"People have died, but I have never felt the weight of death like that," they said. "I wouldn't have said that we were close, but what I do know is that I have many, many memories with her. She has always been there my whole life—I just didn't realize it until she was gone. Her death feels like it's part of a shattered glass inside of me. Things are leaking out—these emotions feel like they're coming up in arms, pouring out it in ways that I had otherwise suppressed. I'll never forget her appearance, her lack of bodily consciousness."
Grief was a bridge. Their Uncle Earl sat outside her hospital room, scrolling through his phone. browne-springer could tell his uncle wasn't looking at anything, staring past the phone and onto the cold linoleum floor. Start over. They'd never had much in common with Earl. He was always grumpy and only talked about NASCAR and fixing things. Walk until you see the light. They slung an arm around his shoulder and talked for the first time in years. Build until it break and then start over / Is it over already?
browne-springer is the product of catalytic forces, all culminating in browne-springr's upcoming album The Year of Broken Glass. The project will focus on grief, its sting and connectedness. It'll focus on the events that shattered browne-springer and their fragile worldview. It'll feature "Lakeside."
"The album reflects much further than just me," they said. "At this point, 2020 is a year full of a helluva lot of grief. There are so many accounts this year of broken glass—stepping on it, walking through it, holding people back from police precincts."
Once a glass shatters, it's irreparably damaged. "Lakeside" is the lovechild of several artists, Black and white. browne-springer reached out to as many people as he could to give his aunt the send-off she deserved—brass, strings, and the multitude of takes he made to create "Death's choir." She is the woman on the face of the track. Her last voicemail to browne-springer and his sister echoes loudly at the song's end.
To all good things must come and end, come and end
(It's about that time)
You can listen to the track here. On July 17, chad browne-springer will speak with musician Eric Rey as part of the New Haven Free Public Library's virtual Artrepreneur Series. Find out more about that event here.