Juneteenth | Music | Arts & Culture | Community Heroes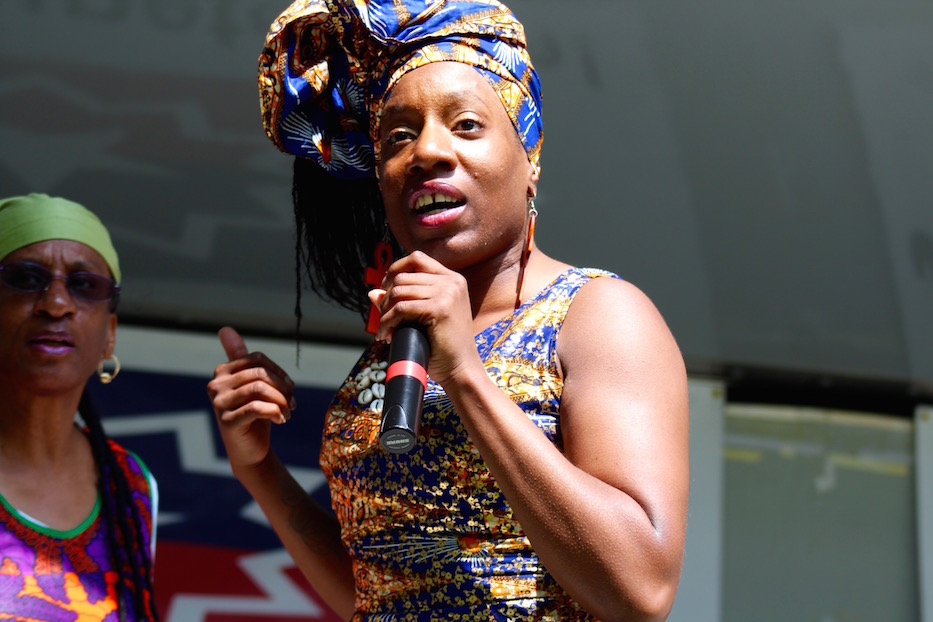 Hanan Hameen, who was surprised Saturday when a ceremony she had planned for community elders doubled as a surprise recognition for her as well. After learning that she will be 40 in July, the crowd burst into a round of "Happy Birthday" à la Stevie Wonder. Lucy Gellman Photos.
A heartbeat-like drum had enveloped the upper New Haven Green. Attendees touched their knees and hands to the ground beneath them, a few steadying themselves as they did. The drums rose, slipping beneath the skin and into ear canals. Onstage, five elders who have given decades to the community started to receive their due.
Saturday, members of the Juneteenth Coalition of Greater New Haven surprised five elders in the New Haven community with public recognition of their work, which has ranged from championing neighborhood engagement and anti-violence initiatives to leading a national call for reparations and repatriation. The event was held in collaboration with the International Festival of Arts & Ideas with support from the Mayor's Cultural Vitality Grant Program.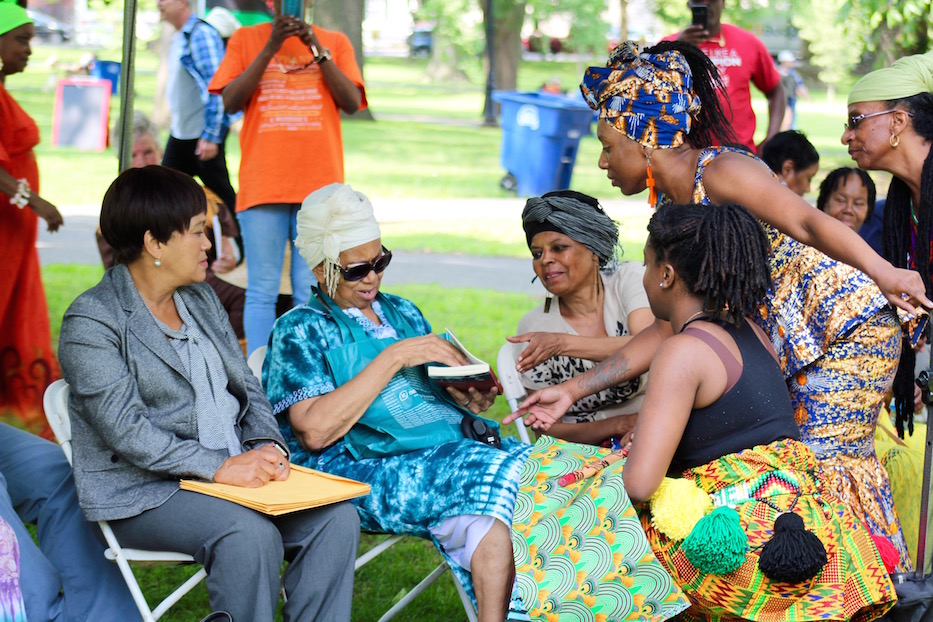 Senior Elder Nabeela Uqdah with Mayor Toni Harp and her granddaughter Hanan Hameen.
The celebration also featured live reenactments from chapters of African-American history in the U.S., booths from the New Haven Free Public Library, Advocate Lab, and Cornell Scott Hill Health Center, and performances from Ice The Beef, Artsucation Academy Network, spoken word artist and dancer Black Pearl and others.
It marked the sixth annual Juneteenth on the green; last year's ceremony honored longtime Dixwell champion Jeffie Frazier. To read about a concurrent Juneteenth festival in Goffe Street Park, click here.
This year's honorees included Senior Elder Nabeela Uqdah, Newhallville champions Hazel and Allen Williams, poet Deborah Elmore, and arts advocate Aleta Staton, as well as a surprise pre-birthday recognition for Artsucation Academy Network Founder and Juneteenth Coalition Co-Organizer Hanan Hameen ("having Hanan as a daughter is like having three daughters," joked her mother Iman Hameen of her work in the community). In addition to recognition from Mayor Toni Harp, all five elders received richly decorated wooden canes and personalized gifts.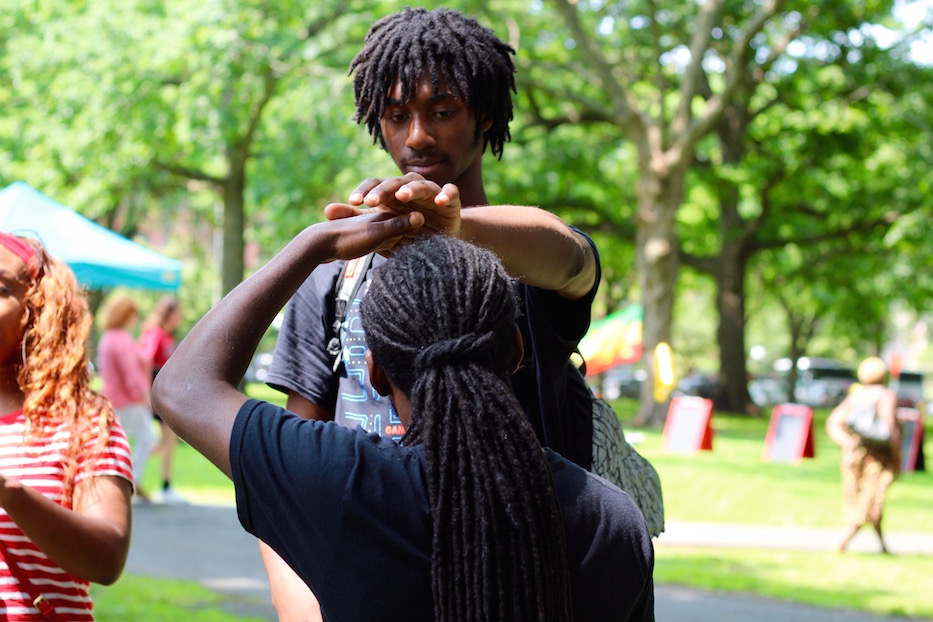 Top: dancers from Artsucation Academy Network and Hanan Hameen's classes at Neighborhood Music School lead the green in celebratory African dance. Bottom: members of Ice The Beef warm up before performances.
"As a person of African descent, it really makes me feel good to see the work that has been done here by the Juneteenth Committee of Greater New Haven," Harp said at the ceremony. "I am so grateful to this committee for helping us remember every Juneteenth about how much it took to get out of slavery, how we had to deal with life post slavery, and how we continue to have to deal with trying to be free in the United States of America."
Each of the honorees has contributed to both New Haven's history, and to the country's. Born in January 1931 in Middletown, Ohio, Uqdah has been leading a national call for reparations and repatriation for most of her life. After arriving in Connecticut as a young adult, she sprang into action, leading protests at Branford High School when she was just 17 years old. Saturday, her daughter Iman Hameen recalled that her activism came from one place: feeling that something was (and continues to be) deeply wrong with the treatment of Black Americans in the country.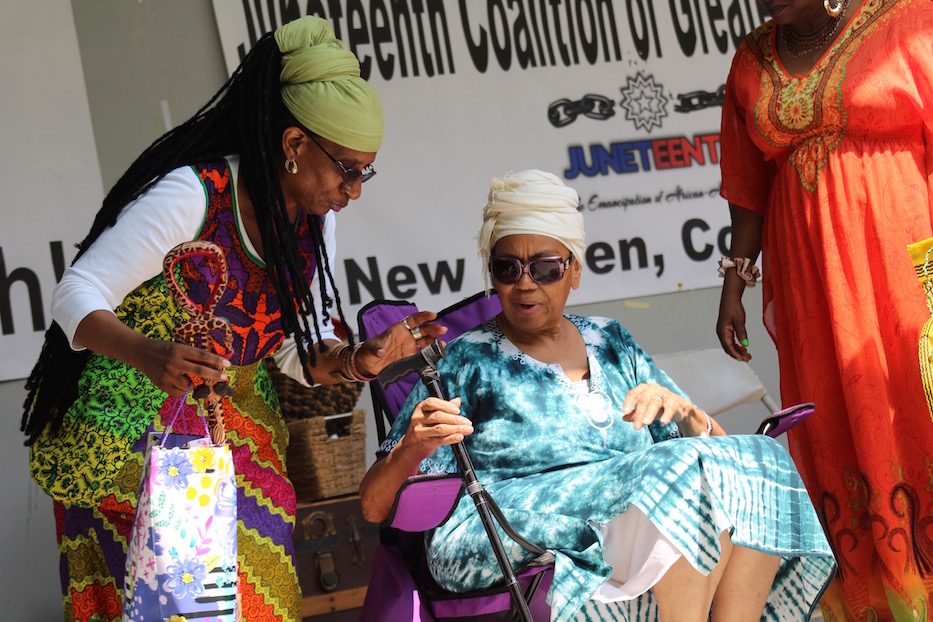 The road ahead of her wasn't easy. After graduating from high school, Uqdah was interested in becoming a flight attendant, but was told repeatedly that there was no place for a Black woman in that industry. She switched tracks to nursing, starting to raise a family at home as she juggled school, homework and rotations during which she was soon recognized for her kindness. By the time she graduated from Yale's nursing program in 1960 (it was then the Grace-New Haven School of Nursing at Yale), she was known for her whip-smart work and the time she took with patients. But when she went for recognition as a surgical nurse, she was locked out of that option too.
"She was stopped by the myth of white supremacy," recalled Iman Hameen after the ceremony. "That's what it is. A myth."
Uqdah responded time and time again by mobilizing, moving from Connecticut to New York and organizing to pass out literature, prepare and deliver testimony and talk to people about the meaning of full reparations. She went on to live her advocacy, moving to Ghana for over a decade until recent hip surgery compelled her to return to the United States and to New Haven.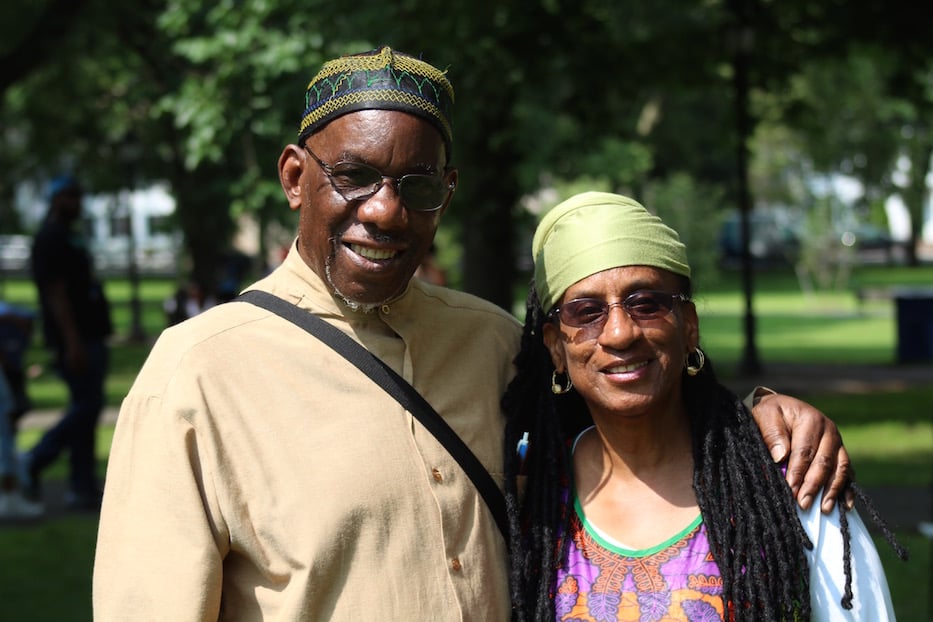 Jesse Hameen II and Iman Hameen.
Onstage, Harp praised her for her advocacy, compassion, and oft-referenced kindness toward others, even in the face of discrimination. Before moving to Ghana, Uqdah worked for years at the Jewish Home for the Aged on New Haven's Davenport Avenue. Addressing the crowd, she said she has since become concerned with the lack of knowledge and understanding around reparations in this country. After the ceremony, her daughter Iman said that is particulary because they have become "so watered down" from where discussions once were.
"I hope this those who consider themselves African-American—you need some studying," Uqdah said. "You need to be studying the information that has been put out for you. No one but you. I want you to understand this. This is a very, very serious … it's very serious, what we're doing here today. It must be perfect."
"Reparations and repatriation, you need to have that information," she continued. "You will have to find someone who is giving some classes. You need some classes in regards to who you are. You must understand it."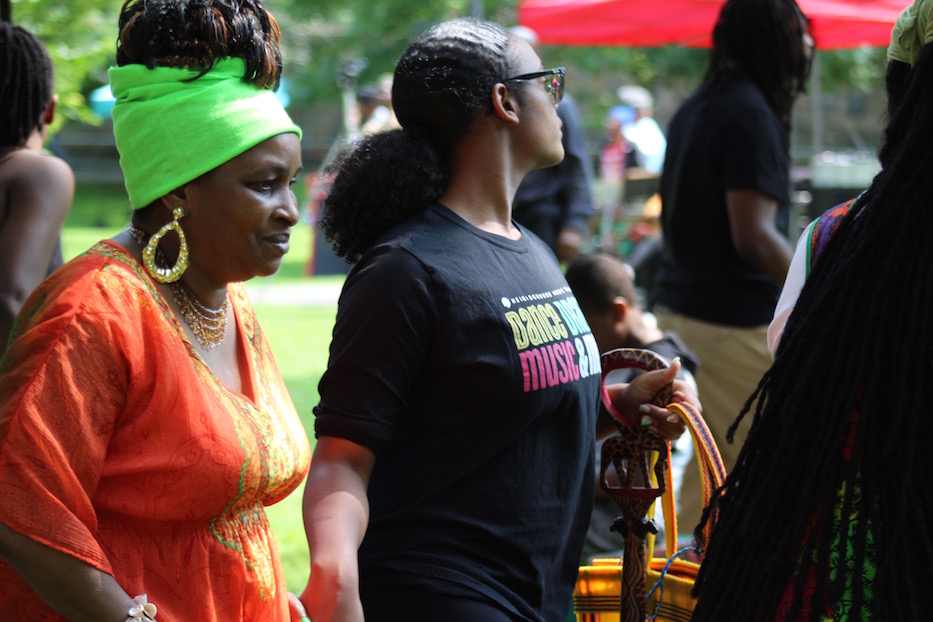 Mama Deborah Elmore after the ceremony.
Sitting beside her, Elmore received recognition for both her creative work in the community and role founding the women's support group S.W.A.N.A (Sisters With a New Attitude) over a decade ago. Since the group's inauguration, she has been instrumental in organizing meetings to remember and honor victims of gun violence and engage and educate community members through gathering.
She has been one of the pillars of New Haven's Kwanzaa celebrations, including the creation of a Kwanzaa learning and kinship seminar in 2009. She was also an early celebrator of Juneteenth in New Haven.
"Thanks to S.W.A.N.A. for believing in me," Elmore said.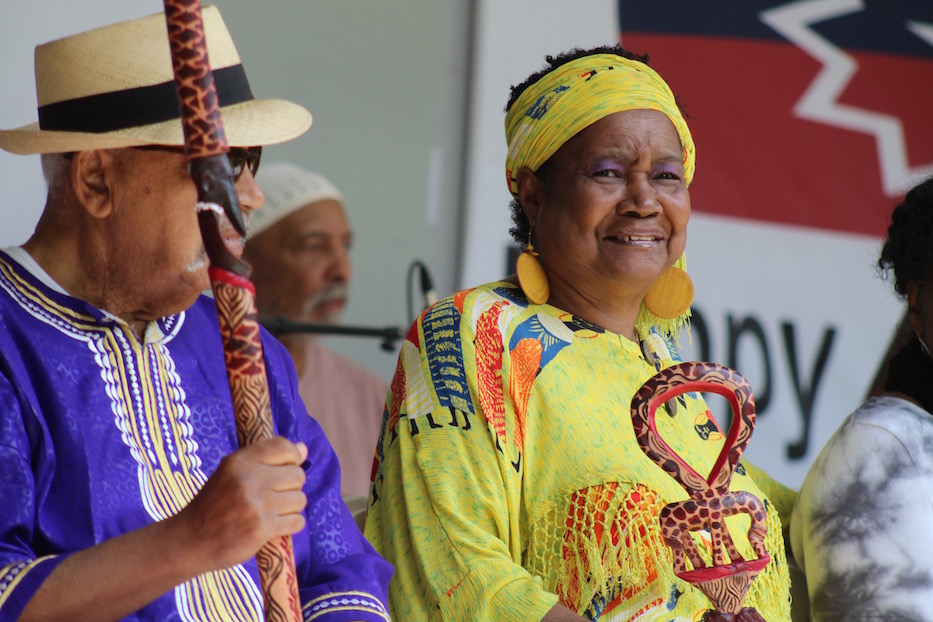 "May your days be long. May you at least live to be 100 and me 100 minus a day, so I'll never know you passed away."
She was in good company. Longtime residents of Newhallville's Pond Street, Hazel and Allen Williams started a Newhallville block watch in the 1990s, to both beautify Pond Street and make it safer. To combat crime on the block, the couple encouraged neighbors to repaint their houses and front porches, move plants into their yard, and install lights on the front of their houses and their porches. They began to throw a block party, now the city's longest-running fête all summer. In the 1990s, Allen Williams also began working with "One Voice," a policing initiative intended to cut down on shootings in the neighborhood.
"They didn't treat the drug dealers and the gang members like they were the enemy," recalled recalled jazz musician and longtime New Havener (and Uqdah's son-in-law) Jesse Hameen II. "They treated them like they were their sons. It was with love. I think that's so important, that we get a chance to enjoy some peace."
Since that time, other neighborhoods in the city—and around the country—have used the same block watch model to increase safety in their neighborhoods. For Hazel Williams, the love flows both ways: she accepted the award by noting her ongoing devotion to the city.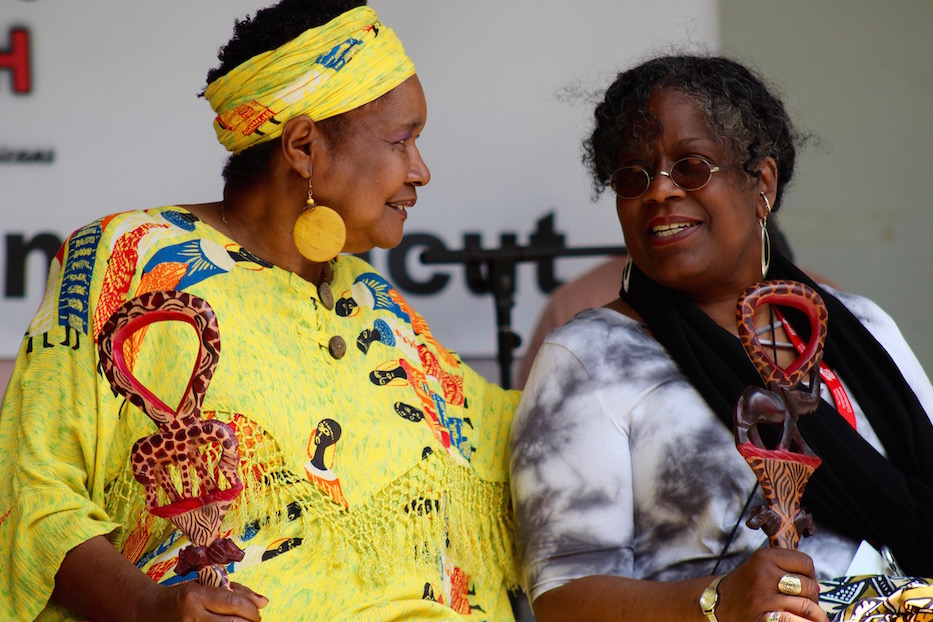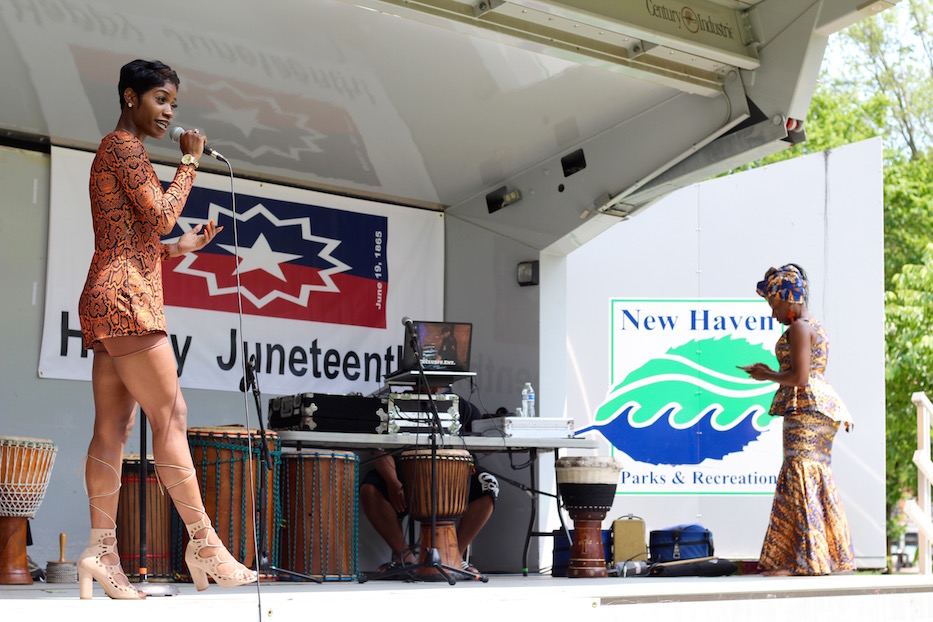 Top: Hazel Williams and Aleta Staton. Bottom: Spoken word poet Black Pearl.
"This is the best city in the world," she said. "I'd like to thank Pond Street, that's the best street in the world. And I'd like to thank all of you who came out to help us. God bless, and may your days be long. May you at least live to be 100 and me 100 minus a day, so I'll never know you passed away."
Because the couple's wedding anniversary is on Juneteenth each year—June 19 marks the official celebration of Freedom Day or Emancipation Day—Hanan Hameen said that it has taken several years of top-secret planning to make sure they are available for the celebration. This year, the two are celebrating 38 years of marriage, a fact that was met with whoops and applause.
The last to receive recognition—as a community engagement manager at Arts & Ideas, Saturday had her running around—Staton blushed amidst high praise for her longtime involvement in the arts.
In addition to over 35 years of teaching and community collaborations with Quinnipiac University and Long Wharf Theatre, she has done programming, marketing, and education in the New Haven Public Schools, regionally at ACES/ECA, and the Arts Council of Greater New Haven. She's also served the state, both with Arts for Learning Connecticut and municipally, as chair of New Haven's Commission on Arts, Culture and Tourism.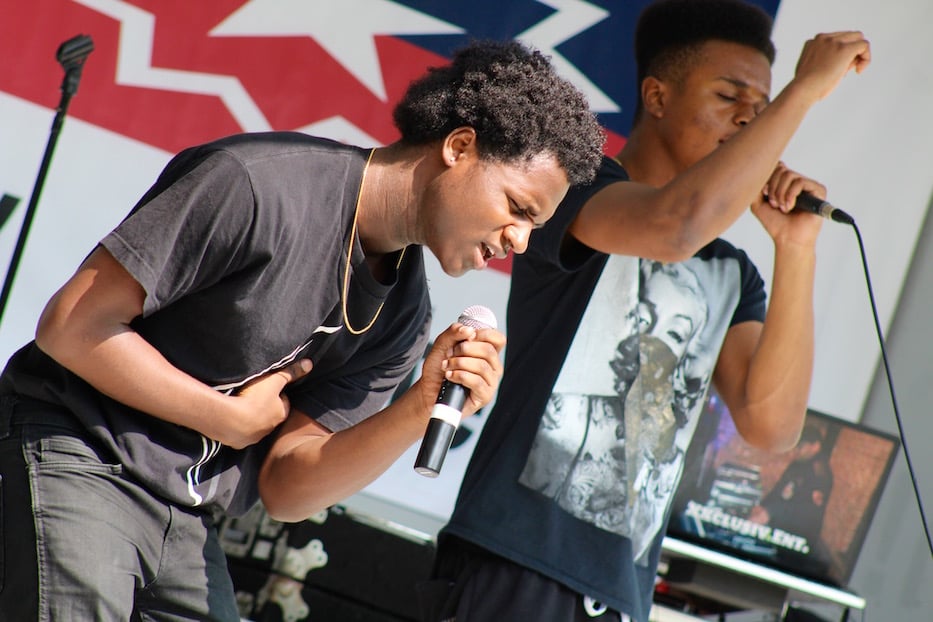 Performers from Ice The Beef's Doo-Wop trio Kompozure also graced the stage during the day.
"I'm very very choked up," she said. "Unexpected. So, so, so appreciated. From my village. God bless you."
Hanan Hameen said that in part, she sees honoring elders as a way to educate some of New Haven's youngest residents, from those who performed on the stage afterwards to those who may not have made it out to the ceremony.
"I want the youth to know who they are," she said.
To watch more from the ceremony, click on the video below.