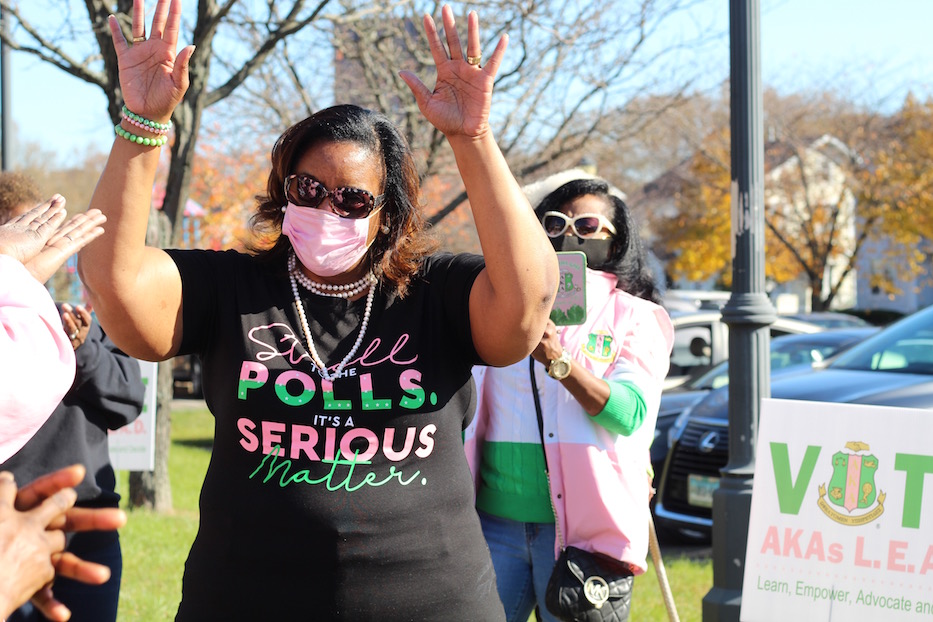 Dance | Music | Politics | Presidential Election | Arts & Culture | COVID-19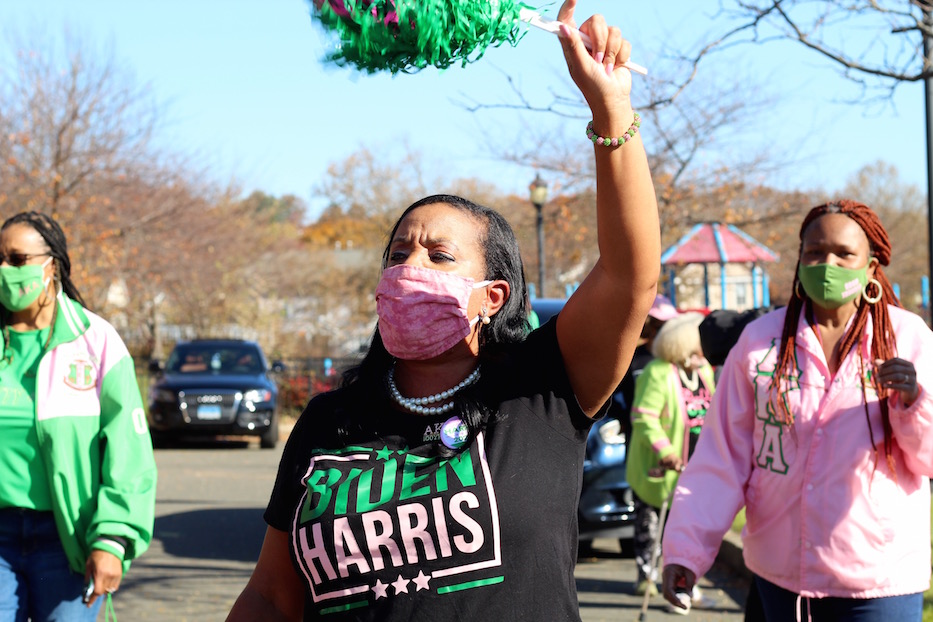 AKA Connections Chair and Greater New Haven NAACP President Dori Dumas. Lucy Gellman Photos.
Over two dozen women stood still in the sunlight, waiting for the beat to drop. A speaker crackled to life. Two dozen hips pivoted. Just as many right arms pointed skyward, pinkies lifted in perfect unison. Set It Off I suggest y'all Set It Off I suggest y'all! Strafe whisper-sang. Hands clapped in time with the music. Someone called a perfect "skee-wee!," a jubilant cry that soared over the asphalt. This was a victory lap, AKA style.
Sunday afternoon, members of the Theta Epsilon Omega chapter of the Alpha Kappa Alpha Sorority, Incorporated gathered outside of Wexler-Grant Community School to celebrate Kamala Harris' victory as vice president elect of the United States. Harris is the first Black and South Asian woman—and the first soror—to hold the position. She joined the founding chapter of the sorority at Howard University in 1986, 78 years after it was launched and three decades before she shattered a glass ceiling. The celebration began at 12:08 p.m., a nod to the sorority's 1908 founding.
"We are elated at seeing herstory in the making," said chapter president Shenae Draughn. "This is the first time a woman, and a Black woman, is holding this office. It is amazing."
Around her, the sun-soaked parking lot became a sea of pink and green as sorors parked their cars and congregated in the center of the lot. Instead of hugs, they greeted each other with COVID-19-safe elbow bumps and excited waves. Ivy Leaf designs, some sparkling from masks, and fuzzy green letters dotted the space. At the top of three steps, Connections Chair and Greater New Haven NAACP President Dori Dumas waved pink and green pom-poms that shimmered in the sunlight.
"We elected a soror! Our VP is our soror!" she sang. On her feet, rhinestone-studded laces glinted off her pink converses. This year, the shoes became a trademark of Harris' tenacious ground game during the 2020 presidential campaign. So did the vice president elect's pearls, a direct nod to the sorority.
Near Dumas, lifelong New Havener Karen Kennon soaked in the sun in a pearlescent baby-pink windbreaker emblazoned with white Greek letters. The youngest of four kids, Kennon was the first in her family to complete college when she graduated from Tuskegee University. Her parents came from a family of sharecroppers, who moved to New Haven for the promise of industry and financial stability.
Karen Kennon: "We can't forget—our organization was founded in 1908, during severe segregation. These amazing women banded together and made the first chapter."
When she finished college, she returned to the city to pursue graduate work in business. She now works for the Connecticut Department of Labor. Sunday, she said that Harris' road to the White House feels momentous not just because it is history but because it's history in which she can see herself reflected. Across the country, Black women, who in no small part swung the election for Biden and Harris, have been sharing similar stories.
"I'm here to celebrate the first VP of mixed heritage, and a member of an HBCU," she said. "We can't forget—our organization was founded in 1908, during severe segregation. These amazing women banded together and made the first chapter. It's a legacy."
Roughly six feet from her, Sondi Jackson was ready to do the Alpha Kappa Alpha "stroll," typically performed to Strafe's 1984 funk-drenched hit "Set It Off." The tradition gained mass attention earlier this year, as AKA members and fellow sorors in the historically Black "Divine Nine" spearheaded a viral movement to "stroll to the polls," increase turnout and civic engagement, and fight voter suppression.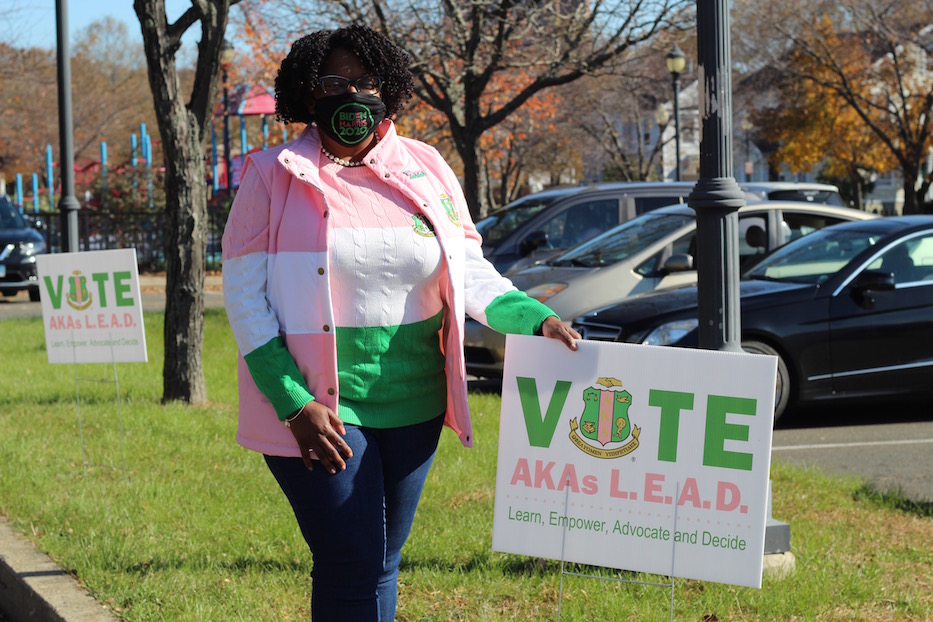 Sondi Jackson.
For Jackson, a speech pathologist at Wexler Grant, the moment has been decades in the making. Thirty nine years ago, she joined an undergraduate chapter of the sorority as a student at Tufts University. When she returned to New Haven for graduate work at Southern Connecticut State University (SCSU), she joined a graduate chapter there. She has worked in the city's public schools for 27 years.
This week, she spent every free moment praying for a Biden/Harris win, sometimes with fellow sorors over the phone. She said she is especially excited to see both Harris and Dr. Jill Biden headed to the White House because she believes they will transform the educational landscape. Saturday, she heard the news when a soror called her during a six-hour online educational workshop. She let out a little shout of relief, and then went back to teaching.
"This is historic for us," she said. "Members of the AKA sorority have been at the forefront of many, many movements for many many years. Just to realize this moment for a member of our sorority breaking the glass ceiling—it is enormous. And for me being an educator, having Dr. Biden as the first lady helps me to feel encouraged. Now that we have a true educator in the president's earshot, I believe the educational agenda will be reflective of that."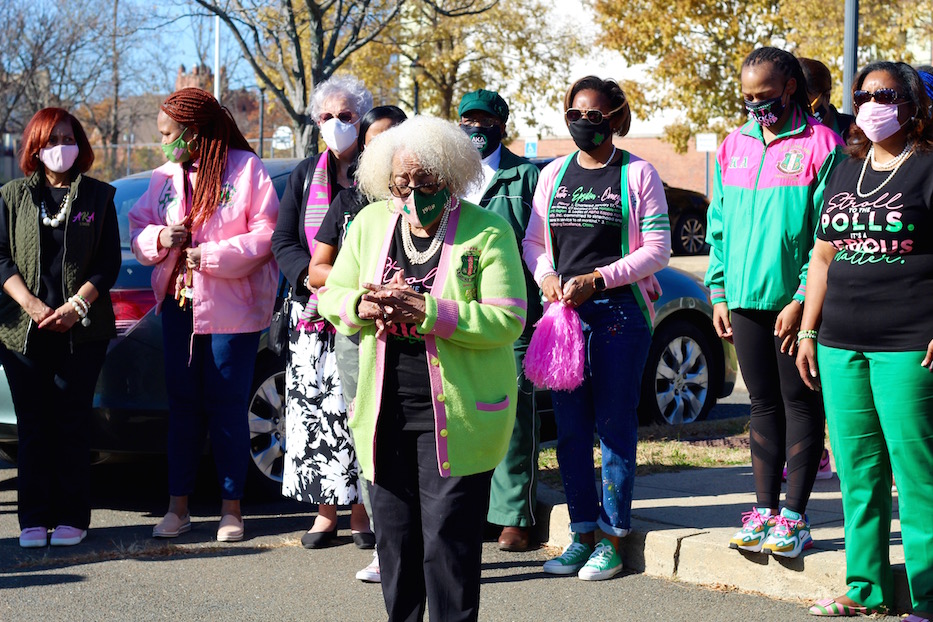 77-year-old Cheryl Pegues also led a prayer at the top of the gathering. "We thank you for this reason to celebrate on this day. We thank you, father God, for leading this nation to do better and to be better," she said.
As close to 50 members gathered beside AKA lawn signs, Draughn pulled up the music from a speaker no larger than a water bottle. In unison, about two dozen members formed a line, waiting for the music to start. When it did, they bounced into action together, pinkies lifted in the instant shorthand for their sorority. No sooner had they finished to cheers and whoops than Draughn called for senior members of the group to assemble, and stroll out to Mary J. Blige's "Just Fine."
Cheryl Pegues was one of those members. At 77 years old, she said she has waited 65 years to see Harris' win. Born and raised in Charleston, West Virginia , Pegues was just a girl during poor attempts at integration in the Jim Crow era South. She recalled how frightening, and then devastating, it was when Black schools closed white families opposed students of color learning alongside their children.
For her, the history of white supremacy and voter suppression isn't a relic of the past. Pegues moved to New Haven over five decades ago, after meeting her husband at West Virginia State College. A longtime champion of education—she worked for decades as an administrator at Gateway Community College before retiring—she said she is most excited that her 17-year-old granddaughter can look up to the vice president and see someone who looks like her.
"It's a long time coming," she said. "A long time coming. I waited 65 years for this day. With all that happened in 2020, I was saying, 'how much more do we have to take?'"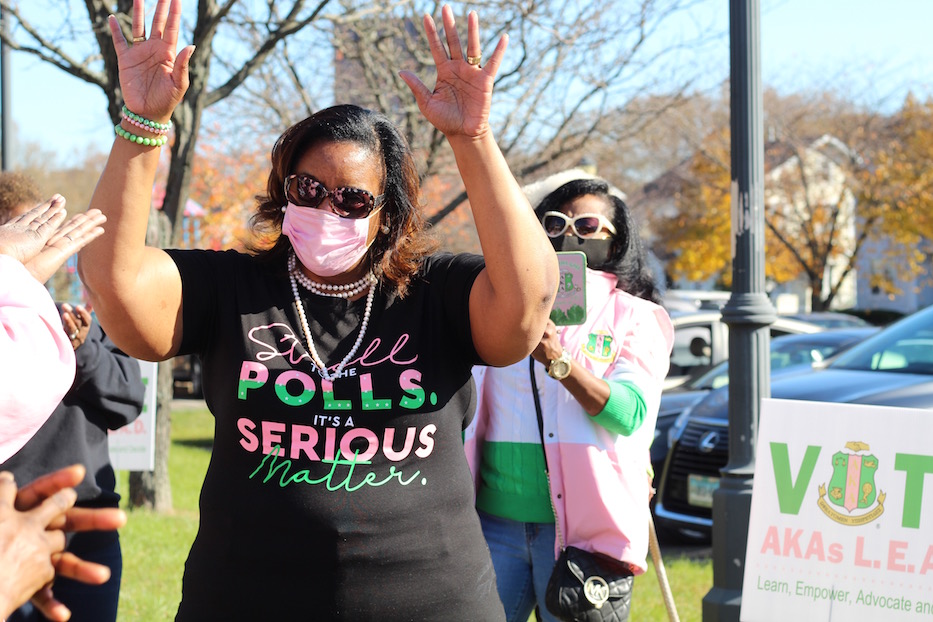 Elicia Pegues Spearman.
Pegues stood beside her daughter, Elicia Pegues Spearman, as she spoke. The family has multiple generations of AKAs: Spearman is a former president of the New Haven chapter and the chairman of the International Leadership Fellows Committee. She also works as the general counsel and chief human resources officer at Quinnipiac University. Basking in Sunday's sunlight, she said that she was so excited to celebrate Harris' victory with both her mom and her sorors.
Still waving her pom-poms, Dumas said that she, too, is celebrating for all the women in her life. Her daughter became a member of Alpha Kappa Alpha during her time at Howard, meaning that she belongs to the same chapter Harris joined in the 1980s. On Saturday night, she went to fete Harris' win at the Black Lives Matter mural in downtown Washington D.C., where celebrations were well underway.
"This is huge for us," she said. "This is a huge deal for women, for Black women. It's historic. I am excited for women, and I'm excited for our community."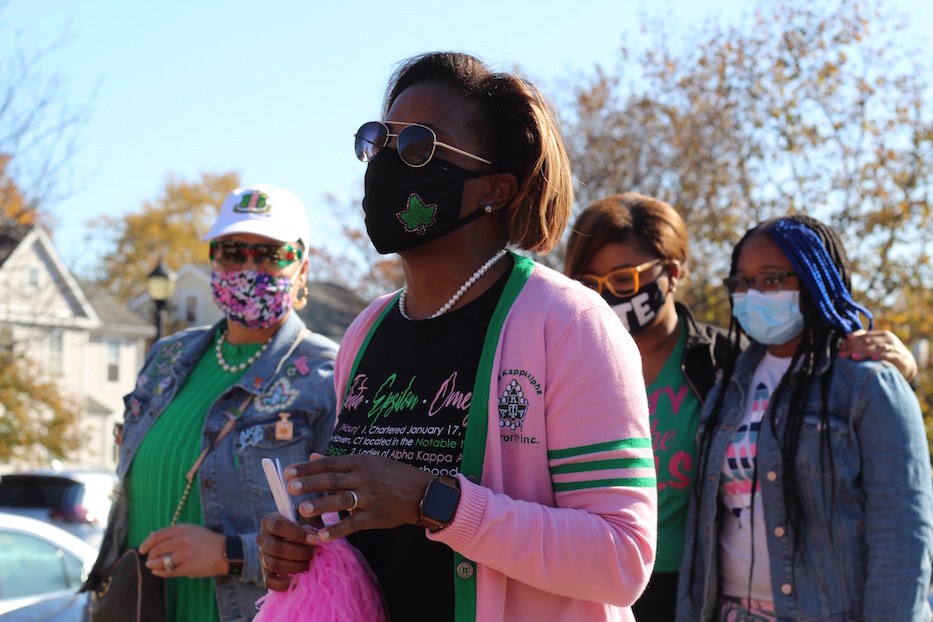 "Our job is not done. Yes, we have the president-elect, the VP-elect. We are so proud and we are in that moment. But understand, we need to focus on the Georgia Senate race."
In the midst of celebration, Draughn also reminded attendees that there is still work to do. As Biden and Harris roll out their transition documents and first priorities for a new White House, Draughn urged sorors to look to Georgia, where the presidency may have been called but the senate is facing an uphill battle to solidify a blue wave.
"I am here to say this, and I am going to say it loud," Draughn said. "Our job is not done. Yes, we have the president-elect, the VP-elect. We are so proud and we are in that moment. But understand, we need to focus on the Georgia Senate race. Although we are in the state of Connecticut, there are so many things we can collectively do, so we need to make sure we do that."