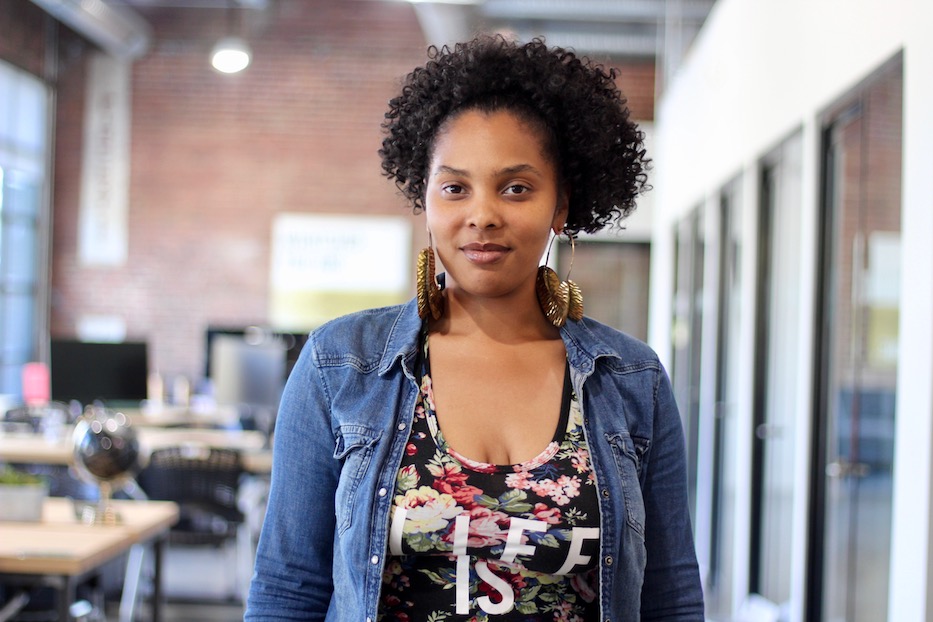 Radio & Audio | Arts & Culture | Film & Video | Tech | District New Haven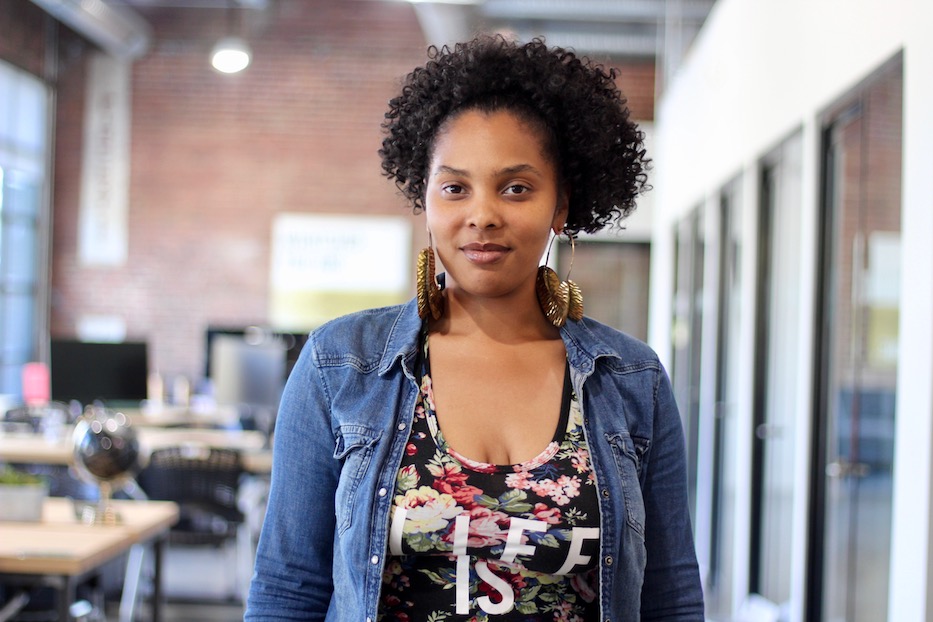 Tiffany Stewart: "It's gonna change the game. I think it's gonna come in and disturb some things." Lucy Gellman Photo.
The cyclorama wall sits on one side, primed for videographers. The flat wall is on another, open as an invitation. Then there's the audio recording bay, ready for anyone who needs a mic and a soundproof room. No one has to arrive with their own equipment, because there's gear waiting for them there.
It's still 1,090 square feet of empty space at DISTRICT New Haven, but Tiffany Stewart can see the parts already falling into place.
Stewart, 31, is the New Havener behind SPACE, a new project of her company Aligning that seeks to pair creatives with the media equipment, editing software, and technical assistance they need, but may be struggling to find. Born and raised in New Haven, she said that the idea came to her after realizing that several would-be content creators, particularly people of color, have an interest in digital storytelling but no access to the tools that make it happen.
"I didn't grow up knowing about business, about credit, about marketing, or even the role of the PTA on my school," she said in a recent interview at DISTRICT's James Street campus, where she has had a workspace since January of this year. "I didn't grow up knowing about local politics. And then, when I got older, I realized 'wait, that's not an accident.' So with this, I do want to impact the way people learn."
"It's gonna change the game," she added. "I think it's gonna come in and disturb some things."
At the forefront of those things is reliable, affordable access to gear, editing software like Adobe Creative Suite, and education in multimedia production. In the 1,090 square foot space that Stewart is designing at District, that plan includes a three-pronged approach with equipment for rent, multiple spaces to do multimedia work, and options for tech-focused learning. Friday, District Founder and Co-Chief Executive Officer David Salinas confirmed that the coworking and techie space is on board with the plan.
For Stewart, that mission is personal. A graduate of Harvard University's graduate program in education, she grew up in the city's Westville neighborhood, where she said she never thought about a career in media. In 2006 she left New Haven to study psychology at Howard University, then went on to graduate school after working for a few years. At Harvard, she was inspired by the idea of nontraditional education—that everyone learns in a different way, and it's not always in a school.
But when she graduated with her master's degree, she struggled to find a sustainable job in teaching. She ultimately found work at the Women's Housing and Economic Development Corporation (WHEDco), a Bronx-based nonprofit for which she helped implement and monitor an after-school program at a local independent school. Two years ago, she started Aligning while still working full time and "then I realized I was creative."
She started thinking about how New Haven and its "1,000 nonprofits" needed a better way to tell the story of their work. While the city has long had a growing group of media outlets and maker spaces—Citizens Television, MakeHaven, Baobab Tree Studios, WNHH Community Radio and Pequeñas Ligas Hispanas de New Haven among many others—she said she wanted to create her own space, where creatives felt welcome and invited in.
She also noticed that technology was everywhere. Her cousin watched YouTube videos for hours at a time. At home and at work, Stewart picked up her phone "something like 100 times a day" without thinking about it.
So did many of the people around her. Maybe it was an addictive tool—but it was definitely a tool. If she could start a media studio, she reasoned, she could turn messaging into civic engagement.
"I'm all about nontraditional education in nontraditional spaces," she said. "I think we need to be meeting people where they are."
Image courtesy of SPACE/Aligning.
Now, she plans to put Aligning at the center of her work. This summer, she is leaving WHEDco to dedicate herself entirely to the company, of which she is the president and chief executive officer. Part of that is SPACE, for which she is planning to build out a literal space at District this year. In addition to a verbal confirmation from District, SPACE has received a potential $80,000 in funding from at least one source (Stewart declined to comment further). Stewart said she will need to raise another $80,000, and is hoping for closer to $120,000, to get from an initial buildout to full liftoff.
Part of that is the sheer cost of equipment. Current plans for the area include a "cyc" or cyclorama wall and flat wall for photo and video work as well as an audio studio, all furnished with high-tech equipment and the compatible creative software to do in-house editing. In addition to Stewart and Aligning's co-founder, who did not wish to be named in this article, SPACE will have two part-time employees who can provide hands-on tutorials and technical assistance.
As it gets off the ground this summer, Stewart has drafted a tiered membership structure in which individuals pay a monthly fee for access to equipment, software and technical assistance. She said she sees it as a cost-effective alternative to studio time, which usually starts at $50 per hour and can come without editing help, or extra costs associated with editing.
Currently, that includes four options for membership. There's "Pilot," in which members pay $65 for 10 hours per month and basic equipment rental, "Commander," for which they pay $100 for 25 hours per month, "Space Engineer," for which they pay $400 for 75 hours per month, and "Jemison Member," which is $600 for 100 hours per month and unlimited equipment rental.
Stewart envisions the last as an option for nonprofits that may want to tell their story, but can't afford a full-time employee in marketing and communications. While she expects the membership model to sustain the space, she added that nonmembers can also rent the space for a flat hourly fee.
"I think the coolest part is that people will have the chance to connect," she said.
There's also a strong educational component to SPACE—or there will be soon. Once the project lifts off, Stewart will be offering a "Space Academy," a 12- to 15-week tech and media crash course that primes nonprofit professionals, aspiring creatives and early-stage entrepreneurs to use the tools available to them.
In particular, the academy will focus on digital content creation, computer science, digital marketing, and media production. Ideally, Stewart sees local companies and nonprofits paying for their employees to do the academy, making it tuition free for those enrolled. She's also making a sponsorship opportunity available, for donors or nonprofits who are excited about technology and want to send a student to the program.
Her hope, she said, is that SPACE will fill a need that's been in the community for years. As she's gotten older, she's watched free or affordable resources spring up—she named Make Haven and Ives Squared as a few—only to reach New Haveners in certain neighborhoods. She sees it as a natural extension of Aligning, which she founded two years ago with the belief that the process of aligning oneself "it's the constant … we should always be aligning."
"I'm just excited to be back in the city," she said. "I'm finally in a place where I'm doing something that I want to do. I was hesitant to risk it all, but I think it's worth it."