Film | film festival | Arts & Culture | Film & Video | COVID-19 | Black Haven
Screenshots from Zoom.
Names flashed against a red screen. Eric Garner. John Crawford III. Breonna Taylor. George Floyd. A disembodied voice echoed just out of frame.
"There's a limit to a man's patience, and everyone knows it. God, Christ, heaven, everyone knows it. What we're asking for is not a million dollars; what we're asking for is humanity."
Friday evening, CTCore-Organize Now! and artist Salwa Abdussabur launched the inaugural Black Haven Film Festival via YouTube livestream. This year's festival featured the work of five Black Connecticut-based artists and a musical performance by chad browne-springer. Festival curator and principal organizer Salwa Abdussabur moderated the event.
Abdussabur launched Black Haven earlier this year, as the parallel pandemics of police brutality and COVID-19 besieged the Black community in New Haven, Connecticut, and the U.S. Their co-collaborators included Brianna Chance, Danessa Pedroso, Camelle Scott, Ashley Blount and Raven A. Blake.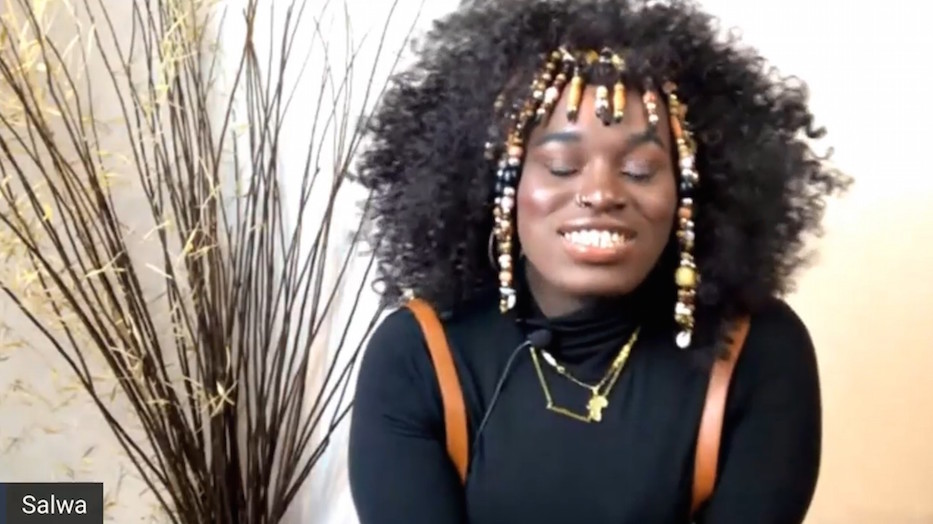 Initially, the event was planned as a limited capacity, in-person gathering at the Connecticut Center for Arts & Technology (ConnCAT). Due to COVID-19 restrictions, Black Haven made its debut online. The virtual format did not deter them from an original mission.
"Black art matters," Abdussabur said Friday. "I want to thank so much every single being involved in Black Haven for Black Haven. Without Black folx, this would not be possible. I've been blessed to be able to talk to so many leaders of color and Black artists in New Haven and across the state.
"I am incredibly honored… We put the call out, and y'all really showed up. Next year, I hope to see that list grow and grow and grow and grow to mobilize around Black arts."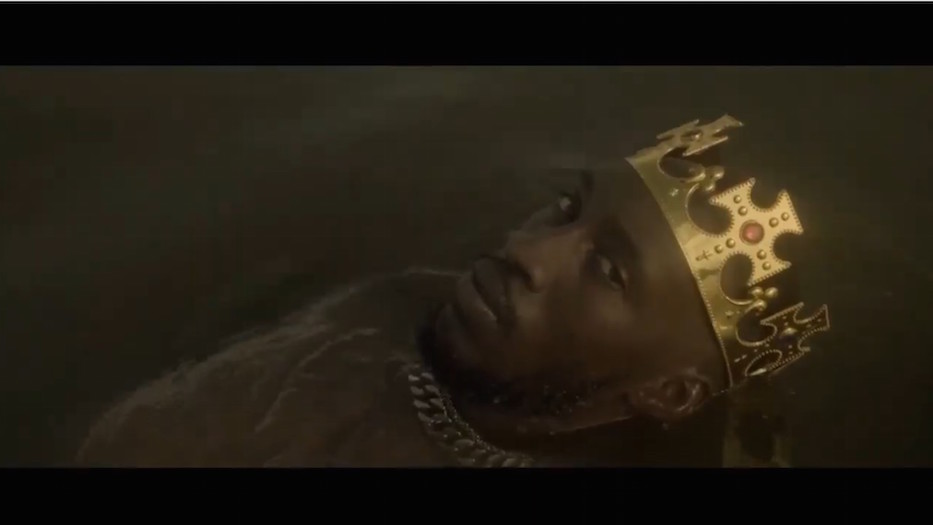 A still from Abakah's Far From Home: Voyage to Salvation.
Across five films, artists explored the role of affinity spaces, artistic abstraction, and the depth and breadth of a diaspora. In Ike Abakah's Far From Home: Voyage to Salvation, viewers met the actor Zaawadi Kalema where the sand meets the surf, a chain around his neck and face turned toward the sun. A mournful saxophone melody played, muffled. Water swept over Kalema's face. He grimaced and sputtered, fighting for breath.
Suddenly, he was running further and further into the ocean. He was grasping for something in the air, eyes piercing, and face resolute. He jumped forward, plunging into the waves. The waters were up to his chest now, yet he trudged ever deeper.
What was he running away from? What was he running towards? This time, Kalema didn't resist the waters as he began to drown.
The scene cut. He was neck-deep in the water now, eyes closed and head floating, as if disembodied. A golden crown encircled his head. In death, he seemed to ask viewers, was he finally free?
The saxophone bleated a piercing note. Kalema stood against the horizon, dry. He wore a suit, chain replaced with a silver necklace. He was dancing, stretching his body up toward the pale sky. He looked down, where his disembodied head had steadily floated moments before. He closed his eyes. The saxophone melody and video ended with a rimshot.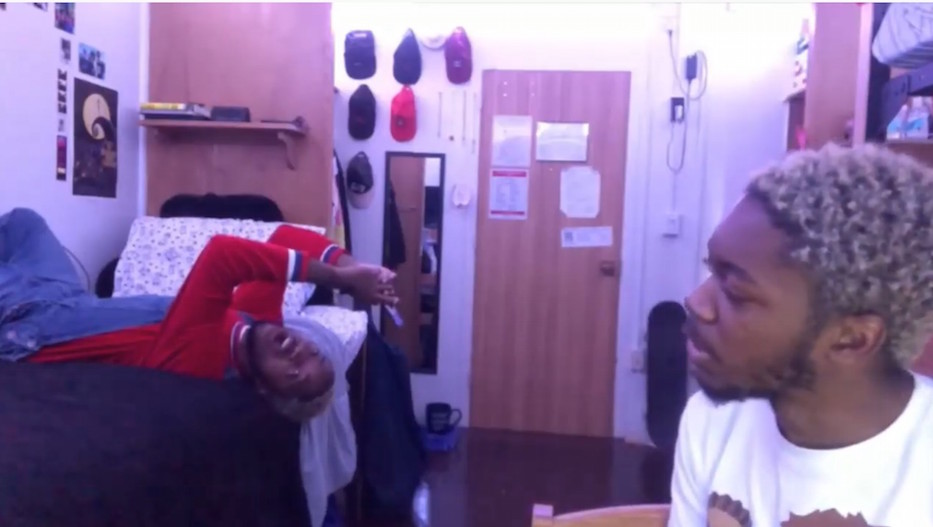 Filmmaker Ammon Downer kept it conceptual in his A Conversation with Inhibitions, conceived as a dialogue between himself and "physical representations of my own internal inhibitions." A sophomore studying acting at the University of Connecticut, Downer opened on an image of himself in quarantine, staring down a doppelgänger that lounged on his dorm room's bed.
"Hey, look. I think that it's time that we talked." Downer crossed his arms.
"Ooh! Is this a fun little talk with daft adventures involved, or do you mean that awkward 'you finally decided to grow the big pair of knockers you have forever claimed to have and face me like a true man' talk?," the copy shot back.
"It's the latter." Downer glared across the small room. "I think that it's time that you stop being such a burden and let me do whatever I want!"
"Well then, this is a very interesting development!" The copy rested his head on his hands with a devious smile. "Come on, wanker. Lay it on me before you chicken out."
The film probed the fact that mental health in the Black community, and particularly among Black men, has long been stigmatized. He faced that stigma and his own throughout the film. The doppelgänger patronized him. It insulted him. It fought with him tooth and nail, steadily chipping away at his psyche.
"You were just a defense mechanism!" he proclaimed at last, breaking free of it. "No one took me—us—seriously, especially when it came to showing how we really are or wanted to be. But you're just being a parasite, a hindrance, dare I say nuisance! I don't need to be looked after anymore. I can take care of myself… instead of falling to the pain, I can rise and even learn from it. Hell, I can even make good use of it. I just can't do that with you around!"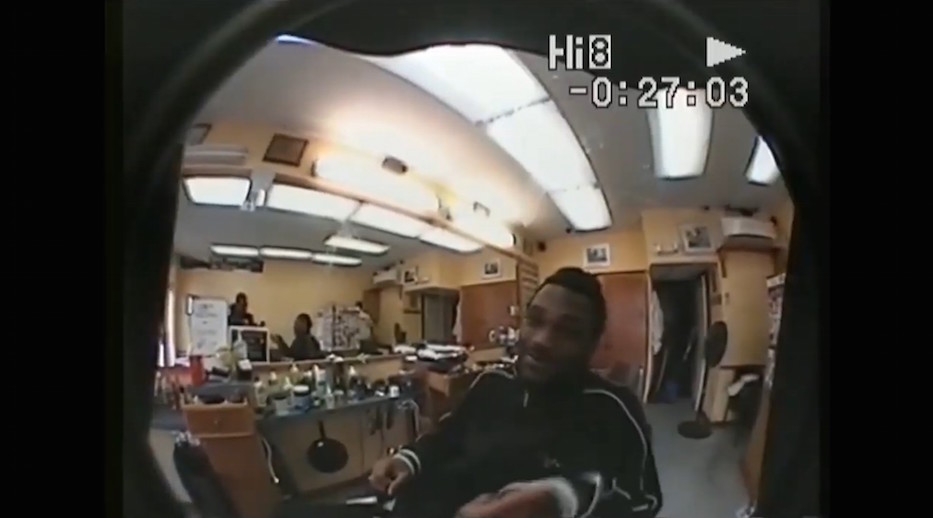 Detail, Mayfair Barbershop.
Other filmmakers dove deep on the value of Black affinity spaces, many of which have been stifled, modified, closed, or forced to move online during COVID-19. In Mayfair Barbershop, Marcus "Tang" Russ took viewers inside Mayfair Exclusive Barber & Beauty LLC, following Hartford-based artist Lonny X and his barber Gideon Davis.
Friday night, viewers could feel an intimacy and familiarity to the film. A fisheye lens captured the barbershop. The recording had the quality of an old VHS. A timestamp ran in the top right of the frame.
"I'm lookin' a little rough right now, ya feel me?" Lonny X rubbed at his face and smirked at the camera. "Gotta get the beard trimmed."
His barber laughed while walking into the shot. He smiled and waved a red barber cape over X's front with a flourish. He grasped Lonny's head and tilted it forward, showing off the scruff at the nape of his neck.
"We'll make him sharp, like a dime!" The barber wagged his finger at the camera.
X laughed. "Ya need something fresh? Pull up here!" Ambient chatter continued in the shop. The two fell into light conversation.
This was it. Mayfair, which is based in Bloomfield, was warm and comfortable. It was fades, twist-outs, cornrows, weaves, waves, and wigs. It was generations of Black men and women sitting side by side, swapping stories and giving friendly backchat.
"There you go." The barber brushed the hair off Lonny X's face and swiped it with alcohol. After he was done, the artist smiled at himself in the mirror, stood, put on his cap, and walked out the busy barbershop's doors.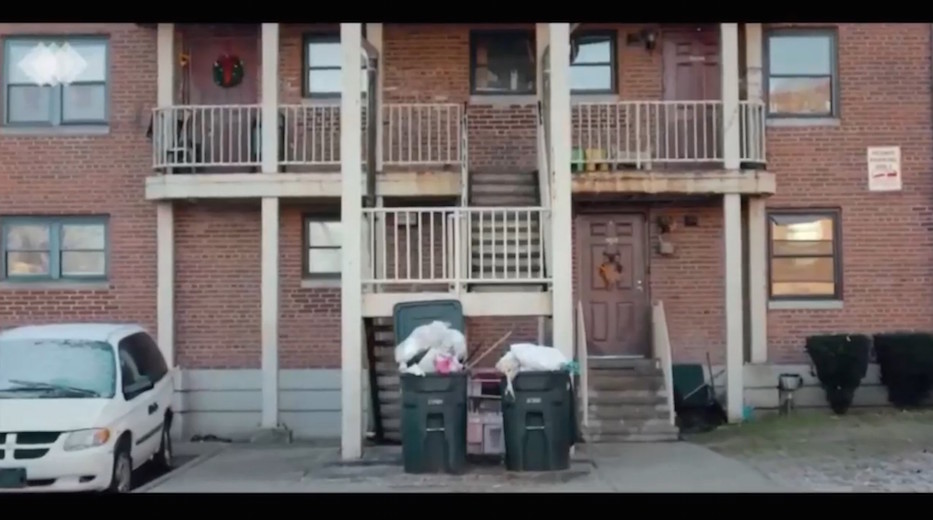 True to its mission, the festival also had a strong political current running through it. In Dione Dwyer's She Who Feels It, Knows It, the Bridgeport-based artist, advocate, and CNA opened a door into her world, exposing the state's deep inequities in wealth and housing in the process.
Dwyer is the resident council president of PT Partners, a resident-owned community action group based in Bridgeport's PT Barnum subsidized housing complex. She has lived in PT Barnum for 16 years and has been a PT Partners member for almost five. She loves her community, she told the camera Friday. She hates what keeps it down.
In the documentary-style work, Dwyer explained that she sees the effects of a negligent housing authority, poor education system, and the number of systemic forces that fail her community daily.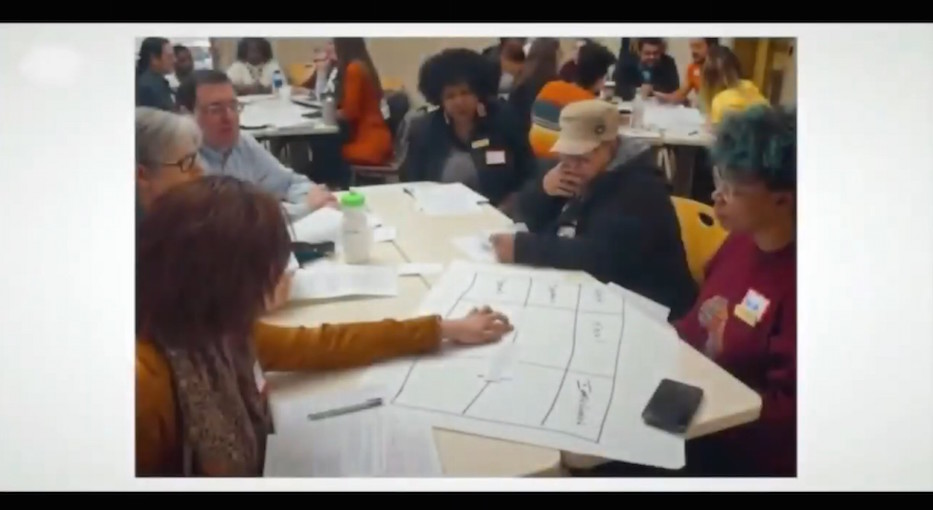 "You have to live here, and they clock out at 5:00 p.m.," she said. "They go home. I say it to them so many times in their face. I get exasperated. I stay here. You don't know what it's like, 'cause sometimes they're like, 'Oh, we understand' and this and that—whatever. No, you don't. Stop saying that, just pissing me off even more. I'm sorry. It gets me upset when they say that. I don't see it in their face, and I don't see in their actions. I refuse to hear it in their words until they do something. That's just me."
She glanced toward something past the camera's view and pursed her lips. Her gaze was unreadable. She described another PT Partners program director who came in with outreach a number of outreach programs. They introduced the phrase "PT Barnum: a place to live where opportunity lives."
"I would actually love to see that. I live here, and it does not feel like that," she said. "We're human beings first, all of us. We all come from the human race, and you wouldn't want any of your friends, your child, or your parents to experience this. Why would you want somebody else to experience this? Every human being has the same end goal in this life: we want to live in a comfortable space. We all want to live a comfortable life. We all want to be happy with our friends and family. Some of us can't even get that."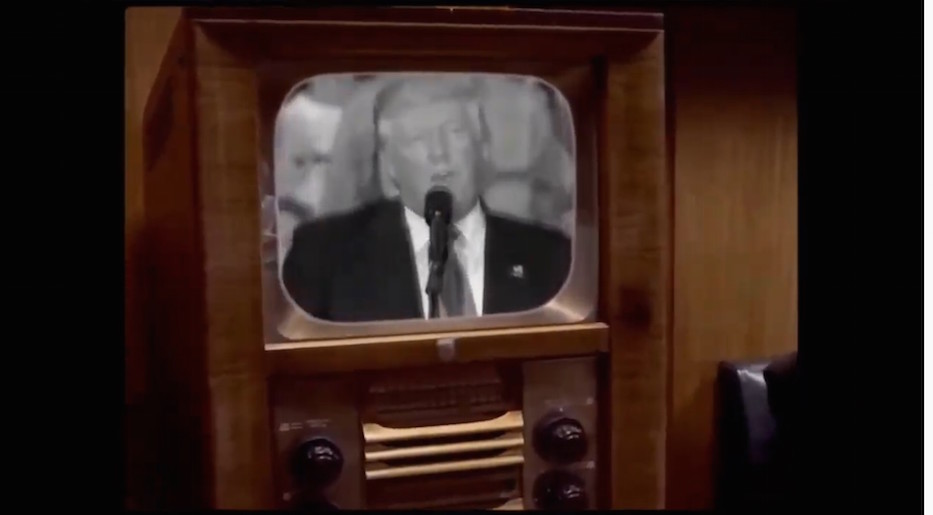 Other takes, still, targeted national politics and policies. Kalani "Afrolombian" Jimenez-Mackson's Letter to 45 was filmed as a video message to the 45th President of the United States. At the top, President Donald Trump's voice rang loud and clear.
"To the African-American people that have to suffer in these inner cities, what do you have to lose? I'm gonna fix it. I'm gonna fix it."
His voice was accompanied by videos of riots and the sound of gunshots. Photos of gunned down Black men and women flashed across the screen as police sirens blared. Someone screamed. The shot cut to a group discovering an unnamed body in a bag. A drumbeat began, and children started to sing.
Letter to 45 was a music video Jimenez-Mackson shot for The HUBB Arts & Trauma Center headquartered in Newark, New Jersey. The center serves low-income families of color in a subsidized housing complex. This year's realities have been real, harmful, and traumatic for them and for the Black community as a whole.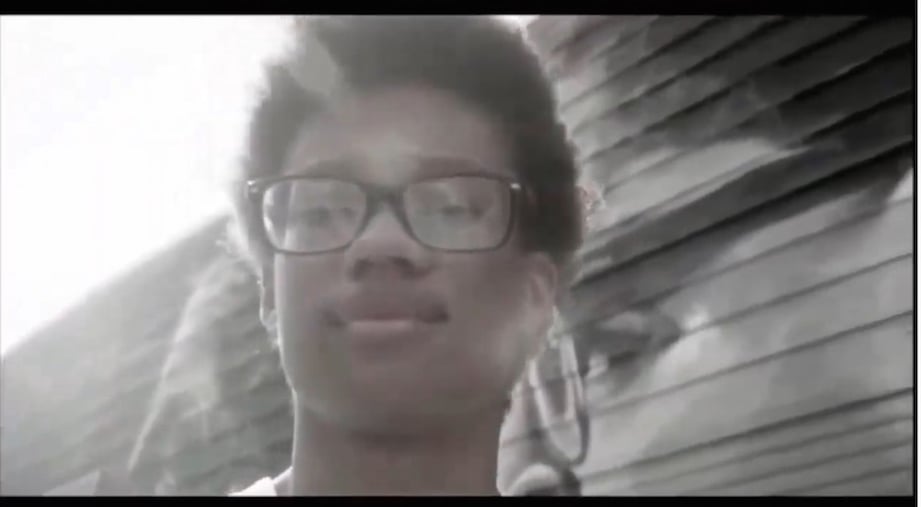 "It really just stems from everything that's going on and trying to find the truth in it for myself, really sharing the truth that I'm discovering with everybody else," Jimenez-Mackson said Friday. "In a way, I have been semi-aware of everything that's been going on, but after George Floyd, that was really an eye-opener for myself and a lot of other people."
Banners that read "No justice, no peace" filled the frame. Clips from Civil Rights Era marches interposed photos of Black leaders and iconography. A little girl held a sign, with the words "I am human" scrawled on its front. Families protested for their loved ones. Families protested for no more Black lives lost. They held their fists proudly in the air.
At the video's conclusion, Abdussabur clasped their hands.
"We thank you, we thank you, we thank you, Kalani, for this beautiful piece." They closed their eyes. 'Thank you for immortalizing this time. It's just so essential for us not to repeat it again. Thank you, Kalani."
Black Haven will release Friday's livestream with ASL interpretation, full artist interviews, and a separate cut of "Sonic Sage" on Saturday, Nov 28. Click here for more information.