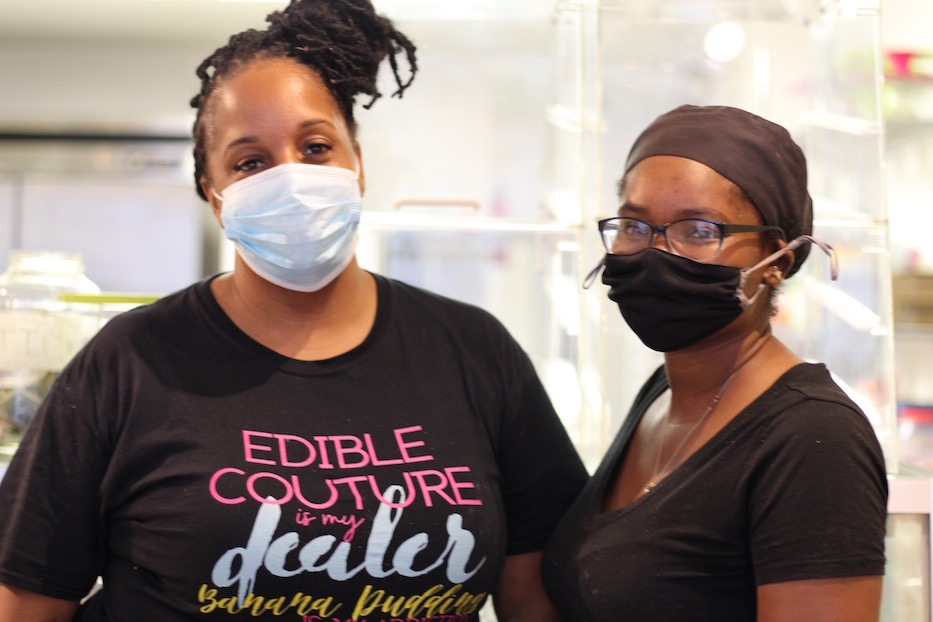 Collab New Haven | Downtown | Arts & Culture | Culinary Arts | COVID-19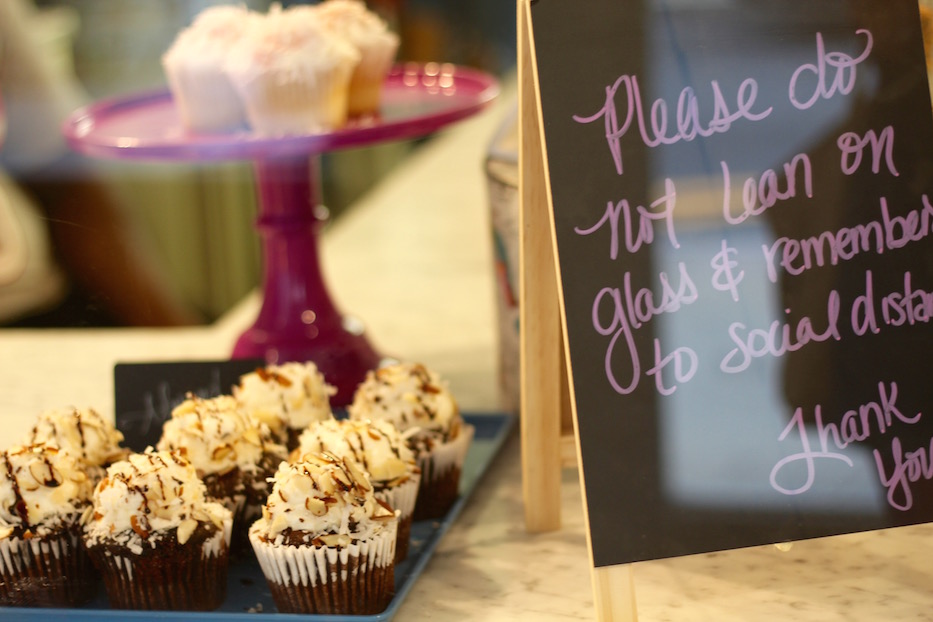 The cupcakes nearly make eye contact, winking from behind the sparkling glass and under sloping cake plates. Then the cake cups, with ribbons of banana pudding and bright slices of strawberry. There's a symphony of scent: honeyed butter and sweet cornbread, greens that have been simmering for hours. And chicken—except, without the animal—cooked to a perfect crisp and served on a steaming plate of plant-based soul food.
Welcome to a reimagined Court Street storefront, where Black-owned, woman-owned businesses Vegan Ahava and Edible Couture have moved into the former home of Sweet Mary's and Havenly Treats. Last Thursday, owners Poreyah Benton and Tisha Hudson opened the small storefront after weeks of preparation. For both women, it marks their first brick-and-mortar venture after years owning and operating food trucks.
"It feels amazing," Hudson said Saturday, just an hour before the shop closed. "It really helps us to empower more women to do this, and it's beautiful to see it happen. Especially in the middle of a pandemic."
Benton started Vegan Ahava as a Food Business Accelerator venture two years ago, in the same cohort that included 14 local food startups that are still growing across the city. The Accelerator is a collaboration between CitySeed and Collab New Haven. Hudson, known for her pink-sided truck patterned with images of cupcakes and neat cursive, has worked out of Bridgeport for several years. In their first three days on Court Street, they served hundreds of customers who came from around the state for the food.
In just days, the two have brought a warm, conversational feel to a stretch of downtown that was eerily quiet not so long ago. When the shop is open, Benton serves a rotating mix of salads (she is known for her "loaded" salad options, which include tofu, vermicelli, potato, and kale), meatless chicken drumsticks, burgers and cheesesteaks, soul food plates, rice dishes and vegan desserts that she makes from scratch. Hudson, who may be best known for cupcake flavors like banana pudding, strawberry shortcake and maple bacon, offers over a dozen different flavors each day.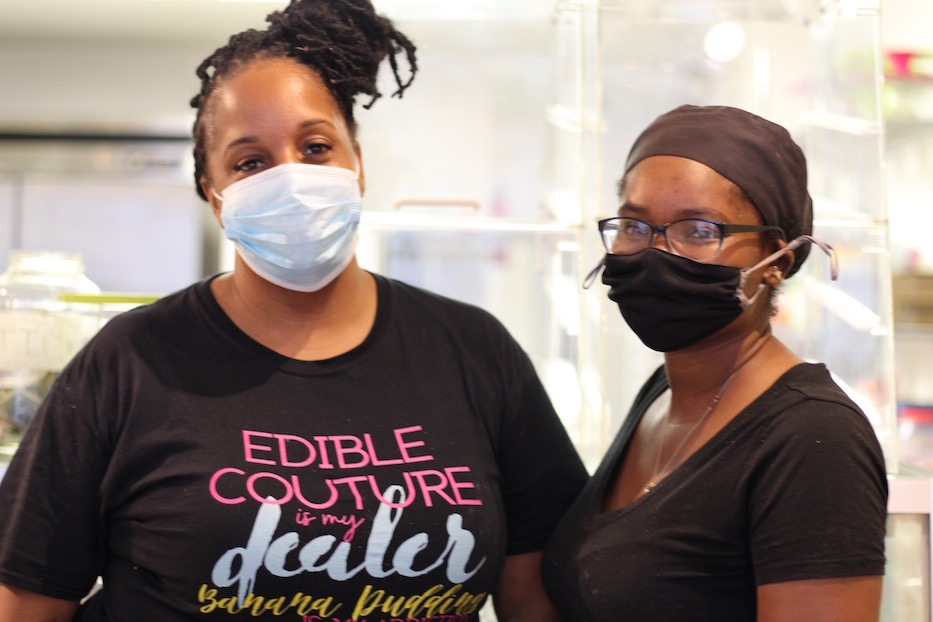 The move from food truck to brick-and-mortar came together in just a month, after Benton's friend spotted a Facebook post from Sweet Mary's owner Missy Antonelli at the beginning of July. Before COVID-19, Antonelli was preparing to move the bakery to York Street. Then the pandemic hit. Antonelli leased the space to Havenly through June, and announced she was going to keep looking.
Benton, who grew up in Israel and trained at ConnCAT, saw it as her chance to expand. For the past two years, she's run a popular truck in downtown New Haven, with day trips to Hartford and New England Brewing Company. She's also long dreamed of running her own business on a larger scale. She put the word out on social media: would anyone be interested in splitting the cost of the storefront with her?
Hudson's friend tagged her, and she looked into Vegan Ahava online. She saw that Benton had a faithful following that was devoted in the same way hers was. And she was excited by the idea of partnering with another Black-owned, woman-owned business. The two had never met, but clicked instantly. They decided to go in as a joint venture, with two separate businesses that operated in a single space.
After "a few hiccups" earlier this month, Benton said she is excited to be up and running.
"It feels really good," she said. "A lot of people were like, 'You don't know her! Are you sure you want to do this?' But I needed to expand. We've been open for three days, and people are already starting to ask me when I'm going to open a restaurant."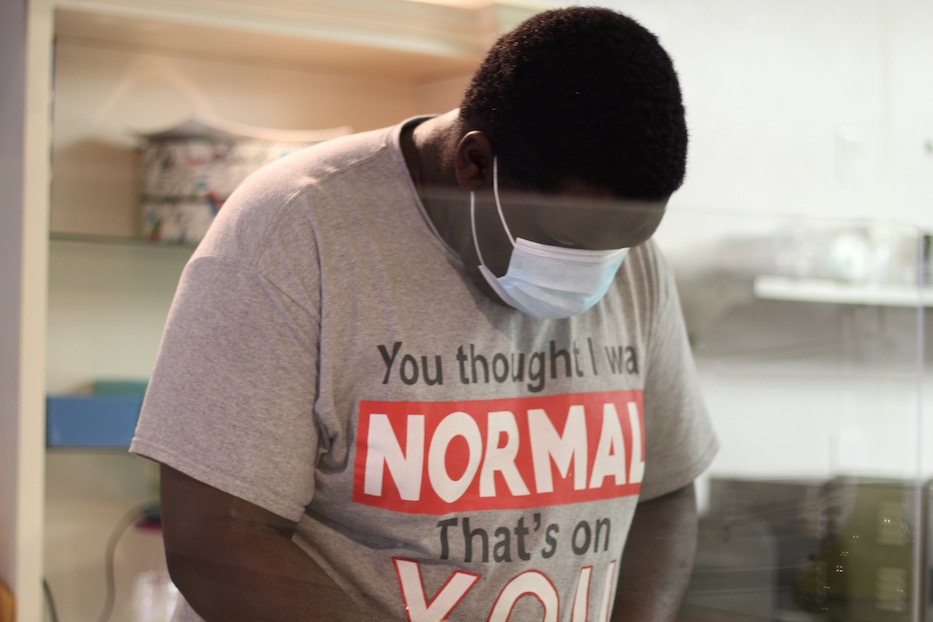 It has introduced new foot traffic to that stretch of downtown. Across the street, The Beer Collective was an early casualty of COVID-19, as was the well-loved banh mi shop nearby. A ramen restaurant that opened just before the pandemic draws a quiet stream of business, rather than a rush. The federal buildings and a mostly-closed City Hall nearby mean that the area has remained quiet. The building at the corner, which once housed the ill-fated C'viche 181, has been empty for years.
But outside on Saturday, Court Street felt like someone's front porch. Three friends, all waiting for their food, laughed and chatted on a doorstep nearby. Other customers lined up outside the door, keeping six feet of distance without anyone having to tell them to do it. Every so often, the door opened, and laughter and the smell of warm food and spun sugar drifted out.
A woman who had run a virtual 5K that morning had come to pick up her reward, a chocolate-on-chocolate-on-chocolate cupcake that was waiting for her inside. Another customer, who asked to be identified only as Amy, said she has been following Vegan Ahava for months, since discovering Benton's bright green truck on the corner of the New Haven Green with a coworker.
After 10 years in New Haven, she considers it some of the best food in the city—and the best vegan food for miles. The first time she tried Benton's no-chicken "drummies," she refused to believe they were vegan. When Benton assured her that they were entirely plant-based, she kept coming back. While she is not vegan, she said she enjoys plant-based food and eats it frequently with her friends who have dietary restrictions.
"I fell in love with her food," she said before picking up a pre-ordered "Jackson Five" (mac and cheese, meatless drumsticks, cornbread, collard greens, and sweet potatoes). "The taste is amazing. It's delicious. It's really, really good."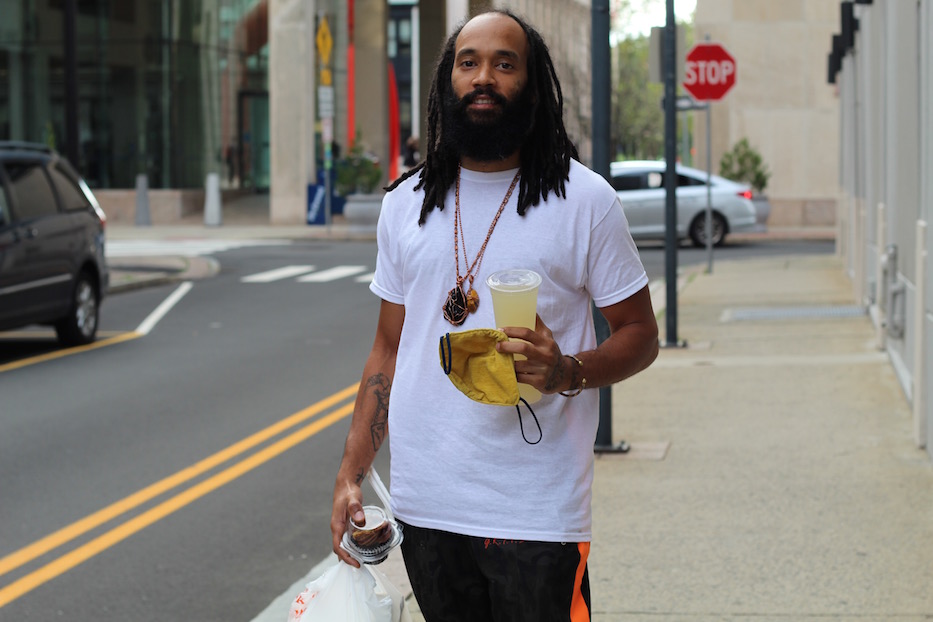 As she picked up her order, Hartford barber Mike C. rolled in to pick up two "Jackson Five" plates, cold lemonade and a vegan chocolate chip cookie cupcake. A strict vegan who has been plant-based for five years, C. first tried Benton's food at the Hartford farmer's market last year. Since, he's been following her lime-green truck wherever he can catch it.
He said the 45-minute drive was well worth it—and that he was already planning to return. When he found out that Hudson offers vegan cupcake options, his eyes lit up.
"Plant-based food, it's hard to come by," he said. "It's not often that you see that, and you have the chance to support Black-owned businesses. Those together are far and few between."
Inside, impromptu conversations unfolded beside orders of extra cornbread, coconut-oatmeal cookies and cake cups that flew from a chilled case. Hours after first placing her order on chicken-less "drummies" ("I knew they would go fast"), educator and Newhallville organizer Kim Harris came in to pick them up. Within minutes, she had started a conversation on a back-to-school drive that the Newhallville Community Action Network (NCAN) had planned for Sunday.
At the counter, a mom leaned in to find out more: her son was about to start third grade. Harris smiled, popped outside, and grabbed a stack of flyers from her car.
That purpose—community connection through food, even when it's carry-out—is part of what Benton and Hudson are going for. Hudson began baking years ago, not because she had a sweet tooth, but because it reminded her of time she spent with her grandmother. Her son Jayden helps out in the shop, manning the register as cooks buzz around the small kitchen and take a continuous stream of orders. For Benton too, it's never just been about the gospel of plant-based food. It's been about food and community.
"My tunnel vision was just on the truck," said Benton. "When I started this, I didn't know how well it would do. But when I saw this [the storefront], I thought, why not? Maybe in three, four years, I'll start my own restaurant."
Vegan Ahava and Edible Couture are open at 129 Court St. Tuesday through Saturday from 11 a.m. to 6 p.m.