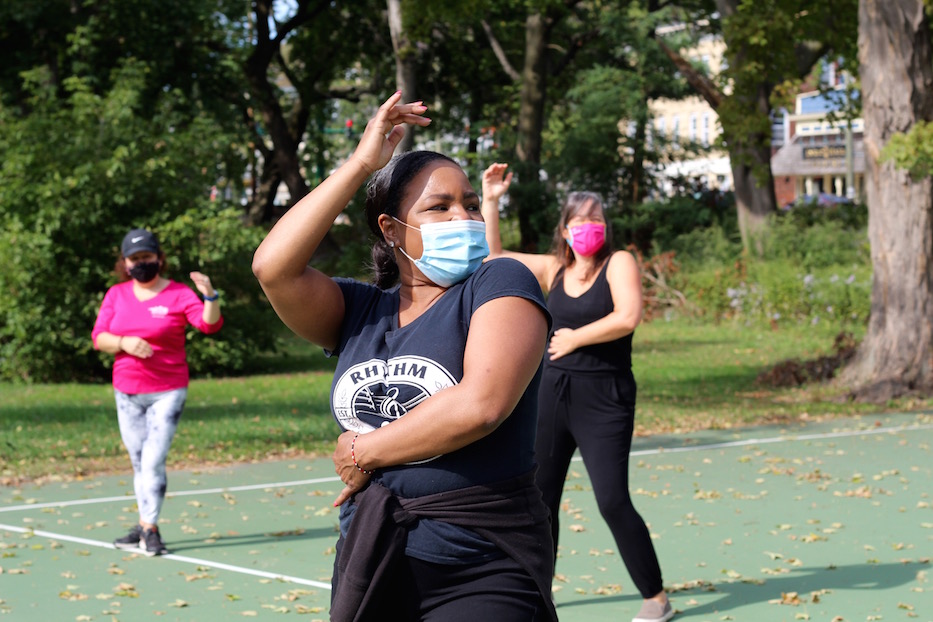 Economic Development | Arts & Culture | Westville | Culinary Arts | COVID-19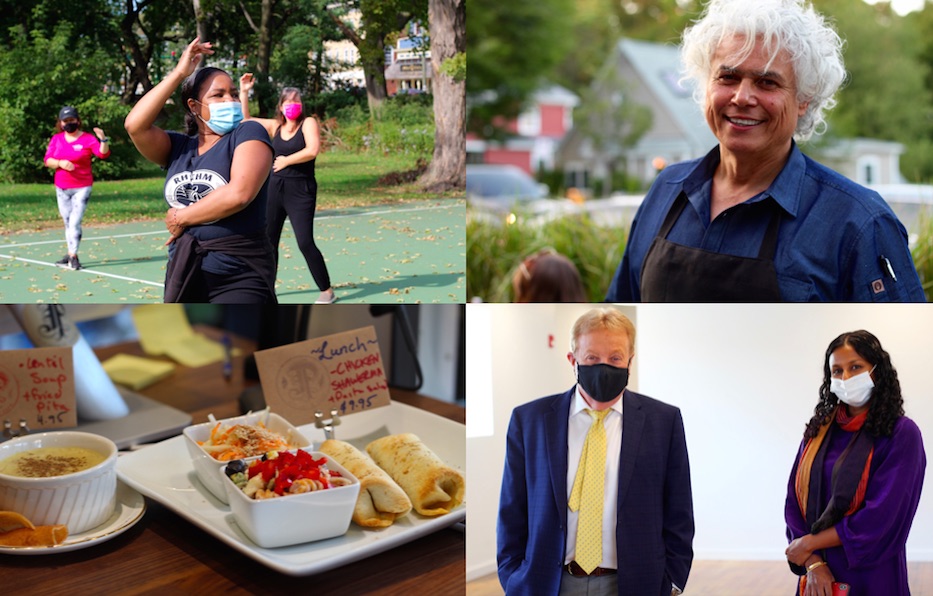 Clockwise from top: Alisa Bowens-Mercado leads a lesson in Edgewood Park; Camacho Garage owner Chef Arturo Franco-Camacho, Children's Community Programs of Connecticut

(CCP) CEO Brian Lynch and CFO Randi Cavallaro; a lunch plate at Pistacho Cafe. Lucy Gellman Photos.
A group of six dancers practiced their best bachata sidestep in Edgewood Park. Just up the street, diners sat down with matching mojitos, scanning a menu that included tacos, fragrant ceviche, and butter-smooth guacamole studded with red onion. Half a block away, Mohamanad Hafez poured his dozenth cup of coffee for the day and set a vegan baklava gingerly beside it.
That's the scene in Westville, which has become an unexpected story of economic resiliency in the midst of COVID-19. As the number of empty storefronts seem to multiply downtown, they are shrinking in the neighborhood, where the heart of Westville Village seems more vibrant than it has been for some time.
While the neighborhood has seen one COVID-19-related casualty and one move—a beauty bar and Neville Wisdom's design studio respectively—three new eating establishments have moved in with Pistachio Cafe, Delaney's and Camacho Garage. There are rumblings of a new space in Manjares. Foot traffic, by all accounts, is up.
"I think now, even with everything you see around the country, this little village is doing okay," said Gabriel DaSilva, board president of the Westville Village Renaissance Alliance (WVRA) and the owner of an eponymously named frame shop and gallery on Whalley Avenue, at WVRA's annual meeting last month. "This little group of stakeholders that really believe in us."
It has taken a combination of unlikely business development, on-the-fly relief initiatives, coalition building and pandemic-era innovation from the shop owners, dance teachers, recipe testers and artists who build Westville's main street. Now, it will take a combination of those things to also get them through the winter months.
$37,000 To 32 Businesses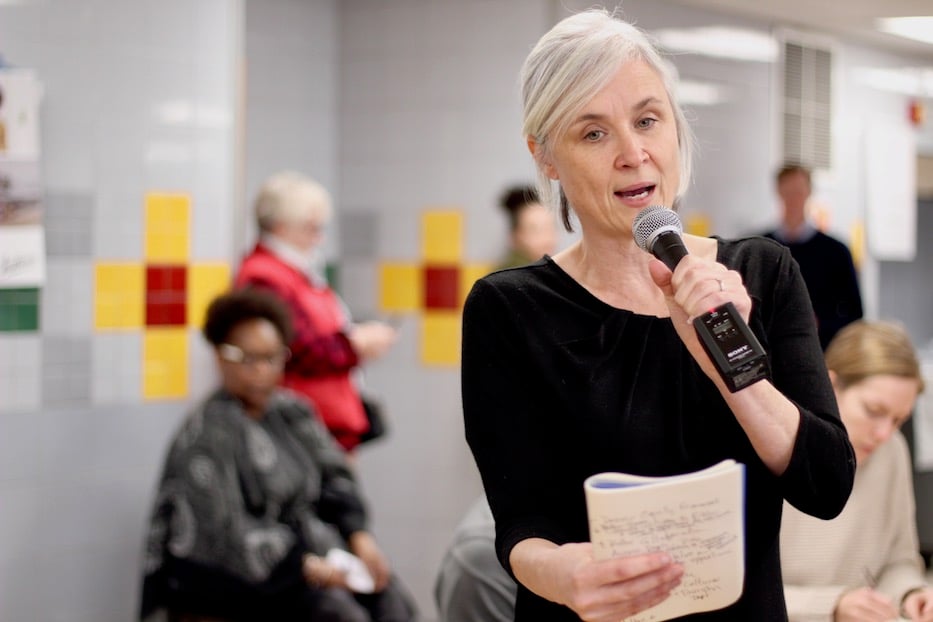 Lizzy Donius at a meeting of Mayor Justin Elicker's Transition Team in November 2018. Lucy Gellman File Photo.
For WVRA Director Lizzy Donius, the story of the neighborhood's survival starts with state funding. In early February, Donius made her annual pilgrimage to the State Capitol in Hartford, to ask members of the State Legislature for $100,000 during a hearing of the appropriations committee. The amount, which is from the Main Street Initiatives line item, has been coming to the neighborhood since 2017.
Donius credits the support of State Rep. Pat Dillon and State Sen. Gary Winfield, who both sit on the committee. In a normal year, it goes toward retail reinvestment, including small grants to artists and businesses, matching grant amounts for city funds, and compensation for teams from Chapel Haven and the city's high schools to do planting, watering, and trash pickup in the neighborhood.
It is enough to cover about 65 percent of Donius' salary and the salary of Communications and Arts Coordinator Noé Jimenez, who is part-time. It also helps fund the neighborhood's annual ArtWalk, Hi-Fi Pie Fest summer concert series, neighborhood beautification projects, and the Westville weekend of City-Wide Open Studios.
"Westville faces the same challenges many other main streets face, stubborn empty storefronts, problematic property owners, the questionable future of retail," Donius said to the committee in February. "There is still a lot of work to do. We will continue to recruit, support, amplify and advocate for Westville while providing our vibrant community with a year's worth of opportunities to come together and celebrate."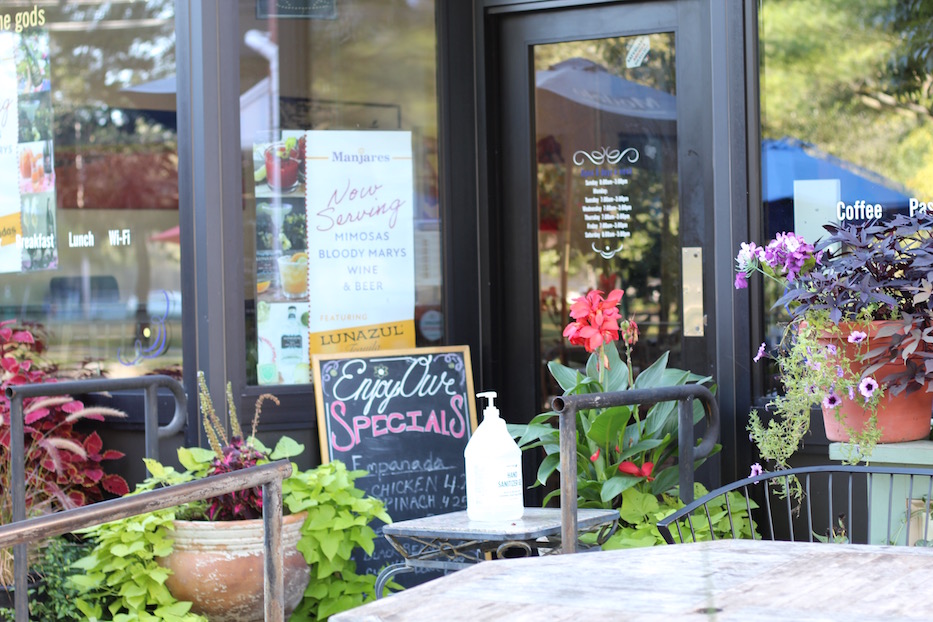 Manjares, which reopened in May. Lucy Gellman Photo.
Almost exactly a month later, the pandemic hit, and businesses in Westville were forced to shut down by statewide executive order. A few, like Strange Ways and Vintanthro Modern, were already doing online sales but saw a sudden stop to foot traffic. The neighborhood's restaurants, tattoo parlor, galleries and retail shops were left completely in the lurch, unsure how to sift through the murky alphabet soup of state and federal relief.
"I knew we were gonna lose income, but that we wouldn't have to lay anyone off," Donius said in a phone call Thursday. "Meanwhile all the businesses in Westville were looking at these existential threats."
She made a hard pivot to helping the neighborhood survive. First, she applied for Paycheck Protection Program (PPP) funding on behalf of WVRA, which became a crash course in troubleshooting federal relief. When she had turned in that paperwork—the organization ultimately received about $14,000—she learned the minutiae of small business loans. She recalled spending hours in webinars with city officials, members of the state's Department of Economic and Community Development, and the Greater New Haven Chamber of Commerce.
She quickly discovered that Lotta Studio Co-Owner Luke Hanscom was also in the thick of learning about relief funding and emergency grant programs, in part because he'd lost months of work overnight. By mid March, the two were sending out multiple emails per day filled with video tutorials, funding links, and webinar recordings. They started holding daily office hours online, where members of the community could pop in and ask them questions via Zoom. Business owners and creatives started showing up, panicked.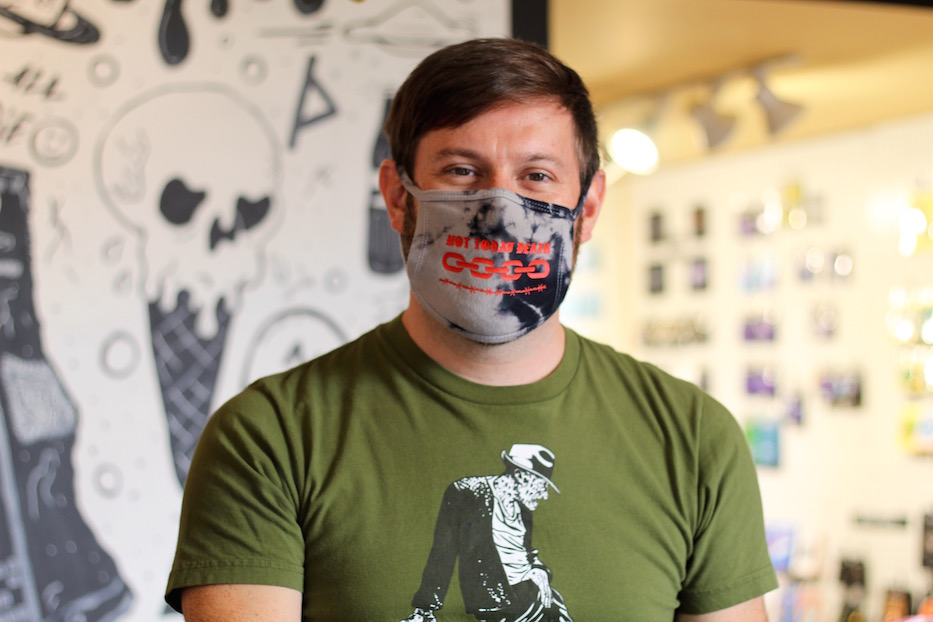 Alex Dakoulas, the owner of Strange Ways on Whalley Avenue. Even before the pandemic, the bulk of the store's revenue came from online sales. Now, he said, he is seeing more online sales of home goods and running out of space for expanding inventory. Sales in his brick-and-mortar shop are relatively low, he said. Lucy Gellman Photo.
"We did a lot of hand holding," she said. "There was a lot of bold writing about the fact that 'an artist is a small business.' Especially for the PPP and small business loans, there was a need for people in our community to understand that this meant you."
Meanwhile, she and Jimenez went forward with a virtual ArtWalk, which allowed her to pay musicians, videographers, and graphic artists. In preparation for the festival, she worked with Anika Singh Lemar at the Yale Community and Economic Development Clinic to pilot the Westville Small Business Fund, modeled off of the New Haven Creative Sector Relief Fund from the city and Arts Council of Greater New Haven.
The idea of the fund, she said, was to give small grants—not loans—to self-employed artists and brick-and-mortar storefronts in the neighborhood. After an initial $14,000 came from WVRA, ArtWalk's t-shirt and online gallery sales raised another $10,000, an amount she credits to Design Monsters team George Corsillo and Susan McCaslin. Two "angel donors" stepped in with $5,000 each, and then WVRA raised a little over $15,000 in the Great Give.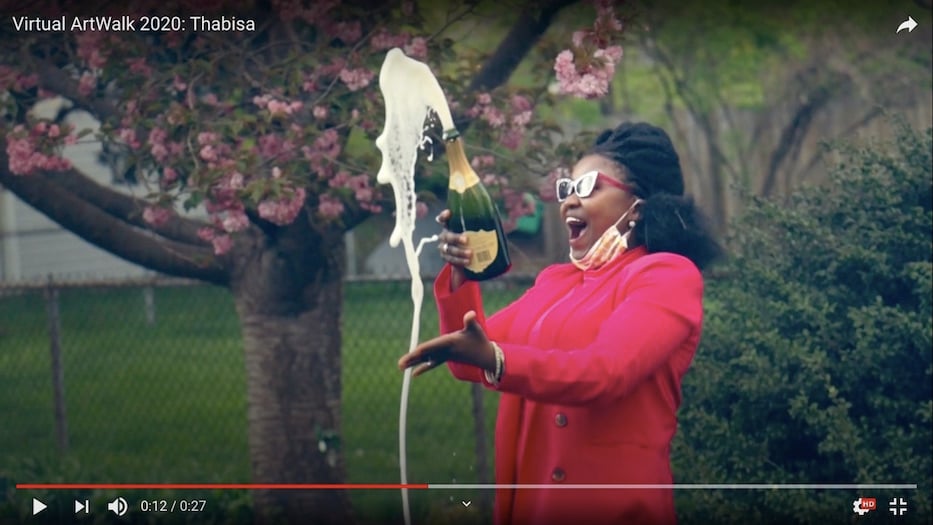 The formula was uniform: storefronts received $1,500 each and self-employed businesses received $750. By the end of the fiscal year, the fund had distributed $37,000 to 19 storefront businesses and 13 self-employed artists and individuals. Donius recalled that many told her the money came "right on time." The neighborhood had only one COVID-19 casualty: a beauty bar on Westville Avenue into which a new restaurant is moving in the next two months.
"The grants were intended to enhance the economic vitality of Westville," she said. "To keep things alive. It was more of a situation of saying: how much can we give and meet all the needs?"
As a second round of federal funding stalls—possibly until after the election—she said she is looking at how to finance a winter iteration of the small business fund. She is also working on a virtual Westville marketplace and "various versions" of an open-air winter market on Central Avenue, to allow people to support small businesses without venturing inside shops or restaurants.
"To me it feels like a lot of things that have been moving forward slowly, and it all kind of clicked at a time when you wouldn't expect the gears to click," she said. "But it's still a struggle. I'm thinking about what's coming. There's no way around a tough winter."
Economic Development In the Neighborhood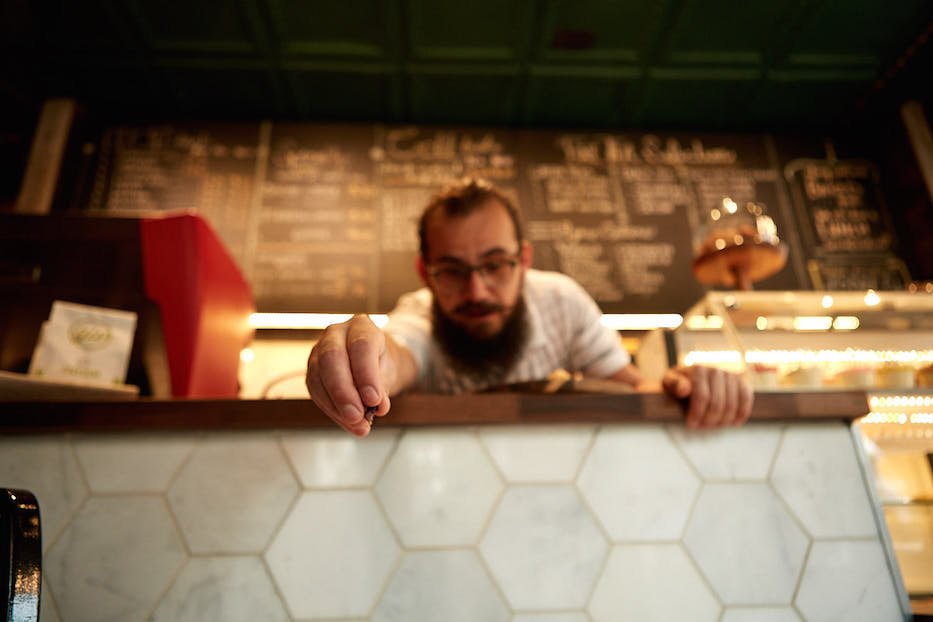 Pistachio Cafe's Mohamad Hafez. Lotta Studio Photo.
Meanwhile, she and others have watched new businesses push past the pandemic and open in the midst of Gov. Ned Lamont's phased economic recovery. At a Lotta Studio in lockdown—eerily quiet, without the click and flash of camera equipment and the steady hum of coworking—she marveled at the makings of Pistachio Cafe, which artist Mohamad Hafez launched with the help of Luke and Mistina Hanscom.
As the spot came together over a series of months—Hafez and the Hanscoms together worked 15 to 18 hour days on the space—she peeked in on progress, watching as the tin ceilings turned aquamarine and rugs stretched out beneath antique furniture. When the spot opened in late August, she was one of the first customers there.
Just a month later, Camacho Garage opened its doors just a few blocks away, on the corner of Fountain Street and Central Avenue. Delaney's Restaurant & Tap Room operator Peter Gremse has also made a return at 883 Whalley Ave., across the street from where his bar burned in a three-alarm electrical fire in 2014. In September, the restaurant opened with outdoor seating that will stay open through the fall.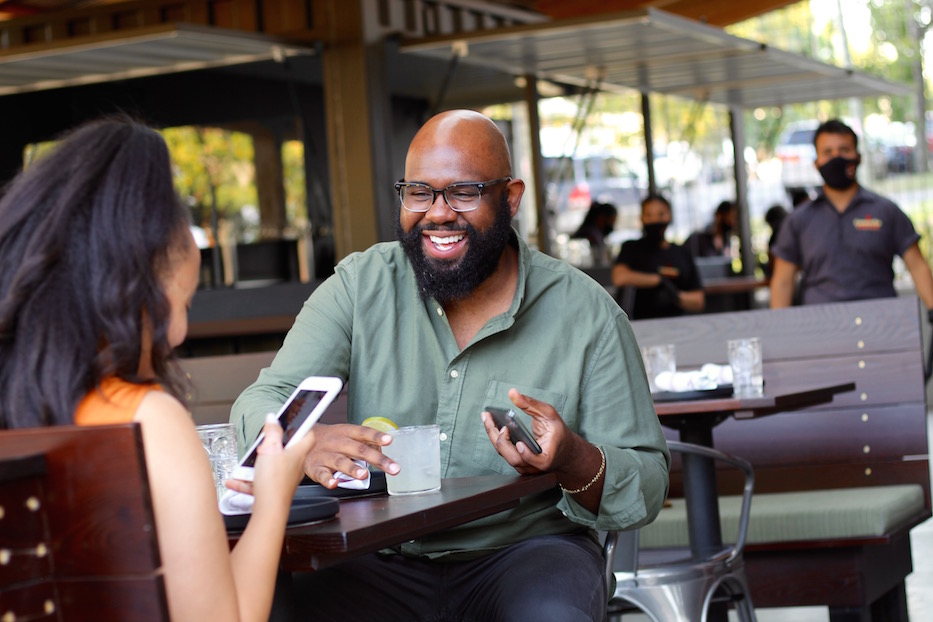 Camacho Garage during a press preview in late September.
"It's such a good story in Westville right now," Donius said, adding that she has noticed more foot traffic since June than she has in the last four years. "I feel—I feel fantastic about Westville right now. I feel like for years, I've been saying, there's so much going on under the surface, just wait, it's happening, it's happening, it's happening, and now it's happening."
Around new spots, existing businesses are learning to adapt and hoping that they can hang on during the winter months. When COVID-19 shuttered storefronts in March, Vintanthro Modern owner Melissa Gonzales pushed sales online, focusing on the space's Etsy store, a new series of Instagram sales, and care packages with soaps, incense, and coloring books.
Meanwhile, she was also following Donius and Hanscom as they sent out email after email. Gonzales "applied for everything," including a grant program from the Hartford Economic Development Corporation (HEADCO) that offered funding to women- and minority-owned businesses. The program may have saved her, she said: she got $10,000 to spend on rent and payroll for three months.
When she heard about the Westville Small Business Fund, she applied to that as well. In some ways, she said, her drive to apply for everything comes from "not knowing what was going to happen after that and not knowing what's going to happen now." Since reopening the shop's doors three months ago, sales have been steady. Several of her new customers are transplants from New York City, who relocated to Connecticut after living in the epicenter of the epicenter.
She said she feels good about where the shop is, and concurrently anxious for other businesses that have struggled this year. She praised the neighborhood's revitalization in the midst of the pandemic, and said she is hopeful for the winter months that are coming.
"I'm so excited for Westville," she said. "So excited … there's something happening that's really exciting and I'm happy to be a part of it. People come from other cities and other states to go to Pistachio. I feel lucky. I feel really lucky to be where I am."
Salsa In The Park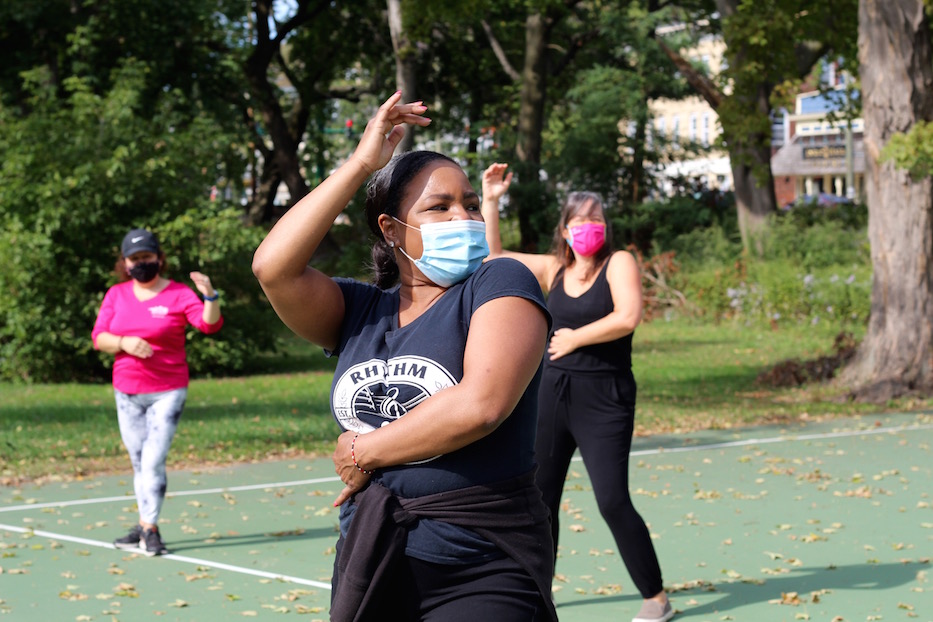 Alisa Bowens-Mercado: "What do you do? You reopen and you hope. As artists, as entrepreneurs, we have to stay focused on the future." Lucy Gellman Photo.
On a recent Sunday, Alisa Bowens-Mercado stood in front of a group of six masked, distanced dancers on the tennis courts in Edgewood Park, teaching the fundamentals of salsa and bachata. Her husband John leaned over a huge speaker and switched to a bilingual cover of "Stand By Me." She held out her arms to a partner who was six feet away. He mimed holding her back.
"We've just teleported to Puerto Rico!" she cheered through a mint-blue medical mask.
Masked, socially distanced outdoor lessons are one of the ways she has worked to adapt to the new rules of dancing in a pandemic. When her doors closed in March, she lost $2,100 in 72 hours, as Quinnipiac University cancelled three of her on-campus performances. Then eight more of her gigs disappeared overnight, and with them another $7,500.
Closed schools meant that her workshop, "Diversity Through The Language of Latin Dance," was cancelled through at least September. Her weekly salsa night at Te Amo Tequila downtown disappeared. At least four couples that she'd been working with postponed their weddings, meaning no private lessons for their first dances.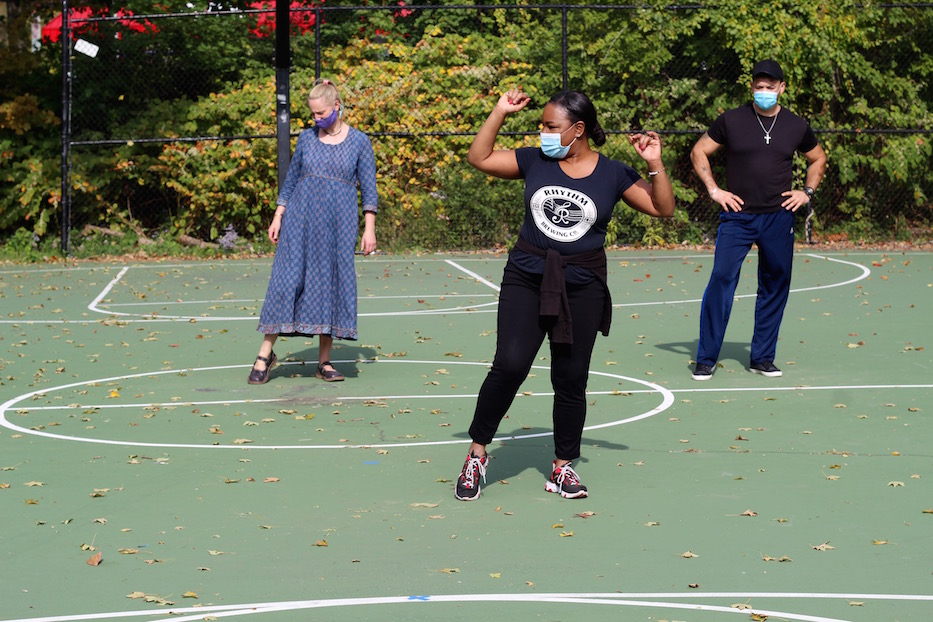 She has pivoted by putting energy into both relief applications and Rhythm Brewing Co., the first Black- and woman-owned brewery in the state and one of only a handful in the country. She said that she is hoping to open a brewery and taproom of her own in 2021, and has expanded to multiple states and distributors in the meantime. Her Black Is Beautiful collaboration with Two Roads Brewery earlier this year sold out in under 24 hours.
After seven grueling months, she also re-opened her studio three days per week. She said it is a strange new normal: there's an eight-person maximum, and no spontaneous partner work is allowed. Either people come with their dance partners, or they dance solo. She gets tested "all the time," because she sees her parents on the weekends and is concerned about asymptomatic carriers.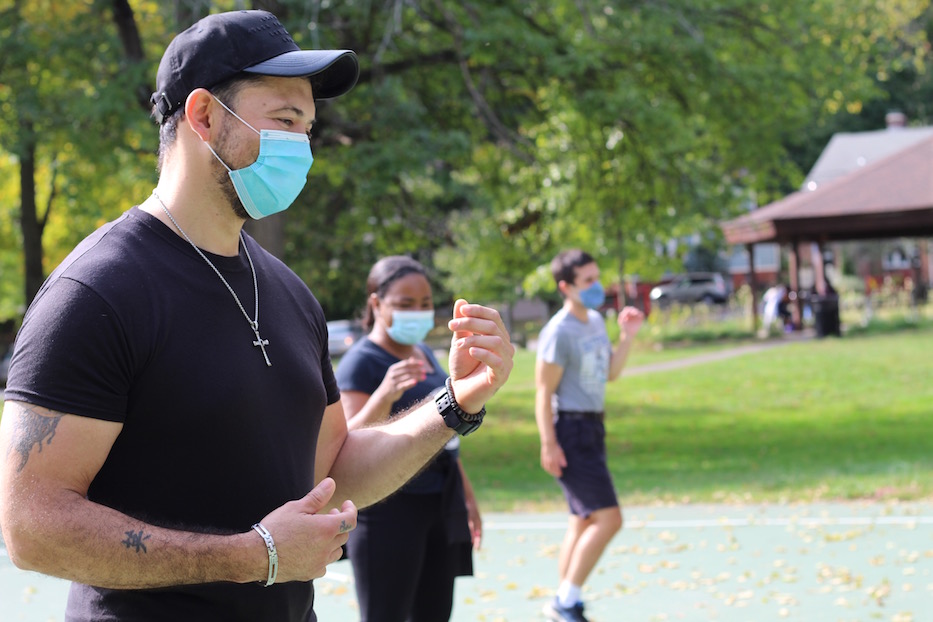 She said she considers herself lucky: her business has been in the same place for 20 years. Customers have returned—slowly—noting that they miss her. Others have sent frequent messages of support. But she is ready to shut her doors again "in the drop of a hat" if she sees COVID-19 rates rising quickly in Connecticut.
"With what's going on, we just have to figure out as artists what's going to come out of this," she said. "People really realize now what's important. As long as I'm following guidelines, as long as I'm keeping people safe, it's good to be back."
"Thank gracious for the arts community," she added. "What do you do? You reopen and you hope. As artists, as entrepreneurs, we have to stay focused on the future."
New Neighbors On Whalley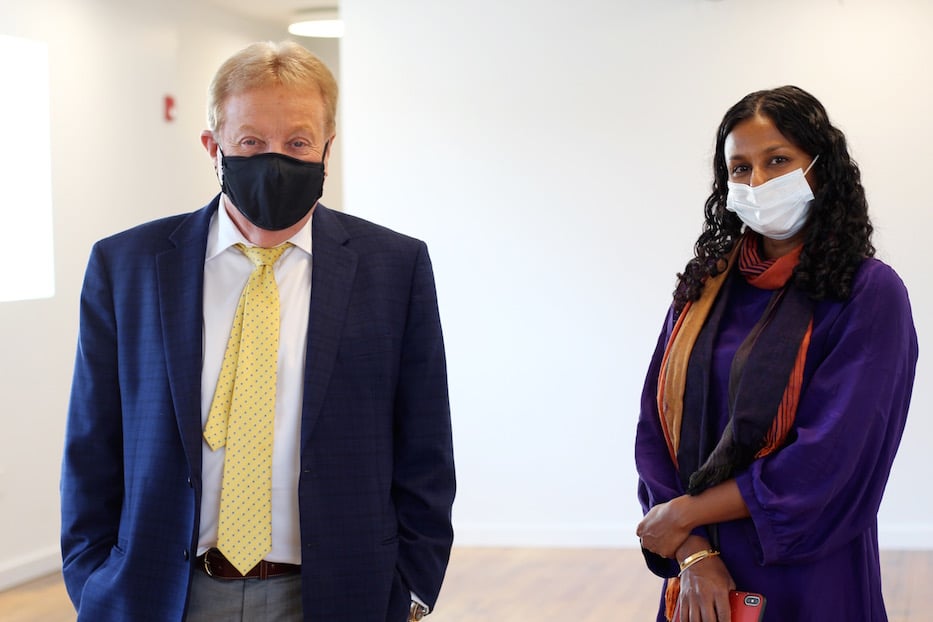 Children's Community Programs of Connecticut (CCP) CEO Brian Lynch and CFO Randi Cavallaro on a recent walkthrough of the new Whalley Avenue space. They will have 40 staff members there starting Oct. 19. Lucy Gellman Photo.
This fall, Westville is also getting new professional neighbors. In January of last year, Children's Community Programs of Connecticut (CCP) put a down payment on 843-847 Whalley Ave., the former home of Lesley Roy Designs. The building, which opens to staff on Oct. 19, will house over 40 employees, including care managers, mentors, and the members of the organization's nurturing families program.
The organization, which has been based on Blake Street since 2007, provides training, mentorship, and case management services around foster care, which has seen a nationwide shortage in families in recent years. It is also at the forefront of kinship foster care, which seeks to place youth with relatives before foster families that have no biological relation.
In the greater New Haven area, CCP is responsible for 150 foster homes and additional training programs. While many of CCP's employees worked from home during the pandemic, site visits never stopped. Chief Operating Officer Brian Lynch said the space feels on time—if not overdue—for the organization's growing needs. Because so much of the work happens off-site, he does not expect all 40 employees to be in the building at the same time.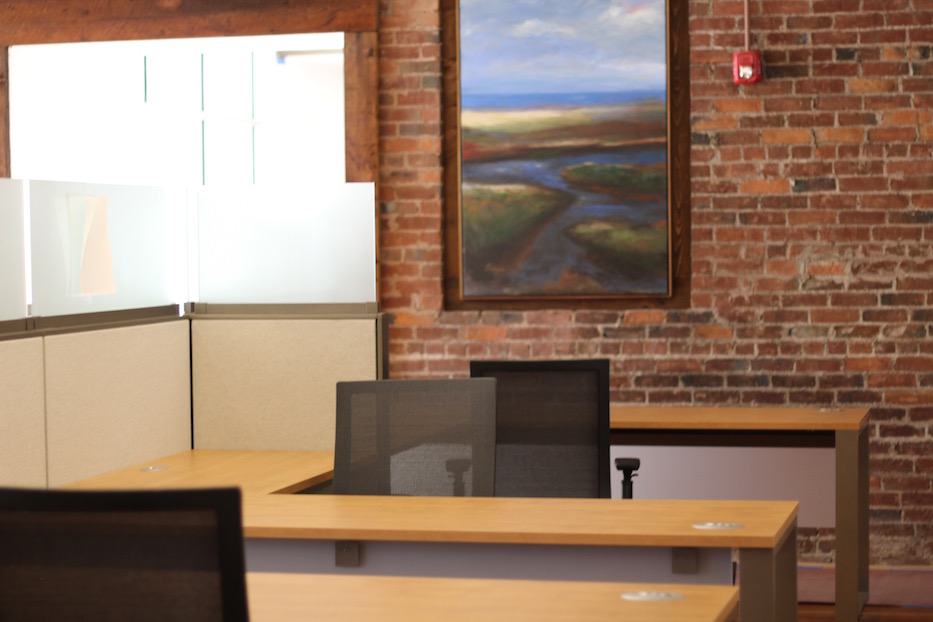 "We're so excited to be a vibrant part of the community," he said on a recent tour of the building. "The theme of our building is urban loft meets art gallery."
The renovated space fuses three buildings that were once connected by a tunnel. While there are still signs of Roy's work—look up, and a few ceilings are painted with cotton-candy clouds and cherubim—it looks more like a modern loft than a former pottery studio and mom-and-pop hardware store before that.
On a walkthrough, Lynch already looked at home, pointing out exposed brick, cubicles, and soon-to-be-elevator with its thick pulleys still exposed. On the first floor, employees and visitors enter from the side of the building, walking into a space that includes group and individual offices, a waiting area, full kitchen, and reflective garden.
His own paintings of Maine marshland snuggle up next to recessed brick. In a large connecting hallway, Lynch said he envisions starting a rotating community art gallery with local artists. He wants Westvillans to come in and experience the space for themselves—when it's safe to do so with COVID-19.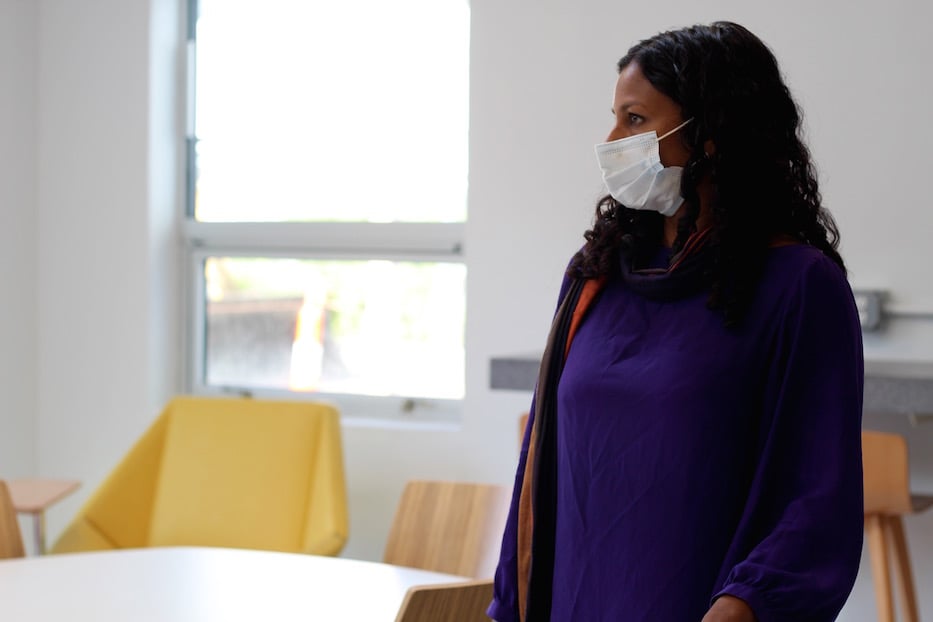 A meeting room on the side of the building beckons with a bright red conference table and hi-tech equipment, including huge monitors for training and case conferences. On the second floor is the organization"crown jewel"—a sun-soaked training room with a view of West Rock, where the wood floors glow when the light hits them.
Lynch added he wants to be a good neighbor. While CCP has been in Westville for 13 years, he said that being on Whalley feels different—he expects staff to eat, walk, and shop in the community that literally surrounds him. In welcome bags that the organization has prepared for staff, there are gift cards to Pistachio, Lena's and Manjares. On a recent walkthrough, he and Chief Financial Officer Randi Cavallaro talked about checking out Camacho Garage. A ribbon cutting is tentatively planned for Dec. 3.
"We think this will be a nice way for the community to come in," he said."We were excited to get here and start."