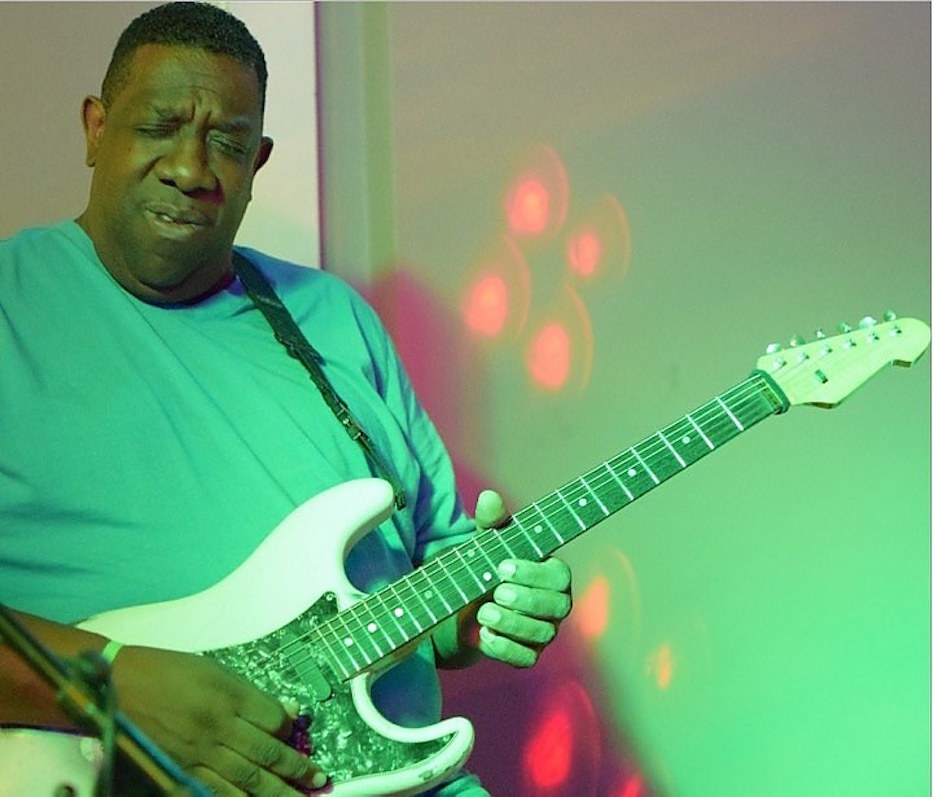 Arts & Culture | The Arts Council of Greater New Haven | Elicker Administration | COVID-19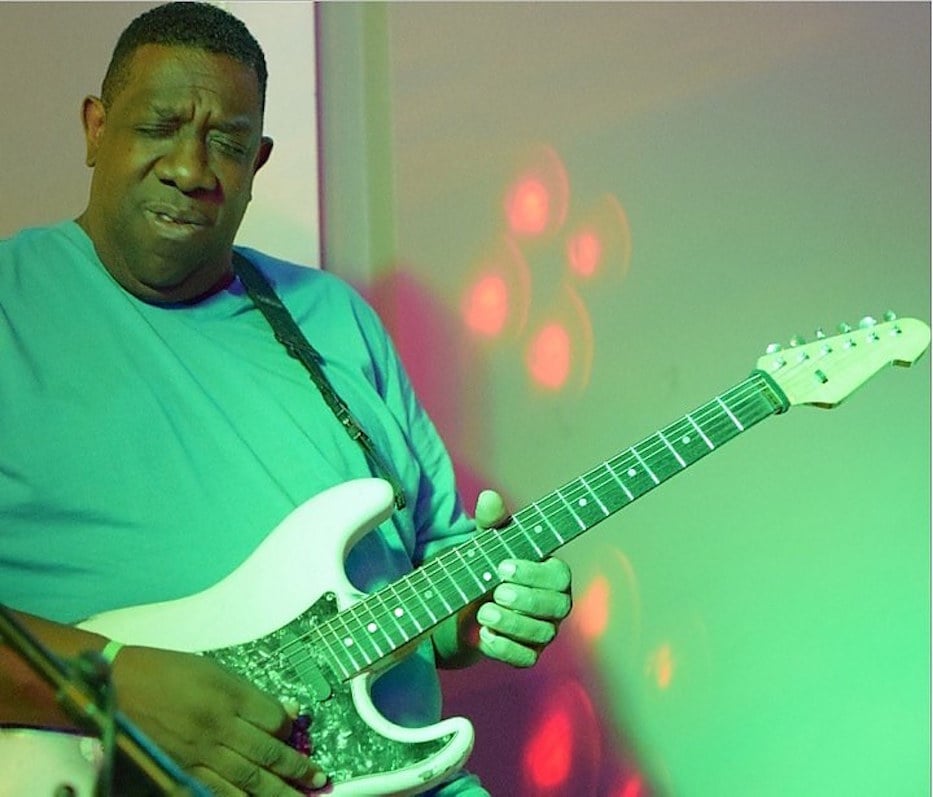 Rohn Lawrence plays Toad's Place in 2015. New Haven Independent File Photo.
Four hundred and twenty artists and arts organizations have received a total of $175,380 from the Greater New Haven Creative Sector Relief Fund. In total, $183,833 has been raised.
The relief fund, which launched in March, is a direct response to COVID-19, during which unemployment has skyrocketed. In May, Americans for the Arts reported that 62 percent of arts workers were fully unemployed due to the pandemic. Of a surveyed group of 17,800, 95 percent reported income loss.
Eight artists currently remain on a waiting list and several have not yet claimed their funding. The opportunity to tap into this funding will remain open into the fall.
Those updates came from the Division of Arts, Culture & Tourism and the Arts Council of Greater New Haven this week, as the latest round of funding spreads to the region (for full transparency, the Arts Paper is an editorially independent arm of the Arts Council).
The bump in funding comes from the Community Foundation for Greater New Haven, the Yale Community for New Haven Fund and individual donations that continue to roll in.
When it launched in late March, the fund held $50,000 from the city division's not-for-profit arm New Haven Festivals, Inc. and $10,000 from the Arts Council's Artist Next Door Fund. In April, an additional $10,000 came from the Arts Council and $57,225 came from individual donors. In June, the fund secured another $45,000 in grants and several thousand dollars in individual donations, including $30,000 from the Community Foundation and $15,000 from Yale.
Some artists who have received funding have held fundraisers of their own, as a way to give back to the arts community. In total, $12,833 has come from individual donors and $6,000 has come from individual fundraisers since late March.
Recipients from the most recent round include independent contractors and freelance artists, part-time creative cobblers caught in the gig economy, and performing arts organizations. All of them, from Aligning Media to SOUND Affect and the Yale Prison Education Initiative, have seen their work change drastically since March.
Briana Bellinger-Dawson, a teaching artist and choreographer in the New Haven Public Schools, is one of those artists who saw work disappear overnight. As a recipient, she will be using her funding to work on a play she is writing called The Counter, which chronicles the experiences of a barista in a coffee shop. She called for increased funding for independent contractors, many of whom have been without reliable income since March.
As an arts educator, she was working on five different performances in early March, from Jonathan Larson's RENT at Cooperative Arts and Humanities High School and The Lion King at FUSE Theatre Company to Aladdin, Jr. at Nathan Hale Elementary School. She was also following early reports of COVID-19 on NPR, stocking up on supplies as her friends and partner told her she was overreacting.
Outside of the classroom, she was working a part-time job at Willoughby's Coffee & Tea on Church Street and helping her seven-year-old son navigate elementary school. When school went remote, she scrambled to make online learning as fun as possible for him (the two do a lot of SchoolHouse Rock!, including a fierce version of "Conjunction Junction" that he sings around the house), while also lesson planning for her own students. When the state ordered nonessential businesses to close in mid-March, she filed for unemployment.
For the first two weeks of April, she received payments—but they stopped inexplicably. From mid-April to July, she didn't receive anything from the Connecticut Department of Labor. She reached out "to everyone:" she called the state's unemployment line and emailed the Department of Labor, the fraud division of the Connecticut Department of Social Services, and even U.S. Rep. Rosa DeLauro's office.
In late July, she started receiving payments again. Then they stopped. She still doesn't know why. While she receives biweekly checks from the school district, her income is a portion of what it had been. This summer, she has picked up work teaching in Elm Shakespeare Company's virtual summer session.
"I emailed everybody," she recalled in a phone call Sunday afternoon. "I was like, listen. I really need to pay my bills."
The past months have also taxed her as an arts educator and a mom. Bellinger-Dawson's son is a whiz at math and social studies, but March found him suddenly without the paraprofessional who helps him with reading.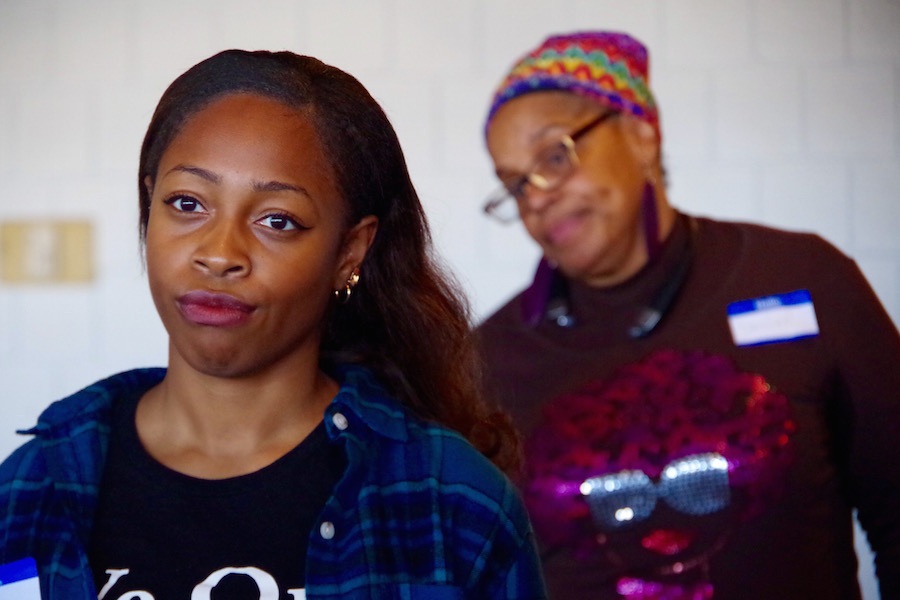 Briana Bellinger-Dawson and Denise Cox in a nonviolence training at Long Wharf Theatre in2018. Lucy Gellman File Photo.
Her son's teacher stepped in, offering to ferry his Scholastic book orders to Bellinger-Dawson's home in New Haven. She praised the work of fellow educators, who have gone a literal extra mile (or several) with virtual lesson plans, contactless book dropoff, and check-ins that still adhere to the strict guidelines against live teaching.
But she also thinks the next year will be a struggle: she got choked up talking about 50 tickets that she had managed to score for a June 10 performance of Hamilton on Broadway, after scrambling to reserve them the moment they were announced. Before students came to clear out their lockers at the end of the year, she placed their tickets inside, for them to hold onto as they listened to the soundtrack and watched the performance online.
As she continues to fight for her unemployment checks, she'll be putting most of her relief funding into an online performance of The Counter, a play based on her own experience at Willoughby's. She said that in an ideal world, she envisions a virtual reading setup that can transition to a physical stage when it is safe to gather again.
"The counter is kind of a soapbox where people can say anything they want, and then they get to leave," she said. "There are times when people have said things toward me, regarding my skin color, regarding my hair. There's a lot of times when we've closed the store, and I've had coworkers talk to me about their day. We're all in this place, and yet someone's opinion had to crawl out of their mouth. I was applying to help that along."
Musician Rohn Lawrence (pictured at top), who received $333 in the most recent round of funding, also recalled how "things literally came to a grinding halt" in mid-March. His gigs, which have always made enough to support him, turned into postponements. Postponements turned into cancellations. After five decades of playing music, his main stream of income was gone. The transformation to financial security to the bottom falling out took less than 48 hours.
For him, COVID-19 has been an ongoing financial nightmare. Lawrence filed for unemployment in March but was rejected; it was then that he started wondering how he was going to pay his bills. He's a homeowner in Fair Haven, where he shares a house with his 26-year-old son. During tropical storm Isaias, a maple tree fell on a shed in his backyard, damaging both the shed and his truck.
"It sucks," he said Monday afternoon, reached by phone. "The whole situation just sucks. It's like one thing after another. That's basically it. You go to the bank and take out whatever money you have in there, you have to devise all these different things."
The glimmers of hope are few and far between, he added. His son still has employment, which he considers a blessing. He has tried streaming performances on Facebook with information on virtual payment. As Gov. Ned Lamont has started the economy's phased reopening, he booked a few outdoor gigs that never pay over a couple hundred dollars.
He has also recorded and sent out a number of tracks, for which he's been paid between $100 and $150. Before COVID-19, he said it wasn't uncommon to net $800 to $1,000 for recording. A year ago, he was on the New Haven Green with the International Festival of Arts & Ideas. Now he's not certain how he's going to pay all of his bills.
"I'll be 60 next month," he said. "I'm too old to reinvent myself."
The funding "is very much needed," he added. "When you take into consideration that a person is just no longer able to make a living at something they've done for their whole life? It's crazy. It's just crazy."
Composer Austin Larkin is using the funding for a sound installation project and maintenance to his instrument, a violin. He said he considers himself lucky: he has kept his job at the New Haven Free Public Library, where he works in Ives Squared. For him, quarantine has marked "a time for reflection, contemplation, insight," during which he has juggled cancelled and postponed gigs and written new material.
He dropped two untitled compositions in July, the proceeds from which he is donating to the Black Trans Advocacy Coalition. When the funding came through in the most recent round, he put some towards an October sound installation at Rhizome Gallery in Washington, D.C. and the rest towards paying Kevin Chapin, a New Haven luthier who works out of Erector Square in Fair Haven.
"I think it also has made me contemplate and reflect on what you depend on, not only as an artist but also as a member of a community or a city," he said in a phone interview Monday. "I was fortunate in that I was able to retain employment through it, but if I wasn't working a job, it would be a much different story."
"One thing which I think the pandemic has shown is that public funding for artists is essential," he later added in an email, "And that the commercial or commodity based model for artists to support themselves is inherently flawed and excludes a vast majority of individuals and communities, especially in times of crisis."
Donation and application links for the fund remain open; applicants can apply for up to $500. Most have received $333.