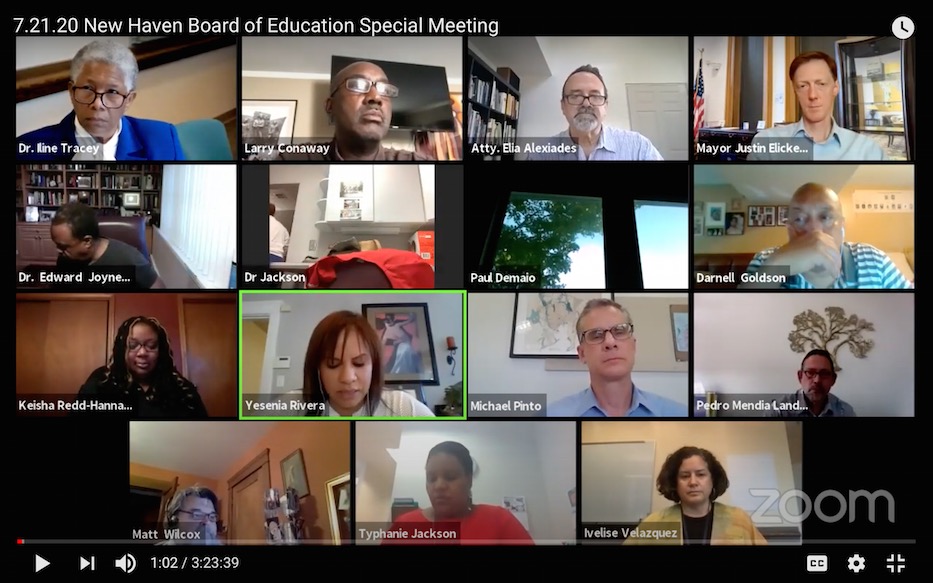 Education & Youth | New Haven Preservation Trust | COVID-19 | New Haven Board Of Education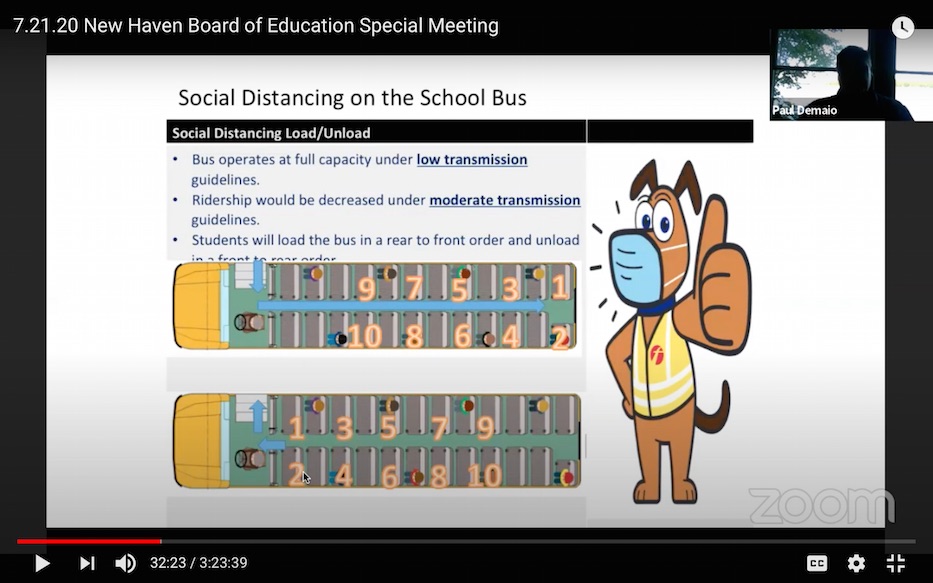 Zoom Screenshots. A full video of the meeting is below.
A teacher wearing a face shield will teach a group of eight to 12 students at a time. Front desk and lunch lines will have plexiglass and plastic barriers installed. All students and staff will sport cloth masks. Bathrooms will be cleaned three times a day. Hand sanitizer stations will replace all water fountains. Cafeterias will be grab-and-go. A school bus might only have 12 students on it at a time.
These images are just a few of the hundreds of school reopening suggestions proposed by school boards across the state to Gov. Ned Lamont. On Tuesday, the New Haven Board of Education presented its proposal via Zoom and YouTube to more than 400 virtual attendees. The formal draft is accessible here.
"Right now, the situation is so fluid," said New Haven Public Schools (NHPS) Superintendent Dr. Iline Tracey. "We could get a different set of information next week. No one knows the nature of the virus, so we are all planning for all the options. Your questions are right on. I'm not negating them."
As of now, New Haven Health Department and the Board of Education has identified the city as having moderate community transmission, or multiple cases in the community.
The proposed estimate of all COVID-related costs for reopening is $13.9 million. According to presenters, funding will come from the CARES Act's Elementary and Secondary School Emergency Relief Fund (ESSERF), state funding, the Federal Emergency Management Agency (FEMA), and other sources as they become available. Members did not specify what those other sources may be. New Haven is supposed to receive $8.5 million through ESSERF.
It became clear as the night progressed that dozens of questions remained unanswered for both community members, who have expressed deep reservations over schools reopening, and school board members alike. Many parents and educators questioned the feasibility of the proposal given the current state of schools; others lambasted distance learning and suggested there must be another way. Various attendants cited the board's own reluctance to meet in person as evidence that reopening schools is not safe.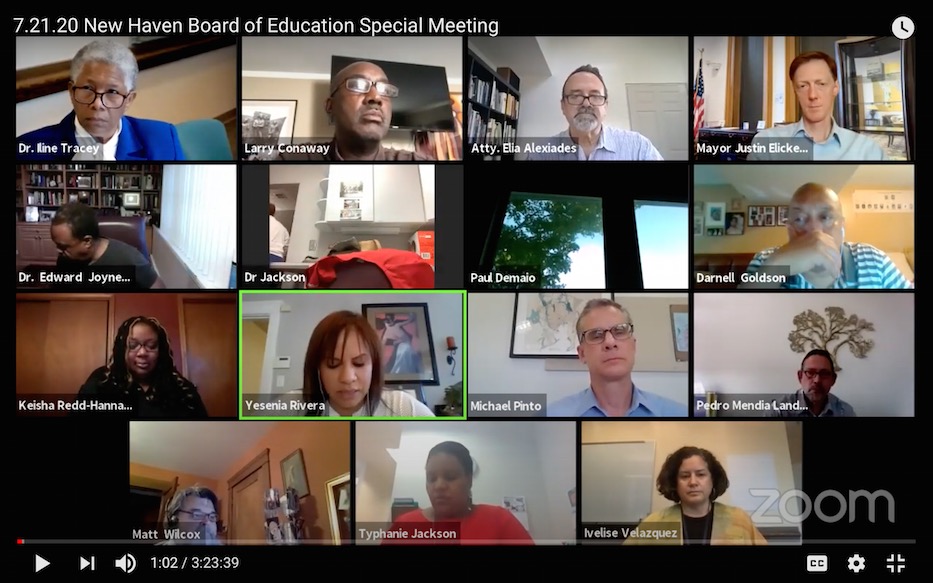 "If we're going to vote to send our kids to school then we have to be brave enough to go to school" pushed back board member Darnell Goldson.
Parents including Kenya Ross pointed out that even prior to COVID-19, school facilities were already struggling with issues of sanitation. Soap dispensaries and paper towels were often empty throughout the day.
Students were often forced to share textbooks due to limited supplies. Karen Wilkinson, a paraprofessional of more than 30 years, cited recurring mold issues at James Hillhouse High School as evidence that schools will not be able to meet stringent health guidelines.
Liz (she did not give her last name), a Fair Haven resident and parent, believed the proposal would not work for schools like the Quinnipiac School, which she said has no formal gymnasium or cafeteria space.
The school's heating broke during the winter, forcing students to be bussed to nearby schools. The proposal does include a clause for redistributing students in the case of a school shutting down outside of COVID-19, for something like an HVAC emergency or failure
As of now, the proposal has designated $1.4 million for additional air filters and custodial hours (public health guidelines, meanwhile, have suggested that gathering indoors with limited ventilation may accelerate the spread of the COVID-19 virus; many NHPS classrooms have circulated air and no windows).
A detailed breakdown of cleaning for shared spaces is included, but there was no mention Tuesday of whether teachers will be required to clean their own classrooms during the day or if additional custodial staff will be brought in.
Nataliya Braginsky, who teaches at Metropolitan Business Academy, argued that plans to reopen schools across the state do not account for vast inequality across school districts. Specifically, she cited the inequality faced by school districts serving primarily communities of colors.
Miguel Cardona, the state's Commissioner of Education, echoed this sentiment a couple of days ago, when he noted that "reopening will look different in Salisbury and Sprague than it will in Hartford and Bridgeport."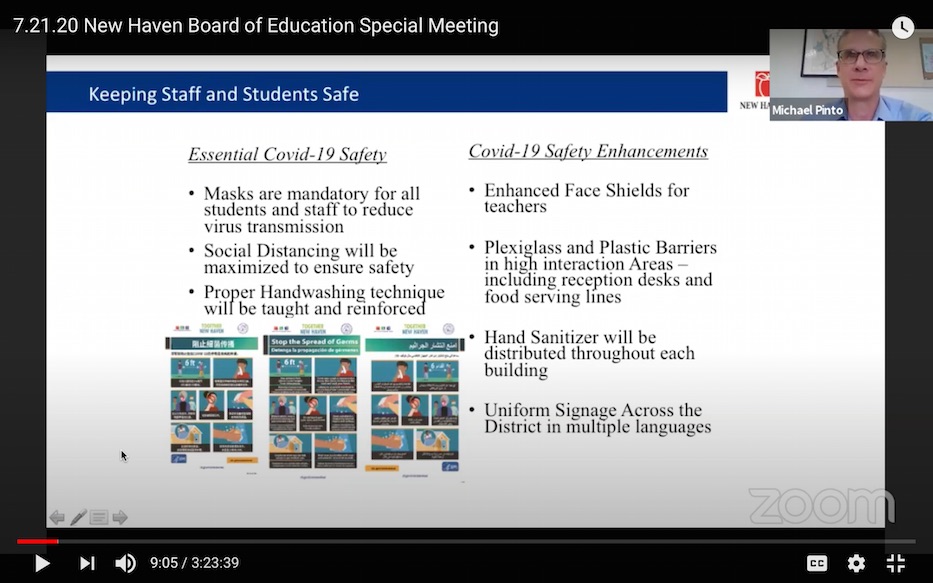 In Salisbury, 83 percent of students are white and each student receives $22,000. In New Haven, 83 percent of students identify as Black or Latinx (educa, meanwhile, are 73 percent white.). The district received $17,925 per student this past year. Nearby suburbs with similar demographics such as West Haven receive around $14,000 per student.
"We know these recommendations will not be feasible for us," Braginsky said. "Deaths from opening will be among youth of color."
Jessica Light, a parent and teacher at Davis 21st Century Magnet Elementary School, also argued that reopening the schools is a dangerous decision for students and staff alike.
"Everyday before my students enter my room, I look them in the eye and welcome them in," she said. "This is not just a greeting but a contract between my students and myself. I will only welcome them into a room that is safe and ready for them. If there is a known danger, I would never tell them to enter."
In the current proposal, there are mentions of "grief support resources for parents and guardians." Educators will also be asked to teach explicit social skills on topics related to the pandemic such as coping, disappointment, and restorative practices. More detailed information is not available at this time.
Teachers will be able to access Telehealth therapy services through their current providers.
Light and others said they recognized that the decision to open schools does not come directly from the Board of Education—it comes from Gov. Lamont, whose phased reopening comes in response to the lack of federal support and drive to send parents back to work, safety aside— up but asked the board to push back.
"We all have pressures on us from above," Light said. "Students have pressure from teachers who have pressure from administrators who have pressure from the central office who have pressure from the state. Lamont has put pressure on you to reopen fully because Lamont has people above him pressuring him."
Melody Gallagher, who teaches art at Mauro-Sheridan Interdistrict Magnet School, presented an excerpt from a letter signed by 44 New Haven Public School teachers that was sent to Governor Lamont's office. The letter called for the state to provide high speed internet for all, compensate caregivers, and not to reopen schools.
Mindi Englart, a creative writing teacher at Cooperative Arts & Humanities High School and New Haven parent, proposed that the Occupational Safety and Health Administration (OSHA) individually assess schools to determine if they have complied with safety regulations. She explained that she believes schools will not be able to comply with the strict health requirements necessary for stemming COVID-19, leading to bad health outcomes for students and faculty.
The effectiveness of distance learning and who will be able to participate also came into question. Some attendees pointed out that the current proposal makes no mention of arts-related education. To assess students' academics, the new curriculum will emphasize performance based assessments. Curriculum Supervisors and their teams are developing academic diagnostic tools to align with state guidelines.
Dennis Wilson, director of Education Services at IRIS, presented findings from interviews with high school students working with the organization.
Many of the students expressed concerns about struggling with ESL instruction in the spring, while trying remote learning, and falling further behind in English. Computer literacy was also a major obstacle for students to understand and complete online assignments without individualized help from instructors
Many of the surveyed students were concerned about returning to school, but believed in-person instruction is the best way to improve their English proficiency. They asked that ESL learners be enrolled in both virtual and in-person learning to account for gaps in virtual learning.
Wilson and Jennifer Sarja, a New Haven teacher, also cited testimonial evidence that high school students, especially those with younger siblings. are in tough situations. Some have been forced to take on jobs to support their families and are doubling as caregivers for younger siblings. A return to school would potentially mean a loss of income for families or loss of childcare.
"They [high school students] missed their own education," Sarja said. "We are in a community where we have to support our families."
Eric Yuhas, the assistant principal at the Sound School, echoed the sentiment that remote learning will have to be flexible for families where parents and guardians are essential workers. Yuhas asked for accommodations to be made for children who will not have caregivers present during the day or even after school.
The current proposal requires that students engaging in distance learning will have to do both synchronous and asynchronous learning. For every 3 asynchronous learning opportunities, there must be 2 synchronous learning opportunities. Other synchronous sessions include office hours and wellness meetings.
Tracey asked for parents to continue attending the meetings and submitting questions.
"We don't have all the answers but we want this to be a community effort," she said.
The board will be releasing a FAQ Guide in the near future to answer recurring questions. Administrators will respond to all of the unanswered questions from the meeting and post the answers on the NHPS website.