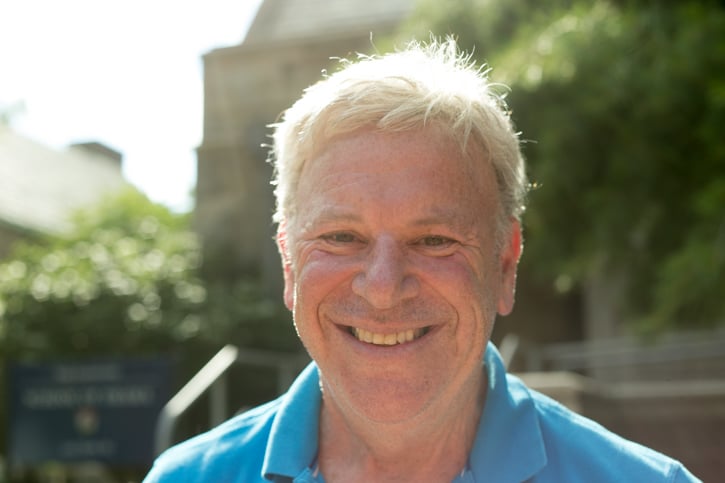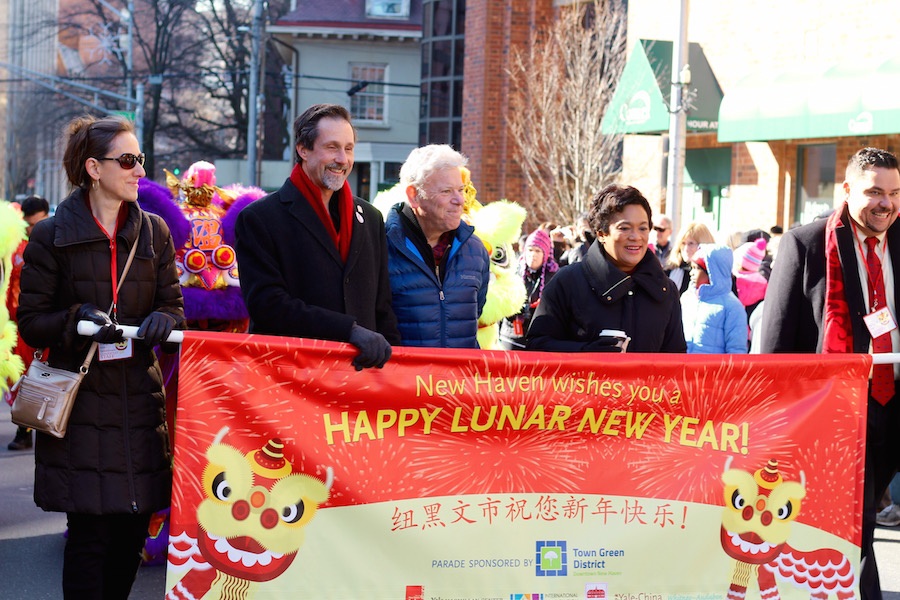 New Haven Museum Director Margaret Anne Tockarshewsky, Yale-China President David Youtz, New Haven arts czar Andy Wolf and Mayor Toni Harp, and Program Director of the Council on East Asian Studies at Yale University Richard Sosa. Lucy Gellman File Photo.
Updated Friday afternoon.
An arts champion who lived in a world of cultural possibility, where no idea was too wacky or exciting not to try at least once. A community cheerleader, who stuck his neck out for small organizations as quickly as big ones. A city official who was "Made In New Haven" himself, and didn't let people forget it.
Those are just a few of the ways New Haveners are remembering arts czar Andy Wolf, who died Tuesday night at the age of 68. As those in and outside the arts community received the news Wednesday morning and afternoon, many responded in shock, mourning his death as a premature loss to the city. At a funeral in New Haven Friday, he was widely celebrated as a bright flame, snuffed out much too soon. Hundreds attended, spilling into the hallways and front entrance of Shure Funeral Home when all the seats were taken.
"On behalf of all city residents, I extend heartfelt condolences to family members and loved ones of Andy Wolf at this time of mourning," wrote Mayor Toni Harp Wednesday afternoon, just hours after a 24-foot black fabric banner was installed in front of City Hall in mourning. "Andy had exceptional enthusiasm for New Haven and will be sorely missed."
"Similarly, I share with residents citywide sincere gratitude for the talent and creativity Andy generously shared with all of us in his hometown these past five-plus years."
Wolf arrived in New Haven in 2014, just months after Mayor Toni Harp began her first term as mayor. The two had first met 14 years earlier, when Harp, then a member of the State Senate, was in L.A. for the 2000 Democratic National Convention, and Wolf was serving as president of the Pacific Design Center. Even then, his work experience was wide ranging: he had done stints with the United Nations, Federal Trade Commission, and CBS Corporation among others after time studying both art history and law. He had toyed with the idea of opening an art gallery in the 1990s.
In their first meeting, Harp said at his funeral Friday, Wolf struck her as impossibly friendly and equally energetic. She asked him to keep an eye on her daughter, who was starting her medical residency nearby at the University of California-Los Angeles. He did—as he ultimately did "for all my children," Harp said. Over the next two decades, he became a member of her extended family. She included him in the family Christmas lists for several years, where his name was often near the top.
"As most of us in this room well know, Andy's mind was a wonderland," she said. "His ideas flowed ceaselessly and covered both the mundane and the fantastic. And as most of us know, his enthusiasm for those ideas was boundless. I would say, the only thing to rival his creative thought was his optimism about what New Haven should aspire to. What it would take for New Haven to reach its potential, and how positively wonderful it will be when New Haven will get there."
"It falls to us to remember the twinkle in his eye," she added. "Rest in peace, our dear friend. New Haven is poorer for your absence, but New Haven was so rich for having your presence for so long, and we are grateful for that."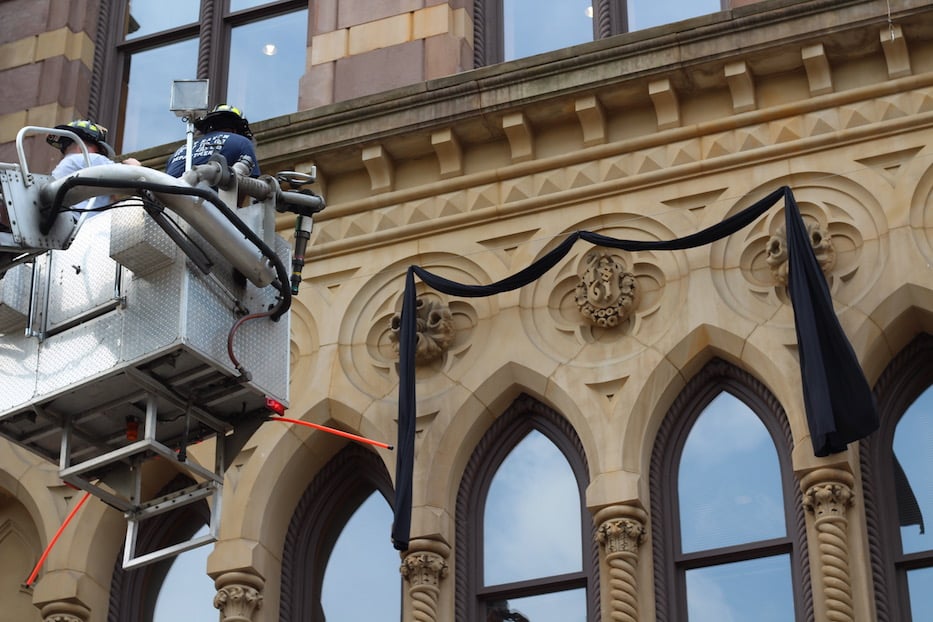 For Wolf, the position in Harp's administration was a homecoming. Until the 1970s, his family owned and operated a cabinet-making business at the corner of Wall and State Streets, which was torn down during Mayor Richard Lee's period of urban renewal. His father, Harold, was a cabinet maker. His mother, Ruth, was an interior designer. They had three kids: an older son named Jimmy, a young daughter Jan, and a bouncy middle son named Andy.
The family lived in a small house at 1600 Chapel St., where the three kids shared a bedroom "the size of a closet," according to Jimmy. When Ruth Wolf died from cancer at 43 years old, Wolf was just 10. And still, he became something of his siblings' keeper, close with them for the remainder of his life. At Friday's service, Jimmy Wolf recalled what a blessing it had been to have Andy close by for the final years of his life. Just as in childhood, the three had spent Wolf's final days together again in a single room facing the water, during care from Connecticut Hospice.
"I was proud to be his brother," he said.
After his return to New Haven in 2014, Wolf would talk about the ghosts that lived in that the city, and particularly its old neighborhoods. But he saw them as benevolent ghosts, and worked with artists and historians to preserve their legacy. No sooner had he returned than he was working to champion objects that were, like him, "Made In New Haven."
From 2014 until last month, Wolf split his focus between "branding" New Haven and bringing in acts from both in and outside the city and the state, many of which performed publicly on the New Haven Green or at City Hall. He organized and threw the city several birthday parties, coordinated large-scale events including the city's Grand Prix and first-ever "Operapalooza" festival, and helped facilitate New Haven's budding sister city relationship with Changsha, China. Babz Rawls-Ivy, editor of the Inner-City News and a host of "LoveBabz LoveTalk" on WNHH Community Radio, recalled him as a breath of fresh air in the arts community.
"Who had more energy than Andy?" she wrote in a text message Wednesday afternoon. "Who was cooler than Andy? Listen, I run these arts streets hard, but Andy had me beat hands down! If I rolled into an event and saw him, I knew without question that it was THE event to be at!"
He worked tirelessly, friends and colleagues remembered, right up until he couldn't work anymore. As recently as last month, he could still be spotted making the rounds at the International Festival of Arts & Ideas, greeting New Haveners as they poured onto the New Haven Green for large events.
That work ethic was nothing new. KCRW Host Edward Goldman, who knew Wolf during his time in L.A., recalled a "wonderful positive energy that he applied to everything that he did: business, friendship, and cultural explorations."
"He was so effective during his directorship of the Skirball Museum and presidency of the Pacific Design Center," he wrote in an email that Helen Kauder, executive director at Artspace New Haven, shared with the Arts Paper. "What I like to remember about him most is that he always had a smile, and never complained. He was a very special person that his friends and colleagues will miss dearly."
Kauder also remembered Wolf as deeply committed to his work, and equally energetic. Decades ago, she got to know him while living in his West Hollywood home—"designed by Helmut Schulitz and filled with Andy's modern art and furniture collection," she noted—and remained close in the years that followed, as their jobs took them to different cities across the country. In the week before his death, she recalled, the two spent time reminiscing on those L.A. years and the work he had done in New Haven.
"Andy was really an impresario," she said. "One of his brilliant moves was the Valentine for the Arts event he created, to highlight the organizations celebrating milestone birthdays in 2015. He knew that the heads of the National Endowment for the Arts and the National Endowment for the Humanities were touring the country, and he managed to secure their time for a New Haven visit through this ingenious platform that he devised."
"So many positive things ensued from Andy's creativity," she added, recalling that the NEA's visit to New Haven was the beginning of an especially fruitful period for Artspace.
Several New Haveners expressed similar shock and grief at Wolf's death as news rippled through the community and was shared widely on social media."My heart aches for this loss," wrote CT Folk Festival Director Nicole Heriot Mikula Wednesday afternoon. "Sending prayers to his family and friends. May he continue to shine on us all."
In his Ninth Square office when he read the news, New Haven Pride Center Director Patrick Dunn called Wolf's death a huge loss to the city. Last month, the two had seen each other at Arts & Ideas, where Dunn worked as development manager until August 2017. Dunn had been concerned—Wolf "looked very frail," he recalled—but he had attributed it to stress.
"I wasn't really anticipating this at all," he said. "He was so full of life."
Dunn recalled meeting Wolf in early 2014, shortly after he started his tenure in the Division of Arts, Culture, and Tourism. Mary Lou Aleskie, then director of the festival, had organized a "Welcome Andy" meeting for staff. Dunn was wary: he knew and loved outgoing arts czar Vivian Nabeta. But then Wolf walked into the room, and Dunn felt the energy shift immediately.
Wolf at the New Haven Pride Center gallery earlier this year. Lucy Gellman Photo.
He was intrigued, and then won over. He recalled hearing a phrase that Wolf coined to describe what was going on in his head: "Wolf's World." It was, as Dunn soon came to know it, "this place where all things are possible."
"Anytime I went to anything artistic in the city, he was always there in some way," Dunn said. "He was not afraid to go and experience all forms of art that was out there. He would go to the city's anchor organizations, but he would also go to drag shows and bars."
When Dunn started as director of the New Haven Pride Center in 2017, he said that Wolf was one of his first supporters. Last year, Wolf encouraged him to apply for funding through the Mayor's Neighborhood Cultural Vitality Grant Program, a grant that ultimately allowed the center to grow its arts program and nascent gallery space.
This year, the center received another, which has gone to expanded cultural programming. Before his death, Wolf had shared one final idea with Dunn: turn the Q Bridge rainbow for Connecticut Pride Month, which takes place in September. If it's possible, Dunn said that Pride New Haven will do so in his honor.
Artist and curator Lucy McClure, a co-founder of Nasty Women Connecticut, remembered Wolf as a champion of artists with projects that could connect the city. After learning about the Cultural Vitality Grant Program last year, she began the application process, checking in with Wolf every time she had a question. Each time, she said, she'd receive a prompt, gentle response with the information she was looking for.
"He made our testimonials project possible," she said. "He always was willing to listen, to talk and to guide. He had a very good heart, a very good spirit. If it wasn't for him being willing to talk to me, I don't think I would have gotten my first grant."
In 2014, artist Hanifa Washington first met Wolf as a member of the city's Commission on Arts, Culture & Tourism. Immediately, she said, she was struck by his boundless energy and enthusiasm. When she heard that he was ill last month, she struggled to believe it was true.
"It was really hard to imagine that," she said. "I just have this vision of Andy being this radiant and joyful person … his demeanor always made me feel at ease. When I met him, I was like, 'what is his genius?' He was always open, always welcoming, always encouraging. He made a big impression on me during that time."
That impression continued during Washington's work with The Word, a poetry and spoken word program that has scored city funding several years in a row. When students performed, she recalled, Wolf would show up in part because the city had funded the program. But then he would stay—which she almost never saw funders do. He would meet the student poets, and talk about pieces he liked. And then he would come back.
"I always respected him for that," she said. "My heart just goes out to his family, and I hope that he wasn't suffering."
As a longtime member and chair of the commission, New Havener Aleta Staton said that she was crushed to hear the news Wednesday morning. She recalled a bright light that seemed to go on every time Wolf entered a room—or made time to talk cultural affairs over cupcakes, as the two often did.
"We lost a good one," she said Wednesday evening by phone, her voice catching every few words. "He carried that in his soul—he wanted to infuse people with that brilliant light."
She recalled several times that Wolf came up with an idea—or several ideas—but dipped back behind the scenes when it was time to present it publicly. For her, that gesture dovetailed with his personality, that "literally, he wanted everybody else that surrounded him to shine" as brightly as he did.
"I will miss him so dearly," she added. "We were going to take on the world."
Memorial contributions may be sent to CT Hospice, Inc. or to Smilow Cancer Hospital. A period of mourning will be observed at 112 Judwin Ave. on Friday until 7 p.m., Saturday, 6 to 8 p.m., and on Sunday, 1 to 3:30 p.m. Click here for more details.