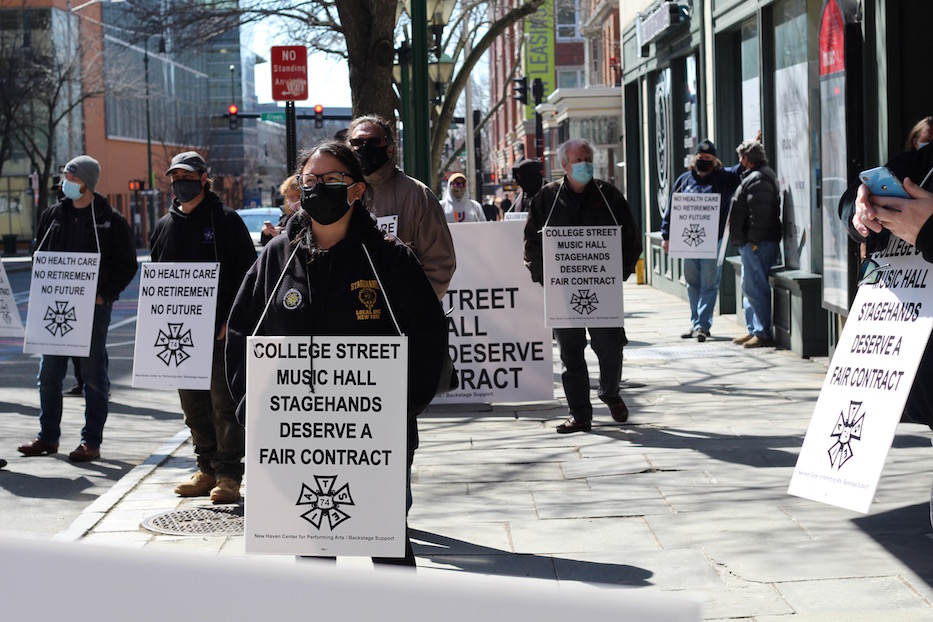 College Street Music Hall | Culture & Community | Downtown | Arts & Culture | COVID-19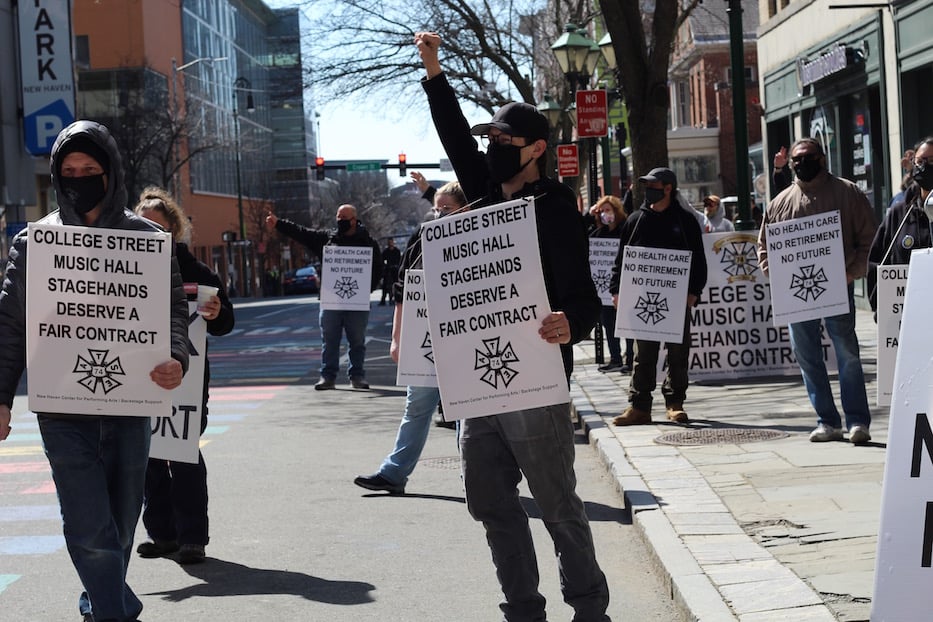 Kaplan, with fellow stagehands on Wednesday. Lucy Gellman Photos.
When Covid-19 shut down the Shubert Theatre last March, Michael Kaplan held onto the knowledge he'd have health insurance through a global pandemic. One year later, he joined a picket line to ensure that his colleagues across the street have the same access to health care and fair wages that he does.
Kaplan is an electrician at the Shubert, where he's worked "probably over 1,000 shows" in two decades. Wednesday, he joined fellow members of the International Alliance of Theatrical Stage Employees (IATSE) Local 74 to call for health benefits and fair wages among stagehands at College Street Music Hall.
Members of Local 74, which covers Southern Connecticut, have been there every day since Monday morning, and plan to stay through at least Friday afternoon. They said that the union was not involved in the glass that was smashed on the venue's doors and windows earlier this week.
The story of the picket begins 12 months ago, when 21 stagehands at the venue voted unanimously to unionize. That vote, supervised by the National Labor Relations Board, took place on March 11, 2020. Less than four days later, College Street Music Hall closed per statewide executive order. Contract negotiations have remained in limbo for a year.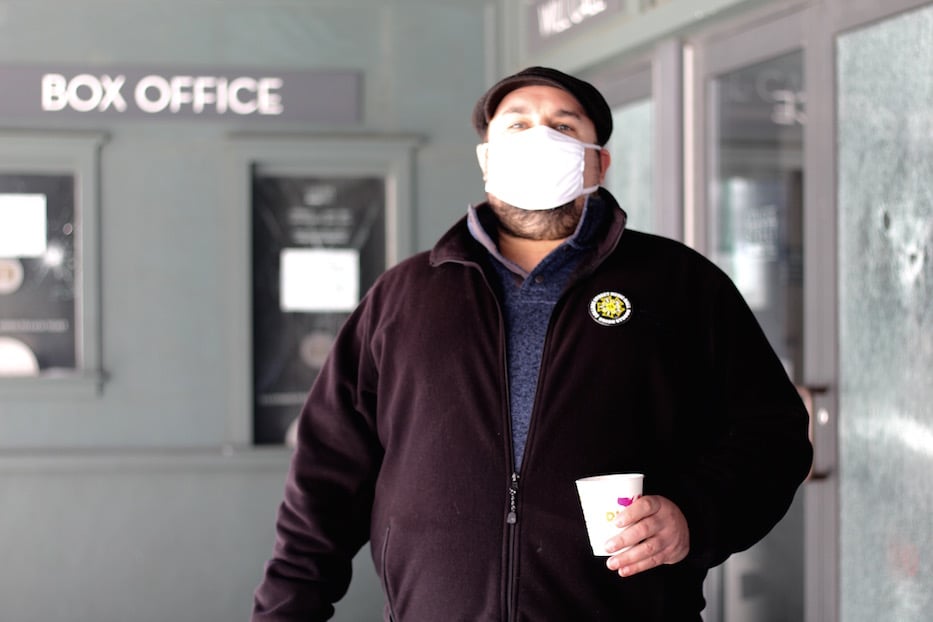 Gardner Friscia, who has been president of the International Alliance of Theatrical Stage Employees (IATSE) Local 74 since 2019.
"It's about their lack of wanting to pay men and women fair wages," said Gardner Friscia, who has been president of Local 74 since 2019. "We want people to know that when you're buying a ticket to this facility, you're not supporting the men and women who work here. Twenty-two feet away [at the Shubert Theatre], you have stagehands who have all these things. This isn't funny. This isn't a joke. It's going to be an ongoing process."
The picket comes in a year that has left the arts industry financially gutted. As of March 8, Americans for the Arts reported $15.3 billion in losses to the sector. Ten percent of organizations surveyed—that's about 12,000—said they did not know if they would survive the pandemic. While College Street Music Hall has joined national advocacy efforts for federal relief funding, it has not yet been able to reopen due to Covid-19. Its first programmed show in over 12 months is currently scheduled for September of this year. The first concert at a sister venue, the Westville Music Bowl, is scheduled for July.
A nonprofit, New Haven Center for Performing Arts, Inc. (NHCPA), owns and operates College Street Music Hall. According to Friscia, NHCPA management has refused to participate in contract negotiations. Keith Mahler, who runs Premier Concerts and is the face of NHCPA, said he would not comment on ongoing negotiations. He did add that he does "not believe in coincidence" when it comes to property damage that the venue sustained earlier this week.
"My comment for you is very simple," he said in a phone call Thursday morning. "We've been open and operating for five years. We've survived a pandemic. I don't believe the coincidence. I believe in very deliberate actions. And actions have consequences."
"Local 74 is engaging in peaceful and lawful picketing to get a fair contract," the union responded on its social media account Thursday afternoon. "Local 74 completely rejects violent behavior of any kind and had nothing to do with the vandalism."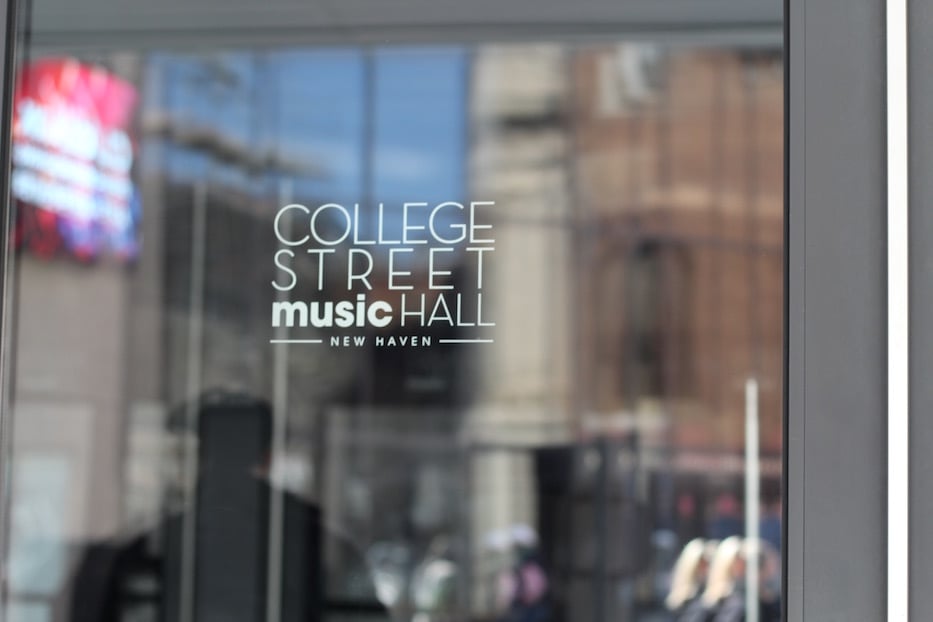 Friscia said that the union, which covers several venues across Southern Connecticut, has worked to ensure that its members are protected during a pandemic that has ravaged the performing arts sector. Even as theaters, auditoriums, and music halls remain closed, IATSE members have kept their health insurance, and some have been able to secure part time work. Friscia said it means that they won't have to worry about visiting the doctor, seeking emergency care, or going broke after calling an ambulance.
"It gives you peace of mind to know that you have coverage," he said.
Frisca has lived that experience firsthand. As the house carpenter at the Palace Theatre in Waterbury, he hasn't had much work in the past 12 months. While the theater has been streaming events, its stage has remained dark, populated by a single ghost light. Prior to the pandemic, he estimated that a small show might employ anywhere from six to ten stagehands. A larger performance, such as a touring Broadway show, might bring in 60 to 70.
Wednesday, stagehands pumped their arms at passing cars, cheering at frequent honks of support in return. Kaplan, a 37-year-old stagehand who grew up in Milford and now lives off Whalley Avenue, said he'd come out because he can't imagine not having health care in a pandemic. While he has secured some part-time work at the Shubert, the past 12 months have brought extreme financial uncertainty for himself and his girlfriend, who works in the restaurant sector.
"It's a little scary with Covid," Kaplan said. "If people aren't coming to shows, we don't have work. If there aren't any shows, that's our whole livelihood."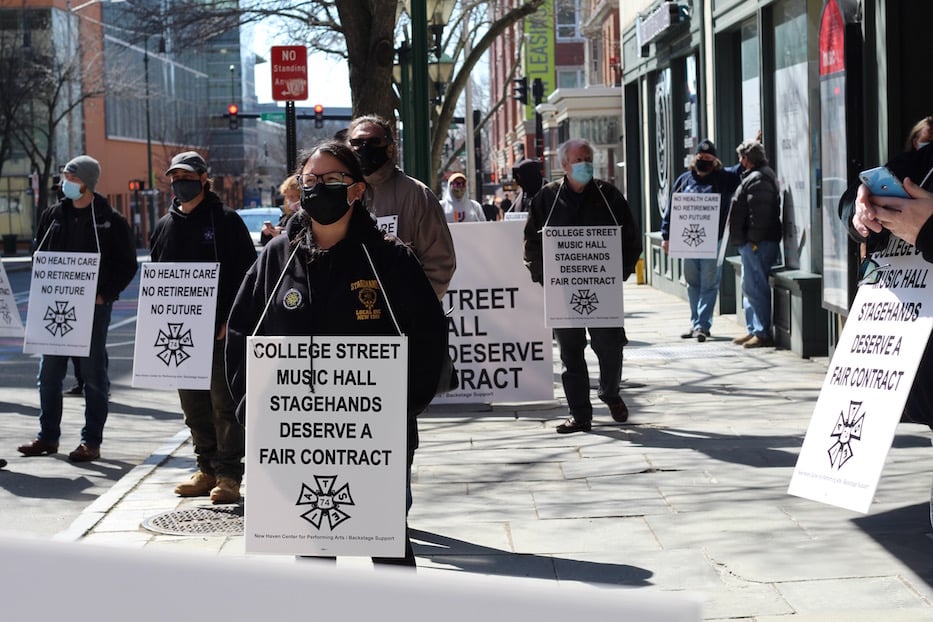 The protections of union membership are certain in a time that is not, he added. Kaplan started working at the Shubert almost 20 years ago, when a 2012 revival of South Pacific swept through Connecticut. He has stayed on since, working where he's needed in lighting, sound design, and electrical setup. While he has not been sick during Covid-19, he said he's grateful that his health insurance extends to both physical and mental health care services. He wants that for his colleagues across the street.
"It's just so good to know that you have the option," he said. "That's the best thing."
Frisca, who has worked in theaters since high school, added that he sees fellow stagehands as members of a big family. Prior to 2017, he spent time touring with Broadway shows including Hamilton, Fela!, Once, Anything Goes, Matilda and traveling performances of Riverdance. He got to know fellow stagehands, all of whom cycled in and out of each others' lives until the pandemic put everything on hiatus.
"It's a great thing when you can really love what you do," he said. "When I met this group of people, I saw that they were a really tight knit, close group. I just always enjoyed doing something backstage. You end up as one big family."
He said that negotiations have taken on an added weight as the pandemic goes on a full year, and Connecticut Gov. Ned Lamont begins to ease restrictions on performing arts venues. He also has his eye on the Westville Music Bowl, the opening of which has been delayed in the midst of the pandemic.
Throughout this week, Frisca and fellow members of Local 74 have used the Shubert Theatre as a point of reference for its proximity. When asked if the theater supports the union in its efforts, Shubert Director of Marketing and Community Relations Anthony Lupinacci directed inquiries back to Frisca.
"We can't speak on their behalf," Lupinacci said. "This is not something that we're coordinating or involved with."
The Shubert's last live performance was just over a year ago, on March 8 of 2020. On Tuesday, the organization announced Anthony McDonald as its new artistic director.