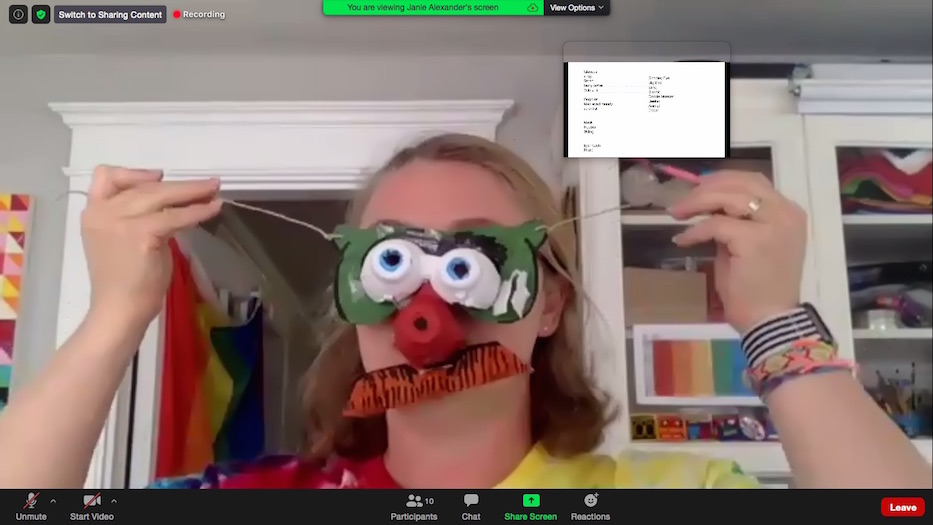 Education & Youth | Arts & Culture | Theater | Visual Arts | COVID-19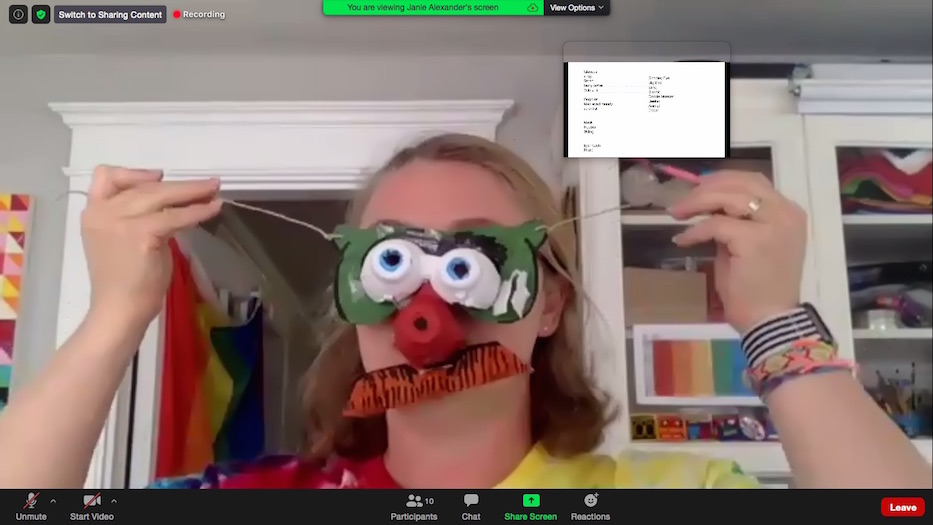 Janie Alexander. Screenshots from Zoom.
Janie Alexander was part-human, part-muppet. Where her face had been just moments before, there were round green patches, furry eyebrows, an egg-shaped red nose and orange mustache, skewed to one side. Protruding white eyes, ended in blue and black pupils Through a screen, eight students burst into varying degrees of laughter, then started gathering egg cartons and toilet paper rolls that would let them get to work.
Alexander is one of the teachers at Shubert At Home, a new virtual summer camp from the Shubert Theatre through July 24. In its new format, which is run entirely through Zoom, the theater is offering weekly classes in visual arts, storytelling, character creation and multidisciplinary performance.
Teachers include Alexander, who is the Shubert's education programs manager, as well as Operations Production Manager Justin Zenchuk and Operations and Marketing Assistant Ian Galligan.
The theater launched the camp earlier this year, when it became clear that its doors would remain closed through the summer and into the fall. The last performance at the Shubert was March 6, as a touring production of Cats swept through town and brought in a packed house. By the following Friday, Broadway had gone dark. Theater companies stopped touring. In New Haven, schools sent students home, launched distance learning, and cancelled plays.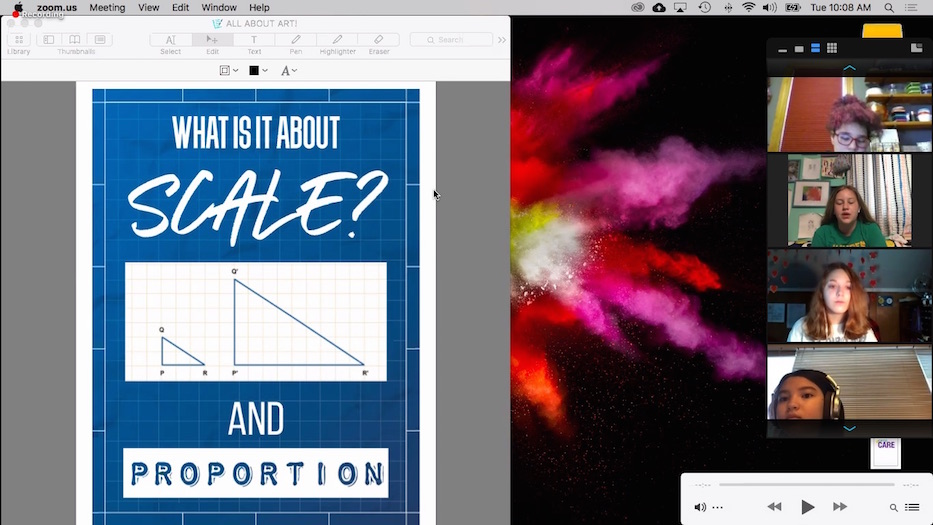 The Shubert now plans tentatively to start its next season in February 2021, with a performance of Fiddler On The Roof. It held an online gala in May; a few staff are back in the building while others work from home. In the meantime, it is running both Shubert At Home and Thrive (Teens having resilience in a virtual environment), a collaboration with Long Wharf Theatre and the Westport Country Playhouse.
While some camps have done a hybrid of small in-person groups and online activities, the Shubert chose to stay entirely virtual. Campers who would have aged out this year are invited back for in-person camp next summer, pending public health guidelines around COVID-19.
"We didn't want this experience to be their last year," said Kelly Wuzzardo, who serves as director of education and engagement.
On Tuesday morning, 10 smiling, still sleepy-eyed campers logged in to "All About Art," the first class of the day. At the Shubert, Wuzzardo sat in her office, using a combination of FlipGrid and screen sharing to show the class work that students had completed the day before. From her home, Alexander set up the day's lesson, the tie-dye of her shirt bright against the rainbow stripes of a Pride flag that hung in the background.
She pulled up a series of logos, the brown-and-silver wrapper of a Hershey's bar instantly recognizable. Her tone was casual, calming as she shared her screen to show experiments with scale and proportion. In a one-inch box, her head bobbed as she spoke. A set of cabinets came in and out of focus behind her. She flipped from the Hershey's bar to the red, yellow and black Lego logo, recreating it against a gridded square.
"We view art every day," she said. "We use signage and art every day."
Most aspects of the camp, which usually include ensemble performances and camper-created sets, have that kind of do-it-yourself sensibility this year. In Galligan's 11 a.m. storytelling class, students are recreating the story of Henny Penny (known also as Chicken Little), with masks cut from old boxes and cardboard plates.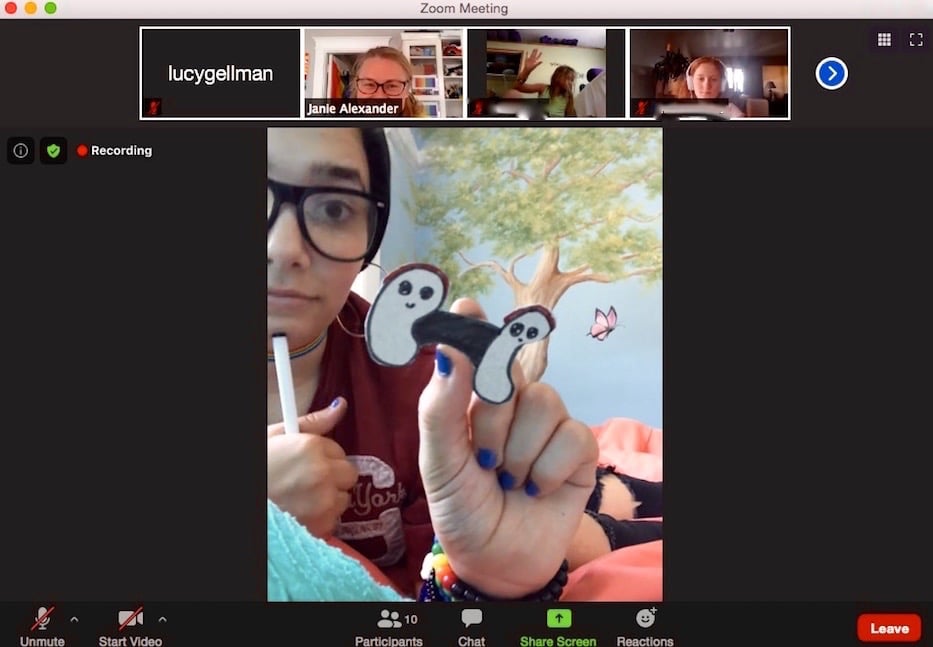 Vee, a student who is taking "All About Art."
Alexander has pulled inspiration from the discarded cardboard boxes, egg cartons, and toilet paper tubes sitting around her house. Since March, she has been at home with her nine-year-old son and two-year-old daughter, navigating eight-hour days of distance learning with the older child.
When her youngest went down for a nap in the afternoons, Alexander started doing art projects with her son "to decompress." Because she could no longer "just run to Jo-Ann's [Fabrics]," she made do with what she had.
She also drew on work she'd done with students at Cooperative Arts & Humanities High School, where recent sets for RENT and In The Heights included a huge billboard-shaped moon, wood-and-cardboard storefronts, and displays painted to look like brick apartment buildings with neat glass windows. Enter lessons on scale and proportion, shrunk down enough to do at home with paper, pencils, and anything with a straight edge.
"We are normally able to have eight to 10 classes every summer, and now we get four," she said. "So we try to take them all and see what we can do. So far they've been going really well."
On Tuesday morning, students checked a shared screen, and then started in on some silent drawing time as numbers from Yann Tiersen's Amélie soundtrack bridged the distance. That afternoon, a crop of campers returned for "Character Creation," kicking the lesson off with a rundown on memorable muppets and egg-carton googly eyes.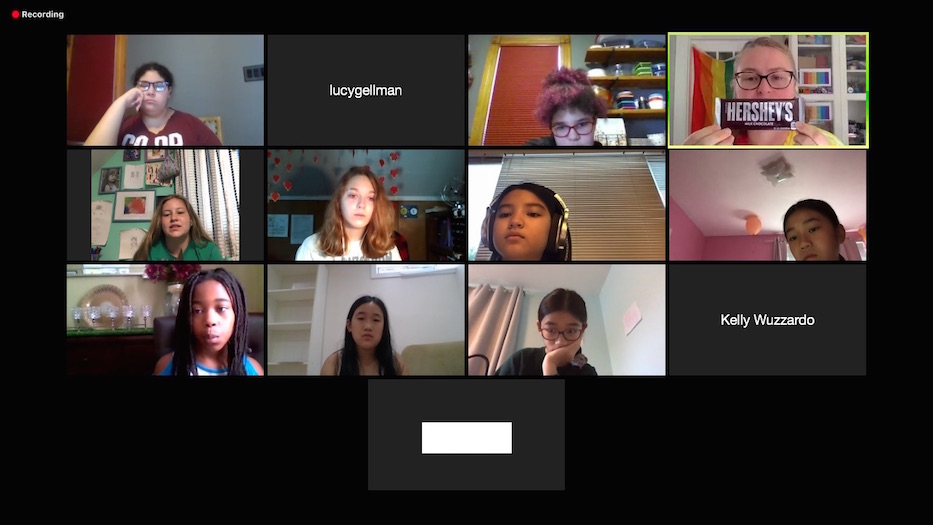 A student named Savannah (the Shubert withheld last names of several students) started transforming a Goldfish container into a pair of tech-savvy glasses that could be "glasses and hearing aids at the same time." She explained that they had impairment-defying powers: blind wearers would be able to receive directions on where to go, like a Siri specifically for vision loss.
In another one-inch square, a student named Alivia held up an ironing board and described her plan to cover it with cardboard (an old cereal box would do the trick) and transform into "an old spy." Alexander laughed and donned a pair of half-finished homemade aviation goggles.
"I could be Amelia Earhart, or I could be Ellie from Up!" she said.
"You could be Gonzo, when he flies," suggested Wuzzardo.
In an interview between classes, Alexander noted that virtual camp may be the only place where kids are able to check in with their friends, many of whom have returned to the Shubert multiple summers in a row.
Eleven-year-old Lyra Garcia, a student at Betsy Ross Arts Magnet School, is one of those campers. Last summer, she learned about scale and proportion while helping with the set for Willy Wonka, Jr. This year, she and her 12-year-old sister Stephanie (or, as she's more affectionately known in the program, Stevie) are doing it through a screen, from their kitchen table.
"I miss being together," she said in a phone call Tuesday. " I just miss all of the things that we did in the classrooms, like painting the sets."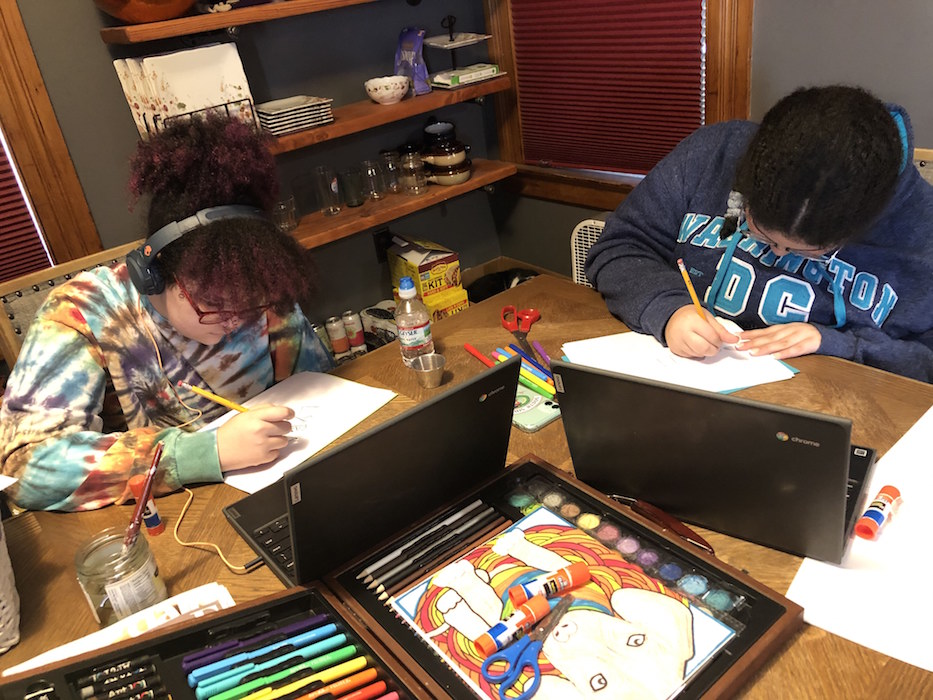 Lyra and Stephanie (Stevie) Garcia. Helen Garcia Photo.
Stephanie, who is also a student at Betsy Ross, said she is making it work but also misses her friends. It is her fourth year in the program, which means she now has camp friends scattered across New Haven, Fairfield County, and her own hometown of Seymour.
"Learning this way has been a new experience," she said. "It's a good thing that they are still providing a camp. The storytelling is teaching me how to be more creative. "
For their mom Helen Garcia, the camp is a bright spot in a year that has been turned on its head. She praised the theater for bringing the program online "for the safety of their campers." She likes that kids can still participate without endangering themselves or their parents, grandparents or guardians, who may be elderly or immunocompromised.
"I like to see the huge effort the teachers make to include everybody," she said, noting that she's watched Lyra emerge from a shy, quiet cocoon at Alexander's gentle nudging. "They've sort of gone out of their way. I think the teachers at the Shubert have a real knack for learning with kids."
"From a parent's perspective, it's cool to see some of the things that they do at camp," she added. "We usually don't get to see that. So it's fun to get to see that side of that, and to have the bonding experience of having them being at home. All around, the situation is difficult for everybody, but they're really making the best of it."