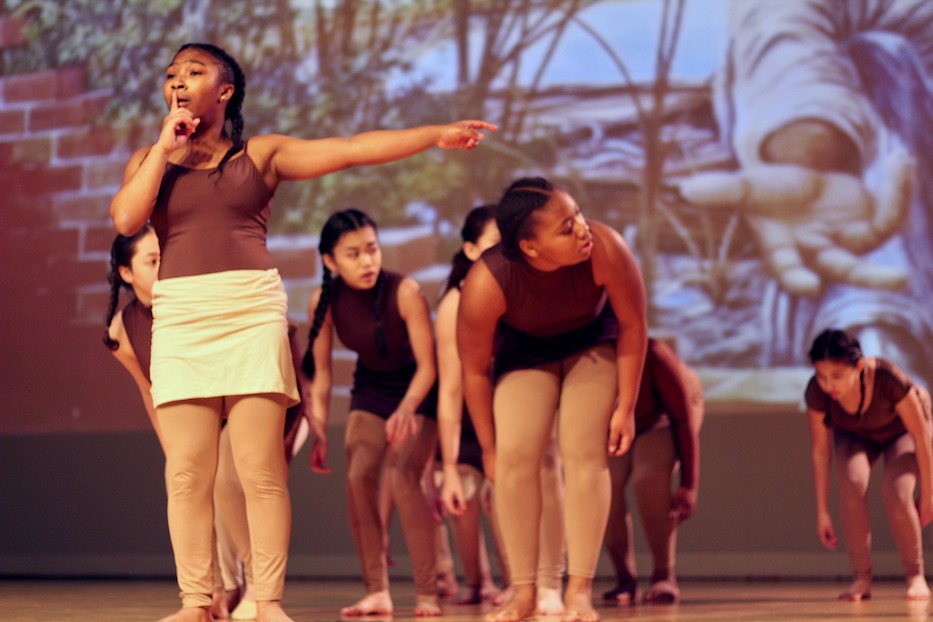 Betsy Ross Arts Magnet School | Black History Month | Education & Youth | Arts & Culture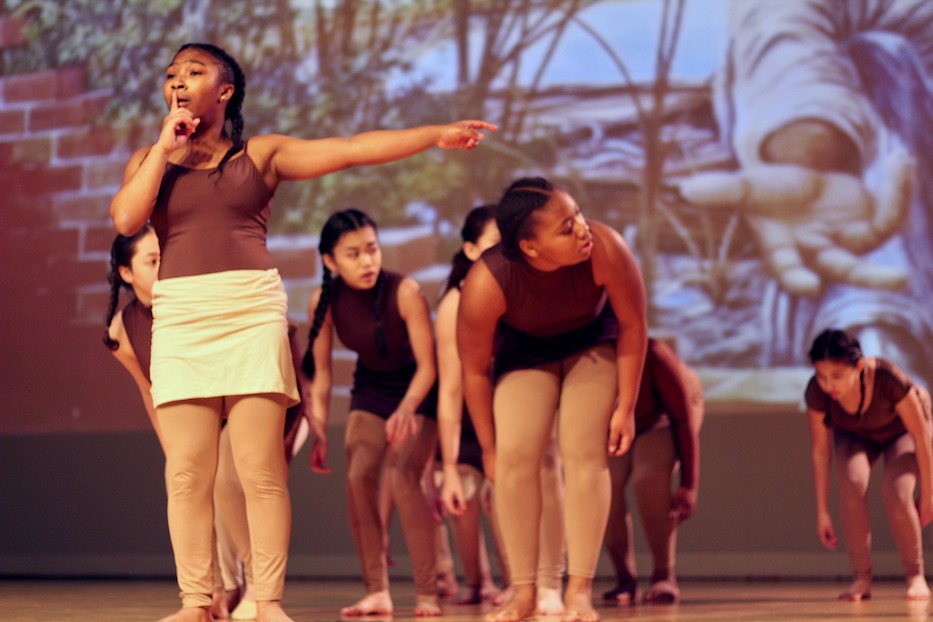 Anderson (in front) with her classmates. When they performed on Thursday, teacher Nikki Claxton noted that four students were absent. Lucy Gellman Photos.
Jayla Anderson held a finger to her lips and pointed to her left, her arm at a sharp right angle with her torso. She lifted a foot and took a quiet step, her foot almost melting into the stage. Another step, and her arms extended to their full wingspan. The bodies behind her lurched forward, 30 eyes locked on the audience.
Cynthia Erivo's "Stand Up" coasted over the auditorium. With every move Anderson made, Harriet Tubman was also in the room, making sure her legacy lived on in New Haven.
Thursday morning, Anderson was one of 15 eighth graders to bring Tubman to life at Betsy Ross Arts Magnet School, during a Black History Month performance that debuted earlier this month and has since gone viral. The piece was choreographed by Nikki Claxton, a Betsy Ross alum who returned to the school to teach several years ago.
"My mission is to teach, to inspire, to uplift, to educate," Claxton said in an interview before the performance. "And Harriet ... she was free, but she kept choosing to risk her life so other people could feel what she felt."
Claxton's idea for the work was born last year, around the time that the film Harriet came out. For years, she has been choreographing work that does not shy away from the legacy of slavery and presence of structural racism in the U.S.: recent performances have taken on gun violence and the history of lynching. Sylvia Petriccione, arts coordinator at the school, praised her for the amount of work, thought and emotion she puts into the pieces each year.
By late last year, Claxton knew that she wanted to dedicate this year's performance to someone or something that painted a portrait of courage. She was already thinking about Tubman, who guided hundreds of enslaved Africans to freedom through the Underground Railroad.
Then she heard the song "Stand Up," in which Erivo (who also plays Harriet Tubman in the film and was the only Black actor nominated in this year's Oscars) delivers a soaring anthem of Black liberation. When she found a montage of the film with large, clear text and Erivo's vocals, something clicked.
As she choreographed the piece, which is performed against an edited version of that montage, she tasked her students with learning about Tubman's life and legacy. As both a teacher and a parent, she's seen firsthand how schools often leave Black history out of the curriculum. While new state legislation requires schools to teach a new one-credit course in Black, Latinx and Puerto Rican History, it does not go into effect until July 2021.
She wanted students to know what they weren't learning in the classroom. When she held auditions for the role of Tubman, she had only one rule: the dancer had to be Black. She praised Anderson, who entered Betsy Ross with no formal training in dance, for putting her entire heart into the piece.
"There's so much that we don't know, that isn't taught in schools," she said. "So you have to take it upon yourself to tell them these stories. It's so important to work with young people."
"What I tell my kids is: yes, you can learn technique. But to dance from your heart and to emote is so important," she said. "To make an audience feel you, to tell a story ... that's the ultimate goal."
It's not a responsibility she takes lightly. As a Black woman, she's one of the city's few educators of color: just under 73 percent of the city's teachers identify as white, while less than 13 percent of the city's students identify as white. She credits her own love for dance to Christine Kershaw-Hobson, an alumna of the Alvin Ailey American Dance Theater who has worked in the city's public schools for over two decades.
So when she has the opportunity to educate through story and through representation, she does.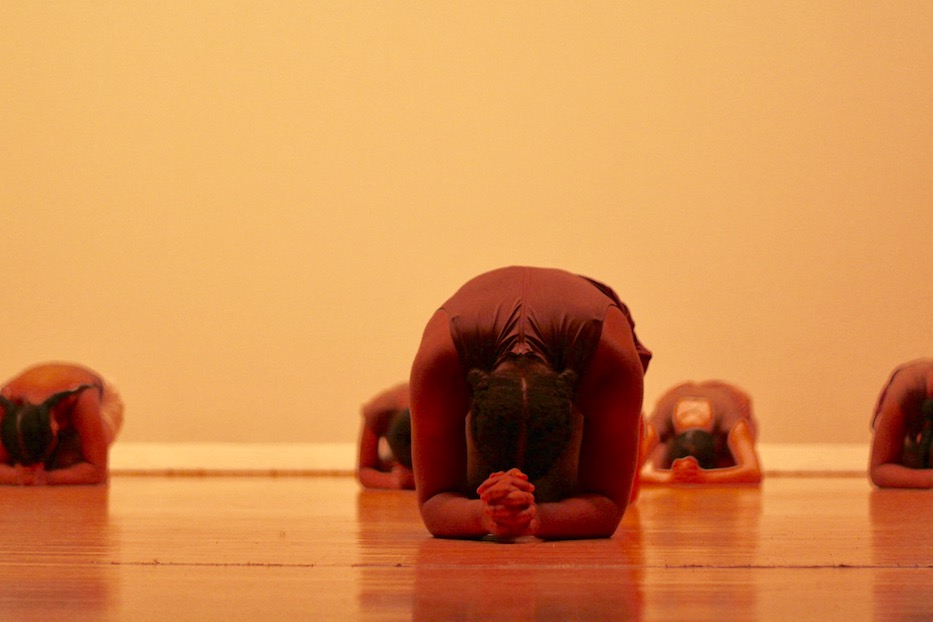 "We're inner-city, but we're also inter-district," she said. "For a lot of our kids, this is an opportunity to do something they may not be able to do anywhere else."
From the moment the piece began Thursday, her words echoed across the auditorium and sprang to life. On stage, dancers folded into themselves, completely still for a moment. As the music filled the room—I been walkin/With my face turned to the sun/Weight on my shoulders/A bullet in my gun—they rose to their knees, shoulders and backs undulating. They swayed, as if they were rocking with the weight of hard labor. Right. Left. Right. Left.
From the back row, Anderson stood and stepped forward. She raised her arms to the ceiling, palms flattening to hold something the audience could not see. It pulled her down: she couched and then flipped backward, eyes locked in front of her. In the back of the auditorium, a cluster of fifth grade who were touring Betsy Ross sat mesmerized.
As Anderson danced, her body became a through line, connecting the nineteenth century to histories that are still not fully taught. There were stories of activists Claudette Colvin and Marsha P. Johnson, of scholars bell hooks and Alice Walker and of womanism, of Black Lives Matter Co-Founders Alicia Garza, Patrisse Khan-Cullors and Opal Tometi whose names are often passed over for the activist DeRay Mckesson.
Around her, dancers began to run across the stage, forming a thick, supportive web for each other. Erivo belted over them: Together we are going/To a brand new home. One moment, they were lurching to the sound of her voice. The next, they had formed a pyramid from which Anderson sprang, her body a live wire.
Moments later they gathered back behind Anderson, who raised a finger to her lips and stepped forward, then forward again. As she moved, they followed, moving in lock step with their classmate. In the audience, Petriccione watched spellbound for the umpteenth time. Her face lit up and flickered in the beams of the projection.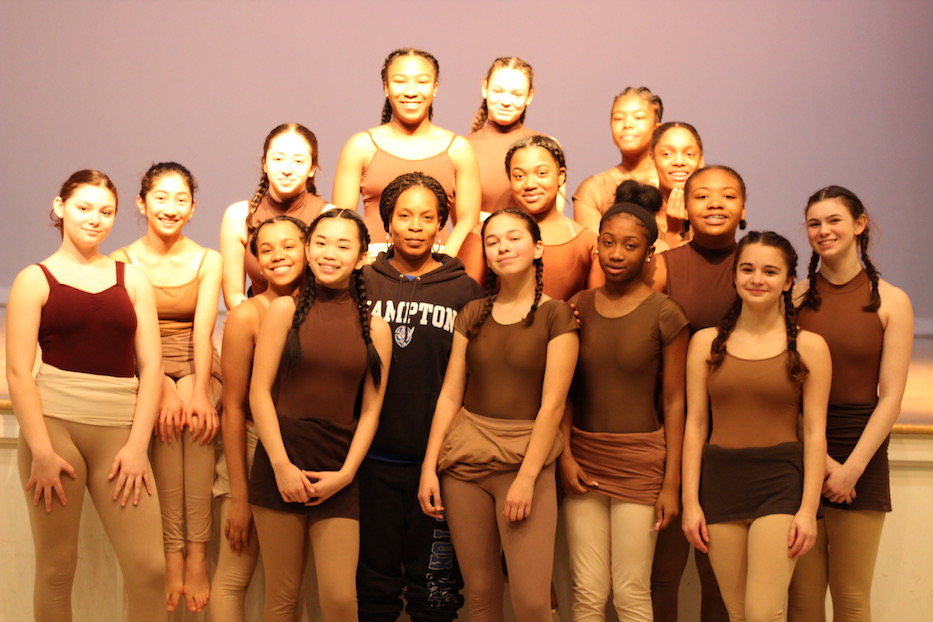 Claxton with the dancers. She praised Betsy Ross, and particularly Petriccione for giving her the freedom to choreograph work like this year's piece, as well as pieces she has performed in the past.
Only as the song wound down did students run offstage, leaving Anderson alone for a few moments. She fell to her knees and then laid back, her body still but triumphant. After the performance, she came out and joined her classmates in the auditorium, legs dangling over the edge of the stage.
Harriet faded. Jayla the eighth grader returned.
"In school, we learn about the important figures in Black history, but there's so much that's left out," she said. "This encourages us to keep learning more."
She added that the class took the choreography as a chance to "work as a whole unit." In rehearsing the piece, her fellow dancers said they'd grown their understanding of both artistry and history.
"We don't really learn about Black History Month in our classrooms," said Sofia Avedikian. "It made us wonder what else we were missing."
Their classmate Ayla Yildiz suggested the work was an exercise in teamwork, born out of the realization that "Harriet really didn't do everything by herself, and we couldn't either."
She came out of the experience thinking about how much more people could accomplish as a collective. That extended to Thursday's performance, when four dancers learned their classmates' parts after unexpected absences.
"When we're performing, we're telling a story," she said. "But not just in class. Like, who else could we be telling this to?"