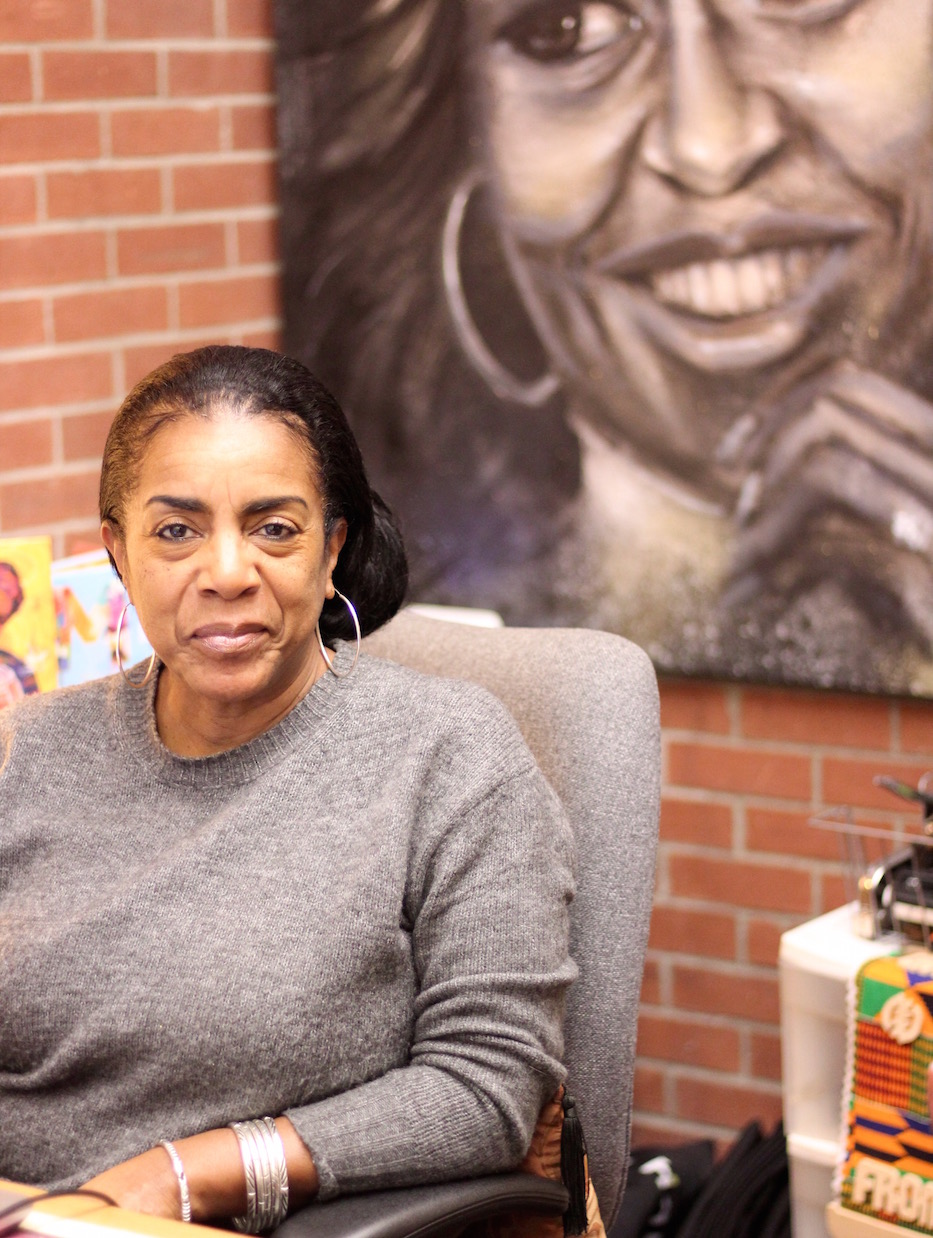 Hamden | Arts & Culture | New Haven Free Public Library | Hamden Department of Arts & Culture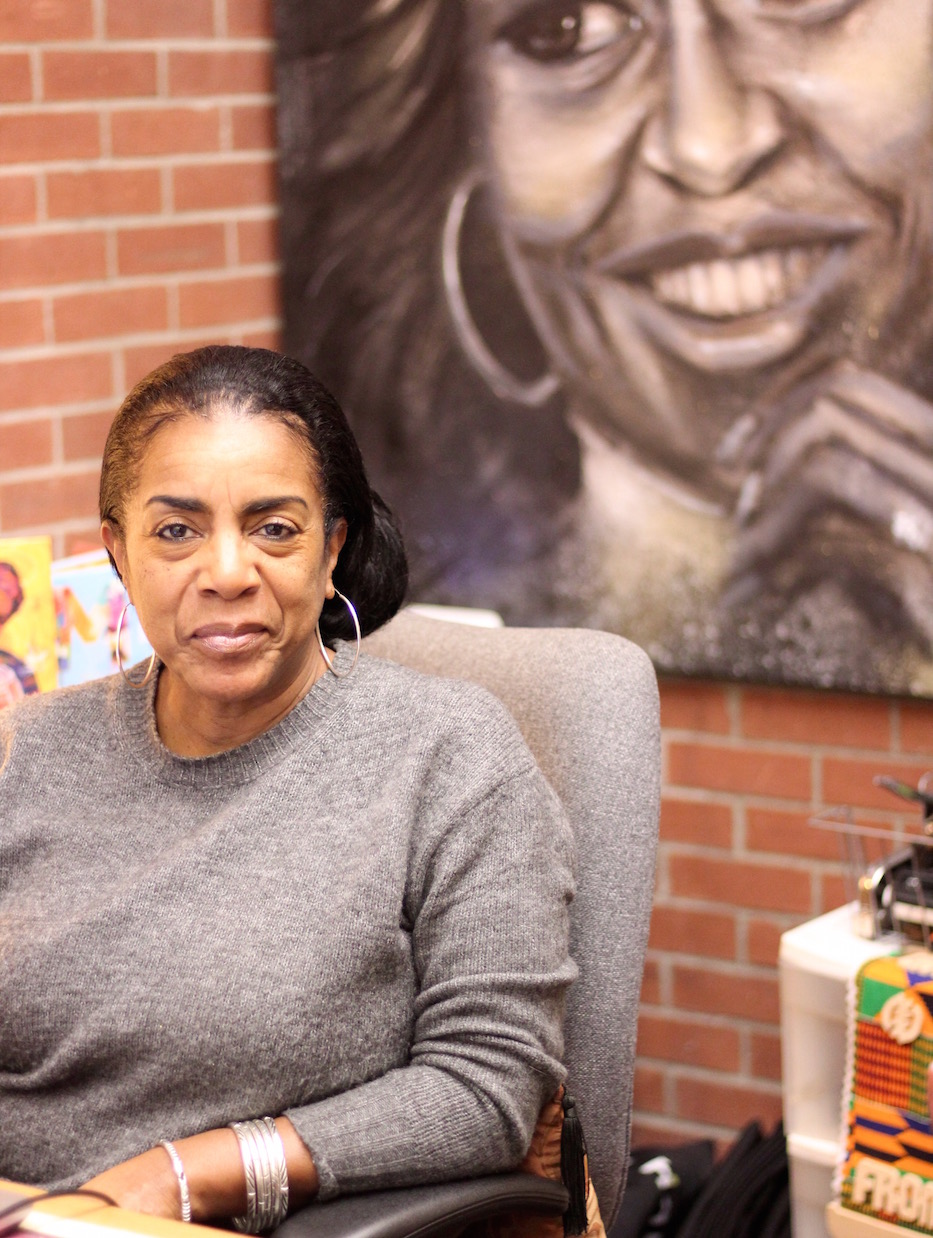 Diane Brown: "That's a way of bringing people together that otherwise would not come together. It's music, it's visual arts, it's everything. It sparks conversation." Behind her is a painting by

Katro Storm, who has collaborated with the library on multiple events.

Lucy Gellman Photo.
A longtime civil servant and champion of public access has become Hamden's newest arts commissioner. Her first step: making sure that performances reflect the vibrancy of their audiences, and of the town in which they take place.
That commissioner is Diane Brown, a longtime branch manager and nationally-recognized librarian at the Stetson Branch of the New Haven Free Public Library. After spending most of her life in New Haven's Newhallville neighborhood, Brown moved to Hamden nine years ago. She stepped onto the Hamden Arts Commission this year, after meeting former Hamden Arts Director Julie Smith on a jury for the Arts Council's annual arts awards.
"What should the arts be doing? It should be involved in everything," she said in a recent interview at Stetson. "Because that's how some people communicate. That's how some people relate. That's a way of bringing people together that otherwise would not come together. It's music, it's visual arts, it's everything. It sparks conversation."
Brown grew up in Newhallville, the youngest of six children to one of the neighborhood's first Black homeowners. Coming of age in the 1960s and 1970s, she saw New Haven change around her as the Black Panther trials rocked the city, Black businesses were pushed out of nearby Dixwell, and national calls for civil rights filtered down to the local political level. In addition to a job at the Winchester Repeating Arms Company, her mother Lillian lived a life of public service, including a term as city treasurer and co-chair of what was then the city's Ward 21 committee.
Because she attended an otherwise white, Catholic school during the day, Brown received a lot of her education at home and took refuge at Stetson, which was then located at Dixwell Avenue and Thompson Street. She has often recalled the conviction with which her mother taught her to be proud of her Blackness, from how she wore her hair at school to the way she looked out for her neighbors.
"I grew up in a very conscious family," she said. "My mother taught us to learn by doing, and getting involved. I learned that I have a certain obligation of taking care of my village, my community. That was a part of my obligation as a Black woman, to do what I could do to help uplift and take care of my community."
Even then, she also saw how the arts could get people talking. During her teenage years, Brown recalled, she would listen to her sisters talk about Motown music as one of the only reliable ways to "sit some white teenagers with Black teenagers in a room and have them have this totally long conversation."
She took her interest in public access to city hall, where she worked for Mayor John DeStefano for several years. It was there that Brown met the late James C. Welbourne, New Haven's first Black city librarian. He became her mentor, encouraging her to pursue graduate work in library science at Southern Connecticut State University. By 2006, she had become the manager of Stetson's Dixwell Avenue branch.
In her 14 year tenure at Stetson, she has radically expanded free programming, fought one mayoral administration to keep the branch open, and grown the collection to reflect the vibrant Black community in which it is situated. In the absence of a community center—and with plans for the new Q House way behind schedule—she has created one.
"It's not about sitting behind a desk and pushing books," she said, crediting Welbourne with an approach that now extends beyond the library. "It's about meeting people where they're at. You've got to meet people where they're at. And if it's something you don't have, then you find it."
Now, she is planning to bring that same approach to Hamden's burgeoning arts scene. In her first meeting as an arts commissioner earlier this month, Brown jumped right in, adding local names that included teen doo-wop group Kompozure and New Haven music hero Chris "Big Dog" Davis to a list of potential summer performers.
She said that her longer-term vision for the town's arts scene includes a diverse lineup for Hamden's summer concerts (many of which she has attended as a resident), expanded weekend and weekday programming, and an arts festival or fair during the summer months. She said she believes the town is ready to sustain it, even if it starts small.
"I would like to maintain the diversity and the culture in the acts," she said.
It is not her first foray into community service through the arts. Brown has served on both the leadership team and the board of directors for the Elm City Freddy Fixer Parade, and also sits on the board of directors for the International Festival of Arts & Ideas and Long Wharf Theatre.
"I think the arts can serve as a way of getting people that otherwise would not communicate to communicate," she said. "How many times have you come to a concert, and you've partied right alongside someone who does not look like you? Whether it's race, age, religion—it doesn't matter. I've been to concerts before, and had little babies dance with me."
"Somebody may want to share their grapes, or a bag of chips, or a bottle of wine," she continued. "Those are people otherwise you would not communicate with at all."
Her appointment comes at a time when the commission, largely under new leadership, is tilting slowly towards that vision. Last year, select members of the group pushed for more diversity in the town's Saturday Family Series and summer concert lineup, scoring the Mandingo Ambassadors and Las Cafeteras on an unprecedented double bill.
When they received pushback (some Hamdenites took umbrage with Las Cafeteras' message of land sovereignty, water reclamation, and not locking children in cages; one also made fun of a performer's traditional African dress), those members doubled down on bringing new names to the town. As they build this year's lineup, they're working towards that goal again.
Tuesday, Arts and Marketing Manager Alisha Martindale said she is excited to have Brown coming on board.
"We are incredibly excited to have Diane Brown on the Hamden Arts Commission," she wrote in an email. "Her experience and passion for organizing outstanding community programs and bringing together different groups of people fits our mission of fostering new and inclusive opportunities for all people and we are looking forward to the collaborations she will bring as a Hamden resident with a strong New Haven connection."
The Hamden Arts Commission meets at 7 p.m. on the first Wednesday of every month at the Hamden Government Center. The next meeting is scheduled for February 5, 2020.