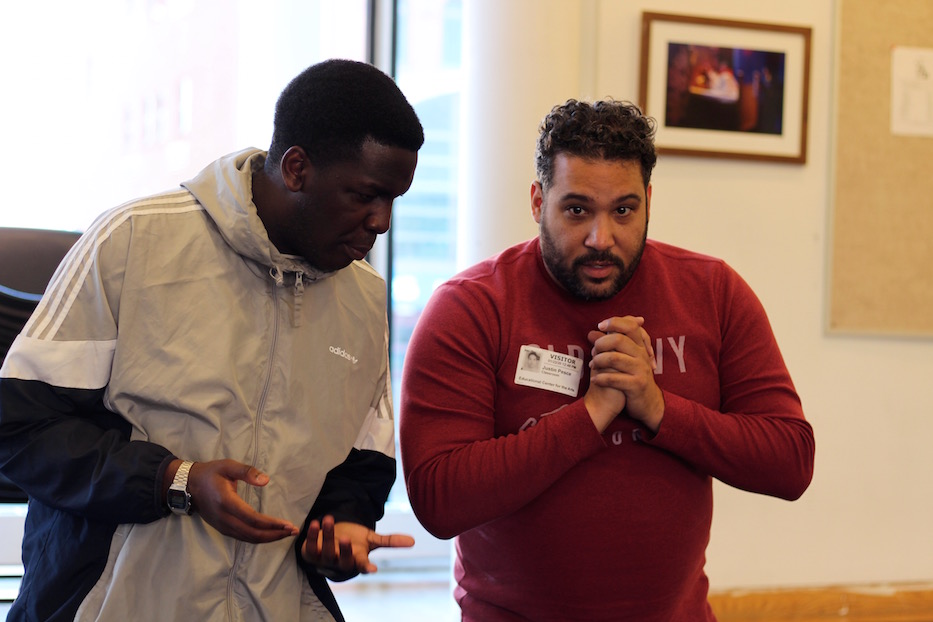 Education & Youth | Educational Center for the Arts | Arts & Culture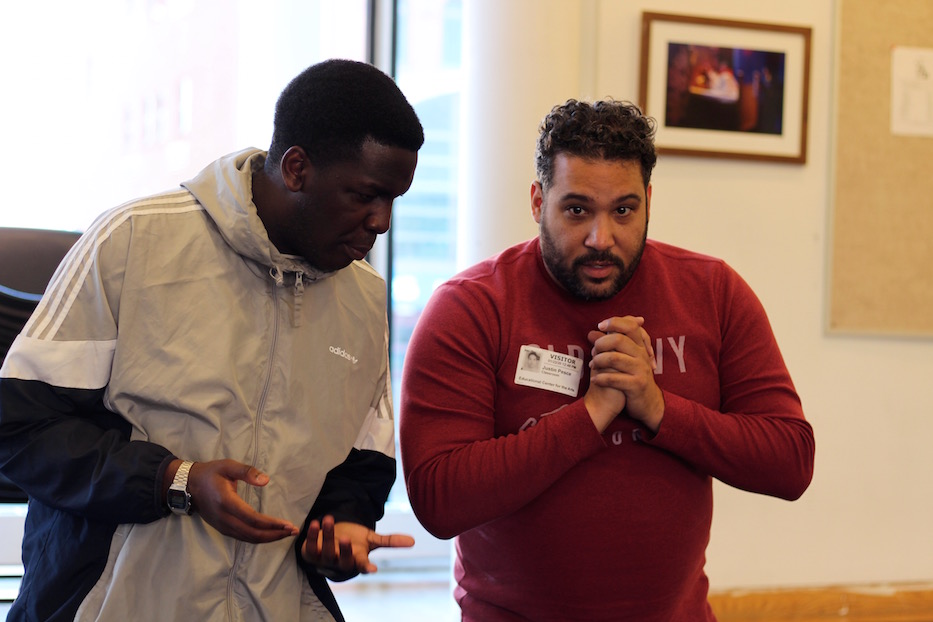 ECA junior Ivan Lazaro and LWT teaching artist Justin Pesce. Lucy Gellman Photos.
Ivan Lazaro and Justin Pesce were world building. In an empty dance studio on Audubon Street, they had already dreamed up a church, sunlight streaming through the stained-glass windows. They had walked through the incense-scented pews, making their way to the altar. As they knelt shoulder to shoulder, Lazaro turned to Pesce with fire in his eyes.
"What I care about burning in hell?" he asked, voice rising. "You talk like a fool ... burning in hell. Why didn't God strike some of them crackers down?"
A junior at the Educational Center for the Arts (ECA), Lazaro is one of close to 100 Connecticut students competing for a spot in the regional chapter of the August Wilson Monologue Competition next month. A collaboration among Long Wharf Theatre, Yale Repertory Theatre, and New Haven area schools, the regional competition is now in its fourth year in the city. After regional auditions in early February, 15 regional finalists will compete at Long Wharf Theatre on Feb. 24. The top two will continue to the competition's national finals in New York City.
This year, Long Wharf is working with students from Cooperative Arts and Humanities High School, Educational Center of the Arts, Fairfield Warde High School, Fairfield Ludlowe High School, Greater Hartford Academy of the Arts, and the Regional Center of the Arts in Trumbull. As of last week, Educations Programs Coordinator Jacque Brown said that the theater also plans to work with students from Metropolitan Business Academy and John F. Kennedy High School.
The competition was founded in 2007 by Kenny Leon and Todd Kreidler at the True Colors Theatre Company in Atlanta. Students choose monologues from Wilson's heralded American Century Cycle (also referred to as the Pittsburgh Cycle), a series of ten plays chronicling ten decades of working-class, African-American life in 20th century Pittsburgh and Chicago. The competition has specific resonance in New Haven, where many of the works premiered at the Yale Rep.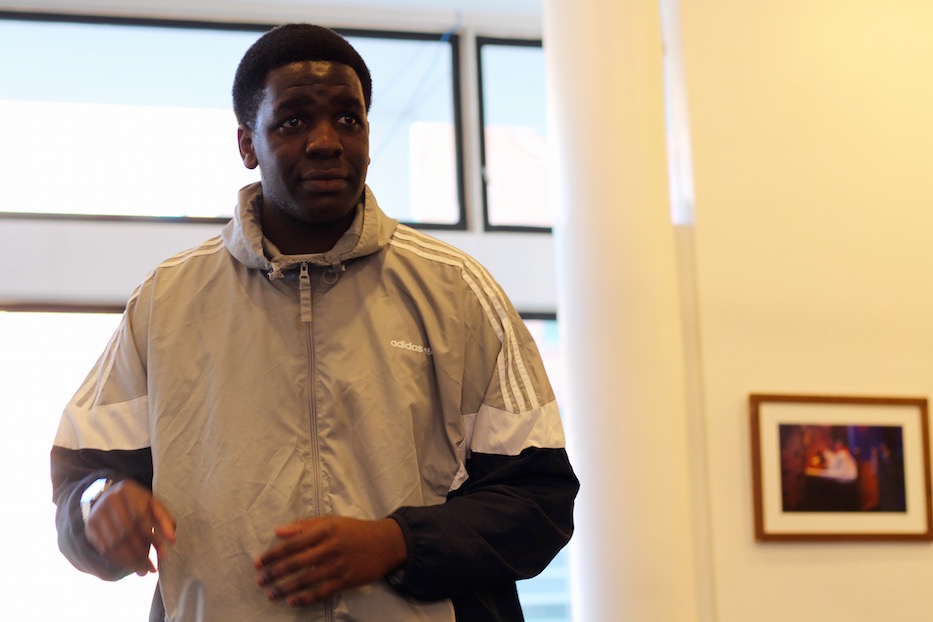 In addition to rehearsing, students are expected to do character analyses and learn about the worlds in which their characters live. This year, Long Wharf has placed teaching artists in one-on-one rehearsals with students, instead of group rehearsals.
"A lot of his pieces speak to me," said Justin Pesce, one of Long Wharf's teaching artists. "His characters are very specific, and because they're so specific they're also universal. When I work with students, I don't see characters. I see what these student actors bring to the roles with their lives, their experiences. It brings a new spirit to August Wilson's work."
On a recent Wednesday, Pesce found himself working with Lazaro, who will be reading as Levee from Wilson's 1982 play Ma Rainey's Black Bottom. The work, which is set in Chicago in the 1920s and based on the real-life blues singer Ma Rainey, follows a band as it splinters at the edges, pushed and then destroyed by its trumpeter Levee.
In one reading of the work, Levee is naive and hot-headed, a deadly combination for the America in which he lives. In another, he is a victim of deep-rooted racism and economic exploitation, prisons from which he cannot break free because of his blackness. For Lazaro, who also competed last year, the character was immediately relatable.
"Levee spoke to me because he had so much pain," he said. "When I was younger, I had a lot of anger issues. You bring some of yourself into that role."
At a recent rehearsal, he took the floor of an empty ballet studio, shaking off the bitter cold before he started the monologue for what may have been the hundredth time. In New Haven, it was 2020. A smudge of blue sky spread over Audubon Street. Cars crunched over the ice outside. In Wilson's universe, it was Chicago circa 1927. Levee was bubbling with rage. Lazaro stepped into the past, voice booming.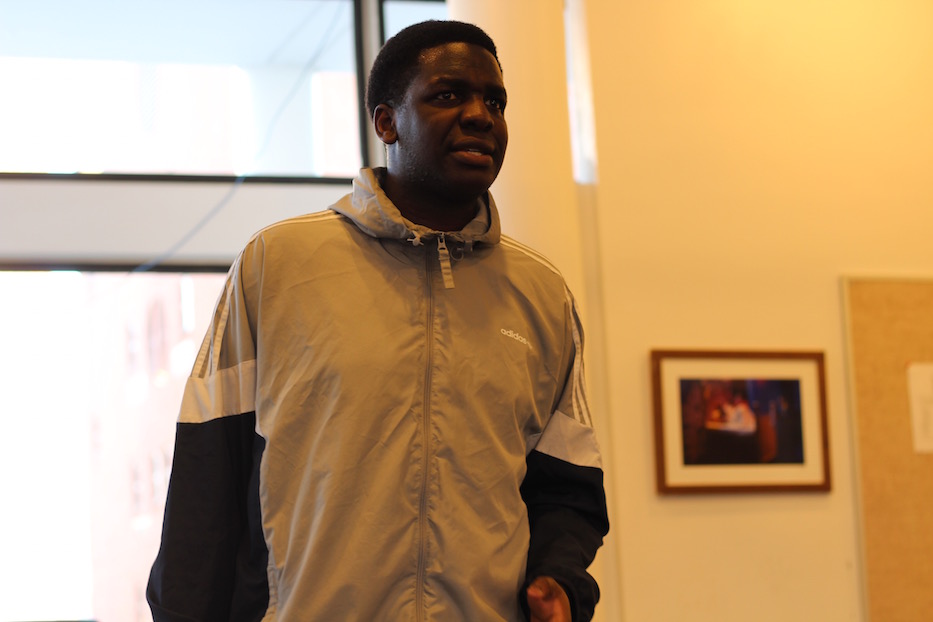 "You bring some of yourself into that role."
"… why didn't God strike some of those crackers down?" he cried, his voice rising. "I'll tell you why! I'll tell you the truth! It's sitting out there as plain as day! 'Cause he is a white man's God. That's why!"
Pesce listened carefully to the end of the monologue. He pushed Lazaro line by line, building a universe that filled the studio with the trappings of a city a century ago. When Lazaro envisioned a recording booth, Pesce asked him to walk around it, repeating his monologue like a record on loop. When the actor identified who he was talking to—Levee's bandmate Cutler—Pesce knelt down next to him, listening to each word. When he returned to his seat, he asked Lazaro to envision a fireball in his hand, transforming him into a human torch.
"School me on this," he said. "There's still so much of this tension. Let your talent take you."
Slowly, a more embodied Levee emerged, sentences broken into whole, gut-churning worlds. When Lazaro began, he lifted his hands slowly, almost supplicating. When he revealed that he saw God as a white man's God—that is, a God hardened to the plight of so many Americans—it was a revelation with anger at its edges. When he asked Cutler, suddenly at a whisper, "why didn't God strike some of them crackers down?" the sentence rang out with new meaning. It landed with a punch.
Suddenly, the year was 1982, when Wilson was the play writing amidst new equal opportunity provisions to the Civil Rights act. The year was 1927, in a country that didn't give Ma Rainey proper praise until years after her death. The year was 2020, and it felt like God was still waiting in the wings to intervene.
"It felt good," Lazaro said when he finished. "It felt like I was talking to a friend. It felt more truthful. I felt, like, an anger, but it was controlled. "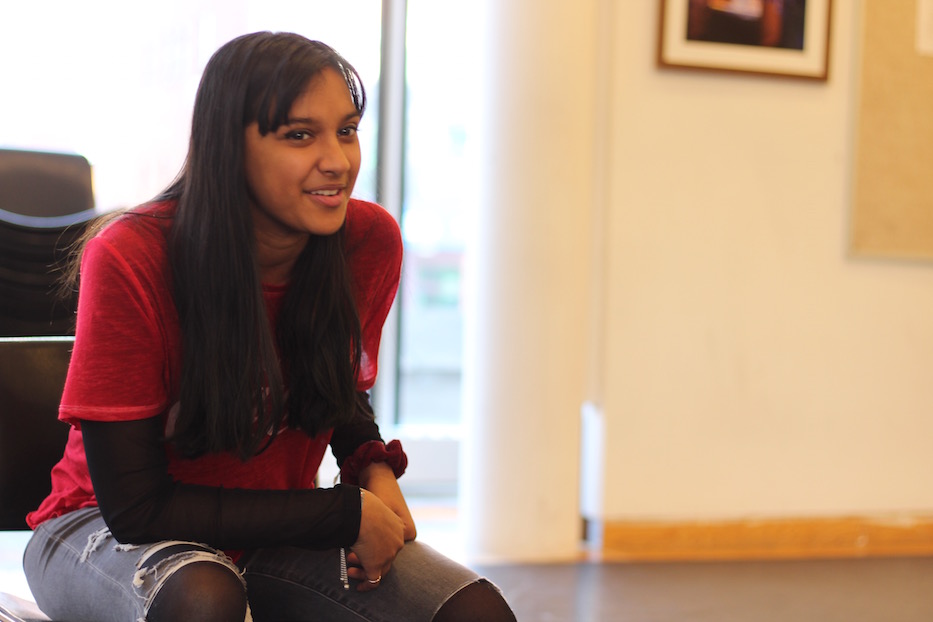 Pesce, whose embodied technique comes from the actor Michael Chekhov, tweaks his approach for every student. As ECA junior Amy Narain took on the character Sterling from Wilson's Two Trains Running—written in 1990, but set in 1969—he joked that she would need to do a better job of courting Risa, the character to whom Sterling has brought flowers from a funeral home. She cracked a smile, looked directly at Pesce, and started again.
"Them some flowers," she said, leaning forward with her forearms nearly on her knees. "I got them for you. I got them from across the street. I wasn't gonna buy them. I think that's silly to buy flowers. White folks do that. If I want to buy you something I buy you earrings or something. But I got them. And I got them for you."
It wasn't doing it for Pesce. "Where are you?" he asked.
"A diner," she said. "It's homey."
"Who are you talking to?"
"Someone I really like," she answered.
"So you're trying to woo this person!? Let me see you woo!" he said, moving to the center of the room as if he was waiting for a marriage proposal. He popped his heel and stuck his hand out, drawing laughs from Narain. "Really woo this person!"
It did the trick. When she started again, every sentence was a complete thought. The flowers materialized, a light and certain weight in her hands. The phrase "White folks do that" became an aside and then an admission, whispered with the comedy that flows through Wilson's work and is so often overlooked. Sterling's world became her own.
"I feel a lot better," she said as she wound down. "I'm starting to see images when I'm going through the lines."