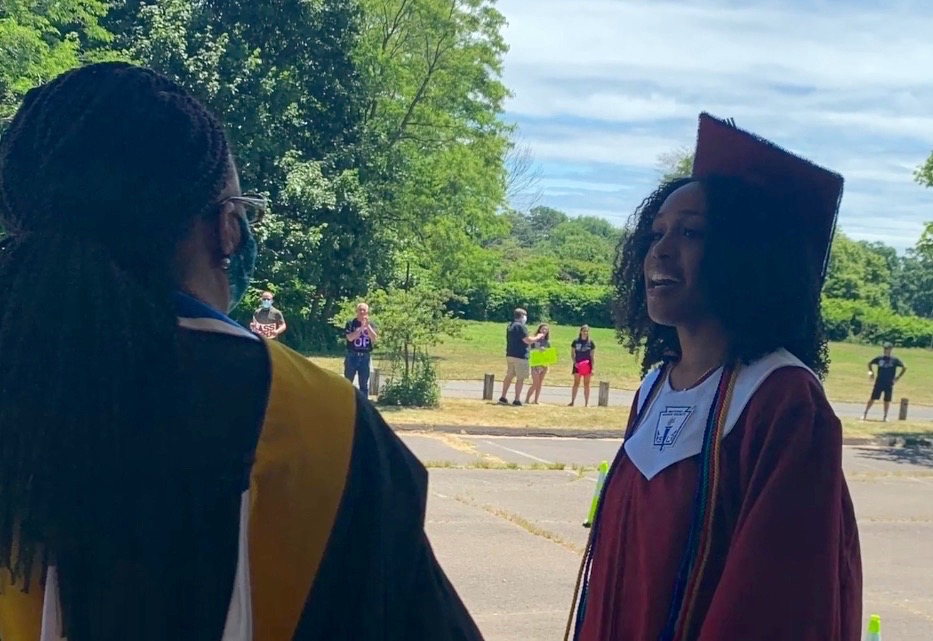 Co-Op High School | Education & Youth | Arts & Culture | COVID-19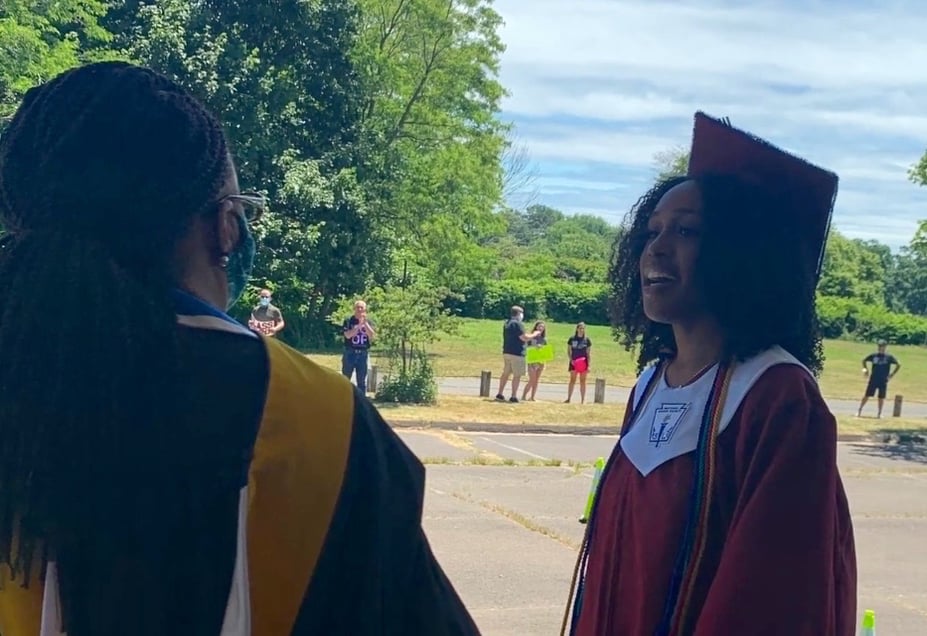 Samantha Sims crosses the stage at Lighthouse Point Park Wednesday. Co-Op Photo.
Co-Op Valedictorian Samantha Sims was trapped in a box. Inside was her self-doubt, and a gnawing shame she felt around being a Black girl in the world. Outside, the world was waiting for her with open arms. When she broke down the sides—thanks to the help of her classmates—she found a future that was boundless.
Sims told that story Wednesday night, in her valedictory address to the Cooperative Arts & Humanities High School (Co-Op) class of 2020. Local radio station WYBC streamed the address following a socially distanced, drive-through ceremony for 150 students at Lighthouse Point Park.
The ceremony also included speeches from salutatorian James Solomon, who is headed to the Berklee College of Music, and Varick AME Zion Pastor Kelcy Steele.
"It is with great excitement that I acknowledge the accomplished, talented, artistic, intelligent, enthusiastic, passionate, and most lit graduating class of Co-Op High School," said Principal Val-Jean Belton, praising grads for their willingness to navigate distance learning, brave cancelled school plays and proms, and look ahead to their college careers. "It represents four years of dedication and hard work in a season of an unprecedented pandemic."
Sims seized on that energy, shouting out her classmates for their persistence in the face of a public health crisis. Like her 149 graduating peers, she has not stepped foot inside the school since March 12. Before Wednesday's physical ceremony, she hadn't seen her teachers for months. Around her, she's watched friends absorb and reckon with the realities of quarantine, distance learning, and COVID-19-related illness and death.
"I know there was a time in each of our careers when we did not think we would make it to graduation, nor did we believe we were ready to leave high school behind," she said. Her voice on the livestream was crackly but firm, like an old-school radio host on a hot mic. "Some of us didn't even think we deserved to get to this point."
Once upon a time, not that long ago, she was among those students. Before she arrived at Co-Op, Sims felt boxed in by her Blackness. As a little girl, she waged a war against her hair, a series of braids that her mother worked on painstakingly each week . By fourth grade, she had discovered and started using relaxer to straighten it. She figured it was a way to fit in with her white peers. Only later did she think of it as a form of internalized anti-Black racism.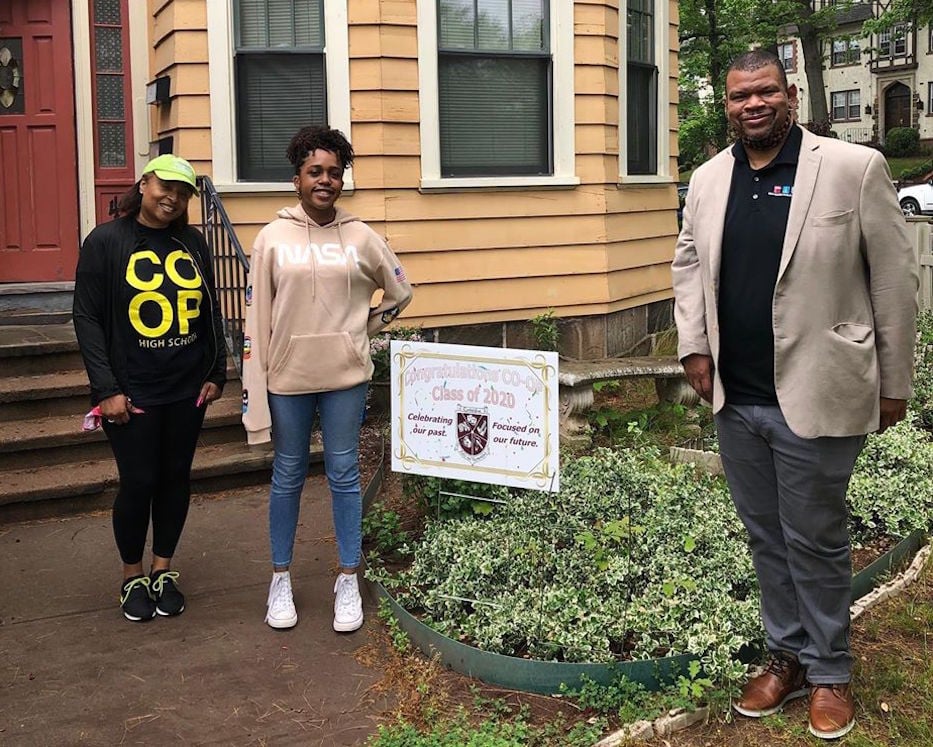 Sims earlier this spring, getting her senior sign from Principal Val-Jean Belton and Assistant Superintendent Dr. Paul Whyte. Co-Op Photo.
"My hair was my disguise to hide the brown skin I didn't want others to see," she wrote in a piece for the school newspaper, Co-Op Voices, earlier this year. "I was falling joyously into a hole of self-deconstruction, internalizing the centuries of self-hatred that filled the consciousness of the smiling women of color on the boxes of Curl Out and hot comb ads."
Then four years ago, she arrived at Co-Op. For the first time in her life, Sims saw herself reflected in the student body—and classmates who had hair that curled and bounced without explanation or apology. She cut her hair. She stopped using relaxers. She fell in with a new group of friends.
At the school, she was in her element. Based out of the Creative Writing department, Sims wrote for the school paper, and then for the pages of this publication as well. She joined classmates in walkouts against school gun violence, rallies for public education, and silent sit-ins in support of teachers cut at the end of the last academic year. With several current and former students, she advocated for the school's creative writing program after finding out that it was also at risk of getting cut.
So when COVID-19 closed the school and moved her classes online, she kept going. She watched as her Co-Op family—classmates, staff, and faculty—did the same. She thanked her teachers, who have worked to keep student morale up during the pandemic with a series of funny, near-daily videos of their quarantine routines. This spring, she was admitted to Yale University. Her next chapter begins there in the fall.
"Prior to high school I had put myself in a box, closed in by my race and where I was from," she said. "I imagine most of us have stepped into similar containers, designed by society. For some time, I did not think I was good enough, nor did I believe in who I was."
"As a result of my time at Co-Op, I began to see my value as a Black woman, and hope that you are all able to experience a moment when you finally realize how amazing you are in your four years of high school," she continued. "For those who haven't, let this be the time that you finally believe in you and recognize the fact that you have more to offer than the world can take."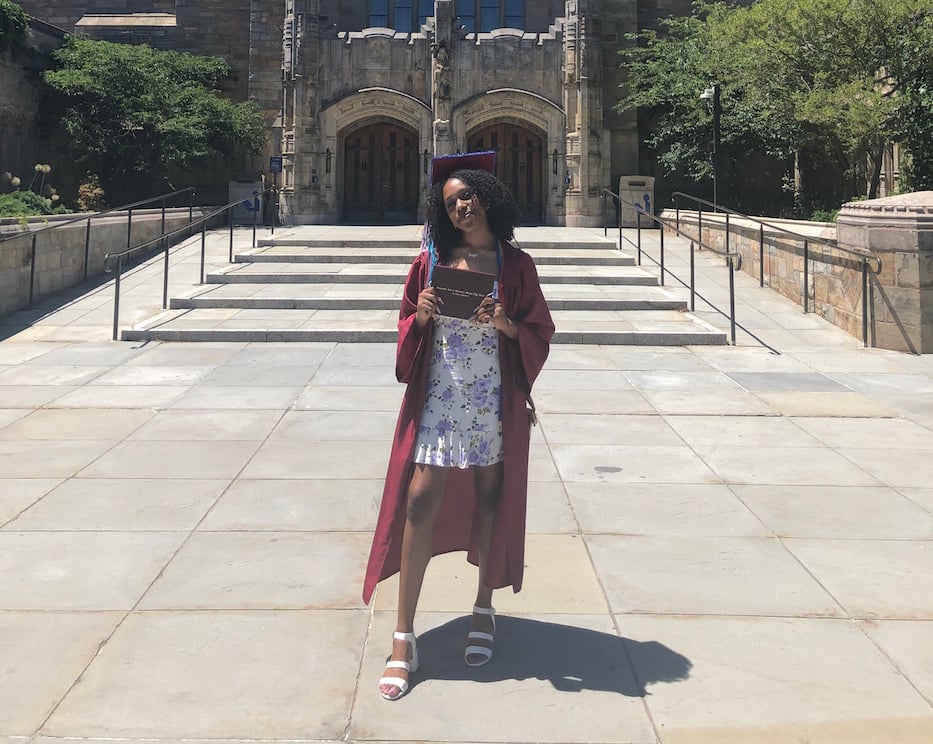 Photo Courtesy of Samantha Sims.
She urged her classmates to hold onto their memories of being together in the school: the discovery of a dead mouse in the cafeteria; the hallways where they sat in protest; dozens of dance, theater, band and chorale performances in the school's auditorium. Sims joked that she would not miss the school's steep stairs, which can leave even an athlete breathless by the fourth floor.
Outside the school's doors, she fondly remembered the sidewalks on which hundreds of feet marched, buses on which hundreds of sleep-deprived student heads napped, and excursions to Shake Shack where lunchtime secrets were shared and friends caught up with each other.
Now, she suggested, it was time to look ahead. She encouraged her classmates to close their (Chrome)books triumphantly, and look out over the big, messy, exciting swimming pool that was their young adult lives. When they decided to dive in, she advised them not just to float, but to swim.
"There are no greater, stronger people I'd rather be graduating with than the class of 2020," she said. "Today, we let Co-Op go. But we get to keep the hard work we have invested in ourselves into the next phase of our lives."