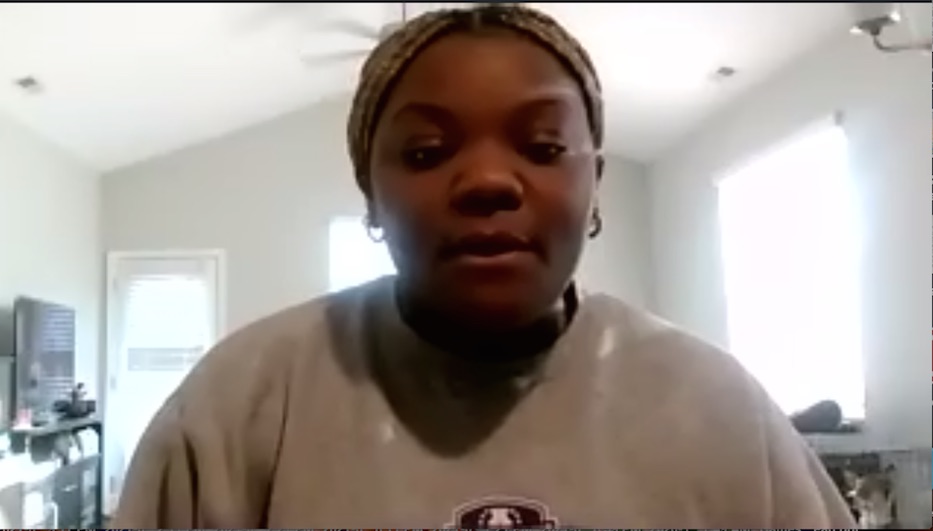 Co-Op High School | Education & Youth | Arts & Culture | Musical Theater | New Haven Public Schools | Theater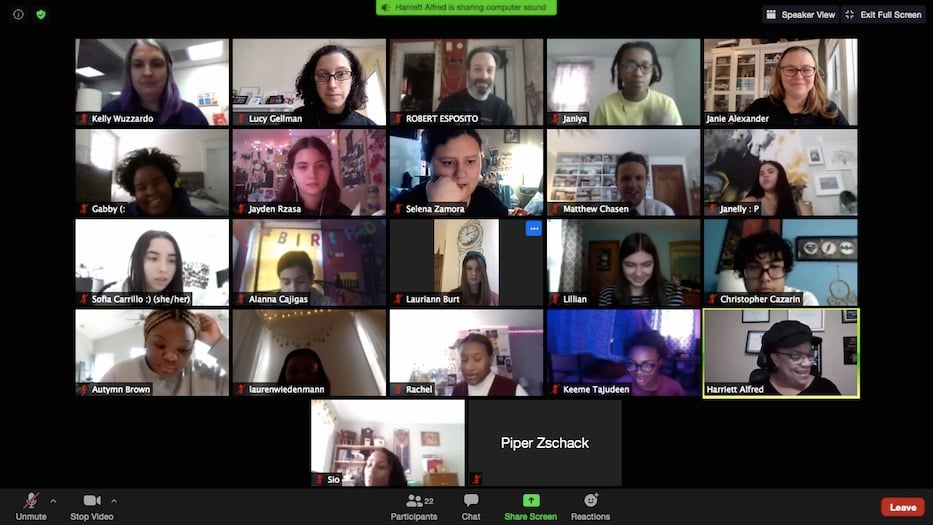 Screenshots via Zoom.
Lights up. Curtains open. In the pit, the electronic thrum of 1980s New York City has bubbled right into 2021. Voices rise: There she goes! Ain't she the picture of a real live star? A dance feels like it's coming on. Shoulders shake. Heads bob. The scene crackles with energy.
Actors reveal a major plot twist: not even a global pandemic can stop a performing arts high school from performing its spring musical—about a performing arts high school.
Across one-inch boxes and hours of remote rehearsal, students at Cooperative Arts & Humanities High School are mounting Fame, Jr. this spring. The musical is the brainchild of director Janie Alexander, an interim fashion teacher at the school who has worked as a production designer on several of the school's plays, including RENT and In The Heights. Co-Op's performance is currently scheduled for May 21, with a virtual reception and social media red carpet.
"The arts are still here,"Alexander said after a recent rehearsal. "It hasn't gone away. We're still practicing. We can still do a show. We're showing what the life of a performing arts high school is on Zoom. This is really what it's like for them right now. "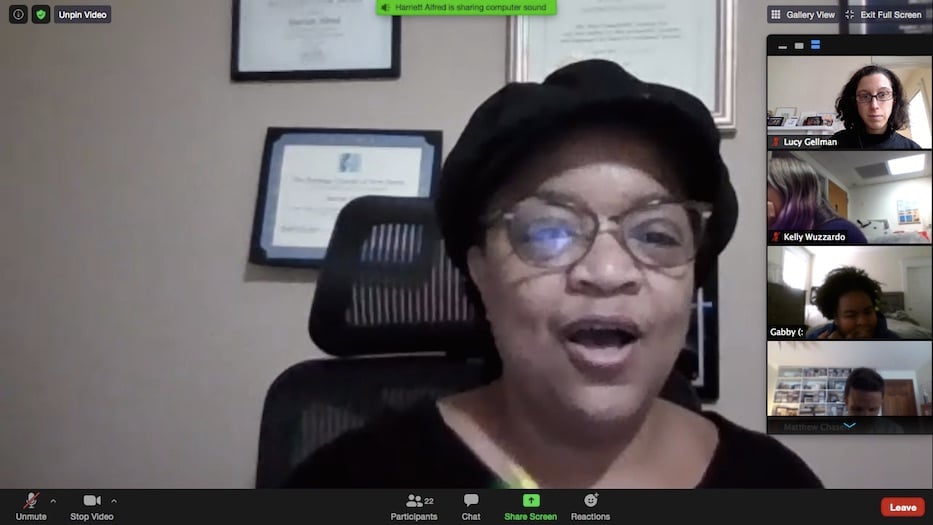 Harriet Alfred with students during a recent rehearsal.
The play has been in the works since last fall, when music students premiered "Oye Como Va" in a virtual all-school assembly. At the end of that video, Co-Op Arts Director Amy Migliore suggested that the school might do a musical over Zoom after Covid-19 killed last year's production of RENT. Alexander, who lost her job at the Shubert Theatre during Covid-19, reached out to Migliore. She asked if she needed help. She started looking for a work that could survive remote rehearsals and streamed performances.
Fame Jr., which "was the only way that I could showcase as many kids as possible," fit that description. Based on the 1980 film of the same name, the musical Fame tells the story of New York City's High School of Performing Arts, now LaGuardia High School of Music & Art and Performing Arts. In the musical, the high school comes alive with its students, all of whom have lofty dreams of making it big that run up against reality. They're also very much high schoolers: there's infighting, excessive cliquiness, and insults that get hurled too readily and then pulled back as they wound.
It has become a team effort, with music and drama teachers who drop in and out of rehearsal as they're needed. In previous years, the school musical has included over 100 students between cast, crew, band, stage managers, dramaturgs, props, and costumes. This is a smaller production, with a small cast and shortened run time. On a recent Wednesday afternoon, music director Harriet Alfred sat in front of her desk, running through lines of the song "There She Goes!" with students.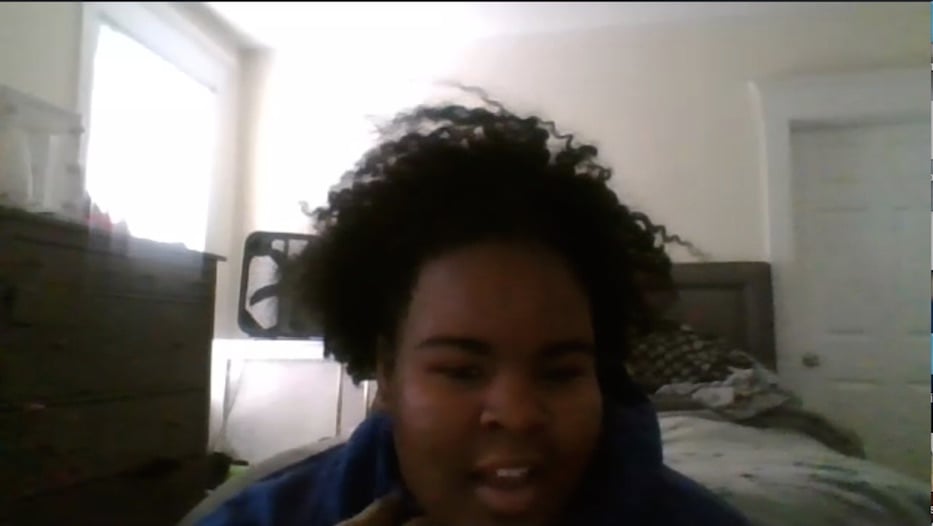 Junior Gabby Doctor.
She scanned 22 small boxes before her as she called on the altos. In the top row of Zoom, drama teacher Rob Esposito and music teacher Matthew Chasen looked expectantly at their screens, filled with faces they haven't seen in person for 11 months. Chasen, who began at Co-Op in October of last year, has not yet welcomed students to his physical classroom at the school.
Junior Gabby Doctor unmuted and smiled. In the musical, she plays the character Goodman (Goody) King, a jazz and rock musician who grows both fond of and hardened to a fellow band member. Doctor paused before starting. For 15 minutes, altos had been trying the same three lines of the section. She took a breath.
"There she goes," Doctor sang. Behind her, a dresser, electric fan and closed door stood in for the set. "Remember my name!"
"Yessssssssss!" Alfred yelled through the screen. She burst into a smile. "That's it!"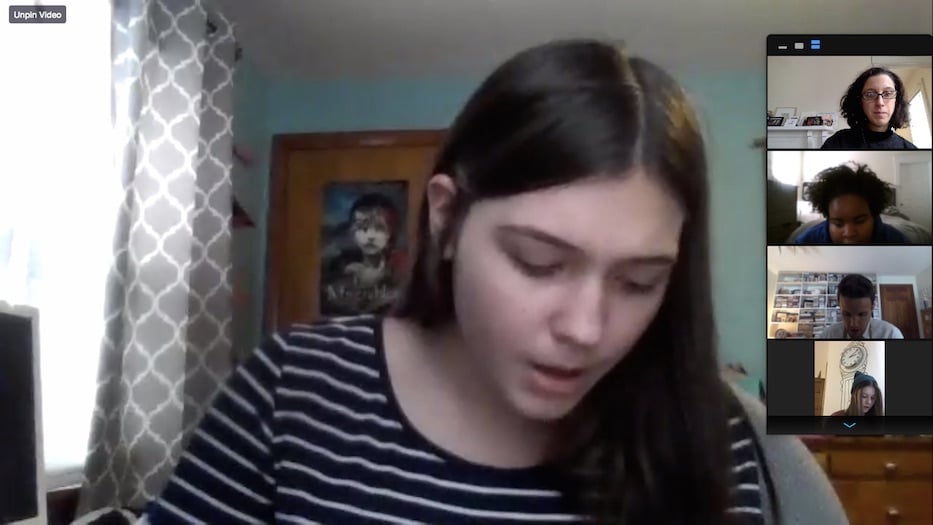 Lillian Paluzzi, who is a sophomore in the theater department.
Sophomore Lillian Paluzzi unmuted her mic. In the play, she plays the school's drama teacher, Ms. Myers. She looked over the sheet music that was somewhere between her desk and her screen. Then she turned to Alfred, whose face floated in a nearby box.
She was hesitant, she explained. Her eyes searched the screen for a moment, as if taking stock of which classmates were on the call. Twenty one faces stared back at her, all of them waiting to hear her sing. A few smiled.
Alfred cracked an easy smile. Her eyes were soft, laughter at their edges.
"You may be scared, but by now you should know I got your back," she said. Paluzzi opened her mouth and began to sing.
For 45 minutes, it became a ballet of mute buttons and pinned and unpinned videos. Alfred gently chided an alto for almost letting her skip over his part. She joked with the sopranos, singing a few high notes from In The Heights just to show what she meant by "up in the rafters." When junior Janelly Nieves sang out Remember! Remember! Remember my name! at the top of her register, Alfred beamed.
"You gonna hang with me!" she said.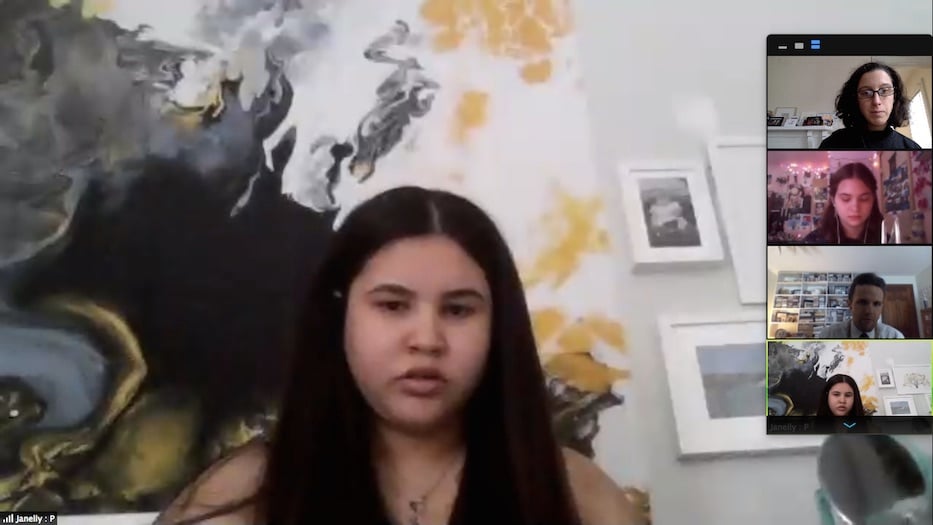 Junior Janelly Nieves.
Students have also learned to perform together while they remain physically miles apart. At the end of 45 minutes, Alfred flipped the track to "There She Goes," students suddenly dancing in their chairs. Synth washed over the frame. At her desk in a grey sweatshirt, junior Autymn Brown transformed into Carmen Diaz, a drama and dance major whose dreams of Hollywood alienate almost everyone around her.
Even with her mic off, Brown belted the words as a prerecorded chorus sang under her. She bobbed her head, attitude rippling through 22 tiny boxes that included her own face. Fellow junior Ajibola Tajudeen hit imaginary drumsticks with the percussion. The vocals swelled. Remember! My! Name! she mouthed into the screen. She glowed as she looked right into the screen and sang.
"It Makes You Feel Warm And Feel Safe"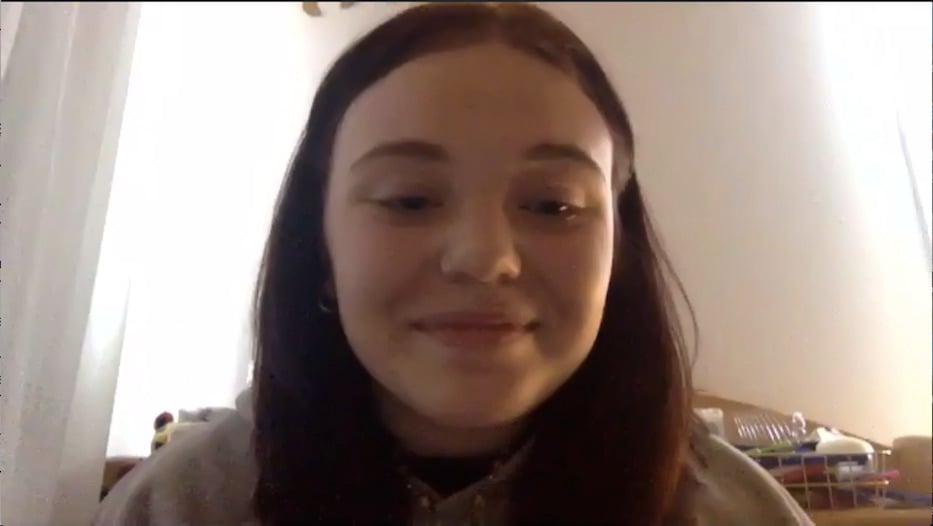 Junior Lauren Wiedenmann.
For the 20 students involved, the show has become a lifeline. Junior Rachel Kearse, who plays Mabel Washington, said she and her classmates never imagined that school buildings would remain closed for 11 months. In that time, she's struggled with the isolation and amount of screen time involved in remote learning.
"I definitely think everybody was thrown for a loop," she said. "At first, we learned we were going home, and they were like another week, another week. When we found out we were going to be fully online, it was just devastating. School is where I see my friends. That [remote learning] can be a hard thing when it feels kind of optional in a way."
The play has helped her focus in classes. Co-Op requires that students maintain a certain grade point average to stay in the show, of which both Alexander and their teachers remind them frequently. Once she began rehearsals, Kearse said she felt an immediate push to stay on top of work so she could see "my Fame family" a few days a week after school.
Many other cast members feel the same way. Junior Lauren Wiedenmann, a self-described extrovert who struggles to concentrate during classes because "my mind goes in 100 different directions," said the play has given her a concrete activity to look forward to at the end of each school day. Rehearsals are personal to her: she wants to be a drama teacher herself because of the work she's done under Esposito's guidance at Co-Op. In Fame, Jr., she plays an English teacher.
"Covid has created this huge gap between things that matter and things that don't matter," she said. "I think that my art, and theater, and my extracurriculars help me with my academics. It's having that disconnect that is hard. Theater just gives me motivation. Seeing my teachers … they gave me that jolt to do it. Seeing how hard they 're working online—it makes my heart warm."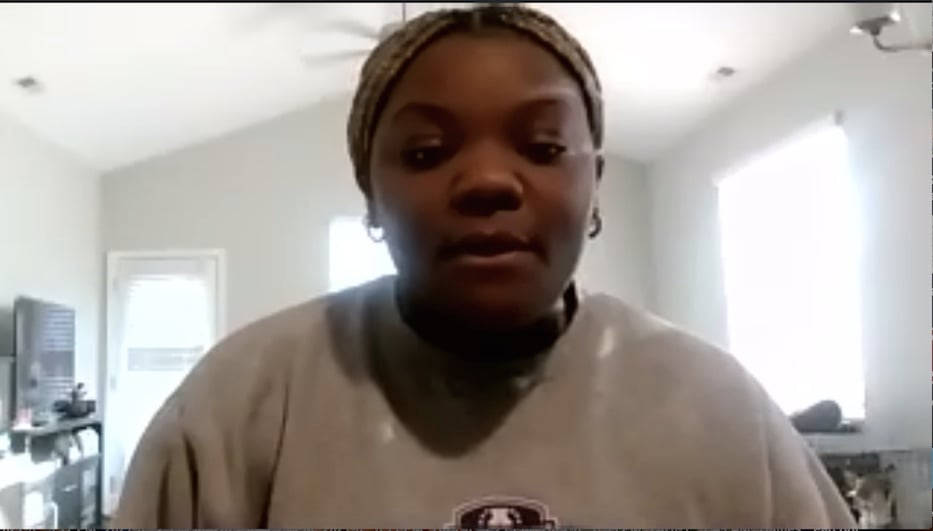 Autymn Brown.
Brown, who played a fiery Mimi Marquez in RENT before it was cancelled, called Fame a bright spot in a year that has included both personal and academic hardship. Last year, she lost multiple family members to Covid-19. Like Kearse, she didn't imagine spending her junior year on a screen instead of a stage. From her home in Beacon Falls, the internet is spotty; she often freezes and loses WiFi connection during class.
Originally, she said, "I wasn't motivated at all to do this production." Then she landed a main role. She jumped into rehearsal because she realized it was a way to see her friends and snap out of the eerie quiet that the pandemic lends itself to.
"Every part of being in RENT was so great," she said. "Doing this virtually, it still brings that part of RENT to me. We'll still call each other, still have a piece of theater through all the struggles."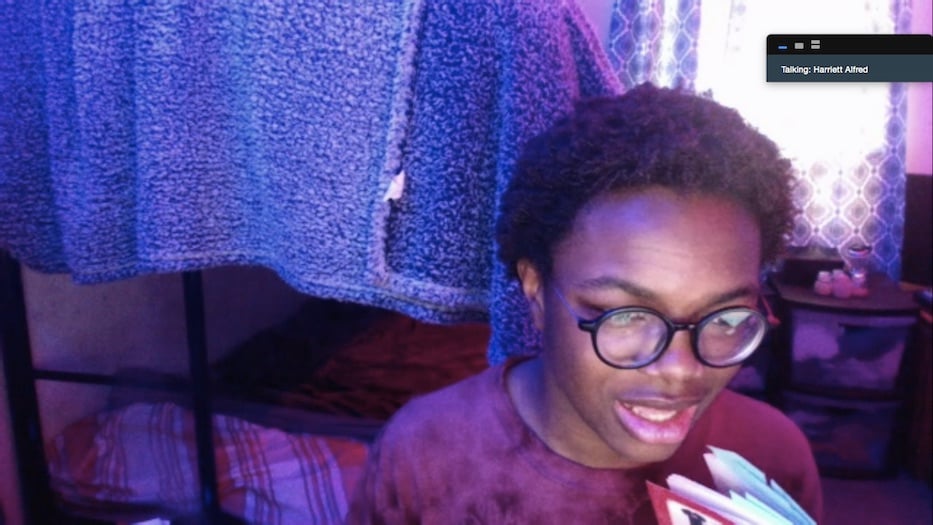 Tajudeen agreed, and praised both Alexander and his teachers for pushing him to keep his grades up. Last year, Tajudeen had a hard time finding motivation as his bedroom in Bridgeport became a hushed stand-in for his bustling classroom and a packed after school schedule. By November, he'd started sleeping and playing video games instead of honing his theater and voice practice. Like Brown, he watched as the pandemic took the lives of friends and family members.
He recalled looking in the mirror in December and no longer recognizing the person who was looking back. He hadn't done his hair. He didn't spend time picking out outfits. So he bought a vocal steamer, auditioned for the show, and made a new commitment to self-care, he said.
In the show, he plays Nick Piazza, an actor who loves the stage more than almost anything else in his life. Initially, he was upset that the cast was performing a junior musical. He said he's now channeling that anger into developing his character.
"I'm not going to lie," he said. "I was mad. I was angry. We got our show [RENT] cancelled a week before our performance. I was mad about two things. I was mad that I didn't have a chance to perform and I was mad I didn't have a chance to win another Sondheim Award. But as I get through practices, it gets better every day. This is such another level of the arts breaking through boundaries … the arts can make it. It may be virtual, it may be laggy, but at least we're here doing the arts. For us to still be able to do it is just such an amazing opportunity."
"When 2021 came in, it was like, boom," he added. "I think the community really put a spotlight on us. It's the teachers too. They're like, 'Get your grades together because you need to be in this show.'"
Junior Sofia Carillo, who plays the ballet-bucking dancer Tyra Jackson (so changed from Tyrone), added that there's one difference between the students in the show and the characters they play: there's a lot less infighting. Instead, they're all rooting for each other—and so is the whole school.
Before last March, "I didn't know what Zoom was," she said. Now, her whole life is online. During the day, she learns remotely alongside a younger sister, meaning that her home is rarely quiet. After classes, she comes to rehearsal excited to see her classmates' smiling faces.
"In school, everybody has their camera off or just doesn't want to participate," she said. "In rehearsal, it's like, don't be afraid to mess up a line, and mess up a note … it makes you feel warm and feel safe."